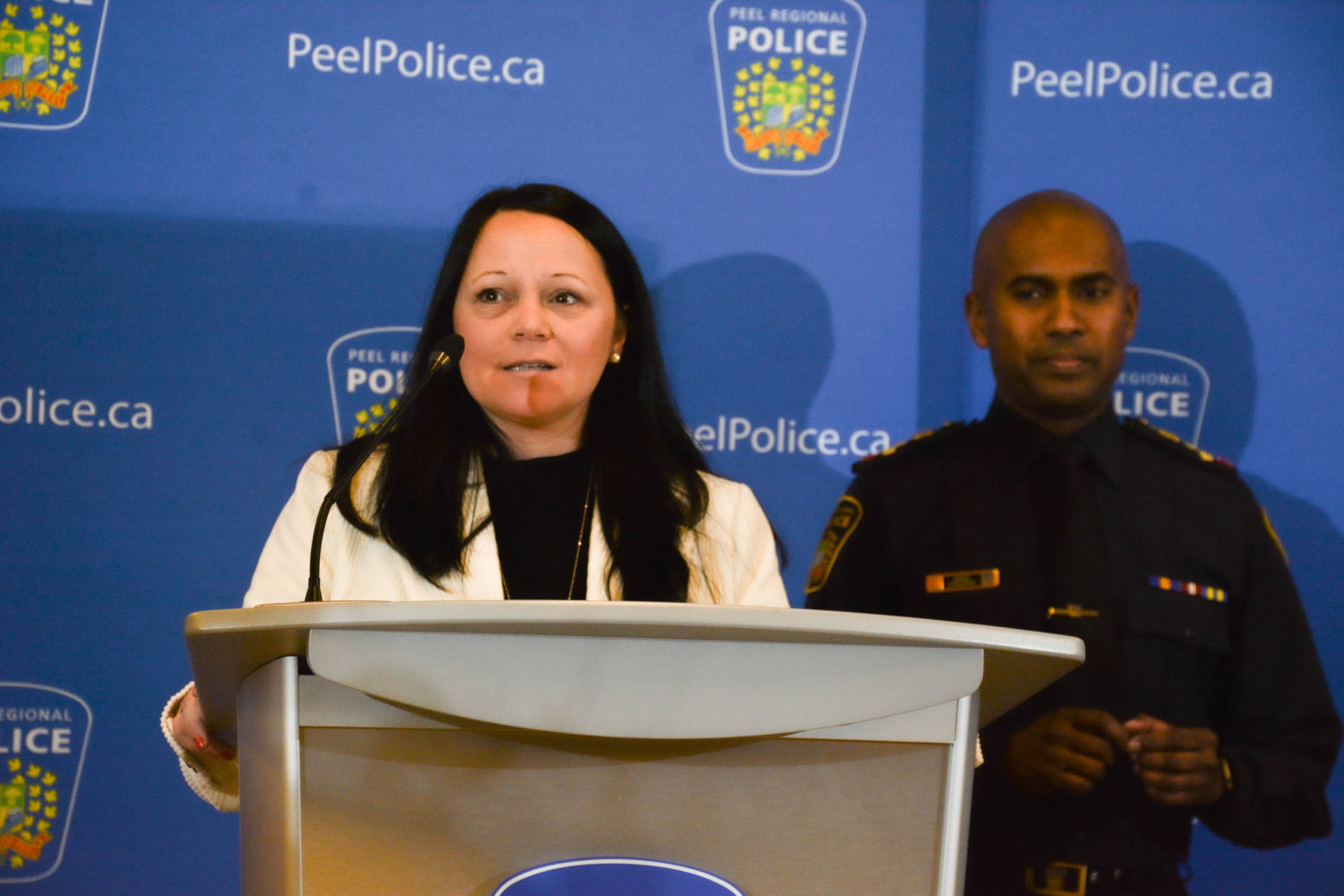 Joel Wittnebel/The Pointer
Training to help officers spot human trafficking will save lives in Peel 
In 1998, Timea Nagy got on a plane for the first time at the age of 21. Flying from her home in Hungary, she was headed to Toronto and the promise of a well-paying job looking after a couple's newborn. Instead, she was pulled in by a group of traffickers who exploited young women by trapping them in a country where they had no money and could barely speak the language.
Nagy was repeatedly sexually assaulted, forced to work in strip clubs and massage parlours. Her traffickers said if she failed to pay her 'debt' to them and tried to flee, her whole family back home would be murdered.
She was scared for her life and theirs, and told to trust nobody.
"Never leave the club because we're in a dangerous part of the city and anything could happen. Never get into a cab because all cab drivers in Toronto are rapists. Never talk to anyone outside our group because anyone could be an undercover cop or an immigration officer," Nagy writes in her memoir Out of the Shadows, describing the rules her traffickers ordered her to follow. "I took what he said to heart, because it instilled in me a bone-deep fear."
In the 25 years since Nagy's nightmare in Toronto, the world knows much more about human trafficking, where it happens and how to fight it.
Nagy has come a long way as well. Escaping from her traffickers, she is now one of Canada's most prominent advocates for survivors of human trafficking. Through her organization, Timea's Cause, she works with communities, institutions and law enforcement agencies around the world, including the FBI, to help educate and raise awareness about human trafficking, all while employing survivors of this soul-destroying crime.
There are many insidious layers to the crime of human sex trafficking. At its core, it is one person exploiting another in one of the most nightmarish ways imaginable. Before and after the trafficking begins, layers of deception, trauma, and mental anguish torment victims. Due to the shame and twisted feelings victims and survivors experience, many are too confused to seek help. Hiding what's happening becomes part of the nightmare.
Police officers will often interact with a victim of human trafficking up to three times before realizing what is really going on, says Peel Police Chief Nishan Duraiappah.
Human trafficking survivor and founder of Timea's Cause, Timea Nagy, is the driving force behind the new training being offered to all Peel Regional Police officers.
(Joel Wittnebel/The Pointer)
It leads to drastic underreporting, leaving police, policy makers and government officials in the dark about how pervasive the crime really is in Canada.
It happens everywhere, often in places frequented by the general public.
In the Region of Peel, it happens more than anywhere else in Canada.
Approximately 62 percent of all human trafficking cases in Canada originate in the Greater Toronto Area. Traffickers will often move their victims between large urban centres to keep up with demand while searching out new clients. The transient nature of trafficking—especially in popular tourist destinations like Niagara Falls—makes it incredibly hard to investigate and contributes to the lack of available data.
According to Statistics Canada, the number of police-reported incidents of human trafficking increased nearly six times between 2011 and 2021, with 552 incidents reported in 2021. The federal agency makes it clear this is not an accurate accounting of the true scope of human trafficking in Canada, describing it as a "largely hidden crime."
There were a total of 3,541 police-reported incidents of human trafficking in Canada between 2011 and 2021. Approximately 96 percent of the victims were women and girls.
(Statistics Canada)
While traffickers typically conduct their exploitation behind the locked doors of short-term rentals or hotels, they also benefit from a hidden veil over the general public. A 2021 survey conducted by the Canadian Centre to End Human Trafficking, a national organization dedicated to raising awareness about this crime, found 77 percent of Canadians feel they would be unable to identify the signs of someone being trafficked if it was happening in front of them.
A 2020 survey completed by CivicAction found that what Canadians think they know about human trafficking is based on cliché and misconception. The survey reported nearly three quarters of Canadians (73 percent) believe human trafficking begins with a kidnapping off the streets, and 47 percent believe it involves being kidnapped and forced into the sex trade; while 85 percent, believe sex traffickers are typically strangers to their victims. Police-reported data from Statistics Canada over the last decade show 91 percent of victims are trafficked by someone they know, typically potential romantic partners or a family member.
The lack of knowledge extends to the police, many of whom receive little in the way of detailed training about human trafficking, which can lead to danger for those targeted by traffickers, including being released by police into the hands of their abusers, allowing the harm to continue and trauma to deepen.
In her memoir, Nagy details one of her harrowing encounters with law enforcement while she was being trafficked in a Toronto strip club.
"One of them announced that we'd be going down to the station in police cars, two girls in each car. We were handcuffed and then led outside where the parking lot was full of squad cars. The sound of the handcuffs closing around my wrists almost made me faint," Nagy writes. "A couple more hours went by and then some officers came in and said that we were free to go and that they would be taking us back to the club."
In partnership with the Peel Regional Police, Nagy is working to make sure that a similar incident does not happen to other human trafficking victims. Nagy, along with her organization Timea's Cause, will be training all of Peel's 2,200 frontline officers and investigators in how to spot the signs of human trafficking. Peel police will be the first law enforcement agency in Canada to require all officers to receive this training.
During a press conference earlier this month to make the announcement, Chief Duraiappah said he was motivated to launch the partnership by the "exponential" harm done to survivors and their families.
"This is why we're tackling this issue head on," he said. "We're committed to new and innovative solutions."
Peel Regional Police, led by Chief Nishan Duraiappah, is now the first in Canada to train all of its officers in how to spot the signs of human trafficking, and properly interact with victims.
(Joel Wittnebel/The Pointer)
The training developed by Timea's Cause, a survivor-led organization, is rooted in the experience of those who have gone through the horrors of human trafficking. They can help teach officers the mindset of a human trafficking victim, and how they may react to the presence of a uniformed police officer. Studies have shown that human trafficking victims, many of whom have already experienced some form of abuse or childhood trauma, do not trust the systems designed to help them, especially law enforcement.
Training grounded in teaching officers how to accept this reality and how to start rebuilding that trust, could have groundbreaking results.
"Survivors who can't be here today and victims that are still victimized today will greatly benefit from every single effort that you guys are making. So, thank you so much and thank you for bringing our voice here today," Nagy said during the press conference.
This is not the first time she has done such training for Peel Regional Police—previously doing a session about 10 years ago for 200 officers. That training had immediate impacts, Nagy said, sharing a story of an officer who, almost immediately after taking the course, was responding to a call at a Motel 6 and identified the signs of someone being trafficked, resulting in their rescue.
Survivor involvement in efforts to combat human trafficking is increasingly being recognized as a critical element of any education, awareness or training programs.
In announcing is national human trafficking strategy in 2019, the federal government created an advisory committee comprised of victims and survivors who can "inform and provide their unique and invaluable recommendations to the Government of Canada on current and future federal anti-human trafficking policies and initiatives."
"Engaging survivors—individuals who have experienced human trafficking—as partners is necessary to develop effective anti-trafficking policies and programs that are victim-centered and survivor-centered, trauma-informed, and culturally competent," reads a statement from U.S. Secretary of State Anthony Blinken, marking January as Human Trafficking Awareness Month.
The announcement in Peel was attended by Ontario's Minister of Health, Sylvia Jones, who praised Nagy's advocacy efforts, and credited her for guiding Ontario's elected officials on how to effect real change for victims and survivors.
"Many of us in public life and in leadership often hear about the problems, often know where the issues lie, but this lady (Timea) brings solutions to the table," Jones said.
"The ability to influence to make a difference to literally change lives is happening with this announcement. These are not easy things to solve, but we've seen what a difference educating, eyes on the ground, people knowing the signs and what to look for really does make a difference to survivors and victims."
The PC government under Premier Doug Ford has invested in human trafficking awareness and enforcement efforts at levels not seen in Ontario over the last decade.
In 2019, Ford said, "The more I learn about human trafficking, the angrier I get," before announcing $20 million in annual funding to help bolster community support for survivors and improve ongoing work between different levels of government with a human trafficking coordination office. Then in 2020, The PC government went a step further and added another $202 million investment, bringing the total dollar amount to $307 million over the next five years to combat human trafficking.
Minister of Health Sylvia Jones, former solicitor general, stressed the PC government is investing heavily to combat human trafficking in Ontario.
(Joel Wittnebel/The Pointer)
"Our government understands that human trafficking is funding so many of the criminal activities that are impacting our communities and we want to be there as part of the solution," Jones said. "This is not a one and done."
The same goes for the officer training, which Constable Joy Brown, the human trafficking coordinator for Peel Region, says will be a recurring offering moving forward.
For 2023, Chief Duraiappah is looking to bring on an additional 70 officers—if his request for an 8.2 percent budget increase is approved by regional council. But he says these officers will be "boots on the ground" working the frontline and there are currently no plans to add officers to the human trafficking or vice units.
While having all officers trained in identifying the signs of human trafficking will have a big impact in Peel, it is not the same as having an investigator dedicated to this crime 24/7.
"The reality is, I'd love to expand all my units, but it's practically impossible to do that," Duraiappah said, "but it is obviously open for discussion."
---
Email: [email protected]
Twitter: @JoeljWittnebel
---
COVID-19 is impacting all Canadians. At a time when vital public information is needed by everyone, The Pointer has taken down our paywall on all stories relating to the pandemic and those of public interest to ensure every resident of Brampton and Mississauga has access to the facts. For those who are able, we encourage you to consider a subscription. This will help us report on important public interest issues the community needs to know about now more than ever. You can register for a 30-day free trial HERE. Thereafter, The Pointer will charge $10 a month and you can cancel any time right on the website. Thank you
Submit a correction about this story