Alexis Wright/The Pointer
Mississauga Board of Trade calls on Council to allow legal cannabis stores to slow unregulated market
During the pandemic, cannabis retailers got a piece of the market in Mississauga through a loophole that enabled delivery services from outside the city to reach the Mississauga market. But without the allowance of cannabis retail within the city, prospective store owners continue to face a roadblock as significant revenue flows out of the GTA's second largest municipality to neighbouring ones.
However, the third time might be a charm for the cannabis industry in the city. The Mississauga Board of Trade (MBOT) is calling on the new council to revisit previous decisions by local elected officials to prohibit cannabis retail in the community, a matter that's been reviewed and voted on twice, resulting in the absence of such storefronts in Mississauga. The most recent rejection came in June 2021 with a majority of council voting against the stores, 8-4.
Meanwhile, legal cannabis retail, and the industry around it, is flourishing in neighbouring communities such as Brampton and Toronto, sending millions in revenues from Mississauga residents to the local economies of other cities.
The local Board of Trade wants to turn this around.
Its request was presented in a letter during the City's budget committee meeting on Monday. The letter, which consisted of several asks for council to advance in consultation with the business community in the upcoming year, also included a call for councillors and City staff to revisit the issue of allowing legal cannabis retail in Mississauga.
"In 2023, council must do a review of its current policy not to allow retail cannabis stores in the city. These are highly regulated businesses selling a legal product and would contribute to our economy and workforce," the request by the business group highlighted.
"Council should pass a resolution to "opt in" to Ontario's retail cannabis sales regime at the earliest opportunity. In doing so, the City of Mississauga will be recognizing this legal industry sector and associated employment opportunities, while doing its part to displace the unregulated, illicit market."
Mississauga is the largest municipality in Ontario still without legal cannabis retail within its city limits. According to the Alcohol and Gaming Commission of Ontario (AGCO) the province, as of January 16, had 1,640 retail cannabis shops, up from 1,460 reported in March 2022 by the Ontario Cannabis Store (OCS). None are in Mississauga, but Brampton hosts 50 and Toronto is home to 431.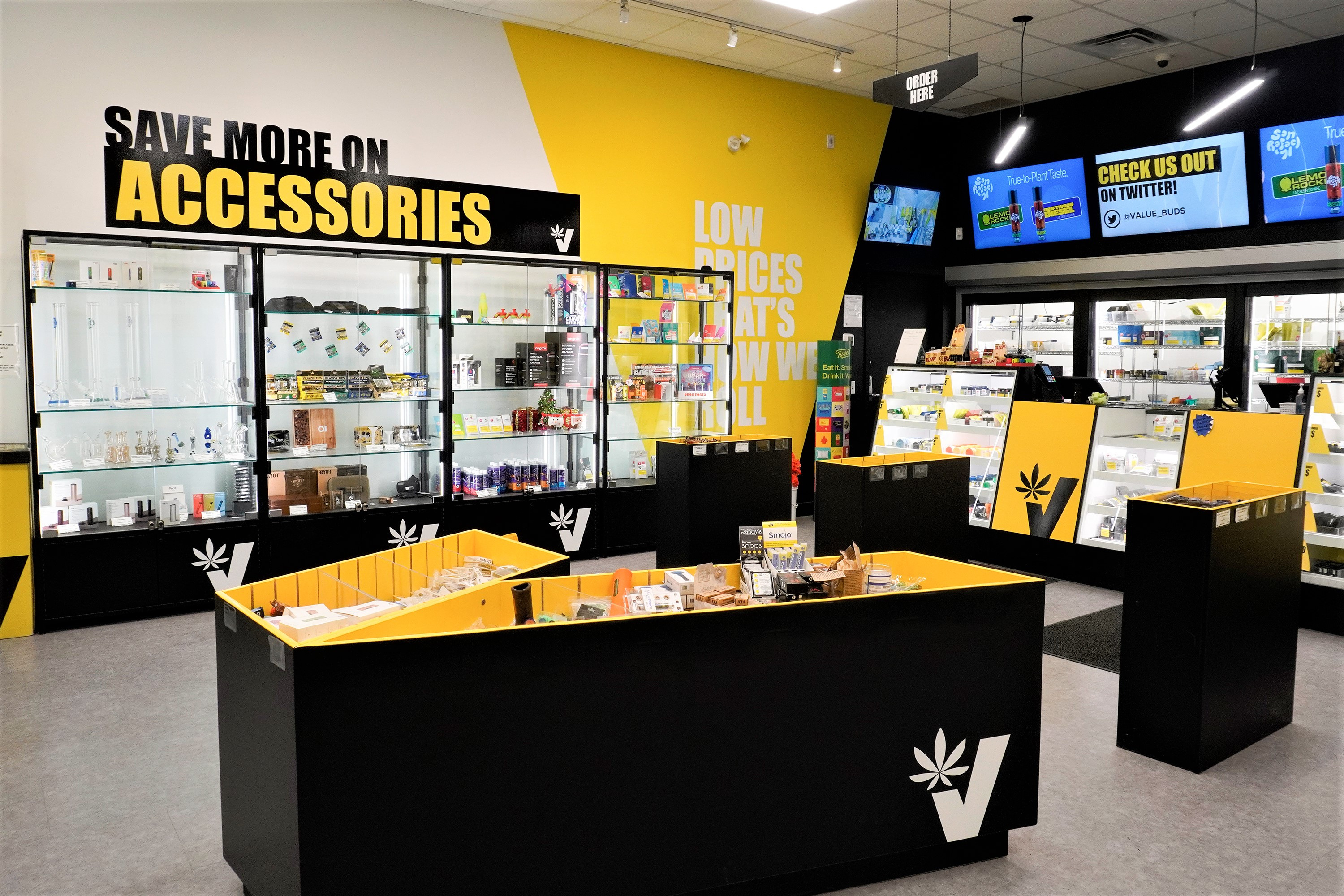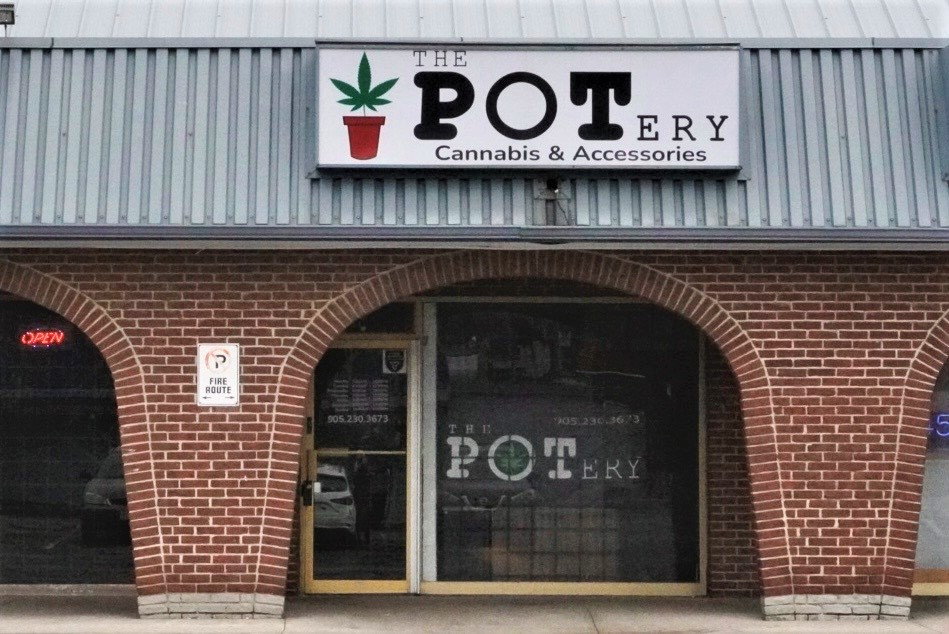 Legal cannabis stores in Brampton, above, are where many Mississauga customers buy from.
(Alexis Wright/The Pointer)
"The issue of allowing cannabis retail sales in Mississauga is not a new position of the Mississauga Board of Trade. Canada was the first G7 nation to legalize cannabis retail sales in October 2018. Since this time, this highly regulated industry has been allowed to operate in hundreds of communities across the country," Trevor McPherson, the board's president and CEO, said in an email. "From time to time, our colleagues at the Ontario Chamber of Commerce have called upon the Government of Ontario to make improvements to transparency of pricing decisions and markups, product listings, and social responsibility mandate to help displace the illegal market."
When it was legalized in Canada in 2018, the provincial and federal governments called the shots. Ontario municipalities were provided the least amount of control, and were faced with a one-time option to opt-out of allowing the stores to operate within their boundaries. Municipalities that chose to opt out could opt back in at any time—but once they are in, there's no backing out. Caledon also vetoed the decision to allow cannabis retail.
In some larger cities, cannabis stores have taken over empty storefronts, with some neighbourhoods, for example in Toronto, featuring multiple stores, even more than one on the same block. This was one of the main reasons Mississauga City Council voted against the stores, fearing the city would become overpopulated by cannabis retail which would begin encroaching into inappropriate areas like school zones, addiction centres and around daycares or other places frequented by children.
According to a quarterly review conducted by the Ontario Cannabis Store (OCS), as of March 2022, the organization reported the average Ontarian is now only four kilometres away from the nearest legal cannabis shop, down from 4.6 kilometres reported in September 2021.
Obtaining cannabis by way of delivery services has become common for residents in Mississauga who use legal operations elsewhere that have a storefront to allow for orders to be placed and packages to be properly wrapped and delivered. Without stores in Mississauga businesses operating outside the city, especially in nearby areas, provide significant revenues to their municipalities and local economies, while Mississauga misses out on taxes, licensing fees, the spin-off benefits and revenues that eventually get circulated in other locales.
This is one reason why Mississauga Mayor Bonnie Crombie has been supportive of legal cannabis retail within her city.
"The emergence of delivery services from outside the city to specifically tackle the Mississauga market is, in my view, all the more reason why we should be fostering our own local market so that Mississauga cannabis stores can serve residents while creating jobs and helping grow our economy," Mayor Crombie previously told The Pointer.
A June 2021 staff report indicated if Mississauga councillors reversed their decision, the City could bring in an estimated $74 million each year and gain thousands of jobs. City staff said this would go along with council's pandemic recovery framework, creating economic growth, jobs and filling up storefronts that have become vacant.
McPherson noted there are several reasons why Mississauga council should revisit its previous decisions, including the widely supported belief that a thriving legal cannabis market makes it more difficult for the unregulated, illegal market to flourish.
"The illegal cannabis market risks undermining public safety and threatens the viability of a robust legal sector," he explained. "We don't think the City of Mississauga should contribute to this problem by not allowing these legal businesses to operate in our community."
In the years since legalization, regulated cannabis has grown into a massive industry, with $405 million in revenue reported between September and December 2021 alone, an increase of 1.6 percent compared to the previous quarter — a sign the market for legal cannabis continues to expand as more new users try it, while the illegal market slowly crosses over.
"The cannabis retail industry is continuing to mature and would bring new job and career opportunities to Mississauga. Notwithstanding some anticipated consolidation in the market, Ontarians spent $142.6 million on cannabis in February 2022, or 42.4 [percent] of total national spending on adult-use cannabis in that month. Of course, none of this economic activity took place in Mississauga," McPherson noted.
With the lack of legal storefronts, illegal cannabis stores can flourish. In past council discussions, the main focus around cannabis was not the legality of the products or negative connotations associated with it, but concerns about where the stores would be located and how their numbers could be kept in check, especially in inappropriate areas.
At the time, Ward 7 Councillor Dipika Damerla voiced her concern that the legal market would not be able to compete with the persistent illegal market, stating "the nightmare is I get five or four clustered legal stores and the illegal stuff doesn't go away." The Pointer asked Damerla if her stance on the matter has since changed but did not receive a response from the Ward 7 councillor.
Illegal sources may still survive, but numbers from the Ontario Cannabis Store show the legal market is making progress in pushing the illicit trade out of communities. According to OCS data, Ontarians chose to purchase more than half of their cannabis through legal channels, as Ontario's legal market share sat at 56.9 percent of overall consumption. Ontario continued to sell more legal cannabis than any other province or territory, with 40 percent of all legal cannabis sales in Canada occurring through the province's licensed retailers and the OCS. With the growth of legal cannabis stores in cities, the hope for many stakeholders is that the illegal market will eventually become obsolete.
Current regulations give municipalities the least amount of power in implementation. The federal government regulates growing and licensing of cannabis, the provincial government/Alcohol and Gaming Commission of Ontario handles the retail licenses and how it's sold, leaving cities simply with the yes/no decision to opt in or out of allowing the stores, but unable to dictate where they are located.
The AGCO, which approves retail licenses in Ontario, has been heavily criticized by municipal officials in the past for approving licenses in inappropriate locations. Hamilton's City Council claimed the AGCO has largely ignored recommendations on where cannabis stores should not be located. Such areas were designated as "sensitive", and included locations with close proximity (within 300 metres) to schools, parks, and mental health/addiction centres. Mississauga councillors have previously voiced support for similar restrictions.
"[AGCO] has maintained a rigorous licensing and eligibility review process for all cannabis retail stores. Before issuing a licence to any operator, the AGCO undertakes a comprehensive assessment of the applicant and all interested parties, including police and background checks," AGCO senior communications advisor Raymond Kahnert wrote in an email to The Pointer.
"The AGCO will only license applicants who meet all legal and regulatory requirements to ensure that all cannabis and cannabis-related products are sold safely, responsibly and in accordance with the law."
Councillors opposed to the stores have explained that their issue is not with the product itself, but with the lack of control over where the stores can be located and how many will crop up in the community, if they are allowed. The Cannabis Licence Act, which includes a regulation that sets out the AGCO's authority in licensing cannabis retail stores in Ontario, permits stores to be located anywhere that other retail operations are allowed, provided the community or municipality "opted in".
"The provincial legislation imposes no limit or caps by region. Beyond that, the AGCO has no authority or control over store locations," Kahnert explained. "However, the proposed store locations must be compliant with the provincial school distance buffer, which is a minimum distance of 150 meters between cannabis retail stores and schools, as defined in the Education Act."
A spokesperson for Crombie confirmed in an email the mayor is committed to revisiting the cannabis decision with the new council this term, to allow newly elected members to weigh in, and for staff to provide an updated report on what implementation would look like. There is no current timeline for when a new motion for council to reconsider legal cannabis retail will be reintroduced. In a separate email, a City spokesperson said staff will certainly revisit the issue if they receive direction from council to do so.
"I think the worst fears of those opposing cannabis retail in their communities has not been borne out, and this legal industry deserves the same right as other legal retail industries to operate in Mississauga," McPherson said.
---
Email: [email protected]
Twitter: @mcpaigepeacock
---
COVID-19 is impacting all Canadians. At a time when vital public information is needed by everyone, The Pointer has taken down our paywall on all stories relating to the pandemic and those of public interest to ensure every resident of Brampton and Mississauga has access to the facts. For those who are able, we encourage you to consider a subscription. This will help us report on important public interest issues the community needs to know about now more than ever. You can register for a 30-day free trial HERE. Thereafter, The Pointer will charge $10 a month and you can cancel any time right on the website. Thank you
Submit a correction about this story