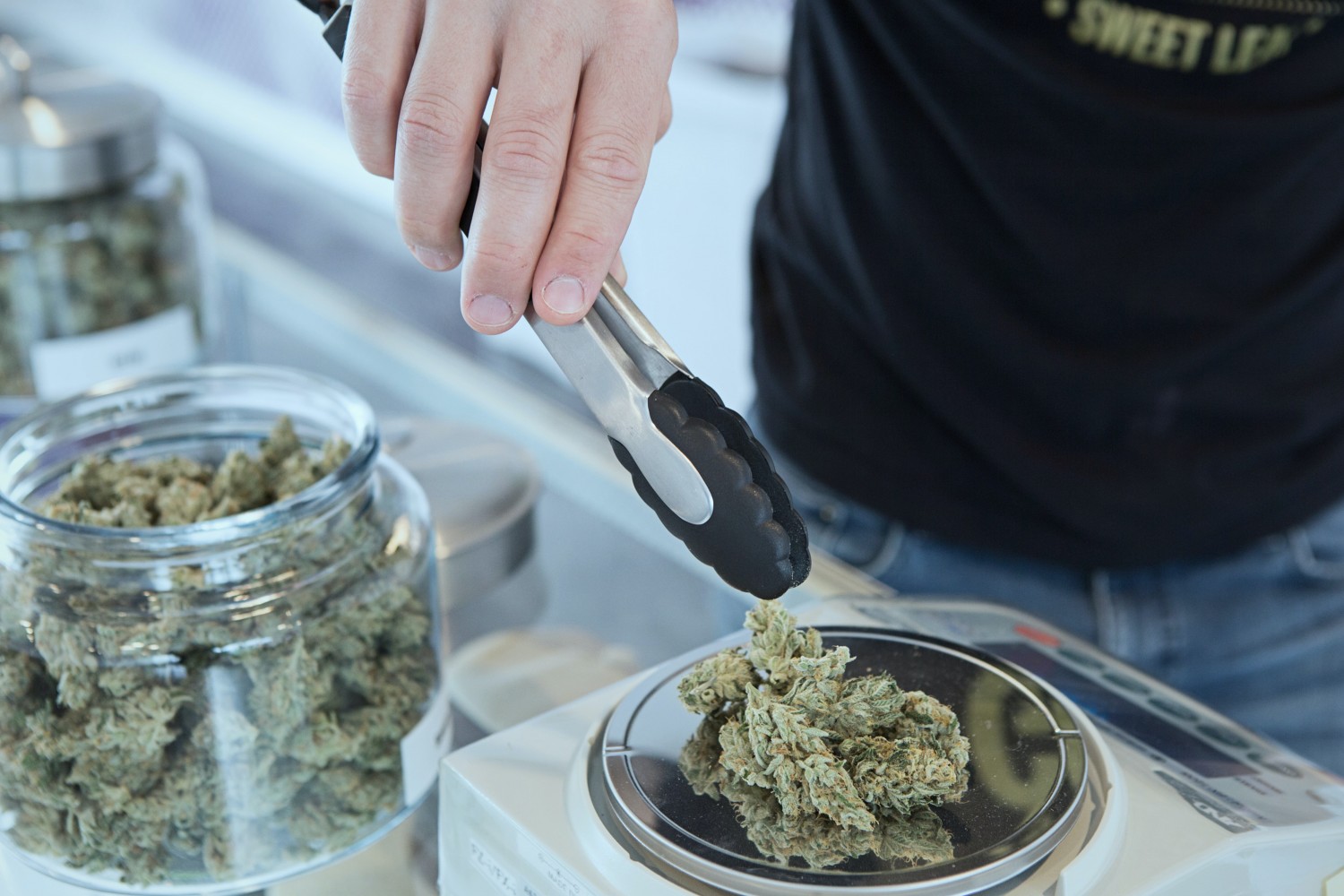 Feature image from Add Weed/Unsplash
Cannabis delivery good news for Mississauga residents—but City misses out on millions in revenue 
During the pandemic, cannabis retailers got a taste of the market in Mississauga.
After retail stores shuddered their doors to comply with public health restrictions, consumers were pushed online to find items and have them shipped to their doorstep. This created a remarkable opportunity for cannabis dispensaries to operate a delivery service so Ontarians could conveniently order the products from the comfort of their own home.
This created-out-of-necessity business model helped the legal cannabis industry stay afloat during the pandemic, but it launched the beginnings of what has now become a permanent model, allowing cannabis companies to reach customers whose cities have not allowed cannabis stores to open with their borders—like Mississauga. Regulations from the provincial government to allow the delivery to continue on a permanent basis came into effect on March 15.
Mississauga City Council has voted twice to forbid cannabis storefronts in the municipality. The most recent rejection came in June 2021 with a large majority of council voting against the stores, 8-4.
A spokesperson told The Pointer that City staff have no intentions of bringing the file back to council in the near future.
In many big cities, cannabis stores are taking over empty storefronts, with some neighbourhoods in places like Toronto seeing retailers occupying nearly every street corner. This was one of the main reasons Mississaua council voted against stores in the first place, fearing they would become too numerous and begin encroaching on sensitive areas like schools, addiction centres and daycares.
"I get why they're doing it, they definitely want more control in terms of store rollout and where the stores are located," Ben Tran, owner of House of Cannabis in Toronto, told The Pointer. "It's definitely creating an environment where this product is not easily accessible. I'm just thinking about these older demographics that don't have easy access to cars, how do they get it?"
According to the Ontario Cannabis Store (OCS) the province, as of September 2021, has 1,115 retail cannabis shops. Not a single one of these are in Mississauga, but surrounding the city, Brampton hosts 27 and Toronto has 315. The City of Oakville, like Mississauga, does not allow cannabis stores.
In total the province has 1,115 legal retail stores, with the majority in Toronto.
(Graphic by Natasha O'Neill with data from Ontario Cannabis Store)
OCS believes the average Ontarian is now only 4.6 kilometres away from the nearest legal pot shop.
Storefronts became a thing of the past during the height of COVID-19, with restrictions placed on businesses and lockdown orders deterring visits from customers. Like the LCBO, cannabis stores stayed operational throughout the last two years as essential businesses. To decrease further risks of transmitting the virus, Ontario allowed retail cannabis stores to start delivering products, similar to food delivery services like UberEats.
As of March 15, the province has ruled this model can remain permanent, allowing legal cannabis dispensaries to deliver their products anywhere in the province. Tran has been eagerly looking at Mississauga hoping council would allow his small business in the city.
"We've been following Mississauga quite closely, obviously, Mississauga being a giant jurisdiction with a lot of people there," he said. "I'm sure a lot of these bigger players also have retail locations already secured and they're just paying a lease right now to secure it."
House of Cannabis is unable to pay a lease without bringing in money. Instead, Tran hopes to capitalize on Mississauga through quick delivery.
"We've been looking into delivery for quite some time," Tran said. "But even then we still have a lot of hoops and hurdles to jump through."
The biggest hurdle House of Cannabis and other businesses need to overcome is insuring drivers while transporting the goods. Additionally, companies can't use just any delivery business; the employees driving the product need to be specially designated as contractors for the company.
"People are very comfortable with UberEats and DoorDash and everything like that, they want their product as quick as possible," Tran said.
To service Mississauga, Tran agreed the fastest delivery would always come inside the borders, but his business is attempting to reach residents in under two hours. Tran operates three storefronts, one in Toronto, Keswick and Barrie.
"In our pilot program, we're hitting that [target], but with a small area. With Mississauga we anticipate it is going to be between three hours, hopefully no more than four hours," he said.
Filling the gap of cannabis retail in Mississauga, Tran's company and others could potentially disincentivize council members from opting in when the chance presents itself, because residents do have access to legal cannabis.
"I think delivery does serve a need for accessibility. However, one thing that delivery cannot do, as well as a store is education," Tran said. "A lot of people come to the store and want to know about the product or get feedback on different products."
House of Cannabis storefront in Toronto on Spadina Avenue.
(House of Cannabis)
According to AGCO's website, all retail cannabis employees must complete a training program before their first day of work to support the sale and safe consumption of cannabis. This means instead of getting a lengthy paragraph on the product when purchasing online, buyers are met with a person to educate them while ringing up their items. It ensures every person will not only walk through the store, but will be given a walk through of the product they will soon be consuming—a particularly valuable process for first-time users.
All cannabis products have different effects on the brain. Some have a higher THC content, meaning they interfere with receptors and create a "high." While most products are labeled with a percentage of THC (higher meaning more likely to have a high feeling) first-time users buying online may not understand the full effects. According to Statistics Canada, in the first three months of 2019, approximately 650,000 people reported using cannabis for the first time. Having a better understanding of how a product may impact you can be extremely beneficial to avoid unsafe situations like impaired driving.
The permanent delivery model is certainly a win for residents desperate to obtain legal cannabis, but it does not benefit the City in the slightest.
Legal stores need to have a storefront operating to allow for packages to be wrapped, and orders to be placed. Without storefronts in Mississauga businesses operate outside the city limits, meaning while they may technically service residents in the city, they provide nothing in the way of taxes or licensing fees to the City of Mississauga.
It's one reason why Mississauga Mayor Bonnie Crombie has been supportive of allowing shops to open within the City's borders.
"The emergence of delivery services from outside the city to specifically tackle the Mississauga market is, in my view, all the more reason why we should be fostering our own local market so that Mississauga cannabis stores can serve residents while creating jobs and helping grow our economy," Mayor Crombie told The Pointer in an email.
A June 2021 staff report indicates if Mississauga councillors reversed their decision, the City could bring in an estimated $74 million each year and gain thousands of jobs.
The lack of legal storefronts also leaves a gap in the market where illegal cannabis stores can flourish.
In March of last year, a report to the Peel Regional Police (PRP) services board laid out the mountain of issues illegal cannabis continue to create for officers. According to the research, illegal storefronts result in more serious charges with police and are extremely costly to disband.
In 2020, police were called to Ganjika House in Brampton (a legal dispensary) 20 times. Five of these calls resulted in minor reports, such as breach of a court order, minor assault, ATM fraud and minor possession of a narcotic and uttering threats (to an animal).
During the same period, police received 28 calls to the illegal outlet North Cloud Dispensary; 19 ended with a serious crime – stabbing, shooting and multiple weapons charges. Police were successful in shutting down the storefront in December 2020, after numerous attempts. The entire investigation cost Peel police $203,240.
Under the Cannabis Control Act, police must issue a search warrant before entering a property they suspect could be selling cannabis illegally. Once police "shut down" the storefront, operators immediately open up again and continue.
Police were unable to tell The Pointer whether there are more illegal storefronts in Mississauga versus Brampton.
"In order to preserve the integrity of this investigation, we cannot disclose the locations of illegal dispensaries within the Region of Peel," a PRP spokesperson told The Pointer.
The report detailed how changing search warrant requirements for police to enter suspected illegal dispensaries could be a potential solution to eliminating these illegal pop-up shops. To shut down the North Cloud storefront, police needed six separate search warrants, each costing approximately $20,000.
The majority of costs related to cannabis legalization for PRP has been in training officers to deal with cannabis-related activity. In 2018 and 2019 (the most recent years for which data is available), the force spent a total of $1.08 million on training, $244,000 on calls for service and $81,600 dealing with illegal dispensaries in Mississauga and Brampton. In total, police spent $1.7 million on cannabis operations, running a deficit of $756,250 after provincial contributions were taken into account.
Provincial funding to help with the cost of cannabis is split 50/50 between upper and lower tier municipalities, meaning that if Mississauga had opted in at the same time as Brampton, the region would likely have come close to breaking even on their costs.
In past council discussions, the main focus around cannabis was not the legality of the products or negative connotations associated with it, but around where the stores would be located and how many would dominate the retail areas.
"I do not want to see multiple stores opening where I have daycares, where I have parks, where I got youth drop-ins. And those are not under consideration when the AGCO (Alcohol and Gaming Commission) makes their decisions to issue a license," said Ward 9 Councillor Pat Saito in June 2021.
The current regulation regime for legal cannabis in Canada gives municipalities the least amount of power in implementation. The federal government regulates growing and licensing of cannabis, the provincial government/AGCO handles the retail licenses and how it's sold, leaving cities to opt in or out of allowing the stores in the boundaries.
AGCO approves retail licenses in Ontario and the organization has been heavily criticized by municipal officials in the past for approving licenses in inappropriate locations. According to Hamilton's City Council staff, AGCO has largely ignored recommendations of where cannabis stores should not be located. The areas were designated as "sensitive", and included locations with close proximity (within 300 metres) to schools, parks, and mental health/addiction centres. In the past some Mississauga councillors have voiced support for similar accommodations.
The report explains AGCO allowed 29 stores to open in these designated areas. Guelph and Orillia had similar experiences with the AGCO licensing process, said Hamilton staff.
"At this time, there is no ability to restrict the number or location of stores by municipalities," said Jeff Longhurst, director of licensing and regulation with the AGCO to Mississauga council in June last year.
Under the Cannabis Control Act these stores don't have much differentiation in the products they sell, which will lead to an eventual closure of stores who cannot compete.
Instead of allowing storefronts in the city, Mississauga councillors continue to ask the province to have more control over locations.
"We will continue our advocacy to the Province in that regard and while I share those concerns, I support opting in because we can opt-in with confidence knowing that the sky hasn't fallen in other municipalities and I'm confident it wouldn't in Mississauga as well," Mayor Crombie said.
In late 2021, legal cannabis retail surpassed illegal retail for the first time.
(Ontario Cannabis Store)
In the few short years since legalization, legal cannabis has grown into a massive industry, with $394 million in revenue between July and September 2021 alone, a 28 percent increase compared to the first quarter of that year.
Statistics from the OCS show that while the number of cannabis stores in Ontario has continued to grow—increasing 34 percent between the second and third quarter of 2021 (the most recent data)—the average number of sales at these stores has shown a pretty consistent downward trend. It's a sign the market for legal cannabis is beginning to become saturated.
"The competition is a bloodbath to put it frankly," Tran said. "This is where retailers have to make some hard decisions. For us, we actually had to shut down a few stores as well, just because we have to not only see what's best for the company, but also the longevity of the business."
As the number of new cannabis stores in Ontario has increased, the average total sales in these stores has continued to decline.
(Ontario Cannabis Store)
Similar to other companies taking advantage of legal cannabis, Tran says the consumer base age range is wide. For him, connections through community and education are the key to outlasting other cannabis corporations. This is why House of Cannabis sees home delivery as a significant opportunity to start providing business and making connections in Mississauga.
Even though delivery will provide legal access, Tran hopes to see Mississauga opt into storefronts down the line.
"Even though delivery might take off, stores are still going to be that crucial piece needed to educate the community on cannabis," he said.
---
Email: [email protected]
Twitter: @taasha__15
---
COVID-19 is impacting all Canadians. At a time when vital public information is needed by everyone, The Pointer has taken down our paywall on all stories relating to the pandemic and those of public interest to ensure every resident of Brampton and Mississauga has access to the facts. For those who are able, we encourage you to consider a subscription. This will help us report on important public interest issues the community needs to know about now more than ever. You can register for a 30-day free trial HERE. Thereafter, The Pointer will charge $10 a month and you can cancel any time right on the website. Thank you
Submit a correction about this story