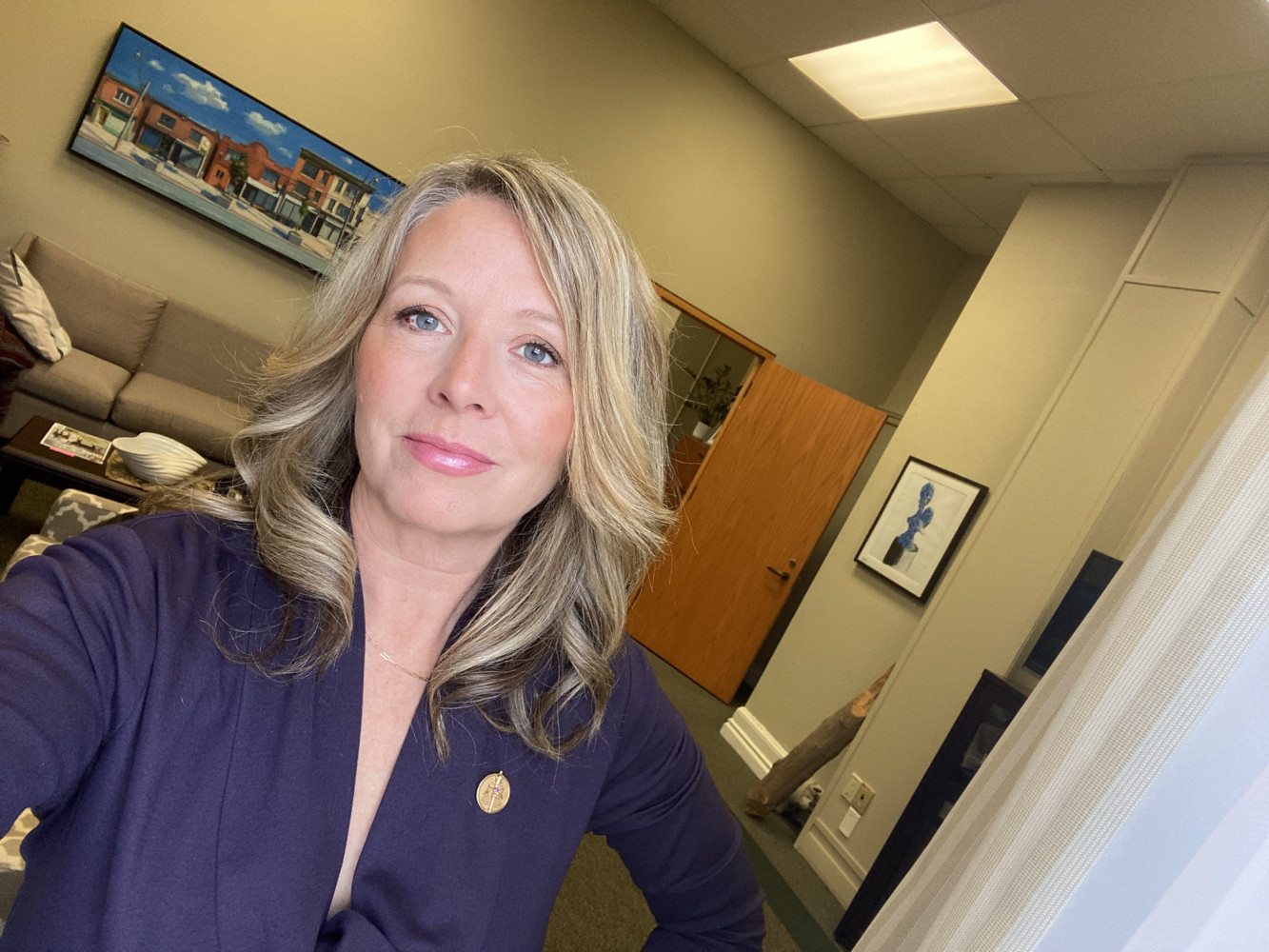 Marit Stiles/Twitter
NDP leadership hopeful Marit Stiles visits Brampton, questions why local PC MPPs are ignoring the city's needs 
Ontario NDP leadership candidate Marit Stiles is warning Brampton taxpayers of the burden that will be placed on their back if the PC government's controversial housing plan is passed into legislation.
Stiles, the MPP for Toronto's Davenport riding, visited Brampton Sunday, meeting with different community groups to help shape and share her ideas while she seeks the top job in her party.
In an interview with The Pointer, she said top issues expressed among Brampton residents were the ongoing healthcare crisis, the lack of affordable housing, transit, and the proposed destruction of the Greenbelt–under the PC government's plan to build 1.5 million homes by 2031.
Bill 23, the housing legislation rapidly working its way through Queen's Park, was recently criticized by local advocates and environmental groups during a consultation in Brampton earlier this month. The stakeholders argued that without serious amendments it will both weaken affordable housing in Peel and lead to harsh environmental consequences that will harm future generations.
During the information session, local PC MPPs were told that Bill 23 does nothing to ensure the construction of desperately needed affordable housing, while it fails to address improper rent increases, the lack of inclusionary zoning and corporate landlords who evict tenants to increase profits.
Property taxes, meanwhile, could skyrocket, the MPPs heard, due to the downloading of infrastructure costs from developers to the municipality, and other unsustainable growth related costs associated with building sprawl will also create hardships for cities such as Brampton.
They were also told that natural habitats such as forest and wetlands will be compromised, along with watershed quality, housing standards, farmland and food security.
Stiles said she hasn't heard any of their concerns reflected by Brampton's five PC MPPs during Queen's Park discussions about the controversial housing plan.
"A few months after the provincial election I think there's a lot of remorse about the lack of action from local MPPs, the lack of attention they're giving to local issues right now," Stiles told The Pointer.
"I think it's a terrible plan, I don't think it has anything to do with building more housing. I think all this has to do with is Doug Ford making sure that rich developers get to make more money and it's going to mean in the end a lot more pressure on already crisis level service in the Peel Region."
On Monday, Jessica Bell, the NDP's Housing Critic, told the Ontario Legislature that nine of the developers that own land being removed from the Greenbelt under the PC push to build more houses, donated more than $572,000 to the PC Party.
"We don't hear the Conservative MPPs bring those stories back here into the Legislature. They're not bringing those stories back, they're just parroting the words of Doug Ford every day. I want to bring those voices to Queen's Park and that's what I'll do."
- Marit Stiles, MPP for Davenport
Ford was recorded in 2018, ahead of that year's election, telling a private audience of developers he would "open a big chunk" of the protected Greenbelt if they helped him become premier.
"Who benefits from the destruction of the Greenbelt right now are the very few wealthy developers who bought up chunks of this Greenbelt, betting on the ability to develop on it eventually."
Stiles said the Ontario NDP have been pushing forward with proposed amendments to Bill 23 before its approved, adding rent controls and affordable housing requirements–but have been unsuccessful.
Infrastructure is another concern, with as many as 2.5 million new residents in areas of the province where the housing is being pushed. It also proposes to place the onus on municipalities to cover infrastructure-related development fees for affordable units, instead of the builder. Critics say this will curtail the amount of affordable housing municipalities will mandate.
There are many other infrastructure questions that have not been answered.
Brampton falls far below the provincial average for hospital beds and has struggled with a local healthcare crisis for more than a decade; now the PCs are calling for the city to accommodate 113,000 new homes by 2031 under their proposed legislation.
The PCs have not laid out any plan to pay for provincial infrastructure and services such as hospitals, schools and GO Transit that will be needed by the hundreds of thousands of new residents the Bill would push to Brampton and other cities across Southern Ontario in just eight years.
Meanwhile, costs for infrastructure specifically to support subdivision developments and other types of housing projects under Bill 23 could cripple municipalities.
"These are costs that municipalities will have to take on, but they can't," Stiles said. "So what does that mean? That means the potential of rising taxes, increasing taxes on residents to pay for those services. Especially when you're talking about new developments like in the Greenbelt or on the outskirts of Peel Region. These are new developments that are going to require significant infrastructure development, significant new services. You can't build a development and not have a road there, or have a sewer. So you've got to figure out how to get water and sewage to those developments. Somebody is going to bear the burden of that, and it isn't going to be the developers."
Brampton Council was told by staff Wednesday Bill 23 could cost the City $440 million due to lost revenues related to fees developers currently have to pay, which would be transferred to municipalities if the proposed legislation passes.
Stiles also addressed ongoing challenges in the city, warning that the PCs' most recent fall economic statement failed to address Brampton's dire healthcare reality.
"I think the situation right now is already a crisis, it will only get worse if we don't see the government move quickly to address some of those services that are going to be needed for the new residents of the region."
Another piece of legislation introduced recently by the PCs to address the housing crisis was Bill 39, the Better Municipal Governance Act, 2022, which would give Strong Mayor powers to the regional governments of Durham, Halton, Niagara, Peel, Waterloo and York. It is the sister legislation that would allow Bill 23's goals to be forced through local councils that would be weakened if Bill 39 passes as proposed. It would allow municipal bylaws in support of provincial objectives to be passed with only one-third support around the council table.
This Bill, if passed, would also allow the PC government to appoint the regional heads of council for Niagara, Peel and York regions.
Stiles said she was "horrified" and called Bill 39 a "revenge plan from a Premier that doesn't always get his way."
"I think what I'm hearing from people in Brampton is people in Brampton know and people in Peel Region know what their communities need. They elect local representatives to get things done and to listen to them about how they want to see things fixed, and this government always seems to think they know best. They want to railroad everybody else. It's really undemocratic and insulting I think to the people of Brampton and Peel Region."
---
Email: [email protected]
Twitter: @JessicaRDurling
---
COVID-19 is impacting all Canadians. At a time when vital public information is needed by everyone, The Pointer has taken down our paywall on all stories relating to the pandemic and those of public interest to ensure every resident of Brampton and Mississauga has access to the facts. For those who are able, we encourage you to consider a subscription. This will help us report on important public interest issues the community needs to know about now more than ever. You can register for a 30-day free trial HERE. Thereafter, The Pointer will charge $10 a month and you can cancel any time right on the website. Thank you


Submit a correction about this story