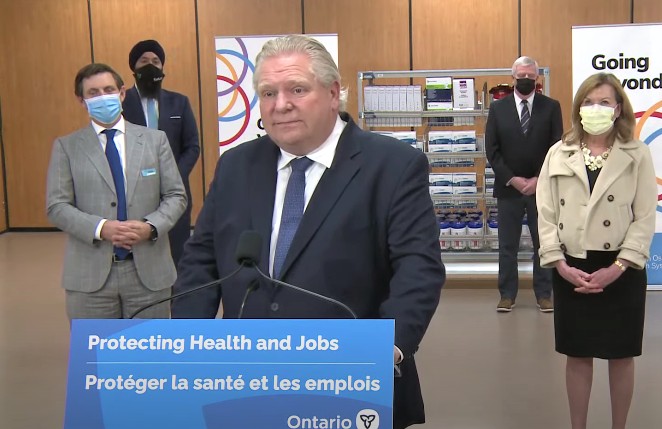 Screengrabs Government of Ontario/The Pointer file photos/Rendering City of Brampton
In full campaign mode Ford announces 250 hospital beds for Brampton – the city asked for 850
A little over a year ago, Brampton Mayor Patrick Brown and the rest of City Council passed a resolution declaring a health care emergency.
It demanded the Doug Ford PC government give the country's ninth largest city its fair share of healthcare funding to fix the decades-long crisis residents have suffered through.
The top priority, as Brown and others highlighted in the unanimous motion, supported widely by groups across Brampton and in other parts of the province, was the need for an adequate expansion of Peel Memorial, which currently does not serve as a hospital.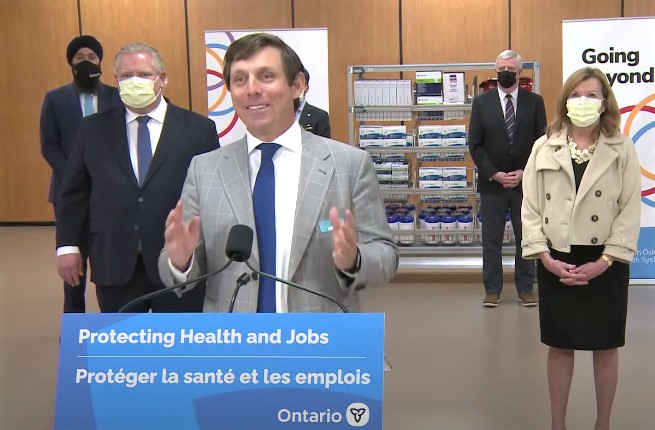 Mayor Patrick Brown is spinning the 250 beds as good news, after he demanded 850.
Previous Liberal governments had outlined the Phase 2 development of the facility as part of plans made more than a decade ago to bring online Brampton's desperately needed second hospital, as the city's population continued to explode.
Stories of patients treated in the hallways of Brampton Civic, the city's only hospital, and other deplorable conditions there, had become so common that the term "hallway healthcare" became synonymous with Brampton.
When Brown and the rest of council passed the healthcare emergency declaration in January of last year, there was one fundamental demand laid at Premier Ford's feet: The promised Phase 2 expansion of Peel Memorial had to include 850 beds.
The City's direction stated, "to ensure hospital bed count is equivalent to the provincial average per capita, a need for an additional 850 beds, at Peel Memorial Centre in the Phase II development of the Peel Memorial Centre for Integrated Health and Wellness, to be achieved within this current mandate of the Provincial Government."
When the resolution passed, Brown said, "Brampton's health care system is in dire need of funding and support from the Provincial government. On behalf of Brampton City Council, we will not stand idly by. We have officially declared a Health Care Emergency in Brampton, and we are requesting immediate action and response from all health care system providers to address our community's urgent needs."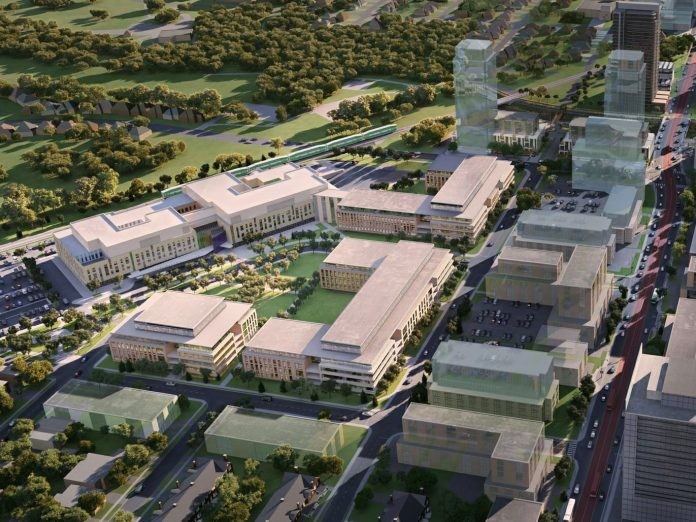 Earlier renderings of Phase 2, promised by the Liberals, showed a much larger plan for Peel Memorial.
On Friday, Ford disappointed all who expected the 850 beds or even half that figure.
He arrived in the city to offer details after Wednesday's budget document provided few.
"The people of Brampton, you have waited far too long," he said, in an overtly campaign-style message.
He announced Peel Memorial's Phase-2 expansion will include only 250 beds, a fraction of what the city demanded, and not nearly enough to bring Brampton's per capita bed count to the provincial average.
Ford then apologized for the missteps of previous Liberal and NDP governments that he said created the city's healthcare problems.
"I get passionate about the issue because that's just unacceptable. The great people out there, you deserve better," he said.
He delivered the statement at Peel Memorial, currently called an integrated health and wellness centre. It will now see the addition of 250 inpatients beds and a 24/7 emergency department, if Ford follows through on his commitment. Peel Memorial currently has no inpatient beds and runs an urgent care centre that closes at 9 p.m. every night.
"This is the hospital the city deserves. This modern new hospital will help us keep up with the amazing growth in this area," Ford said.
In fact, the addition won't keep up with the "amazing growth" of Brampton, which the province relies on to host an outsized share of newcomers who arrive in the GTA each year.
Currently, Brampton has about 0.92 hospital beds for every 1,000 residents, less than half the Ontario average of 2.4 according to a report last year by the Financial Accountability Office of Ontario (FAO) an agency established under provincial legislation.
The addition of 250 beds will bring the city's rate to less than 1.3 per 1,000 residents. But this figure does not take into account the population growth that will occur between now and 2028, the year William Osler, the health system that runs Peel Memorial, has said the expansion should be ready by.
According to the population growth figures cited by the City of Brampton, the additional beds will put the figure at about 1.1 per 1,000 residents by the time Phase 2 opens.
That is still well below half the current average in Ontario, and the 250 beds is just a fraction of the 850 the City said it needs just to reach the minimum benchmark.
The report by the FAO was prepared to analyze Ontario's hospital capacity during the COVID-19 pandemic, and compared the province's per capita bed count with other jurisdictions around the world.
The U.S. has 2.8 hospital beds for every 1,000 residents, Canada has 2.5 and the UK also has 2.5. The best performing countries fund far more beds; France has 6, Russia has 8.1 and Japan topped the list at 13.1.
It showed that in comparison to Canada as a whole, Brampton has a little more than a third the number of hospital beds per capita and an even smaller fraction compared to many other countries our healthcare system is often measured against.
It has led to the ongoing crisis and the emergency declaration by council last year.
When the Province funded the Oakville Trafalgar Memorial Hospital less than a decade ago, about $2.3 billion was provided by Ontario taxpayers, including those in Brampton, for the massive new state-of-the-art facility which houses 457 beds. When it opened about five years ago, it gave Oakville 2.3 hospital beds per 1,000 residents, more than double what the Peel Memorial expansion, which is estimated to cost between $200 million and $499 million, according to Infrastructure Ontario, will result in for Brampton residents.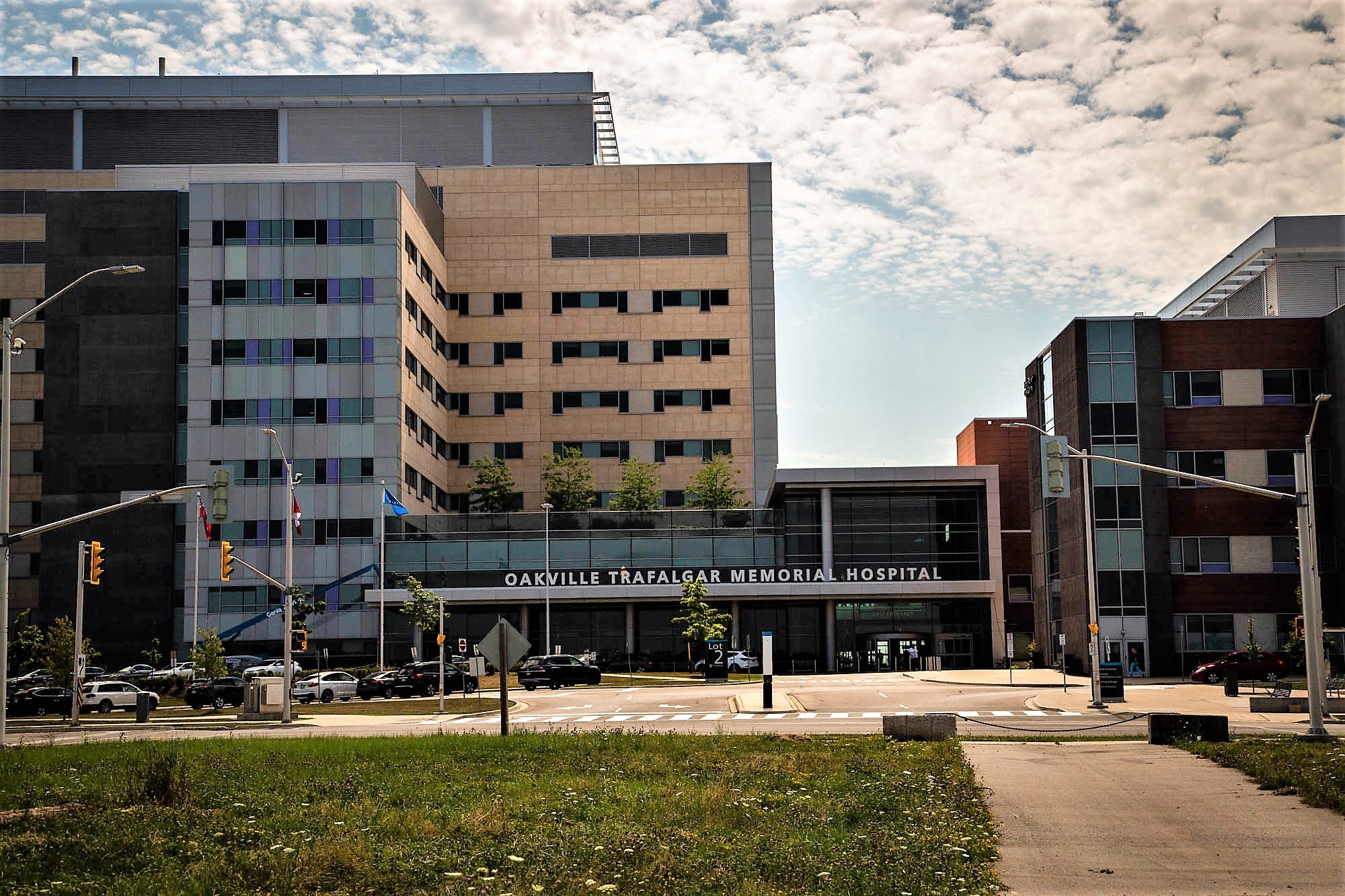 Oakville's new hospital gave the municipality more than double the beds per capita than Brampton.
On Wednesday, after the provincial budget mentioned the commitment toward Phase 2 but included no bed numbers, no costs and no timeline, the City of Brampton issued a press release suggesting the expansion would free up between 90 and 100 beds at Brampton Civic Hospital, which caused speculation that even fewer beds would be announced for Peel Memorial.
While 250 beds will help put a dent in the city's ongoing healthcare crisis, it's nowhere near enough.
It's not clear how many of these beds will be dedicated to acute and critical care, or for treatment such as complex care and other specialized units. Ford offered few details Friday.
It was positioned more as a campaign event than a detailed healthcare briefing.
"We need more voices down in Brampton," Ford said Friday, during his visit. "There's five seats, provincial ridings, we need to get those other three seats to continue having a strong voice down at Queen's Park. In the next election please vote for the PC government in the three other ridings and I promise you we won't let you down as we haven't let you down here," Ford said.
It's rare for a premier to so blatantly pander for votes, targeting specific ridings, during an official government budget announcement. It blurred the line between what is even allowed during government business. He was not in Brampton on behalf of the PC party, and the event was paid for by the taxpayers of Ontario.
Those same taxpayers in Brampton might be wondering why Ford seemed to attach strings to healthcare funding in the city, asking for votes and to send three more PC MPPs to Queen's Park in 2022.
The messaging, with his repeated claims of coming through for Brampton, appeared to forget that taxpayers in the city send their hard earned contributions to the Province every year, but unlike other cities, those tax dollars do not come back to Brampton in a fair way. Essentially, local taxpayers are subsidizing the hospital beds Queen's Park funds in other parts of the province while continuing to ignore one of Canada's fastest growing municipalities.
Construction of Phase 2 could start in 2023 but no timeline was mentioned. Peel Memorial Phase 1 took five years to complete. Under a similar timeline, by the time Phase 2 is finished, the need for beds will only expand.
"There's no promise or schedule of what the future looks like in terms of additional infrastructure development," Richard Antonio of the Ontario Health Coalition told The Pointer.
Health Minister Christine Elliott, who was also in Brampton Friday, said $1.5 million is "immediately" being put toward the plans to construct the expansion. A further $18 million will be provided through 2021 and 2022 to expand Memorial's urgent care centre into a 24/7 operation, "paving the way for an eventual emergency department as part of Peel Memorial's transformation." It's unclear why the funding details weren't provided in the 2021 budget document. The Pointer asked the Ministry of Health to provide specific details on what the $1.5 million will cover but did not receive a response ahead of publication.
The announcement is being called woefully inadequate for a city that's been in a healthcare crisis for the past 14 years. "It's just scratching the surface of addressing the need," Antonio said. He questioned how extra staff, maintenance, and other important aspects required for a hospital to run, will be paid for.
This is what many are concerned about. It took almost 20 years for Phase 2 to finally get a mention in the budget, after first being promised by the Liberals and this is the only significant healthcare infrastructure expansion Brampton has seen in 14 years.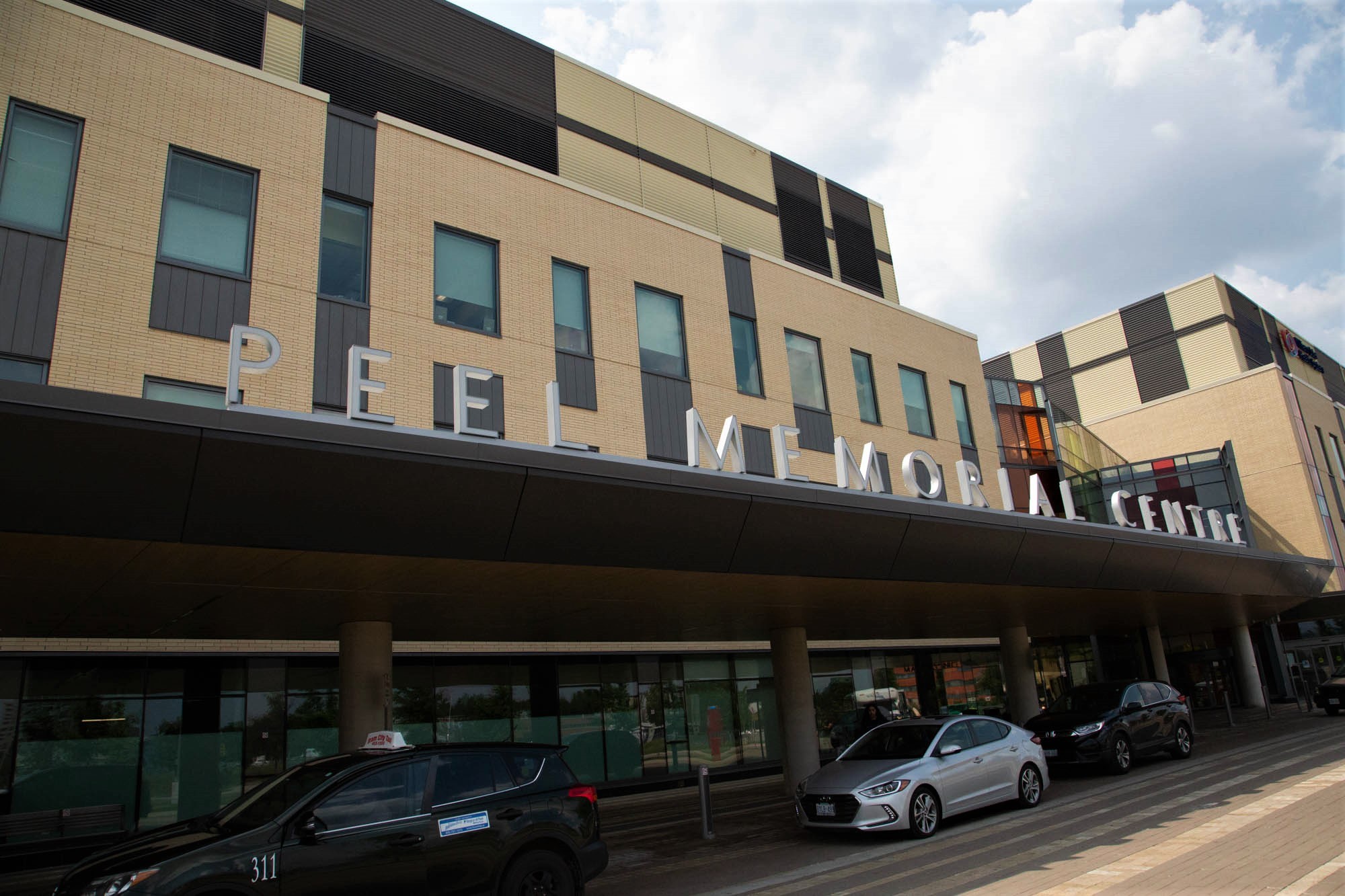 Peel Memorial currently is not a hospital, has no inpatient beds and does not operate an emergency department.
Assuming the PCs make good on their pledge for Phase 2, residents are already asking when the next investment will come.
"Brampton simply can't wait another two decades for more beds," Chris Bejnar, co-founder of Citizens For a Better Brampton, told The Pointer Friday. He said 250 beds is better than the 90 to 100 he feared Memorial would get, after the City's misleading press release Wednesday.
"But this is a fraction of what we need. Does this mean the Province will now ignore Brampton for another 20 years, when we already need a third hospital right now, and probably a fourth soon – the Province has said we're going to 900,000-plus (residents) by 2040?"
Brampton can't wait decades again to get healthcare funding it needed twenty years ago, Bejnar said.
The NDP agrees.
"Ford's announcement was just another election promise. He's picking up where the Liberals left off, re-announcing the Peel Memorial expansion and not committing to get shovels in the ground while he has the chance. The next election is in 2022 — now construction won't even begin until 2023 in Ford's new timeline," NDP MPP Gurratan Singh (Brampton East), told The Pointer.
Also unclear is whether or not the Province entered a memorandum of understanding (MOU) with William Osler Health System, the organization that operates Peel Memorial and Brampton Civic. MOUs are formal documents signed by parties to indicate a binding contract, so all sides are forced to follow through on what they agreed to. The Ford government has broken promises in the past. In 2018, Ford cancelled $90 million of funding for a Ryerson University satellite campus in downtown Brampton, despite the announcement by the previous Liberal government.
The City is holding onto $20 million in taxpayers' money meant for the Phase 2 expansion but its financial role remains unclear. A total of $60 million was collected when the Province said Osler would have to pay between 20 and 25 percent of the costs for Phase 1; $40 million of the special Brampton levy was used and the remainder was set aside for Phase 2. The City and the Ministry of Health have not offered details of any possible local funding requirement.
The local health system manager usually has to contribute between 20 and 25 percent of specific capital costs for new healthcare infrastructure such as a hospital or an expansion, but the Province determines case-by-case whether a local share is required and how much.
The Friday press conference seemed like a continuation of the 2018 campaign. Brampton was the poster child for "hallway healthcare" when Ford was stumping to become premier. With just 14 months left before the next election, Ford used the only announcement about healthcare in Brampton with funding attached to it, as an opportunity to campaign.
Brampton's two PC MPPs Prabmeet Sarkaria (Brampton South) and Amarjot Sandhu (Brampton West) stood back while Ford made the comments. NDP MPPs Sara Singh (Brampton Centre), Kevin Yarde (Brampton North) and Gurratan Singh raised questions about how Ford and the PCs planned the Friday announcement.
One of Ford's campaign-style statements stemmed from a question asked by Jagdish Grewal, editor and publisher of the Canadian Punjabi Post, who ran to represent the Conservative Party in the riding of Mississauga-Malton during the 2015 federal election, before the Conservative Party dropped him for writing controversial remarks in Punjabi regarding homosexuality. The detail about Grewal's presence Friday and his connection with the Conservatives was first tweeted by Richard Southern of 680 News. Other journalists including Colin D'Mello of CTV and Cynthia Mulligan of CityNews also raised concern over Ford's apparently partisan use of a journalist to launch into a campaign-style speech.
In a press release, the NDP claimed Grewal was "planted" to ask scripted questions. "People are suffering during this pandemic, while Doug Ford's focused on his electoral prospects. He's focused on crass electioneering, begging for votes in exchange for hollow promises while dodging real questions," NDP Ethics and Accountability critic Taras Natyshak said.
---
Email: [email protected]
Twitter: @nida_zafar
Tel: 416 890-7643
---
COVID-19 is impacting all Canadians. At a time when vital public information is needed by everyone, The Pointer has taken down our paywall on all stories relating to the pandemic and those of public interest to ensure every resident of Brampton and Mississauga has access to the facts. For those who are able, we encourage you to consider a subscription. This will help us report on important public interest issues the community needs to know about now more than ever. You can register for a 30-day free trial HERE. Thereafter, The Pointer will charge $10 a month and you can cancel any time right on the website. Thank you.
Submit a correction about this story