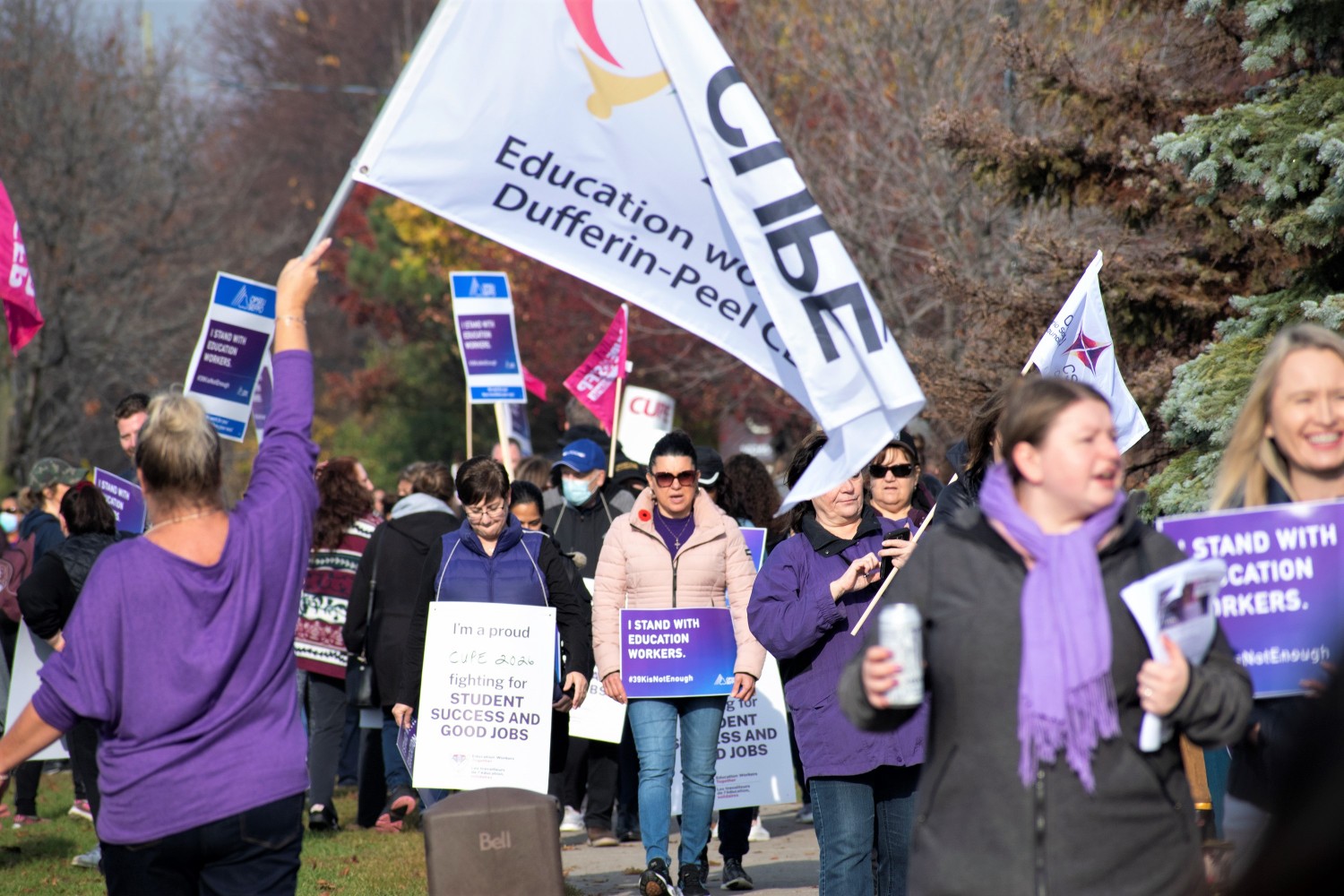 Alexis Wright/The Pointer
Why does the PC government undervalue certain types of work?
"I've had members reach out to say they'd have to go to a food bank because they'd have to pay rent. Just alone in the last four or five months, we've had interest rate increases, which affects people's mortgages and their mortgage payment and there's no extra money to compensate for these increases."
Those are the harrowing words of Lisa Maye, CUPE 2026 president for the Dufferin-Peel Catholic District School Board. She, like many Ontarians, has been advocating for her members, education workers currently fighting for a living wage as the PC government has threatened unprecedented legislative action to force a deal.
As negotiations resumed between CUPE and the Province Tuesday, allowing schools to reopen after a two-day strike, the thorny relationship between the Doug Ford government and certain unionized workers has once again shaken the public trust.
As collective bargaining talks unfold, setting the tone for the next four years, the PC government's ongoing treatment of some public sector workers, who keep our schools, hospitals and other critical institutions running, is raising concern over their ability to live in Ontario, and whether or not Ford cares.
"He chose to try to bully what I believe he considers the weakest part of the education sector to try and set an example for others," says Evelyn Blackwell, president of CUPE 1628, which represents office and technical staff across the Peel District School Board (PDSB). She refers to the Ford government's threat to use the notwithstanding clause as a "sledgehammer".
"CUPE members have chosen this profession because they care about the children," she says. "This isn't about wanting just wages and stuff, but we want to be valued, who doesn't want to be valued for the work they do."
The union has said it's becoming increasingly difficult for its members to live in Ontario.
"A decade of wage restrictions imposed by the government have meant that education workers' wages have fallen 10 percent behind inflation and below the wages earned by employees who work in the private sector," the union noted.
Ontario NDP Education critic Chandra Pasma has called out the PC approach since the beginning of negotiations, questioning how the government can claim to be motivated by student well being, while ignoring the well being of those who take care of the students.
"If Doug Ford had the well being of these workers in mind they wouldn't have been going to food banks in the first place, they wouldn't have been working two or three jobs and when they made clear they could no longer afford to do this job that they love and that is important to them, that there would've been a willingness to negotiate in good faith."
While the strike has ended and the school closures only lasted two days, the government's heavy-handed approach—threatening to invoke the notwithstanding clause to strip away the right of workers to negotiate their own contract—came months after refusing to revoke legislation that has kept salary increases for nurses to one percent annually, even as they worked crippling hours through the pandemic, and even though inflation was almost eight times higher than their anemic pay raises.
To justify its threat of passing Bill 28 (which is now off the table) to force school custodians, early childcare workers and office staff back to work, the PCs continuously cited student well being as the reason behind the authoritarian approach.
But Ontarians have seen the government's refusal to extend the same concern for the 55,000 workers who care for and support students across Ontario.
Of the union's 55,000 frontline education workers, over 70 percent are women. More than half work at least one additional job to make ends meet and nearly two-thirds are laid off every summer.
The majority of the attendees at the CUPE strike in North Brampton on November 4 – like the sector itself – were women. This is not the first time the Ford government has targeted female dominated industries, as seen earlier this year with Bill 124.
(Alexis Wright/The Pointer)
Ontario school board workers gave bargaining notice to the PC government on June 3, the day after the provincial election and the first day they were legally allowed to do so, in an attempt to ensure workers had service guarantees in place ahead of the 2022-23 school year.
The government delayed and failed to provide guarantees for the services students require, or commit to salary increases toward a livable wage.
During bargaining discussions in August, the government proposed a four-year deal that offered education workers making less than $40,000 a two percent raise and a 1.25 percent raise for all other employees.
The four-year deal imposed by Bill 28 would have given 2.5 percent annual raises to workers making less than $43,000 and 1.5 percent raises for all others.
CUPE said the government's offer amounted to an extra $800 a year for the average worker.
Reports Tuesday indicate the PCs are now offering 3.5 percent to those making less than $43,000.
The previous contracts were subject to Bill 124, introduced by the government in 2019, which capped wage increases to one percent a year for three years for certain public sector workers, including employees involved in the current collective bargaining, and nurses, among others. Even though nurses were deemed essential workers at the outset of the pandemic and endured unthinkable conditions over the past two-and-a-half years to keep the province afloat during waves of COVID-19, the PCs refused to give them more than the one percent annual salary increase imposed by Bill 124.
As a result, droves of nurses have been leaving the province, or quitting the profession altogether.
Meanwhile, education workers are being asked to accept salary increases that only cover about half the current increases in the cost of living in Ontario. The union has stated much more needs to be done to address the financial reality of education workers and initially proposed an annual increase of 11.7 percent—or $3.25 per hour—also citing staffing shortages and job security as top priorities in recent negotiations.
The increase would help address the cost of living pressure and compensate for the wage restraint created by Bill 124. The union has since tabled a counter-offer that cut its wage proposal in half, to six percent.
Workers also bargained for more educational assistants, an early childhood educator in every kindergarten classroom, more library workers and custodians and adequate staffing of office staff in schools.
While the education sector was laying out proposals and preparing for negotiations, after the June election Premier Ford was revealing the new majority government, which includes 43 PC MPPs who were given the role of parliamentary assistant which came with a $16,600 annual salary jump for those Members of Provincial Parliament.
While the vast majority of PC MPPs outside cabinet were given an almost 15 percent raise, now earning about $133,000 annually, according to OSBCU, education workers currently trying to negotiate a living wage earn an average of just over $39,000 per year.
Education workers' wages have increased by only 8.8 percent since 2012 while inflation in Ontario has been more than 21 percent over the same period.
Blackwell said the role of education workers is undervalued by the current government, and public understanding of CUPE members and educational workers across Ontario remains unclear.
"It's not really understood and people are constantly comparing us with teachers and we're not teachers," she explained. "We're not paid on the same scale as teachers. We don't have the same benefits as teachers. We don't have the same retirement packages as teachers."
She said workers have unique skills, develop familiarity with their roles over years and often keep schools running.
"If you can just really put somebody in there just off the street, then we wouldn't be in the labour disaster we're in all across Ontario, not even just in the educational sector. These workers are working under a lot of times in toxic environments, some dangerous environments," she added. "They're overstressed, overworked, undervalued, quite a lot of times under-compensated."
According to a study conducted in March by CUPE, not only have the wage gaps had significant effects on the personal and financial well-being of education workers, but local CUPE unions and school boards have indicated that low wages have resulted in recruitment and retention problems.
As with many boards across Ontario, Blackwell previously told The Pointer the pressing issues facing Peel are wages and job security. With the last central agreement expiring on August 31, she said workers in the board have already lost a key piece of their job security.
Staffing pressures are another major concern facing the board. While members of the union want to help families and be supportive, Blackwell says they often don't have enough time because they're so understaffed.
If wages don't keep up with the severe escalation in costs across the province, she says school boards will start to lose even more members.
Not having enough staff available also makes for a more stressful environment for these workers, Blackwell says, leading their systems to become overloaded to the point where they need to be on stress or sick leave.
"I have so many members that go to work not feeling well because they just can't bear the thought that there won't be somebody in there to fill their spot if they're not well."
Maye, the CUPE local president for the Dufferin-Peel Catholic District School Board, also confirmed there is a retention and recruitment problem within these boards because of low wages.
"Nobody wants their jobs. Nobody wants to come and work for free," Maye explained. "And you get abused and get disrespected and it can be a very difficult environment to work in."
An educational assistant on twitter shares data from the Workplace Safety Insurance Bureau which is responsible for tracking violent incidents in the workplace. According to their data, elementary and secondary educational assistants sat in the number one spot at 635 incidents in Ontario in 2019.
(Twitter)
Pasma, the NDP's education critic, says what the province needs to see now is a government at the table with a deal that will keep education workers in the school system, a contract that will allow them to buy their own food, instead of being forced to use food banks.
"Many of them needed to work multiple jobs and were being strained beyond the limits of what one person can bear just to remain in the system," she says. "They were being very clear that they could not continue to do that and yet the government was busy drafting this legislation (to invoke the notwithstanding clause) instead of sitting down at the table to negotiate a deal with these workers.
"They were already being driven out of the system," she added. "The government had already driven the system to a point where these supports were disappearing and not there and if this was really about the kids we would make sure that those supports would be there, we would make sure that there were people for all these roles and that we knew the people who were filling these roles could afford to stay."
While the government maintains it is prioritizing student well being, Maye says she finds it blatantly disrespectful to the CUPE members who are on the frontline putting students first every day.
President of CUPE 2026 Lisa Maye (middle, in purple top) at the strike outside of MPP Graham McGregor's office in Brampton on November 4, 2022.
(Alexis Wright/The Pointer)
"As much as the focus is on students, it should also be on the workers who are delivering the services," Maye told The Pointer, also noting the threat of Bill 28 confirmed how out of touch the Ford government is with the financial struggles of education workers.
"The fact that they had to take that route with the lowest paid workers in education to take a heavy hand and a sledgehammer to try to crush us just absolutely shows the utmost disrespect, shows they were not serious from the get go," she says. "They were serious about using their power to get a deal, not to negotiate a deal."
Maye added she wouldn't want to see anyone in education or the public sector be faced with this type of heavy-handed approach when there is a process in place on how negotiations are to be handled.
"When we have decent wages, then people feel valued at work. they're happy to go to work to know that they have a wage the family can live on," she says.
Education workers in Peel are struggling to support themselves and their families, subsisting on inadequate wages as the demands of their jobs increase, while inflation has come close to double digits.
Ten years ago, food insecurity wasn't an issue for most education workers with job security through their contract with the Province of Ontario.
Things have changed.
The Mississauga Food Bank's annual Face of Hunger Impact Report, released in September, showed food bank visits were up 50 percent, with 243,194 people utilizing its services; 45 percent of Mississauga residents who live below the poverty line accessed support from the Mississauga Food Bank last year – almost double compared to the previous the year.
Meghan Nicholls, CEO of the Mississauga Food Bank, mentions a single mom that went to her neighborhood Food Bank because she was struggling financially. She was working three jobs, one was as an aid for special needs kids at an elementary school.
"This is one example... but I'm sure there are hundreds of other folks [where] one of their jobs is in education, but they have to have multiple ones to be able to make ends meet and sometimes even still can't do it," Nicholls says.
Economists have pointed to hyperinflation in the housing market as one reason more people are being pushed into financial hardship.
Sheila Block, senior economist for the Canadian Centre for Policy Alternatives, acknowledges there has been a historic undervaluation of care work, from personal support workers and nurses to educational assistants.
Block references Bill 124, which capped public sector salaries at one percent for certain workers.
"And in particular when you're seeing the inflation rates that we're seeing it puts people into pretty terrible positions where they have to be choosing between putting enough food on the table for their families or paying the rent," she says.
The 2021 Census includes income data for 2019, and shows the median after tax income for individuals in Mississauga was $37,200 (close to what education workers represented by CUPE earn on average). That works out to an average of $2,800 a month to cover all costs. Data from the Toronto Regional Real Estate Board shows that in the third quarter of 2022, there were 431 one-bedroom units rented in Mississauga and the average rate was $2,438 a month.
This means the median individual income from 2019 would only leave $362 to cover all utilities, telecommunications, clothing, transportation, insurance and loans/credit each month after paying the average current rent for a one-bedroom unit.
This does not include food. For more and more residents, after paying the rest of their bills, they are leaning on outside help to eat.
A tweet from a CUPE worker detailing their need to rely on support for food and clothing.
(Twitter)
The food bank notes about 14.7 percent of the population in Mississauga lives under the poverty line, a measurement that has started including more traditional "middle class" earners, and roughly 85 percent of the clients are living in poverty.
Currently, 14 percent of food bank clients say their main source of income is from employment. As of November 2021, Nicholls said in Peel, the average living wage was $19.80 an hour, about the same as what many education workers currently earn.
The living wage, Nicholls explains, should not just be the minimum wage but should cover the actual cost of living.
"When we're setting a minimum wage, a living wage for somebody, that's the living wage for someone to be able to live and I would say that that doesn't recognize education or the importance, the nature of that role, the education that the person's had to get to do it," Nicholls says.
"I think that we need those folks to have a wage that doesn't mean that they need to use the food bank. They shouldn't have to work three jobs to make ends meet, no one in our community should."
Coming out of the current contract negotiation, Nicholls says her organization's hope is not only that education workers end up with a wage that gives them a better quality of life, but that it continues the conversation across the province for other sectors where wages need to be addressed to ensure people don't need to turn to food banks.
With negotiations continuing between the government and CUPE, 55,000 education workers will soon know if they will be closer to having a liveable wage, or if they will fall further behind as the cost of living continues to soar.
"These people are here because they care about the students," Blackwell stated. "People knew what they were getting into with wages and what-not when they first got in, but they expected to also be treated fairly, kindly and respectfully from our elected officials, and that has not been the case.
"I don't think that this government has prioritized or valued [these workers]," she added. "I think that our education system is in chaos, our healthcare system is in chaos."
---
Email: paige.p[email protected]
Twitter: @mcpaigepeacock
---
COVID-19 is impacting all Canadians. At a time when vital public information is needed by everyone, The Pointer has taken down our paywall on all stories relating to the pandemic and those of public interest to ensure every resident of Brampton and Mississauga has access to the facts. For those who are able, we encourage you to consider a subscription. This will help us report on important public interest issues the community needs to know about now more than ever. You can register for a 30-day free trial HERE. Thereafter, The Pointer will charge $10 a month and you can cancel any time right on the website. Thank you
Submit a correction about this story