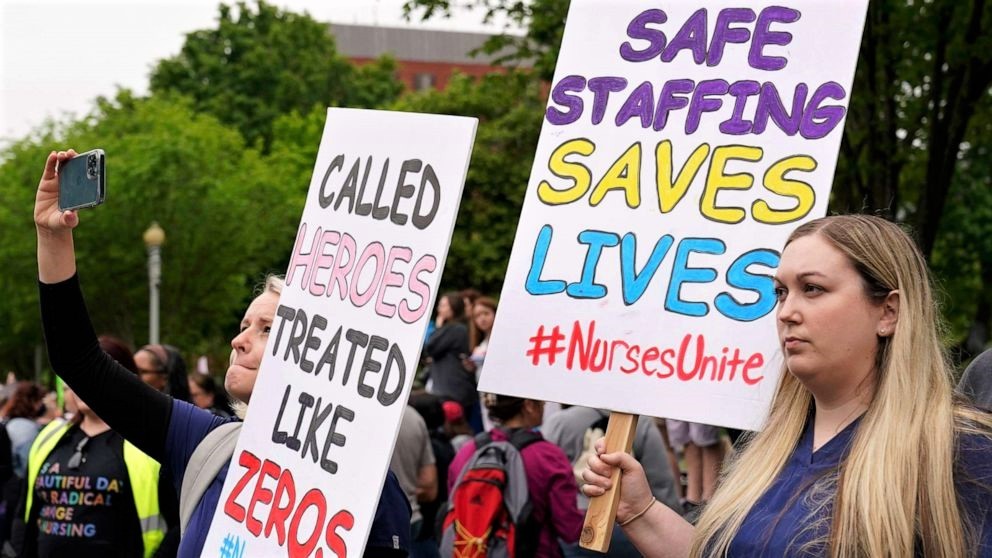 Photo by Nick Leaf/Twitter
Burnt-out nurses fleeing Ontario for U.S. jobs, compensation and structure
It is clear Peel is in a very different position than a year ago, thanks in large part to modern medicine, the dedication of healthcare practitioners and public health policies that have helped steer us from the worst of the pandemic.
What has gotten even worse is the system-wide collapse as nurses leave in droves, with the pandemic exposing a healthcare structure built on a shaky foundation.
Premier Doug Ford has said changes are coming to Ontario's healthcare networks, a move some critics say is a step to privatize the system. On August 18 the government announced its plan to hire more nurses, add more hospital beds, cover costs of exams/applications for retired or international nurses and invest money into tackling the surgical backlog including, "increasing the number of OHIP-covered surgical procedures performed at independent health facilities". The last pledge was a clear signal the PCs plan to shift certain healthcare capacity away from the public system toward private, for-profit providers.
Nurses protested Bill 124, passed by the PCs prior to the pandemic. It curtailed their wage increases to one percent annually, even when they worked long hours under brutal conditions.
(Twitter)
Other changes Ford and the PCs are championing include legislation forcing patients occupying hospital beds to be transferred elsewhere. Bill 7, More Beds, Better Care Act (2022) is on its second reading at Queen's Park, and would, "add a new provision for patients who occupy a bed in a public hospital and are designated by an attending clinician as requiring an alternate level of care."
If passed it would amend the Fixing Long-Term Care Act (2021) and allow hospital staff to transfer patients to long-term care facilities, including those run privately.
"The actions include having a placement co-ordinator determine the patient's eligibility for a long-term care home, select a home and authorize their admission to the home," the provisional Bill reads.
The transfer could be done without the consent of the patient, but the PC government this week addressed growing concern, pledging no patients will be transferred to a facility without their consent.
"Unlike hospitals, long-term care homes can't close down services to relieve staffing pressures," an Ontario Liberal press release cautioned. "Long-term care homes are fully operational 24/7 making the current staffing crisis even more acute. There is no relief valve for them and that puts residents and staff at risk."
Legislation like Bill 7 could worsen the nursing crisis, pushing more professionals out of Ontario. Peel's hospitals continue to face severe staffing shortages, some small rural emergency rooms have closed in the past month and surgical backlogs continue to pile up, highlighting the crisis Ontario hospitals face. In urban areas with more than one hospital, the patient load has increased but not the staff, creating stressful work environments across the province.
In Peel, after 81 consecutive days, Brampton Civic Hospital declared its latest Code Gridlock over on August 19. This meant for more than two months Brampton's lone hospital was at a standstill, with patients waiting in the emergency department as demand exceeded the amount of space available inside the hospital. When capacity is reached, patients end up waiting or being treated in hallways and a code gridlock is called.
Ameek Singh, a registered nurse at Toronto's St. Joseph's Health Centre, explains there are multiple reasons why nurses are leaving in droves from hospital settings. The largest reason, in his opinion, is the lack of monetary compensation.
Through Bill 124, which passed prior to the pandemic to curtail public sector salaries, including those for nurses, by capping annual increases at 1 percent during a "moderation" period, the Provincial Government has created a perfect storm during a period of hyper-inflation. Nurses have faced increases to their costs of as much as ten percent while their salary has gone up one percent, despite working crushing hours in brutal conditions.
Without wage increases, and with continuous stress, no vacations and deteriorating working conditions, nurses are questioning why they should stay in Ontario.
Allaina Lucier was an Ontario registered nurse (RN) who knew better pay and working conditions could be found elsewhere. In the early months of the pandemic, she was working in a primary care clinic in Windsor.
"I remember just multiple days where I'd be driving to work like, 'Oh, I didn't think this could get worse, and here we are'," she told The Pointer. "I just felt, just so defeated that I didn't even deserve one day off after everything."
Like many nurses, her hours were extended but the pay was stagnant. The daily stress and anxiety placed on her life made it difficult for her to relax outside of work. Lucier promoted healthcare workshops to help cope, but after hearing horror stories from friends inside Ontario hospitals that matched her own, she applied for a position at Ascension Healthcare in the United States. She now works in a small hospital 25 minutes from the Windsor border in the emergency department.
"Nursing is a stressful profession, no matter where you're doing it. I think that I'm well supported by my managers and my peers," Lucier said. "When I hear about what my friends go through, I would say that they stress about things that I haven't ever had to stress about (since making the move)."
A consistent worry for Ontario nurses is how to balance the increasing number of patients when the unit is short-staffed. Some nurses who have spoken to The Pointer previously have said the nurse-to-patient ratios have increased dramatically during the pandemic, stretching healthcare professionals thin.
This is dangerous to the mental health of the hospital staff and for the patients in their care.

Registered nurse, Ameek Singh, also has extensive experience working with people suffering from homelessness in Peel during the pandemic.
(Photo submitted)

A large number of nurses are now using outside agencies, which Singh says is the heart of the issue.
When Singh goes to work in the mental health unit within the emergency department, sometimes he is the only full-time nurse. The rest of his colleagues are agency nurses being paid double, or sometimes triple what he makes hourly. Prior to the pandemic, these agencies existed to provide nurses with opportunities to fill in during times of need at other hospitals or primary care institutions. Singh says they would be used during holidays or summer break to allow the full-time and part-time nurses in the hospital time off.
"Let's say five nurses are supposed to work, you might be the only full-time staff or hospital nurse," he says. "You'd also be partly orientating people, showing them the ropes while managing your own patient load while making sure everything else in terms of flow and communications with other departments is going well. It's a very stressful environment."
A joint letter by the Ontario Council of Hospital Unions (OCHU) and the Canadian Union of Public Employees (CUPE) requested Premier Ford immediately work to address the ongoing "critical staffing crisis" within hospitals, and includes a list of recommendations, including an increase in wages for nurses and other staff; and the launch of an effort to incentivize and recruit back those workers who have left the healthcare system.
It explains how agency nurses "bleed away resources from round-the-clock and weekend staffing, worsening morale and weakening the continuity of care."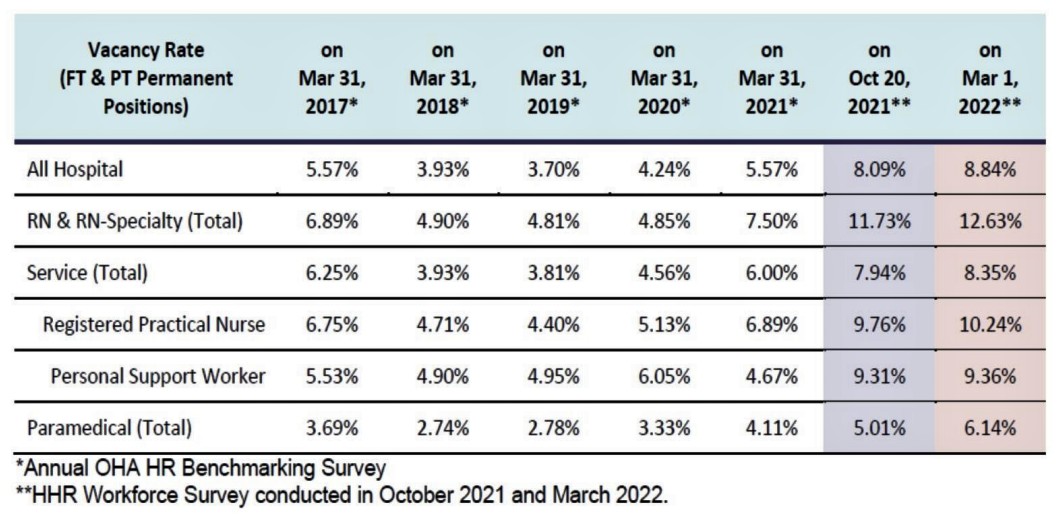 Data in the joint letter showcases other healthcare positions like paramedics and personal support workers also have high vacancy rates.
(Ontario Council of Hospital Unions & Canadian Union of Public Employees)
The pandemic has changed the dynamic of healthcare employment agencies drastically. They are funded through the Ministry of Health budget just as public hospital nurses are, the biggest difference is the pay.
"Let's say you're getting paid $32 to $35 an hour, and an agency nurse coming in is getting paid $70 an hour or $80 an hour for the same job," Singh said. This leads to even poorer morale, and contributes to staff departures.
It increases animosity between nurses when tight-knit units need to work together. As COVID-19 cases are increasing again, nurses continue to respond but some have decided to leave.
Lucier says her hospital in the U.S is trying to "get rid" of agency nurses.
"They talked to the travel nurses that had come in and said, 'Hey, we'll actually pay you more if you just come work for us instead of using your (employment) travel agency'," she says.
On top of having a steady job with supportive colleagues, Lucier says nurses are entitled to bonuses on top of their salary, another way to entice agency nurses to work full-time for the hospital.
Brad Zavaros worked in the United States at Henry Ford Health System in Michigan from 2016 to September 2020. At the time he commuted to work from Essex, Ontario. Most Ontario hospitals operated in a state of emergency when COVID-19 spread throughout the community; Zavaros did not feel the same pressure in the U.S hospital.
"It ran very smoothly, almost like a business in a sense, they knew how to run it, strategically that they wouldn't have excessive staff, but they also wouldn't have unsafe staffing," he told The Pointer. He now works at London Health Services Centre in the Cardiovascular Intensive Care Unit.
He left his job in the U.S. to be closer to family but did consider another travel nursing position.
"They were offering an insane amount of money, just as well as government stipends to help with your housing and food," he said. "The incentive to really go back to the States was definitely there."
Even in the U.S. staff nurses have made a fraction of what traveling professionals have been paid during the pandemic. Kaiser Health News reported the following: "Rates for a new staff nurse at Northeastern Vermont Regional Hospital in St. Johnsbury, for example, start at $30 an hour—plus benefits and extra for night shifts. At the pandemic peak, the hospital paid staffing agencies about $175 an hour for each travel nurse. The rate remains well over $100 an hour, but the hospital is trying to negotiate it down. Because the hospital pays the agency directly, how much nurses pocket is unclear, said CEO Shawn Tester."
These types of wages are likely unsustainable and will have to come down, but what's clear is that Canadian nurses moving to the U.S. are making substantially more than what they earn in Ontario, and they can choose well managed organizations with far lower rates of stress.
Zavaros says speaking to former colleagues at Ontario hospitals, there seems to always be bad news.
"From what I hear from my other co-workers at previous jobs is that they're stressed, they're spread thin, which is making them feel unsafe," he told The Pointer. "We're licensed professionals so we are also worried about losing our license."
Nurses face intense situations and the potential for errors increases when people are burnt out.
"I've heard a lot of coworkers joke that we got into the wrong profession, just because the way it's trending lately has just been kind of sad," Zavaros says. "We don't feel like we're getting the government support or support from really anyone."
With outbreak control needed to limit the spread of COVID-19, nurses who are on the unit no longer have outside assistance from colleagues.
"Sometimes somebody is a two-or-three-person transfer from bed to chair," Singh explained. "[If] the right staffing ratios aren't there, guess what ends up happening? Nurses go into rooms by themselves, and they end up hurting their backs… muscle pains are a constant reminder of the hard strenuous work that needs to be done."
Limiting the spread and reducing contact between nursing staff also can cause an increased sense of loneliness and lack of support. It is necessary to keep the health of the hospital in mind but nurses have for two-and-a-half-years constantly worked under these circumstances.
A recent study by the Registered Nurses Association of Ontario (RNAO) found that nurses who gave so much during the pandemic are now expected to continue working in these mentally and emotionally draining conditions.
The report, Nursing Through Crisis, uses data in Canada, Australia and other international trends to compare what Ontario nurses are going through. Ontario has fewer RNs per capita than the average across Canada. Job vacancies are also climbing with many going unfilled for 90 days or more, leaving hospital staff to meet demand with less capacity, leading to more burn out.
The study evaluated how the increased workload affected the mental health of Canadian nurses. It found 16.7 percent of nurses felt extremely severe depression during the pandemic. A further 54.8 percent felt "normal" amounts of depression during the last two years. Similarly, extreme severe anxiety was felt by 20 percent of nurses across Canada, and "normal" amounts were felt by 55.7 percent of respondents.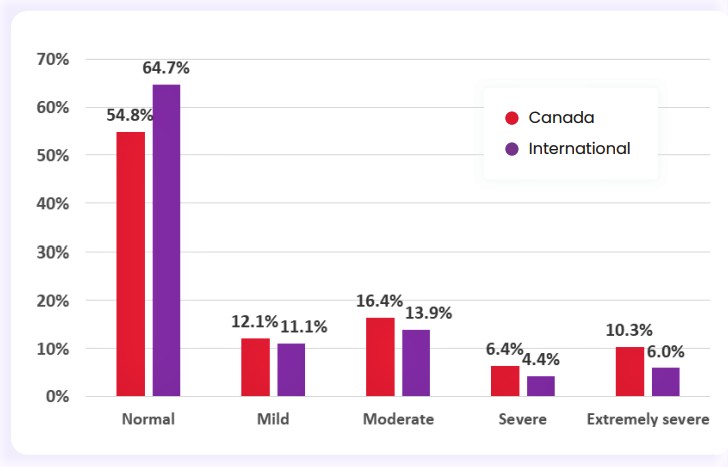 The above graph shows the number of nurses in Canada with extreme depression is higher than the international average. Below, the graph depicts the number of nurses who experience anxiety in Canada.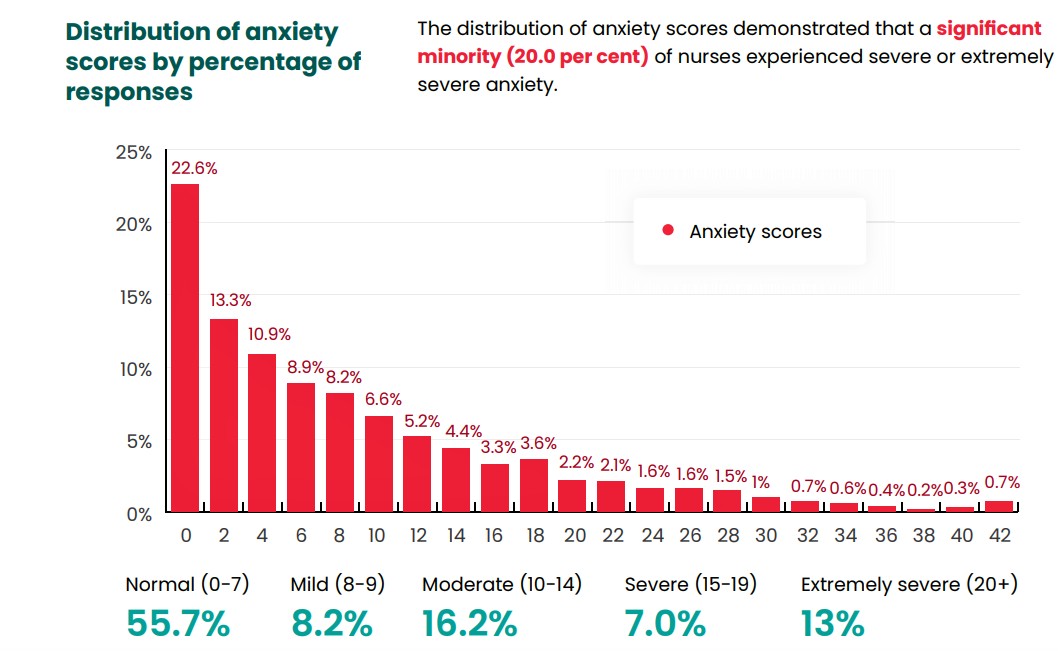 Mental health issues follow nurses outside of work where many (41.4 percent) find it hard to wind-down after shifts. About 33.9 percent were aware of mouth dryness indicating a lack of time to hydrate in between treating patients or being able to take a moment throughout a shift or outside of work. A further 34.5 percent found it difficult to relax and experienced a lack of initiative to do things (29.2 percent) outside of work hours.
The study found nurses aged 21 to 25 experienced the highest levels of depression, anxiety and stress.
For Lucier, the impact personally is what shaped the decision to work in the U.S.
"Ontario is my home," but she just could not keep working here.
---
Email: [email protected]
Twitter: @taasha__15
---
COVID-19 is impacting all Canadians. At a time when vital public information is needed by everyone, The Pointer has taken down our paywall on all stories relating to the pandemic and those of public interest to ensure every resident of Brampton and Mississauga has access to the facts. For those who are able, we encourage you to consider a subscription. This will help us report on important public interest issues the community needs to know about now more than ever. You can register for a 30-day free trial HERE. Thereafter, The Pointer will charge $10 a month and you can cancel any time right on the website. Thank you
Submit a correction about this story