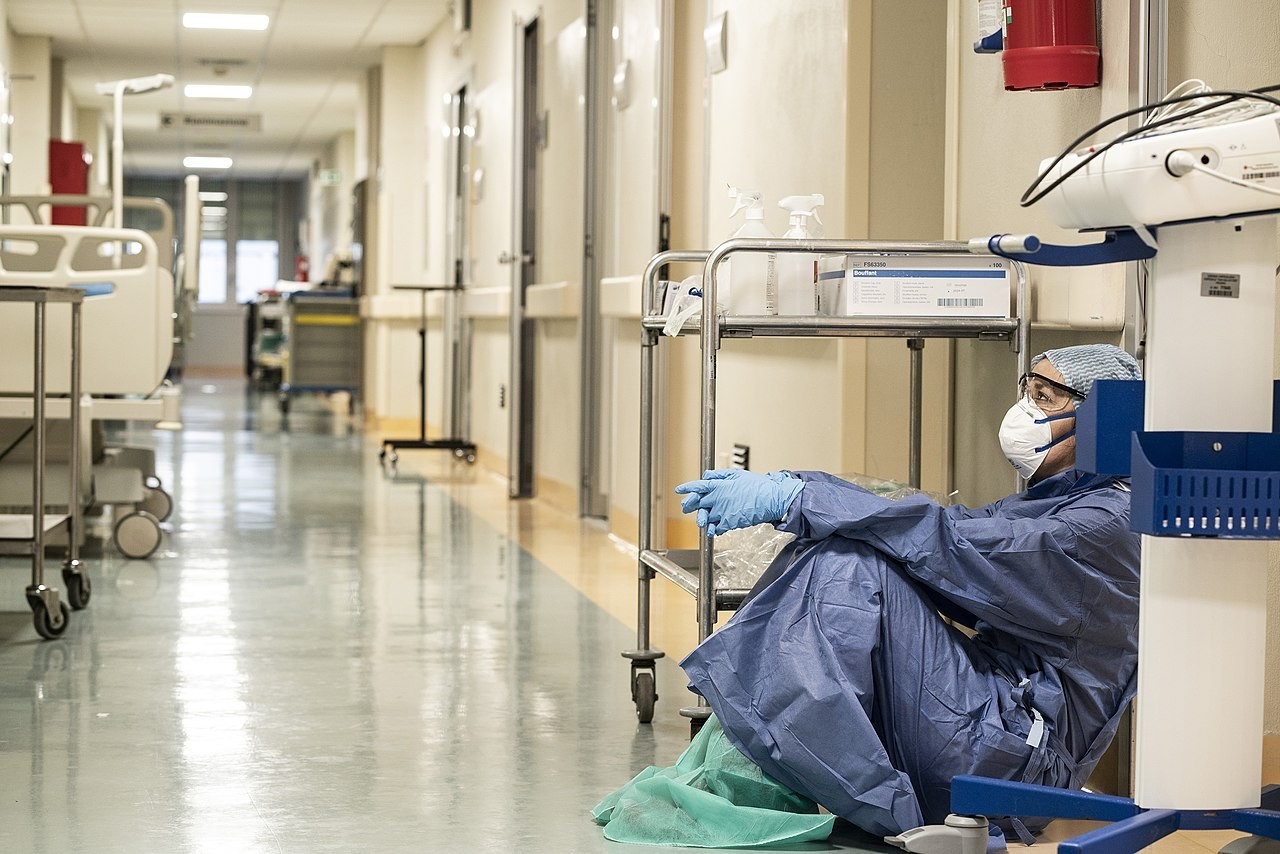 Feature image from Alberto Giuliani/Wikimedia Commons
Ontario's healthcare system is at a breaking point; Brampton Civic is at a 'standstill'; Health Ministry spokesperson says things are 'running smoothly'
Critics are comparing Ontario's healthcare system to the Titanic. Facing staffing shortages, a burnt-out workforce and the combined pressures from a more than two-year surgical backlog and the ongoing COVID-19 pandemic, Ontario hospitals and the dedicated professionals who work inside them are slowly sinking. A number of organizations are calling on the Progressive Conservative government for help.
In Brampton, the problem is made worse by a severe lack of resources. Brampton Civic, the City's lone full-service hospital and the birthplace of the term 'hallway medicine,' has been in code gridlock for 31 days straight.
According to the William Osler Health System which operates the facility, it means the hospital is at a "standstill", and the number of patients waiting in the emergency department in need of a bed exceeds the amount of space available. When capacity is reached, patients end up waiting or being treated in hallways.
"Like many other hospitals across the province, William Osler Health System (Osler) is currently experiencing a high demand for care compounded by ongoing staffing shortages and COVID-19 unit outbreaks," an Osler spokesperson told The Pointer in an email. "These challenges put significant pressure on our operations and can result in longer emergency department wait times for our community."
According to the spokesperson, there are 8,000 staff at Brampton Civic and the number of those in isolation/recovering from COVID-19 fluctuates daily. The organization would not share how many staff are currently away from work—with illness or otherwise. The staffing shortage and increased workload forced the organization to close the Peel Memorial Centre for Integrated Wellness in Brampton on July 10, redirecting patients to the already packed Civic hospital. Peel Memorial reopened the following day.
"[O]sler's dedicated teams work diligently to balance the need for our services with staffing challenges that have been exacerbated by the pandemic," the spokesperson said.
At Trillium Health Partners' (THP) two hospitals in Mississauga, the story is similar to other Ontario hospitals. According to a THP spokesperson, 92 staff members are off due to COVID-19. THP has a contingent of 10,619 staff, according to its annual report. THP also operates the Queensway Health Centre in Etobicoke.
According to media reports, hospitals in smaller communities that normally operate with fewer staff are also feeling this system pressure. The Canadian Press reported emergency departments in Perth, Clinton, Listowel and Wingham have closed recently for hours or days at a time.
According to the Ontario government website, the average emergency room wait time in the province is 20 hours. This is a drastic increase from 2020 when in November of that year, Ontarians were waiting an average of 12.8 hours in the ER.
Health Quality Ontario data show that Brampton Civic has some of the longest wait times in the province, with patients currently spending an average of 25.3 hours in the waiting room. Patients at THP's Credit Valley Hospital will wait an average of 28 hours and Mississauga Hospital patients wait on average 23.7 hours.
Funding for the healthcare system to address the increasing pressure was one of the main topics of conversation when Canada's premiers met for a two-day summit in Victoria, B.C. earlier this month. The group renewed calls for the federal government to increase its share of funding for healthcare. Closer to home, Premier Doug Ford and his newly appointed health minister and Dufferin—Caledon MPP Syliva Jones have done very little to aid or acknowledge the ongoing crisis.
On July 22, the NDP's health critic France Gélinas made blistering statements about Jones, demanding she "come out of hiding".
"Day after day, the staffing crisis in our hospitals is getting worse. Patients are in pain, waiting hours in ERs, having surgeries delayed again and again, and even being sent home when they desperately need care," said Gélinas. "Health care workers and experts are literally begging the provincial government for help. Workers are exhausted and demoralized by the lack of government support."
Jones did not respond directly to a request for comment, instead responding through a spokesperson, who did not acknowledge the dire situation described by many of Ontario's healthcare professionals.
"Hospitals lead their day-to-day operations, and we commend them for working tirelessly to keep operations running smoothly," the spokesperson said.
This description is a dramatic departure from the scenario described by healthcare professionals on the frontlines. The Health Ministry ought to be well aware of the ER closures witnessed earlier this month, and the ongoing code gridlock situation at Brampton Civic. It's unclear how this can be described as "running smoothly".
"People have been working day in and day out, some are actually leaving the profession entirely, because they're so burnt out," says Ameek Singh, a registered nurse at Toronto's St. Joseph's Health Centre. "At the end of the day, who suffers, it's the patient who's getting poor services."
Singh says he is confronted with new colleagues every day who are facing burnout. But with the number of patients needing care still increasing, there is little time to rest.
On July 26, Peel Region had 561 active cases of COVID-19. According to a July 15 epidemiological report, the region's positivity rate was 13.4 percent, an increase from the 7.9 percent on July 1. There is an average of 15 people admitted to hospitals per day in the Region with 183 people at THP (July 22) and 39 people being treated for COVID-19 at Osler's two hospitals. Osler also operates Etobicoke General Hospital in Toronto.
This isn't the true scale of infections in Peel as the virus continues to spread widely undetected, driven mainly by the highly contagious BA.5 Omicron subvariant.
"Confirmed cases underestimate the true number of people with COVID-19 in Peel. As of December 31, 2021, reporting of cases primarily reflects high-risk cases, contacts, and settings that are eligible for testing," a Peel Public Health spokesperson told The Pointer in an email.
Other pandemic indicators in Peel are also heading in the wrong direction. Between July 5 and 11, acute care reached 100 percent capacity, with intensive care at 82 percent capacity and beds with ventilators at 44 percent.
The increasing number of COVID patients has triggered outbreaks within many specialized units at Peel hospitals. Outbreaks are declared based on provincial guidelines when two or more people test positive for COVID-19 within that particular unit. What follows is a series of strict protocols to limit the spread throughout the hospital, including further testing, limiting staff who work on multiple units, enhancing cleaning and notifying those impacted by the positive tests.
In the month of July, four units at Brampton Civic had outbreaks declared, the most recent on July 20. The Stroke Unit, Cardiology floor, a general medicine unit and rehab unit have all dealt with outbreaks since July 10.
THP has seen a total of eight outbreaks in the last month. At Credit Valley Hospital the 2C Medicine unit had five positive patients; the 1E Medicine unit had six; 2B Nephrology had six and 1D Rehabilitation Unit saw three positive patients. At the Mississauga Hospital, four units are being impacted. The Orthopedic Unit had three positive patients; 2B Surgery Unit had three; 3A Comprehensive Stroke Unit had two and 2C Cardiology had three, triggering enhanced protection measures.
The worsening situation across Ontario pushed two of the province's large health organizations to write to Premier Ford demanding action.
"As widely reported in the media, staff shortages are pervasive and have led to extended wait times for emergency care and for admission and is negatively affecting the quality and safety of care," reads a release from the Ontario Council of Hospital Unions (OCHU) and the Canadian Union of Public Employees (CUPE). The two organizations sent a joint letter to Premier Doug Ford last week, requesting he immediately work to address the ongoing "critical staffing crisis" within hospitals, and included a list of recommendations, including an increase in wages for nurses and other staff; and launch an effort to incentivize and recruit back those workers who have left the healthcare system.
According to the spokesperson for Minister Jones, the Province has launched a recruiting and training initiative to try and increase the number of nurses working in the province, and pointed to the $5,000 lump sum payment the government announced in March for nurses currently working.
A letter sent to Premier Doug Ford addressing the staffing shortage within hospitals lists tangible actions that could be taken.
(SEIU/OCHU)

Contributing to the increased workload is the estimated 3.5 year surgical backlog and thousands of diagnostic procedures that were halted throughout peak waves in the pandemic.
In April 2021, the Financial Accountability Office of Ontario (FAO) estimated by September 2021 a backlog of 419,196 surgeries and 2.5 million procedures would occur. A previous article by The Pointer highlighted how THP was well on its way to clearing the backlog before the Omicron wave hit in December of last year. Its hospitals are delivering 75 percent of its pre-pandemic surgical volume. Osler did not share how many surgeries/ diagnostic procedures are backlogged due to the multiple lockdowns and staffing shortages.
A large portion of the backlogged procedures are considered non-life threatening, but the longer something is left unchecked the potential for health complications increases.
In 2021, Ontario allocated $610 million to address the backlog.The FAO estimates clearing the surgeries and procedures backlog will cost $1.3 billion.
---
Email: [email protected]
Twitter: @taasha__15
---
COVID-19 is impacting all Canadians. At a time when vital public information is needed by everyone, The Pointer has taken down our paywall on all stories relating to the pandemic and those of public interest to ensure every resident of Brampton and Mississauga has access to the facts. For those who are able, we encourage you to consider a subscription. This will help us report on important public interest issues the community needs to know about now more than ever. You can register for a 30-day free trial HERE. Thereafter, The Pointer will charge $10 a month and you can cancel any time right on the website. Thank you
Submit a correction about this story