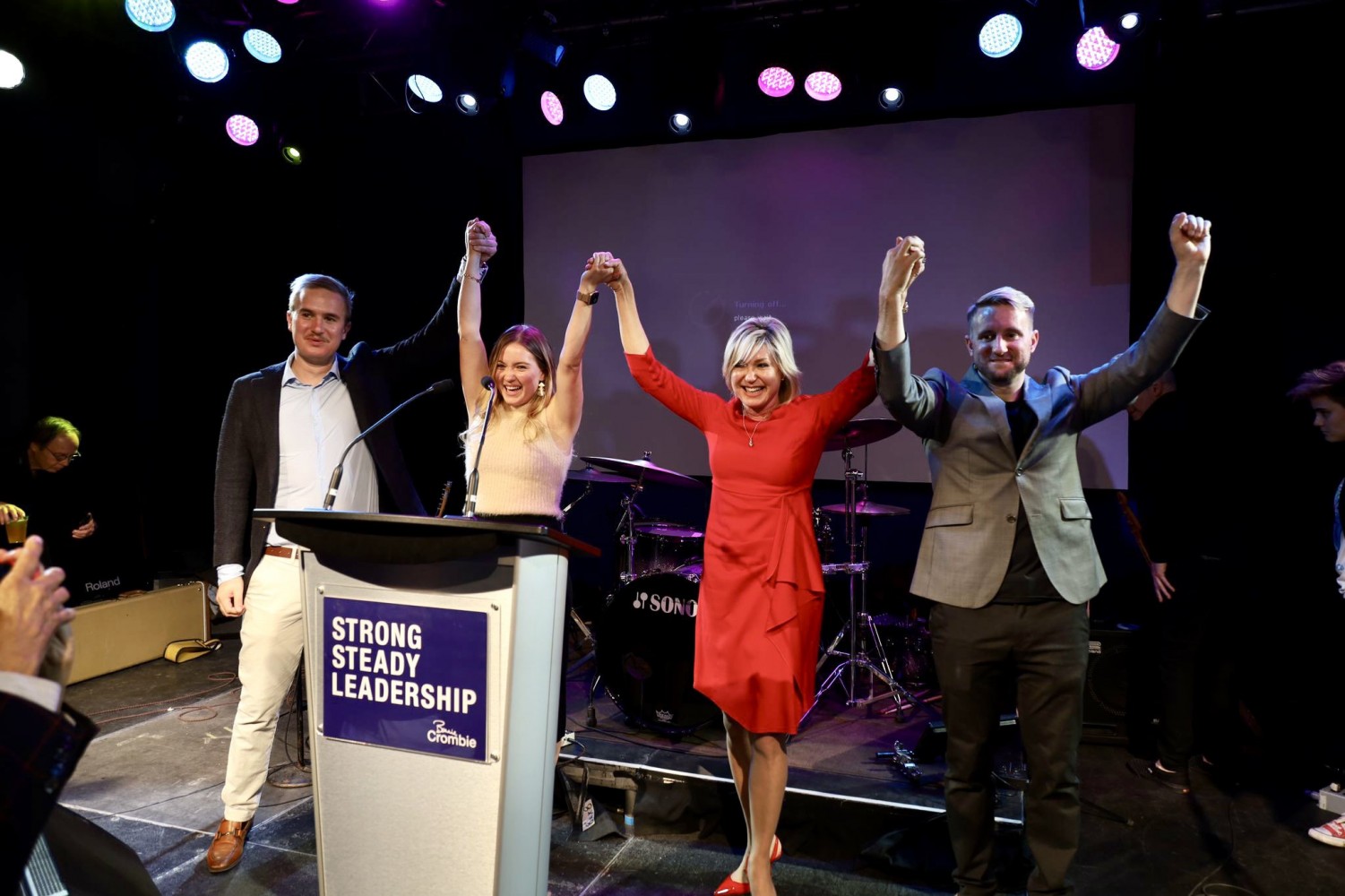 Bonnie Crombie/Twitter
Mississauga Mayor Bonnie Crombie reelected with overwhelming majority; Ron Starr easily defeated by Joe Horneck
Bonnie Crombie was reelected as mayor of Mississauga in a landslide victory Monday, receiving 77 percent of the votes cast. The evening also saw the collapse of Ward 6 incumbent councillor Ron Starr who was defeated soundly by challenger Joe Horneck.
"I am honoured that Mississauga's residents have chosen me to represent our great city for a third term," Crombie said in a Twitter statement. "Thank you for putting your trust in me and voting for strong, steady leadership as we work to build our city's bright future together."
Crombie was first elected in 2014 following the retirement of Mississauga icon Hazel McCallion.
Similar to her predecessor, Crombie has garnered widespread support from the residents of Mississauga during her time in the mayor's chair.
Throughout her term in office, Crombie's leading policy priorities for Mississauga have focused on building regionally-integrated transit, igniting new economic development opportunities, pushing a more urban agenda and creating a more open, engaging and inclusive city.
"It has been an incredible privilege to serve the people of Mississauga for the past eight years and I look forward to continuing to provide the same strong, steady leadership that you've come to deserve and expect from your leaders," Crombie said in her victory speech Monday night.
"Tonight's victory is our victory," she added. "It's because we share a common vision for the future we want to see for Mississauga. This is just the start of what we're going to achieve over the next term by working together."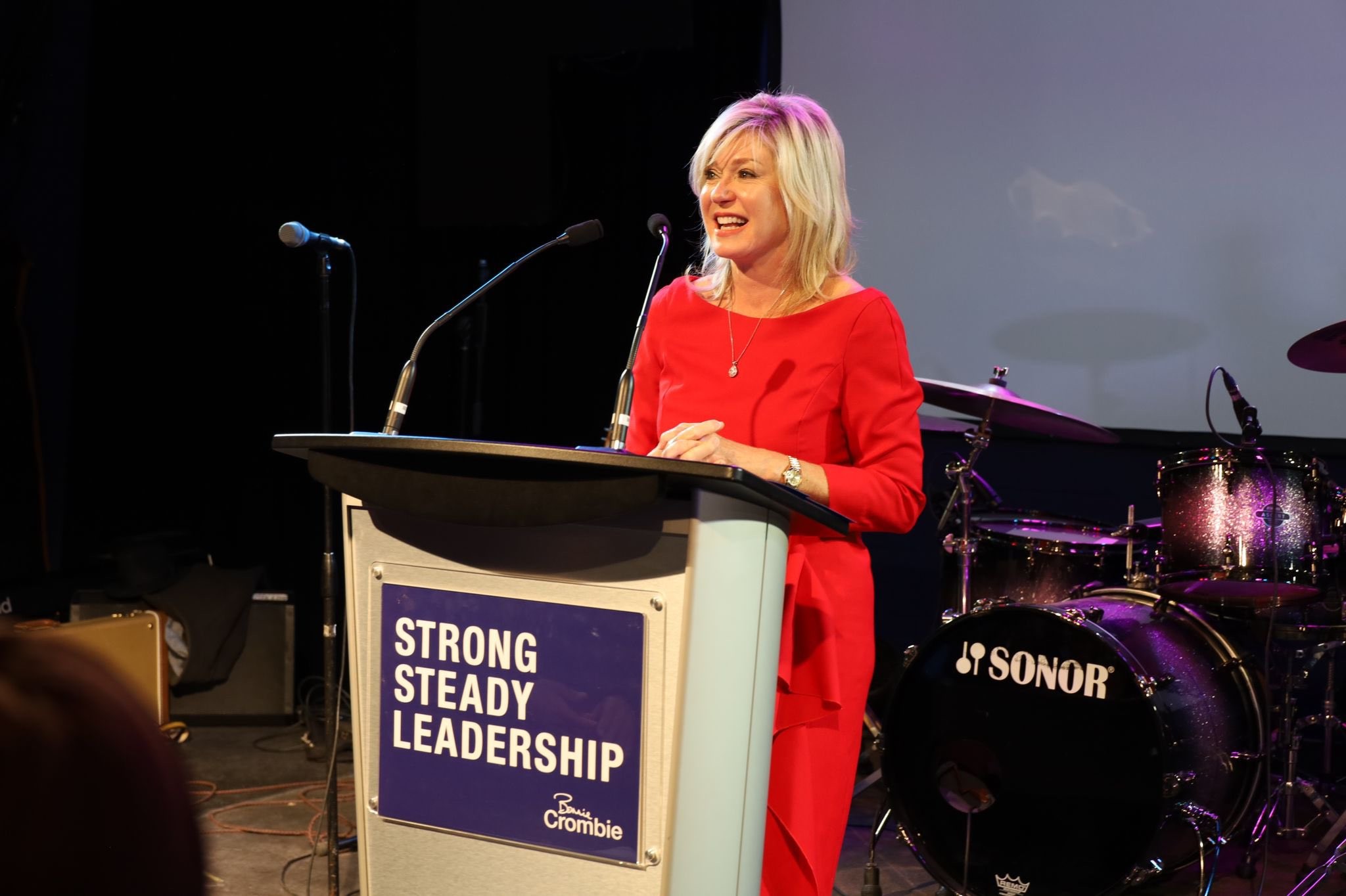 Bonnie Crombie easily secured a third term as mayor of Mississauga Monday evening.
(Bonnie Crombie/Twitter)
The main focus of Crombie's reelection platform was a renewed call for the province to allow Mississauga to separate from the Region of Peel and become an independent, single-tier municipality–a proposal that was mired in controversy early in the last term.
"This is about fairness and value for our taxpayers because our tax dollars should stay in our city and be used to support our residents and our priorities," she recently said in The Pointer's What's the Point podcast.
"I believe that an independent Mississauga will reduce the amount of red tape and eliminate duplication for two levels of government, speed up the development process and that will help create jobs and help us get more affordable housing approved," she added.
Crombie's priorities in the upcoming term will build on her previous policies and focus on addressing affordable housing, building complete and sustainable communities, creating more housing, improving public transit, enhancing community safety and retaining and attracting new businesses.
Returning as incumbent councillors joining Crombie are Stephen Dasko (Ward 1), Chris Fonseca (Ward 3), John Kovac (Ward 4), Carolyn Parrish (Ward 5), Dipika Damerla (Ward 7), Matt Mahoney (Ward 8) and Sue McFadden (Ward 10).
Mississauga's council will also see four new faces. With Pat Saito and George Carlson retiring, those seats will be filled by Martin Reid and Brad Butt—both of whom received the endorsement of the outgoing councillor. Ron Starr has been replaced by Joe Horneck in Ward 6 and Alvin Tedjo has been elected to fill the empty seat in Ward 2 left behind by the departure of Karen Ras earlier this year.
On Monday evening, Horneck finished work he started in 2018. The last municipal election saw him lose to Starr by only 347 votes. This time around Horneck claimed an overwhelming majority.
He garnered 7,085 votes or 60.23 percent, compared to Starr's 2,907 votes (25.2 percent). It was an underwhelming show of support for Starr and a clear sign that a harassment allegation against him ruined his chances for reelection.
Horneck ran on a platform of addressing traffic safety, rising property taxes and addressing the increase in crime across the city.
Joe Horneck garnered the majority of votes for the Ward 6 position, unseating Ron Starr who has held the position since 2010.
(Joe Horneck/Facebook)
Ahead of Monday's vote, Horneck received the endorsement of Crombie, who was openly critical of Starr during the council term following allegations made by former councillor Karen Ras, who resigned early in the year, that a fellow council member harassed her, involving several incidents of her car being keyed in the City Hall parking lot. It was revealed through media reports that Starr was the councillor eventually named by Ras.
A drawn-out investigation process unfolded and the City's integrity commissioner eventually found Starr, on a balance of probabilities, scratched Ras's car in one incident, recommending council dock his pay for 60 days as a result. Council accepted the recommendation.
Starr denies the allegations and is currently challenging the integrity commissioner's findings in court.
During a discussion on The Pointer's Ballot Vox podcast, Starr stated, "I am challenging the integrity commissioner because the evidence as per the public statements by our lawyers do not indicate that anything did happen, and I have taken the position that nothing did happen."
More recently, Starr faced criticism after photos of him shaking hands with notorious white supremacist Paul Fromm at his campaign launch surfaced on social media, although he maintains he did not know it was Fromm at the time.
Alvin Tedjo – Ward 2 councillor replacing Ras
Alvin Tedjo will replace Karen Ras as the new face of Ward 2 at the council table. Tedjo received 3,733 votes, next to Sue Shanly, who received 2,559.
In January, Ras announced she would be resigning her seat. She cited a number of factors that pushed her to the decision, including COVID, stress, and workplace issues.
Prior to Ras being elected in 2014, the seat was held by Pat Mullin—who was appointed to temporarily fill the role when Ras resigned. Mullin previously represented Ward 2 for 29 years before retiring in 2014.
Alvin Tedjo will be replacing Karen Ras as the new face of Mississauga's Ward 2.
(Alvin Tedjo/Facebook)
Tedjo ran on a platform with three main pillars: a green future; modern leadership; and better service.
"As a Ward 2 resident and parent, I want to make sure that our community continues to offer a high quality of life that includes a welcoming and healthy environment," his website states.
"Prioritizing a green future is critical to making sure Ward 2 and all of Mississauga grows responsibly and remains resilient in the face of modern challenges like climate change."
As part of this pledge, he will be looking to see the City add green spaces—Mississauga is currently in a deficit of available green space—develop a plan for "gentle density" and encourage the use of e-vehicles by adding charging infrastructure.
Tedjo is also hoping to host community meetings "so residents can have a real say and understand what's happening in their community"; and enhance the council code of conduct so that it "delivers appropriate consequences for those who abuse their office."
Martin Reid – Ward 9 councillor replacing long serving Pat Saito
Ward 9 attracted more applicants than any other Mississauga ward race this election, with 11 candidates vying for the seat representing the vacant council position.
After more than three decades as a councillor, Pat Saito decided to step down as the longest serving member of council, following 31 years on the job.
Martin Reid, a Mississauga resident of over 40 years, who was officially endorsed by Saito, will be assuming the representation of Ward 9 on council.
It was a close battle for the seat with Reid receiving 2,793 votes, or 26 percent of the ballots cast, and Nokha Dakroub, a former Peel District School Board trustee for Mississauga Wards 9 and 10, finishing with 2,552 votes, 23.76 percent.
Martin Reid, who was officially endorsed by outgoing councillor Pat Saito, will be assuming the representation of Ward 9.
(Martin Reid/Facebook)
In 2020, Reid was selected to be one of the 12 members of mayor Bonnie Crombie's Black Caucus. Over the past two years, it has been advising the City on how to reduce systemic barriers to enhance well-being within Black communities and throughout the city.
"It is my hope that people celebrate the opportunity to vote for someone who lives in Ward 9 and has seen the evolution of this community through the lens of a student attending local public schools, a husband looking for a house for his future family, and a parent trusting the neighbourhood is safe enough for his kids to walk to school," Reid's campaign website states.
Reid's priorities for the next four years are housing, education, neighbourhood safety, health and wellness, business and employment, and traffic and road safety.
Brad Butt – Ward 11 councillor replacing beloved veteran George Carlson
The new face of Ward 11 will be Brad Butt, who was officially endorsed by retiring candidate George Carlson, who served on Mississauga's City Council for 22 years and was widely respected across the city and Peel Region.
The long-time councillor announced earlier this year he would be retiring from Mississauga's council, creating an opportunity for a new leader to move Streetsville forward.
Butt claimed the Ward 11 seat with 3,864 votes. Leading behind him was Imran Hassan, who received 2,337 votes.
Ward 11 candidate Brad Butt was officially endorsed by retiring councillor George Carlson, who served on Mississauga's City Council for 22 years.
Butt comes into council with previous political experience as a former MP for Mississauga-Streetsville.
In a statement on his website, Butt said he hopes to continue Carlson's strong representation of the community.
"We are in very challenging times in the City of Mississauga as we recover from the COVID pandemic and re-focus on issues like infrastructure, development, transportation, affordable housing and keep property taxes low," reads a statement from Butt on his campaign website.
His priorities include increased investments in local infrastructure, keeping property taxes low by sourcing funds from other levels of government, and protecting heritage districts by establishing architectural criteria for infill development – which Ward 11 is a prime location for, he noted.
"Infill development is very important to people, we want to make sure we respect and preserve the character, particularly of our heritage districts in Streetsville and Meadowvale Village," Butt said during The Pointer's Ballot Vox podcast.
His other priorities include community safety, the environment, affordable housing, traffic/transportation and supporting businesses.
For the full list of unofficial election results, visit Mississauga's election page.
---
Email: [email protected]
Twitter: @mcpaigepeacock
---
COVID-19 is impacting all Canadians. At a time when vital public information is needed by everyone, The Pointer has taken down our paywall on all stories relating to the pandemic and those of public interest to ensure every resident of Brampton and Mississauga has access to the facts. For those who are able, we encourage you to consider a subscription. This will help us report on important public interest issues the community needs to know about now more than ever. You can register for a 30-day free trial HERE. Thereafter, The Pointer will charge $10 a month and you can cancel any time right on the website. Thank you
Submit a correction about this story