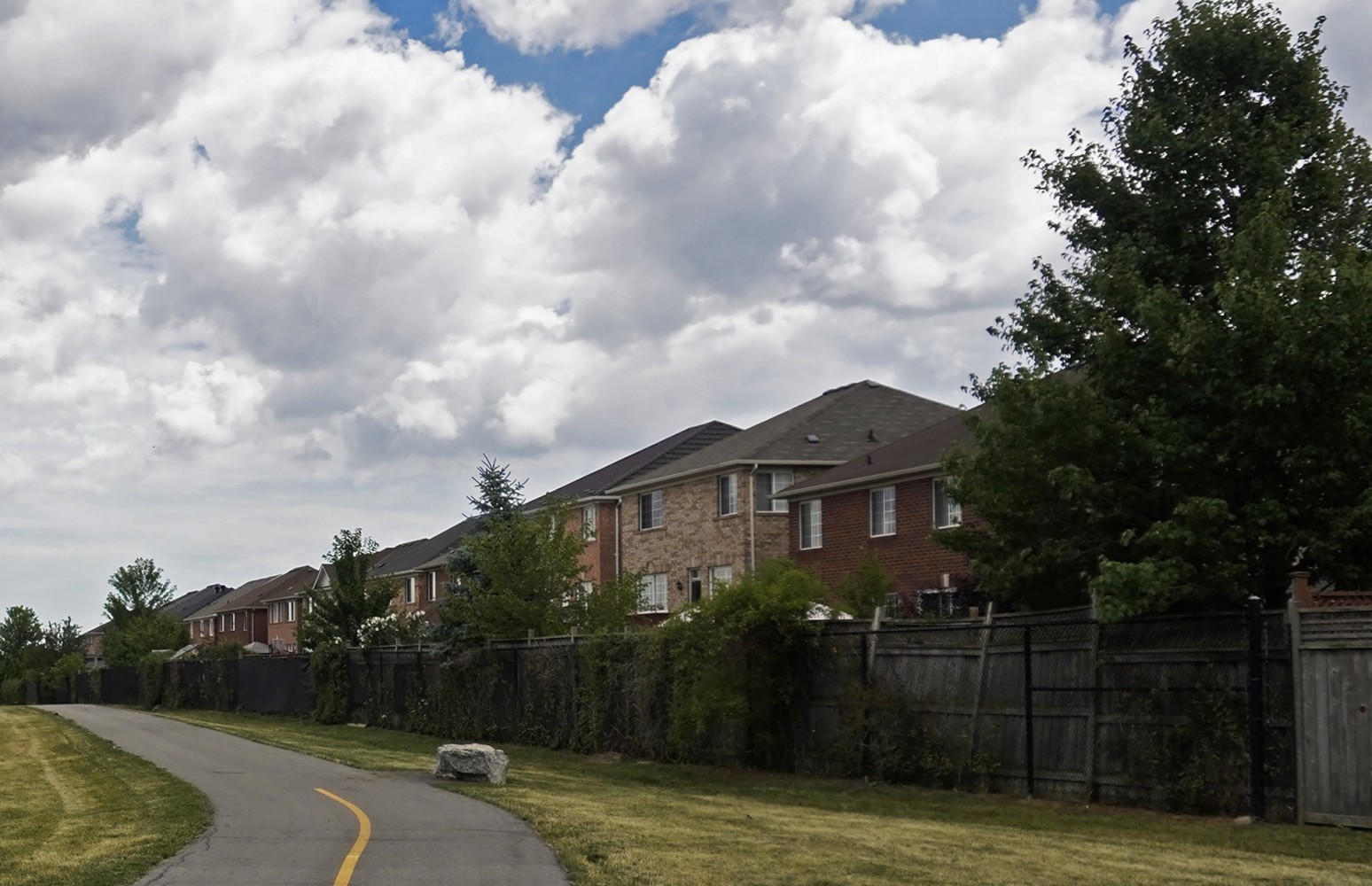 Alexis Wright/The Pointer
Experts demand incoming council members take immediate action to address affordable housing crisis
As Peel's affordable housing crisis continues to push people to the verge of homelessness, and bloat the Region's list of those waiting for assistance to keep a roof over their head, local experts are calling on candidates running for a seat at the council table to prioritize affordable housing, equity and social assistance support.
"In Mississauga we've seen rent go up by 25 percent over last year, rental units are being offered for $2,800 a month, and that 25 percent increase happens to be the highest rent increase in any GTA municipality," Douglas Kwan, director of advocacy and legal services with the Advocacy Centre for Tenants Ontario (ACTO), said.
Kwan was one of the three local experts speaking at a recent municipal election forum organized by Ontario for All, The Mississauga Food Bank, ACTO, Peel Poverty Reduction Strategy, the Peel Alliance to End Homelessness, the Centre for Equality Rights in Accommodation, and the ABR-SD Collective.
Douglas Kwan, director of advocacy and legal services with the Advocacy Centre for Tenants Ontario (ACTO).
(Joel Wittnebel/The Pointer files)
The Canada Mortgage and Housing Corporation (CMHC) determines a healthy rental market has a three percent vacancy rate, giving tenants more choice and negotiating power. Prior to the pandemic, vacancy rates in Mississauga and Brampton hovered at around one to two percent for almost a decade.
"I think the general conversation most people hear is the provincial and federal government using their levers to incentivize more housing supply, and while increasing housing supply is important and they have a lot of tools in their toolbox, municipalities also have tools themselves in zoning and bylaw powers," Kwan said.
He provided the example of how removing bylaws that require new apartment or condo developments to have a minimum number of parking spaces, could result in more affordable units, both in terms of additional space and the reduction in cost as constructing parking spaces, particularly in underground parking garages, is extremely expensive—a cost that is then passed onto the buyer.
Another is shifting away from exclusionary zoning, a dated policy that restricts certain kinds of development, mostly dense urban form like apartments, from being erected in certain portions of the city. It is the antithesis of the inclusionary zoning policies which are becoming increasingly common across Ontario, including in Mississauga.
"Perhaps there's room for a duplex or triplex to increase density and make housing more affordable," Kwan says.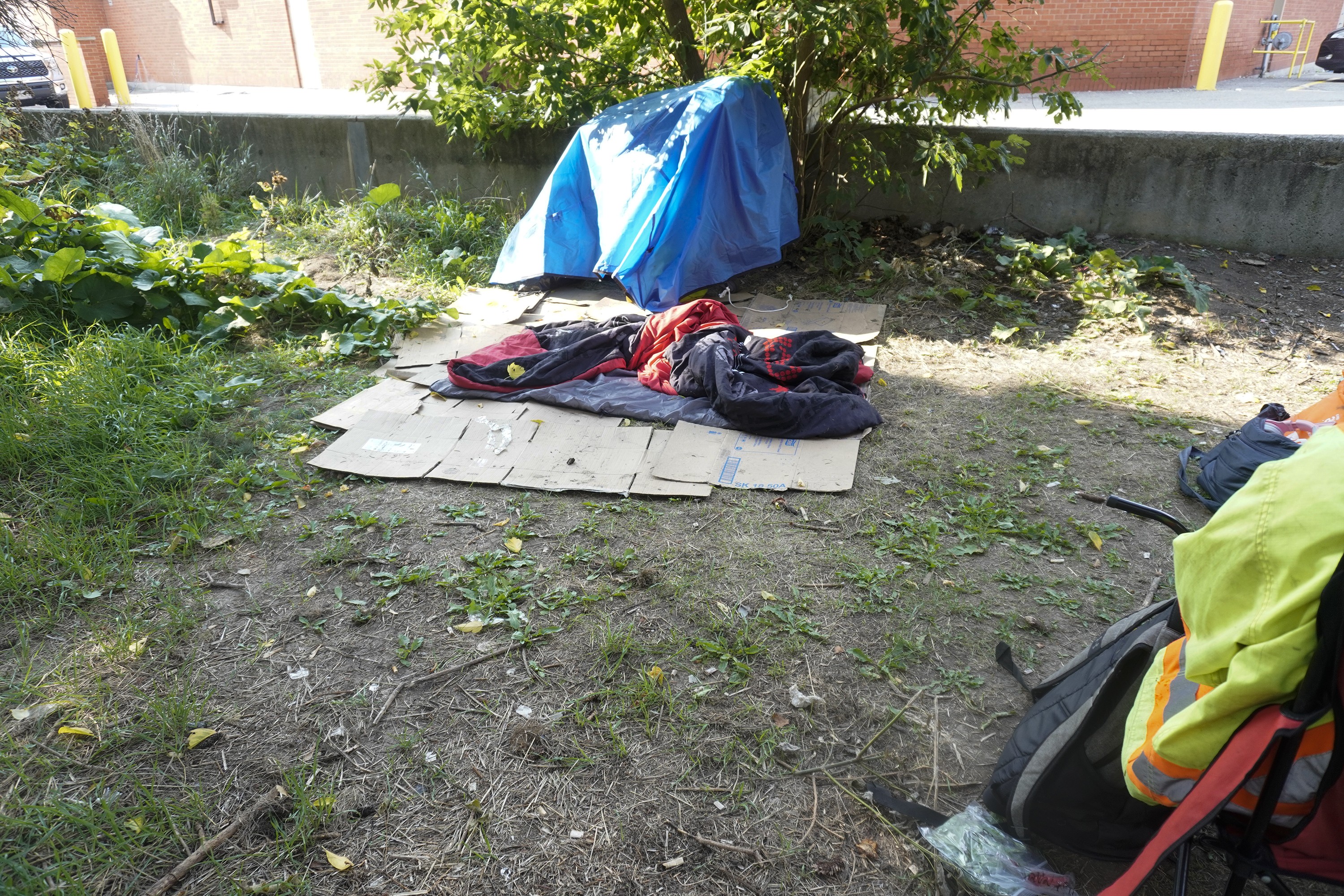 Some Brampton residents are choosing to live outdoors over staying in Peel's overburdened shelter system.
(Alexis Wright/The Pointer files)
He used Mississauga's Apartment Rental Compliance (MARC) pilot project as another example of a municipal action, where large rental buildings are proactively inspected by the bylaw office to make sure they're maintained in a habitable state.
"We've seen inclusionary zoning, short-term rental bylaws to address the Airbnb situation out there. So there are a number of tools available for municipalities to incentivize and to preserve our affordable housing stock."
Another Mississauga-specific situation discussed was the City Council's recent inclusionary zoning bylaw, which passed in August. Kwan called it "one tool in the tool box" to make home ownership more affordable.
"It specifically looks at developments around major transit areas to incentivize developers who are building in those areas to include affordable home ownership and the rules in place will make sure that those units maintain their affordability for 99 years. So we're seeing a lot of major transit development, whether that's the BRT, LRT along Ontario, and those areas that are ripe for redevelopment."
One concern for Kwan with Mississauga's bylaw is the affordability for rentals only lasts for 25 years and the provincial Residential Tenancies Act stipulates that any new rental built after November 2018 is exempt from rent control.
"So we're concerned that even though the aspiration is to make sure those new rentals are affordable for 25 years, having no rent control on those new buildings, the City of Mississauga is going to have a hard time maintaining affordability."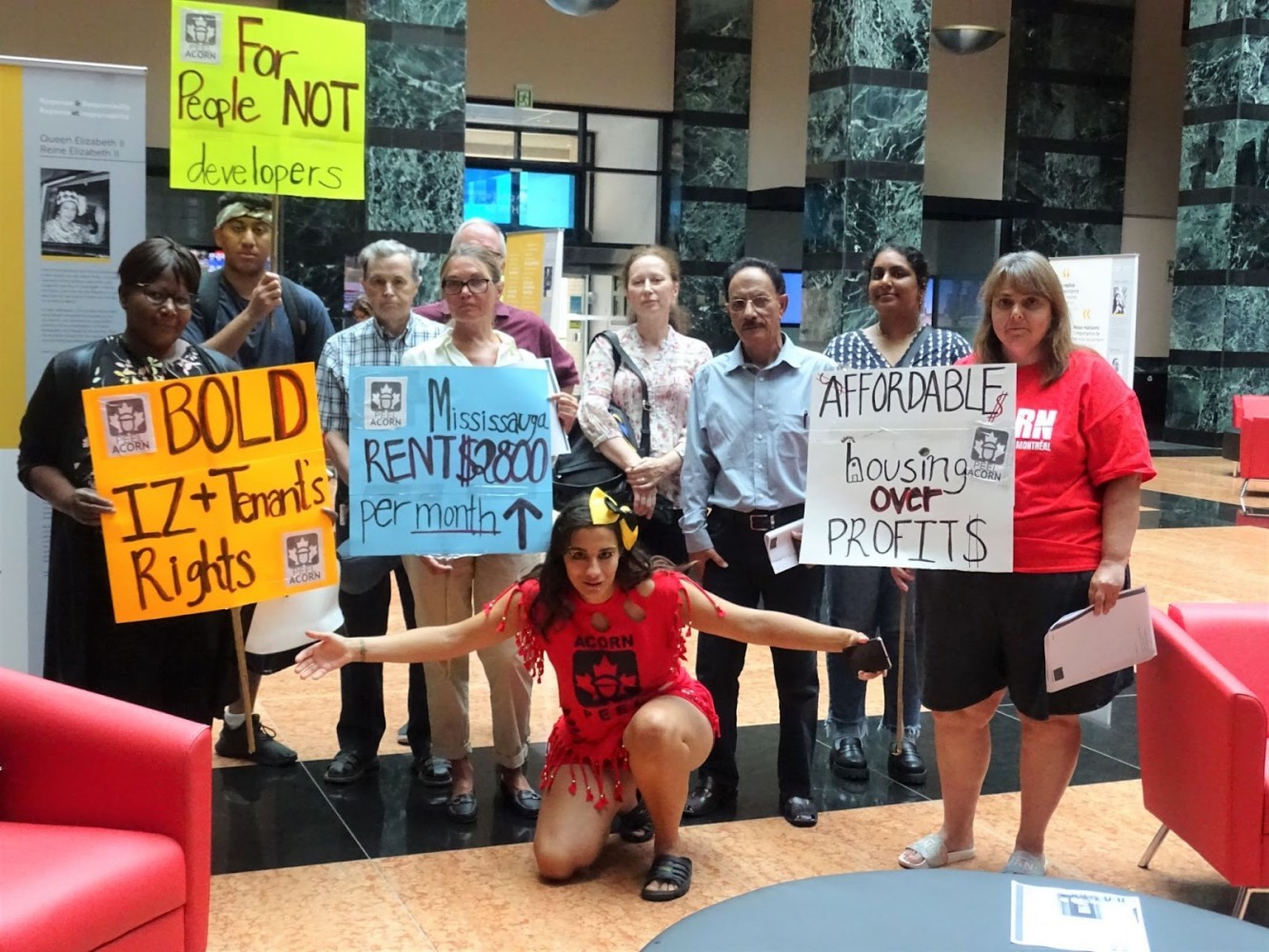 Mississauga residents were calling on council to improve its inclusionary zoning policy with longer timelines for affordability and increased requirements for affordable units.
(The Pointer files)
Over the last four years, Peel residents have seen a sluggish response from their elected officials to dealing with the affordable housing crisis.
Between 2018 and 2020 less than 1 in 2,600 new ownership units that came online in Peel were affordable for low-income families.
The Region's own council-approved strategy, to build 75,000 affordable, middle-income and market rate units in ten years, between 2018 and 2028 (7,500 annually), has been such a disappointment, the figures aren't even used anymore, with private-sector partners showing hardly any interest in helping reach the targets.
At the same time, municipal elected officials have continued to provide developers with a helping hand, despite their unwillingness to build the units Peel desperately needs.
Stakeholders in the construction and development industry benefit from generous municipal zoning policies, the waiving of development charges, so-called community improvement trade-offs (which often see developers get most of the advantages while the community gets little in return) and they continue to turn a blind eye to affordability for families.
In the past several years, Peel Regional Council has endorsed two plans aimed at preventing homelessness and precarious living for families, while providing affordable housing and advocating for more funding. The original 10-year Peel Housing and Homelessness Plan (HHP) set in motion in 2018 to create 75,000 affordable, middle-income and market rate units by 2028 was essentially abandoned due to the unwillingness of developers to construct affordable units.
The revamped Housing Master Plan paints a more realistic picture of which projects the Region is planning to fund until 2034. It explains that 31 projects will create 5,650 rental units, 226 supported units and 60 shelter beds. It is a long-term outline for the bare minimum Peel needs. Otherwise the affordable housing crisis could spiral so far out of control, major problems will arise, such as sweeping public health and safety issues, widespread poverty, a breakdown in the healthcare system and the complete collapse of social services that simply cannot keep up.
The figures above represent less than eight percent of the overall number of units promised in the original HHP by 2028.
Another topic discussed at the forum was social assistance policy.
Devorah Kobluk, a senior policy analyst with Income Security Advocacy Centre (ISAC), said that since 2018, when social assistance was last frozen, inflation grew by 14 percent without any increase. Currently, individuals relying on Ontario Works receive $343 for basic needs and $390 for shelter needs.
Those through the Ontario Disability Support Program (ODSP) receive $522 for shelter, with a bachelor apartment costing almost double that, on average, in Peel.
"When people can't afford food and shelter they'll end up using the services of the municipal governments that municipal governments fund. Things like the shelter system, food banks and other community support programs. Municipal governments supports many of these social services with grants or funding or administers them directly."
At the end of 2021, Peel's waitlist for affordable housing subsidies and other assistance grew to a staggering 28,227 households, an almost unfathomable 88 percent increase in just two years.
Kobluk said it's in the interest of municipalities to stress to their provincial counterparts the need for higher social assistance as well as access to wraparound services and supports.
As of September 16, there were 750 individuals housed in Peel-run shelters while about 200 individuals are in overflow.
"I don't think people who are living in deep poverty can afford the inter-jurisdictional battles of, 'It's another level of government's responsibility.' We really do need full cooperation at this point," Kobluk said.
Speaking to equity was Angela Carter, executive director for Roots Community Services, which provides culturally-sensitive and culturally-enriching programs to the Black and Caribbean communities in the Region of Peel.
Carter said residents want a councillor who will "go in the trenches" and understand what's happening with their constituents.
"A big problem is, we are a centre for immigration, we continuously have growth within our region, but our growth is far outpacing the services we get. We need councillors both at the regional and local level to be able to advocate more strongly for us. All municipalities are responsible for ambulance, childcare, public health, social services, social housing– they need to be advocating to the provincial government and really making it clear we cannot operate on such meager funds each year, because whose suffering? Our people are suffering."
One thing councillors can do is inform the budget plans with an equity lens, that recognizes disparities, and have the input from communities impacted by policy. Carter used Parks and Recreation investments as an example.
"Who is benefiting from that? Is it widespread, or do we have to target it more for others?" Carter asked. "'We're going to have $2 million for Parks and Recs', okay, what does that mean? Who is really benefiting from Parks and Recs? We know it's a great benefit, but are they measuring that? Do they get the feedback to see if the activities they have in the rec centres are the ones people want to go to?"
Attending the forum were 21 Peel candidates.
For Brampton those were Vidya Sagar Gautam for mayor, Raymond Carle for Wards 7 & 8, Vijay Mair for Wards 2 & 6, Carla Green for Wards 3 & 4, and Steven Lee for Wards 1 & 5.
Representing Mississauga were George Tavares, David Shaw, and Bobie Taffe all running for mayor; Mark Freeland and Iaian McCallum for Ward 7; Syed Jaffery for Ward 2; Isaiah Bryant, Chacko Athanasius and Charbel Bassil for Ward 9; Domenica Laura Simone for Ward 5, Chris Fonseca for Ward 3; Rahul Mehta for Ward 8; and Michelle Bilek for Ward 4.
Stacie Roberts for Ward 5 was the only candidate present from Caledon.
Also in attendance was Andria Barrett, the previous Ontario NDP candidate for Brampton South.
---
Email: [email protected]
Twitter: @JessicaRDurling
---
COVID-19 is impacting all Canadians. At a time when vital public information is needed by everyone, The Pointer has taken down our paywall on all stories relating to the pandemic and those of public interest to ensure every resident of Brampton and Mississauga has access to the facts. For those who are able, we encourage you to consider a subscription. This will help us report on important public interest issues the community needs to know about now more than ever. You can register for a 30-day free trial HERE. Thereafter, The Pointer will charge $10 a month and you can cancel any time right on the website. Thank you
Submit a correction about this story