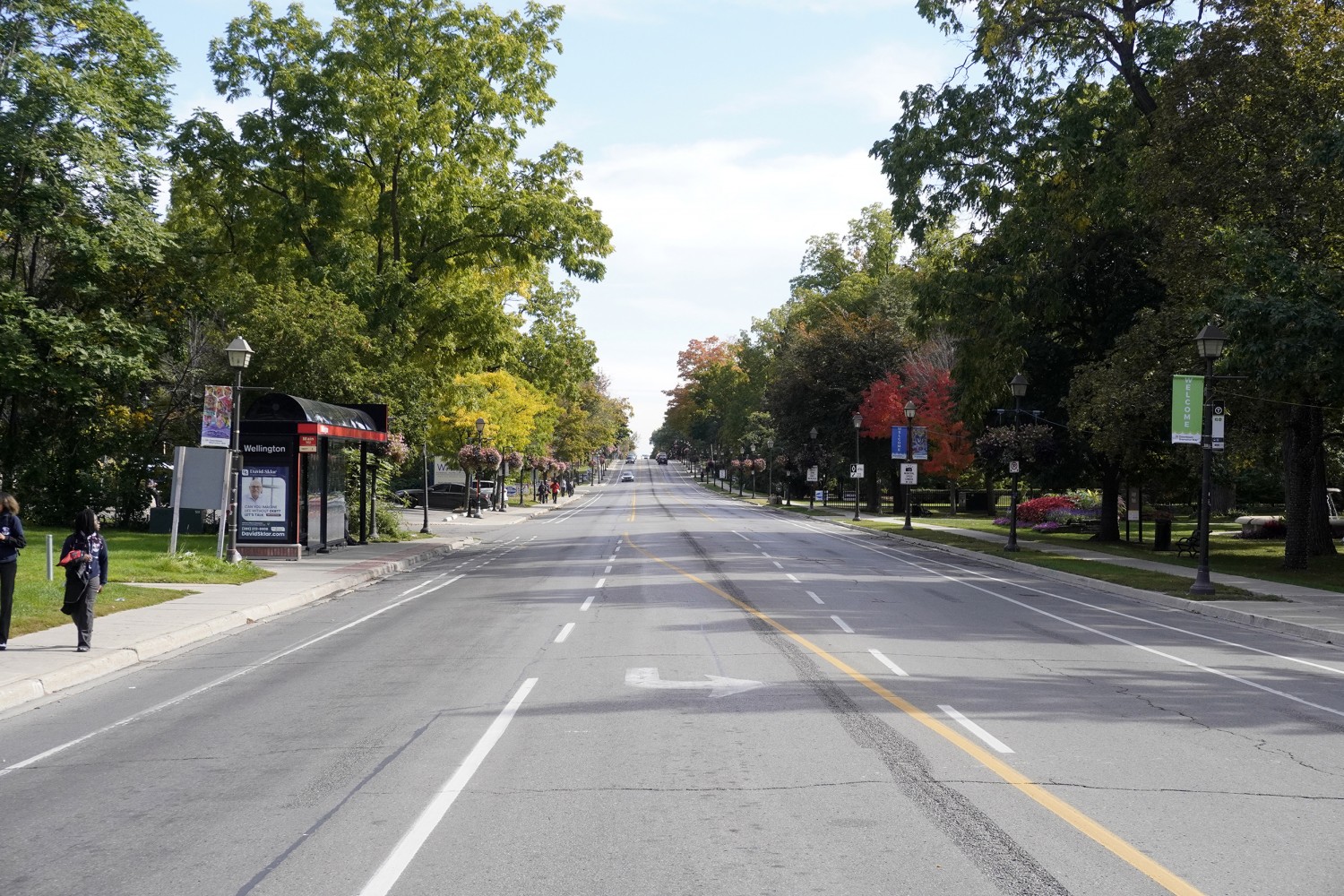 Alexis Wright/The Pointer
Six Wards 3 & 4 candidates hope to replace Jeff Bowman who fought for accountability inside City Hall
After a challenging second term, Jeff Bowman is retiring as councillor for Wards 3 and 4, and leaving it to one of six candidates who are now running for a chance to represent this unique area of Brampton.
A focal point of Bowman's term was his advocacy for government accountability under the troubled, chaotic leadership of Patrick Brown.
In September, he spoke at Queen's Park, asking for provincial and RCMP intervention following the cancellation of a forensic investigation into the City's botched BramptonU project. The probe was ordered earlier this year after a staff report found work on the two main contracts was never completed, one involving a firm whose point person is a close friend of Brown. It received more than three times the amount of money than what council approved. Rowena Santos also worked behind the scenes to help get her close friend one of the contracts.
Bowman also vowed to restore good local government in the City along with his colleagues Doug Whillans, Charmaine Williams, Martin Medeiros, Pat Fortini and Gurpreet Dhillon after a series of scandals and allegations of widespread misconduct under Brown. This led to the cancellation of the contract with former Integrity Commissioner Muneeza Sheikh and CAO David Barrick—both allies of Brown with ties to him and hired under his direction.
Sheikh was let go after Council learned she had billed taxpayers $321,600 in 2020, her first full year on the job, then $340,000 in 2021, for the part-time role she maintained. Barrick was fired after a number of improper hirings, interfering with accountability measures and questionable procurements for City contracts.
There was a distinct 6-5 split on Council, Brown condemning the forensic investigations called by the majority bloc of six, claiming they were part of a witch hunt. He was supported by Santos, Paul Vicente, Michael Palleschi and Harkirat Singh.
After Charmaine Williams was elected to represent Brampton Centre as its MPP, the divide on council became 5-5. This led to a 4-5 split when Councillor Dhillon missed a meeting in late August, allowing Brown to cancel the six forensic investigations that had been ordered, which Bowman had previously voted for.
Another focus for Bowman during his time in office was the issue of illegal second units, commonly called basement apartments. These second units in homes are only permitted if registered with the City to ensure safety standards. His advocacy led to a motion which created a Second Unit Task Force at the City in 2017, which allowed different departments to share relevant records when investigating an apartment, such as its safety inspection history.
In 2019, Bowman wrote to Premier Doug Ford asking for assistance in updating the Fire Protection and Prevention Act and the Building Code to allow bylaw enforcement officers to enter a premise that is suspected of having an illegal basement apartment. This was following the first fire fatality in Brampton since 2017, where a resident died from injuries during a fire at an illegal apartment in a "hot zone," an area identified to have an increased rate of fires.
"All the houses in the neighbourhoods are being bought up and converted to second units, rooming houses. Residents here are really concerned about that because there's a lot of people here that are second generation families in these houses," Bowman told The Pointer.
"It's a difficult thing to fight. In Wards 3 & 4 we got some neighbourhood groups that have formed that are really active, whenever a house goes on sale, watching it, looking for bins and things like that."
Stepping away from municipal politics, Bowman said he's going to take some time to unwind.
"I would just like people to know that it was an honour and a privilege to serve Wards 3 & 4 and the residents. I would just like to thank anybody and everybody who has ever supported me over these last eight years. It was a good eight years, I never missed a regularly scheduled Council meeting in eight years, so I think I represented the people well. I hope that's the one thing they remember most about me."

Councillor Jeff Bowman went to Queen's Park to push for investigations around evidence of widespread misconduct at Brampton City Hall under Patrick Brown's leadership.
(Jessica Durling/The Pointer files)
There are six candidates vying to fill the seat that will be vacated by Bowman following his eight years of public service: Cleopatra Gooden-Simms, Carla Green, Dennis Keenan, Jasmohan Singh Mankoo (no contact information provided), John Sanderson and Tejeshwar Soin.
Bowman said he would like the next councillor to be someone who isn't afraid to speak up, is transparent and has relevant experience.
"It's important for people to understand that there's people on council who are open, they're transparent, they're trying to do what's right for the city and they're trying to create a city that's great, that has great economic development, they're trying to create practices within the City where people are hired based on their merits and not on people they know within the city itself or council. I think it's important to look at the people who stood up for what's right and have been very vocal in this last term of council."
The Brampton Board of Trade (BOT) debate addressed that point directly, asking candidates, "What makes you think that you can do a better job and what solutions do you have to resolve these issues?" following a "past term of council with numerous demonstrations of poor integrity from missing meetings to poor procurement and hiring practices."
Those who attended the debate included John Sanderson, Tejeshwar Soin, Dennis Keenan, and Carla Green.
Sanderson, a former councillor who has not served since he made a run for the mayor's job in 2014, says voters need to elect a council that will work for the people.
"We need to have a council that will work together, we need to have a mayor that's going to lead and the people have got to follow if they can. We need less political interference with staff. Once staff makes their decision, once council ratifies it, we need less interference there, and we also need more people like the Board of Trade to step up, like you did during budget and speak out about what's going on, or not going on, in the City of Brampton. The Board of Trade is the voice of business and we need more people looking over our shoulder to ensure the right thing."
Soin said his approach will focus on communication.
"My strategy is to create communication and create that open channel of discussion where we can address issues that need to take place and we can efficiently get through challenges."
Keenan said decisions should not be politically motivated.
"If a councillor puts forward a motion that's the right motion for the residents, we need to vote for that motion, not based on the councillor that put it forward."
Green referenced her background as a social worker.
"When I go to council, whatever comes before me I'm going to review it and make sure it's the right thing for Brampton taxpayers. That's what social workers do."
John Sanderson
(Brampton Board of Trade debate)
John Sanderson previously served as Regional Councillor for Wards 3 and 4. A business owner in Brampton, Sanderson said he got into politics because he wants to help the city and the residents of his wards. Bowman and Sanderson worked closely on a number of community initiatives prior to 2014 when Sanderson decided to make a run at the mayor's job, allowing Bowman to succeed him as the local councillor.
"I've spent eight years watching Brampton go in the toilet and we need to help get it back, I don't want to say 'Get it on track' because someone else uses that, but we got to get it on the right track," Sanderson told residents during the BOT debate.
"We've spent way too much time changing the name of parks and streets and etcetera rather than new city buildings. We need to build Brampton, we need to bring Brampton back."
In the debate, Sanderson said he would prioritize mitigating Brampton's flood risk before further downtown development. Currently the City is working on a Riverwalk plan that stalled due to Brown's refusal to expand the City budget for four years.
"I don't believe for one minute that we're going to get any type of major development if there's a risk of flooding in downtown. I for one, grown up in Brampton my whole life, have witnessed the flooding in the downtown. So lengthen, widen, deepen the diversion. Dig it up all the way to Williams Parkway or beyond even and I think we can mitigate the flooding in the downtown. And we can also make it into a feature for the downtown whether it's winter or summer," Sanderson told residents during the BOT debate.
He also said he supports increasing City arts and culture funding, calling the state of Brampton's Walk of Fame "disgusting." Sanderson said he would support looking at raising the property tax to the rate of annual inflation.
"We have a state of the art Rose Theatre. In front of the Rose Theatre crumbling bricks all over the place. It's disgusting that it's in the state that it's in. If we have a zero tax increase we can't fix this kind of stuff so we need to have a serious look at these zero tax increases."
Contact information: 905-798-7509

Tejeshwar Soin
(Brampton Board of Trade debate)
Tejeshwar Soin, who has lived in Brampton the past two decades, said he felt it was his time to "step up and take the city in the right direction."
He describes his platform as "focused on progress" with objectives aimed at industry and jobs, sustainable growth, and infrastructure.
"Let us envision a tech-forward city with world class infrastructure, amenities, and meaningful opportunity for all; considerate of diverse demographics, representing the city's stakeholders, the workforce, homeowners, youths, seniors and businesses," Soin tells residents on his website.
Contact information: 647-487-2100
Carla Green
(Brampton Board of Trade debate)
Carla Green describes herself as a proud Brampton resident and a passionate humanitarian who loves people and enjoys working with families in her community .
She holds a Bachelors in Social Work, and has worked for non-profit organizations in Peel. She is currently pursuing a Masters degree in constitutional law.
"My reason for running is because I've seen what is happening in downtown Brampton. As a social worker I'm seeing a lot of homelessness. The homelessness population doubled after the COVID pandemic happened in 2020. I want to clean that up, I want to remove the Marigold Hotel– I want it gone. I would do that in the first hundred days of being on Council," Green told residents during the BOT debate.
Her platform focuses on six priorities: mental health; healthcare; community safety; transportation; home owners; and government assistance.
Her platform calls for more support for mental health and shelter workers; hiring more frontline nurses and staff to help alleviate wait time in Brampton hospitals (a provincial jurisdiction) as well as reduced parking fees at Brampton hospitals; implementing more youth programming; hiring more full-time bus drivers for Brampton Transit; lower property taxes; as well as more affordable housing and better programs for first-time buyers; and more subsidies for low income earners and the elderly.
"What I'm looking to do for Wards 3 and 4 is to clean up the downtown area and revive Brampton back to life. So I want you guys to vote for me and know my background in social work will help me get the job done."
Contact information: [email protected] or 416-271-4431

Dennis Keenan

(Brampton Board of Trade debate)
Dennis Keenan describes himself as a proud father, husband, and active volunteer community member, as well as the owner of multiple small businesses throughout the community.
Keenan is running on a platform of strict property standards and bylaw enforcement, community safety, respecting tax dollars, job creation, ensuring a collaborative council, and senior supports.
Improving property standards is a top priority of his campaign, with plans to lead formal resident consultation, modernize regulations, create incentives and ensure greater enforcement of bylaws.
He plans to invest more in road safety, with a focus on speed bumps and other traffic calming measures, and enhancing the City's Nurturing Neighborhoods program.
His agenda for respecting tax dollars includes leading the creation of a City of Brampton Taxpayer Affordability Strategy, which will set out budgetary guidelines for the term of council; ensure any tax increases are below inflation; clarify use of any surpluses; and consider uses for rate stabilization reserves.
"The constant infighting at Brampton city council has become intolerable, and worse, has meant we are not being served. If elected, I will not take my eye off the ball – distracted by petty political vindictiveness and tax funded frivolous investigations designed for reputational harm and political points," Keenan says on his website.
"It's time to elevate decorum, depersonalize civic discourse, return to professionalism and ensure all of council is working for the betterment of Brampton. I will always weigh in on issues representing the interests of Ward 3 and 4 residents and on the merits of the matter at hand, not based on which councillor brings an item forward or voting blocs."
Contact information: [email protected] or 289-654-1908
Cleopatra Gooden-Simms
(Via campaign website)
Cleopatra Gooden-Simms sent her regrets to the BOT debate and was unable to attend.
Gooden-Simms holds a Master in Laws degree from York University's Osgoode Hall Law School, a Master of Science in Government (Public Administration) and a Bachelor's degree in International Relations, Political Science and Management from the University of the West Indies, as well as a Bachelor of Laws from the University of London. She is currently pursuing a PhD in Organizational Leadership.
Gooden-Simms' platform includes crime reduction, including supporting municipal legislation to provide police protection to whistleblowers, witnesses and others who report offenses including whitecollar crime; poverty alleviation and job creation, including advocating for an 'anti-poverty action plan' for each ward; planning and housing development; transportation improvements; improvements in by-law enforcement and property standards
If elected, Gooden-Simms states on her campaign website that she will encourage the City to form real alliances with Peel Region, Public Health, Peel Police Services and neighborhood nonprofit organizations. In addition, she'll work to improve road safety, with a focus on speed bumps and other traffic controlling methods as well as strengthening the Community Safety committee.
"The residents of Brampton deserve better than the service that they have been receiving from Council, especially in the last eight years. Members of the past Council did not attend meetings and have personality conflicts and toxicity that interfered with the work of the City," Gooden-Simms website reads.
"Cleopatra, who is experienced at government relations, finance and law, was not a previous member of Council. She however has the experience and knowledge about how to get matters resolved and accomplished in government. Her current role in the provincial government where she provides positive, life changing assistance on a daily basis has equipped her for working as a Brampton City Councillor. She brings fresh perspectives and she is hardworking and has excellent interpersonal skills as well as a strong desire to see things improve in the city that she and her family calls home. She is determined and will advocate for Brampton residents from all cultures and ensure that their interests are properly served."
Contact information: [email protected]

Information about candidates is provided by official campaign sites and the Brampton Board of Trade debate that was held October 4.
Voting day is Monday, October 24 from 10 a.m. to 8 p.m. Locations to cast a vote include Calderstone Middle School, Red Willow Public School, Father Francis McSpiritt Catholic Elementary School, Greenbriar Recreation Centre, Walnut Grove Public School, Riverstone Community Centre, Professor's Lake Recreation Centre, Claireville Public School, St. John Bosco School, Jefferson Public School, Georges Vanier Catholic School and Goldcrest Public School.
Those who live at Hawthorn Woods Care Community can vote on-site.
---
Email: [email protected]
Twitter: @JessicaRDurling
---
COVID-19 is impacting all Canadians. At a time when vital public information is needed by everyone, The Pointer has taken down our paywall on all stories relating to the pandemic and those of public interest to ensure every resident of Brampton and Mississauga has access to the facts. For those who are able, we encourage you to consider a subscription. This will help us report on important public interest issues the community needs to know about now more than ever. You can register for a 30-day free trial HERE. Thereafter, The Pointer will charge $10 a month and you can cancel any time right on the website. Thank you
Submit a correction about this story