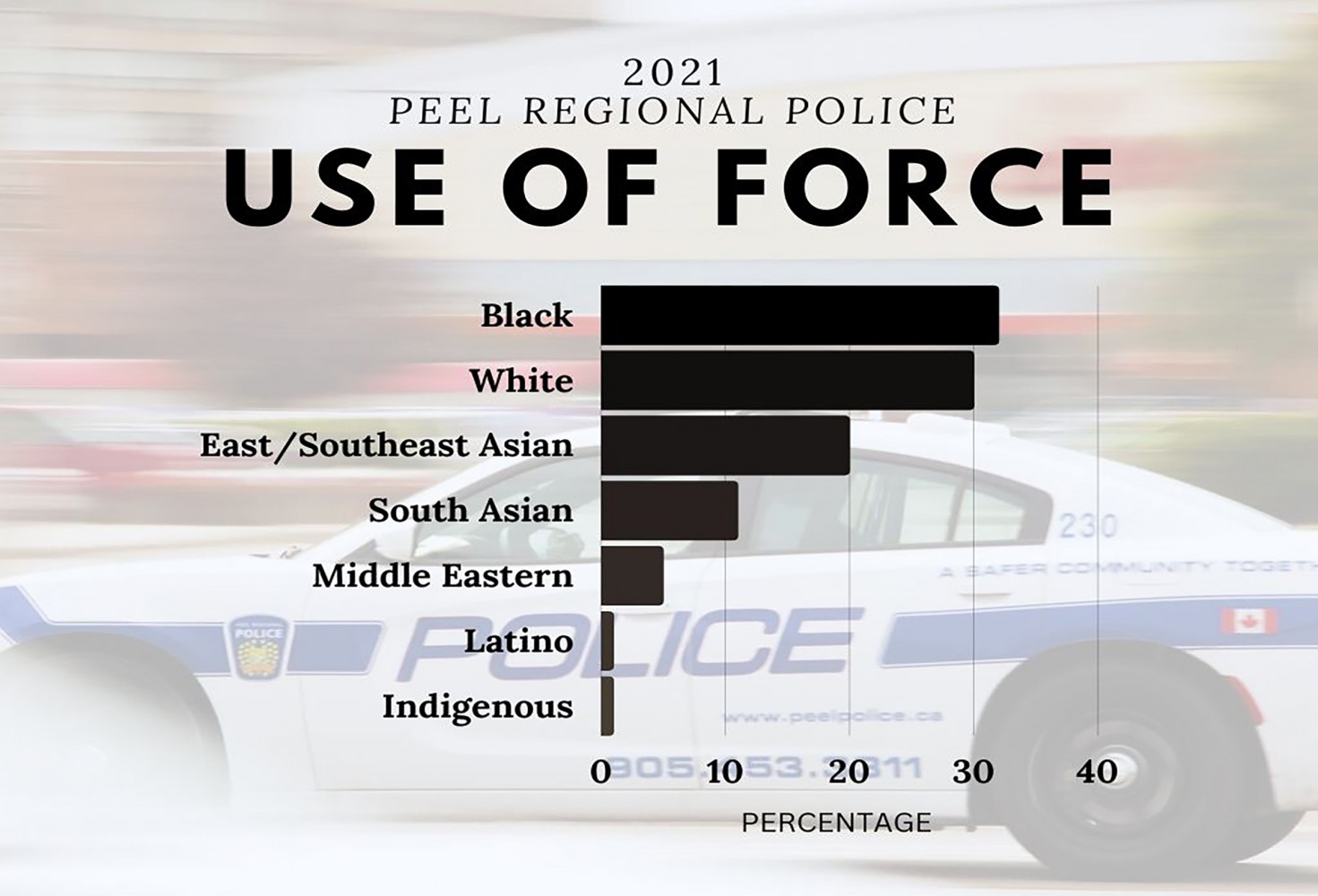 The Pointer
Black candidates demand increased accountability for Peel police around use of force against Black residents 
A group of 11 candidates running for elected positions on local and regional council seats in Brampton or for trustee positions with the Peel District School Board—all members of Peel's Black communities—is calling on Peel Regional Police to address the "harmful and often violent impacts" of anti-Black racism against Peel's Black communities.
In a letter released September 26, the 11 candidates expressed concern surrounding the use of force data that was released by Peel Police last month, which show force continues to be used disproportionately against Black residents compared to other racial/ethnic communities in the region.
"We are concerned by the data itself, the manner in which it was released and by the proposed solutions and the amount of time it is taking to see meaningful improvements in how PRP interacts with Black residents of Peel Region," the letter reads. "Peel Regional Police and the Police Services Board must immediately provide assurances to Black community members that there is a willingness to strengthen the work and expedite the eradication of the anti Black racism that has resulted in the disparities identified in the 2020 and 2021 data. There must be a commitment that the data for 2022 will show a significant improvement and the Board and the Chief must be held accountable to producing a result that begins to repair the harm caused to Black communities in the Region of Peel."
The letter was signed by Brampton candidates:
Karla Bailey (PDSB Trustee Wards 7&8)

Andria Barrett (Regional Council Wards 3&4)

David Bosveld (PDSB Trustee Wards 2&6)

Stacy Ann Brooks (City Council Wards 1&5)

Michael Farquharson (City Council Wards 7&8)

Cleopatra Gooden-Simms (City Council Wards 3&4)

Janice Gordon-Daniels (City Council Wards 9&10)

Carla Green (City Council Wards 3&4)

Sophia Jackson (PDSB Trustee Wards 1&5)

Andre Levy (PDSB Trustee Wards 9&10)

Cindy-Ann Williams (City Council Wards 7&8)
In 2020, data released by the PRP found that Black residents were 3.5 times more likely to be involved in a use of force incident compared to other ethnic groups in Peel, which translated to Black individuals representing 35 percent of all those who experienced use of force. A use of force incident involves all incidents where a weapon is used or aimed by an officer. In August, PRP released 2021 data which showed that little progress had been made to address this disparity, with Black residents accounting for 32 percent of people involved in use of force incidents while Black residents account for about 9 percent of the population in Brampton and Mississauga (the only municipalities patrolled by the force; Caledon is policed by the OPP).

Despite a commitment to change, the disproportionate use of force against Black residents hardly changed between 2020 and 2021.
(The Pointer files)
When data was presented during a "community update" in August members of the public were barred from attending, with PRP officials later claiming the meeting was meant as invitation-only for members of the Anti-Racism Advisory Committee and the Chief's Resource Council.
"We don't know, what we don't know," was Chief Nishan Duraiappah's response in August when trying to explain why the most recent data shows little change, despite his repeated claims since taking on the role three years ago of being committed to turning the systemically racist force around.
Approximately two-thirds of the residents it polices are visible minorities.
Peel Regional Police Chief Nishan Duraiappah during a presentation to regional council earlier this year.
(Alexis Wright/The Pointer)
When the data was presented in August, despite concerns from the public, members of Peel's police services board praised the chief and the force for collecting and presenting the data, without any direction to impose new policies aimed at reducing disproportional and discriminatory use of force against Black residents. This despite the words of an expert hired by PRP to address the presence of anti-Black racism within the organization.
"There's still a significant overrepresentation of Black people in the use of force incidents,"Professor Akwasi Owusu-Bempah said during the August meeting. "So Black people were still over three times more likely than their representation in the general population would predict to be subject to use of force in Peel Region."
This unwillingness to address what has become one of the most pressing issues for members of Peel's Black communities has been ongoing for years, even before a diversity and inclusion audit conducted by the Canadian Centre for Diversity and Inclusion, and released in 2019, found widespread discrimination and anti-Black racism within the force.
The CCDI report places most of the blame for these issues on senior leadership within the PRP, with a majority of employees describing the organization as "change-averse" and "elitist." The report says almost three-quarters of police leaders and members of the board "do not seem to recognize that barriers exist or [believe they] rarely exist for certain groups at Peel Regional Police."
About a third of the PRP leaders in place in 2017-18 "indicated their belief that these systemic oppressions do not exist within PRP," while others suggested they believe "these oppressions manifest only as individual acts of meanness." These leaders, the report says, don't make "the connection that these oppressions are systemic in our society and therefore are also in our organizations."
It's unclear whether the PRP has taken steps to survey or consult with frontline members and leadership to determine whether this disconnect between the beliefs of senior leaders and frontline officers has closed.
"The Chief of Police and the Police Services Board are responsible to eliminate racial disparities in police interactions. The Annual Use of Force Report does not go far enough. Race based data should also be collected, analysed and shared publicly as it relates to stops, searches, strip searches, charges laid and charges withdrawn," the letter from the 11 candidates reads. "What is required here is an anti racism, anti oppression framework built on the principles of accepting criticism, naming the issue (s) specifically for what they are (Anti Black Racism, violence, discrimination) and intentional work to build trust through accountability and transparency, work that can only be achieved through authentic community engagement, including creating meaningful dialogue with critical voices."
Recent attempts to bridge the gap between Black community members and police brass and decision makers have failed.
Late last year, despite a request from Black community members and the words of an expert hired by PRP, the police services board opted against the formation of a committee specifically designed to address the problem of anti-Black racism. Instead, following the recommendation of their executive director—who has no policing or diversity and inclusion expertise—decided to form a general diversity and inclusion committee, which they claimed would have the ability to address anti-Black racism as part of its mandate.
However, following what appears to be zero public consultation, this committee was formed and the words anti-Black racism appear nowhere within its mandate.
"It's intentional ignorance," Bosveld, one of the signatories of the recent letter previously told The Pointer, stating the board has had every opportunity to show it is willing to work with Peel's Black communities, but has repeatedly shut the door.
The same is said by Sophia Jackson, another signatory of the letter, who is a child and youth counsellor who previously worked as a behaviour teaching assistant with the Peel District School Board for seven years.
"Issues from a Black perspective are very unique and yet they continue to throw it in with every other diverse or group of individuals that are considered to be oppressed or marginalized," she previously told The Pointer. "It's optics, it's pandering and it's kind of insulting."
In addition to calling for further work to address and track police interactions with Peel's Black communities, the 11 candidates are stating the status-quo when it comes to the PRP response to these issues clearly has not worked.
"If this were an issue of "unconscious bias" or "training" we wouldn't have similar disparities being reported year after year. When the Chief, the service and the Board frame it this way, it reduces the opportunity to actually solve the problem. In fact if this were an issue of "bias" alone we would see massive over representations of other racial identity groups in the Use of Force Report," the letter states. "The harmful and often violent impacts of anti Black racism and discriminatory policing of Black communities by Peel Region Police must be called out directly and addressed not from a "Human Rights" or "Training" or "Unconscious Bias" frame. Nor will this change with "Diversity and Equity" initiatives."
---
Email: [email protected]
Twitter: @JoeljWittnebel
---
COVID-19 is impacting all Canadians. At a time when vital public information is needed by everyone, The Pointer has taken down our paywall on all stories relating to the pandemic and those of public interest to ensure every resident of Brampton and Mississauga has access to the facts. For those who are able, we encourage you to consider a subscription. This will help us report on important public interest issues the community needs to know about now more than ever. You can register for a 30-day free trial HERE. Thereafter, The Pointer will charge $10 a month and you can cancel any time right on the website. Thank you
Submit a correction about this story