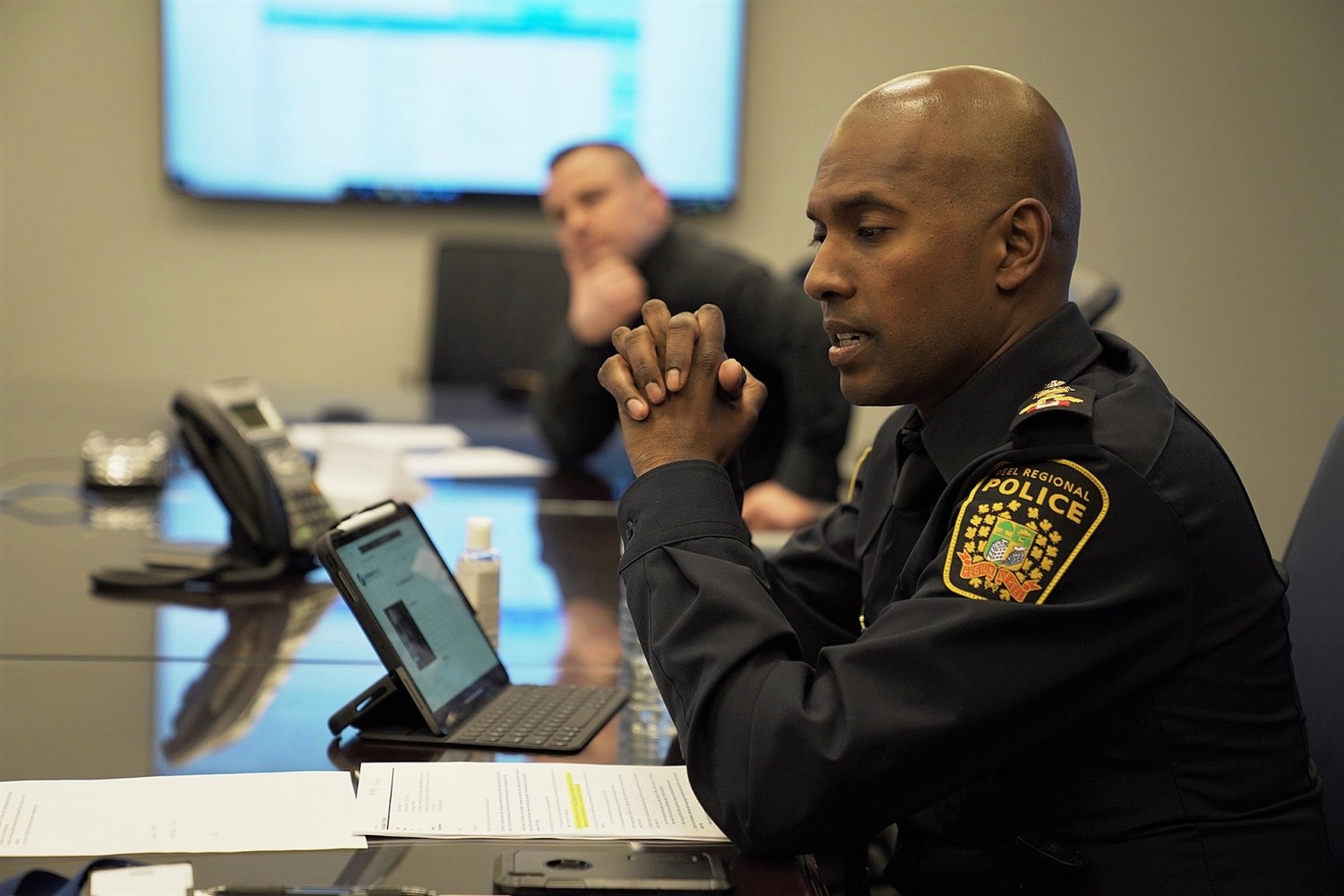 Peel Regional Police
Peel Police holds 'community update' on use of force against Black residents, blocks public from attending
Members of the public were shocked to find they were not allowed inside a meeting late last week described as a "community update" on use of force against Black residents in Mississauga and Brampton.
On August 4, Peel Regional Police (PRP) Chief Nishan Duraiappah emailed a selected group of stakeholders an invitation to sign up and attend a discussion about "our journey."
"Join Peel Regional Police for an in-person community update to hear about our journey," the poster reads.
The vague invite had an RSVP link with a deadline of August 16 which Peel resident Dave Bosveld clicked well before. The community advocate has delegated before the Police Services Board numerous times and has attempted to highlight systemic problems around race and policing in Peel.
Above is an email sent by Chief Nishan Duraiappah inviting recipients to a community update. The confusing wording about what a "community event" entails has frustrated some members of the public.
(Contributed)
On August 5, a media relations officer with the force emailed Bosveld explaining the invitation was only for a select group of people.
"This invitation was intended for members of the Anti-Racism Advisory Committee and members of the Chief's Resource Council," the email explains. "This invitation is non-transferable, therefore we regret to inform you that we are unable to confirm your seat at this event."
Residents seeking accountability from Peel Police on a number of issues related to the force's alarming track record on carding, racial profiling, the lack of visible minority representation and use of force against Black residents, along with other systemic discriminatory practices, don't understand why the event was described as a "community update" when only hand-picked participants were allowed inside.
According to a PRP spokesperson, the discussion at the 'public meeting' was about PRP's 2021 use of force statistics which reveal the latest race-based data on who is most likely to have force used against them by officers in Mississauga and Brampton, the only two municipalities the force polices (Caledon is patrolled by the OPP).
Media outlets were also turned away for not registering ahead of the deadline, despite no effort by Peel Police to communicate information about the event to certain outlets.
The secretive approach to releasing the data without engaging the public has angered many in the Black community who have led efforts to improve policing in the two cities.
The data, which was presented a day after the community update, at the Police Services Board meeting Friday, show Black residents are more than three times as likely to have force used on them during interactions with PRP than any other racial group. Compared to their overall population in Mississauga and Brampton they are far over-represented in statistics that show how often use of force is used against residents by officers.
In 2020, PRP officers used force — which along with using physical force, includes drawing or pointing any type of weapon — in 1,092 incidents. In cases where officers were able to determine the person's race, 35 percent of those individuals were Black, despite Black residents accounting for only nine percent of the population.
The statistics were a critical piece of evidence for community advocates hoping to see trends that indicate Peel Police is serious about change. Instead, the 2021 data, presented last week, verified what many already knew—there has been hardly any change. From 35 percent in 2020, Black residents represented 32 percent of use of force incidents where race was recorded in 2021.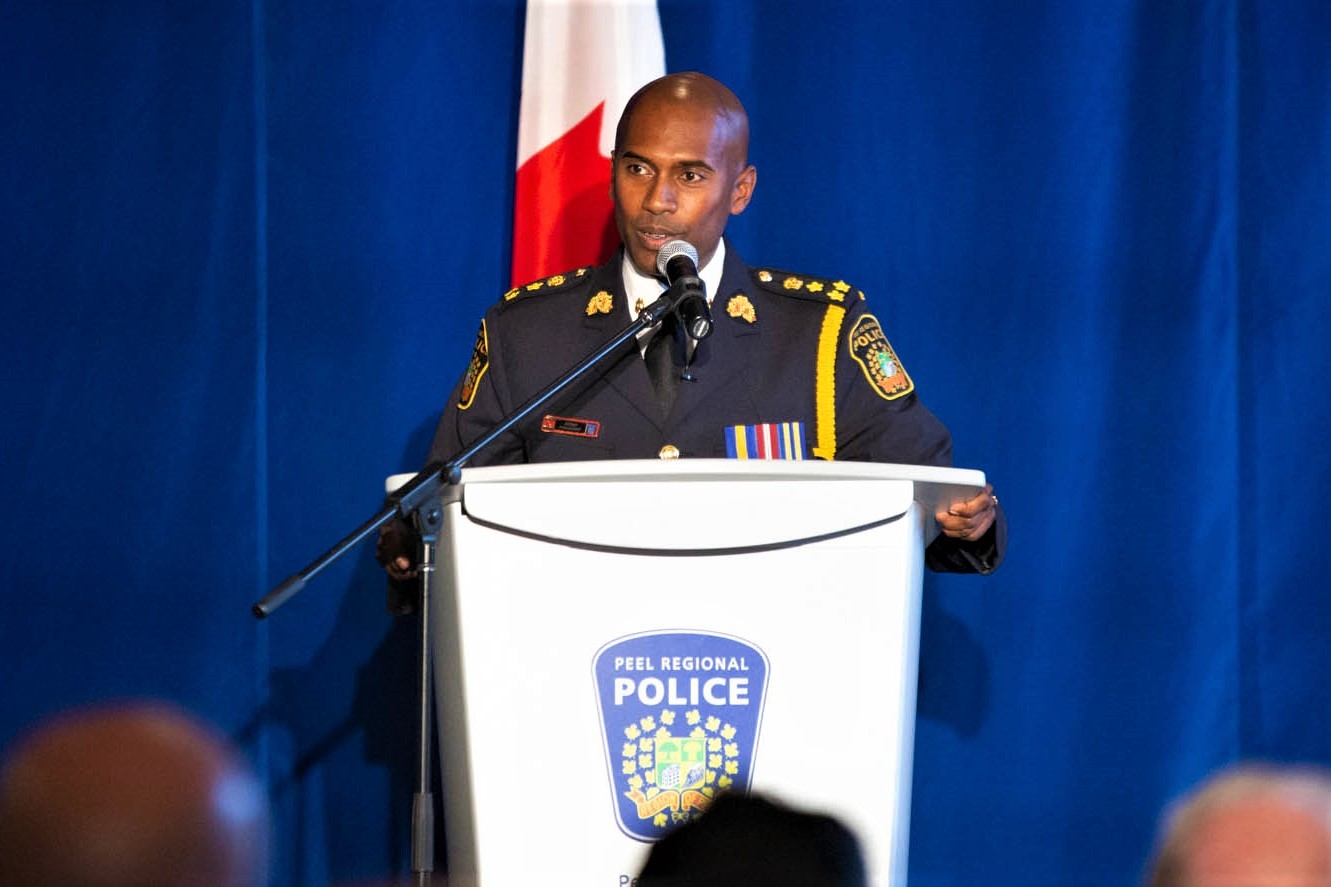 Chief Nishan Duraiappah was hired in 2019 to turn around a force dogged for years by evidence of systemic racism in two cities where two-thirds of residents are visible minorities.
(The Pointer file photo)
"We don't know, what we don't know," was Chief Duraiappah's response on Friday, trying to explain why the most recent data shows little change, despite his repeated claims since taking on the role three years ago of being committed to turning the systemically racist force around.
Approximately two-thirds of the residents it polices are visible minorities.
And now many, particularly advocates in the Black community, feel intentionally excluded from important public engagement that requires a critical approach for change to happen.
Duraiappah talked about showing the public "progress" that has been made, but he failed to provide any evidence of that progress.
Board member and Peel Region chair Nando Iannicca admitted politicians like him in Peel have been promising to address issues around discrimination since 1988. Thirty-four years later, he said, "Without good data, we can't solve (the problem)," lauding the force for gathering the use of force statistics, which show almost nothing has changed.
The Police Board's expert consultant, Akwasi Owusu-Bempah, a University of Toronto sociology professor who has done extensive research on the intersection of race, crime and criminal justice, addressed Iannicca's remarks.
"You go back 30-odd years. Statistics Canada did try and implement an initiative to collect race-based data in policing across the country and it quickly fell apart. There was a lot of push back from police leaders at the time."
Bosveld says now that forces are mandated to collect the data, it only helps if those tools are actually used to implement new policies and approaches.
"When are they going to get serious about accountability, transparency, community consultation," Bosveld said. "At this point, it's flat-out anti-Black racism paid for by the taxpayer."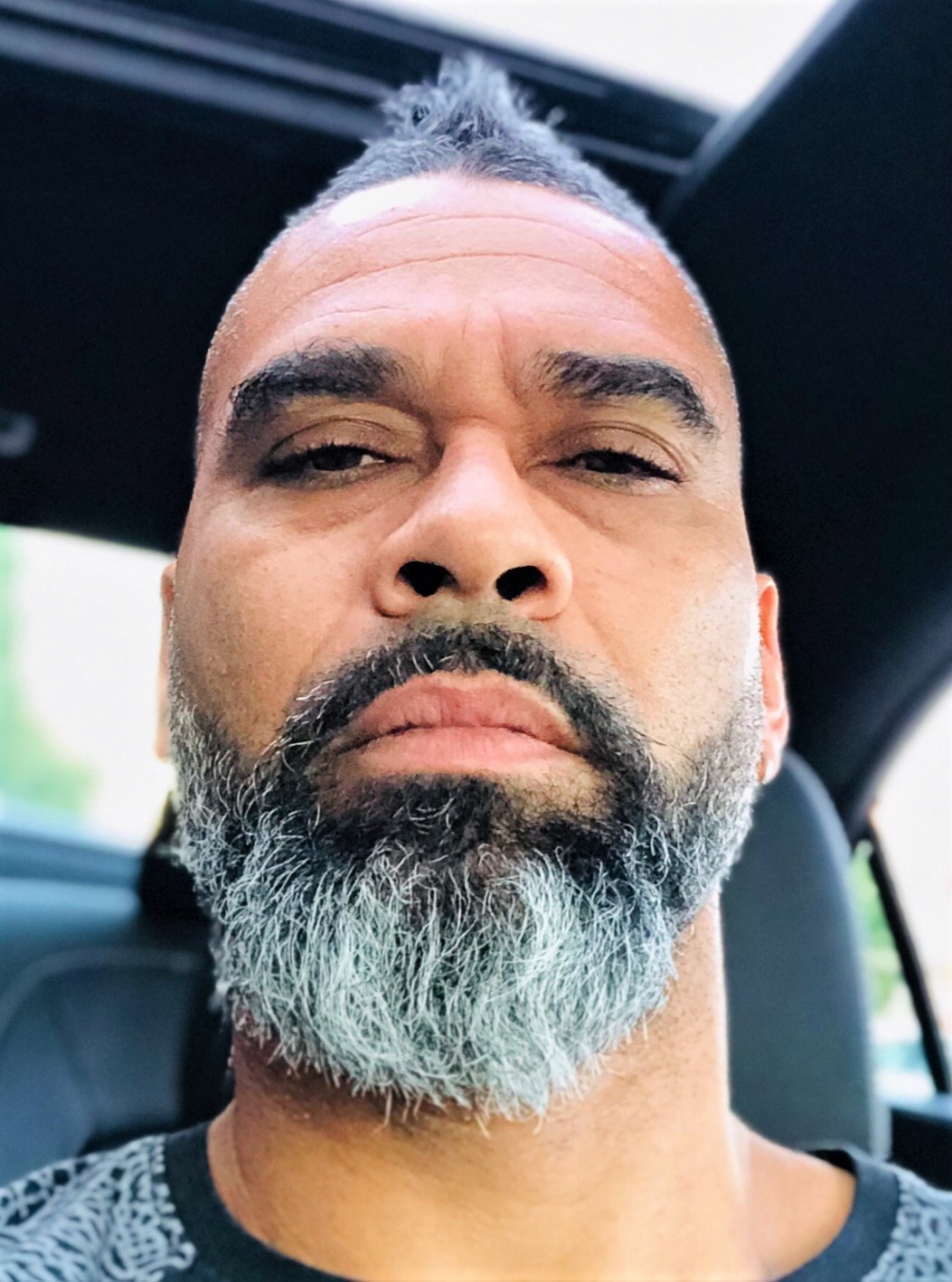 Peel advocate Dave Bosveld has pushed the police force to be more representative of the Black community. Its Board has no Black members.
(Dave Bosveld)
The force was asked why people like Bosveld, who attempted to register for the Thursday meeting long before the deadline, were barred from a "community update".
"The meeting was an update for the Anti-Racism Advisory Committee and Chief's Resource Council. Both are composed of community members," a police spokesperson told The Pointer in an email. "Members of ARAC and CRC are sitting on these groups as community representatives."
The meeting took place from 4:30 to 7:00 p.m. on August 25. It's unclear why, if it was only intended for the two small groups, it was described as a "community" meeting, and why a registration link was provided generally, instead of just having the two groups attend a closed session.
ARAC is a newly created committee made up of Peel residents expected to address systemic barriers within the police force. The group is made up of 20 individuals from various backgrounds. Its composition has been controversial, since the Ontario Human Rights Commission's involvement sparked the need for a community oversight body, following decades of racist conduct by Peel Police.
According to the PRP spokesperson, the process of selecting committee members involved an interim ARAC selection committee and one PRP representative. It's unclear how the interim members were selected. The 71 applications were reviewed and four individuals from the interim committee and one PRP staff member chose who would round out the group. No names were shared in what advocates called a non-transparent process that reflected the very culture revealed in recent equity/diversity audits, human rights tribunal cases and other pieces of documented evidence highlighting systemic discrimination within the force.
The use of force data is just the latest evidence, Bosveld says. He pointed out the force's direct involvement in selecting the committee, and the way it is now being used to represent the public.
"Are they then going to report back to the public?" Bosveld asked about the ARAC members. "It's a volunteer thing. You have to really look at how you're choosing to engage, you're asking Black community members, and people who want to become police officers and young students and people from other identity groups, even though the real issue is how police treat Black people."
Professor Akwasi Owusu-Bempah explained to the Board last year the importance of having specific voices from the Black community to represent the specific, unique experiences of Black residents and their relationship with Peel Police. But his advice to have a specific citizen committee to address issues that directly impact Black residents fell on deaf ears.
"When diversity committees, writ-large, are struck, the views, interests, concerns and issues related to various groups that come under the umbrella of diversity, often get lost," Owusu-Bempah, told the board in September last year. The board was discussing a report which recommended the formation of a broad diversity and inclusion committee, instead of the proposed anti-Black racism committee recommended by Bosveld who made the initial proposal months earlier before the board.
"It is African-Canadians, Black Canadians, who are particularly overrepresented and have particular needs, not only within policing, but in society more generally. When the issues facing Black people are subsumed under diversity, which includes sexual orientation, race and ethnicity, because those two things are distinct, then those concerns do often get lost," Owusu-Bempah told board members.
At the August 26 Police Services Board meeting, the use of force statistics were released, a day after the "community update". The public agenda did not have the report attached and it was not provided to the public beforehand. The presentation was of poor quality and members of the public could not see the figures or charts clearly.
After the meeting, the agenda was updated with the full report.
In 2021, 32 percent of use-of-force instances were interactions with Black residents, who make up only 9 percent of the total population in the two cities.
This is a slight decrease from 35 percent in 2020.
"There's still a significant overrepresentation of Black people in the use of force incidents," Owusu-Bempah said at Friday's Police Board meeting. "So Black people were still over three times more likely than their representation in the general population would predict to be subject to use of force in Peel Region."
Board members followed Iannicca's lead, praising the chief and the force for collecting and presenting the data, without any direction to impose new policies aimed at reducing disproportional and discriminatory use of force against Black residents.
Bosveld said the Black community is being told to accept their overrepresentation in the use of force statistics. Members are not allowed to scrutinize PRP officers or board members, while the hand-picked committees are pointed to as proof of public engagement.
The secretive meeting Thursday was in direct contrast to how the City of Toronto released its use of force statistics in June.
Before the release of information, members of the media were invited to a technical briefing. Just after the reports were made public, Chief James Ramer held a press conference speaking about the statistics where he apologized to the Black community.
"For this, as Chief of Police and on behalf of the service, I'm sorry, and I apologize unreservedly," Ramer said.
He then took questions from the media and heard from vocal residents and advocates about the statistics and the impact of discriminatory policing. He sat through the heavy criticism and then released steps on how Toronto police will change these statistics.
"This is not about saving our lives. What we have asked for you to do is to stop brutalizing us, to stop killing us, to stop carding us, to stop continuously stopping us and harassing our Black children, our Black sons, our Black daughters," said Toronto community advocate and University of Toronto professor, Beverly Bain. "That's what we have asked for …We have asked for the preservation of our lives."
This type of powerful public participation was nowhere to be seen in Peel last week.
"At least their chief stood in front of the media and the public and delivered it [the use of force data] and said he was sorry," Bosveld said. "This is not that."
---
Email: [email protected]
Twitter: @taasha__15
---
COVID-19 is impacting all Canadians. At a time when vital public information is needed by everyone, The Pointer has taken down our paywall on all stories relating to the pandemic and those of public interest to ensure every resident of Brampton and Mississauga has access to the facts. For those who are able, we encourage you to consider a subscription. This will help us report on important public interest issues the community needs to know about now more than ever. You can register for a 30-day free trial HERE. Thereafter, The Pointer will charge $10 a month and you can cancel any time right on the website. Thank you
Submit a correction about this story