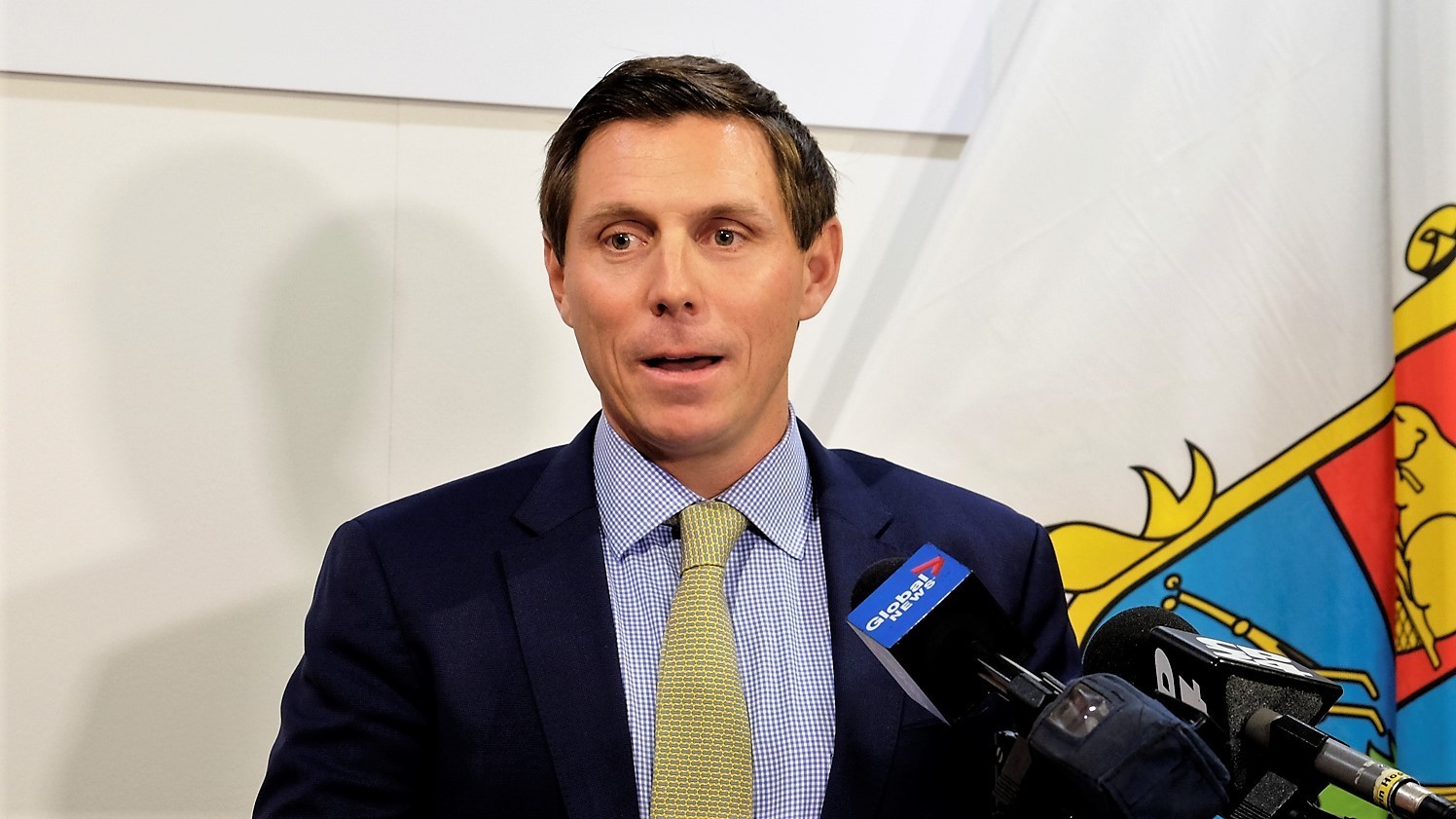 Screengrab from YouTube
Second Reading: Patrick Brown
Patrick Brown – Brampton's Donald Trump
Ahead of the October 24 municipal election, The Pointer is republishing articles highlighting Patrick Brown's destructive leadership since becoming Brampton's mayor. This analysis was originally published May 23, 2021.
---
In the dying days of Trumpworld, telling the truth is still a retaliatory act, not taken up by the faint-hearted.
Republican Liz Cheney was recently exiled from her leadership position as the third most powerful person in her party because – shock, horror, gasp – she told the truth.
She said her former leader led an insurrection against his own country and carried forward the big lie that he should still be president.
To Trumpsters, President Joe Biden is a usurper, and the House of Orange should still rule the land. It doesn't matter that under his leadership, the GOP lost the House, Senate and Presidency.
As David Remnick, editor of The New Yorker said, those who genuflect to Trump are hallucinating.
Cheney's address to Congress recently – with none of her fellow party members bothering to listen – was another open attack on Trump. He broke the rules. He ignored his oath of office. He sullied the very constitution he was charged to uphold. His divisiveness was what fed the party's idiotic propaganda machine.
Cheney went to the same School of Hard Knocks as actor Morgan Freeman, who once said, "stupid is seeing the truth, but still believing the lies."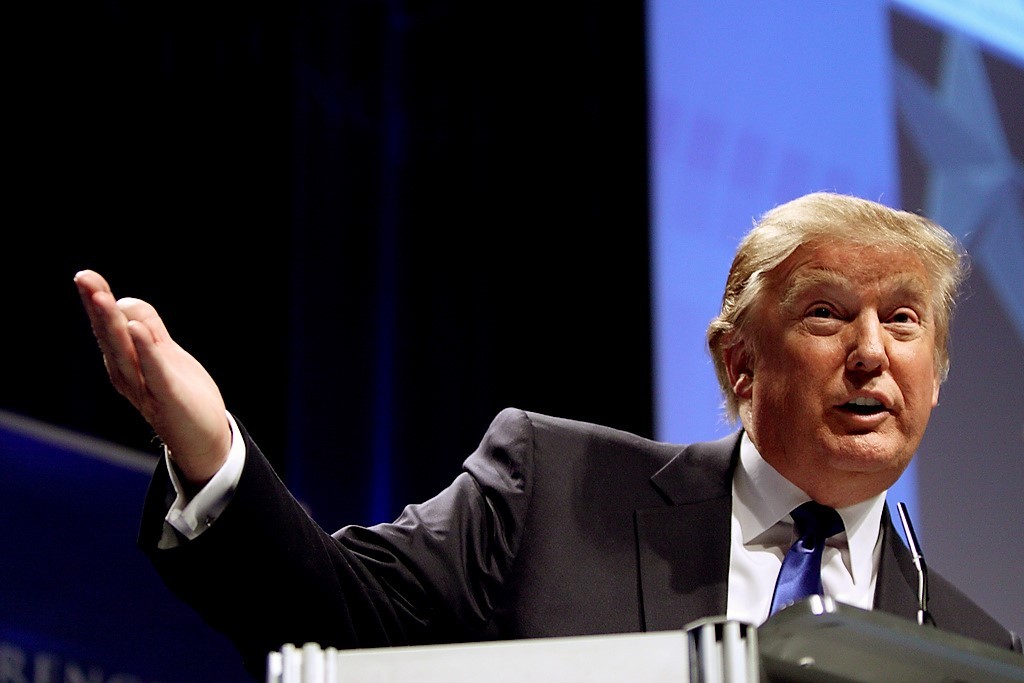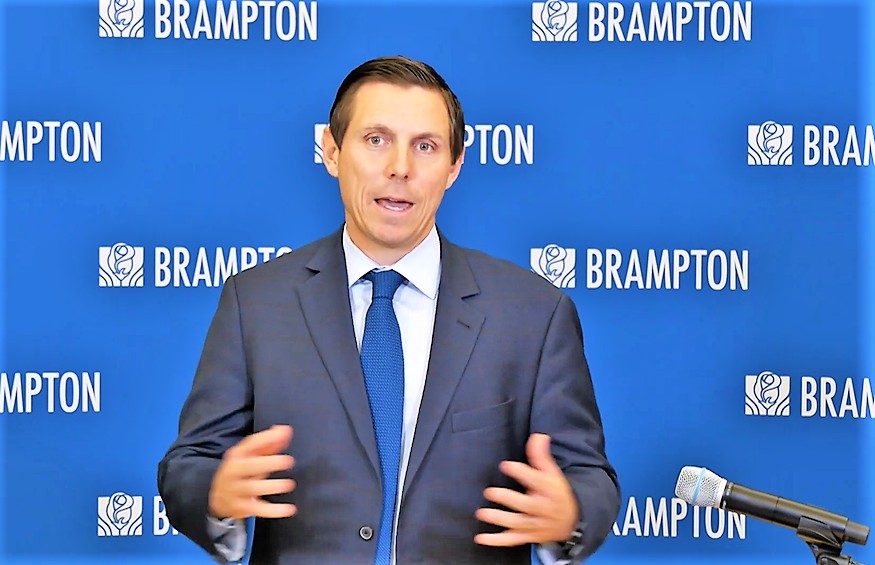 Donald Trump and Patrick Brown are cut from the same cloth.
(Images: Wiki Commons; YouTube)
Cheney told Republicans to love their country more, and stand up to protect freedom – paid in blood by so many in the past. We must speak the truth, she said.
She delivered her message as if it was a eulogy, and perhaps it was for the Republican Party – maybe democracy in the U.S. itself. The first constitutional republic hasn't seen this much political turmoil since the Civil War divided a nation.
As the world retreats into ideological corners, with many incapable of self-scrutiny, we must go back to the man who wrote the book about a world that normalized lies and took us to the brink of the apocalypse.
He saw power for all its bland vileness, the kind that consumed Germany, one of the most advanced nations in the world. How could it tumble down to fascism? How can a nation close its eyes to the goings-on of the party in power? How could an advanced people allow the Nazis to build Buchenwald, Auschwitz, Dachau and create a new horror: assembly line death?
Man's injustice to man would drive a middle-age English journalist named Eric Arthur Blair to write his final book, the ultimate cautionary tale: what happens when lies lead to the destruction of freedom.
A Warning for the Ages
In 1946, the emaciated author was slowly dying from tuberculosis. His last book did well, and another one burned inside and needed to be written. He rented a white-washed house on the remote Scottish island of Jura in the Inner Hebrides and began his magnum opus. It would be an allegory, a warning that would reverberate through the ages.
The remoteness of the setting, the steel grey skies, the chilly air, and the fact that his emotions had been rubbed raw by the sudden death of his wife, had set his mood, and put him on course to write the great dystopian novel, Nineteen Eighty-Four. It would be gifted to a war-weary world, still reeling from the rise of Nazism, The Final Solution, The Nuremberg Trials and then the post-war Cold War, and Stalinism.
George Orwell, the pen name preferred by the writer, lived a life that provided the dark backing he needed to give this book its reflective qualities.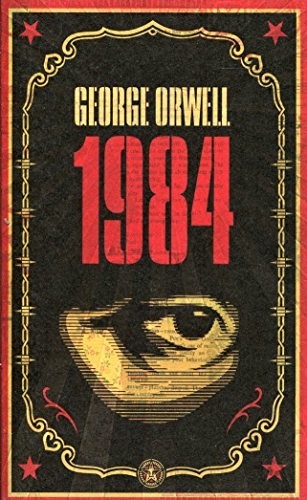 (Image: courtesy Harvill Secker)
The haunting image of his deathly visage as he taps out his masterpiece on a typewriter propped up on his chest in bed, makes him look a martyr. It took a great courage to create his legacy work.
The monsters in his mind – Hitler, Mussolini, Hirohito, Stalin – helped him focus, and turn messaging into art – a morality play for future generations.
Many of his neologisms like Big Brother, Thought Police, Two Minutes Hate, memory hole, Newspeak, doublethink, unperson, and thoughtcrime, still burn in our collective consciousness.
It was published in 1949, and a year later, he was dead, age 46.
It was said of him that every word he wrote from 1936 onwards, was indirectly or directly aimed at totalitarianism.
Orwell was the multitudinous man: journalist, essayist, book reviewer, novelist, broadcaster. He lived in poverty and wrote about it in The Road to Wigan Pier; he lived through war and recalled its joys and horrors in Homage to Catalonia; he hated "the smelly little orthodoxies" of the brutes, and was unsparing in his criticism of Stalinism, and used it to perfect effect in Animal Farm.
The evildoers that he had seen became the composite drawing for Big Brother.
Orwellian was one of the most overused and misused adjectives in literature. The protagonist in Nineteen Eighty-Four, Winston Smith, would eventually give up his life to the Ministry of Truth.
It looks as if Orwell flipped the number 48 (the year he wrote the book) to come up with its title, because that was the year he thought liberal democracy would again take a great fall, maybe into totalitarianism.
He missed the mark by 30 years, but Trump keeps trying, and other convulsions in India, Brazil and other countries leave the world on high alert that reactionary change could come at any time, especially in our post-pandemic world.
When Winston Smith joined the Ministry of Truth, he was charged to suppress it. His job was to rewrite history, doctor historical documents, and ruin archives. Make everything follow the amorphous party line. Messaging is easy if there is no record, no present, no past.
The scary thing is that there is a growing ecosystem to airbrush our files, to erase, to change, to digitize. How far are we from a world of total untruths?
The authoritarian scourge sweeping across our world isn't confined to the usual bad actors on the international scene or the party of Trump.
Brampton's Very Own Donald Trump
Brampton's current mayor is a dark illustration of how the same tendencies, as Orwell predicted, are spreading in government and leadership at all levels.
All it takes is one lustful man consumed by power to pervert a system.
Brampton gave Patrick Brown a chance at redemption in 2018, unsure if the mounting allegations against him were valid. We now know his tendencies. He denies the accusations of sexual misconduct, and the evidence of fraudulent nominations during his time as PC Party leader, even though his staff at the time leaked emails to the media showing Brown had asked his minions to "Get me the result I want" in at least one of those contests.
Troubling expense reports, which showed excessive spending during his short time as PC head, suggested his Conservative hypocrisy: He extolls cost cutting for everyone but himself, spending like a drunken sailor to stay in power, on the backs of taxpayers.
But it is his performance inside City Hall that has exposed Brown for what he is: another Trump. Brampton's own authoritarian dictator. He misleads and twists the truth out of habit. He demands loyalty at all costs. He eliminates anyone who stands for the truth and democracy. And all evidence of the past is being erased.
City staff have removed documents from the website; when Brown violated policy by playing hockey during the pandemic shutdown, he simply had the wording on a webpage changed, on a Sunday.
When he claimed it was not his hockey bag that was seen at the arena where a media camera crew caught him, he told the integrity commissioner the name tag that read "Patrick Brown" could be easily explained away: He had given the bag to a friend. And of course, why wouldn't the woman hired for the oversight role believe him, after all, before she got the job, despite zero prior experience, she had publicly defended him right after Brown's fall from the top of the PC leadership. Her husband, as it turned out, had even done work for the Party.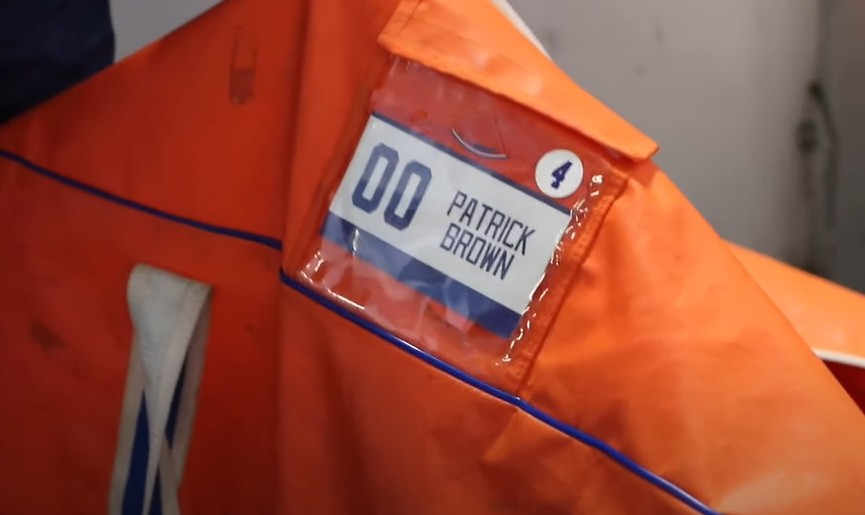 The hockey bag at the arena caught on video when Patrick Brown claimed he was not there to play.
(Image courtesy Rebel News)
Then, after Brampton rescued him from political ruin, Brown needed someone loyal to carry out his bidding inside City Hall. He turned to David Barrick as his new chief administrative officer. Again, zero experience.
Brown was directly connected to the man through too many Conservative ties to count. Barrick had just been exposed in a jaw-dropping Niagara scandal, but Brown to this day denies his CAO had anything to do with it. He claims he was just one vote on council responsible for Barrick's hiring. Here's what he won't say: He chaired the committee, and councillors have said the wool was pulled over their eyes. Brown used an executive search firm cozy with Conservatives that refuses to explain how it recommended a man with no experience and a checkered past for the City's top job. A simple Google search by the firm or Brown would have pulled up numerous articles about Barrick's fraudulent past.
Now, he and Brown are running roughshod over democracy in Canada's ninth largest city.
Brown has misled residents about a third hospital; Premier Doug Ford's staff had to confirm Brown was wrong when he claimed Ford had committed to a third hospital in Brampton.
At the start of the pandemic, Brown flew to the Caribbean, when such travel was frowned upon. He then used wildly inflated numbers to suggest testing in the city was among the best in Ontario (it was among the worst) he played hockey with friends in a City arena from the end of June while children couldn't even play, and once again misled the public when he was caught.
He wrongly claimed there was no infection transmission in Brampton bars and restaurants, prompting experts to push back against the mayor's fabrications.
Then came bombshell evidence from a City Hall whistleblower, Gurdeep (Nikki) Kaur. While Brampton was getting destroyed by the pandemic last year, Patrick Brown was preoccupied with getting Peter MacKay the federal Conservative Party leadership. Text messages provided by the staffer show the mayor was directing City employees to help with MacKay's campaign. Brown was using taxpayer resources to have staff door knock and sell Party memberships for the man the mayor had hitched his political future to.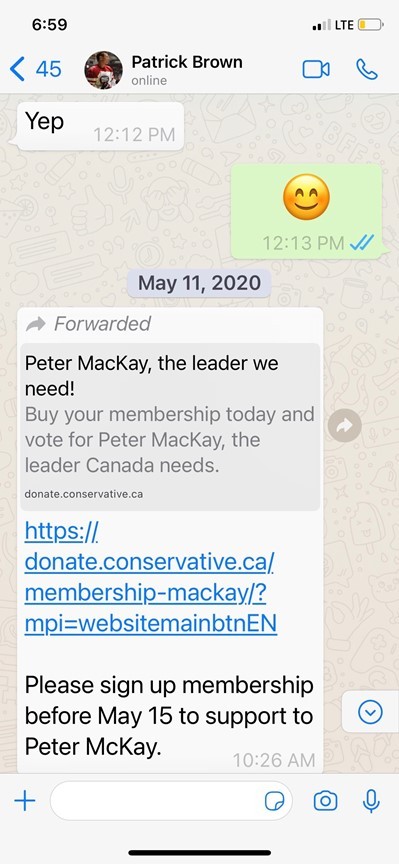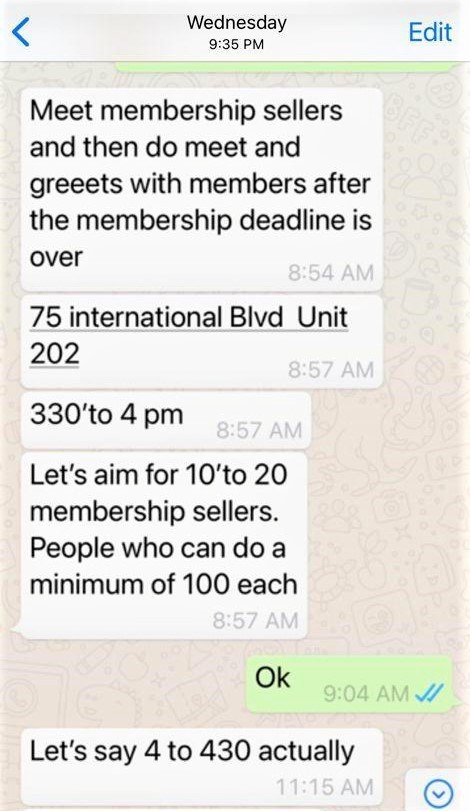 Brown has not explained his texts to Nikki Kaur.
He doesn't care about Brampton. Patrick Brown, just like the other political strongmen around the world, cares only about power. Like Donald Trump, Brown is consumed by his need to get to the top, and stay there.
Brampton is just a pawn in his game.
Meanwhile, the destruction Barrick is doing to the city along the way is immeasurable.
Complaints by staff to the City's anti-fraud hotline have skyrocketed under Barrick, but Council recently found out these whistleblower warnings were being closed off under Barrick's authority without the knowledge of councillors.
It's straight out of the Big Brother playbook Orwell so vividly warned of.
The private sector and officials at both higher levels of government have told The Pointer that what Barrick and Brown are doing to Brampton will take years to undo.
Barrick illegally tried to take over the freedom of information process. He hijacked the internal audit function. He handed out $218,000 in contracts to his closest ally in Niagara, Tony Quirk, without telling council. And one of Brown's close Conservative political associates, Brett Bell, was handed a consulting job worth between $200,000 and $400,000, despite having no previous experience in the area. It turned out he didn't even have a company when the whistleblower was instructed by Barrick to contact Bell for the lucrative job.
The evidence provided by Kaur shows the communication to carry out these disturbing deals was done over text messages and other hard-to-trace platforms.
It's straight out of Putin's Russia.
Barrick and his two cronies from Niagara did the same there, before they were caught. Jason Tamming now runs strategic communications for Barrick and the City.
He was fired by Niagara Region after Tamming had handed the interview questions and answers to Barrick's former boss at the local conservation authority, Carmen D'Angelo, who was trying to get the Region's CAO job. Thanks to the fraudulent behaviour of staff now working for Brampton, including Barrick's senior advisor, Robert D'Amboise, D'Angelo got the top job, before the Ontario Ombudsman was called in and uncovered the entire scandal.
Barrick, Tamming and D'Amboise all have direct ties to Brown through Conservative party politics.
The three co-conspirators, instead of being left to waste away thanks to their alarming behaviour, simply moved down the Queen Elizabeth Way to Brampton, thanks to Brown.
They have been rewarded handsomely by the mayor, for their unyielding loyalty to their master.
Barrick made $322,000 off the backs of Brampton taxpayers last year and Tamming was handed $182,500. D'Amboise joined part-way through 2020 and his compensation has not yet been disclosed.
Brown's excessive appreciation toward those doing his bidding is now being reviewed under direction from those councillors who actually care about the taxpayers they represent. They recently demanded a full accounting of all the non-union salaries and perks doled out since Brown became mayor.
Kaur's allegations are being investigated by a third-party and they have also been sent to police.
To pull himself out of the latest self-created mess, Brown reportedly went to Kaur's house to cut a deal.
Investigations into allegations of corruption and fraud are not the only Brampton legacy of Patrick Brown. In his manic pursuit of tax freezes (while he spends the taxpayers' money lavishly to fulfill his political schemes) the mayor has systematically destroyed city-building. His latest effort to clear the budget of any possible increase for one more year, so he can declare himself the greatest cost-cutting mayor since Hazel McCallion, on his way back to Ottawa, has meant downtown Brampton will continue to suffer.
He postponed the planned Downtown Reimagined project as soon as he was elected and now wants the Region of Peel to hold off on desperately needed infrastructure work in the city centre, despite crumbling water and sewer mains that continue to rupture.
All so he can get a slogan: "The only mayor in Canada who froze taxes for four straight years (while Brampton burned)".
He once again misled the public, claiming during a council meeting last week that his moves are not about tax freezes and that the money for Downtown Reimagined has already been set aside.
Many of his fabrications are difficult to challenge because documents have been wiped out. The City's website no longer allows access to archived Council meetings prior to Barrick's arrival at the end of 2019, so it's next to impossible to verify claims staff under his control are making.
Whistleblowers have told The Pointer documents are being erased daily. Even if investigations are conducted, what will they be able to find? The entire City Hall operation is now controlled by a paranoid, power hungry mayor and the man he hired to do all his bidding.
This is what Orwell predicted when he penned Nineteen Eighty-Four.
In an exchange straight out of another English classic, Monty Python's, when asked to explain his downtown funding claim, that all the money is already available, Brown told The Pointer our question should be posed to someone else. City staff confirmed what we already knew: No money has been set aside for the downtown beautification project that Brown cancelled.
So how, in a place like Brampton, can an authoritarian strongman like Patrick Brown get away with his destruction of democracy inside City Hall?
Unfortunately, there are five councillors, and two in particular, who are the reason for the irreparable damage being done. Rowena Santos and Paul Vicente have fit nicely into their roles as rookie councillors who will do anything to hold onto the first real jobs they have ever had, while helping their friends along the way. They do Brown's bidding, and, not surprisingly, taxpayer dollars have been flowing toward them, their "consultant" friends and their pet projects.
In the meantime, these two rookies who are connected at the hip are joined by Harkirat Singh, Pat Fortini and Michael Palleschi to round out the six votes, including Brown's, that the mayor needs to keep destroying democracy in Brampton.
The public has expressed all-out shock that Barrick still has a job, after all he has done. The reason why? The aforementioned six votes. Just like Republicans who put Party over country, these six put Brown's lust for power over the taxpayers they are supposed to protect.
The other five councillors are trying to maintain accountability and protect the residents who put them in office to represent their collective interests, but they are one vote short of fulfilling their oath of office.
And we wonder why fewer and fewer Canadians trust their governments.
The 2021 Canadian Edelman Trust Barometer said the problem of building confidence in the system, is deepening. It noted the world is changing at breakneck speed, with technology's ability to manipulate, political turbulence and interference by those state actors who openly work to destroy democracy. Is it any wonder the world is currently dividing itself? The report comes to this cryptic conclusion: Societal leaders are not trusted to do the right thing.
Brown, Santos and Vicente use the taxpayers' own money to manipulate them. In a page right out of the authoritarian manual, they litter social media with their messaging and spin. Brown deploys an army of staff to get his image in front of mainstream media that have no clue of what is really going on in Brampton.
And local platforms are now being used to spread the mayor's gospel.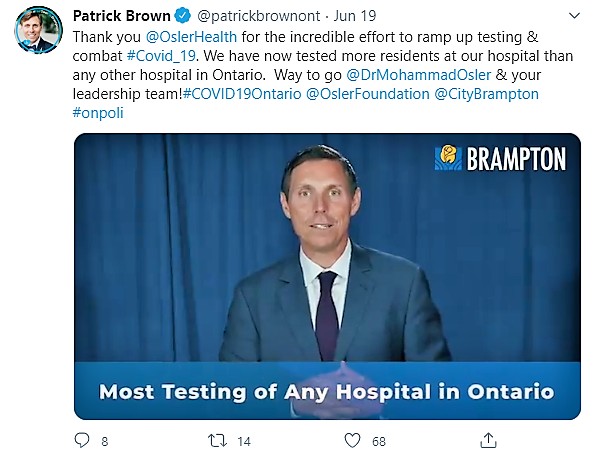 Patrick Brown used testing figures that were inflated by 3 times to claim the best rate in Ontario; the city had among the worst testing rates in the province.
(Image: Twitter)
This style of leadership fail, which is not new, works across the board, according to respondents mentioned in the report: government, business, religion and media (legacy and social). What Edelman shows is that Canadians are looking more and more to local people to help tackle issues that matter most to them. Fifty percent of respondents worry that business leaders are purposely trying to mislead them, and 46 percent believe the same about government leaders. This should be a wake-up to all who are eager to build trust from stakeholders. What's worrying too, is that most of our information sources are untrusted. Not one – legacy media (55 percent), search engines (47 percent), owned (32 percent) or social media (22 percent) – gets a warm response from Canadians – especially the last three.
The Sucker Generation
In an interactive radio program with high schoolers in 1985, then U.S. President Ronald Reagan, often touted as the great communicator, warned students not to become members of "the sucker generation." Check out what you're being told, he said. Make sure what you're hearing is true. Be vigilant. Be engaged. Vet for facts. The vast majority of the high schoolers said they were inspired by Reagan's speech. So how many grew up to be suckers, to fall for lies of his successors? Did too many marinate in fear and misinformation? Are they part of the 70 percent of Republicans who agree that President Joe Biden is illegitimate, the election results fake, that Trump was robbed?
In a world suffering pandemic fatigue, with all the glorious opportunities now available to us to embrace science, and immunize our way out of this scourge, a significant percentage remain outliers, disbelievers, anti-vaxxers, anti-everything.
Can you imagine Donald Trump or Patrick Brown delivering a Reagan-like message?
Can Ontarians, even those angry with Doug Ford, comprehend what pandemic leadership under Patrick Brown would have looked like: He travelled to the Caribbean when he knew he wasn't supposed to, grossly misled residents while using testing figures that were inflated by three times, flouted rules while secretly playing hockey before being caught on video and fabricated information about transmission in bars and restaurants.
There's much more, but you get the point.
Trump was a social media phenom. He was all over cable news. He became the first shock-jock presidential candidate. His shtick gained currency, moved the needle, hit the numbers, made millions, even billions. His outrageous statements were like crack to a junkie. It was Trump 24/7.
Brown uses the same tired formula, just like other authoritarian leaders around the world. His ecosystem is small right now, and escapes scrutiny outside Brampton, but what if he succeeds in getting close to the prime minister's seat? What then?
Every Brampton taxpayer should ask the mayor why he used their money last year to get Peter MacKay the Conservative leadership (the scheme didn't work). Why was the mayor of Brampton preoccupied in the midst of a pandemic destroying the city he supposedly represented? Why was Brown working for Peter MacKay and not the taxpayers of Brampton? And why was he using their money to do it?
He probably won't answer. The investigation into the evidence brought forward by the whistleblower likely won't touch Brown. He and his five pawns on council control the entire process.
They also control all communication in and out of City Hall. The latest charade around the cancelled Downtown Reimagined project is another example. Brown, Santos and Vicente know they can tell staff to claim whatever they want about why the badly needed revitalization can't move forward.
If the Nazi control of information and mass communication was a juggernaut, the ever-expanding social media universe upped the ante. A Trump tweet could reach 60 million. This was manna from heaven for politicians.
Brown knows the same. As long as the public has no access to the truth, his fabrications can flood the void.
As Orwell showed, the truth is as malleable as those listening or watching. You can even distort language and images, just like Brown did when he held up a placard last spring using testing figures for Brampton that tripled the actual numbers. But how would the public know he wasn't telling the truth? Communications has been a political plaything for centuries. Anthony Burgess, author of A Clockwork Orange, said Orwell's book was "an apocalyptical codex of our worst fears". The Trump presidency and Brown's mayoralty show how a leader can defame an entire system of government.
The power to manipulate has moved beyond the chance to rein it in. Brown has his six votes and five pawns. If just one decided to work for the beleaguered taxpayer, Brampton could win back democracy. But Brown works overtime to ensure they will keep working for him, not their city.
Said Cheney: "Remaining silent and ignoring the lie, emboldens the liar."
She was a lone voice.
Brampton currently has five lone voices on council.
Orwell captured his zeitgeist so thoroughly, his name became a synonym, the go-to word whenever others searched for a descriptor for a dystopian world. Canadian author Margaret Atwood wrote The Handmaid's Tale to extend the metaphor, a 2.0 version of Nineteen Eighty-Four.
We live in dizzying times, as truth circles around the proverbial drain. What used to be dubbed propaganda, is now liturgy, or party policy, or, in Brampton, the truth according to Patrick Brown.
Marta Randall, the famed American science fiction writer, argued that one thing Orwell didn't predict was the spread of cynicism. She thought, if he was around in 1984, his target would have been the trivialization of the news media. By that time, the world might have quit relying on authoritative news stories entirely. Over time, this distrust of establishment narratives, led many people to choose their own "truths".
"The further a society drifts from the truth, the more it will hate those that speak it," said Orwell.
Cheney was fired for telling the truth. If that doesn't send a chill, what will?
Brown is supported by those who benefit from him, one way or another, while Brampton continues to suffer the effects of destructive, absent leadership. Brown can simply staff-up to create more social media spin and mislead the public.
Trump might be the modern master, but Brampton has a willing student.
Trump mastered Orwellian doublespeak, and this should be worrying to future generations.
In July 2018, he said: "What you're seeing and what you're reading is not what's happening." Compare that to this from Nineteen Eighty-Four: "The party told you to reject the evidence of your eyes and ears. It was their final, most essential command."
Orwell's book ends with Winston Smith in lockstep with Party rule, taking part in the ritualistic Two Minute Hate. He believed 2 plus 2 equals 5. Trumpsters are okay that he incited an insurrection. They believed his lies about injecting yourself with bleach. Or QAnon theorists that Anthony Fauci is a communist pedophile. Orwell saw it all coming.
Trump rose because he was a curiosity, a disrupter, a straight shooter. The opposite was true, of course. He is a serial liar. But it didn't matter, to half the U.S. population. If the U.S. happened to bypass the virus, he would probably still be president.
Marshall McLuhan gained fame for his treatise that the medium is the message. He said the way we send and receive information is more important than the information itself. This ultimately creates a polarized understanding of truth, with believers of big lies on one side, and skeptics like Orwell on the other. On both, everything is politicized, and a life and death battle for survival unfolds. Every issue – how to fix our long-term care homes, how can Brampton fix its downtown – becomes a distortion. Ford spins tales about one, Brown about the other.
They are cut from the same cloth. Just like Donald Trump.
The institutions and ideas we once held dear, that held us together, like democracy and truth, are teetering on the brink, thanks to men like them.
Our world has become Orwellian, filled with lies and spin.
After Trump won the presidency after a rather vile candidacy, resales of Orwell's classic drove it back to Number 1 on 2017's bestseller list, even though its author had been dead for 67 years. That same year, the BBC unveiled a statue of the man outside its giant Broadcasting House in London. The statue was larger than life, which seemed appropriate. It was unveiled on a drizzly, grey day, which was also in keeping with the author's mood when he wrote it in that Scottish cottage.
On the wall behind his statue, are the words: "If liberty means anything at all it means the right to tell people what they do not want to hear."
The scary downside to Orwell's immortal work, Nineteen Eighty-Four, is that it's more relevant now than when it was written.
---
---
COVID-19 is impacting all Canadians. At a time when vital public information is needed by everyone, The Pointer has taken down our paywall on all stories relating to the pandemic and those of public interest to ensure every resident of Brampton and Mississauga has access to the facts. For those who are able, we encourage you to consider a subscription. This will help us report on important public interest issues the community needs to know about now more than ever. You can register for a 30-day free trial HERE. Thereafter, The Pointer will charge $10 a month and you can cancel any time right on the website. Thank you.
Submit a correction about this story