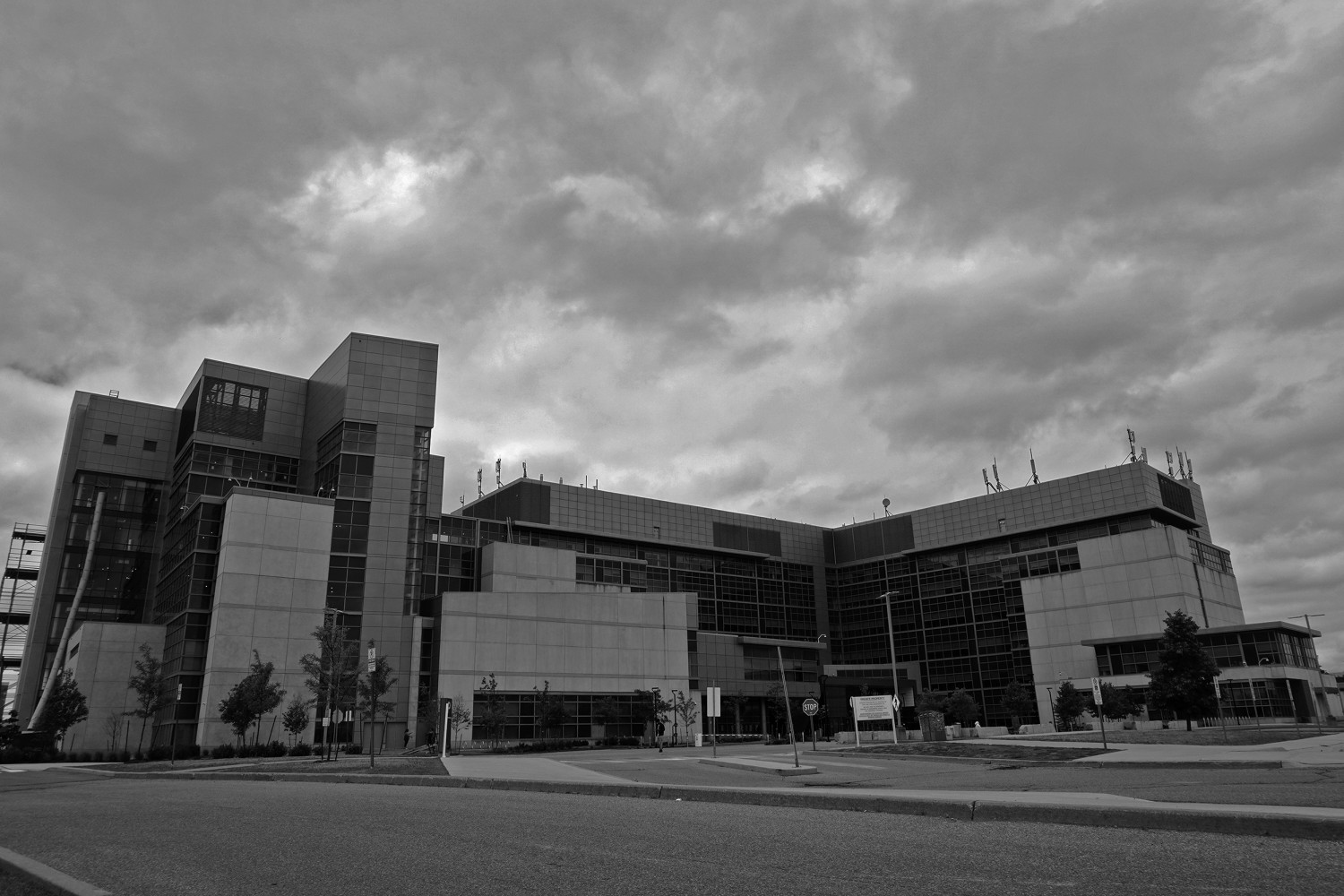 Alexis Wright/The Pointer
Brampton court backlog allows alleged drug trafficker to walk free, reoffend; 'Lack of institutional resources in Brampton' judge says
On July 5, 2019, Peel Regional Police officers including members of the tactical unit entered a home on Mallorytown Avenue in Mississauga after a tip from a confidential informant. One of the men inside was in possession of a large amount of cocaine and a loaded firearm.
A struggle ensued between the police and 23-year-old Sanveer Singh. Officers were forced to use a taser to subdue and arrest the man. They had just observed him tossing items out of his second-storey window.
In a neighbour's backyard, they recovered a loaded Glock, semi-automatic handgun and 145 grams of cocaine.
Singh was already under a court order to not be in possession of a weapon. He also had a mark on his criminal record for fleeing from police.
Despite his past record, and the seriousness of what police recovered that day, the charges against Singh for possession of a loaded firearm, possession of cocaine for the purposes of trafficking and breaching his previous conditions would be dropped just over two years later, allowing him to walk free.
His ability to avoid justice had nothing to do with how police handled the case; it was not because a court determined there was a lack of evidence; and it was not because his lawyers mounted a skillful defence to avoid a guilty finding. Singh walked free because Brampton's courtrooms are so backlogged, that it took too long for his case to go to trial, and a judge was forced to toss out the charges.
"I acknowledge the seriousness of these criminal charges. The residents of Peel region are understandably dismayed by the proliferation of handguns in our community. Most concerning is the intersection of firearms and drug trafficking, which compose the allegations in this case," wrote Justice Hafeez Amarshi in an April ruling which stayed the charges against Singh.
"Timely trials are important to maintaining overall public confidence in the administration of justice. There is a significant public interest in the prompt and fair administration of justice," the ruling continues, noting that a number of factors contributed to the delay, including poor estimates on the length of motions by the Crown and defence lawyers, as well as issues with disclosure. But Justice Amarshi makes it clear that all of these issues were exacerbated by a much more significant problem in Brampton.
"In this case, a number of factors contributed to unnecessary delay… However, the backdrop is a lack of institutional resources in Brampton, one of the busiest jurisdictions in the country," the disturbing ruling highlights.
Justice Amarshi points out the case was practically doomed from the start as the first trial dates available for Singh's case were more than a year after his charges were laid, despite both his lawyer and the Crown being ready to proceed with the matter.
The Supreme Court has ruled that matters before the Superior Court must not exceed 18 months. All told, between Singh's initial arrest in 2019 and the completion of his trial in November 2021, 854 days, or just over 28 months had passed.
"The concern has become a common refrain in this jurisdiction," Justice Amarshi wrote. "Unfortunately, similar results are likely to be repeated in the future."
The lack of judicial resources in the Region of Peel, both for its Superior Court—located in Brampton—and its several courthouses that handle provincial offence matters is not a new reality. Politicians, lawyers and even judges themselves before Justice Amarshi have warned for years that the dismissal of serious charges would be the end result if the lack of resources was not addressed by the provincial government.
The calls for more judicial resources and courtroom space in Brampton have been ongoing for decades.
In late 2018, Justice Peter Daley provided a report to the provincial government, labelling its unwillingness to invest in Peel "willful blindness". He wrote that "the province of Ontario remains in breach of both its constitutional and statutory duties to provide suitable courthouse facilities for the citizens of Ontario in Brampton and elsewhere."
At the time, a $48.8 million expansion of the A. Grenville and William Davis Courthouse was underway to attach a 6-storey addition to the existing building, which houses the Ontario Superior Court of Justice in the Central West Region and deals with criminal, civil and family cases.
The Brampton courthouse located on Hurontario Street just south of Steeles, which handles cases across Peel, is so overcrowded that long before the pandemic its parking lot needed overflow space.
Two floors were immediately designated for additional courtroom space, with the remaining four to be used for "future courthouse developments" according to Infrastructure Ontario. Construction experienced several delays, after completion was set for September 2018. It was not finished until March 2020, right before the COVID-19 pandemic upended court proceedings across the country.
In late 2021, the PC government committed $72 million over two years to help clear the "unprecedented backlog" of criminal cases that backed up in the justice system through the pandemic.
"Our government is taking extraordinary measures to prevent people accused of murder, sexual assault and other serious crimes from going free without a trial due to the exceptional pressure on the justice system caused by the COVID-19 pandemic," states Attorney General Doug Downey in a news release. "This new investment will support the work of prosecutors and police to hold offenders accountable and stand up for victims of crime as they seek justice."
While Downey pointed to the COVID pandemic as being a significant driver of these backlogs—in many jurisdictions it was a primary cause—in Peel, these backlogs existed for years prior to the pandemic.
According to Justice Amarshi, the pandemic had a "muted" impact on the decision to toss out Singh's charges.
"In this case, it is ongoing disclosure challenges, the inadequate time estimates and limited institutional resources that are significant factors contributing to unnecessary delay in this case," he wrote.
In June of last year, the PC government appointed 41 Justices of the Peace, a move meant to address vacancies across the province. According to the Superior Court of Justice there are four vacant judge positions in the Central West Region—which includes Peel—three of them are at the Brampton Courthouse. Overall, there are 28 judges assigned to Brampton, 38 in Central West.
Significant issues also exist in Brampton's Provincial Offences Court—separate from the Superior Court which handles criminal matters—where the City of Brampton is responsible for the administrative operation of the courthouse. City staff have said a lack of resources is pushing the system to a breaking point.
In 2020, City Hall staff noted the number of anticipated courtroom closures represents a "critical point" and is a result of many of the Justices who serve the area being set to retire. Justices are only replaced once one retires, and the hiring process can take between 12 and 16 months before they are actually robed-up and sitting on a bench.
Additionally, Brampton staff see the problem getting worse as the city's population continues to grow—jumping 13 percent between 2011 and 2016. It's anticipated this continued growth will result in a corresponding increase in the amount of charges processed through the Brampton courthouse.
The addition of photo radar cameras in the city is also anticipated to create a significant influx of new cases before the POA court.
The City has made numerous requests to the Province to review both the funding allocated to the Central West Region, as well as the number of Justices of the Peace.
"I do know that we are critically understaffed, and that we've got to get a handle on the situation as quickly as possible and my feelings don't seem to be those shared by the Province at this point in time," Brampton Councillor Jeff Bowman previously told The Pointer.
While the dismissal of matters at the provincial offences court could result in speeding or parking tickets being dismissed; when it comes to criminal matters, it means that potentially dangerous individuals are released onto the streets of Peel, allowing them a chance to reoffend.
In April of last year, a joint operation between York Regional Police, the RCMP, the U.S. Drug Enforcement Administration and Peel Regional Police, dismantled an international drug-trafficking network that was funnelling large portions of cocaine, ketamine, heroin and opium into Canada and then distributing it across the country.
The lengthy investigation resulted in 50 search warrants executed in Ontario, B.C. and California: 33 people were charged; $2.3 million of drugs were seized; along with 48 firearms (46 were seized from a property in Caledon); and $730,000 in Canadian currency.
One of the men caught up in the sting was 25-year-old Sanveer Singh, believed by The Pointer to be the same man who got off scot-free on drug charges due to a lack of court resources.
As his earlier charges in a separate case moved glacially through Peel's backlogged court system, Singh was now out on bail for allegedly participating in an international drug trafficking operation.
Singh's lawyer for the 2019 charges that were recently dismissed, Manbir Sodhi, would not confirm his client was the same man arrested in connection with the joint operation. The names and ages match but the charges in 2019 were at a Mississauga residence where Singh was listed as an occupant; while the 2021 charges list him as a Brampton resident. But Sodhi told The Pointer he has witnessed the impacts of Brampton's insufficient resources first hand for close to 20 years.
Manbir Sodhi has spent 19 years practicing law, all of them in the Peel jurisdiction. He says the lack of resources for Brampton's judicial system have been persistent for much of his career.
(Manbir Sodhi)
Sodhi says while the pandemic certainly caused a myriad of technical hurdles for the system to overcome, issues with judicial resources and a lack of funding from the Province to support courtroom operations, have been ongoing for years. He says it is simply not fair to have low-paid and understaffed contract workers responsible for maintaining the operations of one of the busiest courtrooms in the country.
"The resources need to be used to fund those aspects of the system," he says, noting that those who "make the courthouse work" do not have job security.
Crown attorneys are also overwhelmed he says.
"They get so many files, and say, read all of this for tomorrow and be ready," he says. "You're dealing with real people, real lives, real stories, you can't just read what's typed on a piece of paper and assume that that is the say all and end all."
Along with overburdened court staff, Sodhi has seen firsthand the impact backlogs can have on those accused of crimes as they await their day in court—a right afforded to all Canadians under the Constitution.
"Some of these accused persons inevitably do get found not guilty. (But) for that period of time it's like life is on hold. They can't get a job, they go anywhere they pull a criminal record search. Forget the fact that they aren't convicted, as soon as they see outstanding charges, it's finished."
When asked about Singh's case, Sodhi would not comment further, but stated there is more to the story than simply an accused drug dealer being released into the community.
"I appreciate what it looks like to you, but it's only because you have a very limited understanding of what actually transpired," he said.
"What I can limitedly say is that the perception of the system not being able to put away a drug trafficker is not accurate, and instead, what is more accurate is the failure of the system to try an individual in a timely fashion results in a continued prejudicial outlook by police towards these individuals when they encounter them on the street."
He says he has seen how a lack of forward motion in a person's life creates a perpetual cycle of run-ins with the justice system.
"It sucks the accused back into the system and part of that is the difficulty in terms of the accused going through this for X number of years," he says. "That's a part that the public sometimes doesn't get."
But Sodhi understands the public's concern as these delays can result in guilty individuals being released into the community without penalty.
"That's sort of the reason that the Supreme Court of Canada has said government's need to get their shit together," he says, referring to the R v. Jordan Supreme Court ruling setting timelines for matters before the country's courts. "Otherwise, people who should be paying a price for what they do, are not going to pay that price."
As for Justice Amarshi's words—"Similar results are likely to be repeated in the future"—Sodhi says he has four more requests to stay charges currently before the courts due to excessive delays in cases going to trial. One he describes as a "significant drug case", another for impaired driving, and two assault cases; one of which is for aggravated assault.
Judges, lawyers and local elected officials continue to highlight the problem, while the provincial government continues to underfund one of the fastest growing regions in the country, adding to concerns that justice in Peel is an afterthought to the only people who can fix the bottleneck.
---
Email: [email protected]
Twitter: @JoeljWittnebel
---
COVID-19 is impacting all Canadians. At a time when vital public information is needed by everyone, The Pointer has taken down our paywall on all stories relating to the pandemic and those of public interest to ensure every resident of Brampton and Mississauga has access to the facts. For those who are able, we encourage you to consider a subscription. This will help us report on important public interest issues the community needs to know about now more than ever. You can register for a 30-day free trial HERE. Thereafter, The Pointer will charge $10 a month and you can cancel any time right on the website. Thank you
Submit a correction about this story