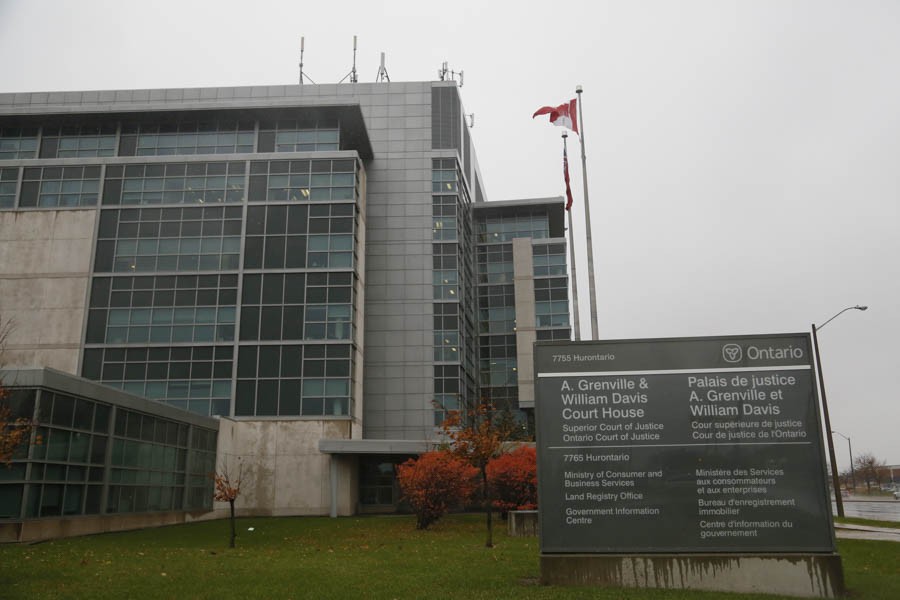 Photos by Mansoor Tanweer
Long waits to file family court documents in Brampton
Samantha glances up at the board to see if her number is flashing red yet. It's quarter to 2 on a Friday afternoon, and the waiting room at the Brampton courthouse is packed with people hoping to file their court documents with the staff behind the counters.
"I had to take the day off," says Samantha, who asked The Pointer not to publish her real name. The Grade 2 teacher, who is in the process of getting divorced, has been waiting to file her affidavit since 9 a.m.
"I haven't even left [the courthouse] to go eat lunch," she adds. "I'm borderline diabetic." — Samantha, Peel resident
She says she had originally been instructed to fill out certain documents but, when she finally spoke to someone at the counter, was told they were incorrect. "Everyone's telling you different things—different forms to fill out," she says, exasperated.
"I haven't even left [the courthouse] to go eat lunch," she adds. "I'm borderline diabetic."
After five hours, and just a few minutes at the counter, she finally gets her documents signed and stamped.
Most court filing is still done in person in Ontario. While many attorneys can afford to hire process servers or law clerks to file court documents for their clients, unrepresented members of the public must take care of this tedious task themselves. And the more individuals there are filing family matters in fast-growing Peel Region, the longer the lines grow at Brampton Superior Court.
Statistics from the Ministry of the Attorney General show that average wait times to file documents at Brampton's Hurontario Street courthouse, the A. Grenville and William Davis building (named for the province's former premier, who might be troubled by the hardship being caused inside for some of his fellow Brampton residents) are some of the longest in the GTA.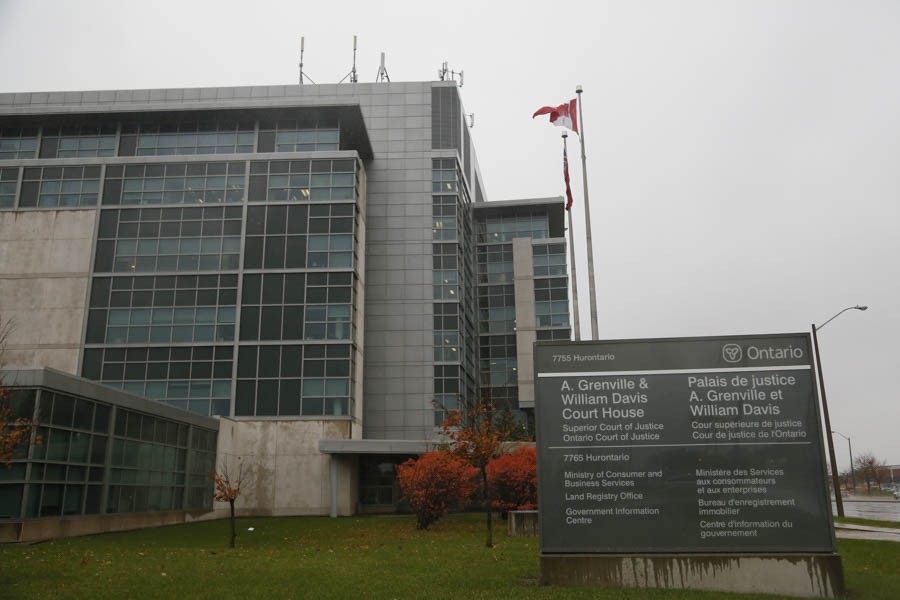 According to the ministry, the "standard is to provide counter service to court clients in 30 minutes or less." But in early summer, average wait times to file family matters at Brampton's Superior Court of Justice reached two hours and 20 minutes, clocking in at nearly five times the ministry's standard.
More recent figures show that the average wait is now down to 1 hour and 12 minutes — similar to the same quarter the year before, but still far longer than most GTA courts. (Only Newmarket's time was longer in the quarter ending Sept. 30: 1 hour 13 minutes, up from just nine minutes in the previous quarter, an anomaly the ministry said could be blamed on that court being "in the process of replacing its queuing system.")
Court delays have received more attention in the past two years because of a precedent set by the 2016 Jordan ruling, which capped provincial and Superior Court proceedings at 18 and 30 months, respectively. But administrative bottlenecks increasingly affect individuals in contact with the legal system.
Veteran process server Ashley Shepherd splits his 14-hour days between filing and serving documents around the GTA. Compared to other courthouses on his roster, Shepherd says, wait times at the Brampton court have become staggering in recent months. In his 25 years of doing this work, Shepherd has gotten to know court services staff. He believes many of them want to fix the growing problem, but "they're understaffed."
Currently, Brampton has eight counters, which handle both civil and family matters in the Superior Court of Justice, whereas Toronto has 11 counters specifically dedicated to family matters in Superior Court, with wait times of about 20 to 25 minutes.
As of the end of August, there were two vacant staff positions for Superior Court counters, but the ministry has not confirmed whether they have been filled. While the ministry has no plan to increase the number of staff positions or counters for family matters as part of its ongoing renovations to the Davis Courthouse, it said in an email that it is "continuing to review the facility needs of the entire courthouse complex."
"These documents are very important because they save some people's lives." — process server Ashley Shepherd
As much as long wait times affect process servers who did this every day, Shepherd sees first-hand the impact the long waits have on court staff and on self-represented individuals.
"These documents are very important because they save some people's lives," he says, citing urgent matters such as custody claims or applications to freeze joint bank accounts.
In time-sensitive cases, court staff may issue a special ticket that can shorten the wait. In other cases, if the individual's number isn't called before the end of the day, that person might have to line up again the following morning.
University of Windsor law professor Julie Macfarlane believes there should be a way for people to avoid spending "an entire morning that they have to take off work, sitting in a room full of … chaos and exasperated self-registry staff." Macfarlane heads the National Self-Represented Litigants Project (NSRLP) and has been researching the experience of self-represented individuals in Canada since 2011.
She attributes the crowded waiting rooms to the sheer volume of litigants who are trying to do this without a lawyer's help—a direct result of the "unaffordability" of legal services. "When you don't have a choice, you do it yourself," Macfarlane said.
According to data from courthouses and surveys of legal professionals over the years, self-represented litigants account for at least 64 percent of parties in family law cases, and up to 80 percent in some jurisdictions. But the family law system was not designed for people without lawyers. Courthouses, Macfarlane explained, were built "on the principle that the filing process would be done by expert agents."
The result is chaos. "Self-reps don't know which documents they should and shouldn't be filing," Macfarlane said. "People don't know how to use the system and just feel they have to throw everything at the problem."
To reduce time spent at the counter, the Brampton courthouse now limits the number of documents people can file with staff to three at a time. But this cap may only mean more trips to the courthouse, for both process servers and self-represented individuals.
What's more, individuals may wait hours in line only to discover that their documents are wrong.
To help self-represented litigants with the legal process, some Ontario courthouses have set up family law information centres (FLICs) that offer information on issues such as divorce, separation, and custody matters. At certain times, the centres may even have a legal aid lawyer available to answer questions.
Samantha said she found Brampton's FLIC office helpful, but she was still confused as to why the staff at the counter gave her the "wrong information" and that the whole process was frustrating.
While Macfarlane sees FLICs as a step in the right direction, she also sees a problem of scale. "They don't really have enough people, time, or resources to do enough to help everyone who needs help at the courthouse."
No lawyers, more waiting
"With the lack of funding or access to the justice system, [self-represented litigants] tend to rely on the front office staff." — Tina Stevens, who works with the Ministry of the Attorney General
Without full legal representation, people are left to navigate the court system—and all that filing—themselves.
"With the lack of funding or access to the justice system, [self-represented litigants] tend to rely on the front office staff," said Tina Stevens, who recently became the OPSEU chair of the Ministry Employee Relations Committee for the Ministry of the Attorney General. Stevens was a courtroom clerk in London, Ont., from 1991 to 2016 and believes the job has become more demanding over the decades.
"There's an abundance of forms now that people have to be able to complete," Stevens said, speaking of family law matters. While this may be a factor in the longer wait times, the bigger issue, according to Stevens, is that clerks must perform both courtroom and office duties. She believes increased pressure on court clerks has made the position harder to fill.
Courthouses in Ontario typically rely on mentors to help train new clerks. In Stevens' view, irregular hours in the entry level position and "sporadic training" have made the job even less attractive over the years.
"There tends to be a high turnover, not only because of the stresses that they feel from new requirements dealing with self-represented people," said Stevens, but because "you have to be able to multitask, whether you're in the courtroom itself or … in the office."
Add to that the pressure of dealing with stressed-out people on the other side of the counter, and "it's a perfect storm," explains Macfarlane. She has raised concerns over the years about the lack of training for frontline staff who are dealing with more and more people seeking help with their paperwork.
"We have this distinction that is drawn, that is slightly grey, between giving people legal advice, which only a lawyer can do, and giving people legal information, which is essentially information about the procedure rather than the merits of your case," Macfarlane says. Staff "live in mortal terror" about crossing the line, explains Macfarlane, so they're reluctant to provide even basic information to individuals trying to file their documents.
As part of her work, Macfarlane was asked by the Nova Scotia Department of Justice Court Services to help train court services staff on what information they were and were not allowed to provide. According to initial surveys following the training, people had "high levels of satisfaction with the service provided by counter staff" and appreciated their assistance.
The ministry told The Pointer in an email that it has launched a similar training program at all family and small claims court locations across Ontario and is "working to modernize court services and improve wait times through the development and delivery of electronic services that are more convenient, easier to use, and that don't require people to go to a court office in person."
It has also partnered with Community Legal Education Ontario (CLEO) to develop online, interactive tools that help users complete their divorce documents by taking them through a series of plain-language questions. Ontarians applying for a joint divorce can also use the online tools to request orders on spousal support, child support, custody and access, or a division of property, but not if they are applying for a divorce on their own.
"If we could all file electronically, it would certainly be much more accessible for people with minimal resources," said family lawyer Laurie Pawlitza, who writes regularly on family law matters. "The only people it wouldn't benefit is the process servers, of course."
Electronic filing might reduce the number of unrepresented litigants who are physically standing in line, but it would not necessarily reduce their confusion when it comes to dealing with family matters. Nor would it cut the number of unrepresented litigants going to court.[..1]
"Most matters that are in court probably do not need to be there," said Pawlitza. "In family law we talk a lot about appropriate upfront resources to triage matters as they come in."
While she cautions that there is "no magic bullet that would make family law accessible to everybody," Pawlitza says if resources were available for remedies like mediation or even parenting coaching, that might reduce the number of people in the court system and "would save a great deal of money over the longer haul."
While Macfarlane believes that legal representation should be more affordable so that people are not left to navigate the courts on their own, she also sees the potential in problem-solving outside of the courthouse walls. "At some point in the future, people will start to feel that the courts just aren't the place to take their dispute."
Until then, people seeking to file court documents in increasingly busy courthouses like Brampton will continue to wait.
Submit a correction about this story