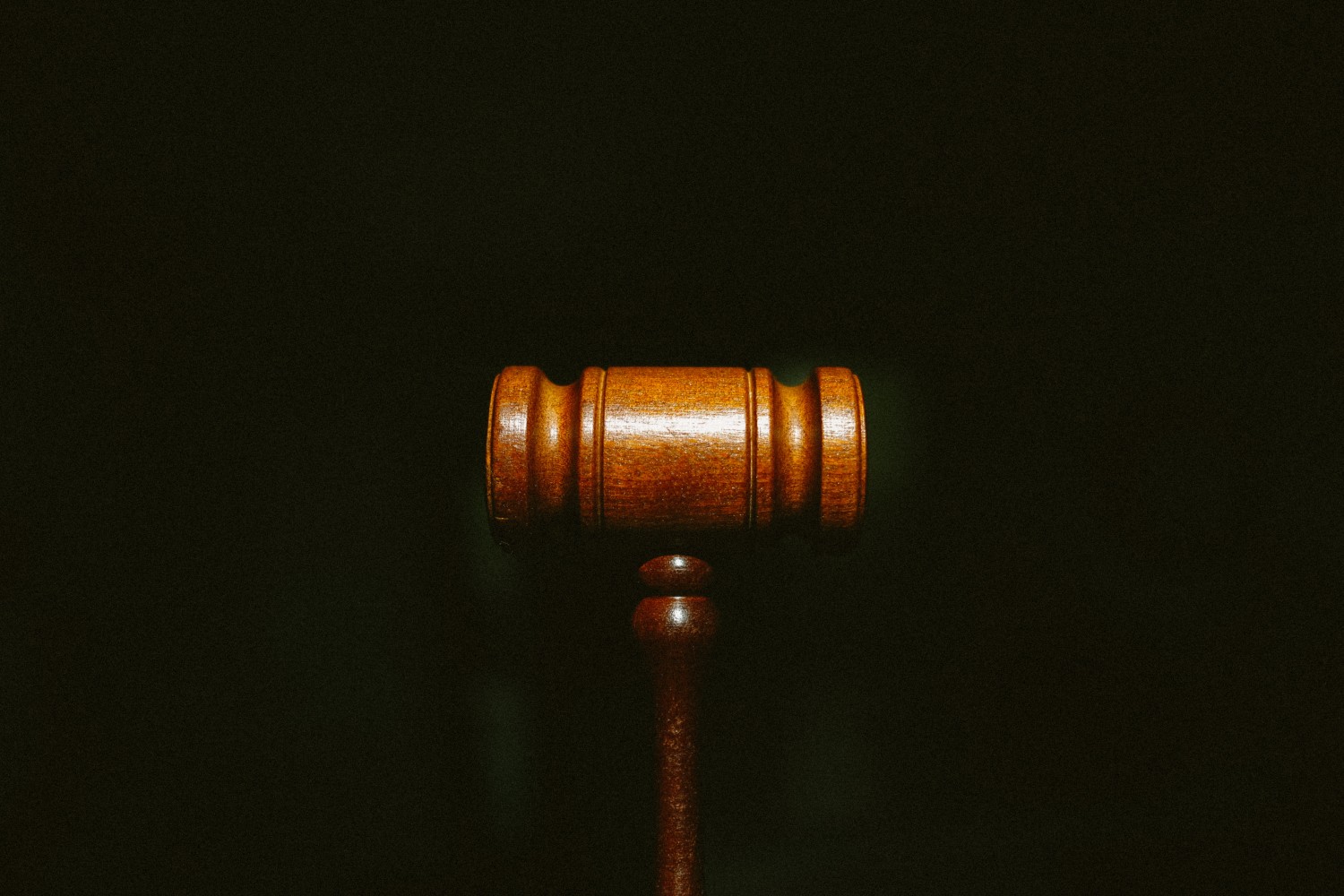 Feature image from Tingey Injury Law Firm via Unsplash
Peel courtrooms have been clogged for years, Mississauga officials are pleading for help
Peel's justice system has a resource problem.
City of Brampton court staff have had to "do more with less" for years, according to City budget documents, and both the City of Mississauga and the Town of Caledon have highlighted concerns over court resource shortages in their respective jurisdictions with the Ministry of the Attorney General.
That was before COVID-19.
The pandemic forced courtrooms to close, pushed cases into the slow-moving virtual hearing process—which operates at about a third of the capacity of in-person hearings for provincial offence matters—and created significant backlogs in both criminal and provincial offences courts across Ontario. Since the COVID-19 pandemic forced the shuttering of Ontario's 74 courthouses and 673 courtrooms, the province's justice system has had to adapt to an unfamiliar virtual world to prevent the entire judicial process from crumbling to the ground.
Municipal officials in Peel are once again reaching out to the provincial government for help as backlogs continue to grow and revenues received from provincial offences and bylaw infractions shrink.
In late 2021, the PC government announced $72 million over the next two years to help clear the "unprecedented backlog" of criminal cases that have backed up in the justice system since March 2020.
"Our government is taking extraordinary measures to prevent people accused of murder, sexual assault and other serious crimes from going free without a trial due to the exceptional pressure on the justice system caused by the COVID-19 pandemic," states Attorney General Doug Downey in a news release. "This new investment will support the work of prosecutors and police to hold offenders accountable and stand up for victims of crime as they seek justice."
However, municipal staff say provincial offences courts—which mostly handle Highway Traffic Act offences and many municipal bylaw infractions—are being forgotten.
"Given the current allocation of judicial resources, we are unable to support timely access to justice and inequity will continue to be a reality across the province of Ontario," reads a February 9 staff report from the City of Mississauga. "It is critical that the Attorney General appoint more Justices of the Peace to adequately resource POA (Provincial Offences Act) courts to fully resume court operations to pre-COVID capacity."
Municipal officials say investments announced by Attorney General Doug Downey to address a backlog of criminal cases do nothing to fix provincial offences courts.
(Image from The Pointer files)
Prior to the pandemic, five Justices of the Peace were assigned to the City of Mississauga POA court. In August 2021, when POA court trials resumed, only two JPs were assigned to Mississauga. According to the Regional Senior Justice of the Peace office, this allocation is not planned to change for the first half of 2022.
The Ministry of the Attorney General is currently advertising 41 vacant Justices of the Peace positions to preside over cases—six of which are proposed for Peel Region.
"While these appointments are a step in the right direction to address the shortage of Justices of the Peace in Peel Region, the training of a new Justice of the Peace can take up to eighteen months with priority on training in criminal bail and intake court first followed by POA court," Mississauga staff state. "To adequately address the pressures the Mississauga POA court is facing more Justices of the Peace need to be appointed with priority given to POA training."
Timely access to justice is a basic right in Canada.
It means those accused of crimes or charged with provincial offences are able to plead guilty or fight their cases without having to wait years for basic steps in the court process to be taken—especially if those accused are incarcerated while awaiting trial.
A 2016 Supreme Court ruling—R v Jordan—set strict timelines for how long it should take criminal and provincial offence matters to move through the judicial system, with 30 months for matters before the Superior Court (which hears criminal cases) and 18 months for offences before the provincial court. If these two ceilings are broken, cases are at risk of being thrown out, undermining the entire judicial process from start to finish.
If the Ontario court system becomes constipated with cases, unable to push them through the archaic system in a timely manner, it means the 22-year-old caught going 106 km/h in a 50 zone on Derry Road on February 24 may not be held accountable for their actions if they choose to challenge the ticket. Or any of the nearly 100,000 speeding tickets handed out by Peel Regional Police officers over 2019 and 2020 could be torn up should they be challenged and stall out in the justice system.

Peel Regional Police impound a vehicle after its 22-year-old driver was caught driving 106km/h in a 50 km/h zone.
(Image from Peel Regional Police)
But this has been the potential reality in Peel for several years.
A 2019 staff report from the City of Brampton — which operates the Provincial Offences Court (5 Ray Lawson Boulevard) under an agreement with the province — showed how looming courtroom closures were going to cripple the city's system. The culprit being a lack of Justices of the Peace appointed to hear cases. Justices are appointed by the province.
In 2019, the number of instances a courtroom was forced to close because there was no judge available to preside increased one-third over the year before.
The Central West Region — which includes Peel, Halton, Niagara, Haldimand County, and Norfolk County — was operating with about 20 percent fewer justices needed to meet its capacity. At the time, the province had 52 Justices of the Peace allocated to the region, but there were only approximately 41 available to actually sit in court.
This led to a cascading effect of courtroom closures, with a number that has increased since 2017. That year, the Brampton POA court had 125 closures, and that number increased to 177 in 2019. Before COVID-19 turned the world upside down, Brampton staff expected that number to balloon to 355 in 2020.
According to the recent Mississauga staff report, vital court dockets are moving significantly slower than in-person court days before the pandemic. Pre-COVID, courtrooms could handle approximately 30 matters in a day—virtual courtrooms can deal with approximately 10 items. This has resulted in a cut to revenue received from this offences, from $9.1 million in 2019 to $4.8 million in 2021.
"With scheduling limited to only two court rooms and the backlog created as a result of the court closures continue to grow and the time required to clear the backlog lengthens," the staff report states. "This is resulting in excessive trial delays, which is contrary to a defendant's rights under the Charter. Charges that are the subject of unreasonable delay are no longer viable and will either be withdrawn or stayed by the courts."
Much of the attention around court room recovery has been placed on criminal matters, creating an inconsistent approach to recovery, Mississauga staff state.
It's understandable that the Province would prioritize those courtrooms handling the most serious of crimes over minor traffic or bylaw infractions. But without a consistent approach that ensures this backlog is cleared, the tickets handed out for these infractions would be meaningless without a system to enforce them.
Writing in response to concerns raised by the Town of Caledon about the lack of judicial resources assigned to region, Attorney General Doug Downey says the government is working to implement new measures to allow provincial offences courts to clear the COVID backlogs, including granting new powers to court clerks to review POA tickets for issues and "if appropriate, enter convictions where the defendant fails to respond to a ticket."
"Clerks of the court were also given the authority to review and grant applications for extensions of time to pay a fine. Both reforms serve to reduce pressures on judicial resources," Downey states. "As the assignment and allocation of judicial resources falls under the responsibility of the judiciary, I am not able to comment on your suggestions around these matters."
It remains unclear when, and if, Peel's court rooms will see the additional resources they require to operate efficiently.
---
Email: [email protected]
Twitter: @JoeljWittnebel
---
COVID-19 is impacting all Canadians. At a time when vital public information is needed by everyone, The Pointer has taken down our paywall on all stories relating to the pandemic and those of public interest to ensure every resident of Brampton and Mississauga has access to the facts. For those who are able, we encourage you to consider a subscription. This will help us report on important public interest issues the community needs to know about now more than ever. You can register for a 30-day free trial HERE. Thereafter, The Pointer will charge $10 a month and you can cancel any time right on the website. Thank you
Submit a correction about this story