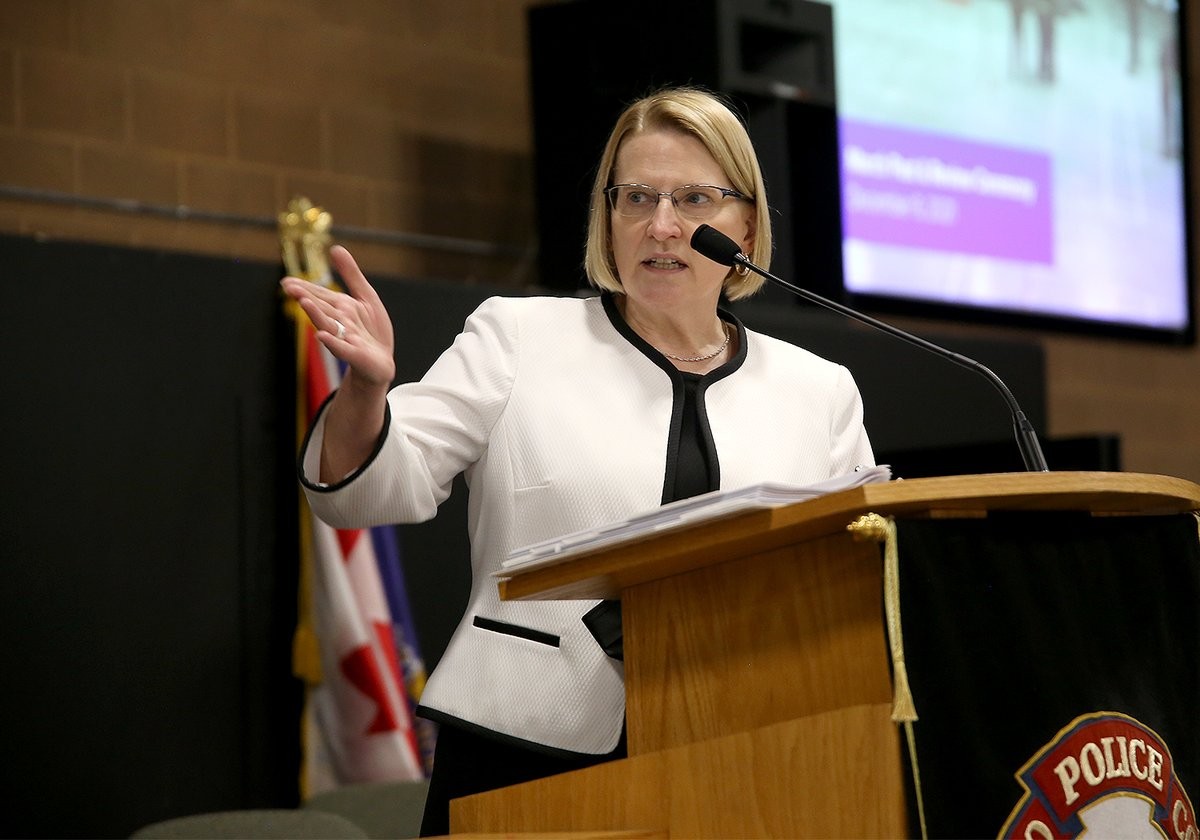 Feature image from Sylvia Jones/Twitter
Dominated by COVID and questions of police accountability, solicitor general Sylvia Jones dealt with controversy throughout her fourth term
The mandate of Ontario's solicitor general is quite clear.
"Ensuring Ontario's communities are supported and protected by law enforcement, and that public safety and correctional systems are safe, effective, efficient and accountable," the website for the Ministry of the Solicitor General states.
The four-year term saw Ontario's PCs pass controversial Police Services Act reform, approve a renewed strategy to battle the rising rates of human trafficking in the province; endure an ongoing global pandemic that at times raised sticky questions about the power of police officers; saw the high-profile killing of George Floyd in Minneapolis by a police officer that triggered world-wide protests and calls for law enforcement reform; along with a number of disturbing deaths of mentally ill individuals at the hands of officers in Peel.
Ontario's solicitor general's job has been a busy one for Sylvia Jones, who served as MPP for Dufferin-Caledon this last term.
It's a portfolio that dominated her fourth term as MPP for the area, pushing her deeper into the PC government's cabinet fold and further away from the local issues that mattered to her constituents in the mostly rural riding.
Almost immediately after being appointed to the role in late 2018—it was first the Ministry for Community Safety and Correctional Services before Ford rebranded the role in April 2019—Jones was handed a political hot potato with the PC government's changes to the Police Services Act, which reversed several legislative alterations made by the Liberal party, alterations that were popular among advocates calling for police reform, but not so among police brass.
At the time, Jones described the Liberal legislation as "the most anti-police legislation in Canadian history." The Liberal bill—the Safer Ontario Act—changed rules around the circumstances for when police must notify the Special Investigations Unit (SIU), tasked with investigating incidents of civilian injury or death involving police, and reformed the much-maligned civilian complaint and police accountability procedures, along with other modernizations to address concerns over the lack of police accountability. The PCs claimed the Liberal legislation placed too much burden on police and treated officers with suspicion.
"The previous government's legislation drove an unnecessary wedge between law enforcement and the communities they serve," Jones said at Queen's Park in March 2019, noting that the PC bill "addresses the gaps that people working every day to keep our community safe identified and the concerns that they raised."
For a politician with no previous experience in law, correctional or policing services, Jones, a long-standing pillar in many of Peel's community-based organizations, this work offered a crash-course in a ministry that had been losing the trust of Ontarians for years.
Jones, who has a college diploma in radio broadcasting and served as an assistant to John Tory when he was the Ontario PC Party leader, seemed like a strange fit for such a complex public safety leadership role. Her work as an assistant to Tory is what opened the door to her own career in provincial politics. She has served as the MPP for Dufferin-Caledon since 2007.
Her next significant step on the policing file would come in 2020. As a mysterious coronavirus was spreading rapidly in China, raising questions about safety in Ontario and the rest of the world, Jones spoke at Queen's Park about Ontario's new human trafficking strategy—a critical piece of documentation to guide government action and spending on an issue that is becoming increasingly prevalent in the province.
Solicitor General Sylvia Jones was clearly impacted by the reality that the average age of recruitment into sex trafficking for young girls is 13, repeatedly stressing to her colleagues that this was a key reason action needed to happen fast.
(Government of Ontario)
Over the last decade, Canada has seen a startling rise in the number of human trafficking incidents in the country. A large proportion of those occur in Ontario. Closer to home for Jones, many of these crimes originate in the Region of Peel, which includes the Town of Caledon in her riding.
"I think it's important that we understand and appreciate how engaged we are on this file," Jones said in the Legislature in March 2020, referring to a number of round tables held throughout the previous summer—which she was not a part of—to gain community insight on the issue.
The new strategy, which for the first time came with a dedicated, consistent funding envelope, was celebrated by many advocates and organizations working to help survivors of human trafficking. It also increased the resources for police and the courts to investigate trafficking cases, help Crown attorneys successfully prosecute these cases with specialized teams, and millions of dollars to help survivors across the province, including dedicated funding for Indigenous women and females who are disproportionately impacted by human trafficking.
"I never want people to forget the fact that the average age of recruitment of these young women and girls into human trafficking is 13 years old," Jones stated. It's a disturbing figure she would reiterate throughout her term each time trafficking was raised in the legislature.
While not an issue that directly impacts many of her constituents, being the head of the ministry that brought the new strategy to fruition was a significant accomplishment for an MPP. Jones would continue, introducing the Combatting Human Trafficking Act in 2021, which introduced a number of new legislative actions to fight human trafficking including the requirement for hotels to keep detailed registers of guests, recording their names and other identifying information, as well as mandating the government's human trafficking strategy as a standard to be reviewed every five years. The Act was introduced on February 22, Human Trafficking Awareness Day.
"On this National Human Trafficking Awareness Day, I have a clear message to those who share such concerns: not here in Ontario—not here," Jones stated at the time. "We are making bold leaps to raise awareness among the public, protect victims, support survivors and hold perpetrators accountable. Through our government's anti-human trafficking strategy, we have made a historic investment of $307 million to combat human trafficking and ensure supports for survivors are in place."
At least one survivor has questioned the commitment of Jones to assist those impacted by this crime after being stonewalled by the ministry when trying to get help.
"There's no compassion," said Sarnia resident Trena Thompson who previously spoke with The Pointer. Thompson has been trying to reach out to the solicitor general's office since November 2020. She is trying to advocate on behalf of those impacted by human trafficking, and get answers to why her requests for police accountability have gone unanswered by Jones and her ministry.
Thompson has been in contact with local authorities for years to get answers around the handling of her own sexual abuse and break and enter case, to no avail. After being passed from organization to organization and given an endless list of phone numbers to call, Thompson says she tried to reach out to Jones. The person who directly oversees the system would surely be accountable to someone who feels she's been failed by the ministry Jones is responsible for.
"Something's not right," Thompson said. After trying to reach Jones' office her emails have started bouncing back. "I feel like it's empty promises and empty words, especially when she talks about sexual exploitation [and human] trafficking. Because I would assume if she can tweet about it and have all Zoom meetings, [she] might want to talk to someone that's experienced something of the sort."
---
When the COVID-19 pandemic struck in March of 2020, triggering emergency orders, lockdowns and a slew of public health restrictions to try and control the spread of the virus, it raised a number of questions about who and how these new rules would be enforced. As Jones said herself inside Queen's Park in July 2020, referencing her discussions with many others at the Province, "There is no playbook for a COVID-19 pandemic."
Nowhere was this more clear than during the peak of the wave of cases that hit Ontario in April of 2021.
Solicitor General Sylvia Jones (right) was a staple around the pandemic planning table alongside Premier Doug Ford and Health Minister Christine Elliott throughout the COVID-19 pandemic.
(Sylvia Jones/Twitter)
In an infamous press conference, Jones, appearing next to premier Doug Ford and minister of health Christine Elliott, announced a number of new powers for police to enforce Ontario's stay-at-home order as cases continued to rise and hospitals reached dangerous capacity levels.
"Every single person in Ontario has an important role in protecting our communities. Unfortunately, some people continue to attend gatherings and leave their homes for non-essential reasons. As a government it is our responsibility to take action to address non-compliance," Jones said.
This was followed by the introduction of measures to "temporarily enhance" police powers, opening the door for officers to stop "any individual who is not in their place of residence" and ask "what is their purpose for not being at home and to provide their home address."
The new measures also gave police the ability to stop any vehicle to inquire about the person's reason for leaving their home.
The announcement was a complete disaster.
Civil rights organizations decried the gross overstep by the government and diverse communities across Ontario, including those in Peel, compared the measures to carding, a practice previously used by police to randomly stop individuals on the street to request identifying information. It was a practice that disproportionately targeted the Black community.
Even police services condemned the measures with many releasing public statements claiming they would not use the enhanced powers. Municipal officials slammed the announcement and the impact it would have on frontline workers who had no choice but to leave their homes to attend essential jobs.
"On what planet did you think this was going to help anybody?" asked MPP Peter Tabuns (NDP-Toronto-Danforth) in the Legislature soon after the announcement.
The measures would be walked back the following day, with Jones explaining in the legislature that the PCs had "refocused" the amended regulations to only apply when a police officer suspects a person is "participating in an organized public event or social gathering."
It was an illustration of someone in a crucial, complex leadership role who did not understand key aspects of the law, Charter rights and basic principles in a civil society, calling Jones' lack of legal and criminal justice experience into question.

---
In May 2020, a few short months after the COVID-19 pandemic had placed a vice-grip on the world, another event struck a collective blow to the public psyche.
The death of George Floyd, suffocated under the knee of a since-fired and convicted Minneaoplis police officer, and the video footage that went viral online, triggered a global movement. A resurgence of the Black Lives Matter movement was joined by loud calls for police services across the globe to change the way they approach their dealings with the communities they serve, particularly communities of colour.
In the GTA these calls were compounded by demands for change to the way police deal with those in mental health crisis following the deaths of Regis Korchinski-Paquet who fell from the balcony of her Toronto apartment while police were inside, and the shootings of D'Andre Campbell in April 2020 and Ejaz Choudry in June 2020 by Peel Regional Police officers. All three were experiencing mental health crises at the time of their death.
Under questioning from the opposition about how the government planned to deal with the calls for "fundamental change" to policing in Ontario, Jones was noncommittal.
"I think we all understand and recognize that policing and community safety has changed in the last number of years. The issues faced today by police services and the communities they serve are increasingly complex," she said. She pointed to the PC's $174 million investment in mental health and addictions programming for 2019-20, which included $6.95 million for new mobile crisis response teams. This program pairs a social worker with a police officer to respond to mental health crisis calls.
She made no mention of steps the government planned to take to address calls for changing the funding model or service delivery for police services in Ontario. The same avoidance of key questions was seen in her handling of systemic racism within policing, indicating she is out of touch with the realities faced in the province's largest cities.
Jones has also been criticized for her lack of action on COVID outbreaks within Ontario's correctional facilities—a key area of oversight under her mandate as solicitor general.
In a statement released on its website in February, the Toronto Prisoner's Rights Project stated that 15 of Ontario's 25 jails were in outbreak, yet Jones had not made a single statement on the crisis.
"As the general community is starting to reopen and lessen COVID restrictions, our Ontario jails and prisons continue to be overrun by COVID outbreaks. COVID outbreaks inside these institutions have spiked to the highest numbers we have seen since the onset of the pandemic. This is unacceptable and poses not only a health and safety risk to those inside, but to the general public outside as well," the statement read. "As the Solicitor General, Sylvia Jones is directly responsible for the outbreaks that persist within Ontario jails and prisons. It is her responsibility as the Solicitor General to ensure that prisoners are safe and to protect their human rights. Yet she has been SILENT on all the issues that are happening within our Ontario jails. Sylvia Jones needs to be held accountable for her inaction and her blatant disregard of prisoner health and safety"
---
With such a high-profile position—one dominated by significant issues for the latter half of the term—local issues took a back seat in many of Jones' public statements.
For example, in the year following Ontario's declaration of a state of emergency on March 17, 2020, Jones only mentioned Dufferin-Caledon 46 times on her most followed social media platform, Twitter. This is in stark contrast to the 909 tweets overall that Jones posted in 2020.
It's clear from her campaign strategy that it isn't her record in Dufferin-Caledon that she's campaigning on, but her prominence as a part of Doug Ford's inner circle.
---
Email: [email protected]
Twitter: @JoeljWittnebel
---
COVID-19 is impacting all Canadians. At a time when vital public information is needed by everyone, The Pointer has taken down our paywall on all stories relating to the pandemic and those of public interest to ensure every resident of Brampton and Mississauga has access to the facts. For those who are able, we encourage you to consider a subscription. This will help us report on important public interest issues the community needs to know about now more than ever. You can register for a 30-day free trial HERE. Thereafter, The Pointer will charge $10 a month and you can cancel any time right on the website. Thank you
Submit a correction about this story