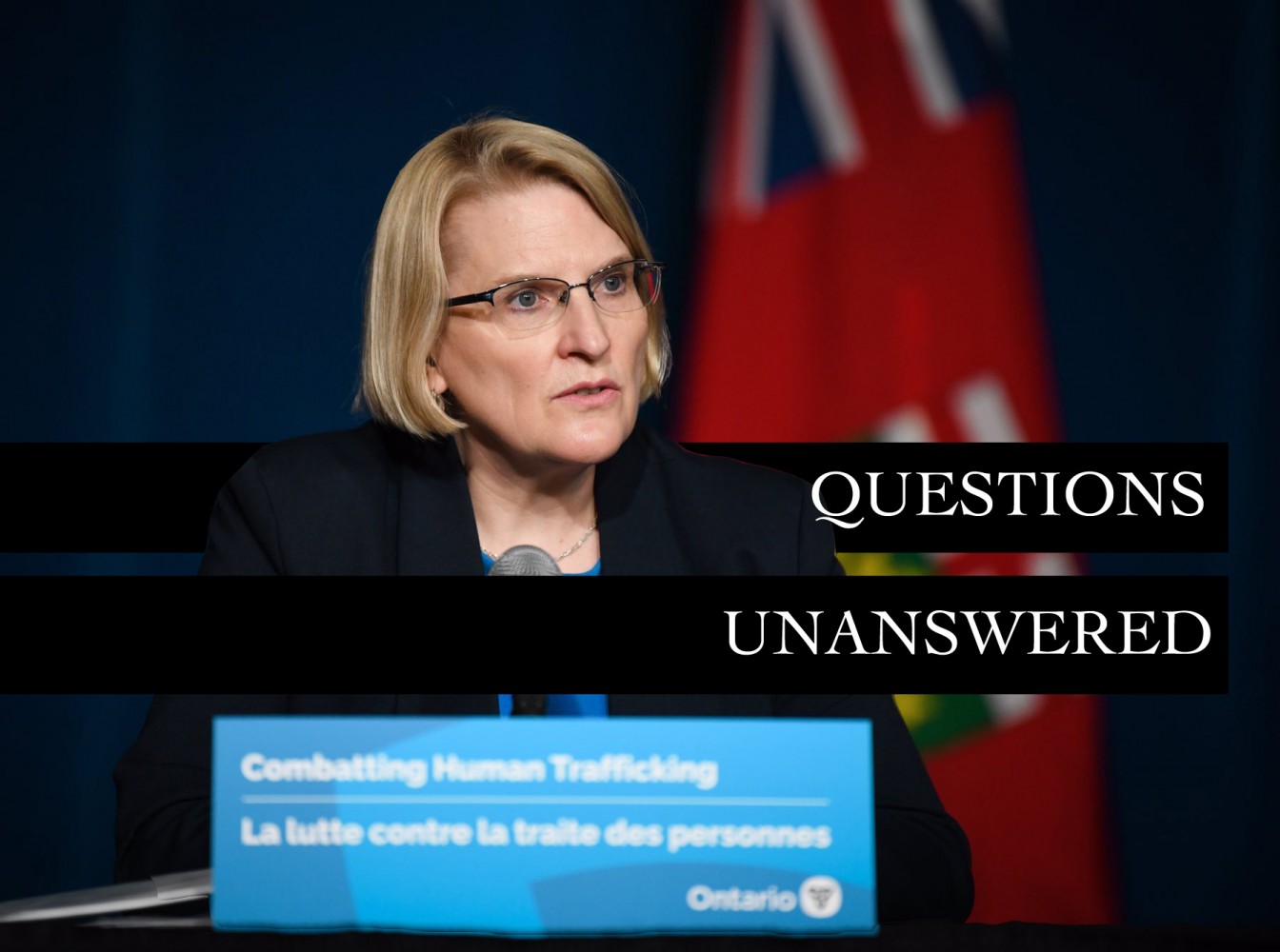 Photos from The Pointer/Twitter/Government of Ontario
It's a one-way communication street with solicitor general, Sylvia Jones
The Pointer's Social Media Monitor is a weekly look at how elected officials and other public civil servants are using their taxpayer-funded resources to shape digital communication aimed at constituents. We feature one public figure each week.
---
Upon the unveiling of Sylvia Jones' appointment as Ontario's solicitor general in late 2018, many first responders in policing, paramedics, firefighting and child protection embraced her with open arms.
Despite having no previous experience in law, correctional or policing services, Jones, a long-standing pillar in many of Peel's community-based organizations, was given a chance to make a difference in a ministry that has been losing the trust of Ontarians for years.
Jones has a college diploma in radio broadcasting and served as an assistant to John Tory when he was the Ontario PC Party leader, which opened the door to her own career in provincial politics.
With no experience in law or criminal justice, her appointment as solicitor general raised many eyebrows, as she took the helm of a complex ministry responsible for our law enforcement institutions, working hand-in-hand with the ministry of the attorney general which oversees our courts.
But her communication skills would shine through, right?
Before the pandemic struck, Jones was active on social media, specifically Twitter, where she often took the time to recognize local business achievements, attend charity events and highlight her government's progress in fulfilling its campaign promises.
Jones' accounts largely echo those of other Progressive Conservative MPPs. Infographics and photos outfitted specifically for Twitter dominate her page, where most of her engagement consists of shares and likes of content from other corners of her government.
But questions have been raised about her willingness to reach out and connect directly with Ontario residents impacted directly by her ministry.
"There's no compassion," said Sarnia resident Trena Thompson, who has been trying to reach out to the solicitor general's office since November. She is trying to advocate on behalf of those impacted by one of the most alarming crimes in the province, which has increased rapidly in recent years.
"I feel like it's empty promises and empty words, especially when she talks about sexual exploitation [and human] trafficking. Because I would assume if she can tweet about it and have all Zoom meetings, [she] might want to talk to someone that's experienced something of the sort."
Thompson has been in contact with local authorities for years to get answers around the handling of her own sexual abuse and break and enter case, to no avail. After being passed from organization to organization and given an endless list of phone numbers to call, Thompson says she tried to reach out to Jones. The person who directly oversees the system would surely be accountable to someone who feels she's been failed by the ministry Jones is responsible for.
"Something's not right," Thompson said. After trying to reach Jones' office her emails have started bouncing back.
She's concerned that women just like her are being put at further risk by law enforcement leadership under the PC government that seems disinterested in giving the vulnerable a voice.
"And giving them more power – I'm like, are you listening to the women within the police department? Because if you just turn on Twitter, it's not hard to find them. Many women are in [police] departments that are screaming to Sylvia [and] themselves saying something's wrong. And she's looking the other way."
Sending out social media posts recognizing what thousands of women are dealing with, masks the innaction residents like Thompson are concerned about.
Jones' pinned tweet rubs Thompson and many others in similar situations the wrong way, after running into brick wall after brick wall when trying to access support from law enforcement authorities.
A recent allegation of harassment by a Sarnia police officer against her co-worker surfaced in February. Despite her complaints, officer Jaime McCabe-Wyville and another veteran officer have been suspended without pay after a third-party report found no evidence of assault or harassment in the force. The report in question was not made public.
It's one example of the concerns Thompson and other women have raised around law enforcement's failure to change a culture that has long been seen as sexist and harmful toward women.
Jones, meanwhile, has appeared either disinterested or willfully ignorant to many women fighting for reform.
The minister's communication strategy, to reach out to those residents concerned with public safety issues, has been spotty.
Outreach to residents in her own riding has also declined.
Since Ontario declared a state of emergency due to the COVID-19 pandemic on March 17, 2020, Jones has only mentioned Dufferin-Caledon 46 times on her most followed social media platform, Twitter. This is in stark contrast to the 909 tweets overall that Jones posted in 2020.
Jones did not reply to questions about her efforts to engage with residents advocating on public safety issues.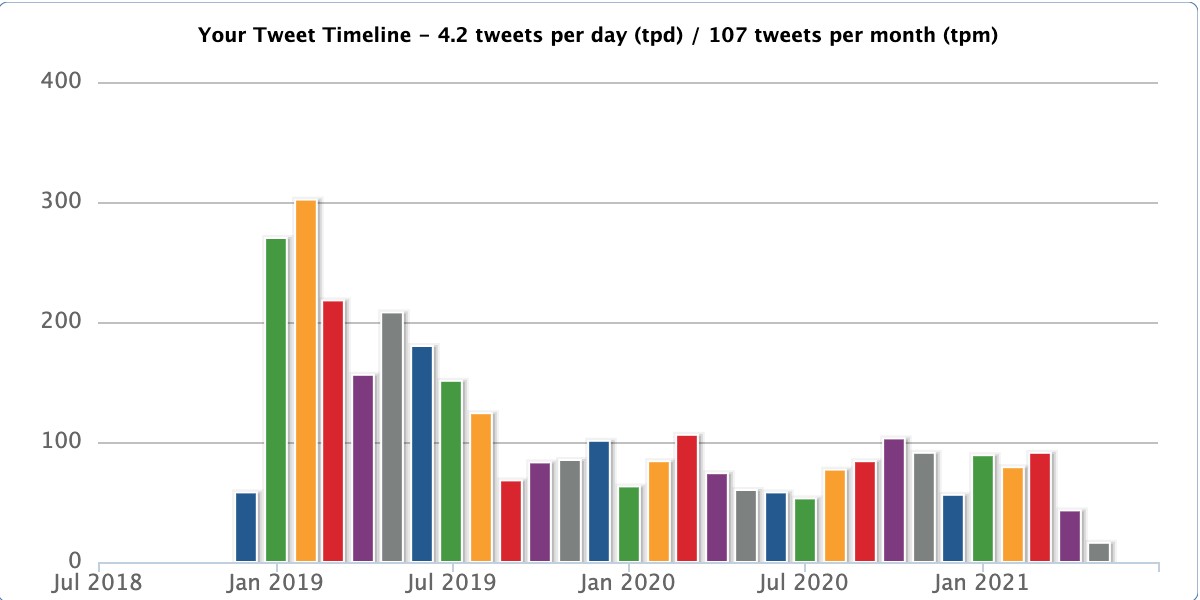 According to TweetStats, MPP Sylvia Jones tweeted 909 times in 2020, but only 46 of those posts directly mentioned Dufferin-Caledon, just 5 percent of her tweets for the year.
Jones' official Facebook page is managed by four separate accounts, suggesting multiple staff handle it. Twitter is the main platform she uses to announce new initiatives and spread awareness about pandemic-related news; Instagram is used, at a lesser rate, to post photos from public events and announcement highlights. On her official Facebook page, replies are disabled for some posts but allowed on others, even though Jones rarely responds to questions and comments from residents.
As a response to the third wave of the COVID-19 pandemic, Jones announced heightened police powers to curb transmission of the virus. Through her office's order, police forces across the province would have been granted the authority to stop anyone outside their home and ask why they were venturing outside, sparking fear that a form of legalized carding, which has traditionally targeted visible minorities, would be systemically re-introduced into policing.
Residents of Ontario largely revolted against the police measures authorized by Jones that many deemed to be authoritarian in nature. The Canadian Civil Liberties Association, upon hearing the announcement, revealed they were prepared to go to court to challenge the Province's decision until the government reversed course.
It was another example of the tone deaf style Jones has used, an approach that has left some wondering if she is equipped to oversee a system that has previously failed women and racialized residents.
"With our hospital system under significant pressure and the continued increase of COVID-19 variants, we are stepping up enforcement to ensure that people adhere to the Stay-at-Home order and follow public health measures," Jones said on April 16, during the press conference that announced the new police measures. "This is a critical moment in Ontario's response to this deadly virus – that's why we are doing whatever it takes to stop the spread and protect our communities."
After a resounding backlash by residents and the refusal from at least 23 police forces across the province to follow the orders, the announcement was rolled back and revised just one day after Jones issued her ill conceived and out-of-touch directive.
The announcement was especially alarming to many in the region she represents. Peel is home to one of Canada's largest collection of visible minority communities and immigrants make up a majority of the population. Her decision that many deemed callous and undemocratic, reignited the flames of mistrust between the police and many in the public.
Her social media was absent of any apology to the residents at the centre of the backlash.
In solidarity with the dozens of other police forces that pushed back, Peel Regional Police Chief Nishan Duraiappah stood against the Minister's orders.
"I recognize the concern that this brings to our community as a whole. As Chief of one of the most diverse communities in Canada, I would like to reassure our citizens that our officers will not be conducting random vehicle or individual stops."
Although many police departments took a stance against the directive, reports on social media of people being stopped arbitrarily cropped up soon after the move by Jones. Despite the revised announcement, the damage had already been done, prompting calls for her resignation by her local constituents and others across Ontario.
Her appointment to the post of solicitor general of Ontario raised eyebrows. Jones' social media shows the minister has done little to deserve the trust of residents who expect her to keep them safe.
---
Email: [email protected]
Twitter: @vanessabalintec
---
COVID-19 is impacting all Canadians. At a time when vital public information is needed by everyone, The Pointer has taken down our paywall on all stories relating to the pandemic and those of public interest to ensure every resident of Brampton and Mississauga has access to the facts. For those who are able, we encourage you to consider a subscription. This will help us report on important public interest issues the community needs to know about now more than ever. You can register for a 30-day free trial HERE. Thereafter, The Pointer will charge $10 a month and you can cancel any time right on the website. Thank you.
Submit a correction about this story