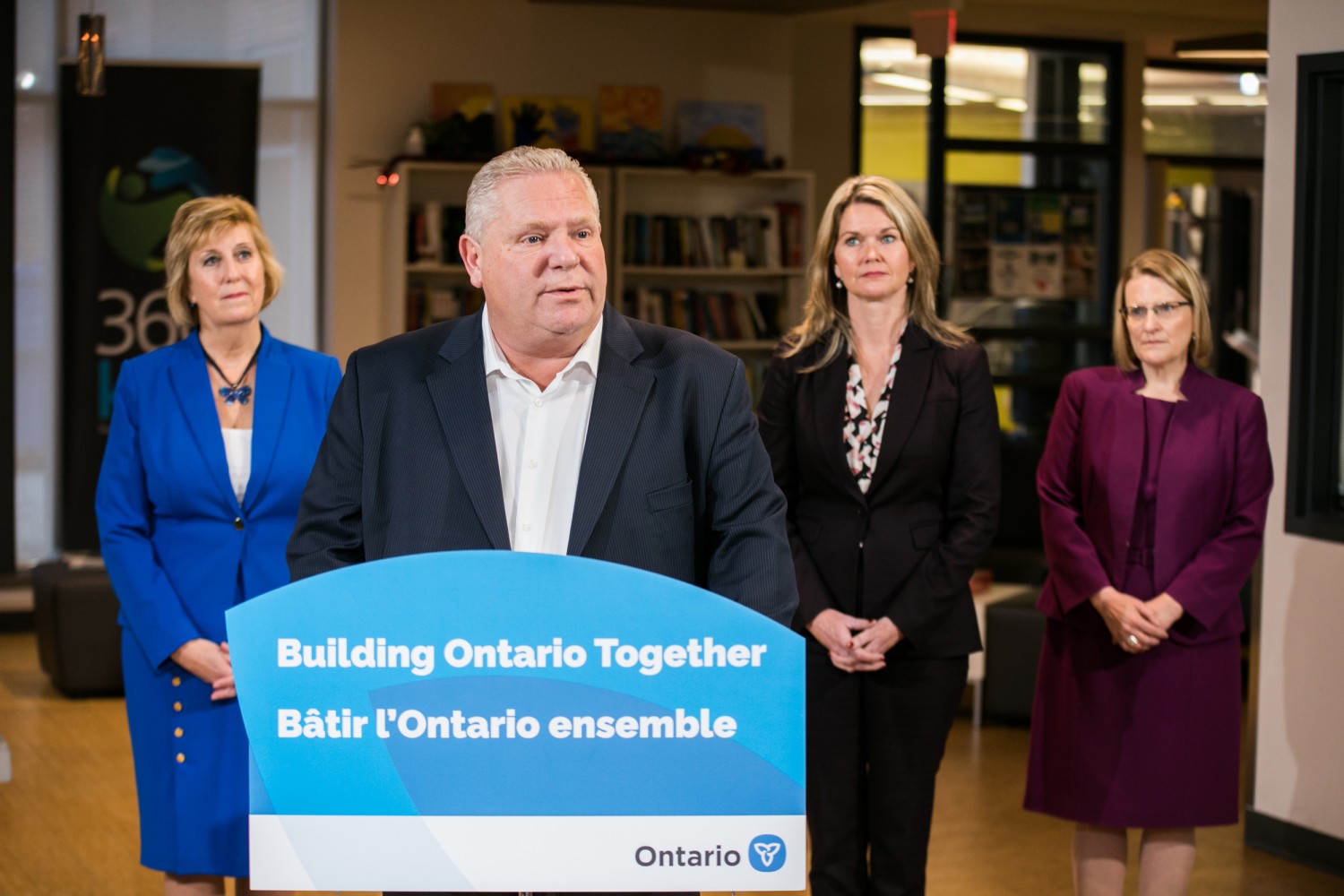 Photos from Government of Ontario/Graphics from Statistics Canada
Province shocked into funding commitment to battle human trafficking
Reading about human trafficking can make your blood boil, just ask Premier Doug Ford.
In a rare, off-the-book moment last week, he shared his shock about the reality of human trafficking in Ontario.
"The more I learn about human trafficking, the angrier I get," Ford, who has four daughters, said. The vast majority of human trafficking victims are female under the age of 26. The average age of recruitment into the sex industry is just 13-years-old.
"These are our kids and it's our responsibility to make sure we always protect them and we must put an end to this disgusting, absolutely disgusting, industry," Ford said.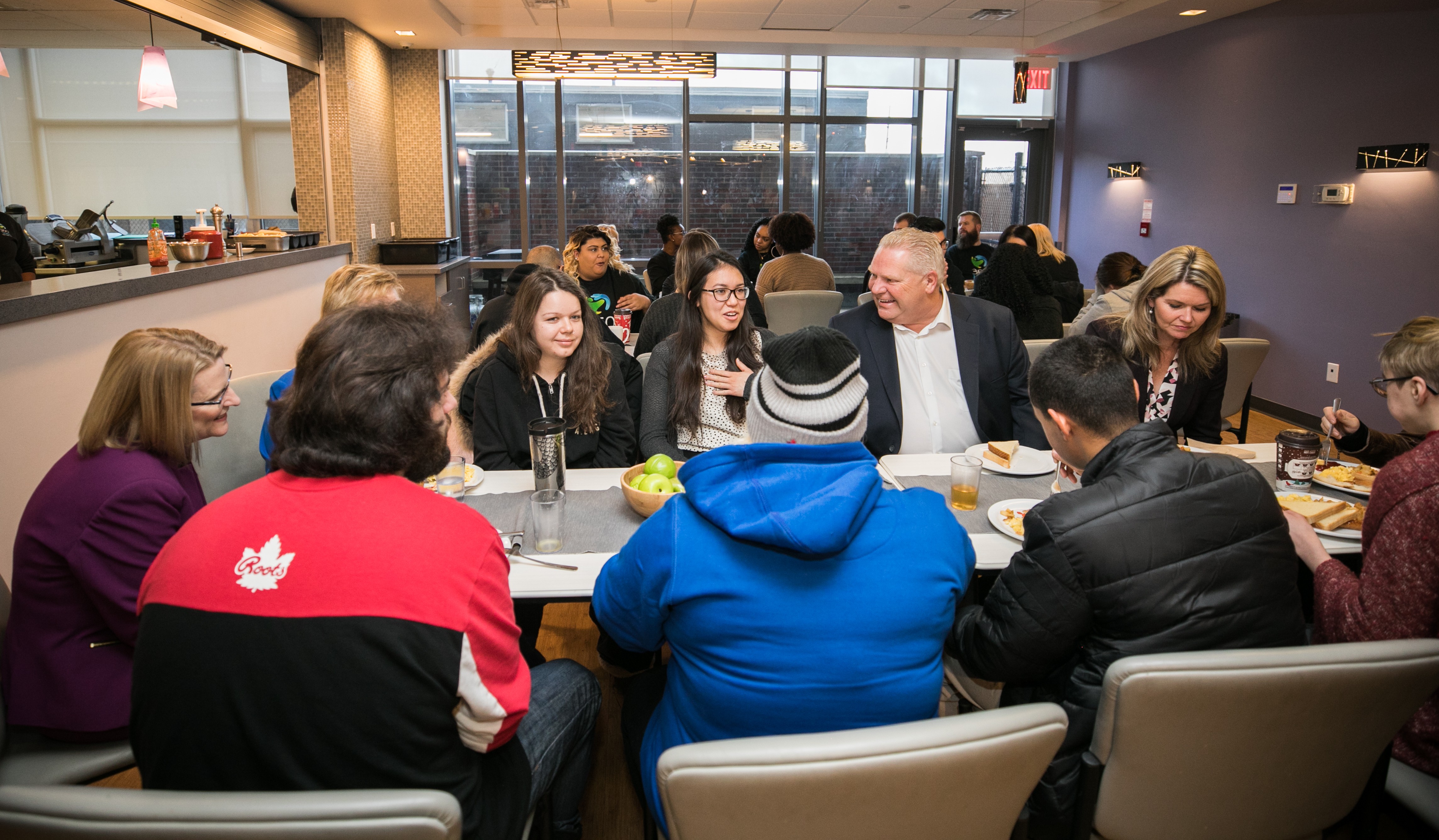 Premier Doug Ford meets with youth in Richmond Hill ahead of last week's announcement.
It wasn't just words, either. During the same press conference, Ford announced the Progressive Conservative government is dedicating $20 million in annual funding to help tackle human trafficking and support survivors. It marks the first time in Ontario that service agencies can breathe a sigh of relief knowing that sustained funding will be coming to support long-term projects dedicated to supporting survivors.
Human trafficking is not a short-term problem, and it can't be solved with band-aid solutions like one, two, or three-year funding for pilot projects.
"Our government recognizes the severity of this crime and the devastating impact it has on its young victims and we will not tolerate it," said Jill Dunlop, the associate minister of children and women's issues. "It's a crisis that is happening across the province, in all communities and at all levels of society."
This year has made that harsh reality more clear than ever. From the multiple arrests made in Peel Region of alleged traffickers, most recently on Nov. 5, when Peel police laid 22 charges against a 27-year-old man who had been trafficking an 18-year-old woman in the sex trade since October 2018, to earlier this year when the case of Jeffrey Epstein captured international headlines and highlighted how human trafficking networks reach prominent, high-levels of society.
The lion's share of the new funding ($12.3M) will be put toward community supports and coordination for survivors. This includes $7 million for the Anti-Human Trafficking Community Supports Fund for "wraparound services to human trafficking survivors and increased protection for people at risk of being trafficked." These services include much needed transitional housing spaces, trauma-informed counselling, mental health and addictions treatment and linkages to employment and job training supports. The province will also be putting $420,000 toward specialized youth-in-transition workers to support those survivors between the ages of 16 and 24.
A provincial anti-human trafficking coordination office will also be set up at a cost of $1.9 million to assist in bringing the different levels of government and service agencies together in their efforts to combat trafficking.
"This involves supporting relationship-building among police services, children's aid societies and other community organizations as well as efforts to raise awareness about human trafficking," a release from the province reads.
The provincial government is also dedicating $3 million toward an Anti-Human Trafficking Indigenous-Led Initiatives Fund to help in the development of "culturally relevant services" to at-risk youth in the Indigenous population.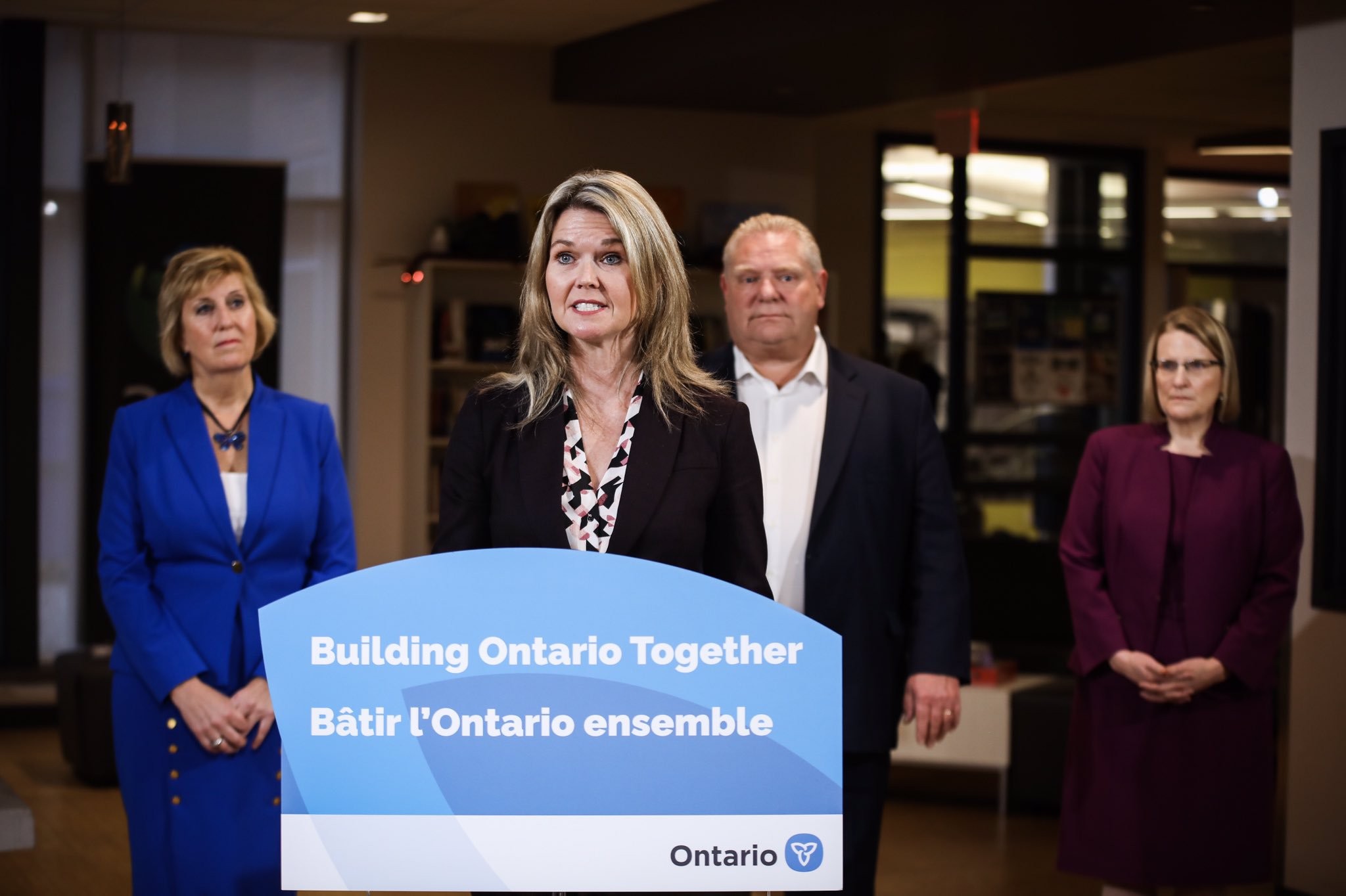 Jill Dunlop, the associate minister of children and women's issues
This is arguably one of the most critical elements of the province's recent announcement, as the number of young Indigenous women drawn into the sex trade in Canada is particularly troubling. While representing only 4 percent of the Canadian population, more than 50 percent of sex trafficking victims are Indigenous.
In Peel Region, which encompasses traditional territory of the Mississaugas of the New Credit, Anishinabek, Huron-Wendat, Haudenosaunee and Ojibway-Chippewa First Nations, services to support Indigenous survivors of human trafficking are limited.
The remaining investments will go toward law enforcement initiatives ($2.9M), including a new human trafficking program at the Ontario Police College, an OPP anti-human trafficking investigation coordination team, and an anti-human trafficking intelligence team with the Criminal Intelligence Service. The final $4.8 million will go toward initiatives for victim support and the justice sector.
As part of a previous announcement in August, the province announced funding toward creating a human trafficking prosecution team, a group of Crown Attorneys dedicated solely to tackling human trafficking cases, which are typically extremely complex.
For Premier Ford, he made it clear he wants to see the justice system taking a stronger stance against traffickers.
"I'm going to go off-script for a second," he began "Once they get in front of the judicial system, my message to the judges, these people need to be put away and throw away the keys. This is disgusting what they're doing to our young people and it shouldn't be tolerated and the judges shouldn't be tolerating it. Instead of giving them a slap on the wrist and letting them back out, they need to be thrown in jail and throw away the keys."
Over the last decade, Peel Region has become increasingly frequented by traffickers. It's gotten to the point where in 2018, Peel Regional Police conducted more than half of Canada's human trafficking investigations.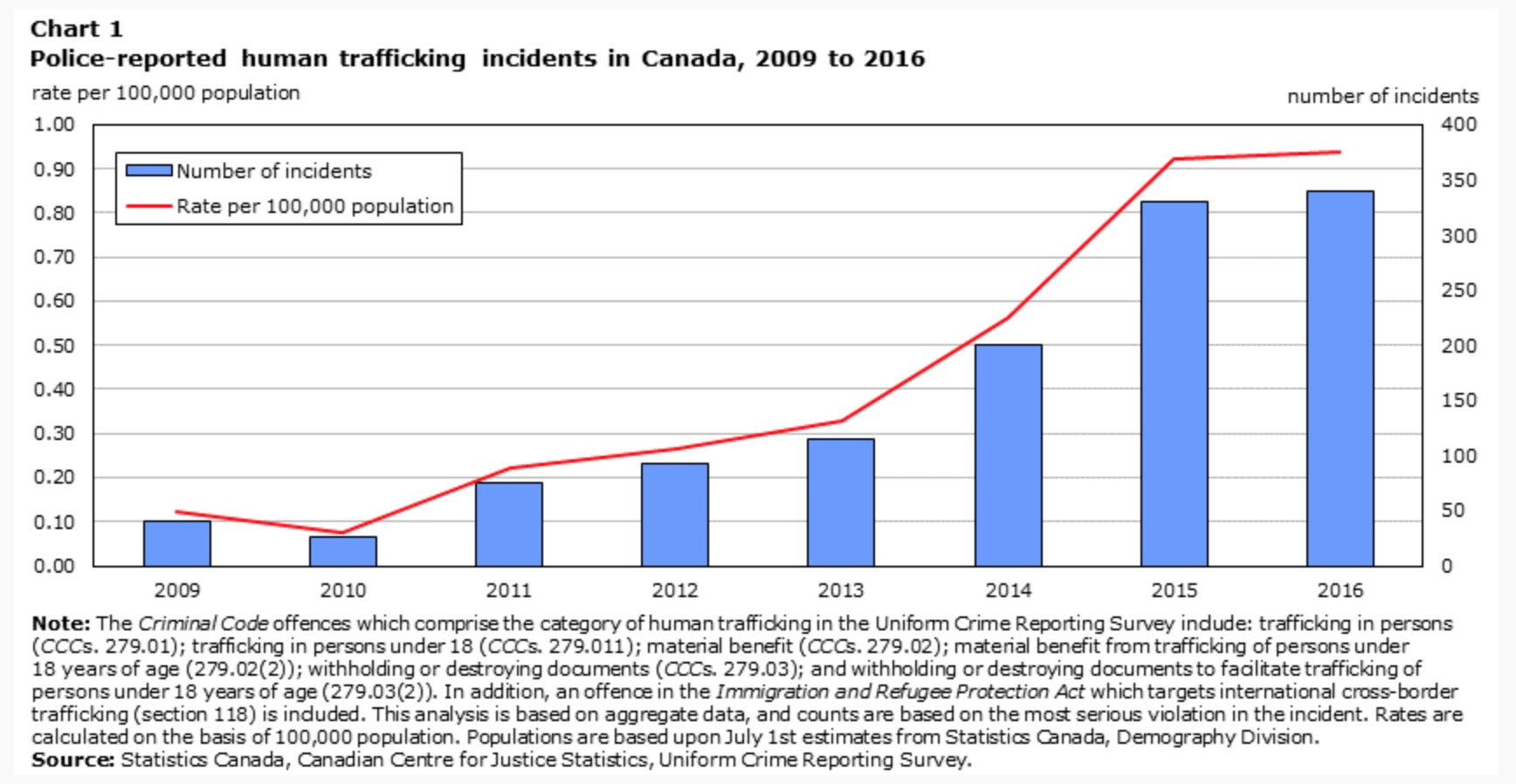 Canada has seen a steady increase in the number of police-reported cases of human trafficking since 2009.
This is partially due to Peel being in the heart of Ontario, where two-thirds of Canada's police-reported human trafficking cases take place, but also because of Peel's proximity to a number of 400 series highways and Pearson International Airport, making it easy to move victims from place to place.
The province will also be moving quickly to develop a new human trafficking strategy, co-led by minister Dunlop and Sylvia Jones, the solicitor general.
This past summer, the province hosted a series of 13 roundtable discussions across Ontario to try and gauge how the government should move forward to tackle the issue of human trafficking. Mississauga-Centre MPP Natalia Kusendova was one of the members chosen to host a series of these discussions. She says what she learned from the experience was both "shocking and saddening."
"Since the conclusion of our round tables, we have met with multiple ministers including: Education, Transportation, Solicitor General, Associate Minister for Women and Children, and Premier's Office to share what we have learned," she states in a press release following last week's announcement. "I am encouraged by today's announcement and the leadership of Premier Ford, Minister Jones and Minister Dunlop. The funding of an additional $20 million will go a long way to support victims on their journey towards recovery. I look forward to continuing this important work to ensure our youth, children and all victims are protected and that we do everything we can to end human trafficking in our Ontario."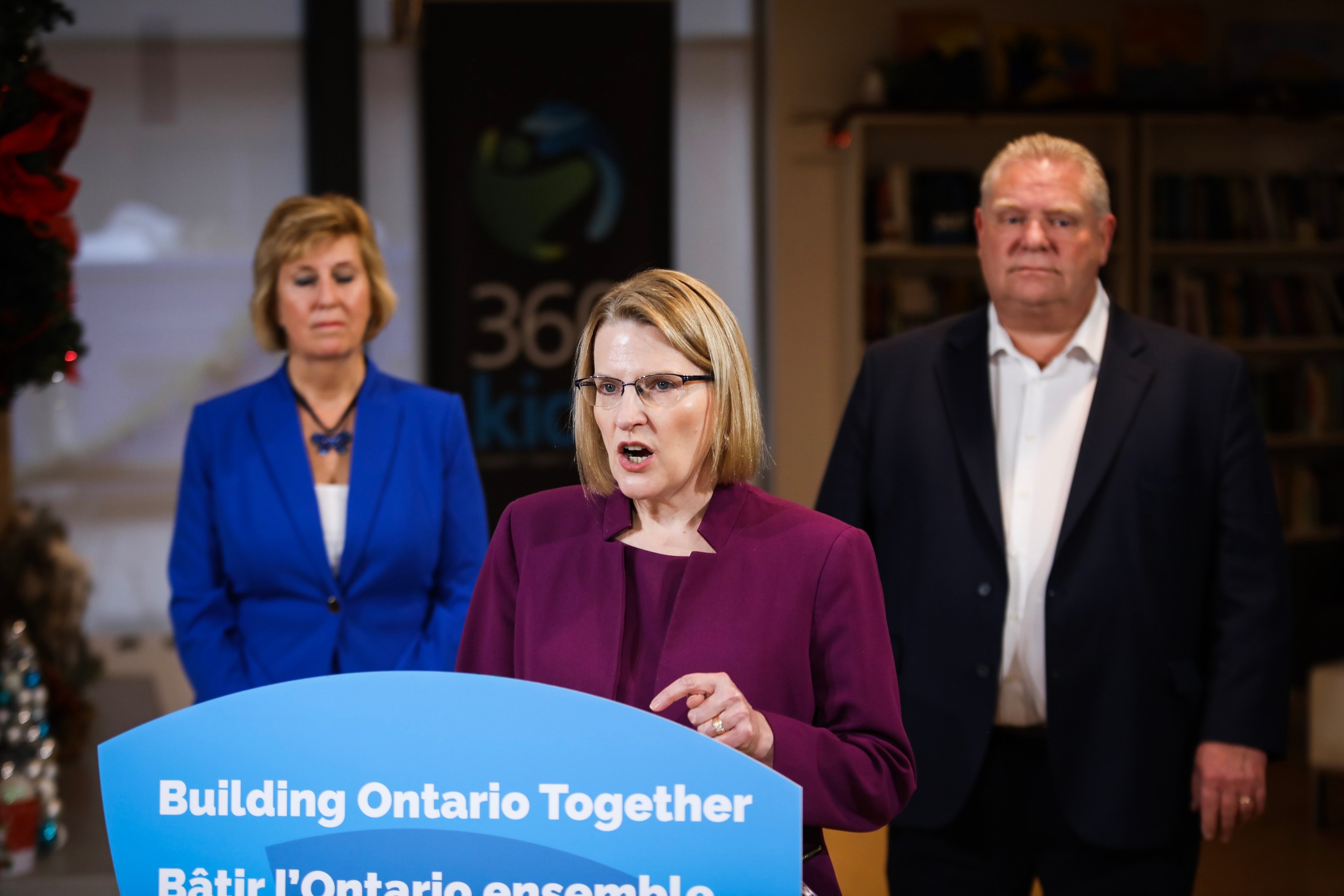 Solicitor General Sylvia Jones
The move signals renewed attention to the issue, as the Ford government has previously disbanded an expert panel set up by the former Liberal government in 2015 to advise the province on emerging issues about violence against women.
According to Minister Dunlop, a common theme heard during the summer's roundtables was the absence of any consistent and reliable funding.
This same message was stressed during the Global Conference on Human Trafficking and Trauma, hosted by Family Services of Peel at the University of Toronto's Mississauga campus this past June.
Monica Riutort, lead researcher for the Peel Institute on Violence Prevention, explained that Family Services of Peel received funding from the provincial government for the human trafficking needs assessment the organization completed earlier this year, but there has been no word about new money to act on it.
"We have no commitment whatsoever from the government if there's going to be funding for the next three years," she says. "This has to be a societal commitment."
Additionally, agencies complained that the current process for allocating funding has service providers working against one another. With only a small pool of money to divide among many organizations trying to help human trafficking survivors, they end up competing against one another in grant applications rather than working together to solve the problem.
"This is not a system that encourages coordination, cooperation or exchange of knowledge," Riutort says. "They separate us."
"We are taking action to respond to what we heard," Dunlop said. "This annual investment for dedicated anti-human trafficking initiatives will ensure victim supports are available on an ongoing basis, and that critical prevention and enforcement actions continue."
Email: [email protected]
Twitter: @JoeljWittnebel
Submit a correction about this story