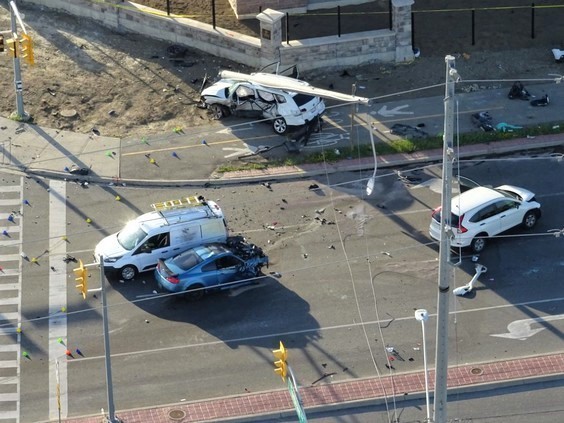 Feature image from Ontario Court of Justice
Crown wants 23-year sentence, defence just 7 for Brady Robertson who killed a Caledon mother and her 3 daughters while driving high
The Crown is asking Justice Sandra Caponecchia to sentence Brady Robertson to 23 years in prison for killing a Caledon mother and her three young daughters while driving with at least eight times the legal limit of THC in his system.
On April 25, Crown attorney Patrick Quilty and defence lawyer Craig Bottomley argued for two vastly different sentencing decisions.
Bottomley asked Caponecchia to impose a seven-year sentence for the convictions on impaired driving causing death and a 12-month concurrent sentence for the findings of guilt on charges of dangerous driving causing death. Quilty argued for 23 years and a lifetime driving ban for Robertson along with no parole eligibility for either 10 years or half his sentence, whichever comes first.
June 18 will mark two years since Robertson, who was 20 at the time, plowed his blue Infiniti G35 into the White Volkswagen Atlas of 37-year-old Karolina Ciasullo, with six-year-old Klara, three-year-old Lilianna and one-year-old Mila in the back.
Just before noon on a clear sunny day, Robertson got behind the wheel with at least eight times the legal limit of THC, the active ingredient of cannabis, in his bloodstream. He sped 135-kilometres-an-hour toward the intersection of Countryside Drive and Torbram Road in north Brampton, swerving out-of-control around cars stopped at the red light before violently slamming into the family SUV, sending it into a concrete light pole which fell directly onto and collapsed the top of the vehicle.
(Left) Klara, Lilianna, Mila and Karolina Ciasullo posing for a photo.
(Facebook)
During the sentencing hearing Monday both the Crown and defence presented findings from previous cases that support their arguments, the Crown focussed on aggravating factors, the defence on mitigating ones.
The Crown's argument relied heavily on Robertson's decision, his choice to drive intoxicated, with at least eight times the legal limit of THC in his system. After the collision, Robertson pleaded guilty to four counts of dangerous operation of a motor vehicle causing death, but not guilty to four counts of impaired driving and a dangerous driving charge for an incident that occured two days prior. His not-guilty plea on the impaired charges included an attempt to get the blood sample evidence thrown out and a constitutional challenge that argued the effects of cannabis are different from person to person and therefore guidelines for legal limits should not be applied universally.
These tactics failed.
He also challenged evidence that strongly suggested he was the driver in the incident two days prior to the fatal crash, arguing it could not be proven that he was the person behind the wheel.
This attempt to mislead the court, and the failure to admit he was impaired will likely be viewed as aggravating factors, which typically result in a harsher sentence.
After the constitutional challenge failed, Robertson was found guilty on all charges brought against him.
The incident on June 16, less than 48 hours before he killed four members of the Ciasullo family, that was caught on camera showed the same blue Inifniti riding onto a sidewalk near the area where the fatally occurred two days later as shocked bystanders looked on. In November judge Caponecchia agreed with the Crown that Robertson was indeed the person behind the wheel when the same car was out-of-control, mounted the curb, then sped off as a samaritan tried to get him to stop.
On the dangerous driving charge for climbing onto the sidewalk the defence is asking for a 30-day sentence, the Crown wants stricter punishments for all the charges.
Throughout the trial the defence attempted to prove Robertson did not feel the effects of cannabis in his system, despite having at least eight times the legal limit of THC in his blood (that was the amount measured about 45 minutes after the crash when he had a sample taken at the hospital).
Caponecchia withheld judgment on whether he was impaired by drugs until the constitutional challenge was decided. Robertson's lawyers claimed Canada's impaired driving laws are "arbitrary and overboard" when it comes to THC, the active ingredient in cannabis. They argued it is too difficult to determine how THC impairs individuals with different levels of tolerance.
Last week, Justice Caponecchia ruled the 5 nanogram per milliliter limit in the current legislation is "neither arbitrary, nor overboard" meaning Robertson will now be sentenced based on findings of guilt around the impairment charges as well.
On Monday, the Crown relied on previous impaired driving cases and the sentencing decisions.
"In my submission, the sentencing range for having an excess blood drug concentration is the same as the sentencing range for impaired driving," Quilty said.
He noted that most of the case law dealing with impaired driving occured before the Canadian government passed Bill C-46 in 2017, which specifically strengthened existing drug-impaired driving laws.
According to the Bill, the maximum penalty for dangerous driving causing death was increased from 14 years to life imprisonment. Under impaired driving causing bodily harm, the sentence went from 10 years before Bill C-46 to 14 years.
"By increasing the maximum sentences, Your Honour, Parliament has signalled that it wanted driving offences to be punished more harshly," Quilty said to Caponecchia. "Given the increase in dangerous driving in the same maximum sentences, Parliament has deemed that dangerous driving is equally serious to impaired driving."
Quilty argued that both a dangerous driver and impaired driver create risks for other users of the road, and one is not necessarily more dangerous than the other.
"Certainly, if somebody is both impaired and driving dangerously, as in this case, that's going to be aggravating and that will sort of increase the appropriate sentence," the Crown said.
The defence argued Robertson deserves to be dealt with using more leniency because of his age, the conditions in which he grew up and because he has no previous criminal record. Bottomley argued that the age of the accused should be taken into consideration during sentencing because there is still more time for a young offender to be rehabilitated.
Bottomley relied heavily on a 2019 decision in London after Bill C-46, where a drunk driver killed two people and severely injured two others. The accused in that decision received a sentence of seven years.
That decision said that, typically, in Ontario sentences for impaired driving causing death fell between four and six years, unless the offender had a previous criminal or driving offence record.
Bottomley said when a previous criminal record or criminal driving offence has been a factor the sentences have been between seven-and-a-half and twelve years.

During a sentencing hearing Monday the court was told about Brady Robertson's childhood and events that led up to his fatal crash that killed four members of the Ciasullo family.
(Facebook)
Quilty touched on why driving laws are in place; to deter people from committing similar acts and to "denounce" the action of the accused. A previous case he mentioned, explained that people who are generally of good character are the ones who are most likely to be deterred by a harsh sentence.
The Crown then pointed to a 2020 Peel Regional Police report detailing the increase in charges involving driving while intoxicated due to cannabis use.
Because of the concern in Peel, Quilty argued, "deterrence and denunciation are still very relevant sentencing factors."
According to data presented in court, young people more often commit these crimes and previous court cases have given a reduced weight to the accused because of youthfulness. Quilty said that driving records should outweigh the age factor because it would show a history of "irresponsible" driving.
Robertson's driving record, shown in court, details 15 driving convictions in a period of two and a half years. Quilty admitted 10 of these were for minor offences, but focused on a stunt driving conviction, a careless driving conviction as well as three convictions for driving while suspended.
The Crown compared Robertson's driving record to Marco Muzzo, who killed three children and their grandfather while driving intoxicated. Quilty showed Muzzo's driving record had 12 driving convictions over 12 years, 10 of which were for speeding. Muzzo was sentenced to 10 years in prison.
"In my submission, Mr. Robertson's driving record is in fact, even worse [than Muzzo's]," the Crown said.
When Robertson killed the Ciasullos he was not properly licensed to drive the vehicle and had two separate licence suspensions, which the Crown argued should be an aggravating factor in the judge's sentencing decision.
The defence argued these irresponsible decisions were related to Robertson's difficult upbringing.
According to Bottomley, Robertson's parents both had struggles of their own with mental health and addiction and both abandoned him at times during his childhood. By Grade 2 he had transferred to five different schools, and according to Bottomley was the victim of abuse, which was not detailed.
The details of the abuse were presented in a Gladue report, which describes a person's Indgienous heritage and how this factor has impacted their life. According to Bottomley, Robertson found out he has some Métis roots within the "past few years," but he has not been connected to them.
The Crown argued because of this limited connection the judge should not take into consideration Robertson's possible Indigenous ties
"That's the point," Bottomley said. "That is a terrible, terrible result of colonization. That was the goal, destroying links to the community, destroying links to people's past."
The defence said as a result of intergenerational trauma Robertson was more likely to have a difficult life and ultimately ended up in this situation.
"Page four of the Gladue report, it reads as follows: it is not uncommon for descendants of Indigenous Peoples to find themselves struggling with these same conditions, including poverty, under housing, physical and sexual abuse, mental health issues, addictions and early conflict with the law," Bottomley said.
It is unclear to what extent Robertson's Indigenous heritage played a role in his life prior to the fatal crash.
"Suffice it to say there's always two sides to the person," Bottomley said of the 17 letters in support of Robertson. "It's unfortunate often that in the system of justice we have you don't really learn who Brady Robertson is until a sentencing."
In December, just days before Christmas, victim impact statements were read before the judge. Friends, family and even Micheal Ciasullo (Karolina's husband) described the psychological and emotional trauma the tragedy has caused in their lives.
"Do you know that saying about a piece of your heart dying when someone you love dies? Well, that day all of me died," Michael said through a friend who read his statement to the courtroom. "I don't want to live. I don't want to work and I don't want to eat. I'm an empty shell waiting to be with them again."
The heartwrenching statements stretched over two days as relatives and friends took the podium to describe the impact the family had on their lives. Each witness described the three young girls and their distinct personalities, and Karolina's love for teaching Grade 4 at a Brampton school.
The Crown concluded sentencing submissions by telling the judge he hopes Robertson is remorseful. According to Quilty he has not shown remorse, evidenced by Robertson's choice to force a long trial.
"Mr. Robertson raised every issue that he could possibly raise in his defence, he challenged the admissibility of the blood samples, he challenged the constitutionality of the THC legal limit, he put the Crown to proof of the Caledon incident two days earlier," Quilty said.
Taking that into consideration, the Crown said pleading guilty to all charges would have resulted in a shorter trial and shown Robertson took responsibility for his actions.
Bottomley countered by arguing to Justice Caponecchia that a "crushing sentence" is not needed because it's clear Robertson has already felt the impact of his actions.
"There is no indication that jail won't deter him and denounce his behavior," the defence said. "He is already behaving himself in custody, he has already expressed palpable remorse in this case."
Up until Monday, Robertson has not uttered a word to the court and has not publicly made any statements of regret.
For the first time since the trial began Robertson addressed the court, reading what appeared to be a prepared statement. He admitted being "selfish, reckless" and how he has been trying to wrap his head around the incident for the last two years.
He spoke with a level voice, pausing at certain points taking deep breaths to compose himself.
"I wish every time I close my eyes and sleep, that the recurring dream I have will be true; that I died and they lived," Robertson said.
In what will serve as a precedent setting case, even before the sentence is decided, future trials involving the use of cannabis while driving will likely look at the constitutionality of current laws around impairment through the lens of Robertson's case.
Justice Caponecchia said she will hand down her sentencing decision on May 16.
---
Email: [email protected]
Twitter: @taasha__15
---
COVID-19 is impacting all Canadians. At a time when vital public information is needed by everyone, The Pointer has taken down our paywall on all stories relating to the pandemic and those of public interest to ensure every resident of Brampton and Mississauga has access to the facts. For those who are able, we encourage you to consider a subscription. This will help us report on important public interest issues the community needs to know about now more than ever. You can register for a 30-day free trial HERE. Thereafter, The Pointer will charge $10 a month and you can cancel any time right on the website. Thank you
Submit a correction about this story