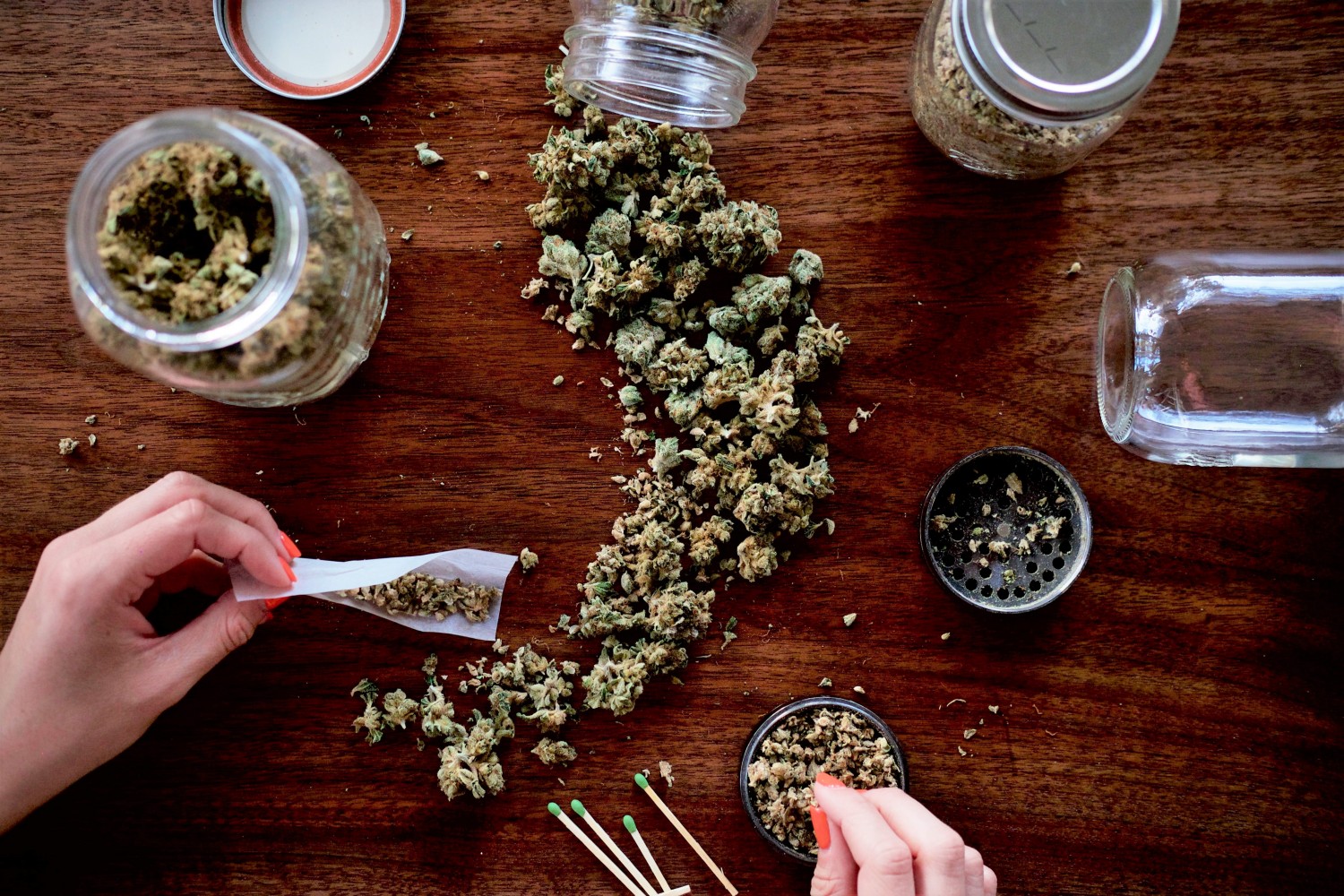 Photos from Wesley Gibbs & Unsplashed / Elsa Olofsson & Unsplashed / Statistics Canada
The cat-and-mouse game of illegal cannabis in Mississauga: 86% increase in charges for impaired driving
Despite marijuana being legal in Canada for more than two years, you can't buy it in Mississauga.
Why? Because there are no legal stores. Unlike neighbouring Brampton and Toronto, whose city councils opted in for legal cannabis shops, in late 2018 Mississauga's local elected officials chose not to.
Illegal storefronts and dispensaries, along with the rise of Uber Eats-style mobile offerings, are the only way of obtaining cannabis in the city, where many residents are forced to trek to nearby Brampton or Toronto. For Peel police these illegal dispensaries have become a serious headache.
A mid-March report by the police force found when comparing the longest running illegal and legal storefronts there are big differences in safety. In 2020, police were called to Ganjika House in Brampton (legal dispensary) 20 times. Five of these calls resulted in minor reports, such as Breach of Court Order, Assault Level 1, ATM Fraud and minor Possession of a Narcotic and Uttering Threats (to an animal).
During the same period, police received 28 calls from illegal outlet North Cloud Dispensary; 19 ended with a serious crime – stabbing, shooting and multiple weapons charges. Police were successful in shutting down the storefront in December 2020, after numerous attempts. The entire investigation cost Peel police $203,240.
"Illegal cannabis stores will certainly require enforcement agencies to spend more time and resources to investigate them, so the potential does exist for an increase in funds having to be spent," said Constable Akil Mooken, media relations officer with Peel Regional Police (PRP).
An incredibly complex dynamic of legal cannabis is that while its use is allowed in many circumstances, policing how it is obtained is very difficult for authorities to manage.
The issue illustrates the cat and mouse showdown between police and owners/operators of illegal dispensaries. Under the Cannabis Control Act, police must obtain a search warrant before entering a property they suspect could be selling cannabis illegally. Once police "shut down" the storefront, when they leave the illegal operations often immediately open up again. If locks are changed by police, owners hire a locksmith to undo the work.
Part of the cycle is the lack of financially burdensome fines that could disrupt those who sell cannabis illegally or knowingly operate an illegal dispensary. Individuals caught will be fined a minimum $10,000 but no more than $250,000. Peel police's report says these penalties "hardly puts a dent" in the per day earnings of these stores, which can easily reach $35,000.
To keep shutting down these dispensaries, PRP is speaking with the Region of Peel to obtain more funding. The first year cannabis was legal, the Region of Peel received $944,450 from the Ontario Cannabis Legalization Implementation Fund; PRP received $472,225 in 2019 to offset $1.6 million in expenses from 2018 and 2019.
More funding to police could be hard to come by with the current movement to reallocate public safety resources toward "upstream" solutions, to prevent crime from being committed in the first place. The idea is to fund social services organizations, youth outreach, education and other aspects of the upstream realm, to create more awareness around illegal cannabis, rather than sending money to police to deal with problems after crimes are committed.
Another challenge is the current financial difficulty being caused by the pandemic. Local and provincial governments are strapped because of huge revenue losses – transit and recreational user fees have been decimated, while Queen's Park and Ottawa have had to fund massive supports for residents and businesses.
Another solution PRP presented in its report, is an amendment to the Cannabis Control Act that would allow police to enter properties they suspect are selling illegal marijuana without a search warrant. To shut down North Cloud storefront, police needed six separate search warrants, each costing approximately $20,000.
Even with the successes of shutting down storefronts, operators of North Cloud have moved their business mobile. In short, a mobile dispensary is like Uber Eats but for cannabis. Customers request the product and employees drive to the location rather than having a specific storefront.
The report states that there was a 21 percent increase in illegal mobile cannabis dispensaries. The number of illegal mobile services continues to grow, there are about 100-150 operating in Peel, and five illegal storefronts. When asked if the majority of stores are located in Mississauga, Constable Mooken said the storefronts are equally dispersed throughout the region.
When the federal government legalized marijuana it was to reduce criminal activity of the drug on the black market, for health benefits and to keep pot out of the hands of young Canadians. Without legal stores in Mississauga, residents turn to illegal cannabis, keeping the black market alive.
It's an issue for residents who use the plant as a form of medicine or comfort. Owner of Ganjika House, Clint Seukeran, said the average consumer of cannabis ranges from 19 to 98.
"When we just opened, I was very present at the store, and I'm checking IDs, and I saw this elderly lady coming, and I'm like, 'oh, you look like you're over 19 you can come in' and she says, 'no, you got to check my ID.' I checked it and she was born in 1921," he said.
At Thursday's Regional Council meeting, Dr. Lawrence Loh, Peel's Chief Medical Officer, said there has been an increase of substance users "across the board" since the pandemic.
Ward 2 Councillor Karen Ras explained how one of her constituents, who is in her 80's, uses cannabis oil for her osteoarthritis.
"Why does she have to go to Etobicoke or Burlington to get her oil that helps?" Ras asked.
Cannabis oil like this, is helping some elderly residents with various health conditions.
When the Province asked municipalities around Ontario if they would allow legal cannabis stores, only Ras and Ward 10 Councillor Sue McFadden voted to opt the City in. The other members of council were concerned about the lack of control they had in decisions around the stores.
"My fear is, we go from having no legal shops, to, quite frankly, we have no control as a city. And so what happens if we end up with 8, 12, 20, 30 shops," said Ward 1 Councillor, Stephen Dasko.
Instead, council decided on a "wait and see" approach on how rollouts in different jurisdictions would happen. It resulted in the third largest city in the province opting out of cannabis stores and council members writing a letter to the Premier outlining the concerns they had.
Changes to the number of stores any one person is allowed to own illustrates how the Province hopes to see the industry grow. Until August 31, 2020, retail operators could own a maximum of 10 cannabis stores. That number, though, will increase to 75 this year. This increase is indicative of the growth the Province sees for the pot industry, as it looks to build on its first year, hoping to fix its well-documented issues with supply.
Allowing those operators who do two things better than others, is a way to ensure a healthy industry: market forces will allow owners with the best business model to succeed, while those who flout regulations and legal requirements will not be allowed to operate.
Councillor Ras believes that waiting for the Province may result in discussion around storefronts to never happen.
"They're not about to give municipalities more powers when it comes to planning. In fact, we've been seeing the reverse," she said.
In an email to The Pointer, Mayor Bonnie Crombie said council has sent "multiple" letters to the Ontario government requesting a change to the regulations in place so that municipalities can have a greater say.
The email also included how the City of Mississauga is looking at other areas where cannabis is legal and how the rules could be adjusted in the future.
City staffer Daniel Bitonti told The Pointer a report will likely be brought forward to council before the end of June. It will detail the experiences of other municipalities and recommendations from staff on whether or not Mississauga should proceed with legal cannabis stores.
"This will be another opportunity for council to decide on whether it wants to maintain the current regulations or allow legal cannabis stores to open in Mississauga," Bitonti said.
Other concerns from the PRP report include an alarming increase of charges being laid against drivers getting behind the wheel high. From 2018 to 2020 there has been an 86 percent increase in charges involving driving while intoxicated due to cannabis use.
The question is, did the legalization of cannabis drastically change consumption and illegal use of vehicles, or is the disturbing statistic partly due to other negative impacts the pandemic is having on Canadians?
According to statistics Canada, a survey has been sent out to Canadians every three months since legalization to learn about consumption habits. In 2018, 14.2 percent of people drove within two hours of consuming cannabis, whereas in 2019 the number dropped to 13.2, suggesting localized supply was helping curb the problem.

Statistics Canada uses research from every three months to watch how legalization of cannabis has changed the behaviour of Canadians.

In the report by PRP cannabis-related driving charges increased dramatically over a similar period. There are two reasons this increase occurred within the region, but isn't seen on a national scale.
Newer officers recruited into the force all get training on Standard Field Sobriety Testing (SFST) Constable Mooken explained, recalling that when he joined the force this was not the norm.
Across Canada there were more than 14,400 trained SFST officers as of 2018 and 1,082 certified Drug Recognition Experts as of 2021.
Another reason for an increase in impaired driving charges due to cannabis is people are more educated and are calling in to report those driving high. The increased education surrounding cannabis use has been a result of legalization and because both Brampton and Mississauga residents have easy access to both legal and illegal cannabis, awareness campaigns have been stepped up.
A third, possible reason for increased driving charges, which has been pointed out by some observers, is the decision of some municipalities to opt out next to others that allow legal shops. Many driving farther distances, often wanting an immediate fix, will consume as they drive from a location, which raises more questions around Mississauga's decision to opt out, next to Brampton and Toronto, where local residents may be travelling to.
"Our community is our strongest partner when combatting crime and keeping communities safe," Constable Mooken said. "We encourage anyone that witnesses a suspected impaired driver to call 911, so that officers can attend and determine if in fact the driver is impaired. That phone call could be the difference in saving lives."
---
Email: [email protected]
Twitter: taasha__15
---
COVID-19 is impacting all Canadians. At a time when vital public information is needed by everyone, The Pointer has taken down our paywall on all stories relating to the pandemic and those of public interest to ensure every resident of Brampton and Mississauga has access to the facts. For those who are able, we encourage you to consider a subscription. This will help us report on important public interest issues the community needs to know about now more than ever. You can register for a 30-day free trial HERE. Thereafter, The Pointer will charge $10 a month and you can cancel any time right on the website. Thank you.
Submit a correction about this story