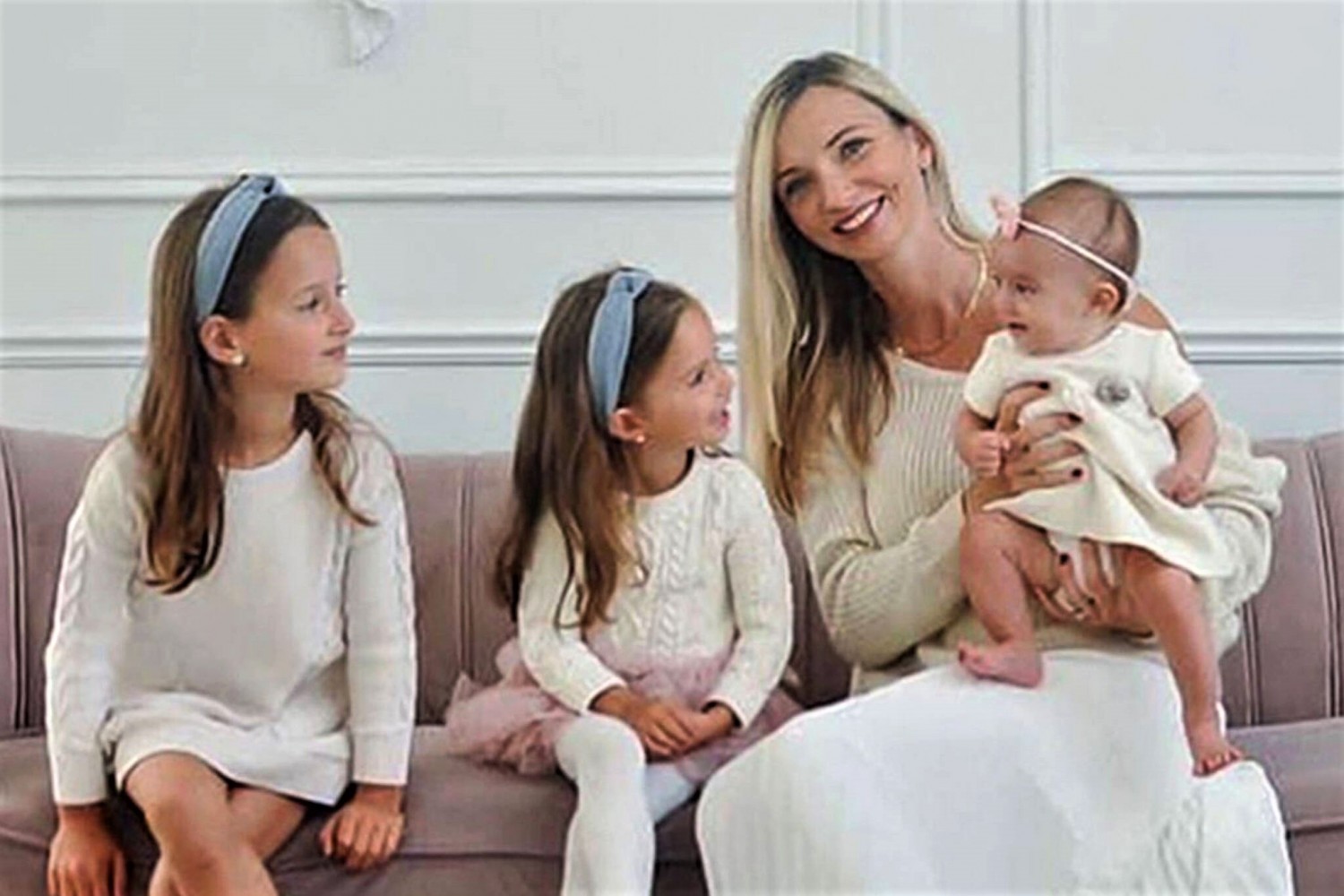 Image from Facebook
'That day all of me died': Court hears totality of agony triggered by crash that killed Caledon family
Brady Robertson destroyed more than just the lives of Karolina Ciasullo, 37, and her three young daughters Klara, 6, Lilianna, 4, and Mila,1, when he wantonly raced toward a Brampton intersection with eight times the legal limit of THC in his system and caused the violent collision that killed all of them almost instantly.
He killed more than just a mother, a wife, a sister, a friend. He took more than the future of three innocent, young girls.
His actions caused a ripple effect of pain and suffering through the entire Ciasullo family and anyone who was friends with the loving mother and her bright young daughters.
June 18, 2020 was described as a living nightmare in a Brampton courtroom this week. The details of the notorious day are etched into the minds of the friends and family of the Ciasullo family forever, many of whom described their shocked reactions to the news and the traumatic days that followed.
It happened on a clear, sunny afternoon at about 12:15 p.m., Robertson sped toward the intersection of Torbram Road and Countryside Drive at an alleged 167 kilometres per hour. His blue Infiniti G35 swerved around stopped vehicles and through the intersection just as the white Volkswagen Atlas of Karolina and the girls was entering. Robertson's car slammed into the SUV in an explosion of glass and twisted metal, sending the family's vehicle careening into a light pole, which then crumpled down on top of it.
The violent collision shocked many in Peel and across Ontario.
(Image from Facebook/Ontario Court of Justice)
The collision claimed the lives of all four Ciasullo family members and sent Robertson to hospital with non-life threatening injuries. He has pleaded guilty to four counts of dangerous operation of a motor vehicle causing death and was found guilty on a separate dangerous driving charge from an incident on June 16, 2020.
Robertson has pleaded not guilty to four counts of impaired driving causing death. His legal team has filed a constitutional challenge of Canada's impaired driving laws when cannabis is involved. A decision on that challenge is expected some time in the new year. It was previously revealed in court that Robertson had flubromazolam (a sedative known as liquid xanax) and eight times the legal limit of THC (the active ingredient in cannabis that causes impairment) when his blood was drawn by hospital staff hours after the accident.
Justice Sandra Caponecchia, the sole judge on the trial, has reserved judgment on whether he was impaired by the drugs at the time of the crash for a date after the constitutional challenge.
Karolina left behind husband and father Michael, a sister, parents, close friends, teaching colleagues and students. The young children left behind a whole life ahead of them, their loving father, family, god parents and friends.
On December 20 and 21, numerous people stood in front of Justice Caponecchia explaining the psychological and emotional trauma the tragedy left on their lives after seeing a young family be torn apart on a beautiful sunny June day, all while knowing it could have been avoided.
Natasha Pinto-Cimicata read the statement of her brother in law Christopher Cimicata, who was with Michael Ciasullo when he realized something was wrong. The pair were working together, and Michael was agitated after his wife Karolina didn't answer his phone calls.
"He insisted something was wrong," wrote Christopher. "So we got into my truck and started driving toward Brampton, where she was supposed to be."
On that drive, Michael got the horrific phone call notifying him of the accident. Christopher called his own brother, directing him to start contacting the hospitals. They learned a mother and two daughters had been rushed to Brampton Civic. There were no details of what had happened or the condition of the patients.
At Brampton's lone hospital, Christopher and Michael were met by police officers and doctors who couldn't tell them anything until the bodies were identified.
"In that split second, that felt like an eternity. Everything ran through my mind. I had just three hours prior jumped in on a video chat Mike was having with Karolina and his middle daughter Lili," Christopher wrote. "I knew I wanted Mike to have that final memory of them and not the one that was in front of us. So I decided to go in and do it."
He described the immense challenge and weight he felt travelling the short 20 steps to the room where he saw Karolina, Klara and Lilianna. At SickKids hospital Mila was being kept on life support so her father could say goodbye.
"Seeing Mila in the hospital bed will be forever burned in my brain," Christopher wrote.
The deaths left a gaping hole in the tight knit community of Caledon East. Karolina and her kids were often at the park, or walking around the neighborhood with infectious smiles on their faces. The unimaginable pain is still fresh a year later for everyone whose lives were touched by the victims, as neighbour Nicole Ferreira said.
The house the family used to live at held so many memories and is a reminder of the girls and their mother. Neighbours who were close to the family said their kids would all play with the Ciasullo children, and would always be happy to chat with the parents.
Klara was said to be a proud big sister, wise beyond her years, and extremely intelligent. As the first born, her presence brought so much joy into Karolina and Michael's lives.
Lili (as she was known) was the firecracker, the sarcastic and quick lipped middle child who loved playing with makeup. As tiny as she was, always made her presence known. She was smart and her laughter was extremely contagious. At only four years old, she is described as being a loyal friend and having a beautiful soul.
Mila, who had just turned one a few months prior, was a giggling dancing queen. Her favourite song to dance to was Gummy Bear, and often videos of her circled through close friends and family to see her laughter and moves, Marta Jurewicz, godparent of Mila, described to the courtroom.
The Ciasullo girls. All three were killed in the crash.
(Image from Facebook)
Michael was present on the final day of statements and through a friend, Matthew Cimicata, had his thoughts read. He laid out the chasm of sorrow Robertson's actions created, touching everyone in the room with his words. The emotional weight of his words carried through the electronic channels of those watching over Zoom, the unknowable grief of a father who has lost his entire world.
He tried to put into words how the crash affected him. He recounted how he threw himself on his knees at the sight of the four white caskets, praying it was a nightmare.
He shared intimate details of the love he will always carry for his three precious children. He thinks of how Klara would ask him what tools he used on the construction site that day, or how Lili would volunteer the details of her own day. Michael explained how quick he could put Mila to sleep. Daily routines that are now nothing but painful memories.
"I let those girls paint my nails and I even let them shave my head. We went for bike rides, ice cream, everything, and they were my entire life," Michael wrote.
Through Matthew Cimicata, Michael also attempted to share just how much of an impact Karolina had on his life, explaining how she made him a better person and was the glue of their family unit.
"Do you know that saying about a piece of your heart dying when someone you love dies? Well, that day all of me died," Michael wrote. "I don't want to live. I don't want to work and I don't want to eat. I'm an empty shell waiting to be with them again."
Michael finished his statement by saying his life's purpose is to make his girls proud.
Karolina was a teacher, a role she took very seriously. Friends/colleagues Natasha Marra, Tonya Bisante, and Magdalena Camarda described her teaching with empathy and grace and how all of her students loved her. Almost everyone said she made motherhood look easy and her friends would always come to her for advice.
She was the first person many of her lifelong friends would text if something exciting happened, or if they needed to vent or ask her opinion.
"Karolina was such an easy person to speak to. She always had great advice and never judged me," Jennifer Coughlin, a longtime friend said. "I can always rely on her to lighten the mood with her infectious laugh."
In June 2020, Karolina was teaching Grade 4 remotely after being on maternity leave with Mila the year prior. Her students and colleagues were eager to see her back in the halls of St. Isaac Jogues Catholic Elementary School in Brampton.
It was Natalie Grossi, Vice Principal at St. Isaac Jogues and a close friend of the Ciasullo family, who had to tell her students what had happened over a Zoom call.
"It was one of the most difficult things I've ever had to do," she said.
It is difficult to know how to explain such a tragedy to a child, something many of Karolina's friends and colleagues learned as they had children the same age as hers. Those young kids cannot comprehend why their friends are no longer around.
The parents have the burden of explaining why they can no longer see them, often reliving their own trauma when children repeatedly ask or become upset with the idea.
The few older children who knew the young girls are now experiencing their own grief, their lives forever impacted by the decisions Robertson made that day. It's unclear what sort of damage this incident has caused the many young children in the lives of this family.
In the aftermath of their deaths almost everyone felt guilt or anxiety in some way, the court heard. Friends and family explained how the accident caused them to become overwhelmed with the thought of driving, holding their breath through every intersection or buying a larger vehicle to feel safer. The turmoil it has caused, affects their relationships with one another, their children, and with Michael Ciasullo.
The agony of these deaths continues to be felt collectively as they all carry the burden of losing a loved one. The impacts of the horrific accident did not end in the Ciasullo circle of family and friends, extending out into the Brampton community.
Melanie Elliott, the wife of the Peel Regional Police officer first on scene, detailed how her husband was wrecked with emotions. The bodies of the children and beautiful mother lifeless inside their vehicle, replaying in his mind on a horrific loop.
"In the days and weeks that followed the incident, I watched my husband lay on the bed and stare at the ceiling, while his eyes filled with tears," she told the courtroom. "He just laid there trying to get the images out of his mind."
As those who continue to be affected by the accident took the podium, virtually and in-person, Robertson sat motionless, with his arms crossed. Not once did he lift his head or offer any moments of humanity toward the sobbing victims. He focused on one spot on the ground, staring at it for hours.
Robertson's sentencing is scheduled for April 25 and 26, 2022.
---
Email: [email protected]
Twitter: @taasha__15
---
COVID-19 is impacting all Canadians. At a time when vital public information is needed by everyone, The Pointer has taken down our paywall on all stories relating to the pandemic and those of public interest to ensure every resident of Brampton and Mississauga has access to the facts. For those who are able, we encourage you to consider a subscription. This will help us report on important public interest issues the community needs to know about now more than ever. You can register for a 30-day free trial HERE. Thereafter, The Pointer will charge $10 a month and you can cancel any time right on the website. Thank you

Submit a correction about this story