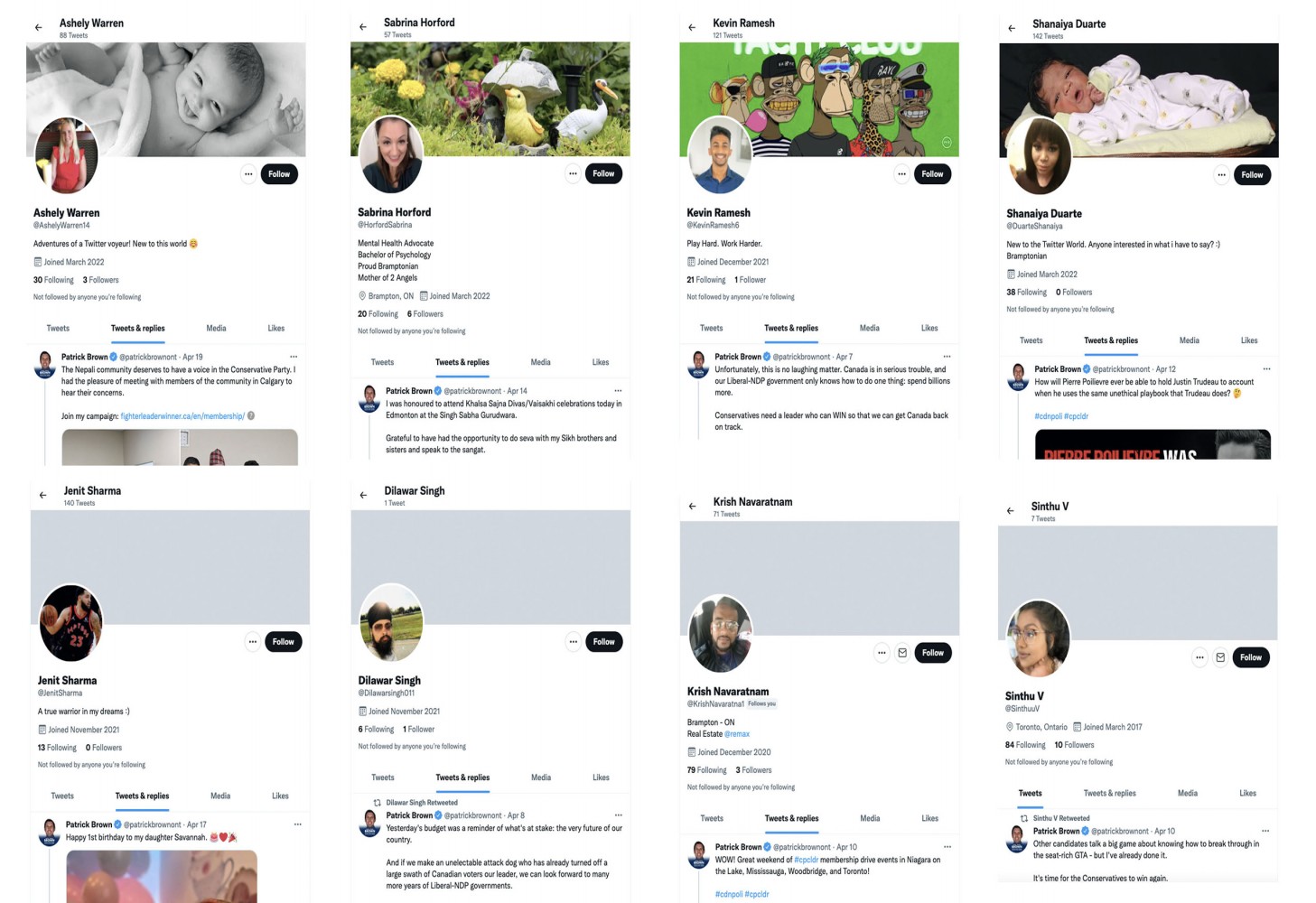 Feature images from Twitter
Fake Twitter accounts being used to defend Patrick Brown, troll Brampton residents
Brampton residents are accusing Mayor Patrick Brown of using fake social media accounts to spin the truth in the face of mounting criticism.
In an attempt to mislead the public, fake Twitter accounts using images taken from the internet, with made up Brampton identities, have been created to promote Brown and defend him.
He is furiously campaigning for the Conservative Party of Canada's leadership while he's supposed to be serving the taxpayers of Brampton as its elected head of council.
Some residents have expressed anger as Brown travels across the country, neglecting City of Brampton business, missing council votes and failing to participate in crucial discussions to move the municipality forward, illustrated by his recent absence from debate around the funding for future healthcare expansion.
Residents have also called Brown out on Facebook and Twitter for failing to deliver on the promises he made when vying to become mayor, warning that he would do the same as prime minister.
Screenshot of the comment section of a post from Patrick Brown's Facebook page.
On Twitter, numerous accounts have been created to defend Brown. It's clear they are fake and some residents have voiced concern that Brown is using the same type of dirty tactics deployed by politicians such as Donald Trump, intended to mislead voters.
One Twitter account claims to belong to Sabrina Horford, with the handle @HorfordSabrina. It says she is a "Proud Bramptonian" a "Mental Health Advocate" and a "Mother of 2 Angels". It's all fabricated.
The exact same photo used by the account claiming to be someone from Brampton named Sabrina Horford is featured in a New York Post online article about a woman with a different name.
The same photo comes up on Quora.com and Tripadvisor associated with two other names.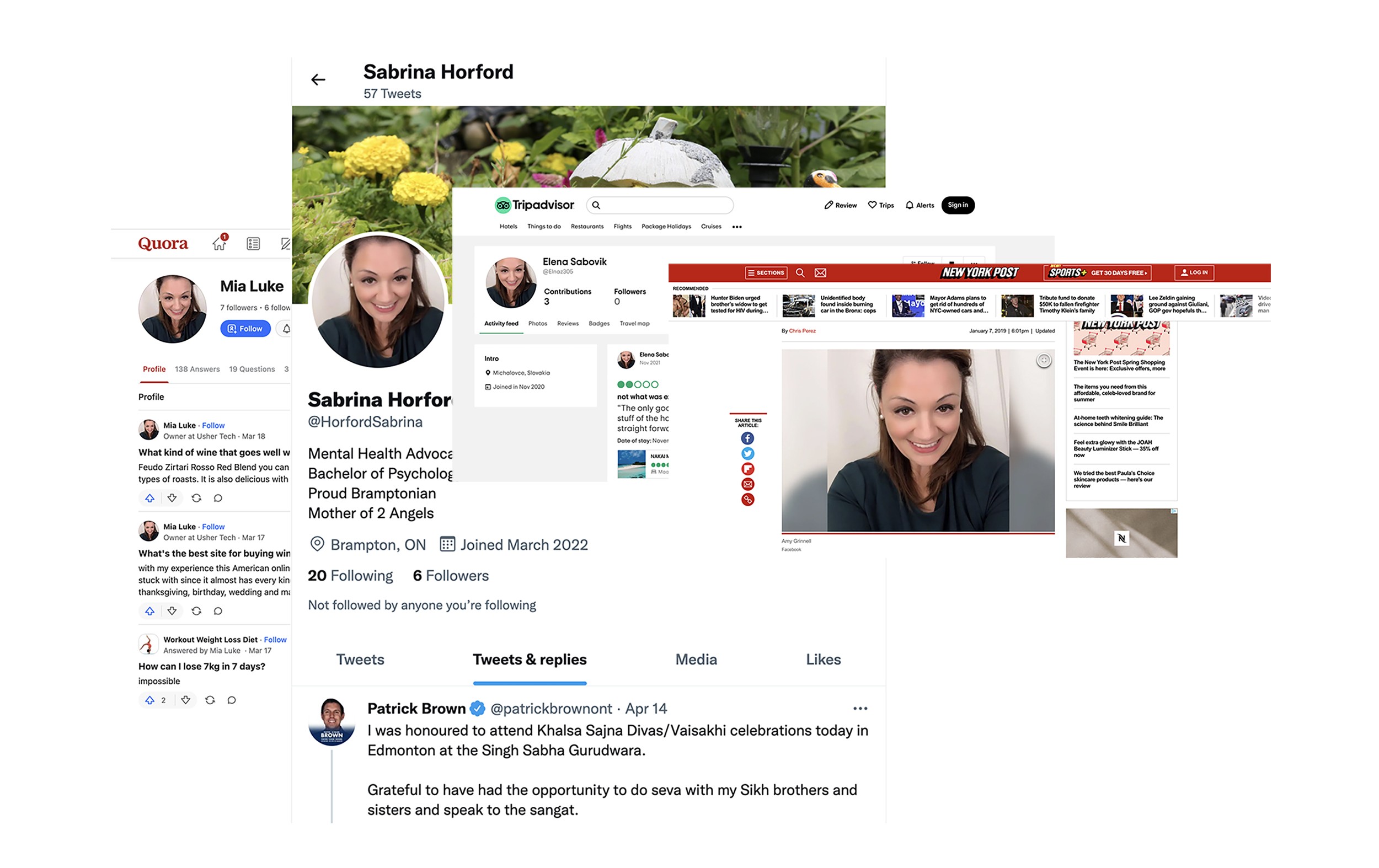 The account set up for "Bramptonian" Sabrina Horford has a profile picture that is found across the internet under different names, including a New York Post article about a woman named Amy Grinnell.
(Screengrabs)
The fake account being used by someone to defend Brown, includes the following posts on Twitter:
In response to criticism of Brown for attending an event without a mask, the fake Sabrina Horford replies on April 21, "He doesn't need to wear a mask. I'm guessing you live in a cave and you didn't know we can be without masks now"; In response to a Twitter post that says Brown will "ruin Canada" the fake Sabrina Horford replies, "This is a spam account" then directs others to report the account criticizing Brown.
On April 19, in response to a tweet aimed at Brown that says, "The last thing we need is YOU running the country", the fake Sabrina Horford account immediately replies, "Our mayor is the best one for CPC. It's sad how some people can't see it."
Some of the accounts that appear to be fake argue with residents that ask Brown valid questions.
The Pointer identified some accounts that are clearly fake and include elements such as photos that have been taken from elsewhere on the web, while other accounts appear to be fabricated but The Pointer could not verify this and they may belong to actual Brampton residents.
The Pointer has identified several questionable profiles, most of which follow similar patterns. Almost all have been set up recently using either stock images from websites or photos of other people from the internet, they have very few followers, and only engage with Brown's tweets or defend him by attacking others who criticize him.
It's unclear who is behind the fake accounts and if anyone is being paid to manage them.
The Pointer sent a direct message to the only one that had DMs open to arrange an interview but did not get a response.
@KrishNavaratna1 whose profile suggests he is a real estate agent with ReMax, has no links to his professional profile, no phone number for people interested in purchasing houses to get in touch and not a single tweet about any available property. A search of ReMax agents on the company website results in "No Agents Found" under the name, and internet searches could not find any mention of someone with that name who is a real estate agent.
Accounts with the handles @AshelyWarren14 and @DuarteShanaiya, like @HorfordSabrina, were set up in March—the same month Brown launched his CPC candidacy—and feature replies to other accounts defending Brown and arguing with residents questioning the mayor.
The accounts for @Dilawarsingh011 and @JenitSharma were created in November 2021 and follow the same pattern.
Screenshots of some of the questionable Twitter accounts being used to defend and promote Patrick Brown.
(Twitter)

Brampton lawyer Wesley Jackson, who ran against Brown for mayor in 2018, says the fake profiles are likely being run by Patrick Brown's communication team.
"Who else would it be? It's not some concerned citizen. This is deliberate and it's targeted," Jackson told The Pointer.
The 47-year-old Brampton resident says these profiles only respond to anyone who says anything negative about Patrick Brown.
"They've never tweeted about any subject, other than defending Patrick Brown against negative comments."
"Who else would it be other than someone on Mr. Brown's comms team? It's so painfully obvious... it's frankly embarrassing."
The Pointer reached out to Brown's campaign team for comment but did not receive a response.
Jackson says Brampton residents have realized that most of what Brown says is a smokescreen to advance his personal political ambitions.
"Now they're looking back at everything he said over the last four years… all the decisions that he made… and they're questioning whether or not any of it was legitimate—any of it was sincere. People are starting to clue into the fact that tax freezes have been at the expense of a growing infrastructure gap."
Using reverse image searches Jackson has been able to identify several of the Twitter accounts as fake.
---
---
Screenshots of Wesley Jackson identifying Twitter profiles as "fake accounts" that have engaged in promoting Patrick Brown's claims and trolling Brampton residents.
Jackson identified Twitter user @BelleBourbon, that goes by DUCH3SS using a picture of Joselyn Cano, who passed away in 2020. Other profiles Jackson has identified include , @KrishNavaratna1, and @KevinRamesh6 which is using the exact same photo as someone identified as an American HR professional on another website.
"Stay classy Patrick Brown's comms team. Stay classy!" Jackson tweeted Friday.
"It's reminiscent of… Trump-style campaigning," Jackson says.
Brown claims to be friends with the Indian Prime Minister Narendra Modi and has publicly admitted he has modelled his campaigns and political style after the Indian leader. Modi has been heavily criticized and has been documented by the media for running an IT cell that uses fake profiles and accounts on social media to move popular opinion and spread political propaganda.

Indian Prime Minister Narendra Modi visited Canada in 2015 when Patrick Brown was elected as the leader of Ontario's PCs.
Jackson says it is unprofessional for Brown to be using such tactics and hiding behind fake accounts, then refusing to answer for it.
Brown has used at least $35,000 of Brampton taxpayers' money for his own social media being used to boost his leadership run to a larger audience.
Expense reports and data from Facebook show he has used money from Brampton taxpayers to fund his social media efforts.
Between June 2019 and February 2022 Brown spent more than $16,000 from the public purse promoting his Facebook account alone.
The Municipal Elections Act states that public resources may not be used in any way to contribute to an election campaign.
The Senior Advisor for Stakeholder Relations & Governmental Affairs inside Brown's mayoral office, Urz Heer, has openly been using her online voice to promote Brown's Conservative leadership bid.
The city's Corporate Resources Policy under provision 5.9 City Staff Conduct states that "City Staff, including volunteers, shall not… Use their title or position within the City in a way that may lead a member of the public to infer that the City is endorsing a Candidate, Registered Third Party or political party."
Her Twitter feed is full of tweets and retweets supporting Brown and some critical of Pierre Poilievre, the frontrunner in the CPC leadership race.
Urz Heer, Brown's City Hall staffer, tweeted her support for his Conservative leadership bid on Sunday, March 13 when he announced his move.
Heer wrote an opinion column for The Toronto Star criticizing Poilievre a few days after Brown announced he was running against the MP for the leadership. She has condemned Poilievre since and continues to tweet supporting Brown.
The Star did not mention that she works for Brown.
Her conduct raises concern that other Brampton staff are working on Brown's federal campaign.
The Pointer reached out to Heer for comment but did not receive a response.
Brown's involvement with the city's interest has diminished as his campaigning has stepped up. Since Brown announced his federal candidacy his participation in City meetings has been minimal.
Ontario's Municipal Act states the office of a member of council becomes vacant if the member is absent from the meetings of council for three successive months without being authorized to do so by a resolution of council.
It's unclear why Brampton is still allowing members to attend meetings virtually, as many municipalities in Ontario and across the country once again feature committee and council meetings with elected officials present in person.
Disappointed with Brown's lack of municipal participation, ex-mayoral candidate Jackson questioned why Councillor Harkirat Singh tagged along on his leadership campaign trips to different provinces.
Councillor Singh was with Brown in Quebec and was spotted in British Columbia at the same time Brown was campaigning there.
Jackson tweeted Wednesday, questioning the arrangement, and asking Brown to explain the fake social media accounts.
He says these profiles are rude and hostile toward anyone who questions or opposes Brown.
"It's a bunch of clapping seals."
Fake clapping seals.
---
Email: [email protected]
Twitter: Anukul_AT
---
COVID-19 is impacting all Canadians. At a time when vital public information is needed by everyone, The Pointer has taken down our paywall on all stories relating to the pandemic and those of public interest to ensure every resident of Brampton and Mississauga has access to the facts. For those who are able, we encourage you to consider a subscription. This will help us report on important public interest issues the community needs to know about now more than ever. You can register for a 30-day free trial HERE. Thereafter, The Pointer will charge $10 a month and you can cancel any time right on the website. Thank you

Submit a correction about this story