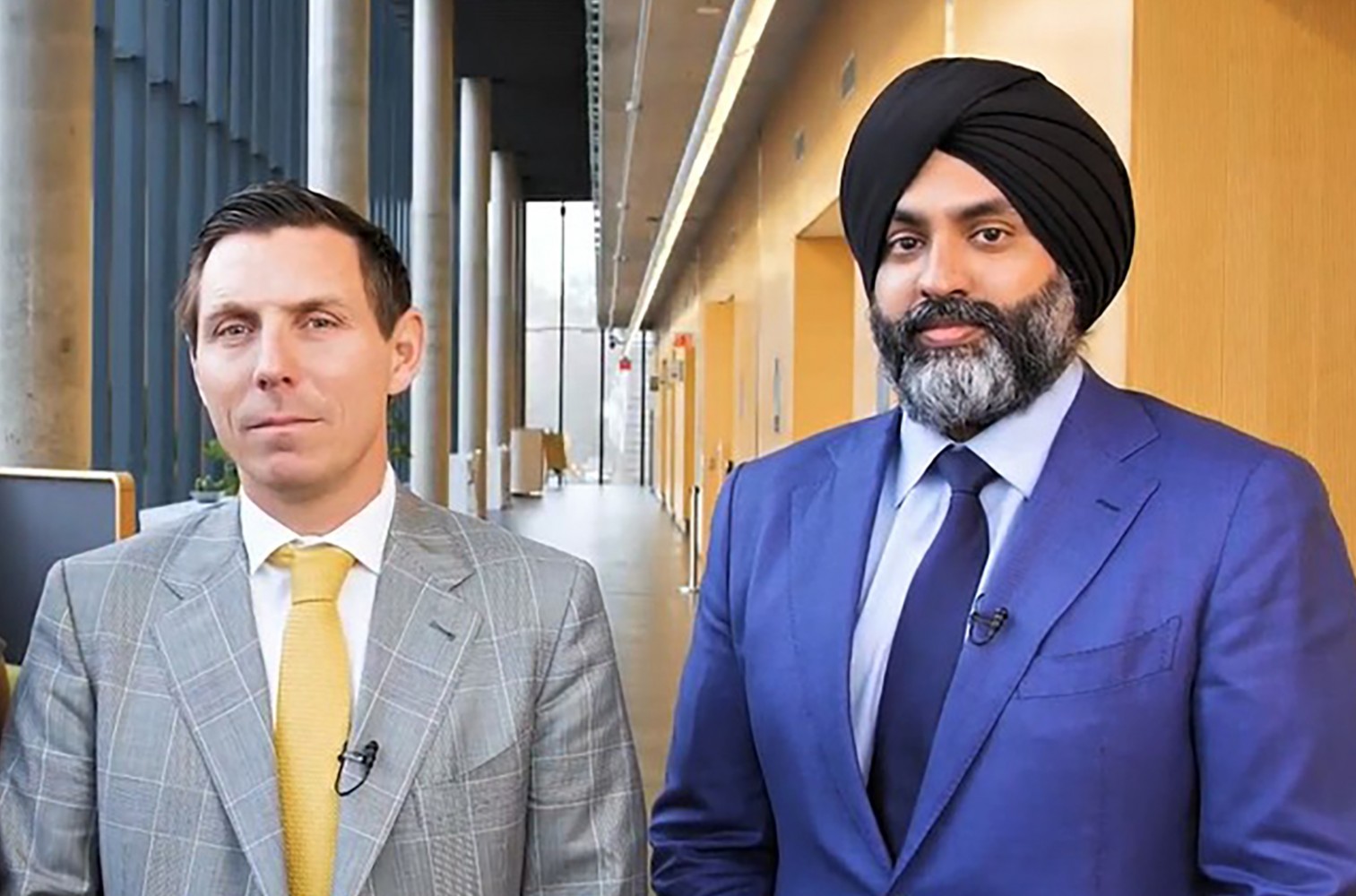 Feature image from City of Brampton/YouTube
Brampton Councillor Harkirat Singh coy about cross-country travel to support Patrick Brown's CPC leadership bid
One of Patrick Brown's most loyal soldiers on Brampton Council won't share details about his cross-country campaigning for the mayor, who is seeking the leadership of the federal Conservative Party.
"I wasn't aware Councillors have work hours." That was part of Harkirat Singh's emailed response after The Pointer began sending the Wards 9 and 10 representative questions three weeks ago following social media posts that showed him campaigning alongside Brown in Montreal.
He was then shown in B.C. a few days later when the mayor made his way to the other side of the country, in what appeared to be an effort to sign up Party memberships from the large South Asian-Canadian communities spread out across numerous provinces.
Asked how he was travelling to support Brown while managing his demanding taxpayer-funded job, which includes reading multiple weekly committee agendas that can run hundreds of pages long, digesting dozens of staff reports, preparing questions on behalf of his constituents on all the pressing issues that have to be legislated, while addressing hundreds of requests for help from residents, he replied: "For me it's a 24/7 job. I always carry my personal cell phone with me and my residents always have access to it… If I miss a call I try to answer within 24h," Singh wrote.
In one of the pictures Brown posted on Twitter after meeting with a group of mostly Punjabi-Canadian truckers in Montreal, Singh, who is also a Punjabi-Canadian, can be seen sitting along the middle of a boardroom table surrounded by a room full of men on Monday, March 28.
It's unclear why he was there during work hours on a Monday, shortly after Brown kicked off his campaign to sign up new Conservative Party members across the country in hopes of securing enough votes when the leadership ballots will be counted on September 10.
Patrick Brown (back to the camera, at the front right of the photo) with Brampton Councillor Harkirat Singh (third man to the left of Brown) in Montreal on March 28 meeting with a group of men in the trucking industry.
Singh said it was important for him to join Brown in Quebec because of the province's controversial Bill 21.
"Are you aware that myself and residents, who look like me, potentially could be removed as teachers, lawyers or police officers? Given Patrick Brown's commitment to fighting this discriminatory law (and the City of Brampton's motion to support a legal challenge), I felt it my obligation to go to Quebec for an event held by supporters of mine to let them know that I stand with you against Bill C-21 (sic) and Patrick Brown is also committed to fighting against this bill as Mayor and Leader," Singh wrote in an email.
It is unclear what Singh meant by his supporters in Montreal. He is a Brampton councillor and has never held office as a federal politician or in Quebec.
Brampton's Council Code of Conduct states: "No Member of Council shall use the influence of her or his office for any purpose other than for the exercise of her or his official duties."
Singh did not explain what "official duties" he was conducting while in Montreal to meet his "supporters".
Brown has used religious freedom as a key issue to woo potential supporters including members of Canada's large South Asian diaspora, which includes certain people of faith, particularly Sikhs and Muslims directly affected by Quebec's controversial law.
Brampton Councillor Gurpreet Dhillon questioned Brown's move to draw attention to a Quebec issue when the mayor launched a large media campaign to gain attention for pledging $100,000 of Brampton taxpayers' funds to help challenge legislation in another province, when it was clear he had ambitions to get back into federal politics.
"I hate to ruin a good PR day for you, but parents come to me asking why their kids don't get a job [inside City Hall] in spite of being qualified," Dhillon said after Brown began focussing on Quebec while mayor. "This is just one of many examples [of how] Brampton lacks in truly reflecting its diversity," Dhillon pointed out, questioning why the mayor was more interested in the Quebec issue, instead of tackling discrimination in the city where he actually has jurisdiction and influence.
Singh's explanation about accompanying Brown to Quebec drew more scrutiny when he was seen in B.C. when the mayor was again courting members of the Punjabi-Canadian community there.
But Singh would not respond to questions about the travel, why he was in B.C., how the trips were being paid for and when he was finding time to keep up with all his obligations to Brampton taxpayers who cover his salary.
Brampton Councillor Harkirat Singh (left) at the Vancouver International Airport Monday April 2, when Patrick Brown was also in B.C. vying to sign up Conservative members from the Punjabi-Canadian community.
Councillor Jeff Bowman told The Pointer he's not sure if there are any rules about council members campaigning for colleagues seeking higher office.
"Councillors work a wide variety of hours for their residents, so if this councillor is taking a day off etc, that is totally up to him," Bowman said.
"As long as taxpayers of this city are not footing the bill for any travel, it's his decision."
Brampton's Council Code of Conduct states: "No member shall use the facilities, equipment, supplies, services or other resources of the City for any election campaign or campaign-related activities; No member shall use the services of persons for campaign related activities during hours in which those persons receive any compensation from the City."
It remains unclear what business, whether cultural or financial, Singh is representing for Brampton taxpayers in other provinces.
Singh refused to comment any further.
The Council Code of Conduct he is obligated to follow says, "Members shall endeavour to conduct and convey Council business and all their duties in an open and transparent manner other than for those decisions which by virtue of legislation are authorized to be dealt with in a confidential manner in closed session, so that stakeholders can view the process and rationale which was used to reach decisions, and the reasons for taking certain actions."
Concerns over transparency and Brown's ability to meet his obligations to the Brampton taxpayers who pay his salary have been raised since he announced his bid for the federal Conservative leadership but refused to take a leave from his mayor's role. There is clear evidence he is not spending much time outside his expansive federal campaign. Brown's social media is filled with content aimed at securing the leadership, while mentions about Brampton mostly feature announcements he repeats from other sources.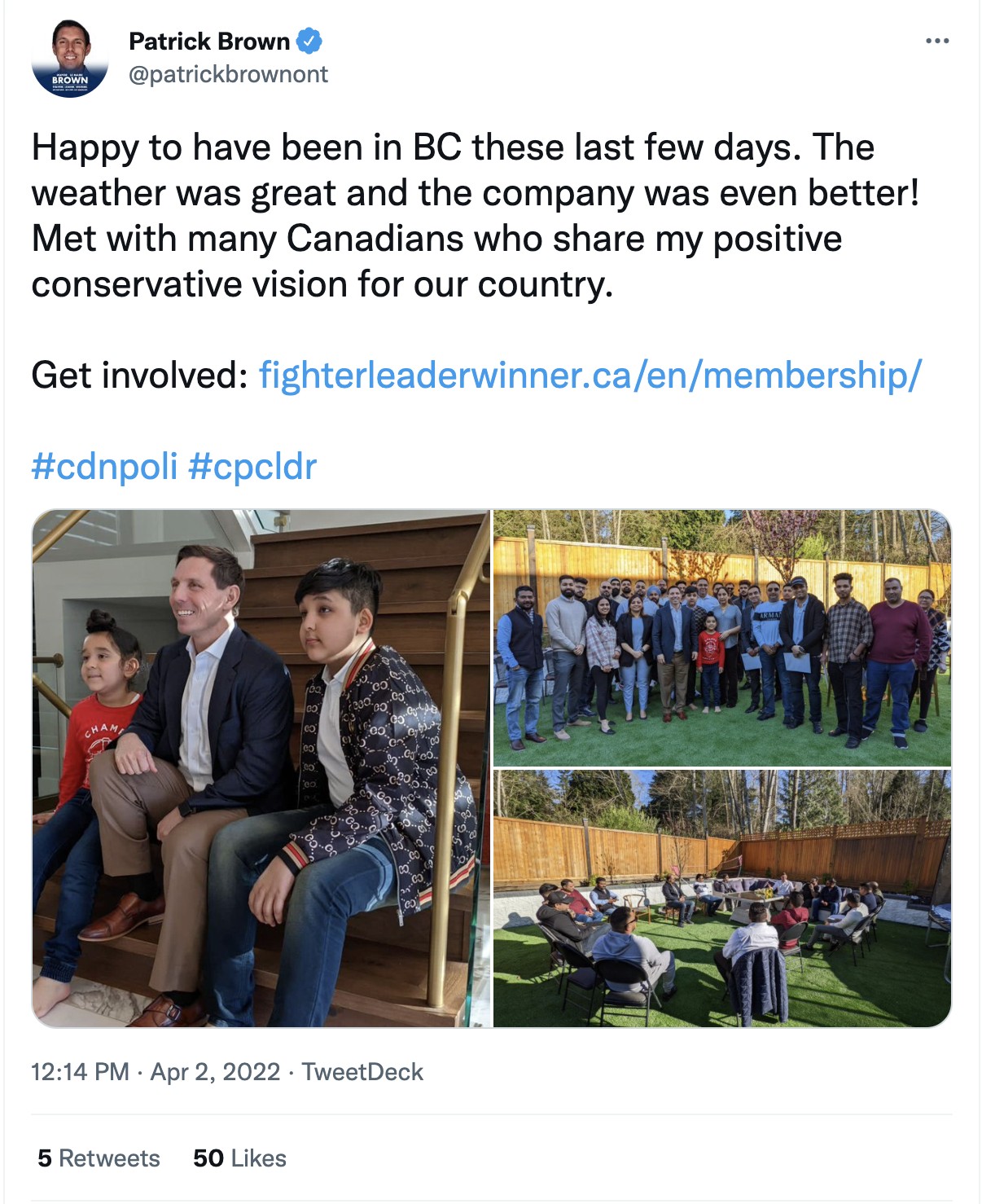 A tweet shows that Mayor Patrick Brown was in B.C. the same day as Councillor Harkirat Singh, who has been supporting Brown on the campaign trail.
(Twitter)
His lack of participation in the city's recent healthcare expansion funding debate was another sign he's not paying much attention to Brampton's most pressing issues while collecting a paycheque from local taxpayers.
When a critical new levy, to secure required local funding for a desperately needed second hospital was debated during a committee meeting, Brown did not say a word and did not appear to even be present through a virtual feed.
In the Committee of Council meeting on Wednesday, March 30 when the council initially voted to move forward with the one percent levy to fund the municipal share for Peel Memorial's expansion, Brown was absent for the decision.
City staff confirmed Brown was present virtually only for a brief portion of the March 30 meeting.
Ontario's Municipal Act states the office of a member of council becomes vacant if the member is absent from the meetings of council for three successive months without being authorized to do so by a resolution of council.
It's unclear why Brampton is still allowing members to attend meetings virtually, as many municipalities in Ontario and across the country once again feature committee and council meetings with elected officials present in person.
Allowing members to sign in virtually from anywhere in the country, without ensuring they are actually participating is a potential problem the Municipal Act does not address.
A number of recent meetings have taken place without Brown's participation, even when he has been signed in virtually.
Brampton moved to virtual meetings in March of 2020, but despite ending its emergency measures to deal with the pandemic, more than two years after the public health crisis began, the City continues to use the WebEx events platform to supplement its hybrid meetings, while many other municipalities now require members to be at public meetings in person.
With the camera turned off, virtual participation can be hard to monitor.
The City's By-law 44-2016 states that members of the council or committee shall inform the Clerk of all planned absences, late arrivals, and early departures from a meeting in order that the recording of the minutes of such meeting may accurately reflect attendance (ie. vacation, illness, other municipal business, personal).
Yet it is unclear if there is a city resource monitoring attendance at meetings or whether Brown or other councillors supporting his campaign have been absent from actual participation, without any proper recording of possible absences.
City council appointed councillors Pat Fortini and Martin Medeiros as the two deputy mayors of Brampton on March 2 so they could chair meetings and take on other mayoral responsibilities when Brown is busy campaigning for his CPC leadership bid.
As for the possible use of public taxpayer funds, expense reports for the month of March 2022 are not available on the City website currently.
"Only statements for which Member approval has been received will be posted," the website states.
City staff told The Pointer that members of council are given 15 days to review the statements and provide their approval.
"If approval is not granted by an individual member, their report is not posted."
Staff said council members cannot choose which expenses charged to their Business Accounts are posted. "It is either all or none of them."
If any member chooses not to approve their expenses, the public could see the number of expenses but not the details and amounts, which could be kept from the public until next year.
Staff say these expenses would be included in the Annual Statement of Remuneration and Expenses report published in March, 2023.
---
Email: [email protected]
Twitter: Anukul_AT
---
COVID-19 is impacting all Canadians. At a time when vital public information is needed by everyone, The Pointer has taken down our paywall on all stories relating to the pandemic and those of public interest to ensure every resident of Brampton and Mississauga has access to the facts. For those who are able, we encourage you to consider a subscription. This will help us report on important public interest issues the community needs to know about now more than ever. You can register for a 30-day free trial HERE. Thereafter, The Pointer will charge $10 a month and you can cancel any time right on the website. Thank you
Submit a correction about this story