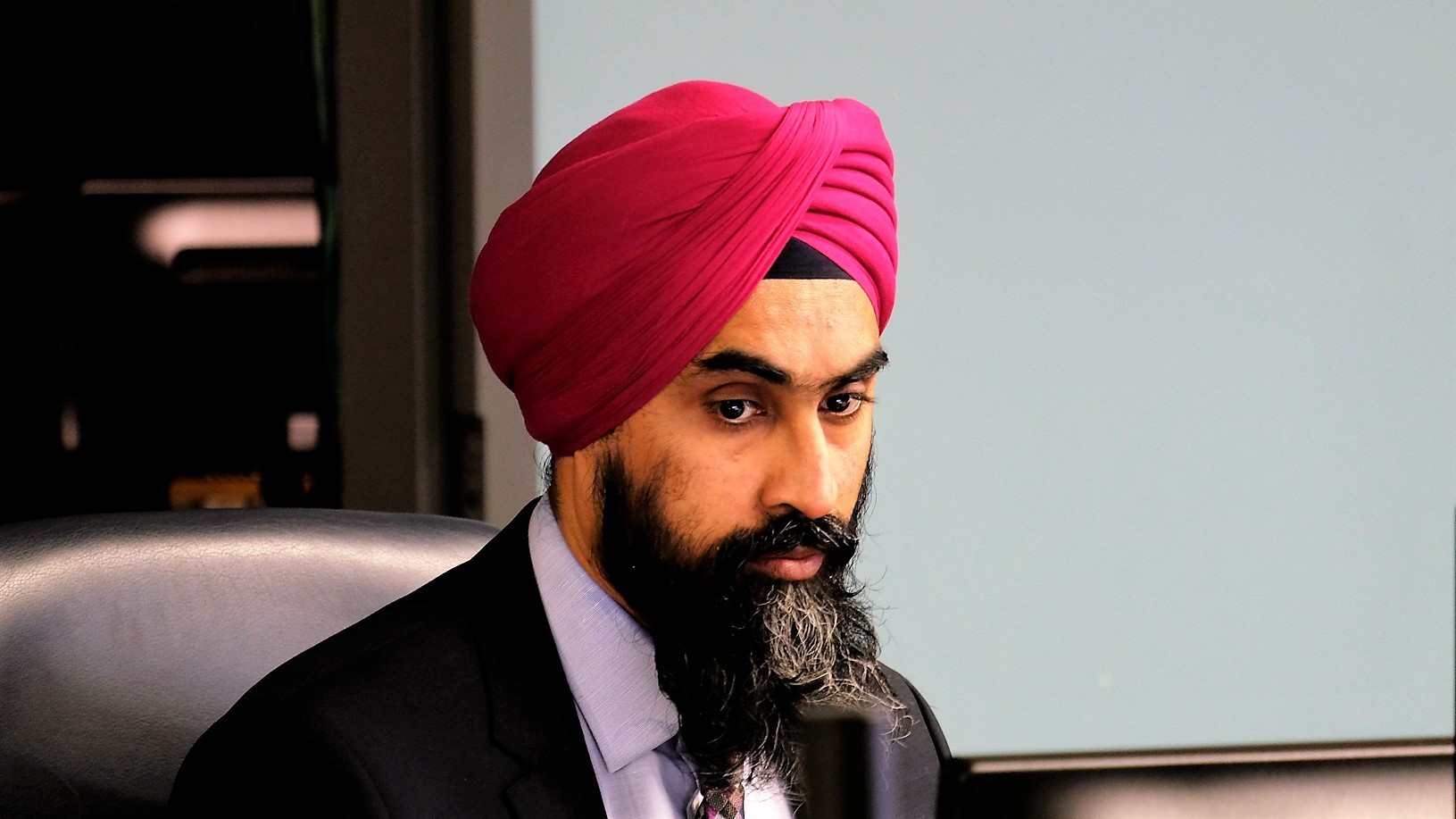 Photos by Mansoor Tanweer/Screen grab Twitter/Graphics CCDI
Brampton councillor calls motion critical of Quebec anti-diversity bill a "PR" move, highlights city's own problems
Mayor Patrick Brown fervently championed Brampton as a frontrunner in diversity and inclusion while denouncing Quebec's Bill 21 on Wednesday but faltered when questioned about the city's own efforts and his actions to ensure diversity in the only place where he and council have authority.
The controversial Bill 21, which was passed in Quebec City on June 16, prohibits police officers, teachers, judges and other public servants from wearing religious symbols such as turbans, hijabs and crucifixes at work.
Brampton City Council, in what it described as a show of solidarity against the bill, voted to support criticism of the move by Quebec.
The move followed appearances by representatives of various faiths, including World Sikh Organization spokesperson Jaskaran Sandhu, Roman Galadza of St. Elias Ukrainian Catholic Church, and Mustafa Farooq, executive director of the National Council for Canadian Muslims, vehemently decrying the bill. Councillors extolled Brampton as being a hub for diversity and passed the motion.
What remained unclear was what action the city might take to back up the largely symbolic motion.
"It could be moral support, or maybe legal support, but we are not looking to intervene in their status," said Gary Collins, director of communications for the mayor's office.
The apparent "symbolic" nature of the decision, with little actual action behind it, led one councillor, Gurpreet Singh Dhillon, a turban-wearing Sikh, to call it a "PR" move.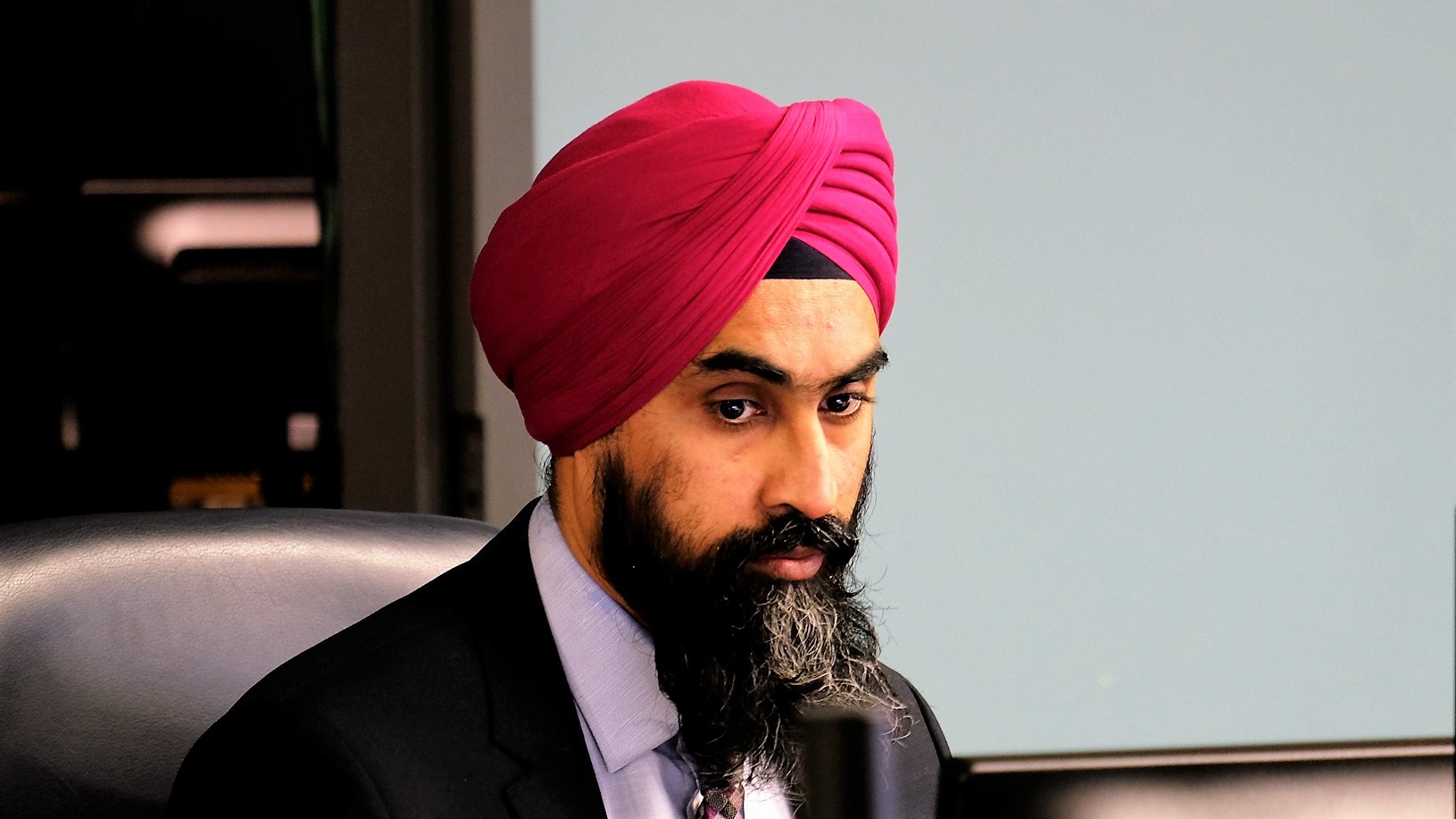 Brampton Councillor Gurpreet Dhillon
Council did include direction with more practical implications: it would send advertisements to reach impacted religious minority communities in Quebec, inviting those pursuing a career in municipal services such as the fire department to apply for a job with Brampton's own fire department.
"We are a leader in diversity and we stand for freedom of religion and call upon the people of Quebec to join us," Brown said.
Councillor Dhillon, however, wasted no time in pointing out the hypocrisy of the motion, leaving Brown looking surprised.
"I hate to ruin a good PR day for you, but parents come to me asking why their kids don't get a job in spite of being qualified," he said. "This is just one of many examples [of how] Brampton lacks in truly reflecting its diversity in different jobs."
He also noted that, while the ads for various job roles target minorities, some do restrict religious expression. Firefighters, for example, are required to shave their facial hair and remove any headgear on the job except those they receive from the department, leaving minorities such as Sikh men (who, if observant, regard a beard and turban as religiously required) in the same quandary as in Quebec.
He said it is important to fix problems in council's own backyard first before trying to solve the same issues in communities outside the province, where Brampton councillors don't even have jurisdiction.
"I support the legal challenge. But is it fair we buy ads in Quebec for Brampton jobs and ignore our local diverse media? Is it fair we demand inclusiveness and equity there, if we haven't thoroughly looked at our own policies? PR moves are great, but so is bringing real change," Dhillon wrote in a tweet after the meeting.

The co-founder of a Peel-based diversity advocacy group called the move by Brown and the rest of council, "somewhat hypocritical". "Over the years, our organization has heard from individuals who represent religious minority groups who said it is very hard to get on with the Brampton Fire Department. It's great to help people in Quebec, but it seems pretty empty if you've done little to help people right in Brampton," Ranjit Khatkur told The Pointer. The Pointer attempted to obtain data on the Brampton Fire Department detailing its present and past numbers of visible minority employees, but no such information appears to be available, despite it being a common practice for many fire and police departments operating in diverse communities to track such statistics so the public can see how they are performing in key diversity measurements. Peel police data show that 20 percent of its more than 2,000 uniform staff is made up of visible minorities while the two cities it patrols, Brampton and Mississauga, have a combined population that is about 65 percent visible minority.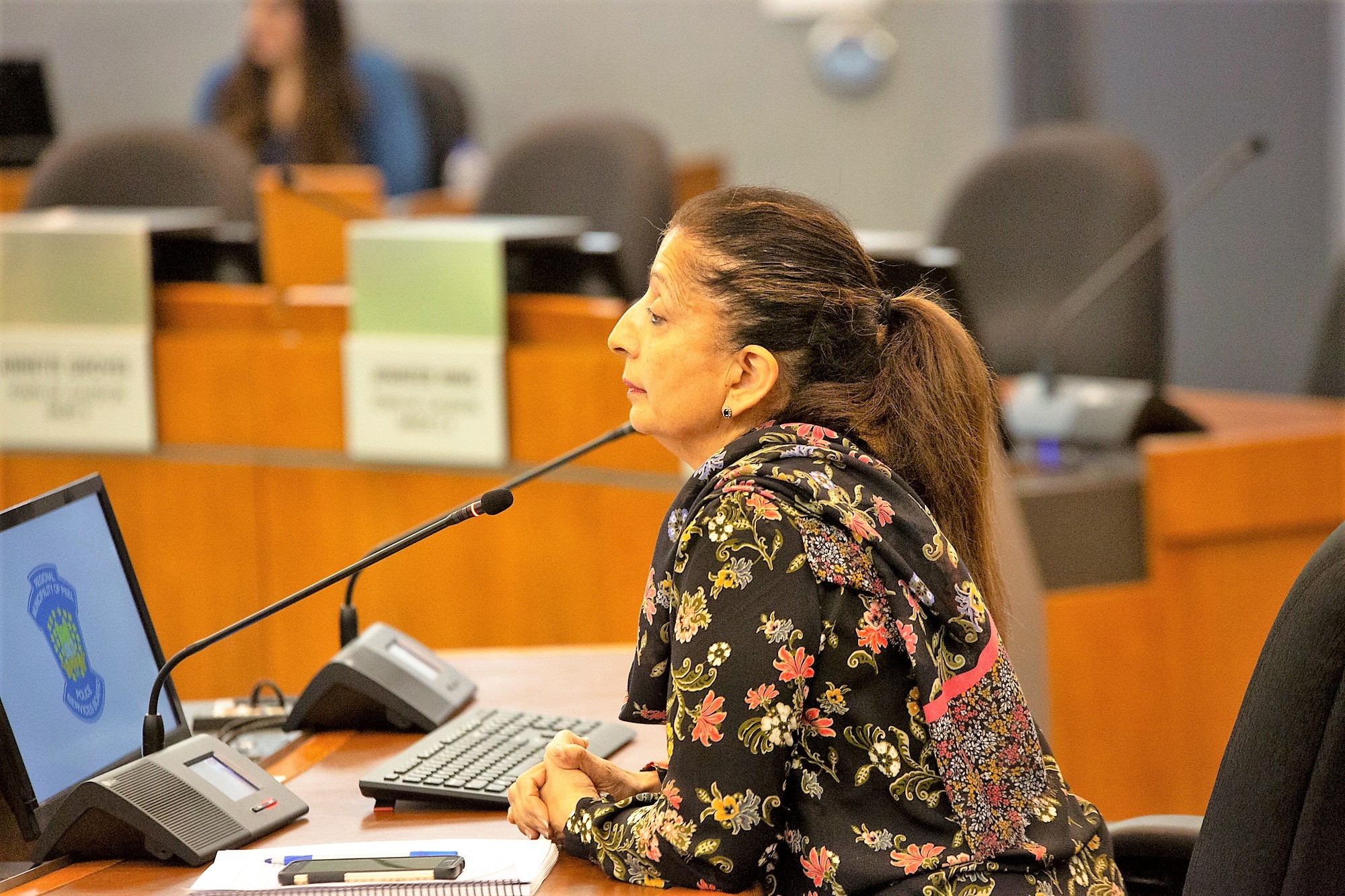 Ranjit Khatkur, co-founder of the Peel Coalition Against Racialized Discrimination, presenting at a recent police board meeting
Khatkur's organization, the Peel Coalition Against Racialized Discrimination (P-CARD), has worked with other organizations such as the Law Union of Ontario, the Association of Black Law Enforcers (ABLE) and the South Asian Legal Clinic of Ontario (SALCO) to advocate for better diversity, equity and inclusion practices in institutions across Peel. Brampton is 74 percent visible minority and Khatkur says Wednesday's move by the city's council sets an interesting precedent.
"I would like to know how many of them who supported the move to criticize Quebec, said anything at all about Peel police when the deeply shocking diversity audit of the force was recently released. And will all of them now be spending crucial time and energy to find out if city hall has enforced equitable practices in all its hiring and promotions?"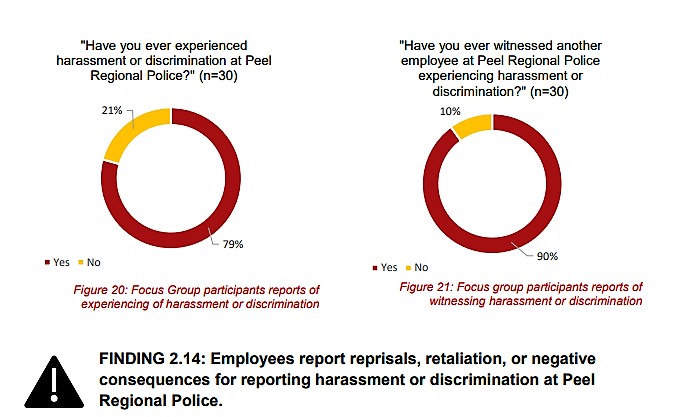 One of many disturbing findings in the recent diversity-equity audit of Peel police
Khatkur says her organization routinely hears from Peel citizens who are concerned that widespread nepotism and other discriminatory practices are common inside city hall, Peel police, the Brampton Fire department and other institutions that councillors have direct authority over. The recent audit of Peel police she referred to, conducted over almost two years by the Canadian Centre for Diversity and Inclusion (CCDI), found alarming attitudes within the force, with 90 percent of employees reporting they have either experienced or witnessed harrasment or discrimination internally.
Police officers reported a widespread discriminatory culture.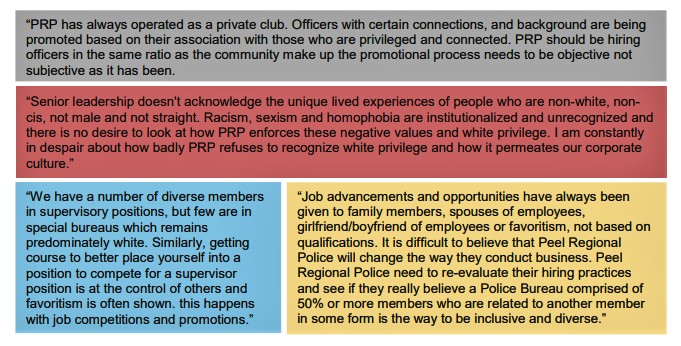 Quotes by Peel police officers in the recent equity-diversity audit of the force
"So, again, I'm not trying to take away from the spirit of council's decision, it's just that many in the public in Peel expect elected officials to do much, much more than pass symbolic motions to get attention regarding another province where they don't even have any influence, while they remain quiet about the problems they could actually change," Khatkur said. "And why are we going to advertise in Quebec? Shouldn't we be advertising and giving opportunities to religious minorities right here, before we spend Brampton taxpayer dollars elsewhere?"
Sandhu, in his delagation to council Wednesday on behalf of the World Sikh Organization, challenged Brampton councillors to do better in their own backyard.
"In reality, the city can play a leadership role. By engaging in hard conversations, like the diversity audit at the police services board, the city has a role to play as a catalyst, and a leader on this issue. We're fully in support of this motion, and in addition, it's a moment of introspection at the city. We're a community of 75 percent of visible minorities (that makeup Brampton's population). When we are talking about diversity and inclusion that is not reflected in civil services whether it is police, fire service and even in city hall, it's not a knock, it's a challenge that we should step up to and tackle and show places like Quebec that we are not only talking the talk, but also walking the walk."
In the meeting, Dhillon demanded an equity audit detailing the city's hiring practices, diversity relations within the city staff, anti-discrimination policies, equity employment and a range of other issues to determine where Brampton actually stands with respect to diversity before going ahead with advertising about it in different provinces.
Mayor Patrick Brown parried by saying a study conducted by the CCDI is going to delve into related issues, such as the gaps Brampton faces in terms of diversity, and will be released in the fall.
"CCDI was the same organization that conducted the Peel Police equity audit, and I'm very happy regarding the execution of the report," Brown said. When the scathing CCDI audit of Peel police was presented to the Peel Police Services board in March, Brown was largely silent on the disturbing findings and when it was again addressed by the board on Friday, Brown chose to instead highlight his criticism of Quebec.
Brown told The Pointer Wednesday that he wasn't certain about the timing of the CCDI Brampton report's release and signalled that "maybe" it could be released in the fall.
He said it is imperative to stand up at the appropriate time, even if it means there is no audit at the moment. "I can't wait for this process to be completed to show support for freedom of religion," he said.
Dhillon pointed out that if visible minority residents from Quebec come here, they will still face barriers, including potential linguistic ones. "There are about four million people in Quebec now who don't understand English at all, so that will be a real problem," he said.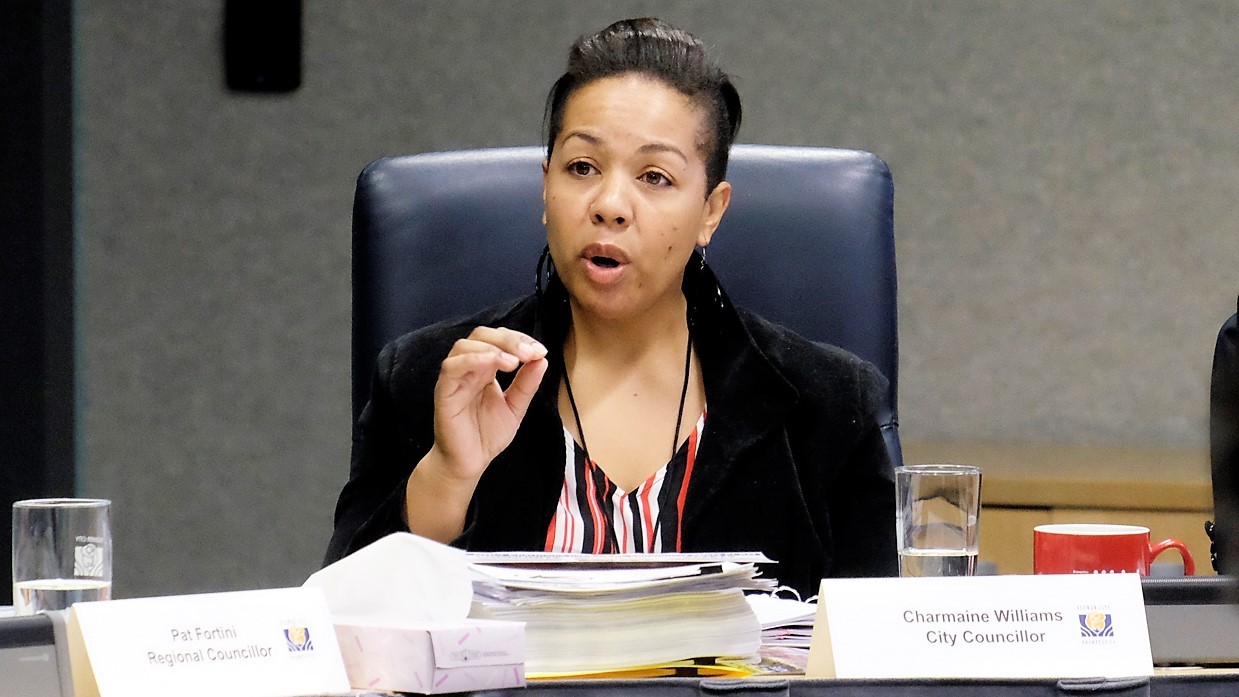 Brampton Councillor Charmaine Williams
Councillor Charmaine Williams echoed Dhillon's thoughts, saying they will hit the same roadblocks many newcomers to Brampton face after arriving here.
"Today was a great opportunity to lead by example and we squandered it," Dhillon said.
Submit a correction about this story