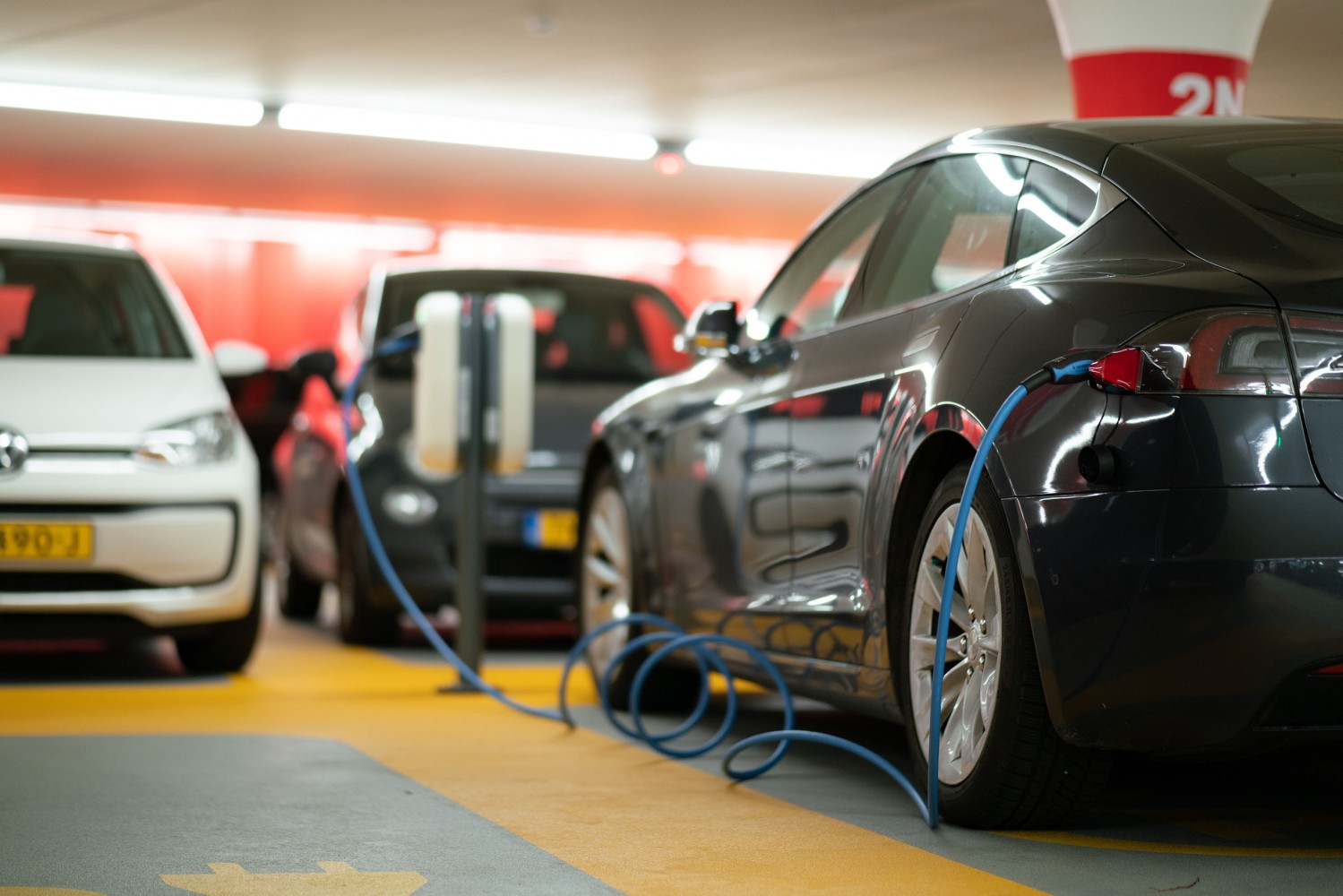 Feature image from Michael Fousert/Unsplash
PCs pushing electric vehicle investments ahead of June election; too little too late transportation experts say 
In a March press conference, Premier Doug Ford gave himself a pat on the back for his decision to cancel electric vehicle rebates almost immediately after his 2018 election victory.
"Since we've been in office, electric vehicles have tripled in sales, so I guess that was a good decision," Ford said on March 16.
His remarks came after an announcement at the Honda manufacturing facility in Alliston alongside Prime Minister Justin Trudeau, where the Ontario government committed $131.6 million in grants—matched by the Federal Liberals— to support a $1.4 billion effort by Honda to upgrade and re-tool its plant to produce hybrid vehicles. The announcement was the first of many for Ford and his PCs who, with less than two months before the provincial election, have made a significant effort to try and clean up their abysmal environmental track record.
On March 22, the PCs announced $91 million in funding toward installing electric vehicle chargers at highway rest stops, carpool parking lots, parks and hockey arenas.
Similar to programs in British Columbia and Quebec, Ontario is introducing a Rural Connectivity Fund through which municipalities can apply for funding to install electric vehicle chargers in their communities.
On March 23, Ontario announced a $5-billion investment—touted as the largest in Canadian automotive history—to build Ontario's first large-scale EV battery plant in Windsor (a joint venture between South Korea's LG Energy Solution and automaker Stellantis). Construction is set to start later this year, with production operations to launch in 2024 and a transition to a fully operational facility by 2025. There is still no word on the future of Brampton Chrysler plant, operated by Stellantis.
The investment into EV and other battery-powered vehicle technology is a significant step for Ontario, where a large proportion of the province's population relies on a personal vehicle. However, the push by the PCs must be put into context with its past decision making.
Premier Ford claiming the elimination of Ontario's EV rebate was a good decision is baffling. First, the numbers he is relying on to make that claim include hybrid electric vehicles—which the Province's own website does not classify as a fully electric vehicle—and while the sales of EVs have certainly increased since Ford was elected, the increase is minimal compared to other Canadian provinces which have a host of incentives and programs to encourage automakers to sell more of these vehicles and consumers to buy them.
According to Ivana Yelich, the executive director of media relations at the Office of the Premier, Ford was referring to Statistics Canada data when he made his claim about EV sales.
The data show that in 2017 there were 16,763 new EV registrations in Ontario, which has increased to 40,767 in the first three quarters of 2021.
This includes all types of hybrid and electric vehicles: hybrid electric (HEV), battery-electric (BEV), plug-in hybrid electric (PHEV) and hydrogen fuel cell (FCEV).
The Canadian government only considers BEV, PHEV and FCEV as zero-emission vehicles (ZEVs).
"A ZEV is a vehicle that has the potential to produce no tailpipe emissions. They can still have a conventional internal combustion engine, but must also be able to operate without using it," the federal website reads.
The Ontario government website does not include HEVs under its list of electric vehicles.
(Screenshot from Government of Ontario)
So for Ford to claim a tripling of electric vehicle sales in Ontario since his election is blatantly misleading.
Further, the increase in sales is in no way thanks to the PC government or its policies. As more people look to do their part in the fight against climate change, and as EV technology begins to (slowly) become more accessible financially to the general public and as more charging infrastructure is installed, more people have been turning to electric. Ford's elimination of the EV subsidy in 2018, which absolutely cratered sales at that time, has drastically slowed down the uptake of these vehicles in Ontario.
The registration of BEVs and PHEVs in Ontario has increased from 8,180 in 2017 to 13,587 through the first three quarters of 2021 (a 66 percent increase in three years).
The increase is nowhere close to BC or Quebec.
The two provinces lagged behind Ontario in BEV and PHEV registrations in 2017, but Quebec has seen a 275 percent increase and BC has seen a 484 percent increase in new motor vehicle registrations in the last three years. BC has seen registrations increase from 3,142 in 2017 to 18,355 in 2021 and Quebec saw 7,795 registrations in 2017 go up to 29,296 in 2021.
Heather MacLean and Daniel Posen, from the Civil & Mineral Engineering Department at the University of Toronto, say along with subsidies, investment in EV charging infrastructure is desperately needed to motivate more consumers to choose electric vehicles.
"Considering the need for rapid action to combat climate change, there may be advantages to adopting a subsidy that would increase near-term adoption, while simultaneously continuing to invest in structural solutions (like charging stations) that will assist with long-term adoption," said MacLean and Posen.
They say these investments should be considered alongside other measures like investment in public transit and walking/biking infrastructure.
Joanna Kyriazis with Clean Energy Canada says because people can access provincial rebates on top of the federal one, as well as rebates to install a home charging station, combined with the fact that carmakers are required to sell a certain percentage of EVs in BC and Quebec, these two provinces account for 80 percent of Canada's EV sales.
"In Ontario, we've got none of those policies in place. As a result, we're seeing EV sales rates lower than the national average and it's almost impossible to find an EV to buy," she told The Pointer. "This is not because Ontarians are less interested in EVs; it's because we don't have the policies and programs in place that make it easy to go electric here in Ontario."
A look at BEV registrations alone reveals that Ontario went from 3,563 in 2017 to 9,949 in 2021, nearly tripling, but compared to BC and Quebec, BEV sales increased by 5 to 7 times during that same time period.
BEV registrations in Quebec have gone from 3,347 in 2017 to 18,395 in 2021, while BC has seen an increase from 1,913 in 2017 to 13,880 in 2021.
Although Premier Ford has recently been positioning Ontario as a North American automotive innovation hub, by helping fund the transition to electric, low-carbon vehicles and working towards his goal of building at least 400,000 electric vehicles and hybrids in the province by 2030, he says there's no plan to reintroduce rebates for EVs.
"We're investing billions of dollars into the auto sector that the prior government didn't do. Matter of fact, the auto sectors were leaving. Now we have five strong auto companies right here in Ontario producing vehicles of the future."
"I think we're doing a great job on the environment and emissions," Ford said.
Throughout his time in office, Ford and his PC government have been no friend to the environment. From installing developer-friendly policies that make it easier to build in environmentally sensitive lands; to their complete mishandling of laws meant to protect species at risk; and their continued push to build the Highway 413 and Bradford Bypass, Ontario's greenspaces have suffered under nearly four years of PC rule.
The PCs have dismissed expert findings on the GTA West-Highway, or Highway 413, claiming it will save 30 minutes for commuters travelling between York and Halton regions.
An independent panel appointed by the former Liberal government found the highway would only save commuters 30 seconds. This report has been scrubbed from the Ontario government website.
The PCs also opposed the federal carbon tax and challenged Ottawa in the Supreme Court. In a decision released on March 25 last year, the Supreme Court of Canada upheld the federal carbon pricing regime.

I
Statistics Canada data show how Ontario has fallen behind BC and Quebec in terms of BEV and PHEV registrations since PCs came to power.
Tim Burrows, leader of the Electric Vehicle Society for Mississauga and producer for the Canada Talks Electric Cars Webinar, says many people are making the switch to EVs because of the rising price of gas.
Burrows says there are many reasons people are drawn to EVs, and it's not just about concern for the environment. Superior driving characteristics and better electric range are some reasons consumers are turning to EVs.
But there is still a significant barrier.
"Sticker shock....(it's) still more expensive to buy an EV compared to gas (powered cars)," Burrows adds.
He says that while the total cost of ownership is less expensive (lower fuel and maintenance costs), some only consider the purchase price.
He says the EV rebates, which Ontario no longer offers, are very effective.
"BC and Quebec have the highest rate of EV adoption thanks to their incentives programs. These programs have worked in other parts of the world as well."
The lack of publicly available charging infrastructure in apartments buildings and additional processes with condo boards to install chargers at their parking spots is another hindrance.
"They could eliminate sales tax on ZEVs. They could introduce an ultra-low 'time of use' rate for electricity so that EV owners could charge (for example) between 2 a.m. and 5 a.m., all EVs can be programmed to charge at a set time," Burrows says.
Kyriazis with Clean Energy Canada says Ontario must follow other leading provinces like Quebec and BC which offer a package of EV policies.
"It's great to see the Ontario government showing some interest in helping Ontario families go electric, but recent investment in charging stations is too little too late." She says Premier Ford must bring back EV rebates, help Ontario families and building owners install home charging stations since 80 percent of EV charging happens at home overnight, and introduce an EV supply mandate like BC and Quebec that requires automakers to sell more EVs in Ontario.
"This will reduce wait times and ensure we Ontarians have access to a broad range of EV makes and models too."
Kyriazis also feels Canada needs a zero-emission vehicle supply mandate—like the one the US federal government has committed to putting in place—to ensure Canada continues to attract ZEV supply in the event that President Biden's proposed tax credit for U.S. union-made ZEVs is enacted.
The PCs not only removed the EV rebates in 2018, but also removed a requirement for new homes to include wiring for future EV chargers and stopped building provincially funded charging stations.
MacLean and Posen say switching to electric vehicles is not a "silver bullet", and is only one solution to decarbonize road transportation, improve air quality and public health.
BEVs have no tailpipe emissions, but manufacturing batteries that power these cars does contribute to greenhouse gas (GHG) emissions, as does the mining process required to extract many of the valuable minerals required to build these batteries.
MacLean and Posen say Ontario has a relatively clean grid, which uses a considerable portion of electricity produced from renewable (e.g., hydroelectricity) and low GHG sources (e.g., nuclear), and hence the province can see considerable air quality and GHG benefits from a wide EV adoption.
They say EV rebates can be helpful to encourage consumers to purchase an EV rather than a gasoline vehicle and driving the EV will result in lower GHG emissions, air pollutants and improved public health benefits, but electric vehicles do not solve congestion, land use, accessibility and equity issues among others.
"Designing cities to encourage active transit and increase accessibility to public transit can improve equity, encourage healthier lifestyles and can offer environmental advantages even beyond EVs," MacLean and Posen said.
The other political parties have criticized the PCs for cancelling the EV rebates. Last month, the Ontario Liberals announced an incentive of up to $8,000 and the Greens promised up to $10,000 in incentives to get Ontarians to buy electric cars.
Ontario's Auditor General, Bonnie Lysyk, in her November 2021 Environment Bill of Rights (EBR) Report found ministries are not notifying and consulting Ontarians about all of the environmentally significant decisions being made. Some ministries have deliberately avoided consulting the public about some proposals; even when this is legal, such actions to prevent the public from participating are inconsistent with the purpose and spirit of the EBR Act.
Lysysk goes on to say that the Environment Ministry, for the third year in a row, did not provide leadership in implementing the EBR.
The Auditor General's office found that in 2019 the environment ministry overestimated the emissions reductions expected from the increased uptake of electric vehicles, which were shown in the PC plan to meet reductions targets without a carbon tax.
"The Ministry's estimate of 1.3 million electric vehicles on Ontario's roads by 2030 is based on the IESO's (Independent Electricity System Operator) highest demand scenarios, and represents a more than 3,000% increase from approximately 41,000 electric vehicles in 2019," the auditor's report states. "However, these scenarios included actions and programs identified in Ontario's now-cancelled 2016 Climate Change Action Plan, such as incentives for leasing or buying electric vehicles, and purchasing and installing charging stations in workplaces and residential buildings."
This contradiction between the claims the PCs have made and the consequences of their actions is now clearly worrying Ford and his Party strategists ahead of the election as they scramble to show they are taking EV sales and infrastructure seriously.
However, Ford has recently suggested he will not reinstate the EV subsidy, claiming it too often benefits the wealthy who purchase expensive vehicles such as Teslas.
While EV sales recovered after declining dramatically the first year after the subsidy was scrapped, industry observers have stated the goal of 1.3 million EVs on the road in Ontario by 2030 would be significantly helped if provincial rebates were in place to convince buyers who are on the fence, due to the cost.
The Ministry manipulated estimated emissions reductions by using the 1.3 million electric vehicle figure in 2030, despite its own integrated energy-emissions-economy model estimating Ontario would only have 250,000 electric vehicles by then.
The PC government took the higher number from a 2016 forecast based on since-cancelled programs, including provincial incentives for new electric vehicles and charging infrastructure and was unable to provide any clarification of planned initiatives that would result in 1.3 million electric vehicles by 2030.
---
Email: [email protected]
Twitter: Anukul_AT
---
COVID-19 is impacting all Canadians. At a time when vital public information is needed by everyone, The Pointer has taken down our paywall on all stories relating to the pandemic and those of public interest to ensure every resident of Brampton and Mississauga has access to the facts. For those who are able, we encourage you to consider a subscription. This will help us report on important public interest issues the community needs to know about now more than ever. You can register for a 30-day free trial HERE. Thereafter, The Pointer will charge $10 a month and you can cancel any time right on the website. Thank you
Submit a correction about this story