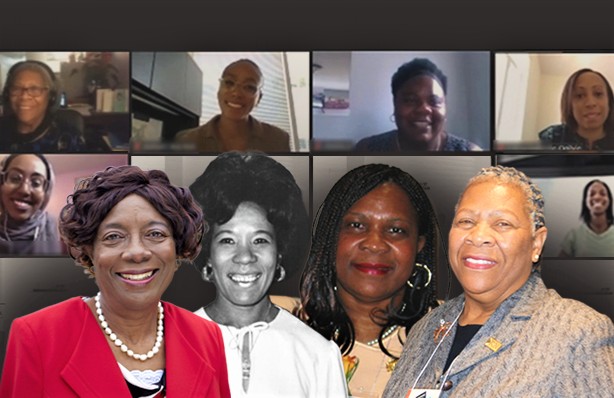 Feature image RNAO
Ontario's healthcare infested with anti-Black racism survey finds; Black Nurses call for action 
During the 1960s, and all the way into the '80s, when nursing shortages across Ontario were filled by waves of healthcare professionals from the Caribbean, mostly Jamaica, the province owed a huge debt to these women pioneers.
Instead, many of them and their successors have persistently been treated with contempt by the very healthcare system they have helped prop up.
In a hard-hitting report released Feb. 8, the Registered Nurses' Association of Ontario's Black Nurses Task Force (BNTF) exposed realities that its member nurses have faced, and with years of inaction continue to face: Anti-Black racism and other forms of discrimination, despite representing one of the largest visible minority groups in the nursing industry in Canada, are rampant.
The association that represents Registered Nurses (RNs), Registered Practical Nurses (RPNs), Nurse Practitioners (NPs), as well as nursing students in Ontario has long been fighting against issues that cripple the healthcare industry in the province. Earlier this month, its BNTF, which is made up of 17 Black nurses and nursing students dedicated to the elimination of anti-Black racism and discrimination within the nursing profession, shared a comprehensive report: Acknowledging, Addressing and Tackling Anti-Black Racism and Discrimination Within the Nursing Profession lists 19 recommendations to help combat anti-Black racism prevalent in nursing organizations, regulatory bodies and in the health systems that nurses have to work within on a daily basis while caring for their patients.
The murder of George Floyd by a white Minneapolis police officer that sparked a revolution throughout much of the world also led to the creation of the BNTF in June 2020.
Anti-Black racism has been deeply rooted in Peel Region for decades. Peel's two big cities, Brampton and Mississauga, are largely non-white but continue to lack representation in leadership roles across councils, the Peel Police board, its public school boards, the justice system and in the healthcare sector.
"Racism is a public health crisis that cannot be ignored. It threatens the health and well-being of racialized nurses. It limits their capacity to fully advance their careers and contributions to the health system. And it can compromise their ability to provide safe and compassionate care for Ontarians and for Canadians," Dr. Doris Grinspun, RNAO's CEO, said.
Grinspun moderated the conference and the BNTF proudly shared its report which shed light on the hardships Black nurses face and the proposed solutions that will help eradicate anti-Black racism and discrimination within the nursing profession.
"Black nurses have suffered quietly for a long time. Some speak out openly with each other about racism and discrimination they face at school or at work, but most do not share due to fear or hopelessness, that nothing would change," BNTF co-chair and RNAO Past-President Dr. Angela Cooper Brathwaite, said in the virtual press conference.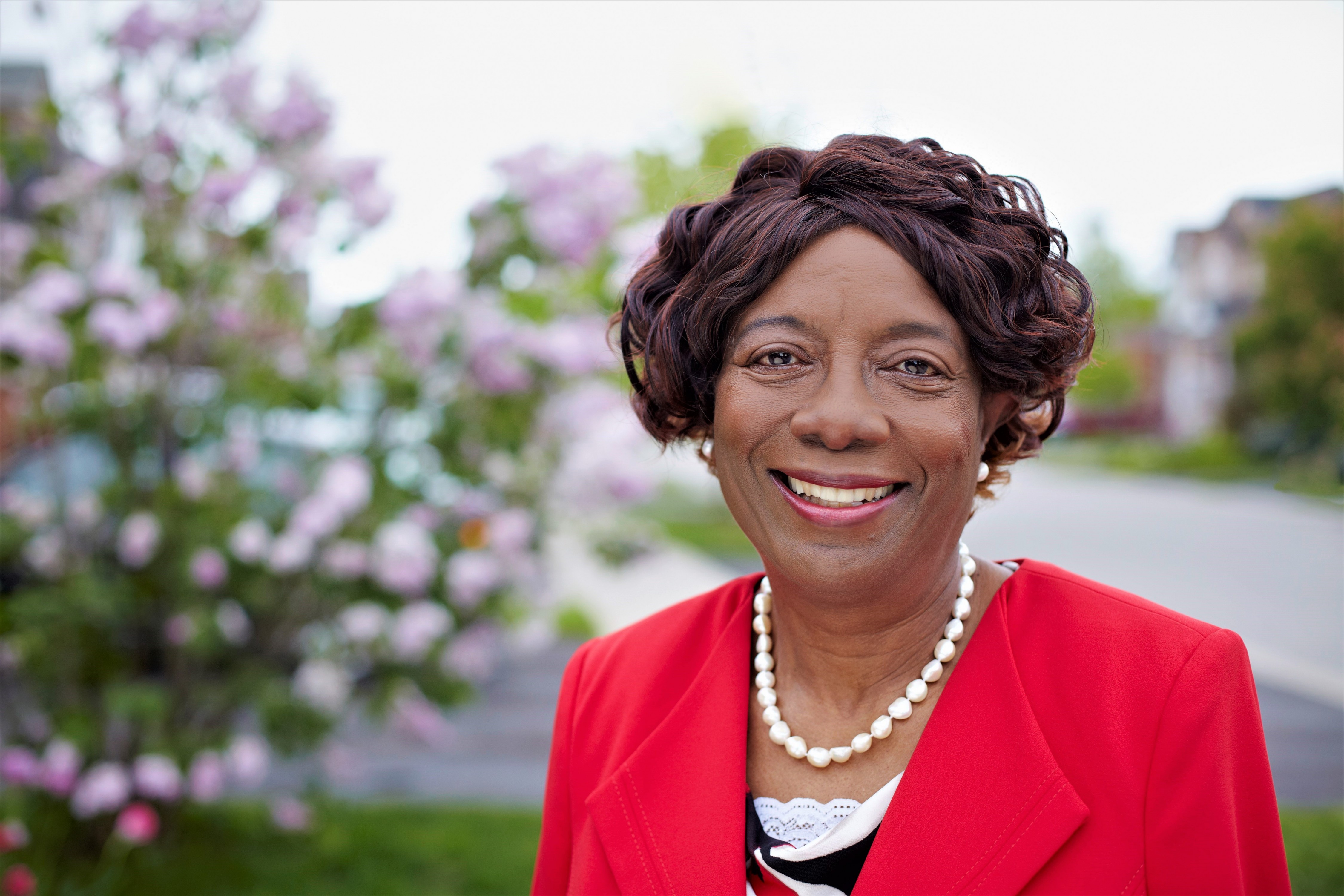 Black Nurses Task Force co-chair and RNAO Past-President Dr. Angela Cooper Brathwaite
(RNAO)
"Being subjected to racial taunts, referred to as a Black nurse—not by my name, teases about my hair, asked where I was really from, having my grades reduced from an A to a B by a racist professor when I was in undergraduate school, not having the opportunity to be taught by Black professors," all contributed to her difficult experiences, Cooper Brathwaite said, sharing accounts of her first-hand interactions with those listening in.
She is not the only one.
BNTF co-chair and nurse practitioner Corsita Garraway was teased about her appearance, the way she dressed and was passed over for positions she was qualified for.
"Once I was told I was being interviewed as a courtesy. I later learned that the position was given to a candidate who was white," she said in the press conference.
The systemic racism was more than institutional. Garraway says she and her fellow nursing students were taught a class by a Black professor.
"My colleagues assumed that I was getting good marks simply because I was Black, not because of my knowledge or drive to do well. That hurt and was unfair."
BNTF co-chair and nurse practitioner Corsita Garraway
(RNAO)
She says while the BNTF was formed out of anguish and pain, its work and report are examples of triumph over adversity and the report's findings represent calls to action for healthcare organizations, the Province, regulatory bodies, employers, nursing schools and colleges, and the broader health system.
It is "urgent and necessary to call out anti-Black racism, combat its damaging effects and uproot any opportunity barriers that hold us back," Garraway said.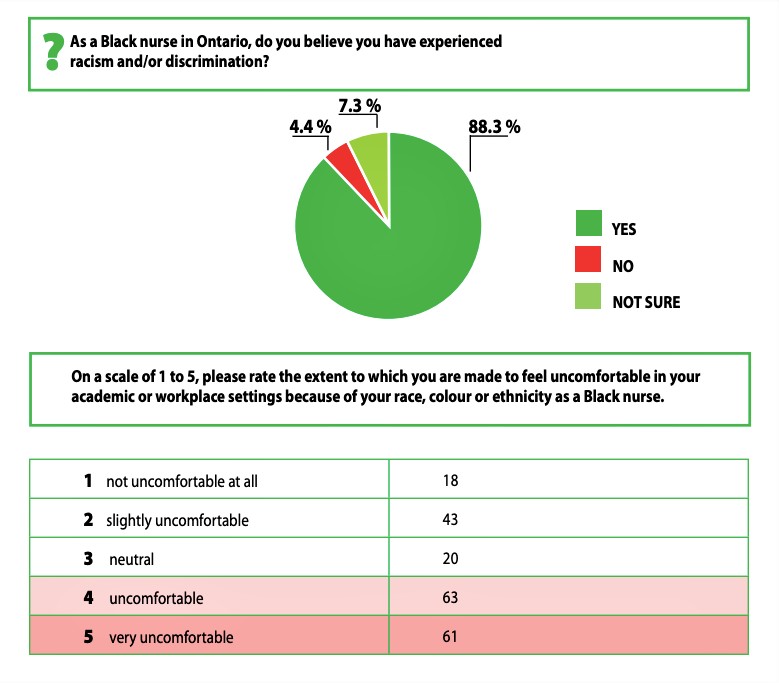 88 percent Black nurses reported experiencing racism and discrimination at their work.
(RNAO)
The report finds that a vast majority of Black nurses, 88 percent reported experiencing racism and discrimination at their work.
Based on an online survey of 205 Black nurses and nursing students across Ontario, the report also found anti-black racism also affects the mental health of Black nurses.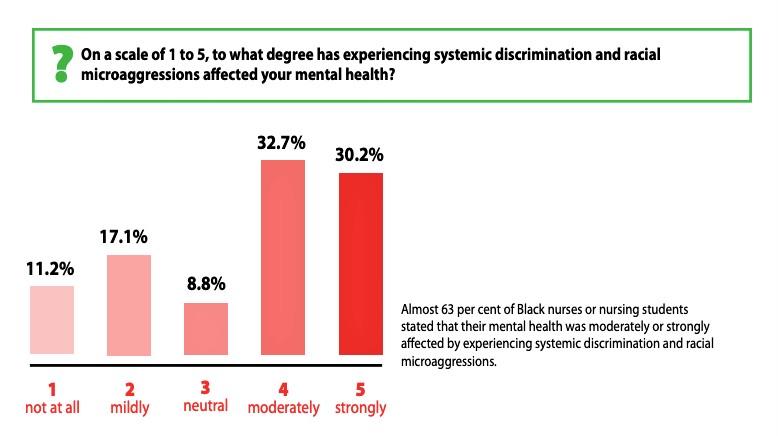 Almost 63 percent of the respondents say that racism takes a toll on their mental health, adding increased stress, depression and anxiety.
(RNAO)
Close to 63 percent of the respondents said their mental health was moderately or strongly affected by systemic discrimination and racial microaggressions, adding insult to injury, piling on additional stress, anxiety and even depression.
The BNTF's report lists a total of 19 recommendations to combat anti-Black racism, including:
Include racism and discrimination as a topic in nursing and interprofessional curriculums.
Provide equitable and fair placements for Black nurses in all practice settings.
Provide mentoring programs for nursing students to enhance academic achievements, reduce stress, anxiety and dropout rates and to empower Black students.
Create educational and research grants/financial incentives/scholarships targeted specifically for Black applicants.
Develop and implement anti-racism, anti-oppression, cultural safety, and diversity, equity and inclusion training and orientation for staff at all levels in all workplace and academic settings.
Include diversity, equity and inclusion committees in all workplaces and academic settings to address racism and discrimination.
Hold all staff (professors, managers, health-care providers) accountable for addressing racial discrimination and develop specific strategies to combat it.
Create safe spaces for Black nurses to open up about the discrimination and oppression they face in professional settings.
Advocate for diversity in leadership, senior and/or administrative, education roles in the nursing profession as well as health sectors.
Collect and disseminate race-based data.
The full report can be read here.
These guiding principles that will help combat anti-Black racism have not yet been implemented but will be, Cooper Brathwaite told The Pointer.
The RNAO says it has begun formal conversations with hospitals, nursing organizations in academic settings, long-term care associations, and the government on the implementation of these recommendations.
Apart from these recommendations, RNAO has also developed an action plan to stand with Black nurses within its organization.
This includes a plan to integrate anti-racism and discrimination training for all staff during the onboarding process, develop a human resources framework that promotes equitable hiring practices, stand in solidarity with organizations that are instituting advisory committees for marginalized nurses and encourage organizations in Ontario to have such committees, commit to collecting and reporting on race-based data within its membership and advocate for the College of Nurses of Ontario and the Ontario government to acknowledge and address racism against Black nurses.
Dynamics related to immigration and the industry also need to be better understood.
According to June 2020 data from Statistics Canada, immigrants represent over 41 percent of Ontario's nurse aides, orderlies and patient service associates.
These staff help nurses, hospital staff and physicians in providing basic care to patients and fill different roles from the RNs, RPNs and NPs in Ontario.
Immigrants overrepresent nurse aides, orderlies and patient service workers across the country, with Black and Filipino staff representing the highest percentage of immigrants in these categories, both at 29.9 percent (those from South Asia represented 9.8 percent of all immigrants working in these fields and immigrants who did not identify as a visible minority made up 14.6 percent of the immigrant cohort in these fields, according to the data.
The report highlights that Black nurses often work entry-level positions or non-specialty roles when they come to Ontario and Canada, and internationally educated nurses often end up working as regulated personal support workers instead.
The data does not include registered nurses or registered nurse practitioners.
The governing body for RNs, RPNs and NPs in Ontario, the College of Nurses of Ontario (CNO), does not collect race or ethnicity-based data, Kristi Green, a spokesperson for CNO confirmed to The Pointer in an email.
"We recognize the importance of culturally safe care and combatting racism in all its forms."
Green told The Pointer that "CNO welcomes the release of this report and is looking forward to reviewing it further in the coming days," but did not specify if the CNO is working towards collecting this data in the future, a crucial first step in confronting systemic discrimination.
Organizations across a range of sectors, including the media in Canada, have been reluctant to collect and publish race-based data to reveal the internal hiring and promotions practices within companies and industries. Equity and inclusion experts cite this pattern as a glaring sign that organizations that talk about diversity but refuse to collect the data, and act on it, are engaged in little more than lip service.
The RNAO is calling for the CNO to collect race-based data, and has done so since 2020. In a detailed letter addressed to Anne Coghlan, Executive Director and Chief Executive Officer at CNO, Grinspun explained that collecting race-based data is an important step in dismantling systemic racism within the nursing profession in Ontario.
The Anti-Racism Act, 2017 calls for the collection of data in public institutions to identify and monitor systemic racism and racial disparities for the purpose of eliminating systemic racism and advancing racial equity.
RNAO reminded the CNO of this in 2020.
There are over 188,500 nurses in Ontario, CNO's 2020 Annual report said.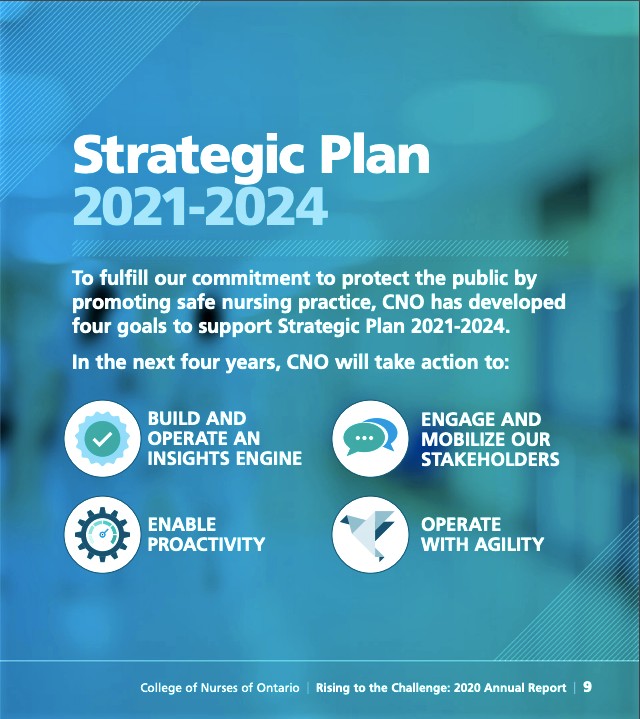 Slide 9 of the CNO Annual report does mention building an operating an insights engine in its 2021-2024 Strategic Plan but their spokesperson confirmed that CNO doesn't collect any race-based data yet.
Grinspun reminded that immigrants represent a huge segment of Ontario.
"If you take a picture of all the nurses, they'd look like my colleagues (who represent the entire cultural mosaic of Canada) and sound like me (with accents from around the world)," Grinspun said.
"Our task force will work to eliminate anti-Black racism and discrimination—first within nursing, then within the health system, and then in society."
---
Email: [email protected]
Twitter: Anukul_AT
---
COVID-19 is impacting all Canadians. At a time when vital public information is needed by everyone, The Pointer has taken down our paywall on all stories relating to the pandemic and those of public interest to ensure every resident of Brampton and Mississauga has access to the facts. For those who are able, we encourage you to consider a subscription. This will help us report on important public interest issues the community needs to know about now more than ever. You can register for a 30-day free trial HERE. Thereafter, The Pointer will charge $10 a month and you can cancel any time right on the website. Thank you
Submit a correction about this story