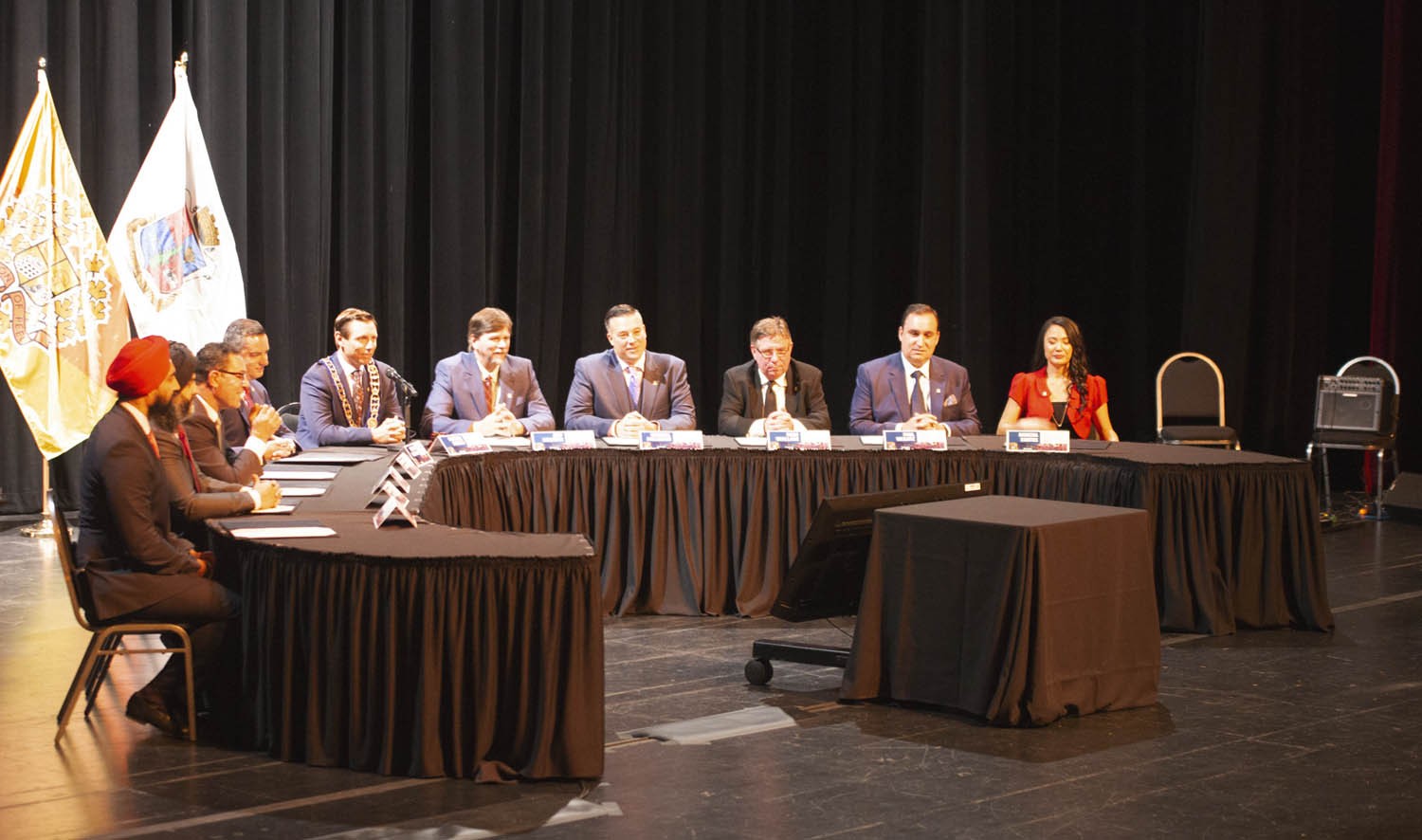 Photos by Mansoor Tanweer
Is the new council truly diverse?
Days after the municipal election last October, Brampton took a hard look at its new representatives and liked what it saw. Media reports, from within and outside of the city, touted the new and more diverse council as a giant leap toward inclusion and a more representative democracy.
But is Brampton's executive truly representative of its people? Short answer, no. Long answer, no, but still more diverse than most nearby cities. Visible minorities made up roughly 74 percent of the municipality's population, as of the 2016 census, with South Asians (261,705) comprising the biggest portion, Caucasians (157,720) coming in second and Black Canadians coming in at a distant third (82,175).
Inclusion on city council has improved considerably since the last term. Gurpreet Dhillon stood out among his peers on council as the only racialized person to serve under former mayor Linda Jeffrey. Now he is joined by fellow Sikh Harkirat Singh, Filipina Rowena Santos and Charmaine Williams, who is of Caribbean descent.
Those four, out of the 11 members of council, including Mayor Patrick Brown, represent 36 percent of city council — better but still well short of the approximately 74 percent that are part of the city's population at large.
The city's diversity "is now starting to be reflected at the city council table, and it is really refreshing. I think we're all going to be able to collaborate and work as a team. That doesn't mean we're always going to agree on everything. I'm sure there will be a lot of heated debate, but I think the spirit of working together is definitely here on council this time around," Councillor Santos said following the new council's inauguration on Dec. 3.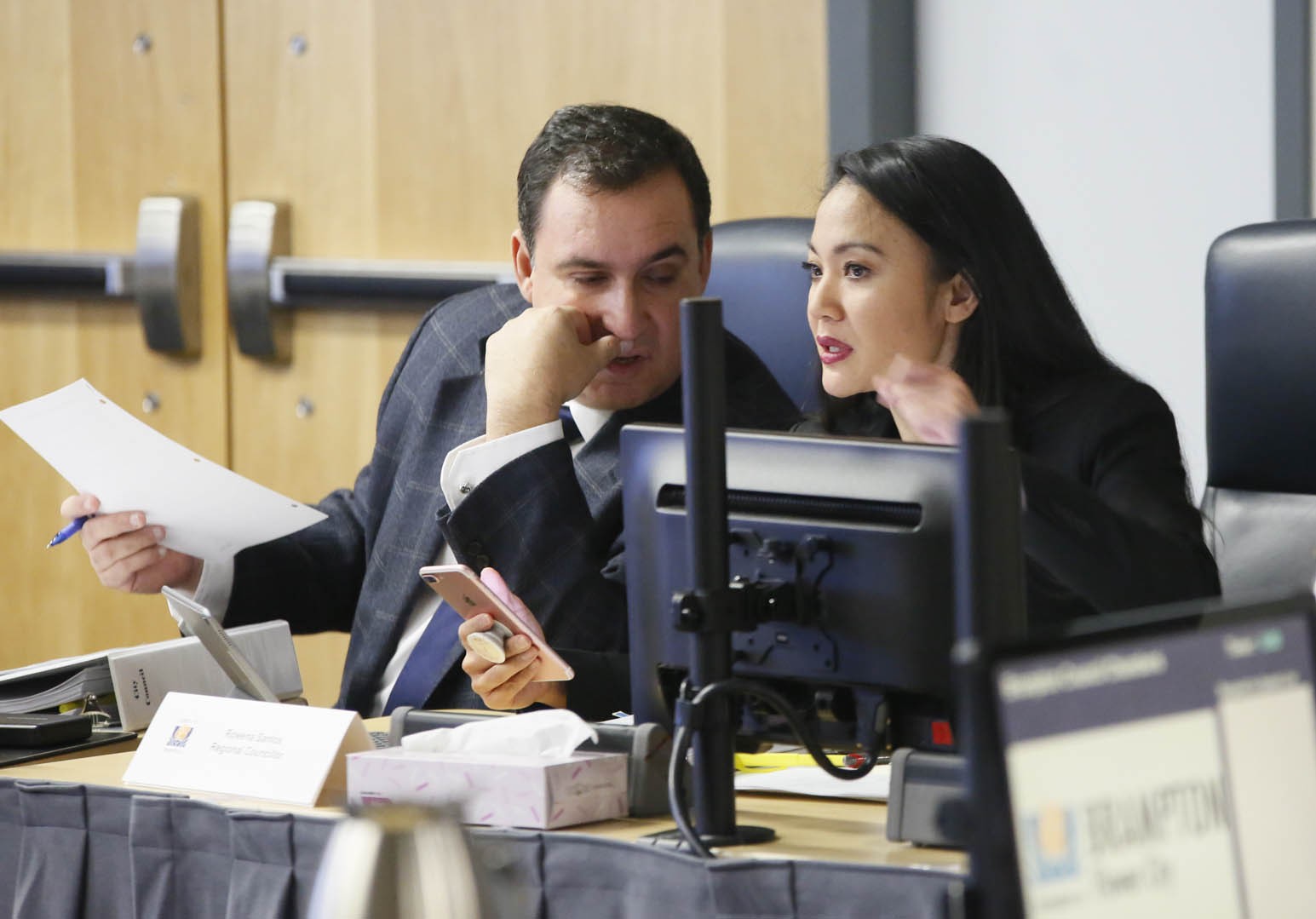 Councillors Rowena Santos and Paul Vicente
In a city with racial, cultural and religious diversity as broad as Brampton's, the deeper knowledge and experience of a representative council is essential to smart governance. How will the decision Brampton makes about cannabis shops, for example, take into account the views of a large group of citizens whose Sikh faith specifically forbids its use? How will the city make choices about where new places of worship can locate in a city with growing Muslim and Hindu populations? How will the city's large Black population inform discussion about the experience and attitudes desired of the next Peel Region Police chief?
That Charmaine Williams, the first Black person to serve on council since Garnett Manning (2003-2006), took it upon herself to attend Justice Michael Tulloch's presentation of his report on carding in Toronto — an issue of particular concern to Black and South Asian youth targeted by the discredited police practice — is an example of the more broadly informed approach a diverse council might bring to the city's decision making.
The lack of diversity at city hall has often raised eyebrows and concern about the extent to which institutionalized exclusion is a factor in city politics — comfortable familiarity with certain ways of thinking that leads to unintentionally ignoring other points of view.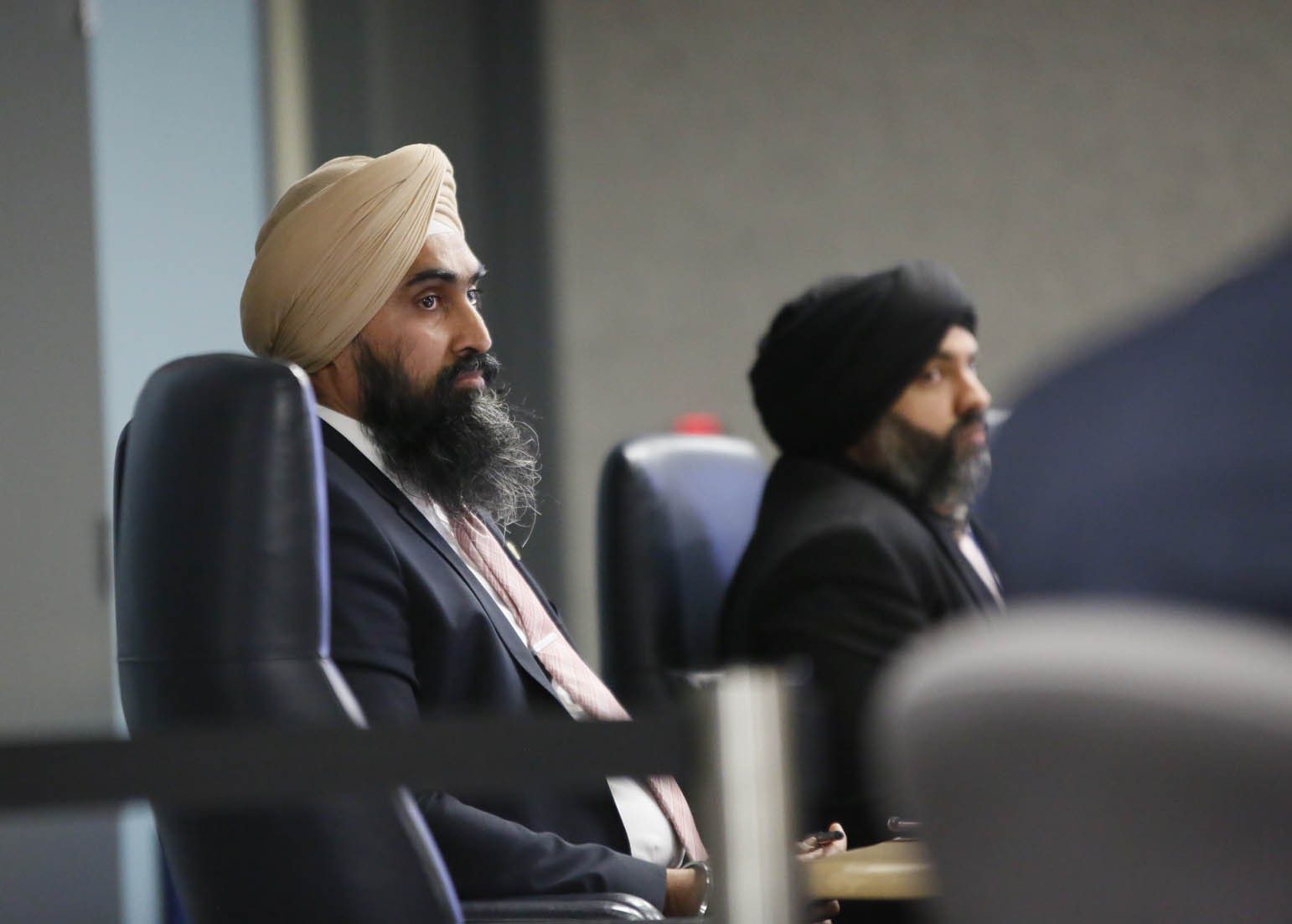 Councillor Gurpreet Dhillon
During Dhillon's last term, he filed a complaint with the city's integrity commissioner against fellow councillor Elaine Moore. It said Moore, during a heated verbal altercation, had called Dhillon a "South Asian councillor" and complained that "South Asian councillors act like mayors of the entire city" during a May 2017 committee meeting, away from the public eye.
Moore countered the complaint by drawing attention to what she saw as Dhillon's lack of respect towards women — she said Dhillon repeatedly interrupted her and Gael Miles during meetings when it was not his turn to speak.
The integrity commissioner took no action against the councillors in this case but, instead, recommended that committee meetings be held where they could be recorded.
That same year, in 2017, while he served as a public school board trustee, Harkirat Singh also filed a complaint against a councillor, this time John Sprovieri. The report to the integrity commissioner referenced a now infamous email Sprovieri had sent to a constituent, who'd asked about why "white people" were still planning the city's future, in which he implored "people of all races, colours and creeds" to "learn the values of white people."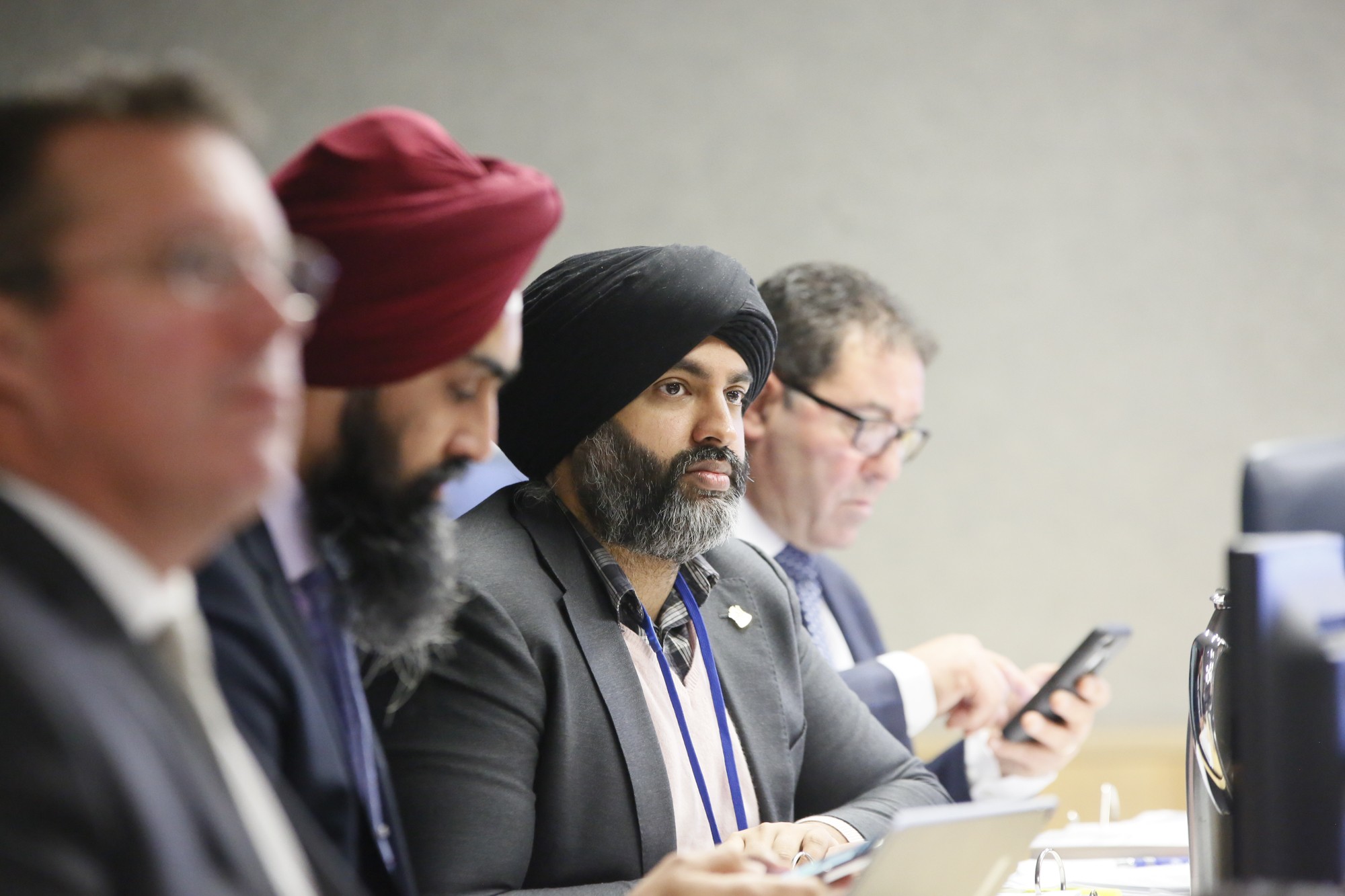 Councillor Harkirat Singh
The integrity commissioner held Sprovieri responsible for the comments but took no action, as the councillor had already made a full public apology.
"I think everyone had a tough election (new and old councillors), and I think people just want to put the past behind and move our city forward," Singh said.
While it seems Brampton's highest institution has room for more inclusion, Mississauga could learn from the city's example. The neighbours have similar populations, with similar-sized councils and demographics. Mississauga is home to 721,599 people, as of the last census in 2016. Of that number, 408,930 are visible minorities, some 57 percent of the population.
The discrepancy on council, though, is much more glaring than in Brampton. Only one visible minority city councillor, Dipika Damerla, sits in the chamber among 12 members, including Mayor Bonnie Crombie — equivalent to 8 percent of council. Meanwhile, more than half the city does not see itself reflected in its leadership.
A glance at the historic makeup of Mississauga's government shows that between 2006 and 2018, no visible minority person served on city council, during the same period when Brampton had councillors such as Garnett Manning, Vicky Dhillon and Gurpreet Dhillon.
Crombie has taken note of the lack of representation and instituted measures to fill the gap.
"When I was first elected as mayor in 2015, I noticed a gap in visible minority representation on Council, and that's why I worked to introduce the Diversity Inclusion Advisory Committee. This committee represents the microcosm that is Mississauga and provides important strategic advice to council," she told The Pointer.
Brampton has a more reflective council, in terms of diversity, than Canada's largest city. Toronto's reorganized 25-person chamber has only four people who identify as visible minorities: Kristyn Wong-Tam, Denzil Minnan-Wong, Michael Thompson and Cynthia Lai. That's 16 percent of council in an incredibly diverse city of almost three million residents, where about half are visible minorities.
One might blame the discrepancy on Premier Doug Ford's measure to reduce the size of Toronto's government. But that isn't true. Back when Toronto's council included 45 members, there were only six racialized representatives — roughly 13 percent — in a city that is 51 percent non-white (1,385,850 people, according to census figures).
One city with a slightly more representative council than Brampton is Markham. While the council to public discrepancy is still wide, the city's government has more visible minorities, as a percentage of total composition, than any other GTA city. Seventy-six percent of Markham's residents belong to a racialized group — some 255,155 out of 328,966. The city council, which has 12 positions including the mayor, includes five people who are visible minorities: Joe Li, Alan Ho, Amanda Yeung Collucci, Khalid Usman and Isa Lee.
Brampton, while setting an example for diversity, still has a way to go in finding its legs as a diverse city. In the meantime, its government is happy to shine a light on the benefits of what a council with a diversity of thought can accomplish.
"Everyone (on council) is very collegial. I think the best example of that was the unanimous passing of the transit motion," Singh said, referring to council's decision in December to return to the Main Street LRT route.
Twitter: @mansoortanweer
Email: [email protected]
Submit a correction about this story