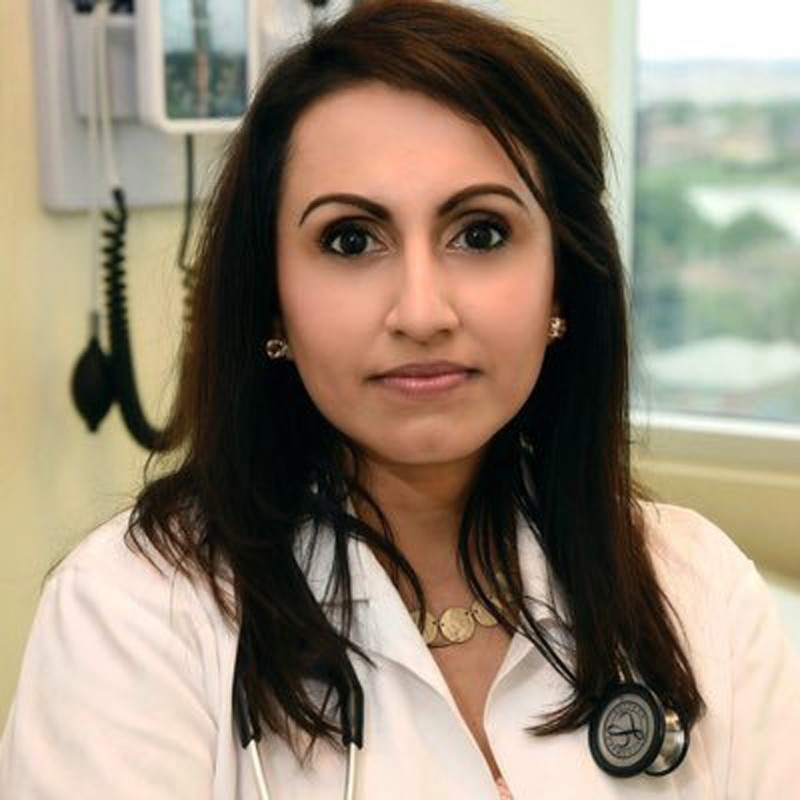 Photo from Twitter/Kulvinder Gill
Judge dismisses lawsuit against The Pointer launched by Brampton's Dr. Kulvinder Gill after reports on her anti-vaccine stance
A $12 million lawsuit filed by a Brampton doctor against The Pointer, 13 physicians, and other media outlets, has been dismissed by an Ontario judge.
Ontario Superior Court Justice Elizabeth Stewart laid out the details of the case in her decision, dated February 24.
Dr. Kulvinder Gill used Twitter to express controversial views about the COVID-19 pandemic, suggesting in 2020 that its severity was being exaggerated, lockdowns were illogical, that treatments not approved by Health Canada should be used and that vaccines were not necessary.
"The undisputed evidence on the motion plainly shows that Dr. Gill is not afraid to voice unpopular views or to court controversy," Stewart wrote.
"Dr. Gill also is a frequent commentator on issues related to the Covid-19 pandemic and does so frequently on her Twitter account which has attracted more than 63,000 'followers'."
She filed her suit in response to media reports and statements by doctors that drew attention to her controversial stance and raised concern about the possible harm this could cause, considering her role as a physician with significant influence over her patients and others in society.
A motion to have the claim thrown out was brought by defendants, including The Pointer, under section 137.1 of the Courts of Justice Act.
Such motions use "anti-SLAPP" (strategic lawsuit against public participation) provisions of the Act which prevent the muzzling of discourse in the public interest.
"A SLAAP refers to a strategic lawsuit against public participation, a characterization which the Defendants argue aptly attaches to the proceedings brought against them," Stewart explained.
To help justify her decision, Stewart laid out the intention of the legislation: To encourage expression on matters of public interest; to promote broad participation in debate on such matters; to discourage the use of litigation to hamper public interest participation; and to reduce the risk of speaking to issues of broad public interest due to fear of threat of legal action.
The Pointer's reporting detailed Gill's Twitter comments and included established research that contradicted her claims, Health Canada's publicly stated position at the time and quotes from a medical expert to highlight concerns over the Brampton doctor's publicly stated views.
"The Article therefore bears all of the features of a strong responsible journalism defence," Stewart wrote. "Journalists at large must have the freedom to responsibly report on the COVID-19 pandemic, including Dr. Gill's comments and the criticism of them, irrespective of whether Dr. Gill has a valid basis to assert that lockdowns are ineffective or that hydroxychloroquine is effective against COVID-19. The media must be permitted to report responsibly on comments that affect the public and which are a matter of public interest."
She said Gill "should not be permitted to stifle public discourse and participation in public health debates caused by [her] own public comments."
She ruled The Pointer's reporting was a good example of "responsible journalism", adding that "when the balancing test is ultimately applied, it results in an assessment very much in favour of The Pointer and the public interest concerns it has advanced. As a result, the claims against it in this action must be dismissed."
"This is an important decision confirming that journalists must have the freedom to responsibly report on the COVID-19 pandemic," The Pointer's lawyer, Brian Radnoff, commercial litigator at Dickinson Wright LLP, said. "This is an issue of great public interest, the exact type of reporting that the anti-SLAPP legislation is designed to protect."
In August 2020, Dr. Gill took to Twitter expressing her views on COVID-19.
In multiple tweets she laid out how hydroxychloroquine (a drug used to treat malaria) and T-cell immunity (mass numbers of people getting infected to kickstart herd immunity) would resolve the pandemic, views that went against the bulk of accepted public health advice and medical research used by governments across Canada and around the world at the time.
"If you have not yet figured out that we don't need a vaccine, you are not paying attention. #FactsNotFear," she tweeted August 4 that year.
On August 6, Twitter took down one of her tweets for violating its policies, including Dr. Gill's claim that T-cell immunity and hydroxychloroquine are needed, along with the "truth", for society to return to normal.
She also wrote in one tweet that, "We don't need a vaccine."
Media outlets including The Pointer covered Gill's comments. CBC reported British Columbia physician Dr. Alex Nataros filed a complaint with the College of Physicians and Surgeons of Ontario (CPSO) regarding Gill's "egregious spread of misinformation."
Following significant public concern over her remarks, CPSO reprimanded Gill for "inappropriate" and "unprofessional" behavior. She received three separate cautions for her tweets that claimed:
COVID-19 is not a serious health issue

There is a conspiracy to suppress information from the public

A vaccine is unnecessary

Masks are not necessary

Mitigation strategies such as testing, contact tracing and the lockdown are illogical and counter productive.
In October 2020, Dr. Gill served The Pointer, and other news outlets, journalists and doctors with a statement of claim filed with the court, arguing her statements had been distorted and taken out of context. She demanded $12 million in damages. Dr. Ashvinder Lamba, a physician in a long-term care facility in Etobicoke and owner of a family practice in Brampton, joined Gill against two of the defendants — The Pointer was not one of them.
Gill said an article by The Pointer, titled Brampton doctor accused of spreading misinformation on COVID-19 cures, contained defamatory statements about her. The Pointer stood by its reporting and took legal action to have the lawsuit thrown out.
The article contains photos of tweets from Gill on August 4,5,6 and 12 in 2020. They highlighted Gill's view on the pandemic and her standing as a medical doctor.
The two images above were captured by The Pointer on August 13, 2020 and show the complete tweets by Dr. Kulvinder Gill.
(Twitter-Dr. Kulvinder Gill)
The article referenced medical studies disputing the use of hydroxychloroquine as a cure for COVID-19. Physician David Juurlink who is the head of clinical pharmacology and toxicology at the University of Toronto was quoted in the article, raising concern over Dr. Gill's tweets.
The Pointer also referenced Health Canada's position at the time on hydroxychloroquine as a cure.
"Health Canada is concerned that some people may be directly buying and using chloroquine and hydroxychloroquine to prevent or treat COVID-19 without a prescription."
Health Canada then stated on its website, it had "warned Canadians about products making false and misleading claims."
Between September 27 and 29, 2021, after a motion to the dismiss the claim was filed, Justice Stewart heard arguments for and against the use of the anti-SLAPP provision to toss the suit.
Judge Stewart commented on the possibility that any harm done to the Plaintiffs could have been caused by their own actions, not those of the media and physicians who drew attention to them out of public concern.
"Evidence of a causal link between the expression and the harm is especially important, in the circumstances of the present motion, where there may be sources other than these Defendants' expressions that may have caused the Plaintiffs harm, including self-inflicted harm by the Plaintiffs themselves as a result of the professional and public criticism received for controversial statements and media appearances," Judge Stewart wrote in her ruling.
In the end the judge threw out the case because of the successful use of Section 37 of the CJA.
"Having carefully considered the evidence and arguments put forward by the Plaintiffs, I nevertheless am of the opinion that the expressions complained of attract the protection that a s. 137.1 analysis permits," she explained.
According to the judgment specifically on The Pointer's work, the reporting on Dr. Gill's tweets was in the public interest and "there is nothing in the Article that is not true."
The judge explained, "the Article simply reports on her tweets and does not take them out of context."
---
Email: [email protected]
Twitter: @taasha__15
---
COVID-19 is impacting all Canadians. At a time when vital public information is needed by everyone, The Pointer has taken down our paywall on all stories relating to the pandemic and those of public interest to ensure every resident of Brampton and Mississauga has access to the facts. For those who are able, we encourage you to consider a subscription. This will help us report on important public interest issues the community needs to know about now more than ever. You can register for a 30-day free trial HERE. Thereafter, The Pointer will charge $10 a month and you can cancel any time right on the website. Thank you
Submit a correction about this story