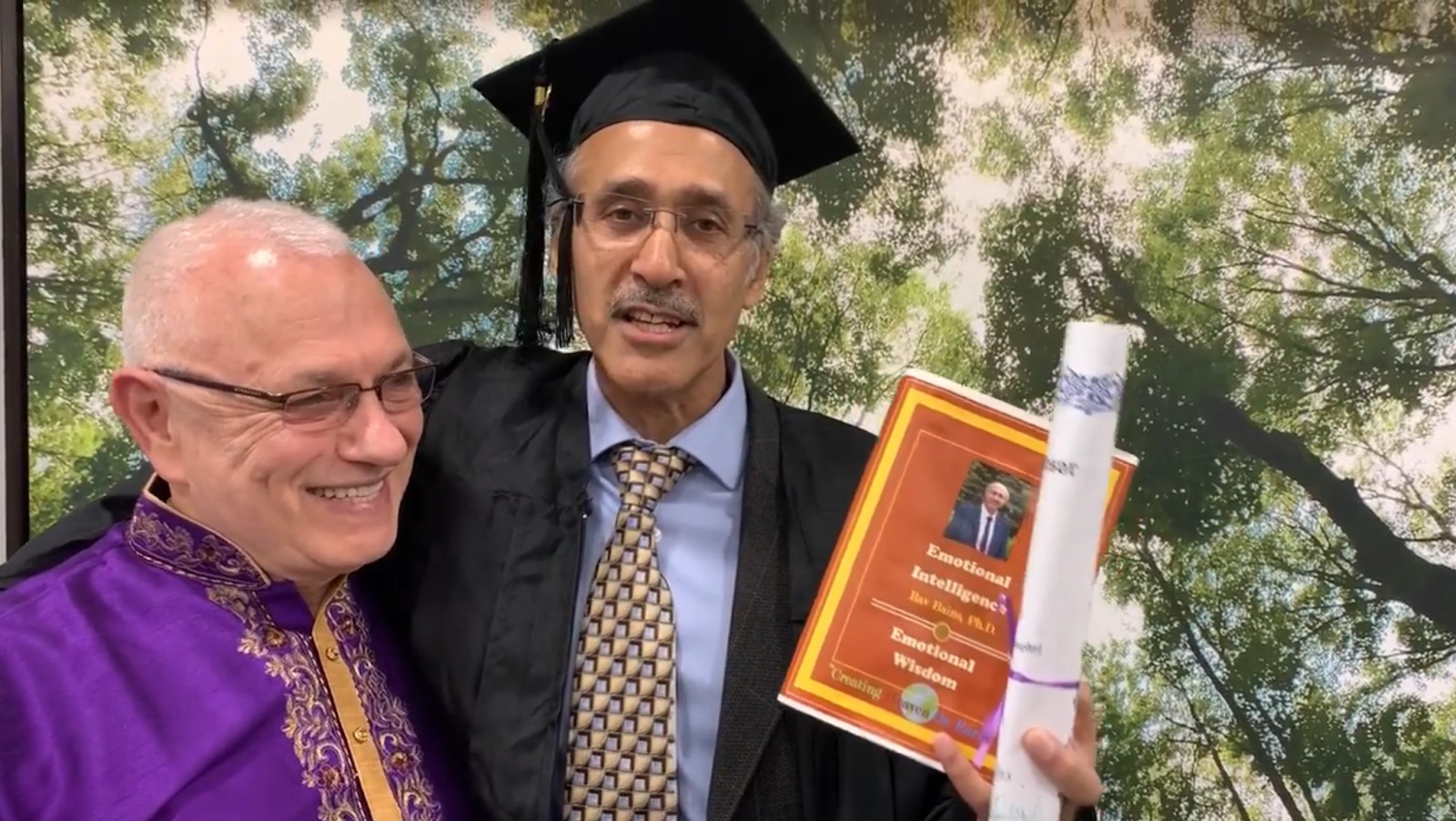 Screenshot from YouTube/Raymond Aaron
Peel CAS board president defends decision to give CEO lavish salary increases, but admits he oversaw toxic workplace
The board of directors that governs Peel Children's Aid Society has approved changes aimed at increasing accountability and transparency at one of Peel's most important institutions. The moves come from a board promising widespread reform but unable to fully explain massive salary increases enjoyed by the man who has led the dysfunctional organization over the past few years.
The president of the board is defending its decision to hand the CEO lavish pay raises meant only for outstanding performance, while admitting widespread problems under his leadership.
Decisions made at an October 28 board meeting are aimed at addressing a toxic work environment that has been widely reported on for a year. There is no word on if or when changes to financial oversight will occur, another major issue at Peel CAS, revealed as part of the recent provincial investigation launched after Black staff raised concerns about CEO Rav Bains last year.
The board of directors has started to act after two separate reports found a "seriously troubled" work environment, alongside examples of financial irregularities.
A provincially-backed investigation report was released October 1 and corroborated the findings of a 2020 union-led review. Both reports show staff at Peel CAS feel the organization has a "culture of fear", where senior management, led by Bains, pays little heed to their concerns.
"Workload demands have led to burnout and concerns for safety," one line of the provincially-backed review explains. Another adds: "Little or no recognition for years of service or achievement or exceptional provision of service."
Last week, The Pointer also reported that Bains had charged the taxpayer more than $6,000 for personal success coaches. Bains expensed the costs after he said he planned to retire and was using success coaches to plan in advance to help increase his personal wealth, partly by working as a consultant.
"The Board of Directors is in the process of undertaking a review of the expenses in question to determine if there were any conflicts of interest," Juliet Jackson, the president of the Peel CAS board and the Region of Peel's director of culture and inclusion, told The Pointer. The review will be completed in about four weeks, she said.
Jackson answered questions on behalf of the board.
The board governs Peel CAS and Bains is directly answerable to it, with members making key decisions around the direction of the organization. Both the board and Bains are also under the authority of the Province, which passes legislation that governs children's aid societies and funds them.
Elected leaders in Peel have stayed silent as scrutiny of Peel CAS' senior leadership, especially Bains, has mounted. The Pointer reached out to Peel's 12 members of provincial parliament, who have a direct tie to child welfare in the region through their governance of children's aid societies as elected members inside Queen's Park.
Rudy Cuzzetto, PC MPP for Mississauga-Lakeshore, and Ontario's Solicitor General Sylvia Jones, PC MPP for Dufferin-Caledon, responded, as did Brampton's three NDP representatives. Both PCs declined to comment on the organization's use of public funds, but Cuzzetto said his government would not tolerate discrimination within an organization it sends money to.
MPP Rudy Cuzzetto wearing purple to support children's aid societies.
(Image from Rudy Cuzzetto/Twitter)
"The Ministry did take action last October (the Province announced a review of Peel CAS in February) when we learned of serious allegations of racism, bullying, and harassment at Peel CAS. Our government has zero tolerance for this behaviour anywhere, let alone in our child welfare system," he said. "The comprehensive review corroborated some of the allegations, but it also highlighted many areas of strength for Peel CAS, and some of the incredible work they do in the community."
Jones said the board of directors was responsible for hiring and compensation. "While the ministry does not comment on the decisions or behaviours of individual employees of children's aid societies, the ministry will continue to work with the society to address the findings of the comprehensive review," she said.
A spokesperson for the Government of Ontario's Ministry of Children, Community and Social Services also provided a statement in response to The Pointer's reporting that Bains had expensed $6,000-plus for personal success coaching conferences.
"The Society has 45 days to develop and submit a workplan to address the findings of the review," the spokesperson said. "While the ministry does not comment on the decisions or behaviours of individual employees of children's aid societies, the ministry will continue to work with the society to address the findings of the comprehensive review."
Brampton's three NDP MPPs voiced concern over the recent revelations about the region's child welfare agency.
"The frontline workers at Peel CAS are deeply committed to protecting vulnerable kids in our community," Sara Singh, the Party's Deputy Leader and MPP for Brampton South, told The Pointer. "It's important that the province support their vital work by ensuring every dollar we invest in children's aid supports that mission. That's why Mr. Bains' expenses and big raises raise such serious questions."
Bains has received a 29 percent salary increase over the past five years, according to provincially-backed reviewers.
Her Brampton East colleague, Gurratan Singh, echoed the concern. "We should be making every penny we put towards protecting vulnerable children in Peel count, not siphoning away public dollars to pad executive compensation," he said. "We owe it to CAS workers, and the local kids they're doing their best to help, to meaningfully address all issues identified by the third-party investigation."
As the provincial government is quick to highlight, Peel CAS' board of directors plays a critical role in the governance of the organization whose executive leadership faces mounting criticism for financial mismanagement and the creation of a toxic work culture.
The provincially-backed review highlighted the fact staff believe there is "a lack of accountability" when it comes to racism and sexism and that concerns are "dismissed" or "minimized". It says experiences of racism are "dealt with through blame and shame discourse".
Bains runs the organization and sets the tone for its culture. The only authority above Bains is Jackson and her board of directors.
The board has been mostly silent as allegations against Bains and Peel CAS senior management have unfolded. Directors came in for some criticism in the provincially-backed review over elements of their lack of proper governance.
"There is no evidence in the Board meeting minutes for the period from January 2018 to the present of discussion of risk management," the report says. "There are no reported areas of weakness, problems or conflicts within the organization and no mention of any legislative changes that could have a material effect on Peel CAS."
Now, Jackson says changes are being made at the board level to begin to address some of the issues raised in the report.
"A Comprehensive Review Oversight Committee of the Board has been created and is responsible for the development of a detailed work plan that will address the findings and recommendations in the review," Jackson told The Pointer.
At the October 28 meeting of the board, directors approved plans for two external contractors to address workplace culture issues. Agendas, meetings and minutes are not available publicly, a change Jackson said she would consider as part of the board's governance review. It's unclear why this would have to be considered, as it's a public institution that is funded by Ontario taxpayers, and sensitive matters could easily be excluded from public facing information.
Specifically, the board has issued a request for proposals to find an outside consultant that can "act on the comprehensive review recommendations related to human resources' (sic) policies, including a review of existing policies and the development of an anti-racism policy".
Juliet Jackson is the president of Peel CAS' board of directors.
(Image from Juliet Jackson/Twitter)
The complaints procedure at Peel CAS was an area that came under severe scrutiny in the provincially-backed review.
"The Whistleblower policy is still in draft form," reviewers wrote. "It is not comprehensive enough to cover important factors such as how investigations will be conducted and by whom... It is an important policy that needs to be confirmed as a priority."
Reviewers also found that there are "many gaps" in the organization's current discrimination policies. These gaps and the whistleblower issue would be covered by the scope of work that the Peel CAS board is currently soliciting bids to undertake.
The decision to work on an anti-racism policy also shows a change of heart. In December 2020, after the union-led review recommended a specific anti-Black racism policy, director of communications Shane Vieira said the issue was captured under an existing anti-discrimination policy.
"The agency's Prevention and Resolution of Harassment and Discrimination in the Workplace Policy prohibits discrimination, including those based on race, ethnic origin, place of origin, colour, and ancestry. There is a comprehensive procedure for any such concerns to be addressed," he said in December. "We have recently completed the first draft of our policy specifically addressing anti-Black racism. The next step will be to ensure the draft policy is reviewed by staff for their suggestions and feedback."
It seems internal plans to draft anti-Black racism policies, or claims the existing framework is suitable, have been abandoned. The board will now retain an outside agent to create a policy designed to close the sizable gaps in its existing internal framework.
While the provincially-backed review found the organization was serving the community well despite its internal problems, evidence to the contrary exists too.
"Currently, we have 39 Black kids [in care]," Bains said in a December 2020 interview with The Pointer. "If you look at the population of 1.4 million of the Region of Peel, just under 140,000 is the Afro-Caribbean community. You can see as a percentage, having 39 kids in care out of 139,000 Afro-Caribbean, that's a tiny percentage.
He was attempting to address grave concerns raised by frontline staff that Black children were alarmingly over-represented within the organization, due to embedded systemic biases that saw Black families treated differently by school boards, the police and even Peel CAS.
Bains used a nonsensical statistical explanation that failed to address the relevant data.
In 2019, 39 out of 189 children in care at Peel CAS were Black, according to data provided by the organization on December 7, 2020. That meant 21 percent of all children in the organization's care were Black, while the 2016 Census showed Black residents made up only 10 percent of Peel's population.
When pushed to explain this over-representation, Bains said it was a "very double-edged sword" to present the information that way.
"Black, Indigenous and racialized kids are over-represented among children in care, so anything that takes away from Peel CAS' mission is almost certainly going to disproportionately hurt Black, Indigenous and racialized kids in our community," Kevin Yarde, NDP MPP for Brampton North, told The Pointer. "Mr. Bains' generous raises are concerning, and I worry that vulnerable children in Peel could be paying a price. Surely Doug Ford can't tell frontline heroes in the public sector to take a wage cap and turn around and say it's okay for the head of a children's aid agency to rake in a big raise. I am calling on the government to urgently look further into this situation and pursue accountability and change at Peel CAS."
The board resolved at the end of last month to create an ombudsperson role. This position, which is currently seeking bids and proposals from third parties, would be for "staff who do not feel comfortable reporting issues to management related to harassment, discrimination and racism".
It would sidestep senior management and take concerns from staff directly to the board.
Accountability for the Peel CAS workplace is not the board's only role. Directors oversee Bains' salary and expenses as well.
The provincially-backed review found Bains' salary was drastically out of line with that of comparable CAS leaders. Investigators said the CEO earns $60,000 per year more than other CEOs at comparable children's aid organizations.
Jackson, whose board has approved the salary increases, defended the ballooning cost of the CEO's salary. She said Bains' two decades with the organization (including nine years at the top) have contributed to his increased salary. She said the increases are approved each year based on the CEO's performance.
According to the sunshine list, Rav Bains has received an average salary increase of 4.9 percent between 2014 and 2020. On two occasions it has been over eight percent.
The Pointer did not chart his salary in 2012 or 2013 as Bains was appointed in July, 2012, and the provincially maintained figures would not give an accurate picture.
(Image from Isaac Callan/The Pointer)
"Despite having the longest tenure, Mr. Bains does not have the highest salary of CEOs in the GTA," Jackson said.
This is only partially true. The highest paid children's aid society leader in the GTA is Paul Rosebush, the CEO of Toronto CAS, who earned $267,010.45 in 2020, according to the sunshine list. Bains, by comparison, earned $264,292.62 last year to manage a CAS that serves an area with a population of 1.5 million, compared to Toronto's 3 million.
Bains actually earns more than Rosebush when you include his taxable benefit. If you add the benefits taxpayers fund for both men, which can range from healthcare to car allowances, Bains took home a total of $272,824.50 and Rosebush earned $271,566.45 in 2020.
Taxpayers covered more public funds for Bains, who, on average makes about $60,000 more than other CAS CEOs the provincial review compared him to.
"The CEO's performance is assessed each year by the Board based on set work and developmental objectives, which are linked to the organizations' (sic) strategic and operational plan," Jackson said. "The performance management program is both objective and competency based and includes a 360 feedback process from internal and external stakeholders."
A "successful performance rating" means the CEO is rewarded with a five percent pay increase until he "reaches the top" of his salary scale. Jackson says Bains has now reached that threshold, although it is unclear if he capped out his salary increases in 2020 or 2021. He will still be eligible for annual cost of living increases, normally based on the rate of inflation.
Her claim that Bains was deserving of the maximum performance compensation is in sharp contrast with the provincial review, which found a poorly managed organization and a toxic work culture. It also could not find much evidence of a proper performance evaluation system to measure how Bains was leading the agency.
"There are no metrics or performance indicators that assess the degree to which the CEO is operating within the General Executive Limitations," provincially-backed reviewers found.
"Other specific executive limitations...that further constrain the CEO are also not being monitored," the report said.
This means that, according to reviewers, the board does not have all the tools it needs to actually assess Bains' performance, which was not properly monitored.
Peel CAS staff have experienced a toxic workplace culture.
(Image from Facebook)
Further confusing matters are the out-of-policy raises the CEO received. Bains' compensation has increased more than five percent some years, according to provincial figures. It increased 8 percent between 2018 and 2019, then a further 8.6 percent last year.
Asked how these increases could have been allowed given the turmoil within Peel CAS, and the five percent limit set out by the board, Jackson said pay was sometimes delayed.
"Salaries made available through the Public Salary Disclosure list may be misleading and seem higher or lower depending on how many weeks were paid out in a particular year," she said. "For example, 10 days in 2019 were paid in 2020, making the CEO's salary seem elevated that year when it in fact was not."
When The Pointer provided rough calculations to show that this timeline would still have left Bains with a salary increase of around seven percent year-on-year, Jackson was unable to provide further clarification.
"I hear you and understand the confusion," she said. "As stated, the Board will be reviewing agency financial data and the findings in the comprehensive review to make sense of any discrepancies in this matter. This will require some time due to past system changes, but we will provide you with information on the findings, which should take approximately two weeks."
Aside from the fact Bains has seen his compensation seemingly increase above the board-approved threshold, it is also unclear how the CEO achieved even the five percent increase, linked to performance, given the toxic workplace culture within his organization.
"With respect to the CEO's performance and the performance of the organization as a whole, the report highlighted some pressing concerns which are being addressed and gave the organization strong grades for our core functions including service delivery, compliance with CYFSA, strong community collaboration and overall financial management," Jackson said.
If an additional five percent of Bains' salary gets built into his base compensation each year, compounding with each of his annual maximum increases for outstanding performance (a rate rarely seen even in some of the most lucrative private sectors) the board's lavish payouts seem way out of step with other public provincial organizations. Meanwhile, mechanisms for evaluation have failed to capture the true picture inside Peel CAS. Pay increases that amount to performance bonuses are being handed out without a true understanding of how the CEO has performed as the leader of a deeply troubled organization that has endured two recent third-party investigations after internal allegations of widespread problems. Despite all of the findings, Bains was handsomely rewarded, on the backs of taxpayers.
The provincial review recommended that the board, "review current practices of governance peer review and the CEO performance appraisal with a view to enhancing them to address the issues raised in the review."
Jackson defended the current system, committing to review it to ensure issues can be addressed.
"The CEO's performance is assessed each year by the Board based on set work and developmental objectives, which are linked to the organizations' (sic) strategic and operational plan," she said. "The Board will also be reviewing this process as part of the overall work plan."
---
Email: [email protected]
Twitter: @isaaccallan
Tel: 647 561-4879
---
COVID-19 is impacting all Canadians. At a time when vital public information is needed by everyone, The Pointer has taken down our paywall on all stories relating to the pandemic and those of public interest to ensure every resident of Brampton and Mississauga has access to the facts. For those who are able, we encourage you to consider a subscription. This will help us report on important public interest issues the community needs to know about now more than ever. You can register for a 30-day free trial HERE. Thereafter, The Pointer will charge $10 a month and you can cancel any time right on the website. Thank you
Submit a correction about this story