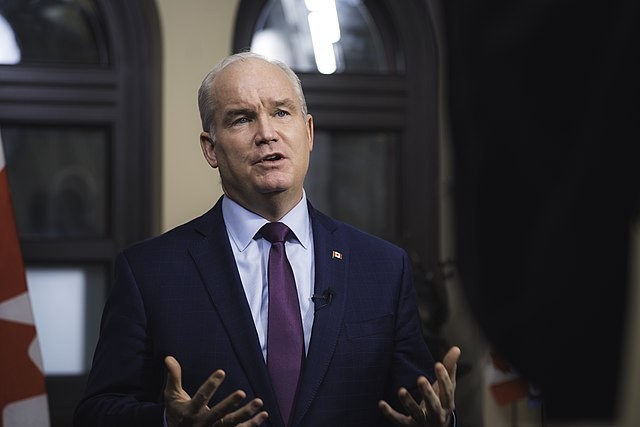 Feature image from Wikimedia Commons
Conservatives check many boxes on Peel's wish list, can the party deliver if elected?
Between now and election day, The Pointer will be breaking down the platforms of Canada's major parties, analyzing their promises to Canadians and what they plan to deliver for Peel. These stories are not endorsements, but meant to provide information to assist voters, and a record to hold the future government accountable.
---
The Conservative platform received some flack from some Canadians when it was released earlier this month.
Not for any of the policies within its pages — though some of that did come later — but for the men's-magazine-style cover that depicted Conservative Party of Canada (CPC) Leader Erin O'Toole, with arms folded, leaning staged-casual in a navy T-shirt against a concrete wall with the moniker "The man with the plan" emblazoned at the bottom of the slickly designed 160-page document.
Canada's Recovery Plan is full of pledges on how the Conservatives vow to accomplish everything from lifting the country and economy out of the pandemic, tackling climate change, fixing the healthcare system, and pushing back against gun and gang violence, to improving the immigration system, and its pledge to cover 75 percent of child care costs with a new tax credit, among other promises.
They are by no means set in stone. With the outcome of the election uncertain, and a minority Liberal or Conservative government a potential outcome following the September 20 vote, it's not clear how much mandate, money, or time the Conservatives would have to accomplish many of the party's lofty goals if allowed to form government.
On the surface, the platform does touch on many of the pressing needs facing Peel and its two largest municipalities.
Municipal Needs
---
Both the City of Brampton and Mississauga have delivered a long list of similar priorities for future MPs and the ruling party to consider, as candidates are grilled over the next few weeks. Improving municipal transit systems and investments in high-order transit are near the top of the list for both cities.
While Mississauga is looking for partnership and investment for implementation of all-day, two-way GO through the city, restoration of the downtown LRT loop axed by the provincial government before the Hurontario-LRT construction began, as well as funding for the Mississauga transit terminal and rapid transit along Dundas, the City of Brampton is hoping for $850 million toward a downtown LRT (a rather odd request considering the City has failed to even determine the feasibility of a downtown LRT, a potential route and whether it will be partially tunnelled or not), $250 million for rapid transit along Queen Street, $75 million to electrify a badly needed transit maintenance and storage facility and $42.2 million for expanding the active transportation network over the 20-year lifespan of its plan.
The CPC platform makes no specific promises for any of these projects, but does have investments in municipal transit systems as part of many of its pandemic recovery efforts, climate change mitigation plans, and affordable housing pledges.
As part of its plan to improve the existing Investing in Canada (ICIP) Infrastructure Plan created by the Liberal government, the CPC plans to reprioritize investment to, "target projects that strengthen transit and trade, reduce congestion and gridlock," the platform states.
The City of Mississauga and the City of Brampton are both looking for support to fund expansion and green transitions for their transit fleets.
(Photos from The Pointer files/City of Brampton/New Flyer Industries)
As part of its affordable housing pledge to construct 1-million homes over the next three years, the CPC says it will: "Build public transit infrastructure that connects homes and jobs by bringing public transit to where people are buying homes," and "require municipalities receiving federal funding for public transit to increase density near the funded transit." This latter requirement, supported by smart growth proponents, could prove problematic for municipalities with approved official plans that have set out density targets for particular areas over a number of years, making it difficult for them to apply for such funding without complicated official plan amendments.
Brampton in particular, which has large amounts of land in the northern half of the city yet to be developed, could be pushed to move away from sprawl if density is a requirement of federal transit funding. How this might impact existing development applications is unclear.
Both municipalities are also looking for assistance in addressing a growing list of infrastructure projects and the need to improve existing infrastructure to withstand the increasingly destructive impacts of climate change.
For Brampton this means completion of the Riverwalk project to mitigate the flood risk in the downtown core. In November 2020 the Liberal government committed $38.2 million into the project, which has stalled under the problematic leadership of Patrick Brown and senior staff currently facing a sweeping third-party corruption investigation following allegations of widespread misconduct inside City Hall.
The City is looking for further partnership to help fund sustainable mobility pathways, pedestrian bridges, improved transit stops, and a long list of other potential physical improvements to the riverwalk area.
The CPC plan makes no mention of targeted investments for flood mitigation for municipalities specifically, but it does state a CPC government will be "incorporating a mitigation and adaptation lens to the government's infrastructure investments," which could prioritize projects like the Riverwalk, critical for Brampton's future downtown redevelopment goals.
The City of Mississauga has made it clear that with a projected $291-million infrastructure gap in 2021 — a list of projects that need funding but have no source to pay for them — help from the federal government will be critical. In 2019, Brampton's gap was expected to grow to $743 million by 2027.
"In order to continue to build Mississauga into a world-class city and achieve the climate change objectives outlined in our 10-year Climate Change Action Plan, we need the federal government to commit to doing more to help Mississauga close the gap," the City's Mississauga Matters webpage, which outlines what is being asked of the next federal government, states. "Direct, long-term and predictable infrastructure funding from the federal government to municipalities allows us to focus on local priorities, build infrastructure quickly and achieve our climate change objectives."
To improve investments in infrastructure, the CPC says it will scrap the Canada Infrastructure Bank, launched in 2017, and instead redirect an unstated amount of money into projects that would have the "maximum benefit" for economic recovery. The CPC says it will also work closely with First Nations communities, municipalities and provinces to encourage the use of private-public-partnerships (P3s).
It's unclear whether this would assist both cities in closing the gap preventing critical projects that currently lack a funding source.
Both municipalities are also seeking assistance on behalf of local business owners, with Brampton and Mississauga asking for continued federal support in pandemic recovery funding.
According to a February 2021 study by the Canadian Federation of Independent Businesses, 70 percent of small business owners in Canada have taken on debt due to COVID-19.
The CPC plans to help small businesses recover with its Canada Job Surge Plan which will cover up to 50 percent of the salary for new hires for the first six months, creating a 'Main Street Business Loan' to provide funds up to $200,000, with forgiveness of up to 25 percent depending on the company's revenue loss, and create the 'Rebuild Main Street Tax Credit', which will provide a 25 percent tax credit on amounts of up to $100,000 used by Canadians who personally invest in a small business over the next two years.
"This will give a strong incentive for Canadians to invest their money to help entrepreneurs rebuild our country," the platform states. "We will enable middle class investors to participate in the rebound while ensuring that those who want to open new stores, restaurants, and other small businesses to get Canadians back to work can get the investment they need."
The needs of residents in Peel's two largest cities go well beyond the asks of the local municipal governments.
Coming out of the COVID-19 pandemic, those living in Brampton and Mississauga are facing difficult times for themselves and their families, and will be wondering what each party will be doing to improve their lives both personally and professionally.
Mental Health and Addictions
---
In a telephone survey conducted in April of last year by the City of Brampton, of the 15,000 callers, 70 percent wanted to see more mental health support in the city. The strong desire is indicative of the gap that currently exists in Peel between those who require mental health support and what is available to them.
The Central West LHIN, which includes Brampton, and the Mississauga Halton LHIN, received $66 and $53 respectively per capita in 2019 from the provincial government for mental health and addictions support, well below the provincial average of $107 per capita. Much of this funding is targeted to specific agencies, which helps the individual agency and its programming, but can create siloed efforts in the community that are not interconnected, making it difficult for those in need to access them.
The situation gets even worse when drilling down to those who are in desperate need. For people in crisis or suffering serious withdrawal due to their addiction, Brampton and Mississauga have few resources available to help.
The Mississauga Halton LHIN currently has one mental health bed per 78,500 people, while Brampton and the Central West LHIN have one per 66,808 people. By comparison, in Toronto Centre, one of the top-funded areas for these sectors, there is one mental health bed for every 3,500 people, meaning the two cities have about 5 percent of the mental health capacity compared to central Toronto, an area that does see high levels of homelessness and mental health crisis.
Mississauga and Brampton also make do with considerably less psychiatric resources compared to per-capita funding for Ontario overall, leaving those looking to get help for their mental health or addiction problems from a professional, with very few places to turn.
For children and youth mental health services, Peel receives approximately $22.3 million annually, three times less than the provincial average per region of about $66 million and about six times less than the $133 million received by Toronto (which has about double Peel's population). This is particularly worrisome in a young region, where 70 percent of mental health problems have their onset in childhood or early adolescence, according to the Centre for Addiction and Mental Health.
The Mississauga Halton LHIN and the Central West LHIN, which includes Brampton, are two of the lowest funded areas for mental health per capita in Ontario.
(Graphic from CMHA)
Peel Region is home to 12 percent of the province's children under the age of 19, with a fast growing population that is projected to continue increasing rapidly over the next two decades. In June of 2020 there were 550 children/youth in Peel waiting for counselling services.
The CPC's Canada Mental Health Action Plan, calls for "real action - and a new approach" to treating mental health.
The plan will see a CPC government partnering with the provinces to ensure that a "significant portion" — no dollar amount is provided — of the existing federal health transfer funding goes toward mental health. This will ensure that an additional 1-million Canadians can receive mental health treatment each year.
For the 2021-22 transfer period, Ontario will receive $16.7 billion from the Canada Health Transfer.
In September of last year, Canada's premiers called for an increase to the health transfer in order to meet growing needs. Splitting up the current investment to include mental health programming could be difficult for provinces that are already trying to fund healthcare across their jurisdiction with an amount that is already seen as inadequate. The CPC is proposing to meet with the Premiers within the first 100 days of forming government to discuss increasing the annual growth rate of the health transfer to at least 6 percent, a significant bump, which could create an additional $60 billion for the system over the next 10 years, the CPC platform states.
It's unclear how this additional money will be directed, and since 2013, Alberta has received by far the largest percentage increase in healthcare funding as a result of transfers from the federal government (about a 115 percent increase from the 2012-13 budget period to the current 2021-22 period, compared to an increase of just under 50 percent for Ontario). But as data from the Canadian Institute for Health Information (CIHI) show, because population and inflation, not aging, are by far the largest drivers of increased healthcare costs, Peel's exploding growth should demand significantly more investments in healthcare. It was estimated by CIHI in 2019 that Canada's aging population accounted for 0.8 percent of the 3.8 percent increase in health care expenditures; inflation and population growth combined accounted for 2.6 percent.
Nowhere is this more evident than Brampton, with its hyper-growth situation and where the ongoing healthcare crisis created by a lack of funding for hospital infrastructure has been ignored by the provincial government.
While any additional funding for Peel's system will be welcomed by the strained organizations providing healthcare services in the region, it remains unclear whether this CPC platform pledge will be enough to meet the region's growing need. But the 6-percent figure represents a considerable increase. Even a per capita allocation, would mean about $2.4-billion extra dollars for Peel over a decade, which could be built into base provincial budgets to operate hundreds of desperately needed additional hospital beds in Brampton and Mississauga.
Mental health is another key focus of the CPC healthcare platform.
According to the Mental Health Commission of Canada, mental health costs the Canadian economy approximately $50 billion per year, and approximately 1 in 5 people will experience a mental health problem or illness in a given year. With a population of approximately 38 million, that means Canada needs to be prepared to treat about 7.6 million people each year.
In addition to the unspecified heath transfer bump up specifically for mental health, the CPC platform states it will provide investments of $150 million over three years in grants to nonprofits and charities delivering mental health and wellness programming, and encourage employers to add mental health coverage to their employee benefit plans by creating a tax credit for 25 percent of the cost of additional mental health coverage for the first three years.
There is also a desperate need for assistance to those battling addiction across the Region of Peel.
The opioid crisis has been exacerbated by the pandemic, and in Peel 2020 was the deadliest year on record for opioid overdoses — 121 people lost their lives between January and October — as much of the work on its opioid strategy was placed on hold as a result of pandemic restrictions.
There remains a dire need for investment, particularly to fund recovery beds for those in crisis or looking to get clean.
The Mississauga Halton LHIN currently has one mental health bed per 78,500 people, while Brampton and the Central West LHIN have one per 66,808 people. By comparison, in Toronto Centre, one of the top-funded areas for these sectors, there is one mental health bed for every 3,500 people.
The CPC plan includes a $325-million investment over three years to create 1,000 residential drug treatment beds and build 50 "recovery community centres" across the country. No specifics are provided for how this money would be prioritized.
"Canada's Conservatives will treat the opioid epidemic as the health issue that it is. We believe that law enforcement should focus on dealers and traffickers. The last thing that those suffering from addiction should have to worry about is being arrested," the platform states. "Any interaction the government has with them should focus on keeping them safe and helping them recover."
Immigration
---
According to the 2016 census, 381,730 Mississaugans came to Canada as immigrants, compared to 320,750 born in the country. Similarly, data show Brampton had 308,790 immigrant residents, and 272,365 Bramptonians were born in Canada.
With such large immigrant populations, those looking to reunite with family members have been forced to go through a much-maligned system in recent years.
In 2018, the Liberal government reconfigured the family reunification system from a random lottery process to one that operated on a first-come, first-served basis. The web-based portal closed almost immediately after, reaching its cap of 27,000 applications significantly faster than anticipated. At the time, the government confirmed that 100,000 people had attempted to access the online form.
In the year following the debacle, the issue received little public attention from the government. Leading up to the 2019 federal election, immigration was a relatively untouched topic by the Liberals. The party's platform made just seven references to immigration across its 85 pages, focusing on skilled, economic migration and Canada's agreements with the United States, rather than specific commitments to the family reunification system.
As a result, the postponement of the 2020 application process — just two days before it was meant to open — was surprising. In a statement to The Pointer, a spokesperson for Immigration, Refugees, Citizenship Canada said the government was taking the "time needed" to review the process, adding it would begin the intake of new applications "as early as possible in 2020."
At the end of December 2019, just days before it was due to start accepting applications, the government cancelled its opening date and delayed it until this past April. COVID-19 and other demands on immigration staff made the April target an impossibility.
The delay (the second in as many years) late last year came as government staff scrambled to address a desperate need to revamp the program.
However, those looking for a change to this flawed intake system will be surprised to learn that the CPC plan is to take a page out of the Liberal handbook and return to the first-come, first-served system that did not work for thousands of families.
The CPC platform states that this system will place more weight on family reunification applications for those providing child care or with language proficiency. The platform also states the CPC will provide "additional resources" to ensure applications can be processed faster, but no specifics are provided.
The CPC will also expand the super visas program to allow family members to remain in Canada for up to five years without permanent status as long as they purchase health insurance.
The plan makes no mention of changing immigration targets set by the Liberal government, which in 2021 is for 401,000 newcomers, more than half of which, 232,500, are planned to be drawn from the economic category. In 2022 these targets are set to increase to 411,000 newcomers with 241,500 from the economic class, showing almost all of the year-over-year increase under the current Liberal plan would be from the economic class. The plan calls for 103,500 family-class immigrants this year, and the same number for 2022.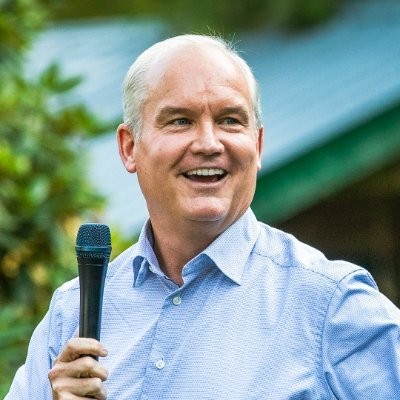 Erin O'Toole and the Conservative Party of Canada have made a number of ambitious pledges in their platform, many of which could benefit Peel if handled properly.
(Photo from Erin O'Toole/Twitter)
The CPC plans to prioritize economic immigrants that could benefit Canada's healthcare system, including measures to attract healthcare workers for priority regions, and working closely with provinces and territories to better address their needs when it comes to immigration.
"Recognizing that provincial governments have a better sense of their region's needs, Canada's Conservatives will work with provinces and territories to expand their influence over economic immigration to their region," the platform states. "Where there is a clear economic need and provinces have demonstrated they can retain existing immigrants, we will work with provinces to expand their provincial nominee programs."
Provincial nomination strategies, popular in places like Manitoba and Nova Scotia, which in the past had trouble attracting badly needed skilled immigrants, offer a more direct pathway to those applicants willing to settle in certain parts of the country, but require specific investment that has to be committed by those newcomers (often guaranteeing job creation) who pledge to remain in the nominating province for a certain period of time under specific employment requirements.
Housing
---
The affordable housing crisis in Peel has been reported on in detail across the pages of The Pointer.
In short:
The rental market in Peel is unaffordable for most families. Data compiled for the Region of Peel show renting a house of any size is unaffordable for all low and moderate income households. At an income of $76,600 a household could afford to rent a bachelor apartment, a unit where living room and bedroom are generally combined. A family would need a household income of $121,964 to rent a three bedroom apartment comfortably. According to the Region, only high income households can afford to rent at a rate that does not force difficult spending decisions for their remaining income.
The Region's Centralized Waitlist, those looking for assistance with housing, exploded during the pandemic. By the end of 2020 it had grown to 22,445 households waiting for subsidies and other assistance to secure proper housing. It was a huge jump from the 14,997 households on the waitlist near the end of 2019, a crippling 50 percent increase in just one year for a crucial social support system already stretched way past its capacity.
The Region's Home for All housing plan, which laid out work to get 7,500 new units built annually, with at least 2,000 of them affordable and another 5,500 at or just below market rate, has been an abject failure. Over the course of the 10-year plan, the document projected approximately 75,000 units would be built by 2028, since 2018, less than one in 2,600 new ownership homes built have met that threshold, according to a June 2020 report from the Region.
Addressing the affordable housing crisis is not something the Region is able to do alone. The Home for All plan relied heavily on investments from upper levels of government in order to be achieved.
As part of its housing plan, with a headline of building "1 million homes in the next three years", the CPC is not clear about how much funding the party plans to give to public housing providers like the Region of Peel.
Parts of its plan include reviewing the real-estate portfolio of the federal government — an estimated 37,000 buildings across Canada, and releasing 15 percent of it for housing. It's not clear whether the federal government would be responsible for converting these buildings for housing, or if it would hand this over to private entities who would bid for the work.
The CPC housing plan also includes broad statements like, "exploring converting unneeded office space to housing," and "incent developers to build the housing Canadians both want and need".
The CPC also plans to help first-time home buyers by making it easier to get a mortgage. These efforts include "encourage a market in seven-to-ten-year mortgages" and reduce the need for mortgage stress tests, as well as increase the limit on eligibility for mortgage insurance, which can allow those in high-priced real estate markets with less than a 20 percent of a down-payment an opportunity at home-ownership, the CPC platform states.
Its strategy to combat increased homelessness largely revolves around the previously stated commitments to provide funding for those suffering from mental health problems and addictions issues. There is no specific mention of help for those experiencing homelessness due to economic conditions.
Crime
---
While the pandemic may have caused a slight reduction in the rising violent crime experienced in the Region of Peel in recent years, there remain a number of critical issues that need to be addressed across Peel.
The workload of the Peel Regional Police is growing rapidly — although the 2020 pandemic year saw a significant drop in calls, a reduction that will likely be quickly wiped away once all pandemic restrictions are lifted.
Between 2015 and 2019, the number of citizen initiated calls to PRP increased 17 percent from about 221,000 to just under 260,000. In 2020, the number of citizen initiated events dropped 39 percent, and overall calls for service decreased from 415,000 in 2019 to 355,062 in 2020.
Aside from the investment in additional RCMP officers to fight guns and gangs related offences, the CPC plan also proposed a number of amendments to create stiffer penalties for these crimes, including human trafficking — an issue that is reaching crisis levels in the Region of Peel.
The CPC also plans to invest $100 million over five years to help train non-provincial police forces in sexual exploitation, cyber-security and online offences; and the investigation of sexual offences.
Intimate partner violence is also a significant issue in the Region of Peel with police responding to nearly 30 of these calls every day.
To address the growing problem of gender-based violence, the CPC platform states it will amend the Criminal Code to make it an aggravating factor in sentencing for assault cases if the victim is in a domestic or dependent relationship with the accused, leading to potentially stronger penalties for these assaults.
The CPC also plans to make the assault an indictable offence with a mandatory minimum of two years when the Crown can prove that the assault is part of a pattern of conduct with the victim.
---
Email: [email protected]
Twitter: @JoeljWittnebel
---
COVID-19 is impacting all Canadians. At a time when vital public information is needed by everyone, The Pointer has taken down our paywall on all stories relating to the pandemic and those of public interest to ensure every resident of Brampton and Mississauga has access to the facts. For those who are able, we encourage you to consider a subscription. This will help us report on important public interest issues the community needs to know about now more than ever. You can register for a 30-day free trial HERE. Thereafter, The Pointer will charge $10 a month and you can cancel any time right on the website. Thank you
Submit a correction about this story