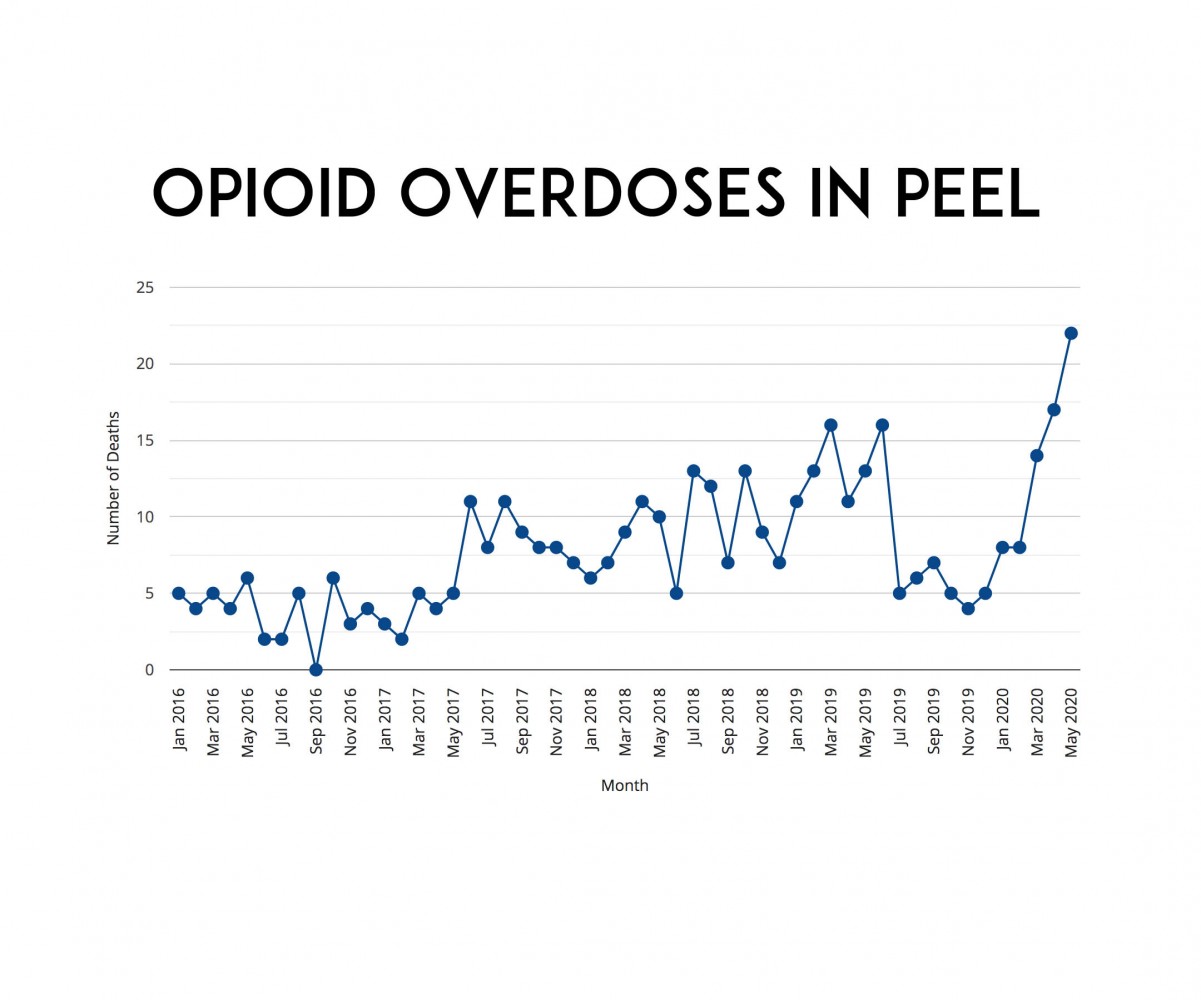 Photos from the Region of Peel/Moyo Health and Community Services/CMHA
Peel's battle with opioid crisis on hold as overdoses spike; advocates want COVID-type response 
The efforts of public health units across the country have fallen short, and people continue to die.
This isn't the story of a killer virus.
This crisis was already full-blown before the arrival of CoV-2.
Across the country, shuttered social services, a disrupted international drug market and increased social isolation have created a perfect storm, further inflaming the opioid crisis that has been burning in cities across the country for years.
In Peel, the pandemic has put the critical work of battling this crisis on hold as the majority of public health staff have been redirected to fighting the novel coronavirus.
In the Region of Peel, overdose deaths increased nearly three-fold between February and May of this year (the most recent month for which data is available), rising from 8 deaths in February, to 14 in March, 17 in April and 22 in May.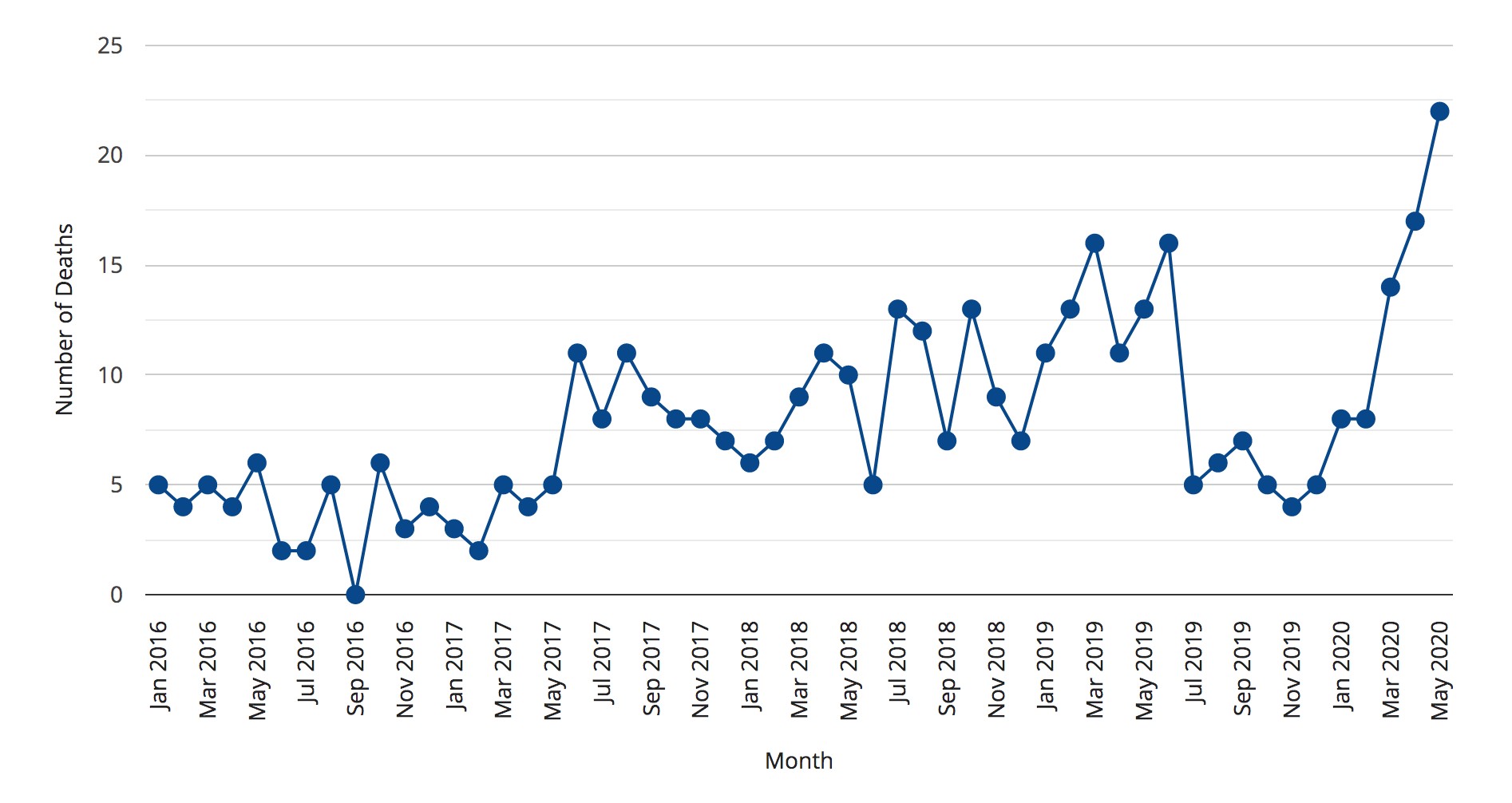 In the Region of Peel, opioid related overdose deaths have spiked since the start of 2020.
Similar increases are seen across the country. In Toronto, public health recorded 27 suspected opioid related deaths in July, the most since the agency started recording such information, up from 25 deaths in both April and May. Toronto paramedics also saw an 85 percent increase in calls related to opioid overdoses between March and July.
Out west, B.C. saw 526 people lose their lives to opioids between June and August alone, and August marked the fifth straight time the province has recorded over 100 overdose deaths in a single month.
Now, when the work is needed more than ever, the Region of Peel has been forced to press pause on its opioid strategy, a wide-reaching plan that looks to implement crucial harm reduction, prevention and treatment measures to help those battling addiction in getting the help they need.
Adam Chalcraft, the harm reduction supervisor at Peel's Moyo Health and Community Services, says the agency has been working with "limited resources" to try and make a dent in the overdose crisis.
"I mean, without access to safe supply programs, without access to safe places for people to use, and a variety of other types of services, I think we're going to continue to see overdose deaths," he says. "Just before COVID hit we were working with public health in putting (a working) group together to start looking at implementing this and all the other things that need to be done, but COVID has put all of that on hold."
It means many drug users are not getting the support they need, and any interventions to assist them in the future are going to take longer to become a reality.
The issue is starting to reach a breaking point in downtown Brampton where a number of business owners, the Downtown BIA and residents have written to the Region of Peel about concerns over the rise in drug use around the city centre, as well as crime and disruptive behaviour involving those battling homelessness and addiction. The issue is also placing significant strain on Peel Regional Police which spent approximately $1.8 million in salaries last year on officers in hospital waiting rooms dealing with people in mental health crisis, an issue often linked to addiction.
According to the Region of Peel, 80 percent of public health staff have been redeployed to fight COVID-19, meaning "many public health programs and strategic initiatives are paused," Peel Public Health tells The Pointer.
"We need to remain nimble and prepared to respond to uncertain and changing demands of the pandemic," a spokesperson stated in an emailed response. "As we plan the resumption of certain services and initiatives, we recognize the importance of advancing this strategic work in our community with our partners."
The unprecedented nature of the COVID-19 pandemic has created a level of patience among community agencies who have, in some cases, been forced to do more with less in providing crucial care to Peel's vulnerable populations.
According to Hope Ramsay, the executive director at Moyo, the work on the big picture battle against opioids may be on hold, but the Region of Peel has stepped up to ensure certain critical services are being maintained at a time when the need is on the rise.
"The COVID pandemic created such a haze over all peoples who are at systemic risk of any kind, whether it's substance use, HIV, or depression or mental health challenges, we know these are heightened during the COVID pandemic and so we were very, very grateful to be able to provide additional peer support for our harm reduction program," Ramsay tells The Pointer. "Even with all of what is going on, (Peel Public Health) do face a mammoth challenge in the sense that there are so many people in Peel who have been marginalized as a result of this pandemic. They are trying to stretch their resources."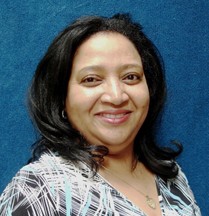 Hope Ramsay, the executive director at Moyo Health and Community Services
The efforts to lockdown the province — closing businesses and shuttering all aspects of public life — certainly helped to reduce the spread of the virus, but for people who rely on human interaction for support, the isolation was particularly dangerous.
AA meetings were halted, in-person support groups for people living with mental health challenges or dealing with trauma of any kind were closed and many support services were forced to lock their doors.
The quarantine measures had a significant impact on the drug using population.
Peel is seeing the effects of an international drug market thrown into disarray by border closures that have disrupted legitimate and illegitimate businesses alike. According to the United Nations Office on Drugs and Crime (UNODC), the illicit drug trade has a parasitic relationship with global trade, so when one gets shut down the other is also impacted. The most significant impacts have been felt at the local level, at the drug's destination markets.
"Many countries across all regions have reported an overall shortage of numerous types of drugs at the retail level, as well as increases in prices, reductions in purity and that drug users have consequently been switching substance (for example, from heroin to synthetic opioids) and/or increasingly accessing drug treatment," a June research brief from the UNODC states. "Harmful patterns deriving from drug shortages include an increase in injecting drug use and the sharing of injecting equipment and other drug paraphernalia, all of which carry the risk of spreading blood-borne diseases, such as HIV/AIDS and hepatitis C, and COVID-19 itself. Risks resulting from drug overdose may also increase among people who inject drugs and who are infected with COVID-19."
Peel has seen its fair share of overdoses related to tainted drugs, in particular, fentanyl, a powerful opiate which has played a role in 80 percent of Peel's overdose deaths since 2017. Particularly concerning is the emergence of drugs such as benzodiazepines or derivatives, which have shown to be somewhat resistant to the overdose reversing naloxone.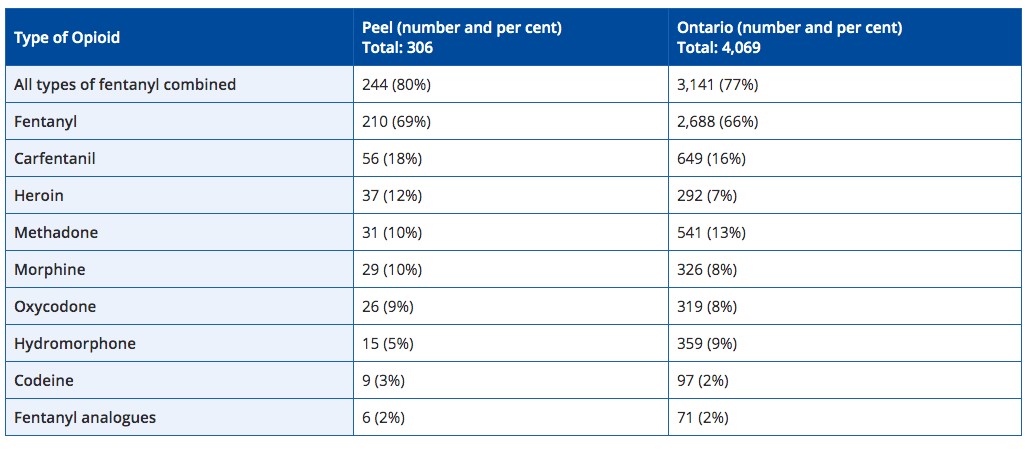 Fentanyl is involved in the vast majority of overdose deaths in Peel.
"We're definitely hearing a lot about adulterated products that are having a lot of negative effects on people who would otherwise be well experienced users are having major issues and the drugs seem to keep changing quite regularly," Chalcraft says.
The issue of tainted supply is exacerbated by stay-at-home or physical distancing orders, Chalcraft says.
"A lot of the calls we advise people on in terms of responding to overdose, is not using alone," he says.
As community agencies have adapted their services to support those in need across Peel, there has been lingering frustration as they watched federal and provincial decision makers moving swiftly, pouring millions of dollars into the COVID-19 fight.
Chalcraft acknowledges the efforts are necessary, but it leaves a bad taste knowing the same effort has not been applied to the opioid crisis which killed over 15,000 people in Canada between 2016 and 2019. Between 2016 and 2018, 236 people died over opioid overdoses in the Region of Peel.
"With COVID-19 we've seen the full extent of what governments and systems are able to do and implement very, very quickly across multiple sectors and systems and the types of resources that are actually available to do those things, which obviously is great. But when it came to the overdose crisis, which has been going on for years now, that same approach hasn't been taken anywhere in the country," he says.
As the province looks to recover from the first wave of COVID-19, Chalcraft and Ramsay are hopeful that work will resume soon on Peel's opioid strategy, a key piece of which involves the potential creation of a supervised consumption site, spearheaded and operated by Moyo.
A needs assessment for such a facility was presented to regional council late last year. The analysis found that while 61 percent of Peel's population had concerns about such a facility, there was a clear need for such a site, with preferred locations being either downtown Brampton or Cooksville in Mississauga.
The eventual approval of any location will require future studies and a greenlight from other levels of government, including funding and an exemption under the Controlled Drugs and Substances Act.
"Our desire is to see our decisions makers use the whole example of COVID and use that to re-examine their approach to funding, because people are dying, that's the bottom line, people are dying from overdoses and it can be prevented, there is no reason for people to die because of an overdose," Ramsay says.
For Peel's service providers, they have been doing more with less for years.
Peel's branch of the Canadian Mental Health Association (Peel-Dufferin) is one of the lowest funded in the province, receiving about a third of what other agencies receive per capita.
Further, the Central West Local Health Integration Network (LHIN), which includes Brampton, and the Mississauga Halton LHIN, received $66 and $53 respectively per capita from the provincial government for mental health and addictions support, well below the provincial average of $107 per capita. Much of this funding is targeted to specific agencies, which helps the individual agency and its programming, but can create siloed efforts in the community that are not interconnected, making it difficult for those in need to access them.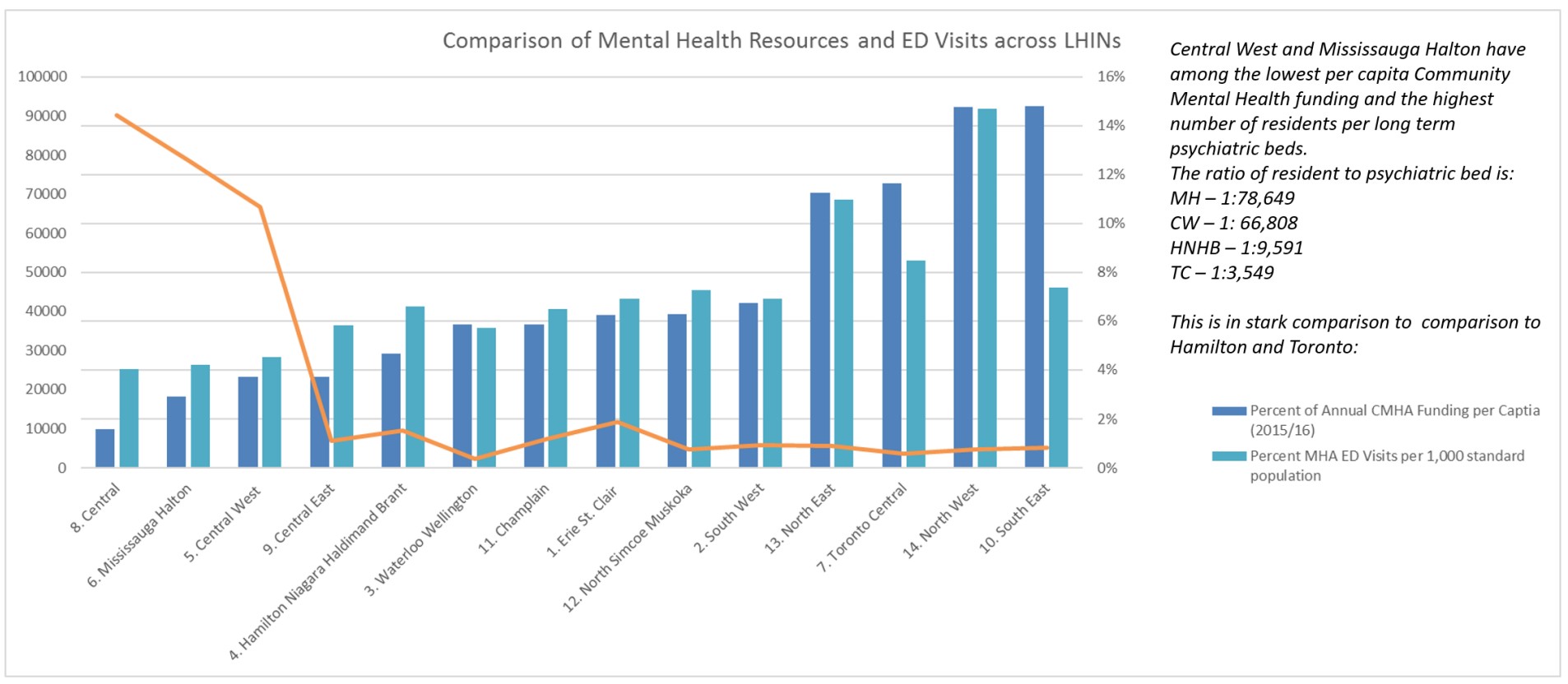 The Central West LHIN (Brampton) and the Mississauga Halton LHIN are two of lowest funded areas in Ontario for mental health resources.
The situation gets even worse when drilling down to those who are in desperate need. For people in crisis or suffering serious withdrawal due to their addiction, Brampton and Mississauga have few resources available to help.
The Mississauga Halton LHIN currently has one mental health bed per 78,500 people, while Brampton and the Central West LHIN have one per 66,808 people. By comparison, in Toronto Centre, one of the top-funded areas for these sectors, there is one mental health bed for every 3,500 people, meaning the two cities have about 5 percent of the mental health capacity compared to central Toronto, an area that does see high levels of homelessness and mental health crisis.
As society shifts out of the global pandemic, the need for these services is only projected to grow.
"I think all of us would like to see a response to the opiate crisis that is in line with the needs of people. People are dying," Chalcraft says. "We've lost so many of our people that we've worked with for years and have relationships with and it's affecting not just the people we work with but our friends, families, and it would be nice to see the same sort of response all around to try and mitigate those deaths as well."
---
Email: [email protected]
Twitter: @JoeljWittnebel
---
COVID-19 is impacting all Canadians. At a time when vital public information is needed by everyone, The Pointer has taken down our paywall on all stories relating to the pandemic and those of public interest to ensure every resident of Brampton and Mississauga has access to the facts. For those who are able, we encourage you to consider a subscription. This will help us report on important public interest issues the community needs to know about now more than ever. You can register for a 30-day free trial HERE. Thereafter, The Pointer will charge $10 a month and you can cancel any time right on the website. Thank you.
Submit a correction about this story