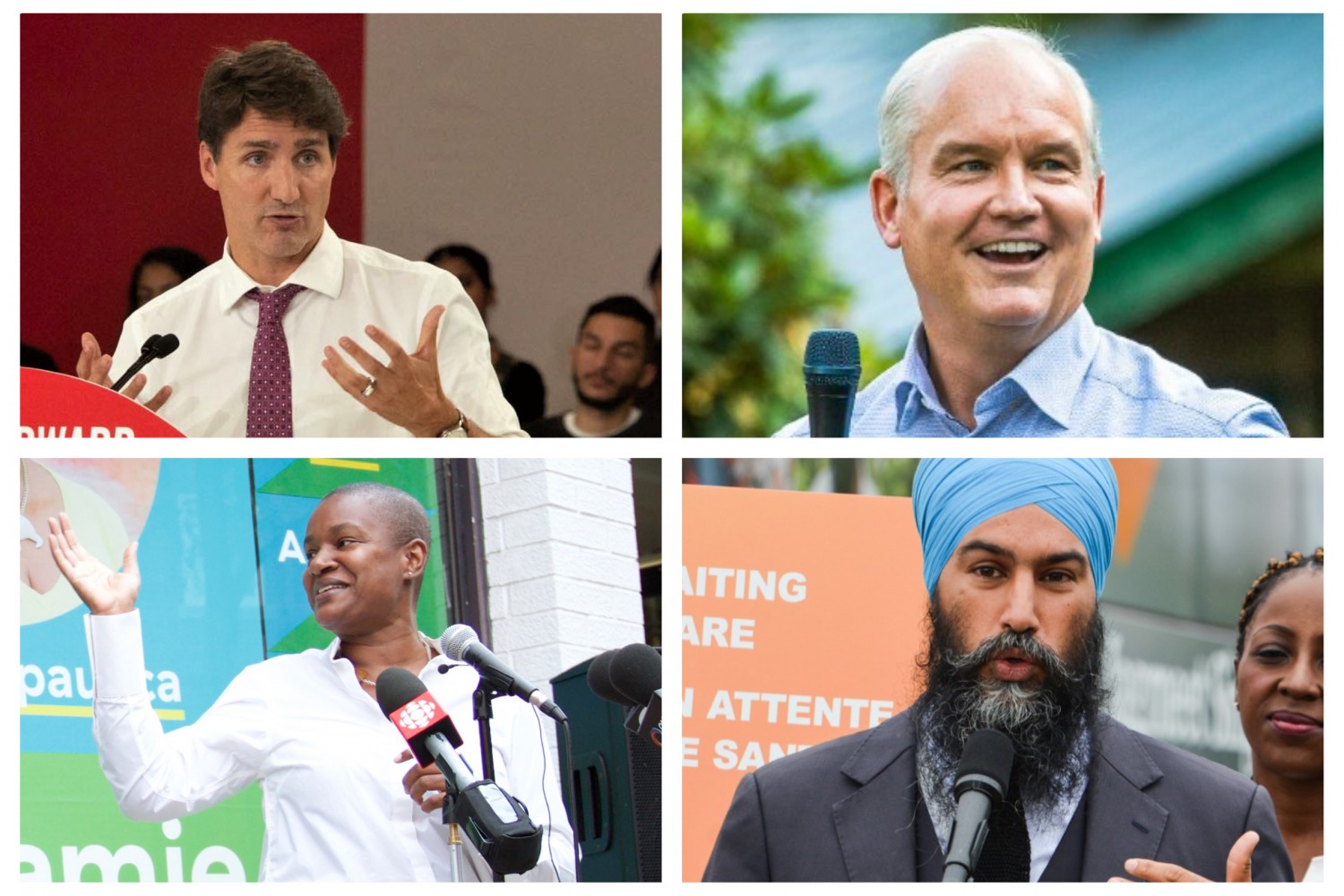 Feature images from The Pointer files/Erin O'Toole-Twitter/Green Party of Canada
Candidate slates filling out as parties look to break through Liberal fortress in Brampton and Mississauga 
In a typical election, the incumbents hold all the cards.
Politicians looking to renew their mandate have had a number of years to connect with their community, had their face front and centre for funding announcements, and have a contingent of staff around them to help spread their message via social media and other platforms.
Pushing back against the power of name recognition alone can be difficult for those looking to challenge an incumbent, let alone the established campaign infrastructure that has already had at least one successful lap around the election circuit.
In Brampton and Mississauga, eight Liberal MPs are running for reelection, and with a federal election now only 35 days away following Liberal Leader Justin Trudeau's announcement on Sunday, campaign machines are quickly kicking into gear.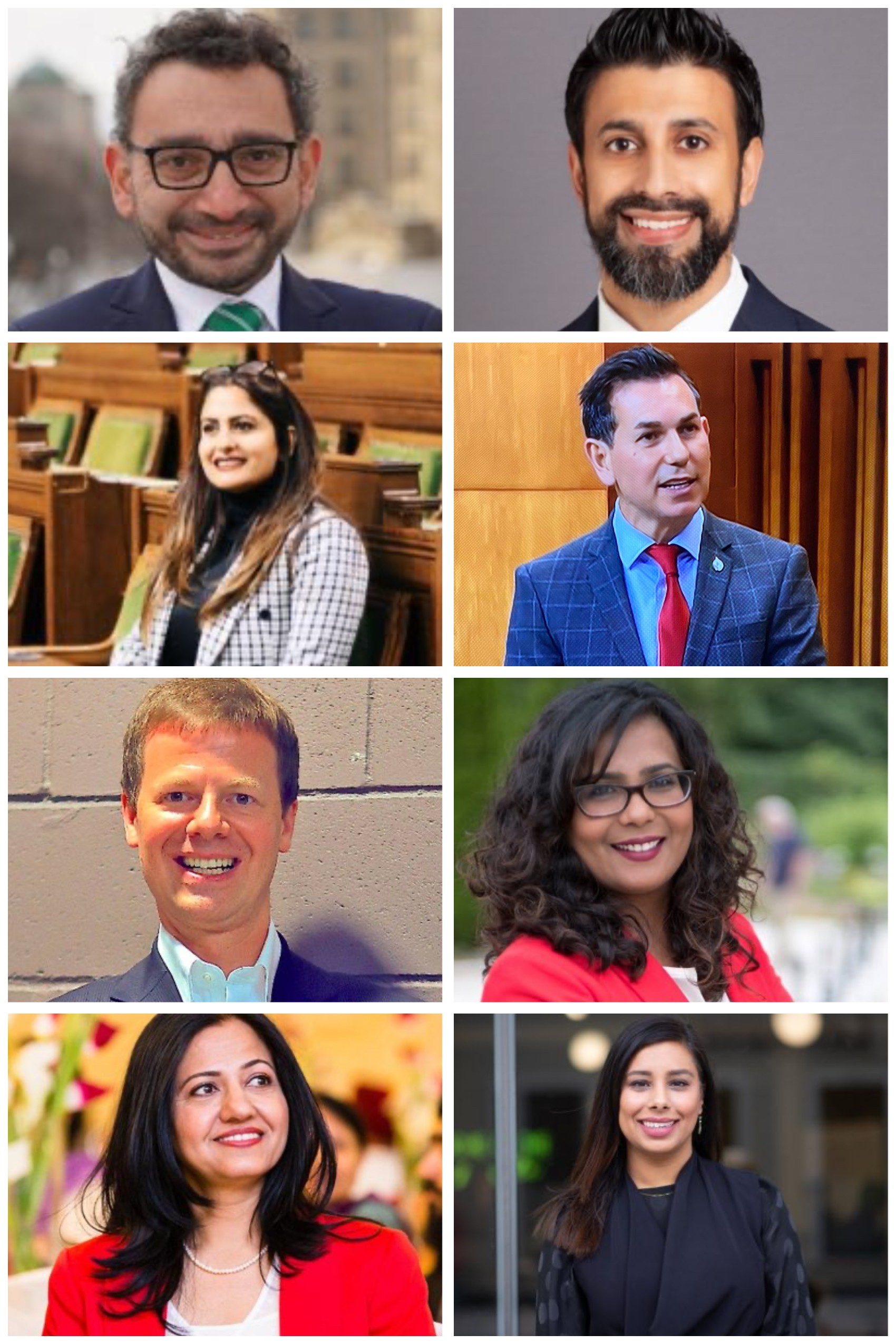 (Clockwise from top left): Liberals Omar Alghabra (Mississauga Centre), Maninder Sidhu (Brampton East), Peter Fonseca (Mississauga East-Cooksville), Iqra Khalid (Mississauga-Erin Mills), Ruby Sahota (Brampton North), Sonia Sidhu (Brampton South) Sven Spengemann (Mississauga-Lakeshore) and Kamal Khera (Brampton West) are all seeking reelection.
(Images from Twitter)
For those parties looking to break through the fortress the Liberal Party has held in Brampton and Mississauga since 2015, some are already a few steps behind. The Liberals already have a full slate of candidates, and the Conservatives have named all but one in the key swing cities, while the NDP and Greens lag behind. The Green Party has yet to name a single candidate in Brampton or Mississauga — with only seven listed on its website for all of Ontario — while the NDP only have two in place, both in Mississauga as of August 17. With the Liberals retaining all of their seats by wide margins in the 2019 election, disorganization, combined with a lack of time to connect with constituents in Brampton and Mississauga, can spell the end for newcomers looking to topple incumbents.
In all but four of the 11 ridings in Brampton and Mississauga, the Liberal candidates earned over 50 percent of the vote in 2019. In the remainder, the Liberal incumbent captured at least 47 percent of the vote. Competing parties will need to make up significant ground in the short campaign period leading up to September 20. In 2019, the most successful riding for the Conservatives was Mississauga-Lakeshore, where they were able to capture only 37 percent of the vote, behind the Liberals 48.3 percent.
For the Liberals, the slate of candidates in Peel's two largest cities will look familiar to many. In Mississauga, Sven Spengemann (Mississauga-Lakeshore), Omar Alghabra (Mississauga Centre), Peter Fonseca (Mississauga East-Cooksville), and Iqra Khalid (Mississauga-Erin Mills) are all seeking reelection. Gagan Sikand, formerly MP for Mississauga-Streetsville announced on Sunday he would not be seeking reelection after a lengthy medical leave that has seen him away from parliamentary business since October 2020. The Liberals have acclaimed Rechie Valdez as his replacement.
Navdeep Bains, formerly Mississauga Malton MP and long-serving cabinet minister for Trudeau — viewed by many as the central figure in Liberal decision making in Peel — announced in January that he would not be seeking reelection in order to spend more time with his family. In his place, the Liberals have placed Iqwinder Singh Gaheer who, according to his LinkedIn profile, has been working as a litigation associate for a law firm in New York since 2019.
"Born in a village, welcomed to Canada, raised by a plumber-turned-businessman & stay-at-home mom, and privileged to attend a top law school, my heart was already so full. I'm filled with gratitude to be the Liberal candidate for Mississauga-Malton in this federal election," reads a tweet from Gaheer posted Aug. 15.
To date, the riding remains the only place in Brampton or Mississauga without at least one candidate nominated to oppose the Liberals.
The Conservative Party has named Jasveen Rattan to challenge for the Mississauga-Streetsville riding, while Michael Ras will run in Mississauga-Lakeshore, Kathy-Ying Zhao in Mississauga Centre, Grace Adamu in Mississauga East-Cooksville, and James Nguyen in Mississauga-Erin Mills.
The NDP has named only two candidates in Mississauga: Teneshia Samuel in Mississauga Centre, and Kaukab Usman to challenge Khalid for Mississauga-Erin Mills.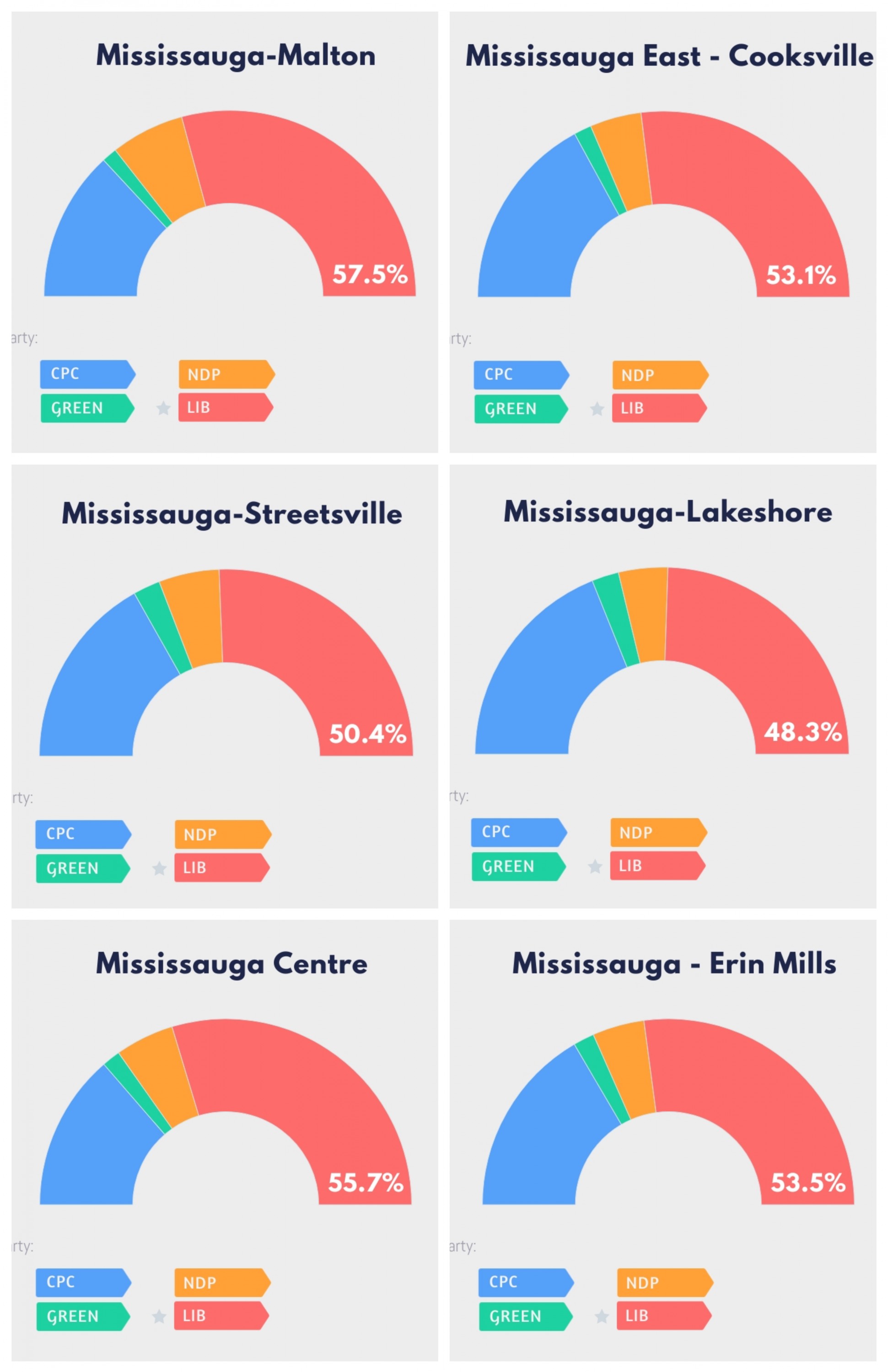 A look at election results from 2019 in Mississauga's six ridings shows the Liberals gained more than half of the vote in all but one riding.
In the Flower City, Kamal Khera (Brampton West), Ruby Sahota (Brampton North), Maninder Sidhu (Brampton East) and Sonia Sidhu (Brampton South) are all seeking reelection.
In the riding of Brampton Centre, previously held by Liberal MP Ramesh Sangha before he was booted from the party for criticizing his colleagues, the party has named real estate agent Shafqat Ali to run in his place. It remains unclear whether Sangha will be seeking reelection as an Independent.
For the Conservatives, Jagdeep Singh will contest for Brampton Centre. His Twitter profile describes him as an "entrepreneur, music lover, activist," with a "passion for human rights and civic advocacy." Naval Bajaj (Brampton East), Medha Joshi (Brampton North), Ramandeep Singh Brar (Brampton South) and Jermaine Chambers (Brampton West) round out the Conservative ballot in Brampton.
The Green Party and NDP have yet to name any candidates in the city.
With the country still in the midst of the COVID-19 pandemic, and other disturbing news stories currently dominating the headlines — from unrest in places like Afghanistan where the Taliban are making a successful push for control, and Haiti following a 7.2 magnitude earthquake, or the repeating scenes of devastation filling the Internet as the impacts of climate change become more and more apparent — it can all combine to make it extremely difficult for distracted constituents to get to know a new candidate and what they will bring to their city. The overbearing news cycle can also take away from the major issues politicians are attempting to push as key campaign platforms.
Already, the City of Mississauga has reignited its "Mississauga Matters" campaign in an effort to get their priority items at the top of the list of all candidates seeking to represent the city in Ottawa.
"Cities across Canada play a critical role in our country's well-being, but the pressures we face continue to increase. Now more than ever, support for new transit projects, sustainable infrastructure, housing that is affordable for everyone, our businesses and hard hit tourism and cultural sectors is crucial," states Mayor Bonnie Crombie in a press release. "As we continue along the road to recovery, we need the next federal government to partner with us. Our message to candidates is clear: we want our priorities to be your priorities because Mississauga Matters!"
As it stands, polling is showing the Liberal Party narrowly repeating its effort in the GTA, with 36 percent of decided and leaning voters telling a recent Forum Research poll they will vote Liberal compared to 35 percent for the Conservatives, 17 percent NDP, 3 percent Green and 6 percent for the People's Party of Canada.
Polling in the 2019 election also projected a narrow Liberal victory in many ridings, even labelling some races a toss-up as it was too close to predict. However, after election night, the Liberals took all 11 ridings, in many cases by a wide-margin, even in those ridings pollsters had predicted the Conservatives potentially toppling the incumbent.
Predictions were the furthest off in Brampton North. The riding was a clear target for the Conservatives, with former leader Andrew Scheer making two campaign stops. The night before the election, polling website 338Canada showed incumbent Ruby Sahota in the lead with 39.2 percent of the vote, compared to 31.2 for her rival Arpan Khanna. However, when the votes actually came in, Sahota swept to victory with 51.4 percent support — a full 12.2 percentage points more than 338Canada had predicted.
As more candidates are named, Peel residents can expect to see the big party leaders pleading their case in person across Brampton and Mississauga. In 2019, the big party leaders appeared in the two cities 17 times, more than anywhere else in the country, indicating just how important the 11 ridings are to victory.
---
Email: [email protected]
Twitter: @JoeljWittnebel
---
COVID-19 is impacting all Canadians. At a time when vital public information is needed by everyone, The Pointer has taken down our paywall on all stories relating to the pandemic and those of public interest to ensure every resident of Brampton and Mississauga has access to the facts. For those who are able, we encourage you to consider a subscription. This will help us report on important public interest issues the community needs to know about now more than ever. You can register for a 30-day free trial HERE. Thereafter, The Pointer will charge $10 a month and you can cancel any time right on the website. Thank you
Submit a correction about this story