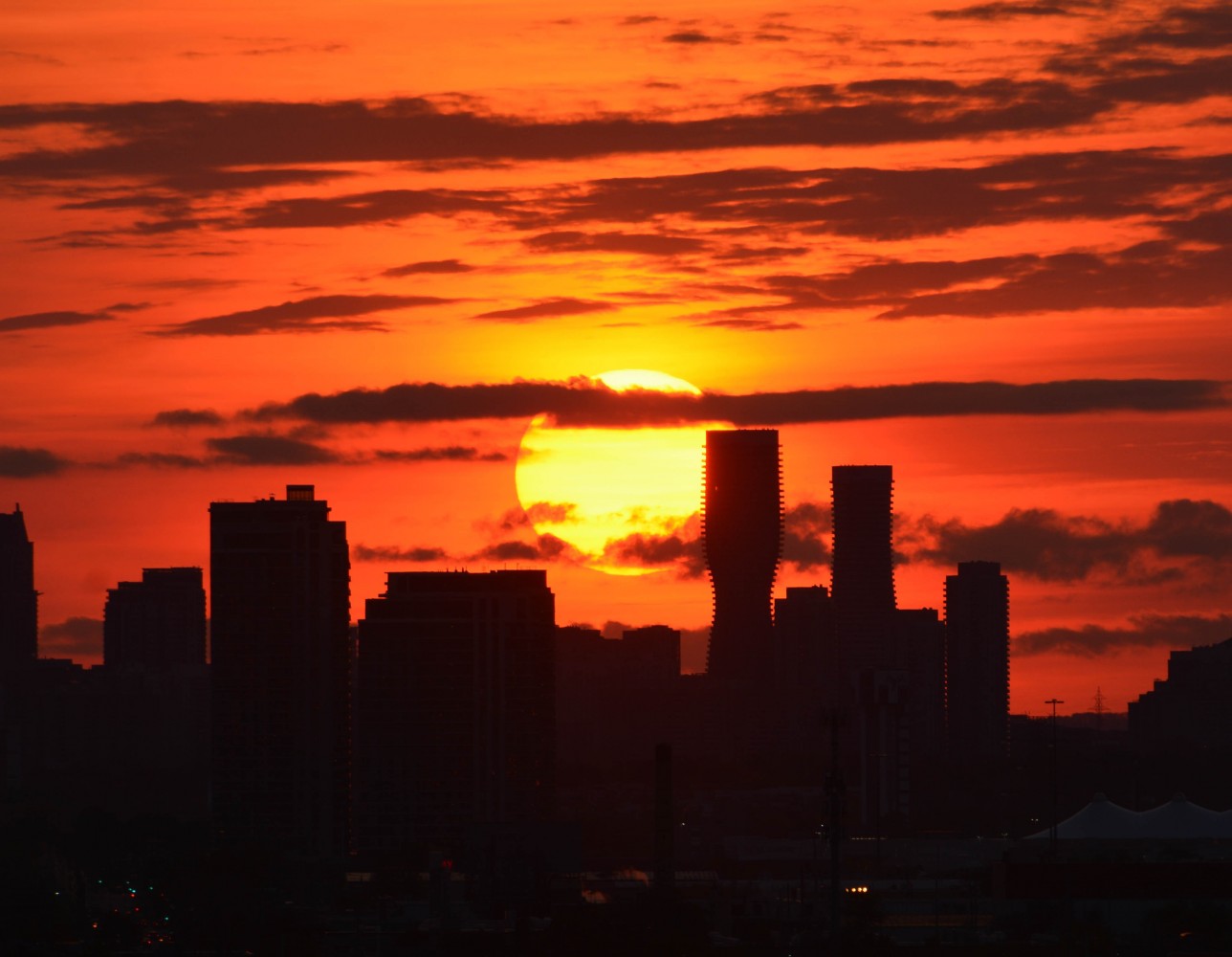 Feature image by Joel Wittnebel/The Pointer
Baking summer temperatures & humidity will only get worse in Peel 
Hidden from the drivers who cruise through Peel on its network of highways are some of the GTA's nicest running routes.
The Etobicoke Creek and Credit River are natural sanctuaries in the heart of suburbia. They offer runners cooling breezes, the sound of moving water and safety from careless drivers. Lake Ontario's shoreline also offers a pristine place to run.
On July 13, 1980, Terry Fox passed along Mississauga's waterfront, hitting Lakeshore Road and Hurontario Street in the afternoon.
Little Etobicoke Creek underneath the Canadian Pacific rail tracks is a world away from the city.
(Image from The Pointer/Natasha O'Neill)
For locals who train for the annual run inspired by Fox's legacy, it's becoming harder to prepare through the summer. Stifling humidity and rising temperatures are beating local runners and cyclists down, sapping their energy faster and making it less enjoyable to be outside.
Even for casual walkers and those just looking for some pandemic exercise, the sweltering weather predicted for years by climate scientists is now here, and it's changing the way we live.
The dark warnings out of endless research papers and computer assisted modelling don't exist in the realm of theory anymore. Just take one step out the door on a damning morning, when the humidex has already reached 30-plus degrees, to feel the predictions coming true.
Extreme weather is becoming more common, while average temperature increases make even common climate conditions more intense than before.
The impacts will be felt differently through Peel as the years roll by. Mississauga's rapidly developing residential waterfront will benefit from the modifying effects of Lake Ontario, while north Brampton will see more extreme temperature changes.
A 2016 climate trends report completed for the Region predicted temperatures across all seasons will rise in Peel. Winters will be milder with fewer days below zero and summer days will commonly feature temperatures above 30 degrees. Humidity, according to scientists, will also become more common across many parts of the world which rarely experienced stifling moisture levels in the air just five decades ago.
Punctuating the warming weather, freak events previously considered once-in-a-century anomalies, will become more and more common.
The Mississauga rain storm of 2013 is still remembered by residents as one-such example. It cost $932-million in damage-payouts alone, the most expensive storm in Ontario history. Between 2017 and 2023, 33 new radar sites across the country will come online, in hopes of staying on top of impending disasters.
"Increases by the 2020s are modest in comparison with those further into the future, with mean annual temperatures expected to rise 1.4C assuming business-as-usual emissions," the Region's report warns.
The number of days above 30C annually is expected to increase by five days every single year during the 2020s. Thirty years later, by 2050, above-30-degree days will increase by two weeks each and every year. Roughly two days per year will rise above 35C, not factoring humidity, temperatures rarely observed in the region before.
"Total precipitation is likely to increase overall by the 2050s along with the most increase in precipitation in the winter and spring seasons, while summer and autumn precipitation are projected to remain steady or slightly decrease," the report adds.
The amount of water in the air impacts how we experience heat.
(Image from Isaac Callan/The Pointer)
Anyone who has ventured outside in the past few months on days with high humidity will know moist, warm weather can make this worse. Water in the air blocks our ability to cool down through perspiration, forcing our bodies to endure higher internal temperatures, which can be incredibly dangerous for many of our organs.
In order to stay cool, we produce sweat which evaporates into the air and relieves our bodies of some of their heat. When humidity is higher, it means the air contains more water and evaporation slows. The longer it takes for sweat to evaporate, the less the body feels relief through its cooling powers.
As temperatures and rainfall in Peel Region increase in the future, the moisture in the air could compound already sweltering temperatures. Residents would be robbed of their best defence from the heat.
It remains to be seen exactly how this pans out. Higher temperatures and rainfall are both predicted for Peel, which sits beside Lake Ontario, but daily weather will depend on more immediate conditions.
"I wouldn't confuse the concept or idea of hour-to-hour, day-to-day, week-to-week weather and air mass composition with longer-term climate change, which operate at different timescales and are driven by the same underlying forces," Joseph Desloges, a professor in the geography and earth sciences departments at the University of Toronto, explained to The Pointer. "You're not going to find anyone trying to model humidity, but they do model temperature and they do model precipitation and those two parameters are very closely tied to humidity."
Historic data from the federal government shows the steady increase in temperatures.
In Brampton, from 1941 to 1970, the mean daily minimum temperature in January was -10.2 degrees C.
From 1981 to 2010 the mean daily minimum in January (measured at Pearson Airport) was -9.4 degrees C, an increase of almost one degree in just four decades. This past January (2021) saw a mean daily minimum temperature at Pearson Airport of just -5.4 degrees, but this was likely just a particularly warm winter month in the context of steadily rising temperatures.
Peel Region's report predicts temperature and rainfall will both increase dramatically in the region over the next three decades. It's likely that sweltering temperatures will be compounded by higher humidity levels, which are steadily increasing around much of the world.
A 2017 research paper by academics from Columbia University and NASA, warned that: "(B)y 2080 the relative frequency of present-day extreme wet bulb temperature events could rise by a factor of 100–250 (approximately double the frequency change projected for temperature alone) in the tropics and parts of the mid-latitudes, areas which are projected to contain approximately half the world's population. In addition, population exposure to wet bulb temperatures that exceed recent deadly heat waves may increase by a factor of five to ten, with 150–750 million person-days of exposure to wet bulb temperatures above those seen in today's most severe heat waves by 2070–2080."
The research explained the significance of "wet-bulb temperature", as a heat stress index used to measure the "potential impact of heat on humans".
Wet-bulb temperature (WBT) is the reading by a special thermometer saturated by a wet cloth. It factors what the temperature actually feels like to people when they cannot cool off due to such high levels of moisture in the air, which prevents sweat from evaporating. Humans, even those used to extreme heat, cannot function normally outdoors past a wet-bulb temperature of 32 degrees C, equivalent to a normal temperature of 55 degrees C.
Research has found the wet-bulb temperature threshold indicates the accurate limit of the human body to heat. Recent heat waves with wet-bulb temperatures even between 29 C and 31 C have caused "tens of thousands of deaths" according to the Columbia-NASA study.
The Greater Toronto Area is in close proximity to parts of the Eastern U.S. that, according to the research, are susceptible to potentially dangerous increases in humidity because of specific Atlantic Ocean climate influences.
Ocean currents in the northern hemisphere follow a clockwise rotation that sends warm tropical air around the equator and Gulf of Mexico up along the Atlantic's eastern seaboard, adding humidity in places like New York and Southern Ontario. Along the Pacific coast, this same clockwise rotation sends colder water and the air masses above, down along the coast, actually cooling places like British Columbia's lower mainland and the Pacific Northwest of the U.S., even parts of the California coast, while reducing the amount of humidity.
"By 2060–2080, most regions within 30 degrees latitude of the equator may experience between 25 and 150 days per year that exceed the historical once per-year maximum air temperature, and 25–250 days per year that exceed historical once-per-year maximum wet-bulb temperature," the Columbia-NASA research states.
The GTA sits around 43 degrees latitude, almost at the midpoint between the equator and the North Pole, which is at 90 degrees latitude (same as the South Pole).
"In the mid-latitudes, these numbers are somewhat lower at 25–40 days per year for both air and wet bulb temperature... These results suggest a radical transformation of tropical and sub-tropical heat environments, with much of the year being spent above the highest historical wet-bulb temperatures."
Rising heat and humidity can be life threatening.
A May 2020 study by American and British researchers and NASA, published in the journal Science Advances, predicted the emergence of heat and humidity as a deadly trend that will continue into the future. Using a combination of heat and humidity, the wet-bulb temperature, researchers have analyzed which parts of the world will succumb to unlivable temperatures where humidity and heat combine to deadly effect.
"Our findings indicate that reported occurrences of extreme [wet-bulb temperatures] have increased rapidly at weather stations and in reanalysis data over the last four decades and that parts of the subtropics are very close to the 35C survivability limit, which has likely already been reached over both sea and land," the report warns.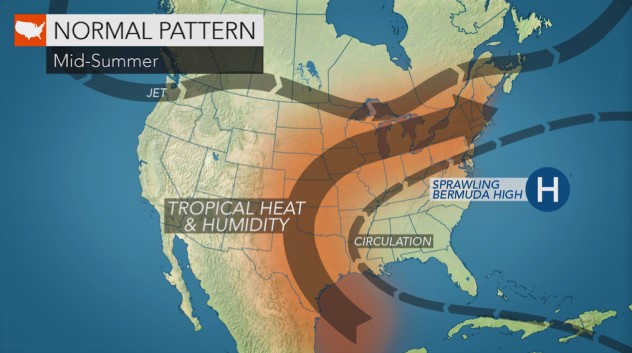 The Bermuda high pushes a band of hot, humid air from the Gulf of Mexico over Southern Ontario; the temperature and humidity is increasing as ocean temperatures continue to rise dramatically. (Image: Graphic Static)
The areas at risk of topping survival heats and humidities include the Persian Gulf and Pakistan's Indus river valley. The global trend, and because of its proximity to Atlantic Ocean weather patterns, means Peel will likely continue to feel some of the deadly conditions evolving more rapidly elsewhere. Known as the "Bermuda high", the pipeline of tropical air from the Gulf of Mexico that circulates clockwise from the south often hits Peel and the rest of the GTA. The potential impacts of this weather pattern, and the heat and humidity it brings, are currently not well established, according to academics. More research is being initiated to project future humidity levels and correlate this data with the impacts of temperature increase.
One thing that is clear, is the alarming rate of temperature increase in our oceans, which causes warmer air.
"These trends highlight the magnitude of the changes that have taken place as a result of the global warming to date," the paper published last year in Science Advances, states.
Even when the wet-bulb temperatures are technically survivable, heat can still have deadly impacts, especially for the vulnerable. More than 700 deaths in British Columbia at the end of June evidence this. In Ontario, advocates are calling on the government to collect more detailed health data to understand how climate change impacts all citizens.
"We are gravely concerned about [the] current rate and the projected increases of extreme heat across Ontario in the coming decades," Douglas Kwan, director of advocacy and legal services at the Advocacy Centre for Tenants Ontario, said in a media release. "Currently, the way the province tracks heat-related deaths is inadequate, making it impossible to accurately assess the impact extreme heat is already having on low-income tenants and other vulnerable communities across the province. We need more robust data to make sound policy decisions."
Heat and humidity can herald stormy weather.
(Image from Alysha Koby licensed under CC BY-NC-ND 2.0)
The sweltering weather that has characterized this summer will likely continue in Peel, according to projections. The winter beauty of pristine snow blankets could be replaced with dreary days of rain in December and January sludge, while the anticipation of glorious summer days outdoors in T-shirts and shorts are replaced by cramped afternoons inside air conditioned rooms, away from the steamy, insufferable humidity.
The region, and especially Mississauga's trend toward more urban density, will only make things worse if ample greenspace is not protected, both to act as a filter for air quality and to provide shady respite from the oppressive heat.
Plans to continue transitioning Brampton and Mississauga from their rural beginnings will see more towers rise from the ground and greenspace turned over for asphalt.
The weather patterns of the day will ultimately decide how humid Peel's climate is and whether or not urban dwellers will be able to find relief.
Most moisture in the air comes from the world's oceans and drifts across the planet in weather fronts. Peel's recent summer spell, flipping from oppressively hot to refreshingly crisp, is the result of an atmospheric battle. It comes from two different high-pressure ridges clashing above southern Ontario.
"When this ridge is a little bit to our northwest we get this warm, hot, humid Gulf of Mexico air invading into southern Ontario and you get warm and wet," Desloges explains. "Then the front moves through and you get cooling and shifting to the north and a little bit drier once the wet front moves through. It's this constant battle between the two air masses: the cooler, drier, northern air mass and the warmer weather southern air masses. And we're right on the boundary and we've been on the boundary for two months."
---
Email: [email protected]
Twitter: @isaaccallan
Tel: 647 561-4879
---
COVID-19 is impacting all Canadians. At a time when vital public information is needed by everyone, The Pointer has taken down our paywall on all stories relating to the pandemic and those of public interest to ensure every resident of Brampton and Mississauga has access to the facts. For those who are able, we encourage you to consider a subscription. This will help us report on important public interest issues the community needs to know about now more than ever. You can register for a 30-day free trial HERE. Thereafter, The Pointer will charge $10 a month and you can cancel any time right on the website. Thank you.
Submit a correction about this story