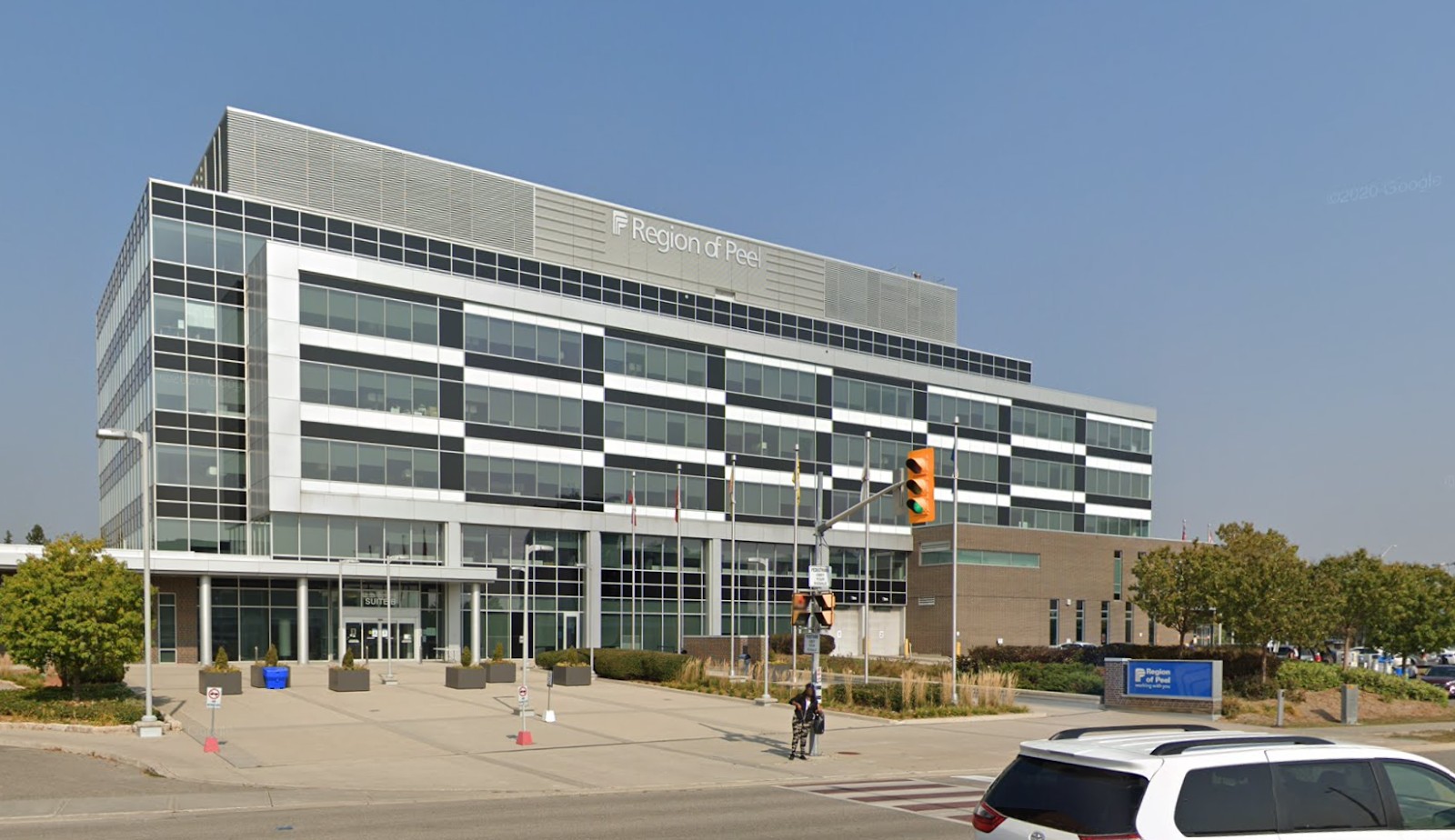 Feature image from Google Maps
Region of Peel 2022 budget faces pressure from airport and cuts to child care
On October 24, 2022, Peel's residents will head to the polls to elect local and regional councillors. The vote itself may be more than 15 months away, but the earliest parts of the campaign are already underway.
Last week, staff at the Region of Peel presented an outline of the 2022 budget. The process will begin in earnest as the winter descends and local politicians begin thinking about reelection.
In a political atmosphere where electoral memories are short, the 2022 budget represents a key chance for councillors to leave a positive impression with voters. The average resident in Brampton, Caledon or Mississauga may not follow the lengthy discussions that take place annually and for those that don't, the cost of their most recent tax bill can play a key role in how favourably they view their incumbent councillor.
For elected officials who hope to curry favour through low tax increases next year, there is a mountain to climb.
A preliminary projection by regional staff estimates the budget will increase 4.4 percent in 2022, resulting in a 1.8 percent tax increase. Staff also project a 7.6 percent hike in the utility rate which is used to pay for water and wastewater infrastructure.
"I always like to remind the public and say thank you to the provincial and federal governments for all the financial support that they've provided to local government already," Gary Kent, recently appointed CFO and Commissioner of Corporate Services for the Region, said in a presentation to council. "Without that the financial picture for our communities would have been so much worse."
Through the COVID-19 pandemic, both Ottawa and Queen's Park have sent tens of millions of dollars to Peel. Under the bilateral Safe Restart Agreement, Peel received $47.9 million to deal with pandemic pressures, $16.9 million of which was spent last year, and $31 million carried over into reserves. A separate provincial stream of funding also saw $24.6 million arrive in Peel to help with pandemic costs in 2021 and 2022.
According to staff, $39.7 million will be needed in 2021 to offset COVID-19 costs. This means $15.9 million is available in 2022 to soften the blow.
A series of different pressures mean the Region is facing a 4.4 percent budget increase next year.
(Image from Region of Peel presentation)
The provincial government looks set to play a dual role in Peel's 2022 budget. It stepped in to bail out unsustainable pandemic losses, but has stood idly by as airport revenues fall away from local government and Queen's Park has actively cut its contributions to child care by millions of dollars.
Last year, the Province reduced the funds it contributes to Peel's child care and early years programs, a move it will repeat and increase this year.
Child care in Peel is particularly scarce. A 2018 report by the Canadian Centre for Policy Alternatives found Brampton had the second worst provision of child care in Canada, with Mississauga also inside the top ten worst child care deserts. Brampton had a child care coverage rate of just over 21 percent, while Mississauga had a rate of 35 percent.
Inflexible zoning rules in Brampton are at least partly to blame for its lack of child care spaces. The City does not allow child care centres to be opened within residential zones, which cover most of its land. Child care providers are listed under "institution type one", a designation shared with religious institutions and private schools. Sometimes child care facilities are also permitted within certain commercial, industrial or mixed zoning areas.
A more recent report in March 2021 also found child care enrollment in Peel dropped dramatically during the COVID-19 pandemic, while fees rose. Between February and the fall of 2020, there were 50 percent fewer children enrolled at child care centres in Brampton and 48 percent fewer in Mississauga.
In real terms, the report estimated 5,000 fewer children at daycares in Mississauga and 3,500 in Brampton.
Changes in 2021 reduced child care and early years funding by $5 million dollars for the Region of Peel. Last year's budget accounted for $1.2 million of those losses, leaving a further $3.8 million to be dealt with in 2022. That task has now been made harder by further provincial cuts of $3.7 million in 2022, leaving Peel with a gap of $7.5 million to fund in its election budget.
Peel, like all upper tier municipalities across Ontario, operates services with funds from the provincial government, including child care, public health and paramedic services. Consistent cuts for the past few years have been a source of pressure for the Region's annual budgets, which draw funds from the property tax base.
"At this point, municipal allocations funding for the 2022 funding year have not been finalized; the ministry is planning to release confirmed financial information to our municipal partners for their 2022 funding year shortly," Caitlin Clark, spokesperson for Minister of Education Stephen Lecce, told The Pointer in a statement.
Changes announced by the Province in 2019 have been phased in across a three year schedule.
Staff hope the June 2022 provincial election, coupled with potential for a federal ballot before the end of 2021, will provide a chance to squeeze Ottawa and Queen's Park for more funds. Brampton and Mississauga represent a stronghold for both the governing Liberals in Ottawa and Progressive Conservatives at Queen's Park. The two parties will hope to protect their ruling status by securing reelection in the 10 Liberal and eight PC seats.
"Provincial and federal elections, they're looming," Kent said. "They're creating an opportunity for advocacy for fair share funding and additional infrastructure stimulus funding. We'll be watching closely to see if the higher orders of government are budgeting for austerity, or prosperity."
CFO and Commissioner of Corporate Services Gary Kent provided councillors with an overview of how the 2022 budget is being prepared.
(Image from Region of Peel presentation)
Peel's 2022 budget has been made harder still by a drastic drop in air travel caused by COVID-19. It's another area the Region hopes to see provincial action.
Toronto Pearson Airport, located in Mississauga, contributes a small fee as a payment in lieu of tax (PILT) per passenger to the Region of Peel. Annual PILTs, a policy introduced in 2001, can only rise by five percent per year regardless of passenger volume. There is no downwards cap, meaning in bad years for air travel there is no floor to how low PILTs can fall.
PILTs operate on a delay, so 2020 will impact Peel in 2022.
Final figures for air travel last year were even worse than the Region had initially feared, meaning its 2022 budget faces a PILT gap of $8.8 million. Due to the five percent cap, it will take 35 years for Pearson's regional payments to return to 2019 levels. Current 2021 passenger trends mean staff expect PILTs to fall even further for the 2023 budget.
Despite Peel's optimism on the advocacy front, Queen's Park is yet to show any substantial indication it will change its 20-year-old policy.
"We received notification from the Province last month that they were aware of our loss of GTAA (Greater Toronto Airports Authority) revenue and it indicated a desire to assist," Jeff Jackson, the City of Mississauga's director of finance and treasurer, told City councillors in April. "We don't know what they have in mind. It could be anything from removing the cap to changes to the PILT formula to grants."
It will take decades for the airport's payments to the Region to return to 2019 levels.
(Image from Region of Peel presentation)
The City of Mississauga is projecting a loss of $21.6 million from Toronto Pearson Airport which staff have not yet factored into the City's proposed budget increase of 4.2 percent. Peel's $8.8 million loss has been included in the projected 4.4 percent budget hike.
Full deliberations for the last budget of the 2018-2022 term will begin on November 25, 2021.
---
Email: [email protected]
Twitter: @isaaccallan
Tel: 647 561-4879
---
COVID-19 is impacting all Canadians. At a time when vital public information is needed by everyone, The Pointer has taken down our paywall on all stories relating to the pandemic and those of public interest to ensure every resident of Brampton and Mississauga has access to the facts. For those who are able, we encourage you to consider a subscription. This will help us report on important public interest issues the community needs to know about now more than ever. You can register for a 30-day free trial HERE. Thereafter, The Pointer will charge $10 a month and you can cancel any time right on the website. Thank you.
Submit a correction about this story