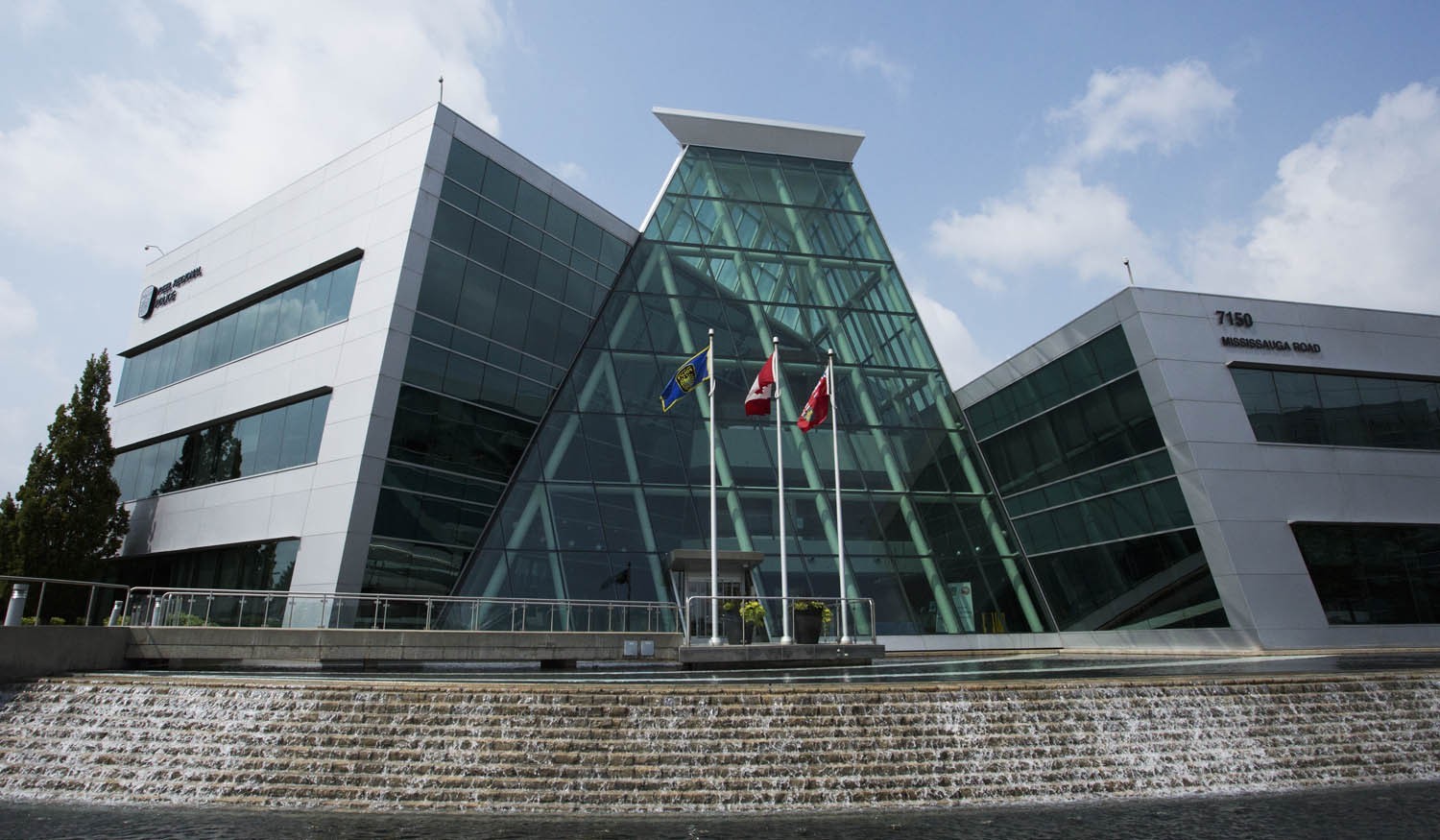 Photo from The Pointer files
Peel Police and Human Rights Commission promise public engagement that will finally trigger systemic change
Dave Bosveld is tired — he's been drained from public consultations that fail to bring any change.
Last Thursday evening he volunteered more than three hours of his time to take part in a Black Community Engagement session organized by Mississauga Mayor Bonnie Crombie. The event focused on policing in Peel Region, asking how the force and community can work together to mend decades of mistrust.
Barely half-a-day later, he was at his computer again. This time, Bosveld was watching a Peel Police Services Board meeting. He listened as the first details of an equity project spearheaded by the Ontario Human Rights Commission (OHRC) were unveiled.
In total, Bosveld spends between 30 and 40 hours per month advocating and being consulted as a Black community member. Again and again various institutions have asked for his experience, his thoughts and advice on how they can improve. For many institutions, it feels like nothing ever changes.
"It is exhausting," he told The Pointer.
Bosveld is one of many community members routinely consulted, who is still waiting for anything to change.
During Crombie's three-hour session, various attendees expressed their frustration at being asked to have the same conversations over and over. One speaker summed the sentiment up, asking leaders to prove they had been listening by articulating the community's concerns to them.
"Can you name the concerns that we have — why is there a lack of trust between the Black community and the police? What is it that we're afraid of? It has never been named." No one on the other side offered an answer.
During the session, Justice Michael Tulloch, who has authored two seminal reports on policing reform, gave a speech. Educated in Peel Region, Tulloch has a vested interest and is a leading voice on the need to change the way policing in Ontario is conducted. Bosveld said the invitation to Tulloch illustrates the problem.
In 2017, Tulloch's review of police accountability offered analysis and concrete recommendations, but forces and mayors are still asking to have these repeated, like a broken record that no one wants to fix.
"It essentially lays out the problems, some solutions, and police services ... are just now getting around to acknowledging that some of those recommendations and findings are useful," he said. "The frustration was palpable in that sort of engagement because we're always starting back at the beginning."
Scepticism from exhausted residents is unsurprising. When work by the Ontario Human Rights Commissioner and Peel Police was announced in October, many were unsure and others feared the Commission was being taken on a ride to boost the force's beleaguered reputation, damaged by its disgraceful misconduct record and past use of street checks that targeted Black residents for random stops at more than three times the rate of white residents, as well as high profile human rights complaints and a diversity survey that confirmed frontline officers do not demographically represent the residents they serve.
"This is really a leap of faith for the Ontario Human Rights Commission because, not only are you talking about recommendations, you're talking about an MOU (memorandum of understanding)," Advocacy Peel founder Kola Iluyomade told The Pointer at the time. "The police have not changed."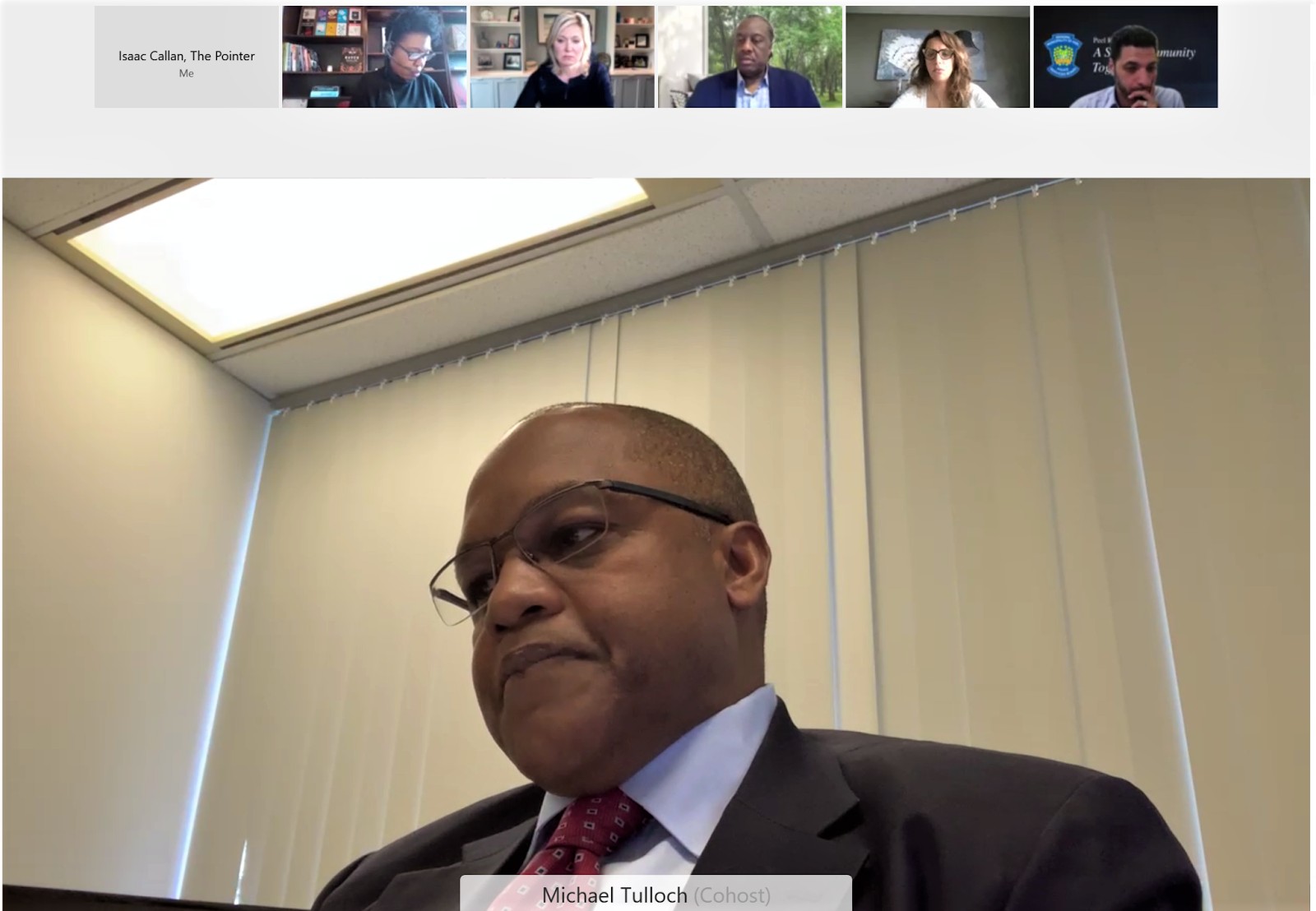 Justice Tulloch presented virtually to a three-hour meeting that included Mississauga Mayor Bonnie Crombie
After the agreement was signed in October, meetings between PRP and the OHRC began. The two bodies mapped out how they could work together to finally act on the findings of thousands of surveys and reports. The aim is to use cold, hard data to write policies that could actually change how Peel is policed.
PRP has hired data and equity experts to guide the work at a granular level. Among the professionals the force is working with are Professor Lorne Foster, Les Jacobs and Akwasi Owusu-Bempah, alongside in-house experts who can be accessed through the OHRC.
On Friday, May 28, the road map was unveiled in a presentation by Inspector Joy Edwards to the Peel Police Services board. The force, its board and OHRC will enter into a legally binding agreement sometime during the upcoming winter.
PRP and the OHRC have both stressed the community's voice will be front and centre in this plan. For worn down locals, there is a promise: it will be police and experts, not residents, who do the heavy lifting, but the community will get to determine much of the eventual action.
"What the community is going to receive is a set of robust recommendations and we're going to ask for their input on that," Ena Chadha, Ontario Human Rights Commissioner, told The Pointer. "We have, as the OHRC, done extensive consultations… we're building on something in the range of 1,500 surveys that went into the Toronto Police Inquiry. We're building on approximately 200 interviews."
The process will create a codified and empirically evidenced series of recommendations for residents to consider. Community members won't be asked to come up with ideas for the police — they will be given the power to accept, decline or modify.
In theory, this means the community will be marking the police's homework and not the other way around.
A tentative schedule suggests widespread consultations will take place through the summer, with finalized draft recommendations by fall, followed by a final round of engagement. Toward the end of 2021 and the beginning of 2022, PRP and the OHRC hope to approach the Ontario Human Rights Tribunal where the recommendations will be ratified and given legally binding status.
After that, if the force fails to keep its end of the bargain, the Tribunal would be able to order it to make changes. It could set a deadline, force financial damages or compel PRP to hire external consultants to monitor compliance.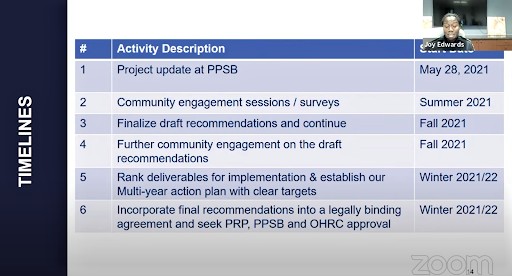 Inspector Joy Edwards laid out a timeline for the project during Friday's police board meeting
"We know that before binding remedies are created, Peel Police and the board will have to consult much more deeply with the community," Chadha told the Police Services Board Friday. "I have said to Chief [Nishan] Duraiappah that robust engagement, extensive engagement will ultimately derive our end result."
The details of that engagement are still being finalized and will ultimately define the success of the agreement.
Many in the region, including groups like Advocacy Peel and the Malton People's Movement, have been extremely vocal in their mistrust of Peel Police. Strategies to engage the most critical residents were probed during Friday's meeting by Brampton regional councillor Martin Medeiros, who is on the police board, Mayor Crombie, who is also on the board, and Chair Ahmad Attia. They asked how the force would put the voice of critics and sceptics front and centre to use the agreement to force transformative change the community wants, not window dressing.
The data and other evidence is crystal clear: Peel's police force, like many others across North America, has systemically discriminated against and targeted racialized residents and officers within its own department.
The chief suggested this reality is an obstacle rather than the key learning point to shape how his force must change.
"There are going to be stalwart voices that will not be confident, no matter what we do or say, in terms of advancement from a constructive standpoint," Duraiappah said.
He failed to express an understanding that no civil rights or human rights movement in history has been successful without the determined advocacy of those most harshly impacted by injustice.
"I guess my thing is, as it pertains to... [those who believe] it's not going to work, the other option is for us to do nothing, which those voices will continue to criticize," Duraiappah said.
There is concern that those demanding change most effectively, with all the evidence and the obviously needed solutions in hand, will be prevented from forcing the chief to actually transform a culture that continues to harm large segments of Peel.
Edwards said the consultations would be open to the general public and "not only select groups".
Duraiappah's response was in contrast to Chadha's position that if the chief doesn't want to listen to his harshest critics, he might be forced to adopt measures that will change policies and reform a broken culture. He was hired specifically to turn around the troubled force, but has yet to show any meaningful action on his own. Efforts to overhaul recruiting, hire professional candidates from Brampton and Mississauga (not from far flung places that don't reflect the two cities, as has been the practice for decades), mentor and promote talented officers with crucial cultural competency, while taking a bold stance against misconduct have been absent in the chief's public messaging.
It's a stark contrast to Ottawa's recently hired chief, Peter Sloly.
After a racially charged incident around a viral video showing a white Ottawa officer stopping a Black driver, Sloly wrote an op-ed published in the Ottawa Citizen.
"I have talked to OPS members and community members about the video. They generally fall into two groups. The first group feels that the officer was doing his job in a respectful and professional manner and immediately acknowledged his mistake," Sloly wrote. "The second group feels that the driver did nothing to warrant the officer's intervention and they feel that this was yet another example of racial profiling."
He then stated, "I have unequivocally and repeatedly stated that conscious and unconscious bias is a challenge for all police members and that systemic racism exists in policing. Canadian Police Association President Tom Stamatakis has said that all levels of policing have to address systemic racism. He has further stated that we need to listen to communities who say they are concerned about their interactions with police."
Sloly added that, "The existence of systemic racism does not condemn all the individual members of these organizations as racists. That said, all members and the organization must recognize and own the reality of individual biases and systemic issues, then be collectively committed to addressing them on an ongoing basis."
Duraiappah, who heads a force that polices two cities that are larger than Ottawa, with a higher percentage of racialized residents, has not articulated the same position, despite the disturbing amount of evidence of widespread systemic discrimination carried out by his own force.
His suggestion that Peel police should simply brush aside its fiercest critics because they will never be satisfied, echoed the criticisms civil rights campaigners have faced throughout history.
"There are those who are asking the devotees of civil rights, 'When will you be satisfied?'," Dr. Martin Luther King said during his 1963 I Have A Dream speech. "We can never be satisfied as long as the Negro is the victim of the unspeakable horrors of police brutality. We can never be satisfied as long as our bodies, heavy with the fatigue of travel, cannot gain lodging in the motels of the highways and the hotels of the cities. We cannot be satisfied as long as the negro's basic mobility is from a smaller ghetto to a larger one. We can never be satisfied as long as our children are stripped of their self-hood and robbed of their dignity by signs stating: 'For Whites Only.' We cannot be satisfied as long as a Negro in Mississippi cannot vote and a Negro in New York believes he has nothing for which to vote. No, no, we are not satisfied, and we will not be satisfied until 'justice rolls down like waters, and righteousness like a mighty stream'."
The chief's dismissal of the reality that his critics will be satisfied once change has been implemented and justice guaranteed is concerning when compared to the work the OHRC is doing to bring everyone to the table, even the most challenging critics, who usually are the key to transformation. Ahead of Friday's meeting, Chadha hosted a video call with members of Advocacy Peel to hear their concerns and try to convince them the project will achieve true change.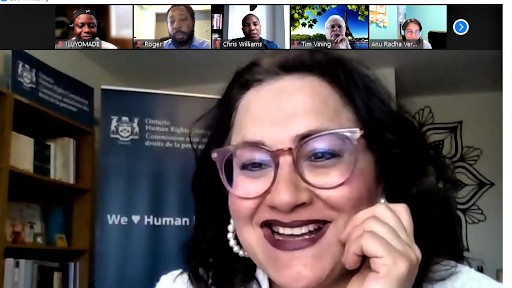 Chadha participates in a video call with Advocacy Peel. (Image from Twitter and Advocacy Peel)
Few of the police responses sat well with Bosveld, who praised some board members for asking difficult questions. "This is actually the most engaged that I've seen the Police Services Board on a topic recently, so that's a positive," he said. "I really appreciated that Councillor Medeiros and Mayor Crombie and (Chair) Ahmad Attia were really trying to sort of push questions on behalf of the community members. Unfortunately, I don't think that the answers were acceptable or forthcoming."
In the face of poor communication from police officials, including the chief, to a concerned audience, the OHRC wants to prove the strategy will be innovative and effective. There won't be another Zoom call asking Black residents in Peel to relive their trauma and it won't be another attempt to crowdsource ideas from people who have already said everything they have to say.
The OHRC and PRP will come to the community with their proposals already formed — and they will ask the community what they think.
"I almost wish we were using a different word than consultation, because consultation seems to be a collection of people's lived experiences and that feeds into something," Chadha said. "What we have, is we've done a lot of that in our decades of inquiry work … It's a different thing."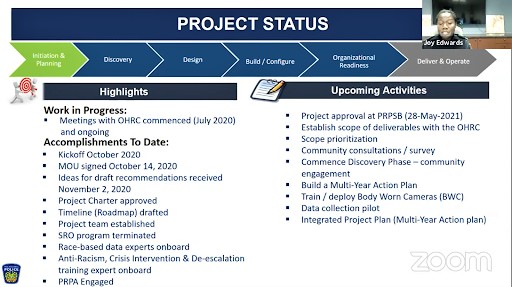 PRP has presented a list of accomplishments to date, but its summer of engagement will define the project
The details of the PRP and OHRC draft recommendations will not be finalized until the summer, but it is possible to draw on previous research to create examples.
In one report, Use of Force By Toronto Police, the OHRC concluded that Black residents were "grossly" overrepresented in use of force cases in Toronto, including lower use of force cases and those investigated by the SIU. In the report's conclusion, the OHRC's researchers suggested one solution could be for police to actively screen for anti-racist, culturally competent individuals with non-violent tendencies during their officer recruitment process.
If this recommendation were to be taken on by PRP and the OHRC, it would be presented to residents. They would then be able to offer their views on the effectiveness of the measure and the red flags or concerns it may trigger for them. They would be asked to tweak, approve or reject the policy.
Despite Chadha's clarity, refreshing in the face of police presentations that sound the same to frustrated residents, the force has a long way to go to earn trust.
Dave Bosveld is a vocal and active community member, but feels too many consultations are conducted without plans for real change. (Image submitted)

Last year, for example, a group of residents sat together on a police committee focused on improving the fate of young residents in Peel. "We sat on a committee called Reimagining Youth Engagement, community members, for about six months, meeting once a month for a few hours, going overtime," Bosveld said.
After the committee wrapped up around the end of the year, its members waited to see what, if anything, would change. They waited to read the final report summarizing their work. Almost five months later, they're still waiting.
Last Thursday, Peel police compounded that frustration.
Part of Crombie's latest Black Community Engagement session focused on the very topic the committee had spent half-a-year painstakingly working out together. "They come back to the community in the mayor's forum and they have a specific agenda item: engaging youth," Bosveld said. "So you've ignored one consultation to start a new one."
The new engagement format, where experts and data do the hard work, should be a refreshing change. Instead of building a report on the back of people's personal trauma and then shelving the results, residents will get the opportunity to sign-off on a road map that could finally force change. It will be powered by data and enforced by Ontario's human rights system.
"The more that we can be transparent, I think specifically in this project, I think the more success we will see coming out of it," Chair Attia said at Friday's meeting.
---
Email: [email protected]
Twitter: @isaaccallan
Tel: 647 561-4879
---
COVID-19 is impacting all Canadians. At a time when vital public information is needed by everyone, The Pointer has taken down our paywall on all stories relating to the pandemic and those of public interest to ensure every resident of Brampton and Mississauga has access to the facts. For those who are able, we encourage you to consider a subscription. This will help us report on important public interest issues the community needs to know about now more than ever. You can register for a 30-day free trial HERE. Thereafter, The Pointer will charge $10 a month and you can cancel any time right on the website. Thank you.
Submit a correction about this story