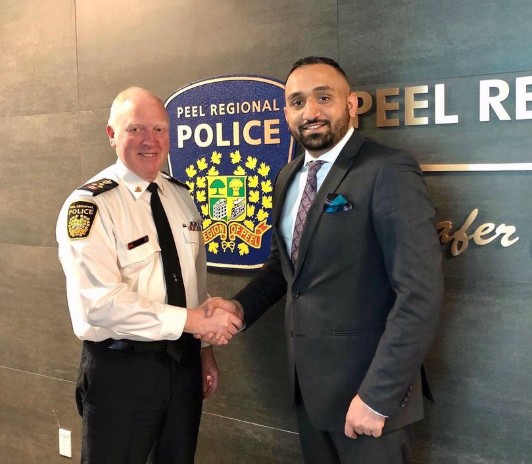 The Pointer file photos/Twitter
Bobble-heads on Peel's police board won't do
(This editorial was originally published November 25, 2018)
---
CASE STUDY 1: The Incident
Since 1971, Starbucks has managed to turn a time-worn ritual of buying a cup of java into a cultural and business phenomenon. There are now almost 30,000 locations worldwide and some quarter-million employees. Many of the stores have become urban anchors, a place where patrons grab their Caffè Americano, Chestnut Praline Latte, Espresso, full and loose-leaf teas, fresh juices, Frappuccino beverages, La Boulange pastries, and chips and crackers. Products are even seasoned by the seasons – like its Pumpkin Spice Latte.
Its outlets are community safe houses, where upwardly mobile professionals (aka successful homogenous folk) can sit and play with their cellphones or laptops or feel safe in the warm glow of familial-like surroundings. Some eschew this kind of forced gentrification and mock the patrons as snowflakes – political lefties who need a safe harbour from the harsh realities of the world.
On April 12 of this year, this fuzzy-warm world turned icy cold when two intruders took their seats at a Starbucks in Philadelphia.
An employee decided something was wrong. These two men didn't fit the staffer's composite mental drawing of the "average" Starbucks patron. They were Black. Something was very wrong with the picture, the employee thought. Not only were they a different colour, they didn't buy anything. They just sat there, talking. What were they talking about? How to rob the place? How to cause mayhem? No one knew. But we do know what happened next: a worker inside the store, disturbed by this disturbance inside the 21st century salon, an assemblage of upwardly mobile homogenous folk, called the cops. The two men were thrown into handcuffs. Another patron recorded the incident. The video went viral, and moral outrage swept across the land …
CASE STUDY 2: The Incident
In 1974, regional government came to Peel, and its two largest cities. Brampton and Mississauga joined forces to create the Peel Regional Police force (PRP). The cities were small by today's standards, and the force reflected the racial makeup of the cities: mostly white. The onslaught of growth since has created the sixth largest (Mississauga) and ninth largest (Brampton) cities in Canada. Both are incredibly diverse: 74 percent of Brampton residents are visible minorities and represent a UN blanket of nations. Stack that up against PRP's uniform officers, 13 percent of whom are visible minorities, and there seems to be a serious problem.
In September 2015, at a police services board meeting inside Peel Region council chambers, Mississauga Mayor Bonnie Crombie brought up a motion to suspend the police practice of street checks (carding), which passed 4-3. This began her two-year term on the board that marked a clear shift in the way Chief Jennifer Evans was going to be dealt with. If the chief wanted a fight, Crombie was ready to take off the gloves.
Mississauga Mayor Bonnie Crombie sits on the Peel police board and in the wake of another fatal police shooting June 20, 2020 (involving a man who reportedly suffered mental health issues) just said the 2021 PRP budget "will be reviewed through a different lens".
Her move was in response to 159,303 "street checks" over a five-year period starting in 2009. The practice revealed a mismatch; 25 percent of the carding stops targeted the Black population, which made up only 9 percent of the total population. Black residents were more than three times as likely to be carded than whites. Other jurisdictions such as Toronto and even New York City, which had a similar practice called "stop and frisk," have veered away from these types of checks.
Evans, who recently surprised the policing community by announcing her resignation, effective January, balked at the vote by the board that holds her accountable and said her force would continue carding.
Shortly after Evans' refusal to listen to the board in 2015, the province stepped in and introduced carding regulations to end the possibility of racial profiling, which was deeply scarring Black men who had been systematically harassed since they were young, creating a dangerous relationship between police and community members who felt targeted by an institution that was supposed to protect them.
On the evidence presented by community groups in Peel, who had seen enough about the force's appalling record on diversity and inclusion in one of the most multicultural regions in the country, the board approved hiring an outside company to conduct a diversity and equity audit on racial, gender and LGBTQ inclusivity. After considerable delays since the launch of the audit two years ago, the report was planned for release on Nov. 23, at a police services board meeting. That was this past Friday.
CASE STUDY 1: Follow Up
The Philly video created an instantaneous and international response because the African-American men in Starbucks were just waiting quietly for a man to show for a business meeting, just like millions of Starbucks customers the world over have done for years, without incrimination. They were not engaged in anything nefarious, and they were never charged with a crime. One thing, and one thing only, stirred the employee's suspicion. Starbucks chairman Howard Schultz was floored by the incident. The company, to its credit, reacted almost immediately.
• The targeted victims, Donte Robinson and Rashon Nelson, agreed to work to "develop specific actions and opportunities" for young entrepreneurs. A $200,000 grant would establish "a pilot curriculum for public high school students to develop the skills necessary to pursue their dream of being entrepreneurs."
• Former U.S. Attorney General Eric Holder (a Barack Obama cabinet member) began working with Starbucks on its diversity efforts.
• Starbucks CEO Kevin Johnson apologized for the arrests, calling them "reprehensible."
• Protests ignited a national conversation over racial profiling, and the coffee chain closed its 8,000-plus U.S. stores to spend one afternoon (May 29) educating them about racial bias. (The same was done at about 1,100 Canadian stores.)
• Philadelphia Police Commissioner Richard Ross Jr., who is Black, apologized to the men handcuffed, saying he made the decision worse by initially defending his officers' actions.
• Johnson later thanked the men for "their willingness to reconcile," and said "Starbucks would continue to take actions to repair and reaffirm our values and vision for the kind of company we want to be."
A Forbes magazine piece drilled down further into Starbucks' response:
• The one-day in-house training would cost about $4.5 million, but signaled to employees and customers it had taken the incident and the larger issues seriously.
• A "Team Guidebook" and well-designed videos were used in the training, including real examples, which raised questions for employees such as: "Customer or shoplifter?"
• External experts were brought in, and a short film underwritten by Starbucks interviewed a young African-American man explaining concerns he has about the perceptions of others, such as: "People feel uncomfortable when I walk in."
• The company focused on empathy and understanding, and the motivation was honourable, said the Forbes writer.
• The training made clear where Starbucks' executives stood, from CEO Johnson, to chairman Schultz, to board member Mellody Hobson. The Forbes article said: "People actually do take their cues from their leaders, and at a time when a pernicious minority of elected officials and celebrities are troglodytes on racial matters, it is reassuring to see a group of leaders talking like grown-ups."
• Rodd Wagner, the freelancer and New York Times bestselling author who penned the Forbes piece, said the founder's message and Starbucks' entire response seemed genuine and compelling. If what happened in Philly was terrible, then "what happened afterwards was admirable."
---
The same can't be said about the Peel Police Services Board meeting on Friday, or the actions of the force long before that.
• The external equity audit (compiled by the Canadian Centre for Diversity and Inclusion, CCDI) was begun two years ago with the goal of surveying members of the force and community members about diversity and inclusion practices and taking a deeper look at the policies and procedures of Peel Regional Police. It missed a number of roll-out dates, including Friday.
• The CCDI website states the audit report would be delivered to the board this past spring.
• Two citizens delivered five-minute addresses to the board Friday. Ranjit Khatkur, who was instrumental in the decision to launch the audit, asserted that the failure to release the report has been deliberate.
• The audit went through many iterations, and according to critics such as Khatkur has been met with contempt or indifference by the chief and her top executives.
• Incidents of discrimination continued to pile up in the police files, and tone-deaf practices have been duly recorded by the media, including a two-part series in The Pointer.
• A 2017 Ontario Human Rights Tribunal ruling found the force had discriminated against highly decorated officer Baljiwan (BJ) Sandhu, denying him the chance to compete for promotion into the senior ranks. It also said the Peel police service devalues the South Asian community. Evidence in the case revealed racist language and actions within the force and a frat-house culture that mocks diversity. Evans offered no apology after the decision. (A pattern carried on from her predecessor, Mike Metcalf, who in 2007 refused to acknowledge that the force's officers needed cultural sensitivity training after a Human Rights Commission order in a racial profiling ruling against the force. Metcalf publicly stated that he did not agree with the finding, despite damning evidence provided in the case.)
• Chief Evans used her time Friday to unveil a new police budget, and she and the outgoing board members were honoured. Evans also presented her budget requests for next year. Amid all the formalities, Evans offered nothing, not a word, on the audit. Nor did the board.
The Starbucks and Peel Police case studies are different because they stem from the private and public sectors. And so is the response from the chief executives and board members when it comes to racism and diversity training.
Starbucks has been proactive; PRP (and its board) reactionary.
By admitting its shortcomings and clearly setting out its intentions to right a wrong, Starbucks has met a crisis head-on. It nipped in the bud what might have been a horrible moment in the company's history — and its bottom line. Starbucks is a more inclusive firm now and has forged a clear path forward. Its employees know its higher-ups have drawn a line in the sand when it comes to racist behaviour.
In police headquarters, it's quite the opposite.
Evans is leaving the audit unpublished. The board let her off the hook Friday, choosing not to have the person responsible for the force answer for its behaviour.
When she turned her back on her board over the carding question, wasn't it really an affront to the public, whom the board represents? The brass hoped the charges of institutional discrimination and iffy hiring practices would go away simply because Evans doesn't want to confront them.
The police services board meeting on Friday should give the public pause. The first deputation, a presentation by a member or group from the public, was by Howard Morton, a lawyer affiliated with P-Card, the Peel Coalition Against Racialized Discrimination, who is the former director of Ontario's Special Investigations Unit, which probes the conduct of police officers when an altercation involves a member of the public being harmed. Morton is also a member of the Law Union of Ontario, which for years has advocated against carding.
He stressed the need for police to reach out into the community and interact with people, not in a superficial way, but deeply, and in a more nuanced way. The cops have to go face-to-face with marginalized communities, the ones impacted the most by crime. He said the community consultations tried in the past are ineffectual, and many citizens remain intimidated by the police. "There's a lack of trust in the communities served by the police," he said. That means the ones who could or should step up and assist police when there is an incident in their community, won't. He thinks the police chief is disengaged.
He was quickly followed by Khatkur, also of P-Card. The retired teacher and vice-principal, who has long been an advocate for disadvantaged youth, was more strident in her critique of PRP. She first pointed out that, two days before this meeting, there was no agenda published online. She said there is no accountability for high-profile police misconduct (including fraud, theft, sexual abuse, assaulting members of the public, lying on the witness stand and using child pornography, to name just a few recent examples), and morale-destroying behaviour by the force's leaders. Everything, she said, is swept under the carpet — including the equity audit, which she had been told in a letter from the force would be presented Friday. It wasn't.
The result is a police department with the highest misconduct rate in Ontario, one viewed by critics in the criminal justice system as a dangerous embarrassment.
Khatkur believes (through first-hand knowledge, according to her) that many officers who step up to talk about internal misconduct have been silenced or suffered reprisals. No one knows, she said, how many out-of-court settlements involving PRP misconduct were paid for by taxpayer money. There is "dismay" that after two years the audit is in mothballs, and she speculated during her five-minute deputation, without providing evidence, on the manipulations that might have taken place behind the scenes to ensure that the audit wasn't issued.
Unless there is transparency, and unless the audit is released, there's no way Peel police can rebuild trust with the public. Khatkur also targeted Evans' refusal to suspend street checks, until forced to do so by the province, as another reason why trust is fading fast.
After both presentations, board chair Norma Nicholson asked if any members of the seven-person board had comments or questions for either Morton or Khatkur. There was silence. No one even asked when the audit might be released.
It's highly possible they know exactly when they intend to release the audit, which they had ordered and which was handed to them upon its completion.
(The Police Services Board is the governing body over PRP, and its seven members include three politicians and one citizen appointed by regional council, plus three provincial appointees.)
Shakespeare once wrote, "So foul a sky clears not without a storm."
Both Starbucks and PRP faced serious storms this year. One chose to step into the rain and go forward, while the other stayed under cover.
In the end, it doesn't matter what Evans thinks about the audit or how she excuses it away. She's effectively retired after her surprise announcement. It's what her successor thinks that matters most, and that only ratchets up the pressure on the board to pick the best candidate available.
With a region changing daily — Brampton is one of the fastest growing cities in Canada — the new chief will inherit an exploding population and a force that doesn't reflect its racial makeup, a serious issue in policing because it's not just a symbolic or moral goal.
Without cultural competency and deep intelligence-gathering capabilities, solving crimes can become next to impossible, especially when a force loses the trust of the community members who could provide key information.
Will the new chief close these gaps, be more transparent with the public and the board, embrace community policing, and be fearless in remaking a rank-and-file reluctant to change?
Starbucks isn't the only company that has faced claims of racial bias. And PRP is not the first force to reject a call for more diversity in its officer corps, or bristle at attempts at sensitivity training.
Perhaps more troubling is the Police Services Board. Has it become nothing more than a rubber stamp for police budgets? Do the people representing the public on the board have limited knowledge when it comes to criminology, policing policy, relevant legislation and their actual responsibility to help propel the force into the future?
Are police board members held accountable when they display apathy, reflect a lack of knowledge, and shirk their responsibility to keep the public safe?
The world has changed since Starbucks and PRP emerged in the early 1970s. The case studies raised here are not entirely comparable (public versus private), and it's also true that their corporate governance models are different. So are their reasons for being: one serves coffee and cakes; the other has to keep the public safe, especially when fears about violent crime rise.
But they are closely aligned in one respect: if they treat the public differently because of colour or ethnic origin or culture, they won't be successful for very long.
The problem with the Police Services Board goes deeper still, to its DNA. In 2013, the City of Mississauga fed off the outrage in neighbouring Brampton to create a policy prohibiting staff from using taxpayer money to purchase tickets for events, after the mayor's annual gala was revealed to be nothing but a swanky night out for elites connected to city hall — something that had already been exposed north of its border, in Brampton. Outrage rose after the police board (while former Brampton mayor Susan Fennell was vice-chair) spent $13,500 on three tables (for 24 people) for the mayor's gala in 2012. Together, the City of Brampton, the region, and the police board spent more than $64,000 to send public employees to Fennell's two private events in 2012.
Jim Murray, a real estate agent and long-time chair of Hazel McCallion's Mayor's Gala in Mississauga, had also served as vice-chair of Peel's police board. He played a hand in getting the city to buy tickets to the Hazel gala. Board meetings over the past decade, prior to Crombie's and Jeffrey's arrival on the police board, often featured comically alarming scenes as important police business on the agenda, or budget demands pushed forward by the chief, were rubber-stamped by members with next to no debate. Meanwhile, there was much back-slapping and speeches about the mayor's galas and their private golf tournaments, before votes were taken to send tens of thousands of public dollars toward the purchase of tickets to these exclusive affairs.
These chummy relationships, which took advantage of the police service's Special Fund (money acquired from the proceeds of crime and meant to support public safety initiatives or the victims of crime), blurred a divide that needed to remain firm.
It also begged the question: why were people like Murray and Fennell on the police board in the first place? Did they bring a deep knowledge of policing? And what actually qualifies someone to sit on a police board – close ties to a mayor? Even for a person like Fennell, or Crombie or Jeffrey, and now Patrick Brown, all of whom received a mandate from the public to lead as mayor — are they given any serious training on policing policy, the complexities of law enforcement in the modern age, or how to balance budget considerations that have to keep people safe while respecting the cost to taxpayers?
Former police board chair Laurie Williamson owned a car dealership and was a close friend of McCallion, but did that qualify him to oversee a body that deals with life or death decisions? Bal Gosal was the former sports minister in Stephen Harper's Conservative Party, and also a police services board member. Why?
(Editor's note: The current Peel Police Services Board Chair Ron Chatha, a real estate agent, was appointed to the oversight body by the Doug Ford government, despite having no experience or background in policing.)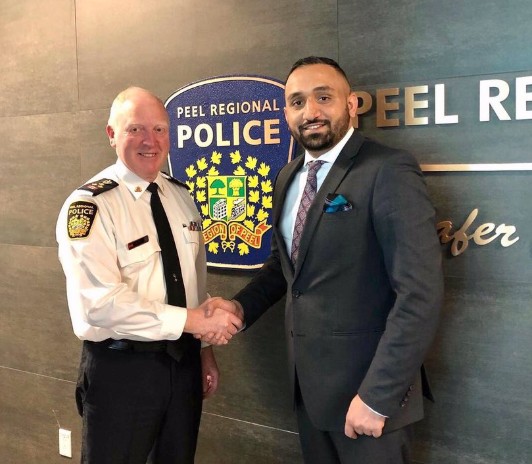 Ron Chatha, right, is the current chair of the Peel police board
Remember Enron, the "fusty old pipeline company" that became an energy trading colossus at the turn of this century? Its top execs got drunk on stock options. Everything revolved around making deals. Whistleblowers who cried foul, such as Sherron ("We're such a crooked company") Watkins, were ignored or stepped over. The firm's auditor, Arthur Andersen, was in cahoots, shredding evidence of bad annual reports like a snake sheds its summer skin. How could this all happen? Because, among other things, there was no board oversight.
It's no different in the public sector. A board member is not there for personal bemusement, or to rub shoulders at expensive social functions. Enron fell, as did other companies later on, in the economic meltdown of 2008, because of poor oversight. Board members have a fiduciary responsibility to monitor the activities of a company, or to police the police. Charges that a force lacks diversity, or shrugs off officer misconduct, or allows a chief to reject a board's call to stop carding, are red flags. Like the military, the police are under civilian oversight. That makes it even more crucial that a public board balance the needs of the officers and civilians under its jurisdiction, to enforce the needs of the public it serves.
That means: allow whistleblowers to whistle, and critics to howl.
It also means the public has to show some interest. Not just in the daily dramas surrounding PRP, but in the board overseeing it.
Amrik Singh Ahluwalia was the first visible-minority board chair, replacing Williamson in 2016. When the board approved the diversity audit under his watch, Ahluwalia was vilified by the force. Evans and her senior officers wanted his head. They called for his firing. Why? Because he, along with Jeffrey and Crombie, tried to do their job. They tried to hold them accountable.
He, along with Jeffrey and Frank Dale, attended their last board meeting Friday. They left with a diversity audit in limbo. They left with too many questions unanswered, and they've passed the baton to the next board, which has to make one critical hire: a new chief.
Someone joining the board is Patrick Brown, the new mayor of Brampton.
During The Pointer's Mayor's Debate at Sheridan College during the municipal election campaign, he fielded questions about what he might do if he won and joined the police board. The key questioner invited by The Pointer to ask candidates about public safety issues was Audrey Campbell, a community activist, member of the Jamaican Canadian Association and co-chair of the Police and Community Engagement Review (PACED). She asked Brown how he would make Brampton safer, and whether he shared Chief Evans' supportive views on carding. He said that if the province ever brought the old style of random carding back (which, under Doug Ford, is quite possible), he'd fight it.
Campbell continued to press. She talked about civilian oversight and hiring a new chief. She said the board doesn't reflect the diversity in the communities it serves, and did he understand the complex issues behind policing such a large, diverse area? Will you ask the tough questions that are needed on the board? she asked, pointing out that the board had given the current chief a directive and she refused it. She then faced Brown and asked: "Are you going to represent advocacy on votes and hold people accountable and make sure the board reflects the community?"
Brown responded: "Appointments don't reflect [the community] mosaic, although some appointments from the province and the city do strive to do that."
The Pointer interjected and asked if Brown would stand up for the citizens, and against members of the police brass who have turned a blind eye to disturbing issues such as discriminatory promotion practices, racial profiling and the alarmingly high rate of misconduct?
He replied, "I stood up to end carding in Queen's Park."
PRP has changed since it began life in the early 1970s. But it has reached critical mass today. Does it look like or reflect the values of the community it serves, or is it even willing to re-examine itself, the way Starbucks did, and create a new model, a better one?
Do the Police Services Board members realize how important their roles are in all this? Do they understand that civilians still oversee all military and paramilitary institutions in this country?
It seemed like a no-brainer to call for a diversity audit, but will it take longer to publish than building a pyramid?
The values that are at the heart of successful policing were actually drawn from the famous nine principles of Sir Robert Peel, who founded the first modern police force in Britain in the 1830s.
After his presentation to the board Friday, Morton sat down for an interview and stressed this point. He said it's crucial that the next chief must follow the kind of community model designed by Peel, the region's namesake. It dictates that officers patrol and work in the same area on a permanent basis, from a decentralized place or office, working in a proactive partnership with community members to identify and solve neighbourhood problems. It might help, too, if the officers look somewhat like the people they're trying to help. It might be a good idea if PRP started recruiting from their own cities instead of reaching out across the hinterland.
The 'us versus them' model of policing only silences those who want to play a key role in helping solve serious crimes. This trust has to be built up over time, across departments, and be locally led.
The good news is this: a new chief will be hired after an exhaustive (we hope) in-house or external search. There are plenty of progressive candidates available, and some great ones (Peter Sloly, former deputy chief in Toronto, is a popular name) have been passed over by the Peel board before. Let's hope the same thing doesn't happen in 2019.
PRP is groaning under the weight of misconduct from officers who should have known better, and the audit, if it's ever published, could reveal lousy diversity results, as many suspect.
Dealing with dangerous criminals and putting an officer's life on the line isn't the same thing as serving up a cappuccino. But discrimination rears its ugly head everywhere, and diversity training is needed whether you're a cop or a part-timer at Starbucks.
Our police service needs new marching orders as it heads into its 45th year of serving and protecting the public. Release the diversity audit. If the news is bad, that's good, because it gives the new chief a benchmark, a place to start from.
Patrick Brown, and all members of the board, must pick the best and brightest candidate available.
Equally important, while collecting their paycheques for sitting on the Peel police board, members have to look to Crombie's recent leadership as a model. If they revert to the old ways of rubber-stamping everything the chief wants, the new board will answer to an angry public.
Ontario's Police Services Act, the legislation that governs how each force in the province has to operate, states they will follow these principles: "The need for sensitivity to the pluralistic, multiracial and multicultural character of Ontario society"; and "The need to ensure that police services and police service boards are representative of the communities they serve"; and, perhaps most important, "The need for co-operation between policing providers and the communities they serve."
Evans and too many board members in the past have worked in a way that contradicts the legislation meant to govern their behaviour and ensure the public is kept safe.
If violent crime continues to spread, and two of Canada's largest cities continue to suffer, a new police board will have plenty of explaining to do.
Submit a correction about this story