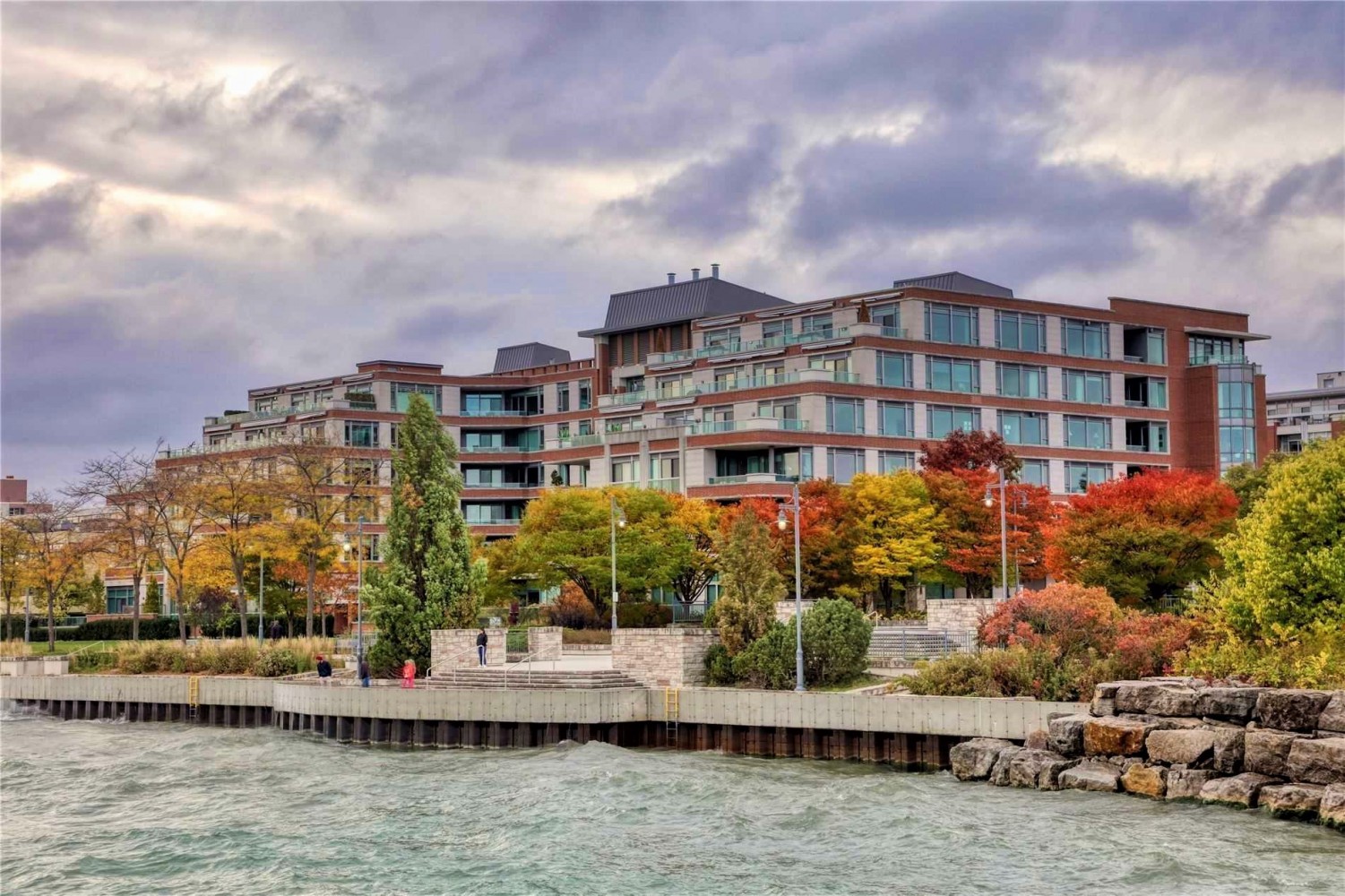 FRAM + Slokker/Creative Commons-Kevin Cabral/The Pointer file photos/Flickr/Renderings and map City of Mississauga
Mississauga's waterfront could become the jewel of Lake Ontario, if people get access
Mississauga's waterfront, the city's crowning glory, stretches for 18 kilometers along the coast of Lake Ontario. The majestic shoreline looks out onto a vast expanse of water that meets the sky at its far off horizon. It is a draw for residents across Peel and the GTA.
Summer is already meandering into sight. Shafts of sunshine dance on the lake's surface. Pulled by the beauty of areas like Port Credit and Lorne Park, locals and visitors descend upon Mississauga's necklace of lakefront parks.
COVID-19 restrictions and an emphasis on the outdoors means demand for beautiful green space has never been higher. Throughout the pandemic, doctors and mental health professionals have urged everyone to get out and enjoy the fresh, exhilarating effects of nature, which has been a balm for the blues so many are feeling.
In a testament to its shoreline, and the work City Hall puts into maintaining its parks, waterfront communities burst at the seams during the summer months.
The scene in coming years will be even more festive as the city completes its transformation into a true waterfront community. Old, dirty industrial sites are being redeveloped into some of the most magnificent lakeside communities in the world.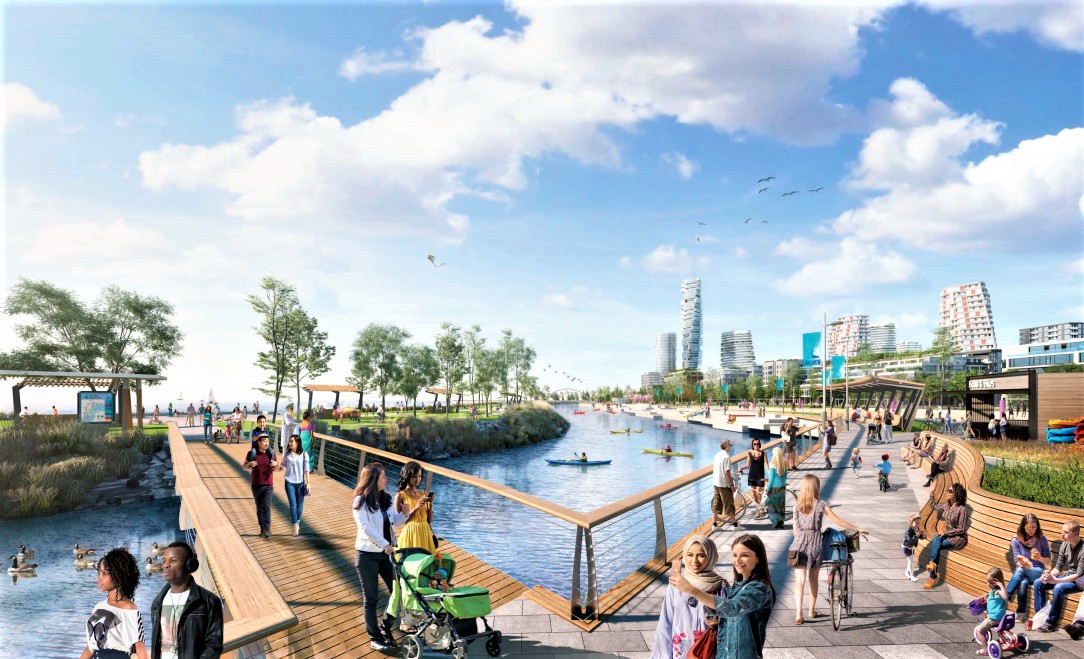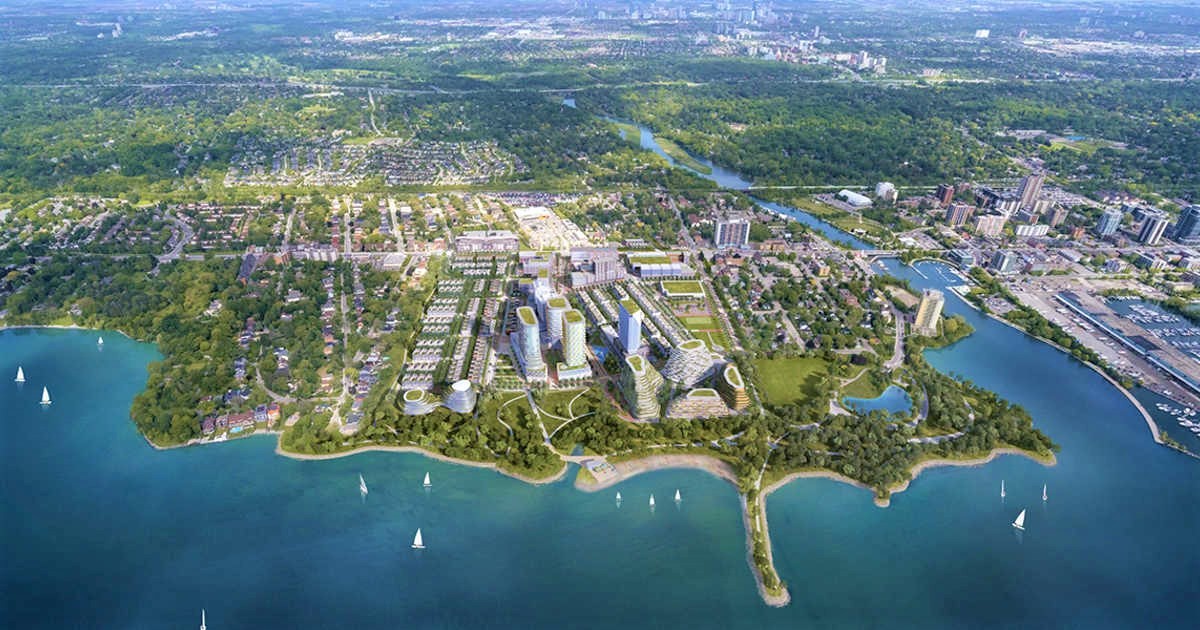 Renderings of the Lakeview Village development, top, and Brightwater
A large part of the waterfront redevelopment is the idea of giving Lake Ontario back to the people of Mississauga, after they were cut off from it for decades.
But now, the issue of public access is proving to be more complicated.
A new City policy, received in principle by councillors without debate at General Committee on Wednesday, plans to crackdown on the illegal parking overflows due to the popularity of the lakeshore. New regulations, between May 1 and September 30, will significantly increase penalties for parking violations in a designated waterfront zone.
Councillors could officially approve the policy next week.
The move has been welcomed by the local area councillors, Stephen Dasko and Karen Ras, but also raises questions about equitable access to Mississauga's prized lakefront.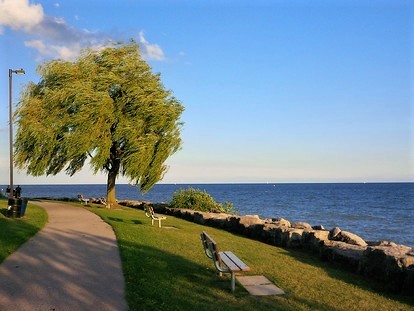 Mississauga's waterfront parks attract residents across the GTA
Port Credit, Lorne Park, Mineola, to name a few of Mississauga's wealthiest neighbourhoods, all sit close to the water. For south Mississauga residents, the vast majority of whom also have their own backyard, the comforting sound of Lake Ontario is just an easy walk away. Locals often take advantage of waterfront trails well into the evening. The new parking rules will minimize the disruption of illegal parking for these residents and make it harder for visitors to find space on busier days.
In an ideal world, the level of parking available along the waterfront would have no bearing on residents' ability to visit the City's parks. But Mississauga is a city in flux. Despite lofty ambitions of transforming suburbia into a modern metropolis, it's still not easy for many residents to climb aboard a bus or train and take their picnic to the water.
From 2024, those living in the centre of Mississauga will be able to use the Hurontario LRT to access the waterfront by transit, but not yet. The city's current rapid transit system moves exclusively from east to west, allowing residents in Toronto or Oakville to use the Lakeshore West GO train to access the city's waterfront more easily than many locals. Construction work along Hurontario Street in preparation for its new light rail system has arguably made it harder for residents to make it to the waterfront by transit and many are forced to use a car.
Someone living at Mavis Road and Derry Road in Meadowvale, for example, could drive to Jack Darling Memorial Park on the waterfront in 30 minutes. If they wanted to leave the car at home, the trip would take them 90 minutes and three separate buses. In Malton, anyone living at Morning Star Drive and Goreway Drive would be in a similar situation, facing a 106-minute journey over four separate buses or a 31 minute drive.
"During the spring, summer and early fall months, a number of visitors are drawn to the City's Lakefront to make use of the parks, trails and amenities, resulting in capacity issues with existing parking availability in the parks," Mississauga staff wrote in the report to Council recommending the new parking policy. "The COVID-19 pandemic beginning in March 2020, resulted in increased utilization of parks and natural areas as many other indoor recreational opportunities were limited. The parking pressures in the waterfront parks significantly increased. Consequently, there was, and continue to be overflow parking in adjacent residential neighbourhoods that result in traffic congestion and an increase in illegal parking."
The policy introduces a 'Lakefront Increased Penalty Zone', where fines will increase to $100 for parking, standing and stopping infractions. It will be applied to all local roadways south of Lakeshore Road from the eastern limits of Mississauga to Meadow Wood Road, City parking lots and park-specific parking areas.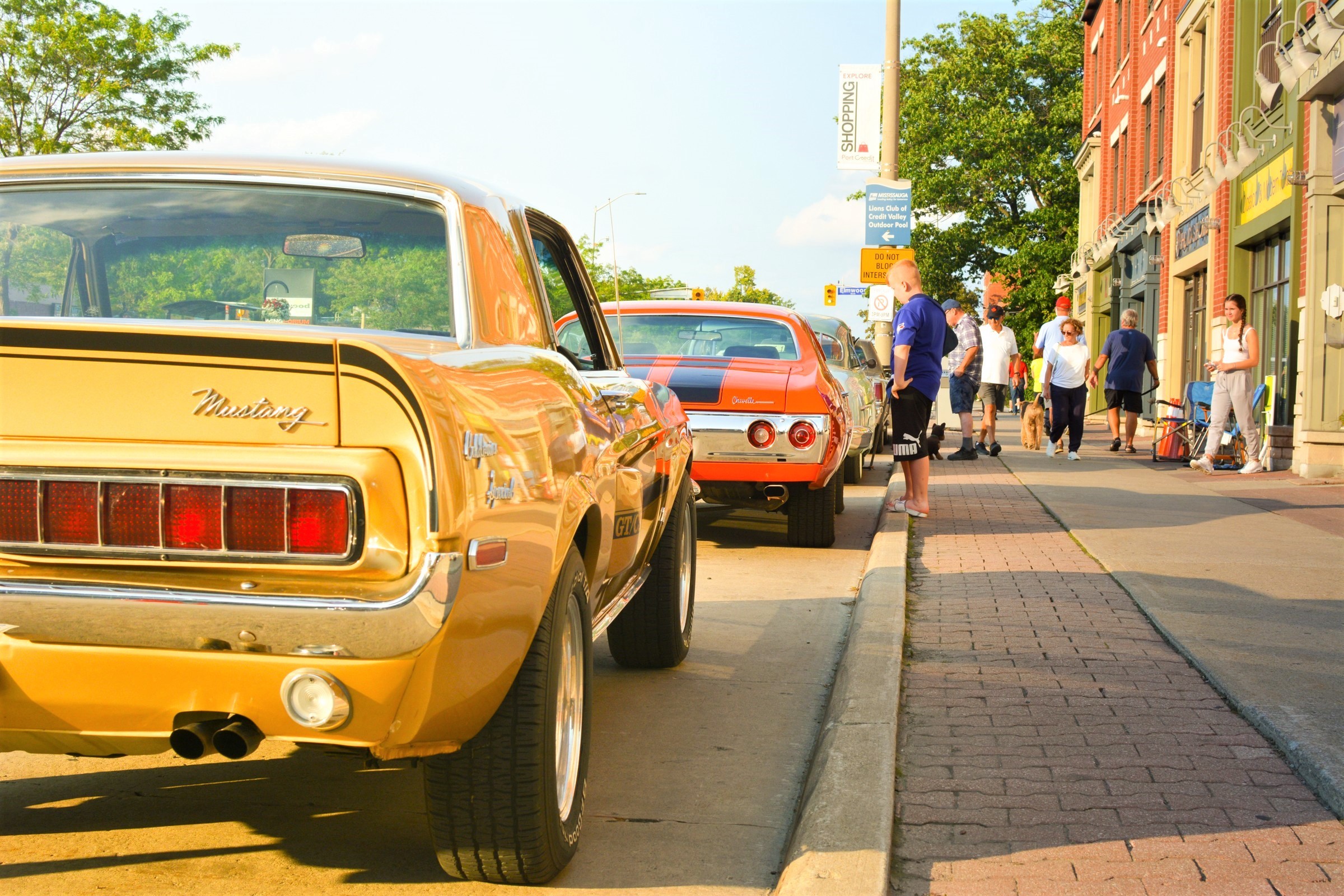 Parking around the waterfront overflows in the summer as visitors descend on Mississauga's lakeshore.
Staff note they have approached Peel's two major school boards to inquire about using their parking lots for overflow, but have not received a response.
A spokesperson for Dufferin-Peel Catholic District School Board told The Pointer that the City had asked about using the parking at BJ Fleming Catholic Adult Learning Centre in the evenings and weekends, as well as all day during July and August, but had not submitted a formal application. The Pointer also sent questions to the Peel District School Board.
"This is a strategy to get people to park where they're supposed to park," Ras told The Pointer. "The City just needs to enforce the [maximum] five hours [stay rule]. If you enforce the five hour parking frame, then hopefully people will go to the park for that five hours and then when they leave that frees up space for other people to use the parks. You actually get greater turnover of park use."
Ras, who helped create the policy, said the measures were a short-term solution. In the background, the City is acting on a broader parking policy.
"What today's report does is it addresses the immediate and very specific operational issues that we're facing in our area," she said. "Everything has been exacerbated as a result of COVID, but at the end of the day, the parking issues we have been seeing, they need to be managed and this is a way to manage them."
A Port Credit and Lakeview parking strategy, adopted in 2013, before a 2019 council decision to reduce the quantity of parking mandated for new developments, offered a perspective on the waterfront. In its conclusions, the strategy found adequate public parking in the Port Credit area, even suggesting the Hurontario LRT could result in the elimination of some parking spaces. By contrast, it said Lakeview, further to the east, fell short of the parking it needed.
In its latest master plan, Lakeview Community Partners, the development consortium behind Lakeview Village, the giant new development set to be built on the site of the old power plant, projected a significant need for parking for the new enclave which will be served by a three-stop bus rapid transit (BRT) corridor.
"While the district overall is designed to maximize active transportation, the plan does provide parking throughout the district for residents and visitors," the November document read. A map included in its submission shows a development, designed to be transit-oriented, will feature loads of street-level and underground parking.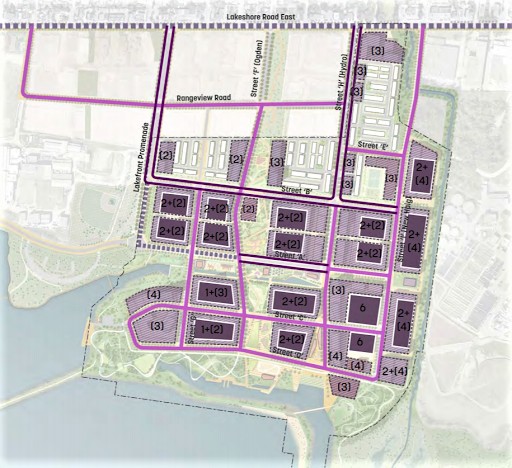 A map of proposed parking in Lakeview Village. Dark purple shows overground garages and shaded areas represent underground parking. Figures show the number of stories above ground, while parentheses signify below ground.
The entire redevelopment planned for much of Mississauga's waterfront poses a dilemma: how do you create a transit-oriented area, without denying access to those who simply will not come without their car?
Striking a balance between the blueprint for transit use around lakefront communities and opportunities for others to get there is difficult. Punitive fines for visitors breaking the local parking rules may deter some, but they won't deal with the root issue, and local businesses likely won't be happy if customers don't feel welcome.
The question of increased transit service as a solution elicited a vague response from the City. "Transit service continues to be available," a spokesperson said.
Dasko says it's not an issue around supply, suggesting that visitors are inexplicably parking illegally even when City spaces are available.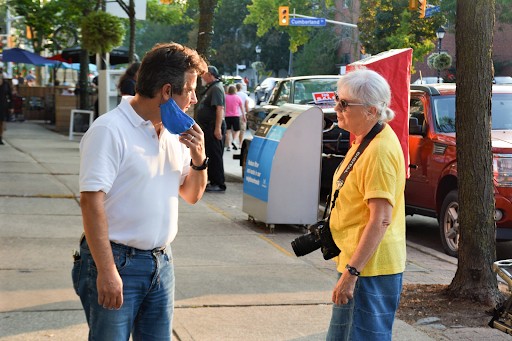 Ward 1 Councillor Stephen Dasko wants visitors to treat his area with respect and hopes the new policy will help achieve that goal.
"Quite often there are perfectly good legal parking spaces, whether they are municipal lots or designated areas, on streets etcetera," he said. "And people just go and park where they're not supposed to… honestly, I don't know what goes [through] people's minds."
Installation of signs to warn visitors of the increased fines will cost the City $8,000. Dasko says he will ask staff to consider improving the signposting for legal spots as well.
"We welcome people from all over to come down to the waterfront to enjoy it respectfully," he added. "Hopefully, this will address some of those issues, not wanting to scare anyone away from the waterfront, just asking them to be respectful."
---
Email: [email protected]
Twitter: @isaaccallan
Tel: 647 561-4879
---
COVID-19 is impacting all Canadians. At a time when vital public information is needed by everyone, The Pointer has taken down our paywall on all stories relating to the pandemic and those of public interest to ensure every resident of Brampton and Mississauga has access to the facts. For those who are able, we encourage you to consider a subscription. This will help us report on important public interest issues the community needs to know about now more than ever. You can register for a 30-day free trial HERE. Thereafter, The Pointer will charge $10 a month and you can cancel any time right on the website. Thank you.
Submit a correction about this story