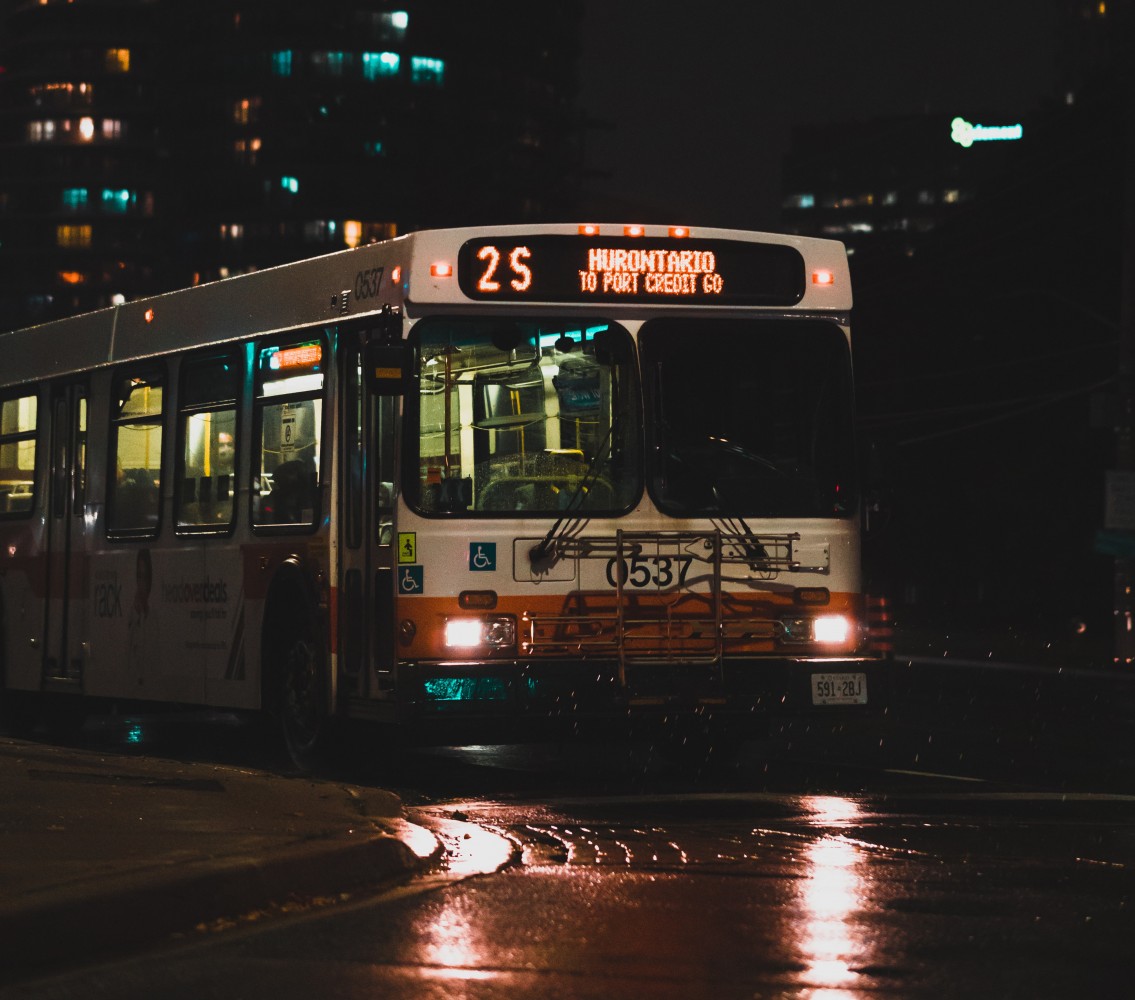 Graphics from The Pointer/Photos from Brad Killen via Unsplash
Feds and Province pitch in only 18% of Mississauga's massive transit needs to meet its vision for the future
It's better than a poke in the eye with a sharp stick, the Australians say.
That is the case with the latest funding announcement for the City of Mississauga.
But avoiding serious vision impairment at the hands of a Down Under is a far cry from reaching the lofty ambitions of a transit dream meant to launch Mississauga into its urban future.
During a virtual event Thursday, a patchwork of politicians sang the praises of new transit funding from the federal and provincial governments that, while welcome, still leaves Mississauga's most aspirational goals unfulfilled.
In an announcement made over Webex, Mississauga Mayor Bonnie Crombie was joined by new Transport Minister Omar Alghabra (the MP for Mississauga Centre) Infrastructure Minister Catherine Mckenna, Ontario Minister of Infrastructure Laurie Scott and Mississauga Lakeshore MPP Rudy Cuzzetto.
The group, representing all three levels of government, announced $113.5 million in joint funding from the Province and federal government for 12 projects in Mississauga, with the approval of a three-stop bus rapid transit (BRT) route along Lakeshore Road the most notable among them.
The federal government is pitching $62 million, while their provincial partners will contribute $51.5 million, both through a funding mechanism set up by the Investing in Canada Infrastructure Plan (ICIP). The City of Mississauga is responsible for $44.5 million.
Thursday's virtual announcement did not see funding for some of Mississauga's largest transit projects.
Most of the projects greenlit were relatively small state-of-good-repair announcements and technical changes, making the plans for rapid transit along Lakeshore Road the headline grabbing investment.
The area, once home to polluting industries, is at the heart of Mississauga's massive future growth and environmental expansion plans. The transformational development of the entire area into Toronto, along the city's southern shoreline, is largely dependent on the future of high order transit. Without it, the lofty urban vision will likely sputter.
In recent years, developers have flocked to the waterfront, pitching towering new residential schemes. The two most significant — Brightwater and Lakeview Village — are planning entire mixed-use communities on the sites of former industrial brownfields.
Until recently, the vast majority of Mississauga's waterfront was occupied by single-family homes. The proposed move to a much denser, urban population will create a strain on local roads. Improved frequency and electrification of the Lakeshore West GO line, along with the three-stop BRT, have been pushed as the key to accommodating new residents and improving emissions.
"Mississauga responded quickly to the ICIP funding opportunity and put forward a list of projects for Council's consideration," said Paul Mitcham, City Manager and CAO, in a media release. "With this investment, we'll be able to build sustainable infrastructure for our transit system and help stimulate our local economy by connecting people through reliable transit."
Despite the smiles beaming out across multiple Webex video platforms, and warm words from Mississauga's CAO, Thursday's announcement represents a fraction of Mississauga's ICIP requests.
In October 2019, the City pulled together a comprehensive list of projects that totalled $847.5 million needed from all three levels of government. Money to replace and green an aging bus fleet made up 42 percent of the application, while a Dundas Street BRT accounted for a further 36 percent. Thursday's announcement greenlights 12 of the City's 17 requests from 2019, but funds just 18 percent of the total ask from the two higher levels of government.
Mississauga's ICIP list from 2019 and the total cost for each project when all three levels of government combine. Items in grey remain unfunded after Thursday's announcement.
The final approval of any ICIP application is a lengthy process. Cities must identify the projects they believe qualify and complete a series of documentary forms to demonstrate their value. These are then forwarded to the provincial government which receives all applications from municipalities and nominates a shortlist of projects that are sent to Ottawa, where they vie for consideration by the federal government.
In the case of the most recent announcement, Mississauga submitted its request in October 2019, which was nominated to the federal government between this past spring and summer.
Asked if funds would also flow for the Dundas BRT and bus replacement requests, worth a total of $665.4 million between all three levels of government, Mckenna, Scott and Cuzzetto were unable to offer any specifics.
Initially, Scott appeared to suggest the projects had not been submitted under ICIP in response to a question from The Pointer. "What we're announcing today is under the ICIP program, the Investing in Canada Infrastructure [Plan], so this was brought through with the City of Mississauga," she explained, not offering any update on the projects and saying the Ministry of Transportation may be more knowledgeable. "This is their needs that fit into the ICIP program."
Attempting to elaborate on Scott's answer, which demonstrated little knowledge of the area, Cuzzetto read out government talking points, making no reference to the city he represents. "I could add just a little more," he said. "In fact, under the Investing in Canada Infrastructure [Plan], as of January 2021, Ontario has nominated over 760 projects to the federal government and the federal government has now approved over 500 projects."
Mckenna was equally nonplussed, repeating well-worn lines about the federal government's plans for a permanent solution to transit funding. "Stay tuned for more announcements," she said.
The lack of answers does not mean Mississauga won't receive funding for its other requests. However, it does suggest they are not top of mind for the politicians tasked with deciding which cities will have their wishes granted and which will not.
Alghabra's elevation to cabinet, as the new transportation minister (after Mississauga MP Navdeep Bains stepped down from cabinet in a surprise move last week) raises hope for more transit dollars to flow into the city.
By almost every measure, the Lakeshore BRT is less significant than the proposed Dundas Street route. The latter is part of a plan endorsed by Metrolinx to run priority buses from Toronto to Hamilton, while the lakefront project is just three stops and two kilometres long.
Plans to break ground on the Lakeshore BRT are also not imminent. A budget schedule agreed upon after the requests were submitted in 2019 shows the first investment in the project planned for next year, but larger sums not being spent until 2024.
In 2022 and again in 2023, the City planned to invest $5 million in the project, before significantly increasing the funds over the following three years. A higher sum was set aside for the Lakeshore BRT between 2024 and 2026, with $17.8 million in 2025 the largest annual amount.
A Mississauga spokesperson said the City is currently in the process of selecting an engineering firm to complete the technical studies that will precede construction of the Lakeshore BRT. "The EA [environmental assessment] work will pick up on the work completed by the City through the Lakeshore Connecting Communities Master Plan, approved by Council in June 2019," they wrote in an email. "Staff are working towards completing the EA and TPAP [Transit Project Assessment Process] studies in early 2022."
The BRT itself is a step in the right direction as Mississauga attempts to green its transit patterns and modernize its waterfront. The construction of a short rapid transit corridor will also improve the pedestrian experience and add bike lanes, bringing a section of complete street where the car would no longer be king.
One of the key beneficiaries of the BRT is Lakeview Community Partners (LCP) the developer behind Lakeview Village. The route includes two stops beside their site and the access to rapid transit it represents will only increase the value and popularity of new units.
LCP, which values its project at $4.6 billion, bought the lakeview lands for just $275 million from the Province in 2018. The City of Mississauga is considering ways to extract more contributions from the developer to reflect its prime location, now improved by a BRT. It is unclear if Queen's Park will support these plans.
"Land value capture is a tool we are looking very closely at," Crombie told The Pointer at the announcement, referencing a way to recoup tax dollars which can include density bonusing or inclusionary zoning. Land value capture policies ensure developers give back when publicly funded projects increase the value of their assets.
"I think only the City of Toronto is using it now, it's one of those tools we'll have to get permission from the provincial government to employ and it's something that could help us and go a long way to help us build service and meet our infrastructure and transit needs," she said. "Certainly, [it is] a tool we're looking at."
Neither Scott or Cuzzetto addressed the issue of land value capture, nor did they demonstrate an understanding of the concept.
The project announced along Lakeshore Road, and the 11 other minor boons, represents a good news day in Mississauga. No one in City Hall will be turning their noses up at the latest federal and provincial dollars, with virtual visits and gifts a rare treat.
Even as staff and councillors count their blessings, thoughts will begin to turn to the future.
The Lakeshore BRT is an exciting bonus for the waterfront area and a scoop for developers on Lake Ontario. Yet, by every measure, it does not hold the same transformative power as the unfunded requests to replace (and green) an outdated bus fleet or bring rapid transit to a larger portion of Dundas Street.
---
Email: [email protected]
Twitter: @isaaccallan
Tel: 647 561-4879
---
COVID-19 is impacting all Canadians. At a time when vital public information is needed by everyone, The Pointer has taken down our paywall on all stories relating to the pandemic and those of public interest to ensure every resident of Brampton and Mississauga has access to the facts. For those who are able, we encourage you to consider a subscription. This will help us report on important public interest issues the community needs to know about now more than ever. You can register for a 30-day free trial HERE. Thereafter, The Pointer will charge $10 a month and you can cancel any time right on the website. Thank you.
Submit a correction about this story