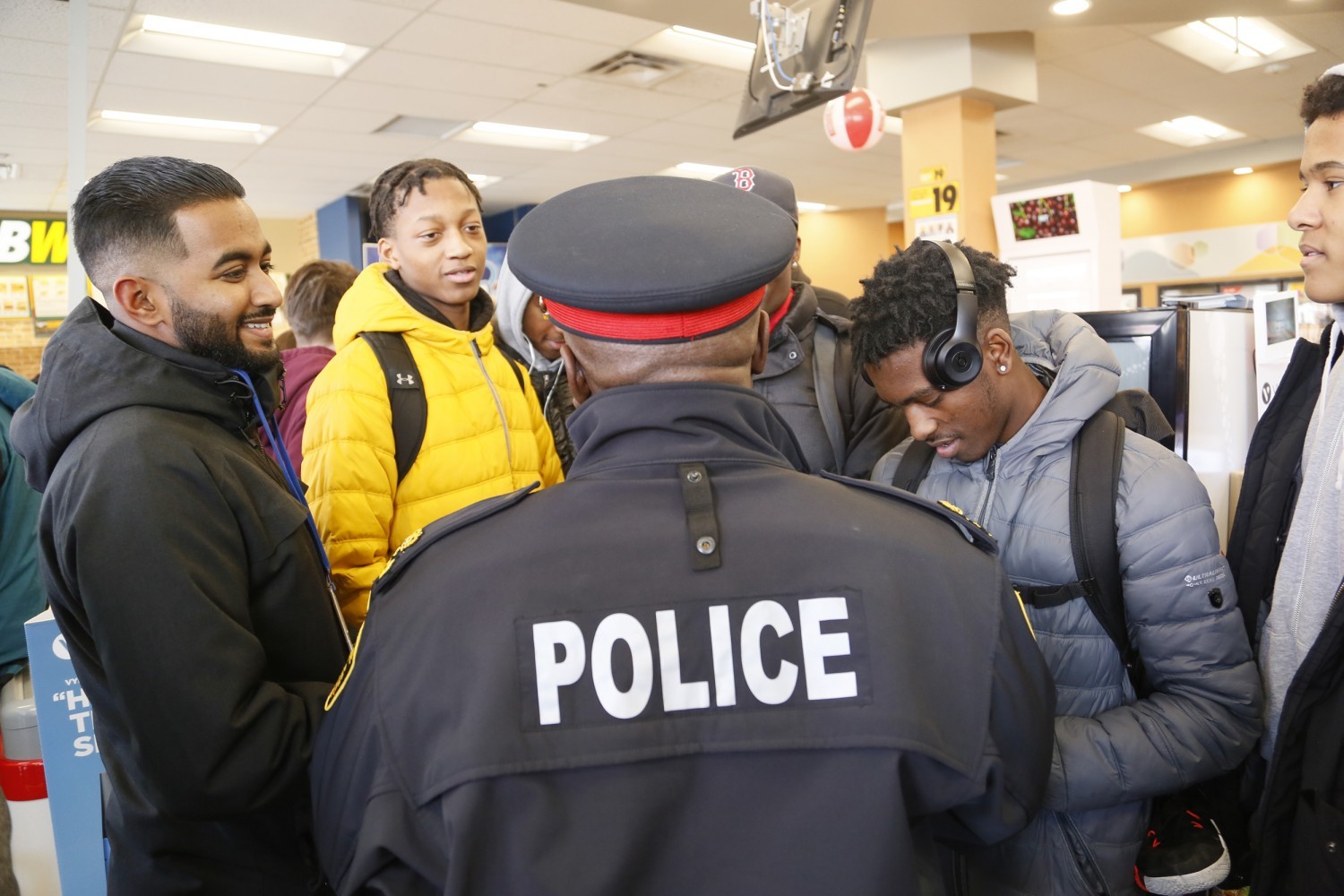 Photos from The Pointer files/EV & King's Church International via Unsplash
Peel Region councillors show support for a return to community police stations
Images of traditional community policing and its modern equivalent look vastly different.
The former, perhaps most closely linked to the beat bobbies of London, England, tells the story of police officers as community aides and local figures who walked the streets and sidewalks shoulder-to-shoulder with neighbourhood locals. Officers often lived in the same boroughs. They helped the elderly and offered directions to those who found themselves lost, school children waved and others approached for all manner of help.
Many were on a first-name basis.
Today, all of this has changed. Police officers rarely walk a beat, and even warm-weather bicycle units that have popped up in recent years, can't engage with communities in the same way. Most patrol in squad cars and look more like crime fighting machines from the future.
Imagery during large public protests seen across North America through the summer, showed officers in body armour, gas masks, hard-helmets and face shields with tactical weapons at their side.
These two models of public safety represent the extreme ends of police presence in our society.
In Mississauga and Brampton, where Peel Regional Police has struggled through a turbulent couple of years, councillors are reconsidering how policing should be delivered in communities that are struggling to create a new relationship with those sworn to protect them.
Alongside the beginnings of a long overdue process of equity-based soul searching for the force, some local officials want to see the visibility and presence of law enforcement expanded, and maybe even softened.
"In our situation, the people have spoken," Brampton Wards 9 and 10 Councillor Gurpreet Dhillon told The Pointer, discussing his campaign to open a new police station in the east end of the city.
In December, Dhillon brought a motion to the Region of Peel asking for his council colleagues to endorse the move. He said visible crime and isolation from current police locations had cut the community off and it was causing residents concern. Town halls on the issue of public safety have been well attended, showing a desperate need, Dhillon said.
"Without a doubt, the issue was heard loud and clear from the sheer number of residents that attended these meetings — we need action," he said. "People are upset, people are worried, people are scared for their safety."
But how do they want to interact with police?
Dhillon's motion at the Region, asking for Peel Police to set up shop in his community, raised an immediate response from his colleagues. Mississauga Ward 9 Councillor Pat Saito said Dhillon's wards were not the only areas in Peel with crime, suggesting other elected officials might want an increased police presence in their wards as well. The discussion, and subsequent changes to Dhillon's motion, could open broad discussions around the future of policing in Brampton and Mississauga, where unique demographic shifts have created challenges for a force that has not evolved with the communities it serves.
Current efforts to diversify the force, and introduce crucial cultural competency that has been lacking, might also be contemplated alongside new ideas of community policing in two of Canada's largest and fastest growing cities.
For members of the police services board, the question of a shift toward a community policing model is not new. In August of last year, the board received an extensive service delivery review from consultant Price Waterhouse Coopers which outlined the establishment of community policing stations as a "low cost-benefit outcome, with a low impact on crime; potentially significantly increasing capital and operating costs."
Essentially, it advised against a community police station model.
A community policing station was defined by Peel police as "a central location for police and residents to work together, solving problems of mutual concern, and to serve as a clearinghouse, dispensing a wide variety of information and advice to the public."
Instead, PwC recommended "alternative service delivery models" including "online services and digital policing platforms". It also suggested adapting the way current facilities are used to improve public facing service delivery while making better connections with community members. This would reduce the need for community substations.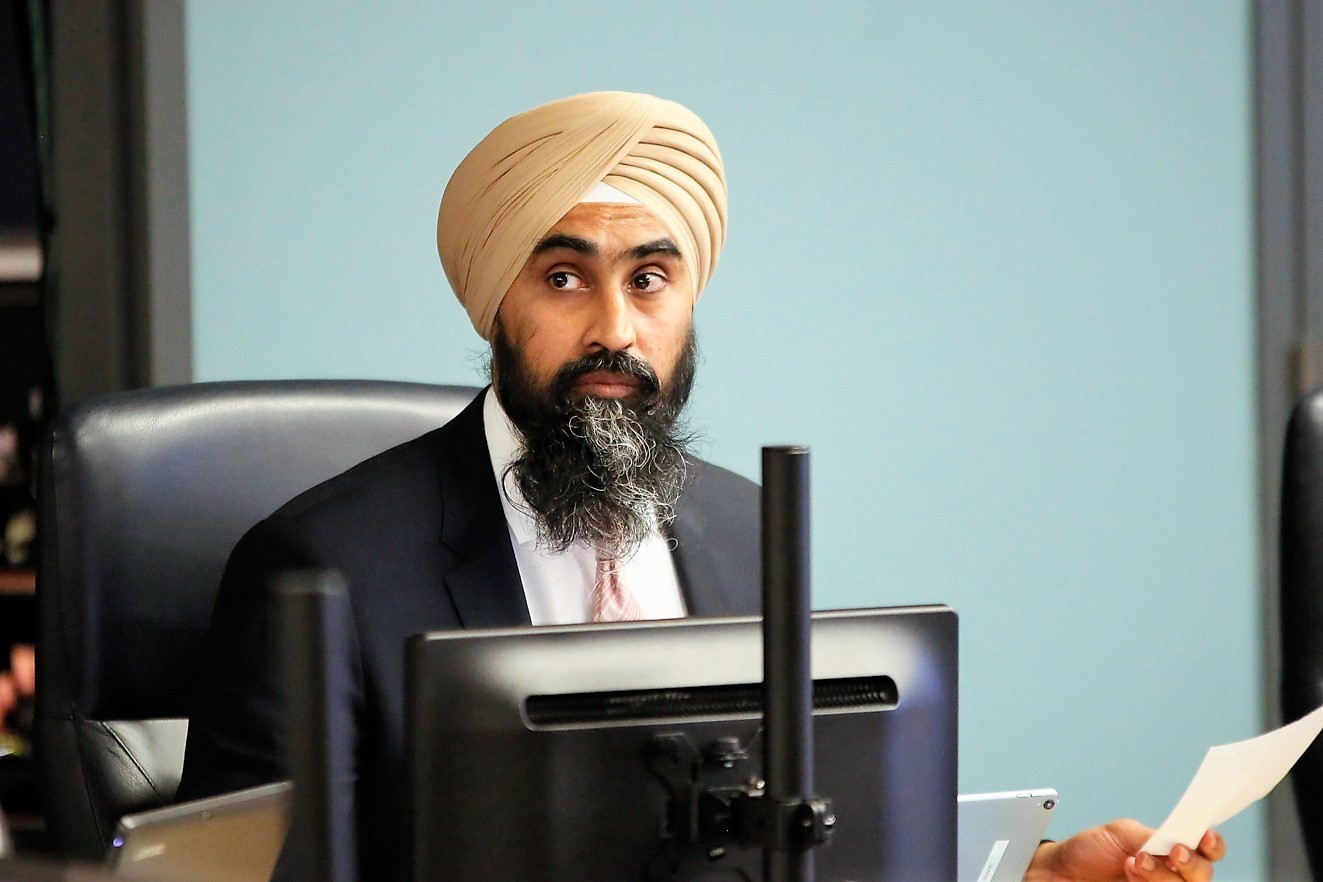 Councillor Gurpreet Dhillon
This approach, in opposition to what many residents and elected officials are calling for, would certainly cut down on costs, but it's unclear how online strategies and the use of existing buildings would improve community outreach and the building of vital connections where people actually live, and where crime often occurs.
The report also recommends studying the potential for a new police division to address over capacity issues in existing stations. A study is scheduled to be completed this year.
The successful motion, which was not aligned with the PwC report, endorsed the idea of a community police station in Brampton's east end, adding a request that: "The Peel Police Services Board be requested to revisit the concept of community police stations in the Region of Peel".
This goes against what was recommended by the consultant. A community policing strategy, under a substation approach, was not part of the 2021 budget process.
The motion represents a complete reversal of the policy Peel police has been pursuing for the past two decades. Police brass has moved away from small community substations, prioritizing centralized resources instead.
Annual reports document a dramatic decline in local police stations. In 2000, the Peel Regional Police operated nine separate community stations, including locations in Cooksville, Lakeshore and south Brampton. A decade later, Brampton and Mississauga had eight community stations, but of the original ones only Lakeshore, Malton and Queen Street appeared on the list, showing a shift in priority. In the years that followed the number of community police stations shrunk dramatically.
By 2015, there were just four community stations, with Malton the only one from the 2000 list. In 2018, the number bottomed out. Cassie Campbell and Square One were the only two community stations for residents in Brampton and Mississauga. In less than 20 years, the force had abandoned almost every community station it opened.
Following the closure of Malton's substation in 2018, local Ward 5 Councillor Carolyn Parrish mounted a campaign to see the space reopened. It was originally closed for budgetary reasons and, barely a year after its lights went out, a tragic crime, metres from the shuttered location, showed what the community had lost.
On September 14, 2019, a 17-year-old, Jonathan Davis, was killed in a shooting which grabbed headlines across the country, after more than 130 bullets were fired behind a busy apartment complex, leaving five others wounded. The jarring violence took place just a few minutes walk from Westwood Square Mall, where the Malton community station had been located, before high rent was cited by former chief Jennifer Evans as the reason she shut it down, shortly before one of the worst mass shootings in Ontario's history.
Parrish aggressively lobbied newly appointed Chief Nishan Duraiappah to see the station reopened. She relied on historical documents to demonstrate neglect, presented to the police services board and banged the drum. Duraiappah saw the need and agreed, with the Malton station reopening in November 2020, alongside a 'virtual' station in Brampton's downtown.
"Following meetings with stakeholders during the first few months of my tenure here, it became apparent that a greater footprint by Peel Regional Police was required to instill confidence in the public and improve the overall atmosphere in the downtown core," Duraiappah said in November 2020, when the two stations opened. The Brampton location is not staffed and only features a computer reporting kiosk that allows residents to communicate virtually through video with officers at other locations.
With regional councillors now favouring a pivot back to community stations, and Duraiappah suggesting better community-based policing (the two are not the same thing) is needed in Brampton and Mississauga to address upstream strategies, the force and its board could be forced to shift away from some of its old ways. The chief has emphasized that policing has to involve strategies to engage with communities and prevent many types of crime from taking root when a policing presence is not properly felt. But this might not necessarily mean shifting to a community station model.
Duraiappah has spoken about better mental health supports in the community, and within the model Peel police uses, for example, by expanding the number of mental health professionals the force works with through its Mobile Crisis Rapid Response Teams, which pair such professionals with officers to better deal with residents suffering a range of mental health-related issues.
The MCRRT model has been hugely successful but the chief has said his department needs far more of them, something he is trying to get through a more effective allocation of policing resources.
There are many other "upstream" approaches he has championed to prevent crime and community decay, which snowball into systemic public safety problems. Intimate partner violence, racial discrimination, hate crimes and issues around youth violence are all elements of his community policing approach.
Whether or not a community station model is needed to support many of these broader local strategies is unclear.
"I think Gurpreet's issue and my issue are different from everyone having a police station," Parrish told The Pointer. "That was kind of showbiz ... I know [Mississauga Ward 11 Councillor] George [Carlson] had one in Streetsville. It was a big yawn, no one went in there after the first little while; mostly it was there as public relations."
Both Dhillon and Parrish agree the need in Malton and east Brampton is unique. They have collected figures showing the demand locally and problems created because of the distance from the closest police stations. Response times, as the tragic Malton mass shooting in 2019 illustrated, are crucial and it makes little sense when an area that needs a strong police presence is the farthest away from existing stations.
In 2019, 26 percent of all crimes against persons took place in the Division 21 area, which includes Brampton east. During the same year and in the same area, 24 percent of all crimes against property took place, with 25 percent of cases solved, compared to a region-wide rate of 30 percent. Following in Parrish's footsteps, Dhillon is working with the City of Brampton to provide rent-free space to Peel Police to sweeten the deal.
"If you really need the police there and you really make the case for it, they will never turn into a clerical function, they will always serve the police function," Parrish said. "That has to be the justification."
Any pivot toward community policing and increasing visibility will involve debate over such systemic change.
In 2020, the Peel Regional Police removed officers from classrooms, disbanding its School Resource Officer program and acknowledging it was not serving residents. The chief also signed up for a deal with the Human Rights Commission of Ontario to bring systemic change to the force, which has been plagued by its unwillingness to address widespread discrimination. The new chief was brought in by the board a year-and-a-half-ago to change the culture.
Some particularly active groups, including the Malton People's Movement, have been vocal in their public calls for Peel police to improve its interactions with the communities it serves. Dhillon says he thinks a new police station in Brampton's east end is compatible with rethinking the role and image of Peel's force. The councillor plans to balance public safety with systemic change.
"I've had a number of conversations with the Black community, with the South Asian community as well. I am yet to have one person object to more police presence in Brampton's east end. Overwhelmingly people are in favour of it," he said.
"I think that's a systemic issue and, with Chief Nish being brought on, we've seen a lot of different changes that have had a positive impact. I don't think we are where we need to be yet, but we're moving in the right direction."
---
Email: [email protected]
Twitter: @isaaccallan
Tel: 647 561-4879
---
COVID-19 is impacting all Canadians. At a time when vital public information is needed by everyone, The Pointer has taken down our paywall on all stories relating to the pandemic and those of public interest to ensure every resident of Brampton and Mississauga has access to the facts. For those who are able, we encourage you to consider a subscription. This will help us report on important public interest issues the community needs to know about now more than ever. You can register for a 30-day free trial HERE. Thereafter, The Pointer will charge $10 a month and you can cancel any time right on the website. Thank you.
Submit a correction about this story