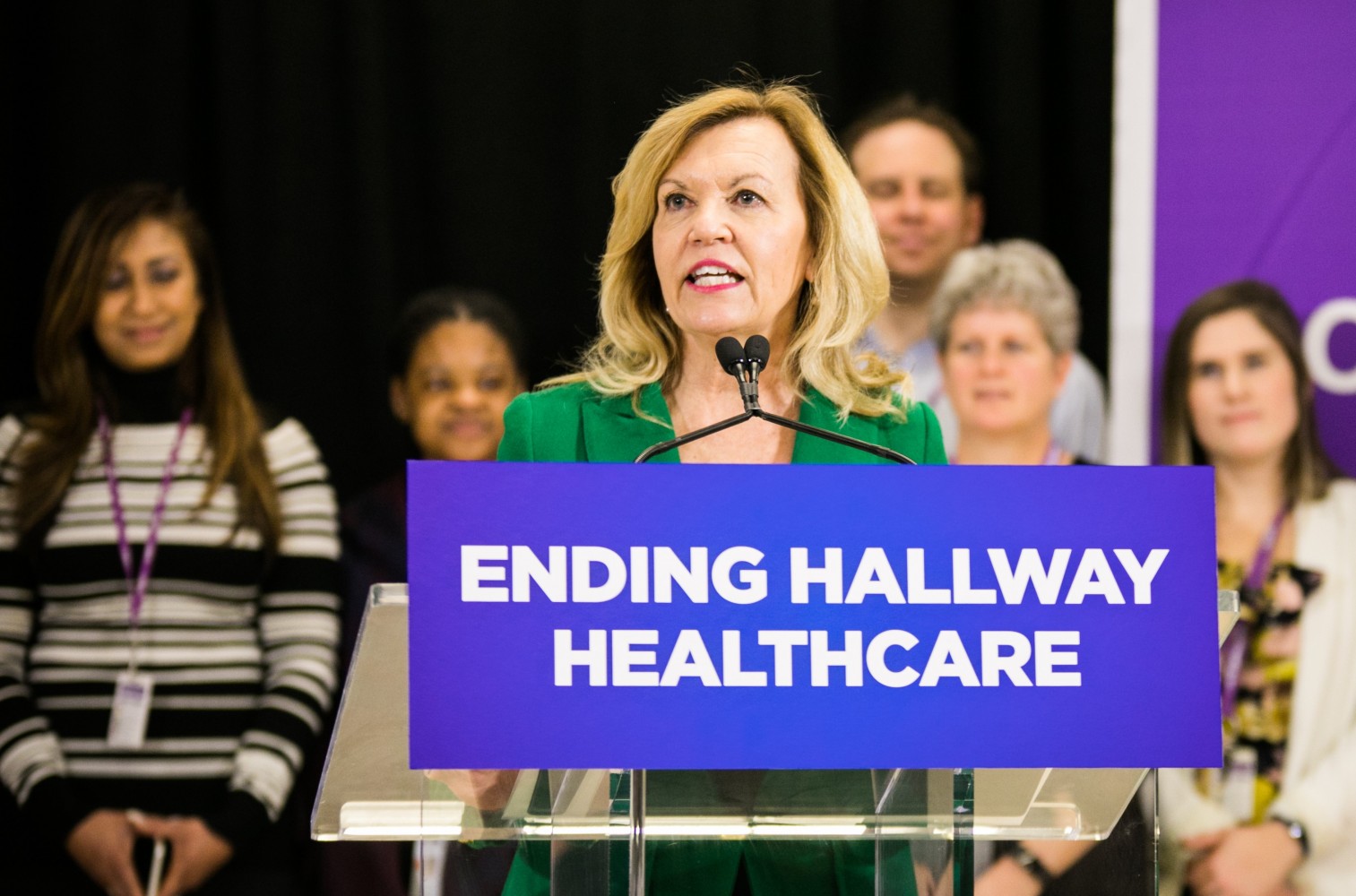 Government of Ontario-Twitter/The Pointer files/Twitter/Graphic Region of Peel
Province claims 'security risk' prevented disclosure of Peel's vaccine numbers, which are behind rest of Ontario
A provincial directive has blocked vital vaccine information from being shared with residents in Peel.
More than a year after Ontario first declared a state of emergency, straight answers to help residents make crucial decisions are often still hard to get. Months of confusion around changing public health restrictions have been followed by an information vacuum around local vaccine data in Peel.
In Brampton, Caledon and Mississauga, people are desperate to find out when they can receive a dose of one of the approved COVID-19 vaccines. Peel is currently inoculating those 80-years-old and above and Indigenous adults, meanwhile a growing number of virus variants are spreading rapidly in the region, threatening to stall reopening plans as a third wave has arrived.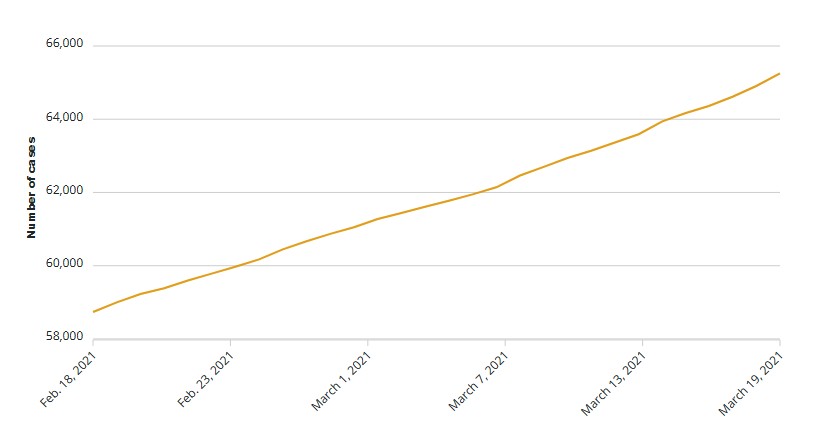 The graph showing Peel's total number of cases indicates infections over the last month are not slowing down.
So far, vaccine supply in Peel has lagged far behind targets, but there are few details being released by Queen's Park to provide a clear picture of the current vaccine situation in Peel.
The Pointer asked Peel's top public health official, Dr. Lawrence Loh, why updated vaccine data was not available. He said the Ministry of Health told him not to disclose the information, but the justification raises more questions.
"There was a ministry directive up until just recently that prevented, prohibited us from sharing this information," Loh told The Pointer this week. "The ministry has advised that the directive is lifted and… with the directive being lifted our team is actually preparing communications products and website updates that will answer that question."
A spokesperson for Peel Public Health clarified, "public health units were verbally asked not to publicly share vaccine allocations to ensure vaccine security and protect supply, especially given supply restrictions and delays."
The embargo on this key information was lifted this week and Peel Public Health is finalizing the data it will share.
It's unclear how revealing the information The Pointer has been trying to report would have impacted "vaccine security" or the protection of supply. Simply disclosing the number of doses Peel has been given does not appear to pose any such risk. Privacy concerns would also not be impacted by telling Peel residents the number of doses they have access to, as a result of the Province's ongoing allocation.
The Province's own updated public webpage offers daily numbers to show residents how many vaccine doses are being administered, so residents have an idea of when they can expect to be inoculated.
For Peel residents, it has been difficult to make personal vaccine decisions or to know what the situation is, because of the lack of vaccine information for the region, due to the Province's refusal to provide it.
A spokesperson for the Ministry of Health told The Pointer that disclosing storage locations or vaccine levels could pose a security risk.
"Guidance provided by the Ministry of the Solicitor General's security group noted that publicizing storage locations or inventory levels may pose a security risk to both healthcare staff and the vaccines," the spokesperson said. "Public Health Units can disclose vaccine supplies at their discretion."
However, the statement under the authority of Health Minister Christine Elliott did not address why Dr. Loh was prevented, up until this week, from disclosing the information.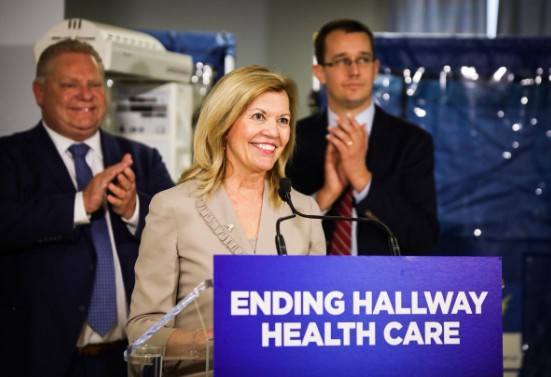 Health Minister Christine Elliott, pictured before the pandemic, has failed to explain why she continues to under-resource Peel, the hardest hit region.
It's also unclear how simply providing the number of allocated doses to Peel could pose a "security risk" as this localized information is being provided across Ontario, Canada and much of the world.
Vaccine numbers can be released without storage locations, which The Pointer never asked for. It's unclear why the Province believes storage location information is being requested. The excuse for failing to provide Peel residents with key information leaves many questions unanswered.
As of the end of March, Peel is supposed to have administered 230,000 doses of vaccine, under its own rollout plan. As of March 13, according to the Province's weekly update, 82,617 doses had been administered in Peel since December. That means it's unlikely Peel will reach even half its target by the end of the month.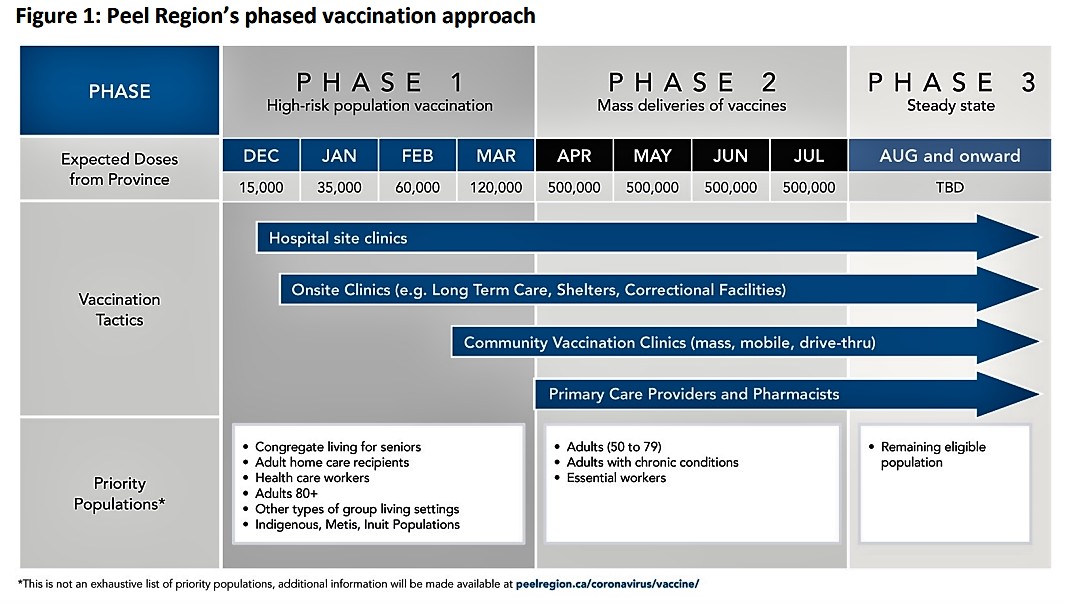 Peel's Vaccine Rollout Plan; numbers have fallen way behind these targets
Starting in April, Peel's plan calls for 500,000 doses a month over four months. Under this publicly shared strategy Peel is supposed to have 2,230,000 doses administered by the end of July, so Phase 3 of its vaccination plan can start at the beginning of August, when all those under the age of 50 are supposed to be able to get inoculated. At the current rate, these timelines will have to be extended by months.
Without proper, updated vaccine data, it's impossible for Peel residents to know if they can expect a dose in accordance with the timeline highlighted in the Region's plan.
"Peel Public Health Unit has signed the province's data sharing agreement to permit the sharing of needed information sharing while protecting privacy, as part of the vaccine records management system," the MOH spokesperson said. The Ministry of Health did not directly address Loh's comments regarding a directive from the Province to keep this data confidential until this week.
Again, it's unclear why the ministry is using privacy as a reason for concealing vaccine data. Providing the number of doses allocated to Peel and updating this information as it changes does not appear to infringe on any privacy concerns.
The federal government releases a schedule of vaccines it expects to receive, while photos and videos have routinely shown vaccine shipments and supplies moving across Canada and Ontario. Updated figures for the number of doses in those shipments have also been regularly provided, on top of the Province's daily dashboard which tracks the number of doses administered.
Peel residents and businesses, shuttered since November, have been forced to watch as other areas of Ontario opened for business, while local case counts have kept Brampton, Caledon and Mississauga closed under the current grey-zone restrictions.
Local leaders are increasingly pointing fingers at Ontario's vaccine plan. Despite being the hardest hit region, Peel has found itself missing out on extra vaccine shipments and, on the data available. Peel, despite being the worst hit region in the province, lags behind the number of doses it should have received if they were allocated on a per-capita basis.
"The numbers are constantly changing," Loh added Wednesday. "We are obviously in talks with our ministry partners to ensure we obtain whatever allotment we are able to obtain."
Mississauga Mayor Bonnie Crombie criticized Premier Doug Ford's rollout during a press conference this week.
Last week, two vaccine pilots using 194,500 doses of AstraZeneca largely ignored Peel. The hotspot region was entirely left out of a pilot project to administer doses from pharmacies — instead 165,500 doses sent to pharmacies were split between the Kingston area, Windsor-Essex and Toronto. Peel was included in a primary care pilot, but received barely 2.5 percent of the total shipment. Crombie said the allocation was unfair.
On Friday, Ford announced he was expanding the pharmacy vaccine rollout around Ontario. Across the next two weeks, 350 more pharmacies will begin administering vaccine doses bringing the total number of pharmacies offering appointments to almost 700. The Province expects to see this number jump to 1,500 in a few weeks.
Where the pilot was limited to three areas, new pharmacies will be brought online throughout Ontario. The Province did not say how many in Peel will be included in the upcoming expansion.
"I really would like to do an analysis, a deeper dive on the allotment of vaccines that Peel has received in comparison to other regions and other public health units because I really, truly believe you have to deal with it at the source," Crombie said. "I am urging the Province that Mississauga, and all of Peel, receive vaccines proportional to our need, and that we are included in any future pilot projects that will result in regions getting additional doses."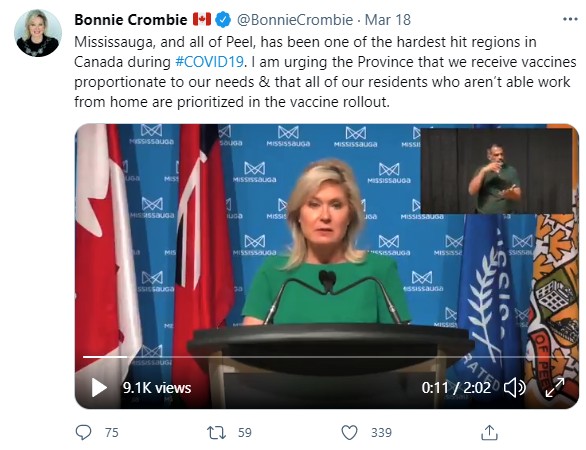 Mayor Bonnie Crombie tweeted yesterday, demanding a fair share of vaccines for Peel
The data available — limited by the Ministry of Health's recent restriction on information — suggests the opposite is taking place.
A document showing the total doses distributed by March 13 offers some insight. Toronto (20 percent of Ontario's population) had administered 23 percent of the province's total vaccine doses. York Region (8 percent of the population) had given out 8 percent of the doses. Halton had offered 4 percent of Ontario's total, right in line with its share of the population.
Seven percent of Ontario's total doses had been given to Peel, which has about 10.5 percent of the province's population.
However, considering it has the highest infection rate, following the advice of epidemiologists and other public health experts should have seen Peel receive at least twice the number of doses Queen's Park has allotted to it so far.
The AstraZeneca pharmacy pilot that Peel was excluded from means the gap could widen when the next report is published.
"The Mayor strongly believes the public has every right to know all information in regard to the flow of the vaccine, including how many are coming into the Region and where we stand in comparison to other regions," a spokesperson for Crombie told The Pointer. "All Ontarians have been asked to make enormous sacrifices throughout this pandemic, and it is vital that all levels of government are transparent in all facets of the decision-making process."
Detailed and regularly updated figures from the start of the rollout would offer the transparency Ford has repeatedly promised Ontario during the pandemic.
"I took the belief right from the beginning of this pandemic and I told our cabinet, our caucus. I said anything that we know, we're coming out there in a day or the next day; we're going to be transparent and tell the people," Ford said in November.
Provincial officials have complained repeatedly of slow vaccine deliveries from Ottawa. The directive that, until this week, limited the release of vaccine information locally means the public and local officials in Peel have not been able to scrutinize Ford for failing to do the same in the province's hardest hit area. Without the numbers, it's hard to show Ford that he's not treating Peel fairly.
"I have asked Dr. Loh to list on the Peel Public Health website how many vaccines we are receiving/administering in each municipality and the entire region," Brampton Mayor Patrick Brown told The Pointer, adding he was not aware of the directive. "I am told that will happen very shortly."
---
Email: [email protected]
Twitter: @isaaccallan
Tel: 647 561-4879
---
COVID-19 is impacting all Canadians. At a time when vital public information is needed by everyone, The Pointer has taken down our paywall on all stories relating to the pandemic and those of public interest to ensure every resident of Brampton and Mississauga has access to the facts. For those who are able, we encourage you to consider a subscription. This will help us report on important public interest issues the community needs to know about now more than ever. You can register for a 30-day free trial HERE. Thereafter, The Pointer will charge $10 a month and you can cancel any time right on the website. Thank you.
Submit a correction about this story