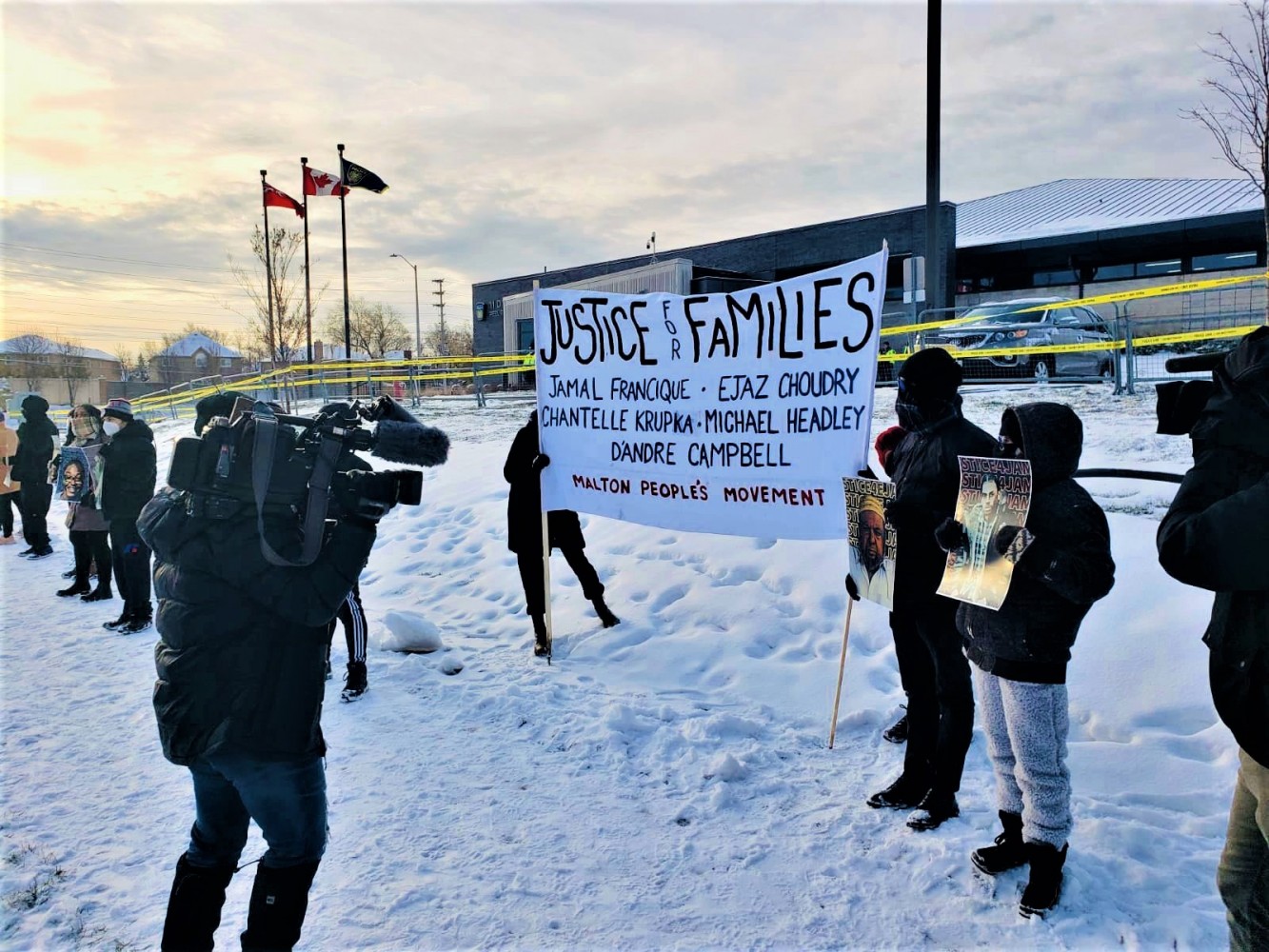 The Pointer file photos/PRP/MPM
How can all of us be kept safe? Malton group's demand for police reform highlights growing dilemma
On June 20 last year, Ejaz Choudry was shot and killed by Peel Regional Police officers. The 62-year-old suffered from schizophrenia and was in crisis when police arrived, eventually killing him after storming his Malton apartment through a balcony.
The fatal interaction came just 27 days after a now former police officer in Minneapolis killed George Floyd, triggering protests against police brutality across North America and beyond. In the Mississauga burrough of Malton, a community that already had a tense relationship with many patrol officers, the fatal police shooting sparked a movement.
Following Choudry's death, an incident currently being probed by the Special Investigations Unit (SIU) hundreds took to the streets. Grieving and angry, locals blocked the busy Derry Road and Goreway Drive intersection, diverting traffic and mobilizing community members while drawing broad media attention.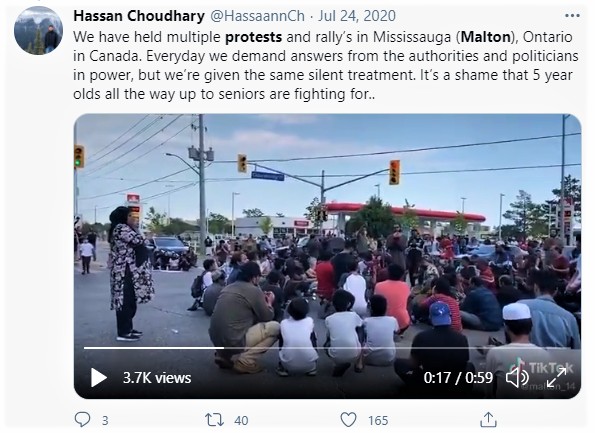 "Starting from the intersection in front of the building where Ejaz was murdered by police, then moving from street to street, the Malton community came together to use their cars and their bodies to block traffic, demanding their voices be heard," a group called the Malton People's Movement (MPM) wrote in its fifth ever Instagram post, sharing images of locals taking to the streets.
"Loss of life such as Mr. Choudry's and those before him, lead to deep impact that is felt and shared by the responding officers, and all employees of Peel Police who work diligently to serve and keep the public safe in our communities," Peel Police Chief Nishan Duraiappah said in a statement at the time. "We believe in collaboration with stakeholders, partners and communities to work for public policies that will restore the mental health system so that those with mental health concerns, receive the care that they deservedly need," he added.
From the grief and anger, a movement grew. Video clips spread across social media. More joined the protests.
"I think that 2020 was a year that woke up a lot of people in general," Shawn, a founding member of MPM who asked to keep his surname private due to the organization's contentious relationship with Peel Police, told The Pointer. "The Ejaz blockade, there hasn't been something like that in Malton in my 20-plus years living here."
Choudry's death was not the first time Malton residents have taken issue with Peel police, but the response it provoked was unique.
For more than a decade, Peel Regional Police has struggled to gain the trust of diverse communities in Brampton and Mississauga. Carding data released by the media in 2015 offered proof the force had one standard for white residents and another for others. Black residents, who were targeted in the stops, which were often carried out illegally, faced detention in the data-collection encounters at more than three times the rate compared to whites.
In Malton, which because of its geographic and economic isolation from the rest of Mississauga suffers from the vagaries of neglect, trust in police was further eroded. It was revealed that controversial former chief Jennifer Evans was more concerned with cost than safety. She closed a community policing location in Malton in 2018 because of the high rent being paid. Local residents were outraged.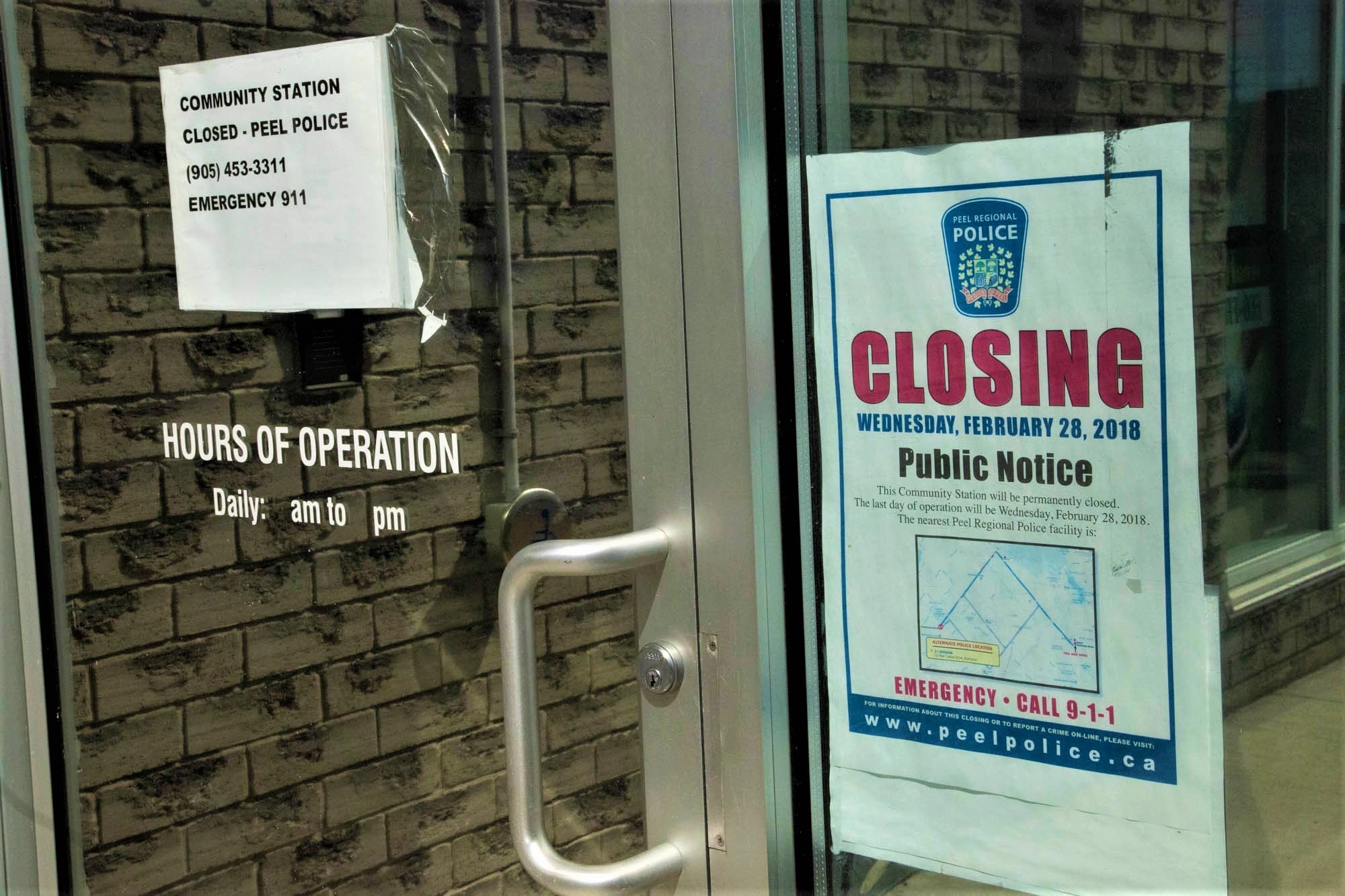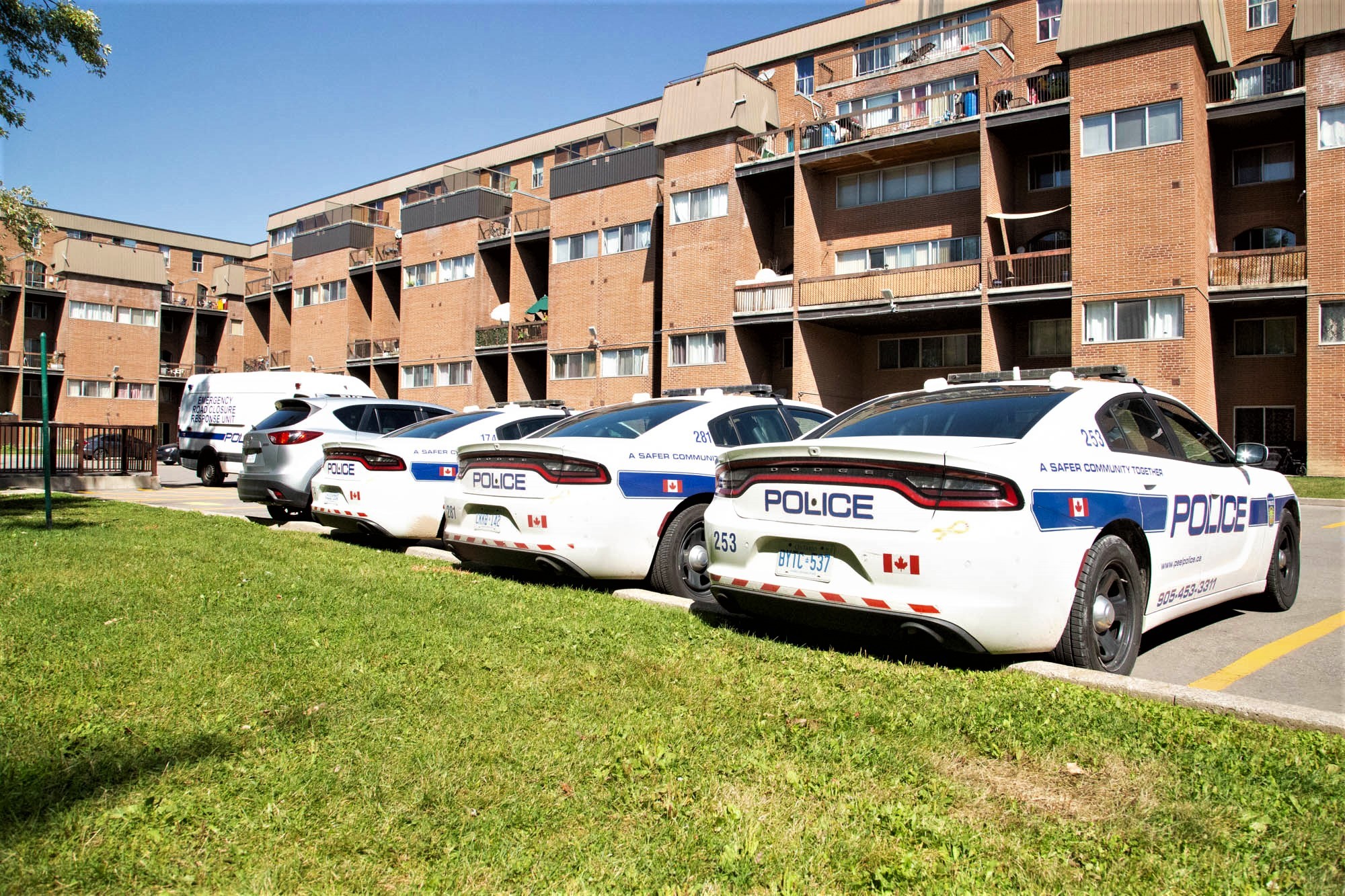 The Malton community station was closed in 2018, top, and a year later one of Ontario's worst mass shootings took place at a nearby apartment complex, bottom.
A year later, around the corner from where the police presence used to stand, one of the worst mass shootings in Ontario's history took place.
More than 130 bullets were fired in a shooting by a gang of youth, who killed 17-year-old Jonathan Davis, an innocent bystander, while five others were injured behind a local apartment complex in September of 2019.
The community was once again outraged.
But it was the police killing of Choudry, at the height of anti-police movements surging across North America last summer, that coalesced the community which began to unite under a common cause.
Years of simmering anger boiled over into action.
"A lot of people knew a lot of tragic things, but they dealt with it as individuals," Shawn said. "What the protest helped to do was [it] helped remind people of the concept of community…I've seen Italian people, I've seen Caribbean people out, I've seen Afro-centric people out, I've seen Brown people out, I've seen Asian people out. So people are starting to realize, 'Hey, all of us individually are having this problem'."
Duriappah has publicly expressed his regret at fatal police interactions and talked about the changes he plans to bring to the Peel Regional Police. "We will continue to develop training and programs, and partner with mental health experts to ensure that individuals receive the right services, at the right time," he said in a December 20 statement after his officers were cleared in an investigation into the death of D'Andre Campbell, a Black resident with a history of mental health problems shot by Peel police in April 2020.
From protests in the middle of an intersection, some in the Malton community grew more organized. A campaign page on Chuffed.org lists almost $5,000 donated to MPM by 93 people, with donations as recently as last week. The group's social media pages have thousands of followers and are used to organize protests, meetings and gather momentum.
The successful effort of MPM to get community engagement has been done in a city with traditionally low voter turnout at municipal elections. Malton is one of its more marginalized areas, cut off from the rest of the city by Pearson Airport and an enormous swath of industrial businesses.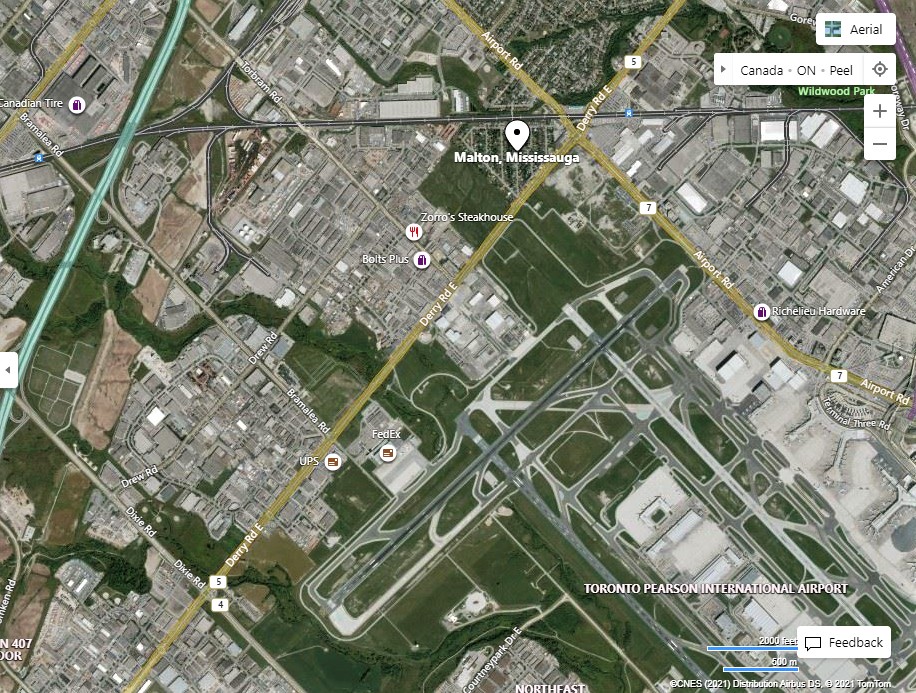 Malton has unique challenges due to its socio-economic conditions and geographic & economic isolation from the rest of Mississauga.
In 2018, just 27 percent of registered voters cast a ballot in the city's municipal election, down from 36.6 percent in 2014, and in 2003, just 20 percent of registered voters participated in local elections.
MPM has been able to reach thousands through its social media and has connected with a community that has historically not been politically engaged (voter turnout in 2018 for Ward 5 which includes Malton was around 10,600 in a Ward with about 80,000 residents).
Their campaigns, in person and online, have drawn attention and have become a critical piece of democraticly applied pressure in a region that has for decades allowed its police force to act with impunity. Data reported by the Toronto Star showed Peel Police had by far the worst rate of misconduct in Ontario over a recent five-year period, with almost a third of its uniform complement disciplined but leaders and community members remained silent. Evans blatantly misled the public, claiming only two percent of her officers faced discipline during their career, when the media began to pay attention to the force's alarming record.
The Pointer highlighted the shocking track record in a two-part series published in 2018.
---
---
Now, things have changed, thanks largely to the efforts of those like the members of MPM.
In September, Brampton Mayor Patrick Brown and Mississauga Mayor Bonnie Crombie met residents and family members of some victims killed by Peel police. The meeting at the Malton Community Centre was filmed by MPM, with a large traditional media presence outside, shining a light on the community's demands. Both mayors were members of the Peel Regional Police Services Board at the time (Mayor Brown has since been replaced on the board by Brampton Councillor Martin Medeiros).
Fizza Mir, a Peel resident sympathetic to MPM's cause, told The Pointer that social media and community pressure pushed the September mayoral meetings into the open. Originally, she said, they were planned to take place quietly at City Hall.
"An important part of social media is how public it is," she said. "Early on, there was a meeting with mayors. Initially, Mayor Crombie and Patrick Brown had promised to meet with the families, to hear their concerns, to support their demands. When those initial talks were happening, it was supposed to be in their offices, quietly, behind closed doors. The community refused and said, 'No, this is something that impacts all of us. It has to be done publicly.'"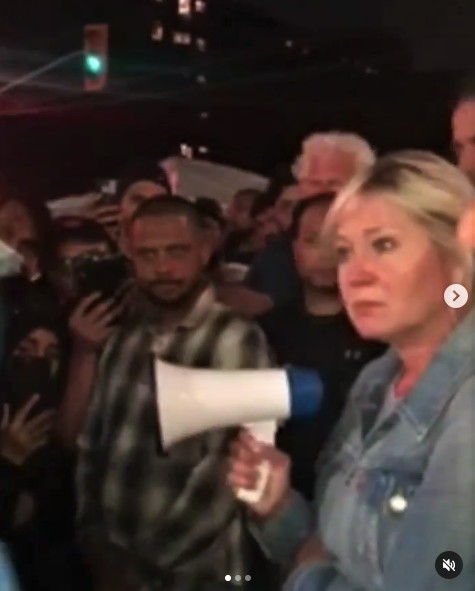 Mississauga Mayor Bonnie Crombie, holding bullhorn, at the packed community meeting.
Neither Shawn nor Miz feel Crombie, who used to represent the Ward as a councillor, has delivered on the requests made by MPM. Both cited the cost of the recently approved body-worn camera plan, a business-as-usual police budget and a lack of compensation for the families of victims as key issues.
"The Malton People's Movement is one of many groups that Mayor Crombie has spoken to and engaged with as a member of the Peel Police Services Board. One of [the] things that consistently comes up is reforming police practices and behaviour," a spokesperson for the mayor said in an email response to The Pointer. The message highlighted a motion passed at regional council in November calling for reforms to the SIU, the implementation of all recommendations in Justice Michael Tulloch's two reviews of policing and changes to how police handle mental health calls.
"In terms of body-worn cameras, Peel Regional Police have started piloting them at Pearson airport to better understand the operationalization of this tool. This decision was made after discussions at Peel Police Services Board, where both Mayors and the board felt that body-worn cameras will lead to greater transparency and accountability in policing."
The spokesperson added that Crombie could not, under provincial legislation, provide or operationalize municipal funding to compensate families.
The moves do push forward some areas of reform, but for MPM they do not address a key point. "I do find that, when I looked at some of the motions the police board submitted, it doesn't take in some of the main factors that are represented by the community," Shawn said. "One of which was the naming of officers ... this is something we can't get access to. So are they reflecting the needs of the community? No, I don't think so."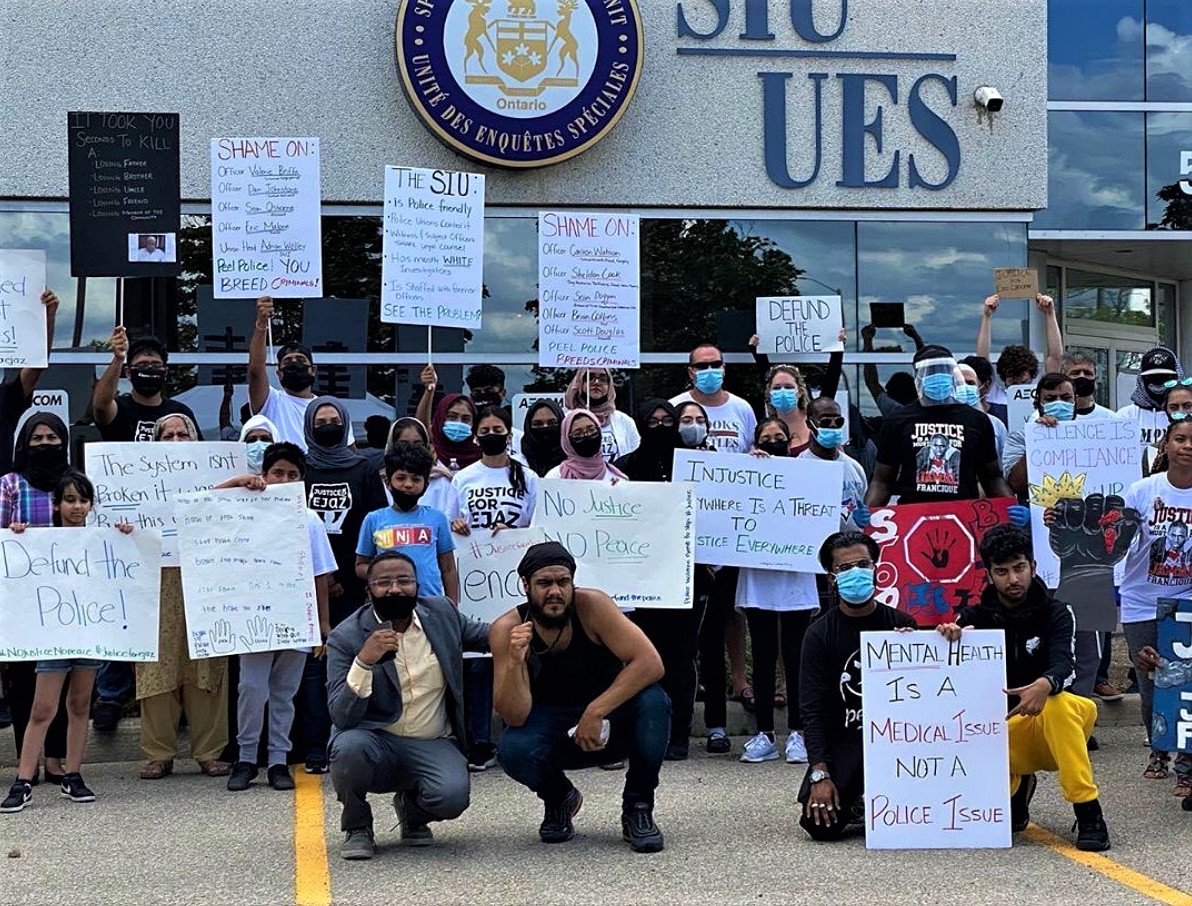 Crombie and Brown both spent the latter half of 2020 promising to reform how the Peel Regional Police spends taxpayer dollars, after more than a decade of massive increases to fund the force. Its budget went from $290 million in 2010 to $490 million in 2020, a nearly 70 percent increase in one decade. Meanwhile violent crime and other types of crime that hit visible minority communities particularly hard steadily increased, raising questions about the way Peel police were throwing money at problems that were getting worse. The mayors co-authored an op-ed published by papers in the Torstar network promising change.
But there is a clear reality: little can be done to reform policing because of the current funding model that is tied to labour costs. A series of generous contracts led to approximately 85 percent of the total Peel police budget being tied up in labour costs.
There is simply not enough left over to effectively change the policing model, at least not for some time. Suggestions to reduce patrol work in responding to the increasing number of mental health calls, while bringing in mental health professionals to more effectively deal with certain situations, require money that is not available.
Asked by The Pointer why the Police Services Board approved a 3.8 percent budget increase without requesting changes, Crombie said work had gone on behind the scenes.
"What you don't see is what happened in the background," she said at a December press conference. "We spent one day off-site deliberating the budget, then we reviewed it once again in the audit and finance committee. That budget has been very scaled back from where it was when it started." The 3.8 percent increase for 2021 is still about twice the rate of inflation in Ontario, but considerably less than the hikes approved over the previous decade.
Crombie also pointed to the addition of more than 20 new officers in 2021. But MPM has shown little patience for claims that throwing more officers at problems is a solution, when the approach has failed to work in the past. How resources are being allocated to keep all community members safe, is the question many of the group's members want answered.
On December 11, the group's frustration boiled over. Acting on its anger toward Peel Regional Police, a group of protestors threw red paint on the force's memorial, erected to remember those who had died in the line of duty.
MPM point to the pain community members have suffered at the hands of Peel Police as ample justification, but the tactic sparked an escalated response from the force. Officers arrested four supporters, according to MPM, including Chantelle Krupka, who was shot by a Peel police officer in 2020, and Derek Francique, father of Jamal Francique, killed by Peel Police at the beginning of last year.
The SIU recently determined there were "no grounds" to charge the officer who killed Francique, adding to the frustration of MPM.
"Peel Police believe that further protests will take place today and in the future," the force said in a December statement. "Those who participate in these demonstrations should know that any other property damage, or any violence or threats against Peel Regional Police officers, will be dealt with swiftly, and to the fullest extent."
MPM and its supporters were taken aback by the response, particularly the targeting of those who had already suffered at the hands of police. "I personally did not expect them to go after the victims of police brutality," Mir said. "I knew that there would be a response, I knew they would be very angry… I did not expect that they would have that much disdain for people they have already seriously harmed."
MPM and its supporters have taken a strong stance, one not all will agree with. Members appear to have lost faith in the police force entirely and favour moving toward large-scale defunding of the police.
The task is made particularly difficult by the fact 94 percent of the force's operating budget is tied up in non-negotiable union contracts. Some demands, such as the naming of police who have not been charged, go beyond recommendations included even in the Tulloch reports.
Shawn said the key is to remove the police from mental health calls entirely and suggested establishing a community-run, 24/7 emergency response line. Malton, he said, could be the perfect testing ground to demonstrate the viability of the concept. He said community members could dedicate themselves to full-time roles with the helpline to divert mental health calls away from armed officers and limit the possibility of the fatal interactions the Peel community saw in 2020.
However, even mental health professionals have said many calls involving people in emotional or psychological distress demand a police response because of the possibility of harm to the subject or others.
The need for professional training is another issue that would make it difficult for a more community-based response model, though such training could certainly be part of what MPM has proposed.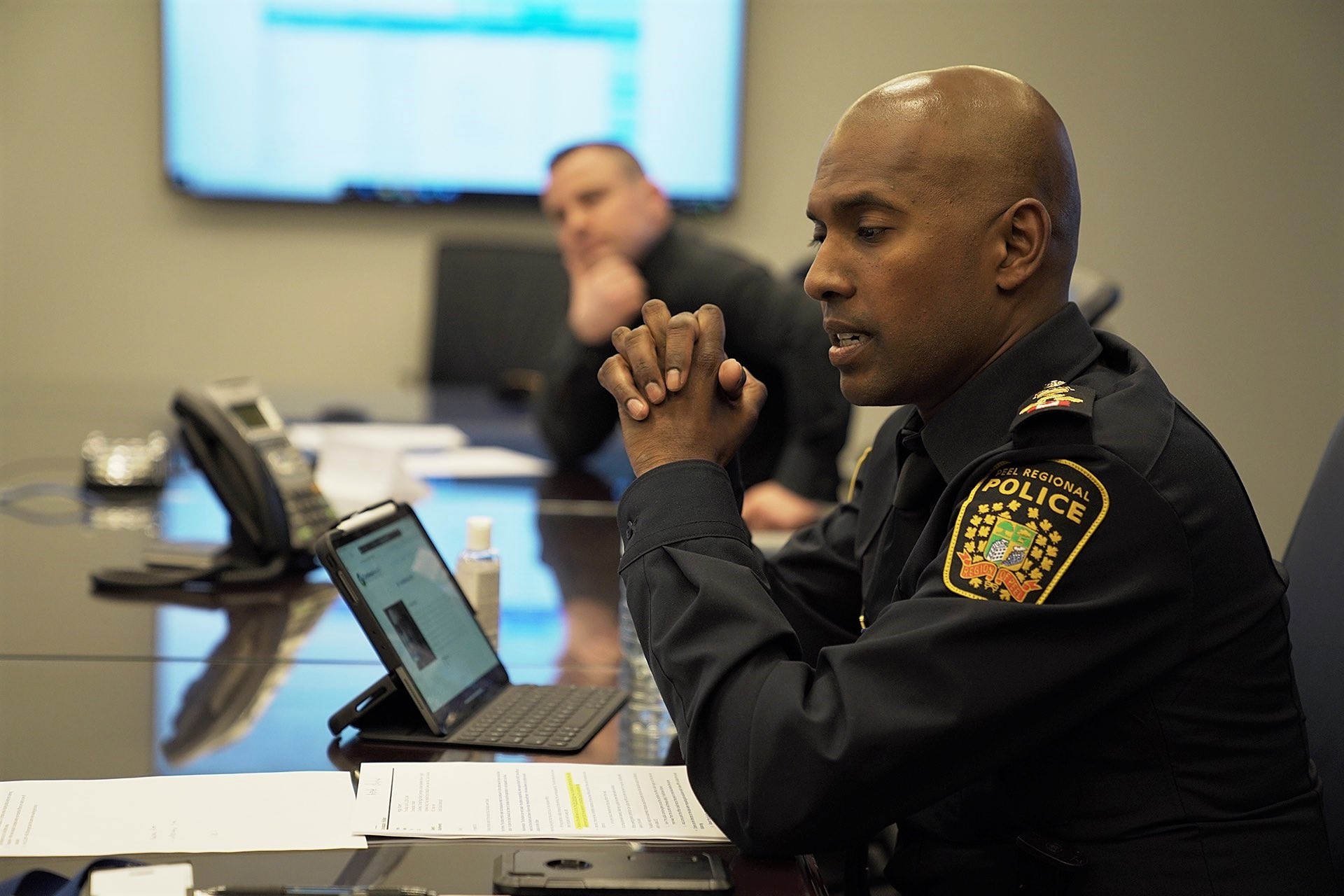 Chief Nishan Duraiappah agrees that officers should not handle mental health calls that should be dealt with by trained professionals.
Chief Duraiappah has himself said that he does not want his officers spending time and valuable resources attending to mental health calls they are not trained to deal with, which should be dealt with by professionals equipped to handle complex interactions.
"About 16 times a day, two officers each time, we are taking an individual under the mental health act to one of our local hospitals," Duraiappah stated last year. He pointed out that officers sometimes have to attend at a hospital for as long as five hours to deal with each incident.
Ultimately, the chief and MPM seem to want the same outcome: changes to a policing model that needs to keep everyone safe.
"I do think that groups like the Malton People's Movement are needed," Shawn said.
---
Email: [email protected]
Twitter: @isaaccallan
Tel: 647 561-4879
---
COVID-19 is impacting all Canadians. At a time when vital public information is needed by everyone, The Pointer has taken down our paywall on all stories relating to the pandemic and those of public interest to ensure every resident of Brampton and Mississauga has access to the facts. For those who are able, we encourage you to consider a subscription. This will help us report on important public interest issues the community needs to know about now more than ever. You can register for a 30-day free trial HERE. Thereafter, The Pointer will charge $10 a month and you can cancel any time right on the website. Thank you.
Submit a correction about this story