The Pointer file photos/Renderings City of Brampton/Metrolinx
Metrolinx advances Queen Street BRT but, once again, Brampton doesn't know who will fund it
Plans to transform Brampton from a sprawling suburb into a modern, transit city took a significant step forward in December.
The release last month of a business case by provincial agency Metrolinx for a bus rapid transit (BRT) corridor along Queen Street offers a glimpse of the city's exciting future. The lengthy document provides broad ideas for design, cost and justification of the potentially game-changing route.
The street is already one of Brampton's busiest for transit ridership, something a BRT would only increase. Boarding figures for Brampton Transit from fall 2018 show more than 20,000 daily riders on its express route alone. The corridor carries essential workers to and from the job, also ferrying students who live in Brampton to York University.
Shoppers use it to reach the Bramalea City Centre and development planned for the corridor holds the promise of completely reshaping what has been an eyesore for decades.
City Hall has positioned Queen Street as the road where Brampton meets the future.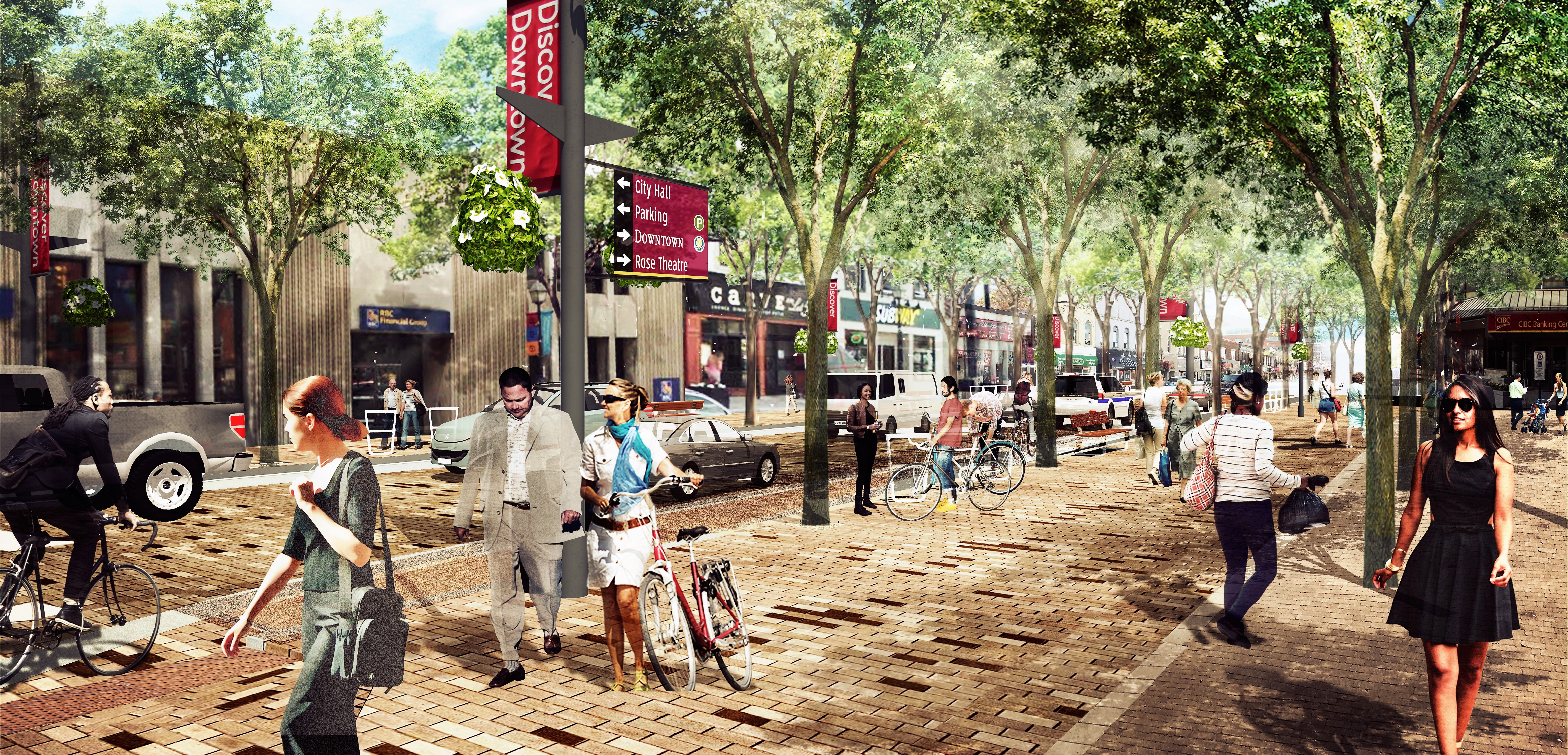 A rendering of Queen Street in the city centre.
In 2018, the City of Brampton undertook a major soul-searching project by hiring Vancouver-based urban planner Larry Beasley to supervise the creation of its 2040 Vision. The document, which included input from some 13,000 residents, laid out how Brampton would look in the future if it embraced density, transit and smart growth.
It suggested Queen Street could be the heart of that transformation. Density could bring more than just housing, Beasley and his team of visionaries promised. An inspired plan would bring culture and vibrant public life to the sprawling streetscape. Its aging strip malls and cracked sidewalks, devoid of pedestrians, would give way to the new suburbia of the GTA.
"The strong westerly and easterly urban anchors for central Queen Street, Downtown and Bramalea, set up the best potential in Brampton to create its own grand boulevard and to host a 'boulevard lifestyle' where everything is immediately at hand," the Vision states.
Higher order transit plays a key part in this plan, allowing for sidewalks to be expanded, pushing out cars and integrating people into their surroundings. Instead of vast tracts of potholed parking lots that act as urban barriers, literally forcing residents away from all the spaces in between (driving from one plaza to the next to shop or dine) rapid transit lines fill in all the gaps with rich commercial offerings, boutiques, cafes and intimate sidewalk culture.
---
Queen Street now...and in the future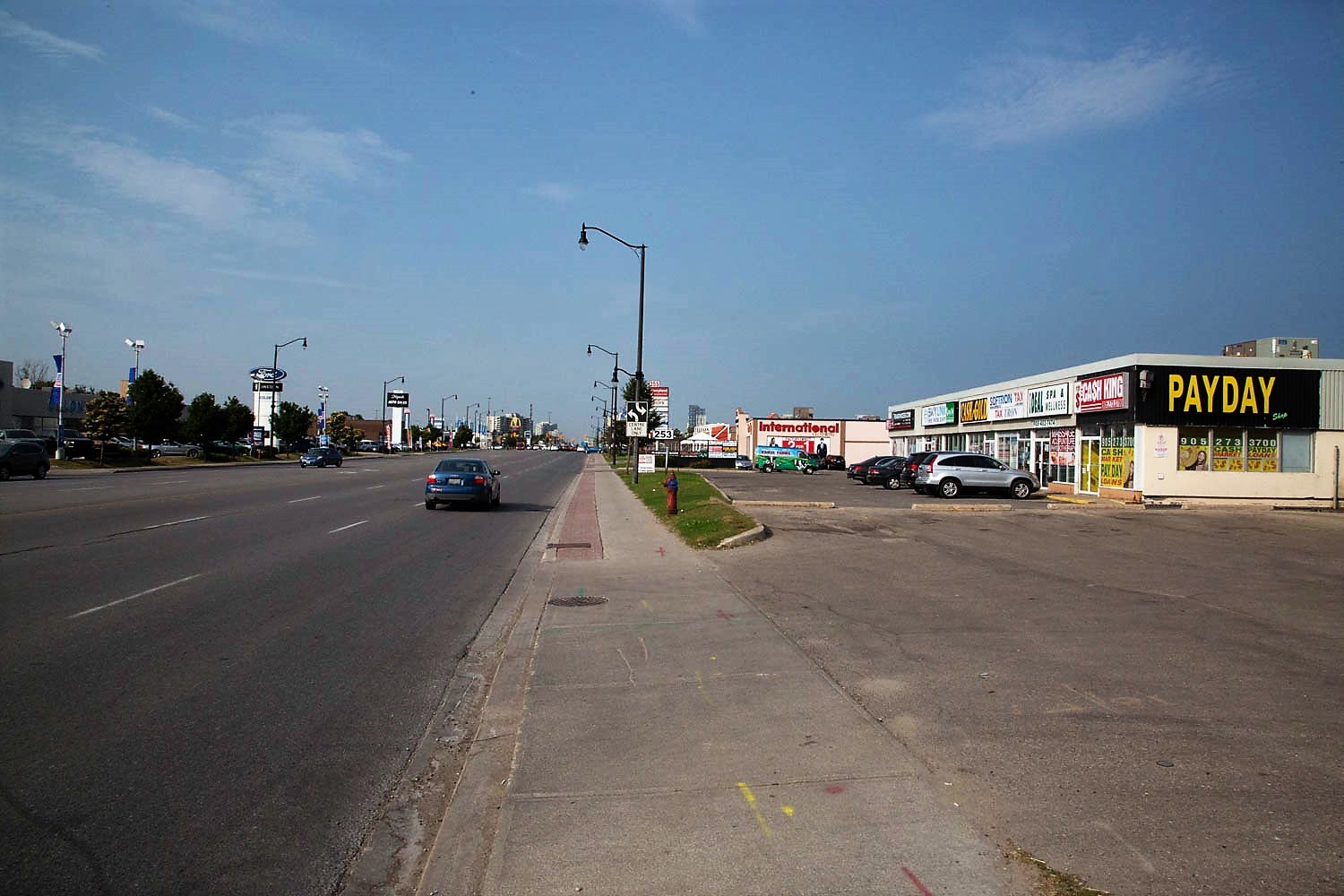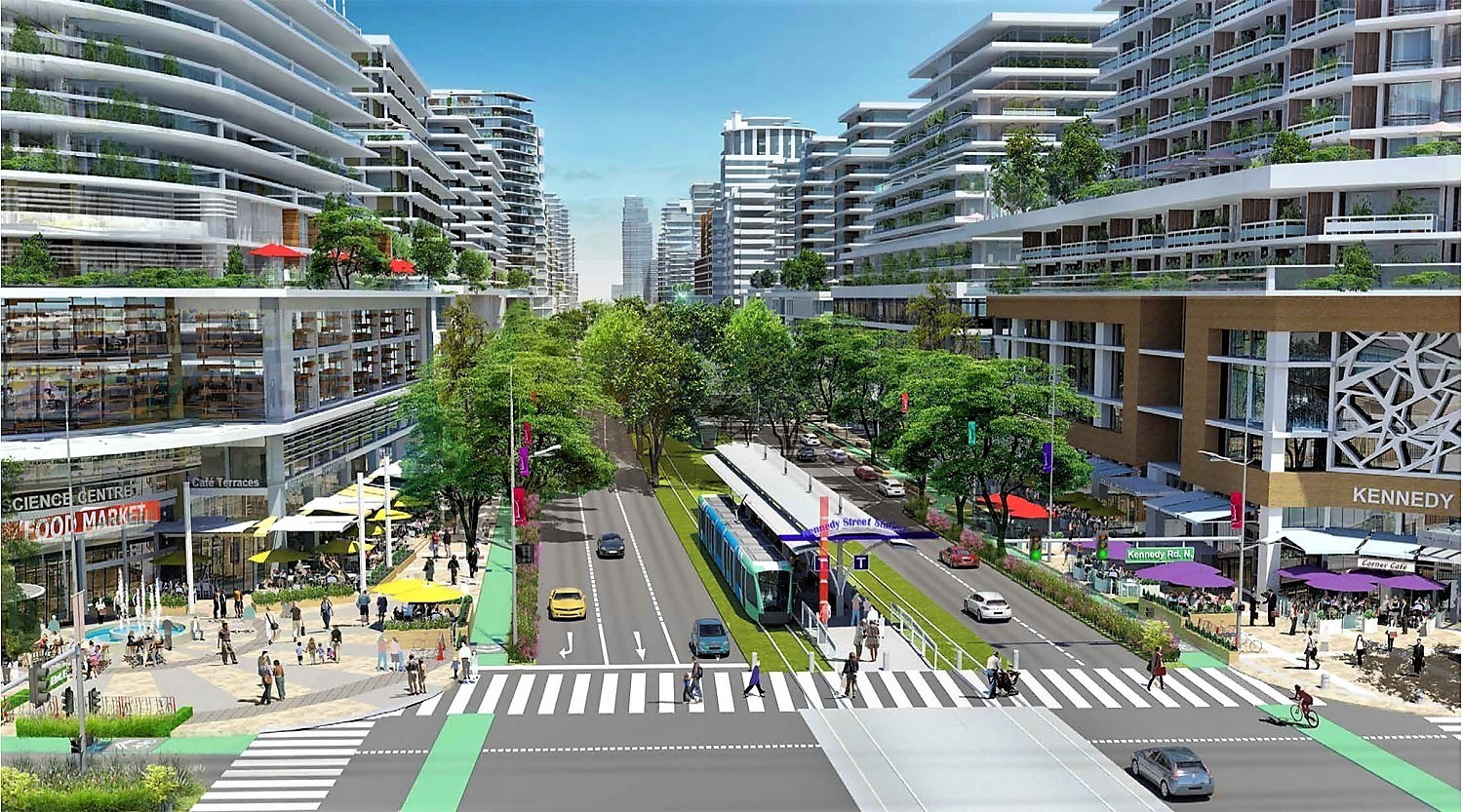 ---
Dense housing along these corridors acts as the catalyst, as cars are replaced by transit and sprawl is filled in by human activity.
The Queen Street Corridor plan aims to support future rapid transit expansion.
The City of Brampton took its first step toward the future in 2010 when it introduced Zum services along the route. Zum buses are express vehicles with occasional lane skips, but not fully fledged rapid transit.
The total length of the area Metrolinx has considered for its initial investigation of a BRT corridor is 18.5 kilometres through Brampton and a further 5.5 kilometres in Vaughan.
Transforming parts of the Queen Street corridor from its current state of barren, industrial and suburban roadways into a dense downtown will have its challenges. In Brampton, 83 percent of residents arrive at work by car, while 14 percent travel by transit. The city's public transit use is roughly in line with provincial averages, but a rapid transit corridor could see it begin to fulfill its aspirations of shedding its car-dominated suburban past, when developers literally designed areas such as Bramalea, Canada's first fully planned, post-war satellite community, built by Bramalea Consolidated Developments when the car was king.
To transform Queen Street from its role as a commuter thoroughfare for vehicles into a boulevard lined with teeming patios and urban cyclists, its current use by commercial transportation and logistics companies will need to be rethought. Between 8 and 12 percent of the corridor's traffic is currently medium or heavy trucks.
"The relationship between density and higher order transit service is symbiotic," Brampton Ward 1 and 5 Councillor Rowena Santos told The Pointer through a City spokesperson. "Having sufficient ridership is key to the viability of a rapid transit service, and an efficient and effective mobility solution – such as rapid transit – supports the 2040 Vision for the Queen Street corridor as a higher density mixed use urban boulevard. This type of project goes a long way to cut down on the need for personal automobiles and it accelerates the establishment of healthy and vibrant 20-minute walkable neighbourhoods."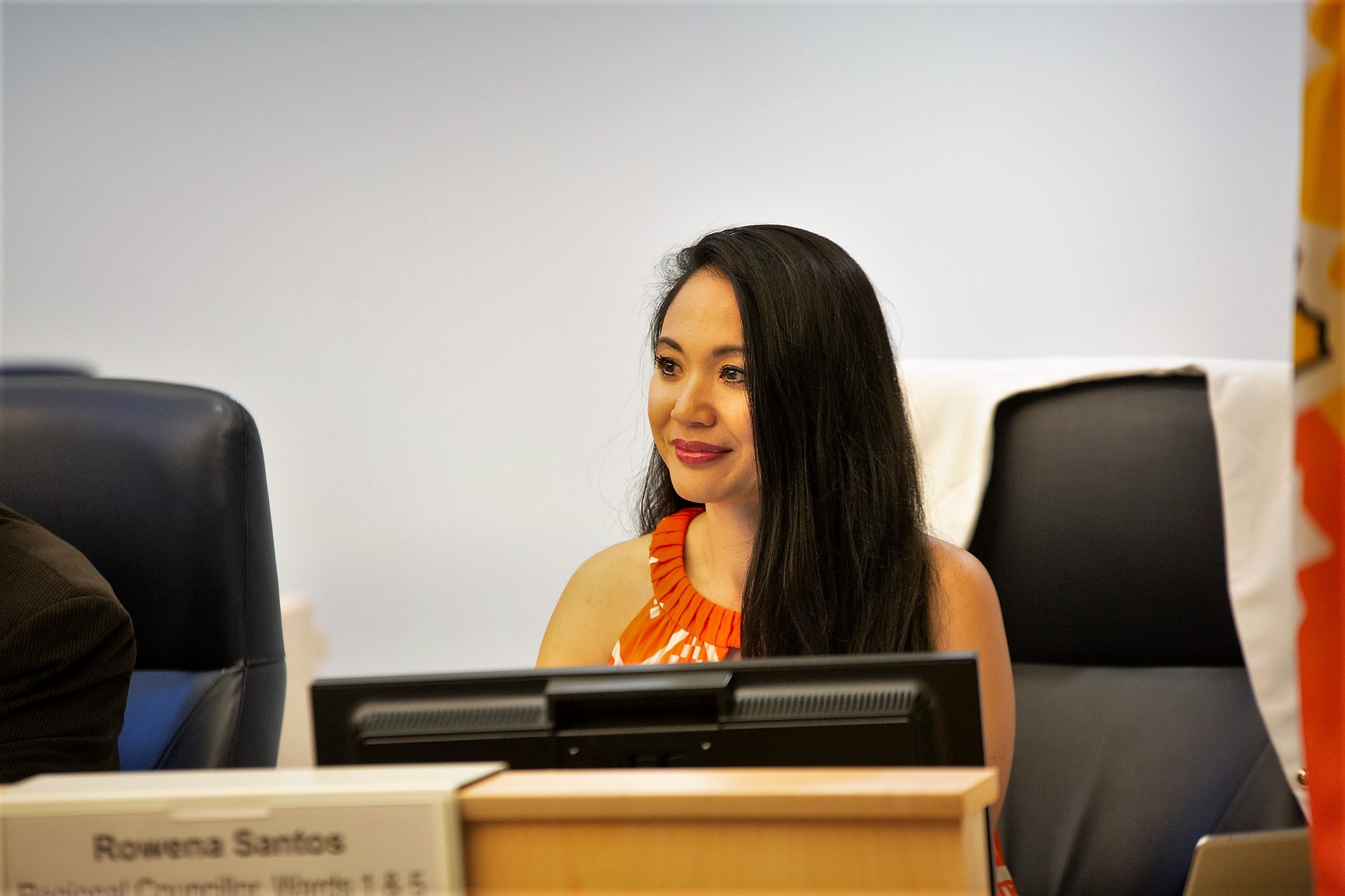 Councillor Rowena Santos has taken strong action to shift Brampton away from its dependency on the car.
Santos has been Brampton Council's loudest advocate for smart, active transportation and put words into action when she brought forward a successful motion in 2019 to stop a planned road widening of Williams Parkway, arguing that it did not fit with the 2040 Vision and the goal of getting people out of their cars.
Along the Queen Street corridor, roughly half of all trips are made by students. The transit ridership is younger than average and offers potential to grow further in the future, according to Metrolinx.
"There is a large market that can be considered 'untapped'; i.e. who would be likely to take advantage of transit but have not yet adopted regular transit usage," the report states.
The Metrolinx business case proposes several scenarios for how to bring a bus rapid transit route to Queen Street. One suggests a single trunk route BRT corridor for the full length, while two other options involve splitting the route into two sections. The document concludes that combining different options to have several priority buses run along Queen Street on an uninterrupted trunk route would be the best outcome.
Metrolinx has made high-level cost calculations, with a proposed construction year of 2023. If the project were to go ahead on schedule, the transit agency expects it to be operational by 2026.
Depending on how the project is constructed, the costs would vary. One suggested scenario would see existing traffic lanes converted into separate, painted bus lanes for between $3 million and $5.1 million per kilometre. That option, Metrolinx estimates, would cost roughly $93 million in total. An alternative possibility would be to widen Queen Street for most of its length — estimated at between $15.7 and $26.4 million per kilometre and totalling just over $481 million.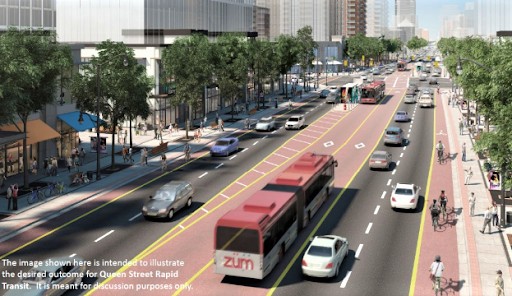 A rendering of a future Queen Street BRT.
With construction potentially just three years away, few answers are available as to who will pay for the infrastructure. Following a theme for the City, Brampton doesn't seem to have a funding plan.
Mayor Patrick Brown has effectively frozen all funding options by the City for major infrastructure projects and other features highlighted in the 2040 Vision, which he has claimed to support. The three straight years of tax freezes he pushed through make it difficult to realize the aspirations of the forward thinking planning document.
To the south, Mississauga is more prepared for its rapid transit vision. The City has submitted a federal funding application for its Dundas Street BRT route and added a share of the costs to its 10-year capital plan. The project itself was studied by the City in a 2018 master plan and is now in the midst of an environmental study, the cost of which is being shared by Metrolinx.
By comparison, Brampton is kilometres behind.
"High level capital and operating costs are provided in the Initial Business Case (IBC), and governance structures are discussed; however, final decisions on funding models have not been made at this time," Santos said, when asked about the Queen Street BRT.
A Metrolinx spokesperson said the preliminary design phase had funding and that "a governance structure is being established between Metrolinx, the City of Brampton and other stakeholders to oversee the preliminary design, preliminary design business case (PDBC), and Transit Project Assessment Process (TPAP) phase."
Like so many projects floated in Brampton, the Queen Street corridor oozes potential. In many ways, it shines through as a possible turning point which could begin to steer Brampton toward a denser, greener and more urban future.
But, despite its standout potential, the usual problems raise their heads. Questions about funding have been met with unknowns from City Hall while the mayor has failed to take any leadership on key projects to move Brampton into the future.
If construction is to begin on the project by 2023, to deliver rapid transit by 2026, funding will need to be secured — or at least earmarked — in the next two years.
---
Email: [email protected]
Twitter: @isaaccallan
Tel: 647 561-4879
---
COVID-19 is impacting all Canadians. At a time when vital public information is needed by everyone, The Pointer has taken down our paywall on all stories relating to the pandemic and those of public interest to ensure every resident of Brampton and Mississauga has access to the facts. For those who are able, we encourage you to consider a subscription. This will help us report on important public interest issues the community needs to know about now more than ever. You can register for a 30-day free trial HERE. Thereafter, The Pointer will charge $10 a month and you can cancel any time right on the website. Thank you.
Submit a correction about this story