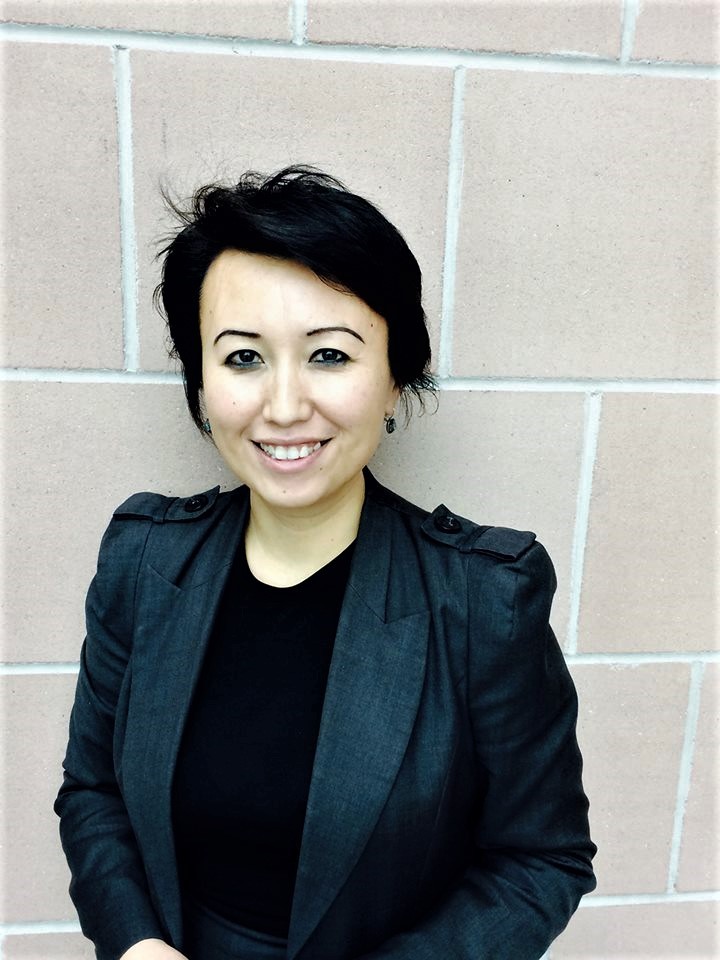 Photos by Mansoor Tanweer/Rick Drennan/Courtesy Yvonne Yeung/City of Markham/Renderings Lifetime Developments/City of Brampton
Brampton's ambitious plan for the future may have found the visionary it needs
The improbable story of how one of Canada's top urban designers came to work for the City of Brampton began on a wintry weekend months ago. The story pivots on the musing of a 12-year-old child who didn't know much about Brampton but did know his mother's love of a challenge.
First the backstory.
Yvonne Yeung doesn't go looking for jobs; they look for her. When she graduated from the University of Toronto's faculty of architecture, landscape and design, she joined the private sector and specialized in visioning, master-planning, implementation and advocacy of sustainable and resilient transit-oriented developments. Then, in 2011, she brought her managerial experiences from private companies to the public sector, and the City of Markham.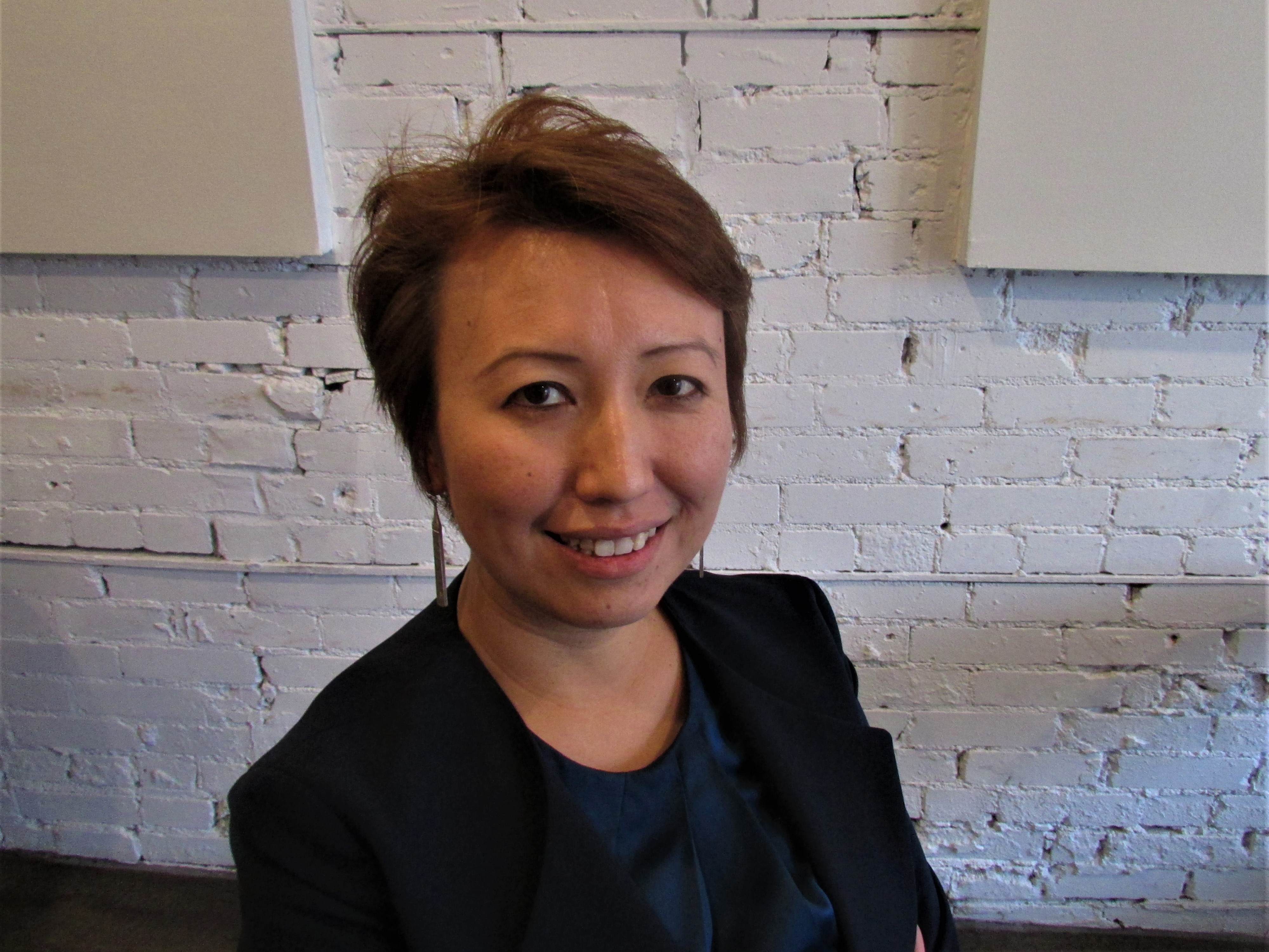 Yvonne Yeung, Brampton's new Manager of Urban Design
During her tenure as its top urban designer, she led a transformative city plan that involved moving the city centre between Highway 7 and the 407 Highway and recreating it as one of the biggest and most influential high-tech capitals of Canada. The city's strategic growth strategy was based on transit: VIVA (bus rapid transit) ran along the Highway 7 corridor, while the Yonge Street subway line and the GO Train corridor also gobbled up and dispersed thousands of its new residents into all areas of this highly densified, mixed-use suburban city model. It was all based on smart-city integration and delivery, land development and partnerships, and the realization of the 19-million square-foot Langstaff Gateway Urban Growth Centre.
This creation of a new suburban ecosystem brought her into close contact with famous urban designers like Ken Greenberg of the Urban Land Institute (ULI). She was appointed to its board and now sits as its co-chair of membership. Like others on the ULI team, she is all-in when it comes to visioning, master-planning, implementation and advocacy of sustainable and resilient transit-oriented complete communities. The buzzword "complete communities" means promoting progressive collaborations between public and private sector partners and building 20-minute neighbourhoods. Meaning: all the things needed to enjoy a festive urban lifestyle – transit, parks, shopping, healthcare, dining, arts and culture etc. – are available within an 800-metre walk.
Ken Greenberg of the Urban Land Institute
Located just north of Toronto, Markham is a major destination for Canadian newcomers. More than sixty percent of residents are born outside of the country, making it one of the most culturally diverse cities in the world.
How was it possible to create an "urban vibe" in a suburban setting? A quick visit to the Leitchcroft neighbourhood brings into sharp focus what Markham has achieved. It sits between three major highways making for easy accessibility. It is one of Canada's most intensified communities within a community and is characterized by a mix of mid and high-rise buildings along winding streets that make for an intimate neighbourly feel that is protected from the buzz of the city.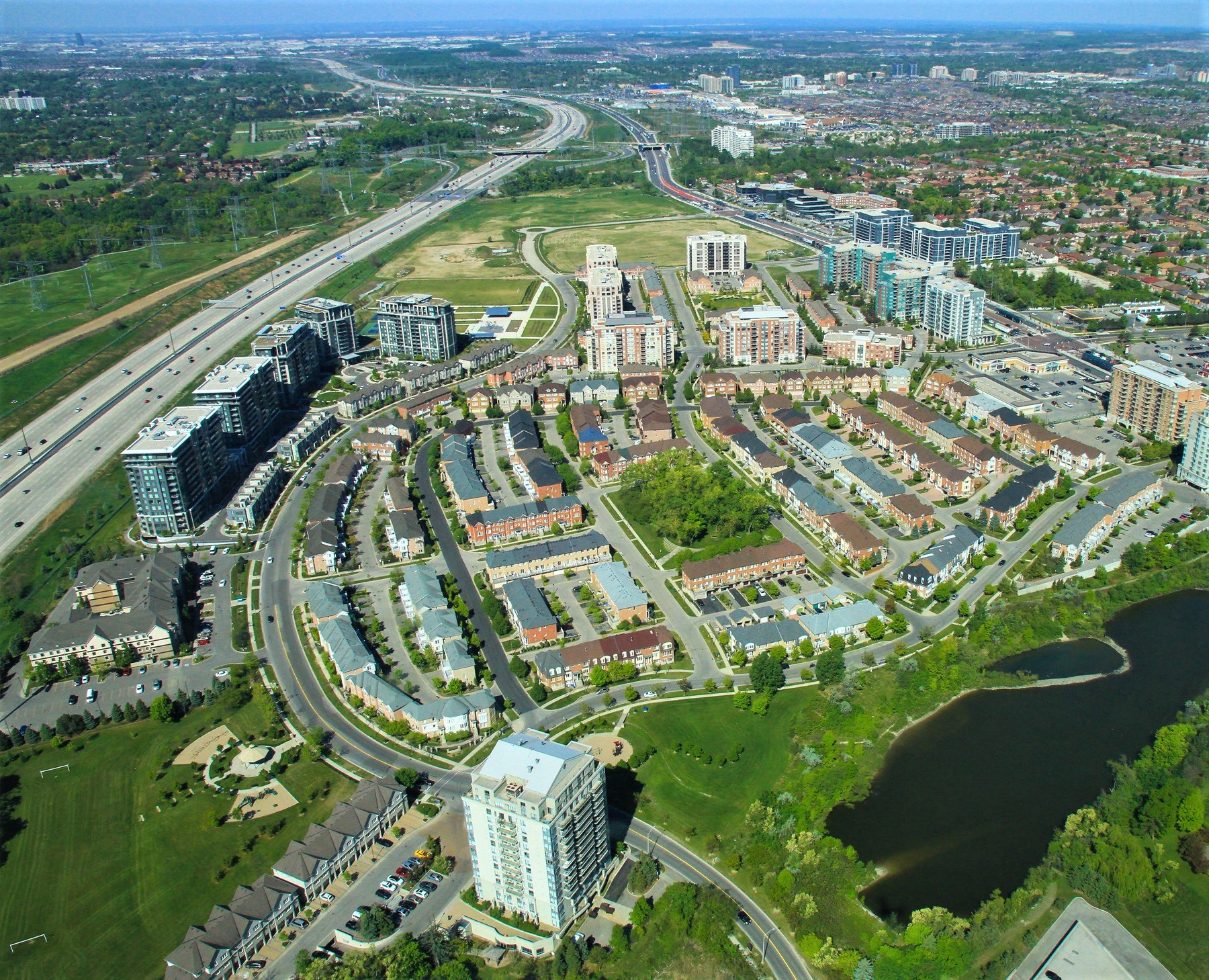 Markham's Leitchcroft neighbourhood
The municipality planned for an eight-acre park that would serve as the core public space for the neighborhood and surrounding area. OpenCity Projects, a consortium of architects, urban planners and designers, was engaged by Markham's Planning and Urban Design Department to address this key conceptual challenge – how to create an experience that would be welcoming and well-used by residents from diverse cultures.
During Yeung's travels, especially to the Scandinavian countries of Sweden, Norway, Finland and Denmark, she learned the success of emerging trends in urban design meant following a transit-oriented philosophy, and incorporating a land-development business model that should be shaped by a range of stakeholders, not just builders.
She continued to help frame Markham's urban design review of developments within the Yonge Street Subway Extension Regional Corridor, and the west portion of Highway 7's VIVA Rapid Transit Corridor. Yeung's specialty in neighbourhood development, brought her to the attention of Bob Bjerke, director of policy planning at the City of Brampton, who had briefly led the vision to modernize Halifax's urban design before he arrived in the Flower City.
---
Some of the urban design in Markham that Yvonne Yeung has drawn inspiration from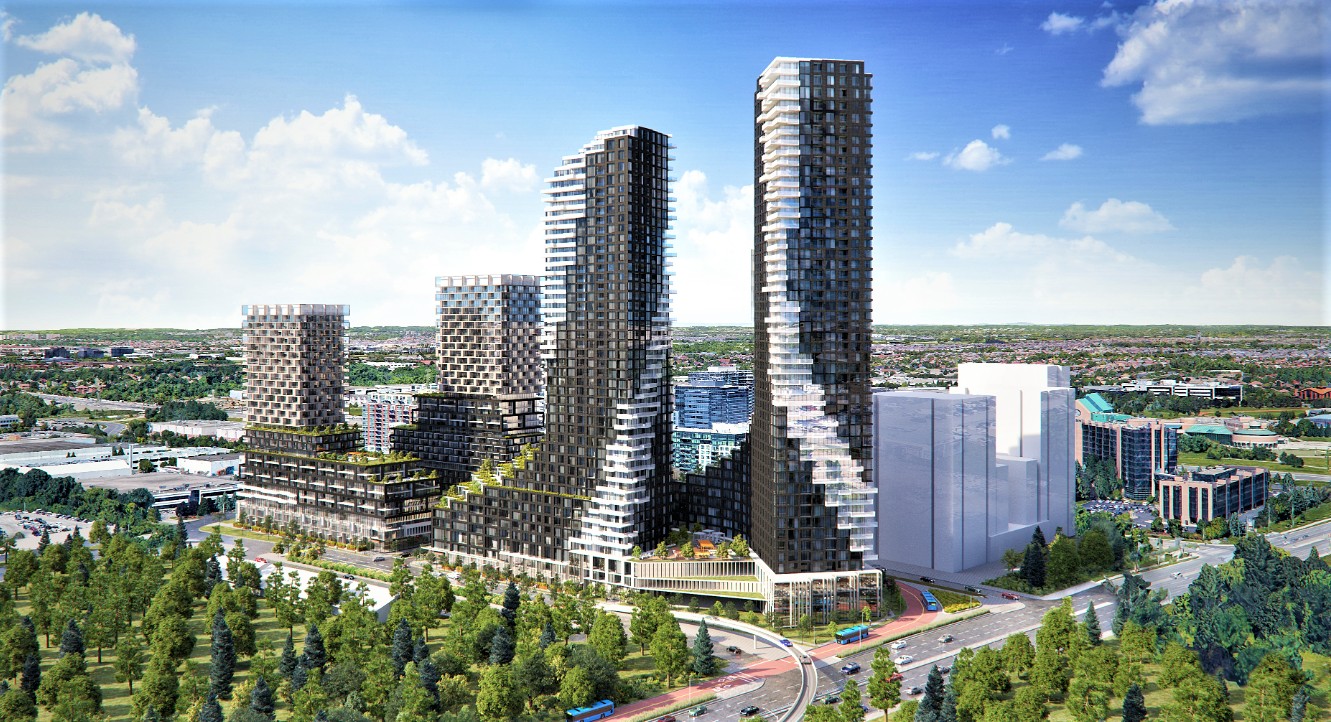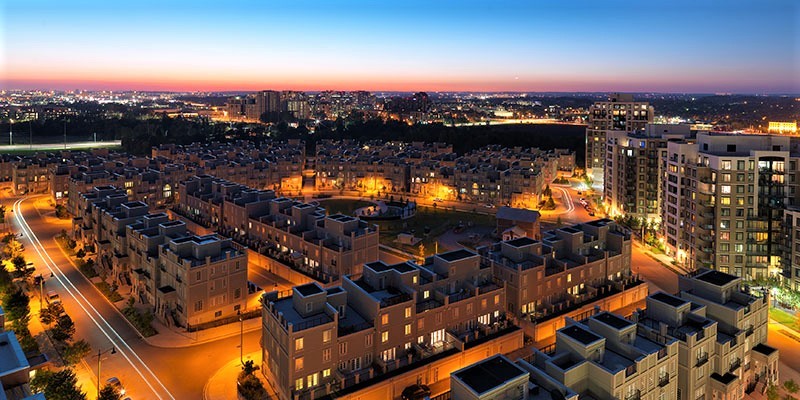 ---
Like Markham, Canada's ninth largest city was a major destination of newcomers. In fact, its population was even more diverse, with 74 percent of residents identifying as visible minorities. It was also the second-fastest growing major city in the country.
But unlike Markham, its land-use makeup was awful: low-density, single-family housing, wide boulevards, plugged with traffic, a stagnant downtown with flood mitigation problems, and a history of political stasis that often saw cities like Mississauga, Kitchener-Waterloo, and Hamilton, surpass it by embracing smart growth, accepting the paradigm shift to densification and hooking up their strategic plans with a pursuit of innovative public transit.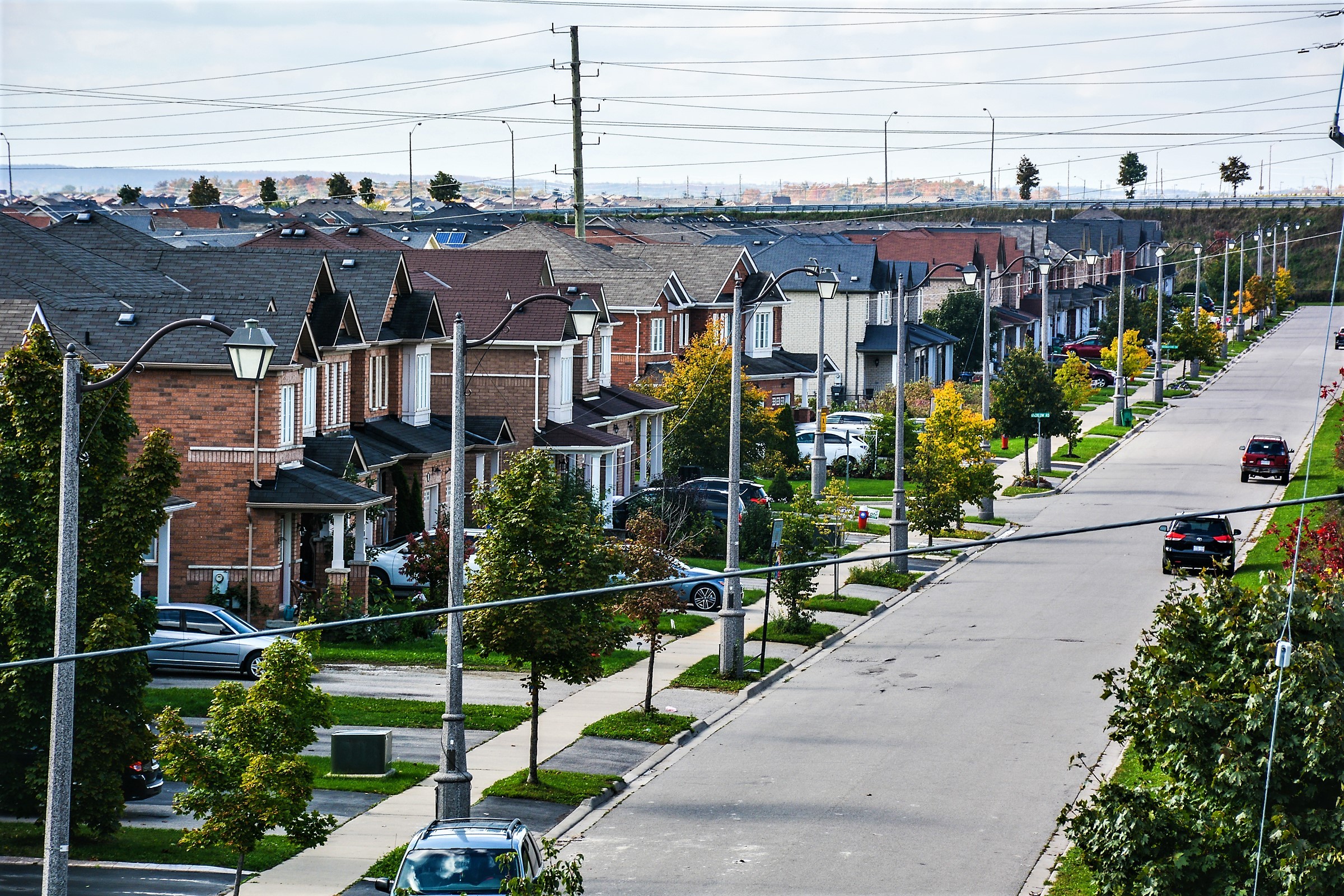 Brampton, on the other hand, had been handed over to developers who converted pristine farmland into sprawling single-family housing subdivisions. It was the result of a quarter-century of city hall giveaways to builders, who kept council members in power and two consecutive mayors happy, Peter Robertson and Susan Fennell.
Brampton had been stymied by an incomplete transit network, that eventually evolved into a ZUM bus system that has experienced recent ridership gains, largely because it practically began from scratch.
But as the population has continued to swell, now estimated to be approaching 650,000 residents, the city still has no all-day, two-way GO Train service, and no light rail transit line. Less than 39,000 residents listed transit as their mode of transportation in the 2016 census, compared to more than 60,000 in Mississauga and more than 463,000 in Toronto. Despite having a population almost 23 percent of the size of Toronto's, the number of Brampton's transit users was only 8 percent of the number in its neighbouring city.
City Hall has undergone its own transformations. In 2016, it rid itself of two-dozen senior managers. Its new CAO, Harry Schlange, conducted the purge after an external financial review by the province's former auditor general showed "unsustainable labour costs", including the bureaucratic class, that were swallowing up a disproportionate amount of property taxes. Two years later, under new mayor Patrick Brown, Schlange would also feel the sharp tip of steel when he was removed from his position.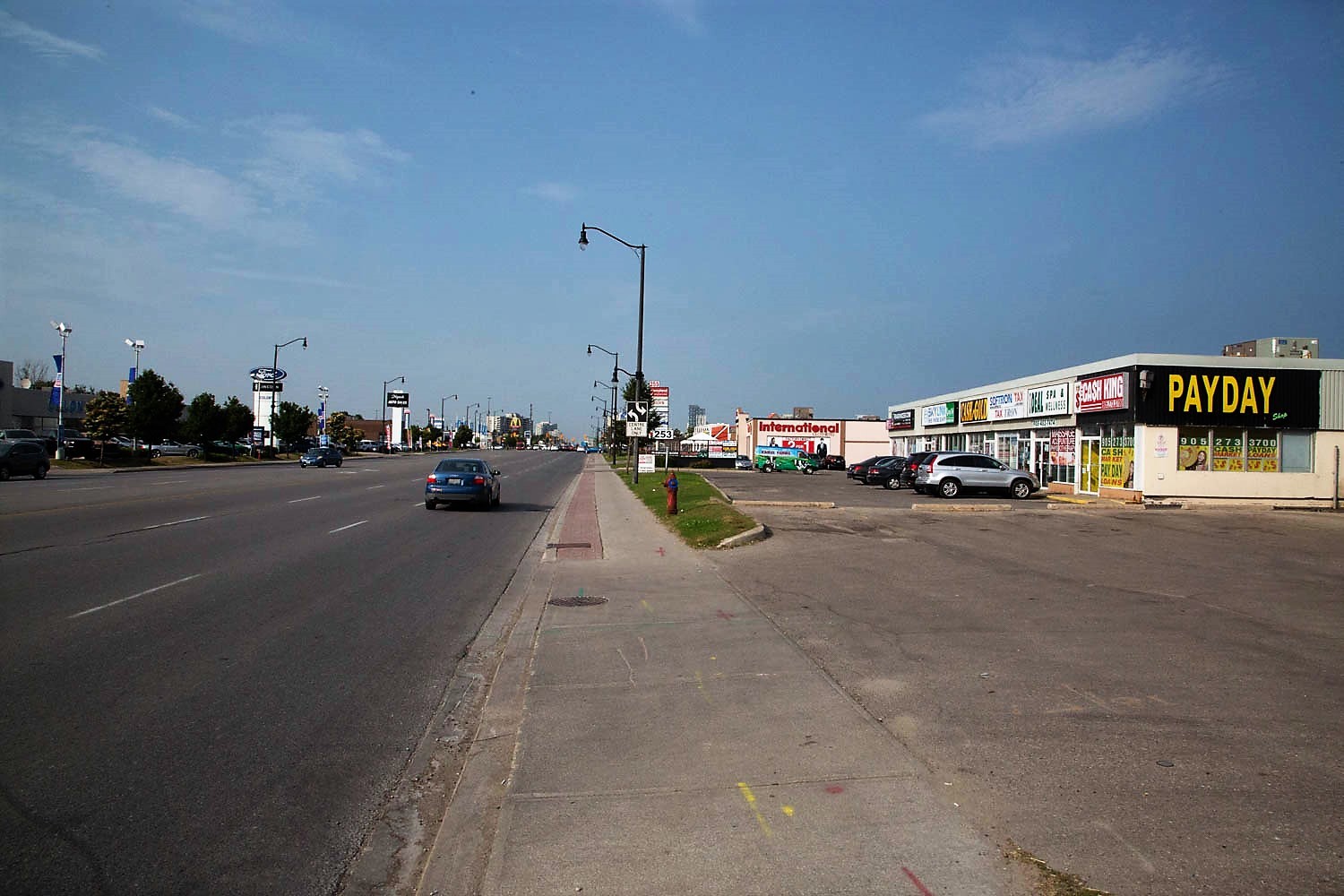 Queen Street, just east of downtown, is a low density eyesore
It's clear, Brampton's new-look city hall under Brown is searching for transformational talent to create an entirely different vision for a city desperate for a reimagining.
The 2040 Vision, a new plan for the city's future, was conceived with the input of thousands of residents and approved by council last year. It calls for an end to sprawl and the start of a smart growth future with density, verticality and transit.
Part of the Queen Street plan, from Kennedy Road to Bramalea, under Brampton's 2040 Vision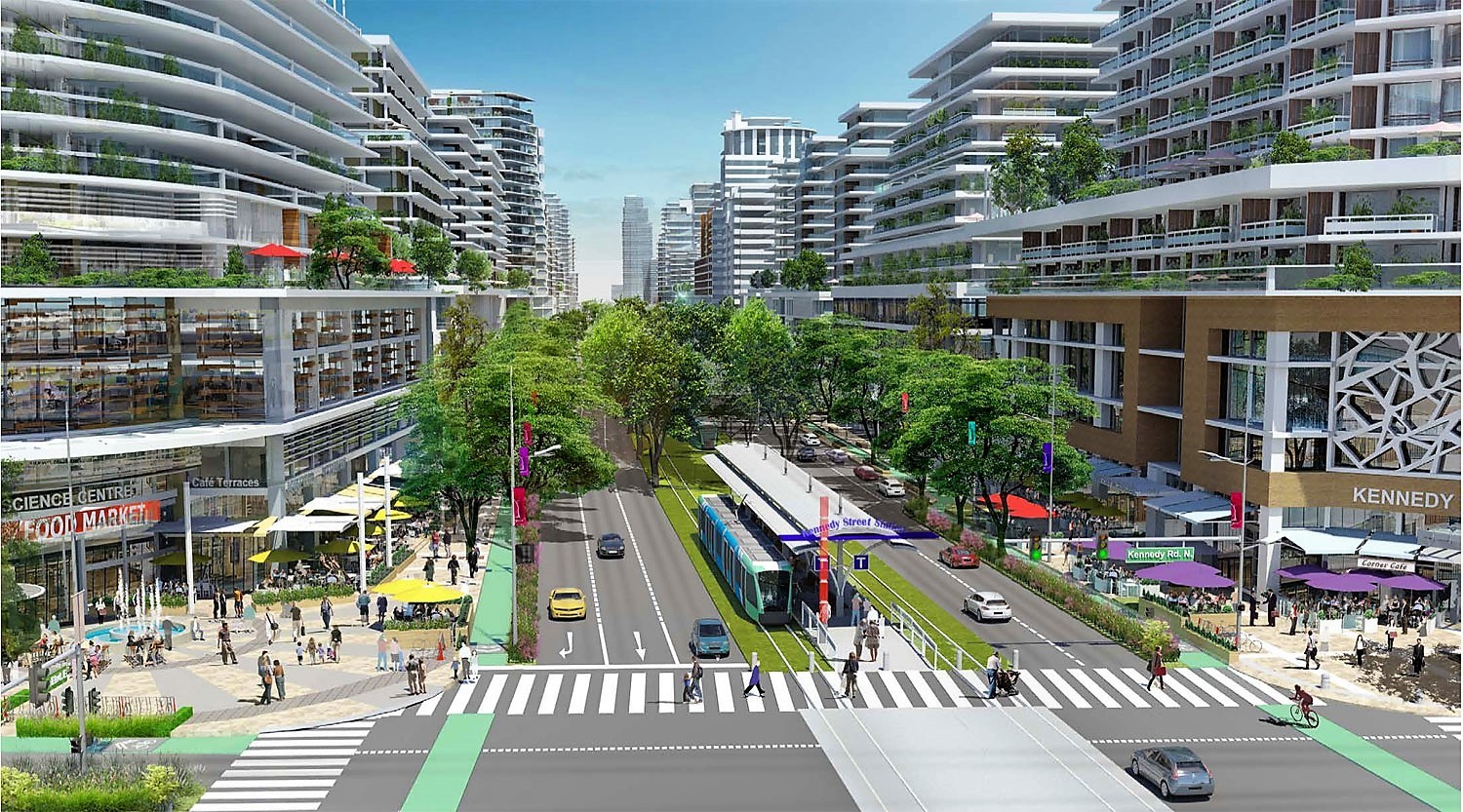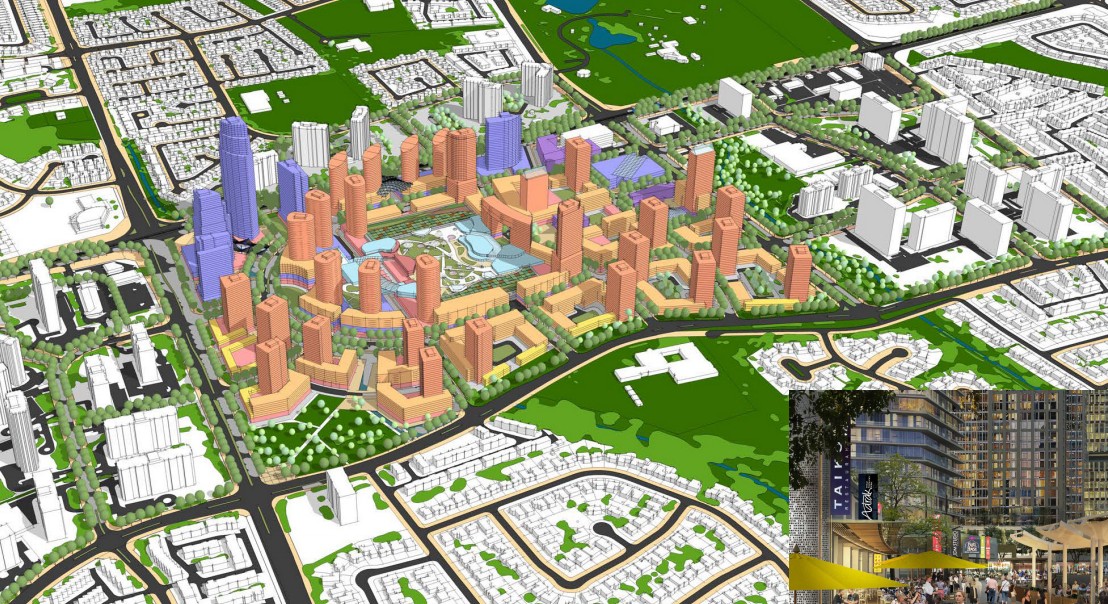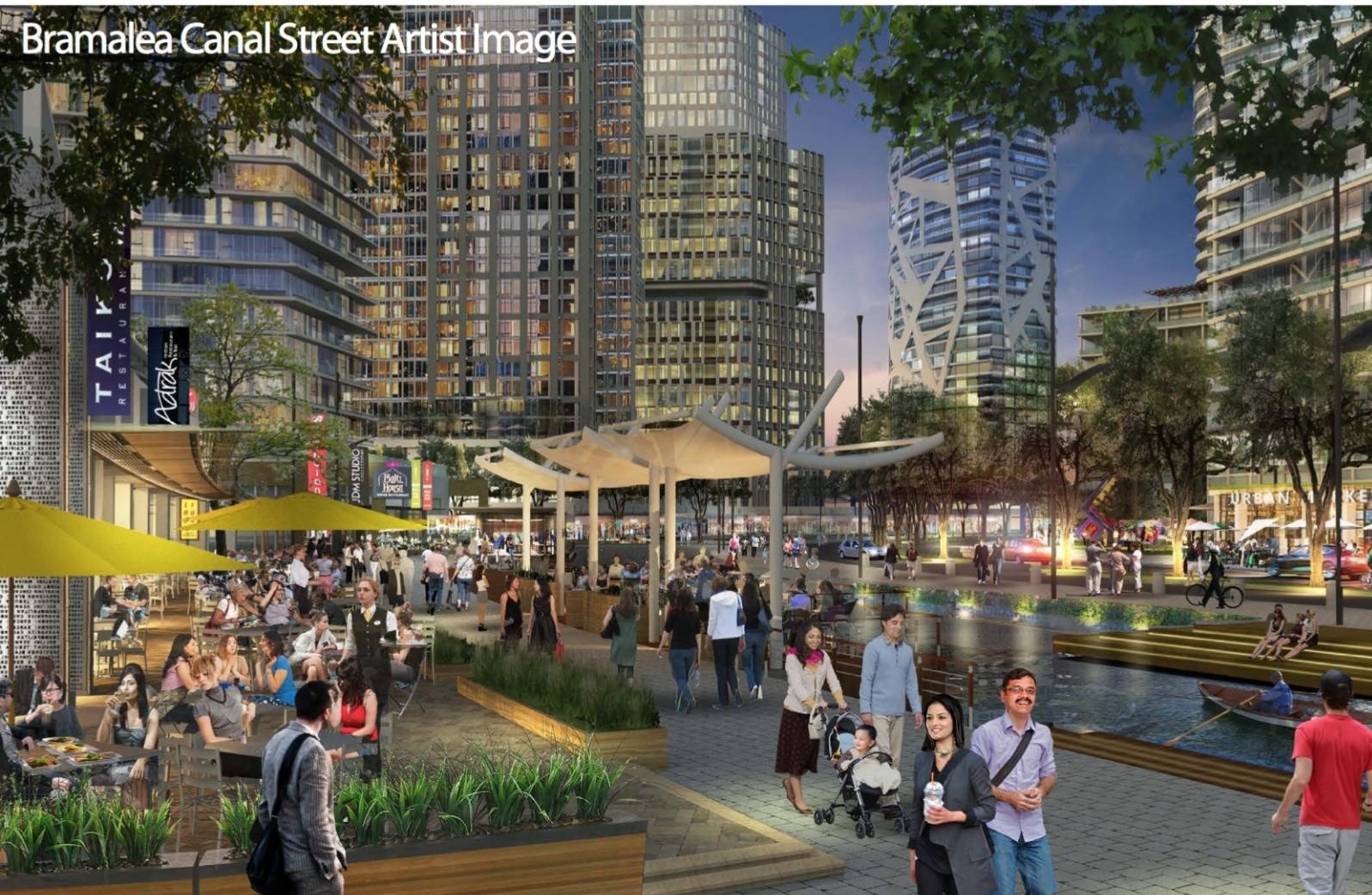 Whether that specific vision moves forward or not, Bjerke was clearly focused on Yeung to help push Brampton into the future. He was particularly attracted to her neighbourhoods approach to city building.
Her initial response to his entreaties was one of puzzlement. She recalled her first few chats with city officials while sitting down at a small coffee shop on Main Street recently.
Her questions were simple: Me? Brampton? Why? Are you serious?
Yes, they were. But she was happy in Markham, and not familiar with the massive problems faced by the city suddenly trying to hire her. How would it transform itself from a developer-controlled sprawling 'burb into a full-fledged "complete city", a cosmopolitan destination that fits the population it serves.
She listened intently, and decided on a whim to take her husband (also an urban planner, with the City of Ajax) and her two children on a visit to Brampton. It was mid-February, snowy and cold, but immediately upon arrival here, she "sensed an opportunity."
Yeung said she was "looking for a canvas" to fill in with her ideas of urban renewal, but her first impression of the city was underwhelming – mainly because it was so wintry, and so uninviting.
But there was a but.
Yeung recalls her 12-year-old son Noel looking at her and saying, "Mom, they need a lot of help. You should go here and help."
It was a plea that jolted her because of its honest simplicity, and it was a reason why she decided to accept the new position as the city's urban design manager. While the Brampton canvas wasn't exactly blank, she would be given an opportunity to help transform it.
The goal of creating "complete communities," and "20-minute neighbourhoods" was possible, even in a city that for two-and-a-half decades was so poorly managed.
The 20-minute neighbourhoods concept inspired by Helsinki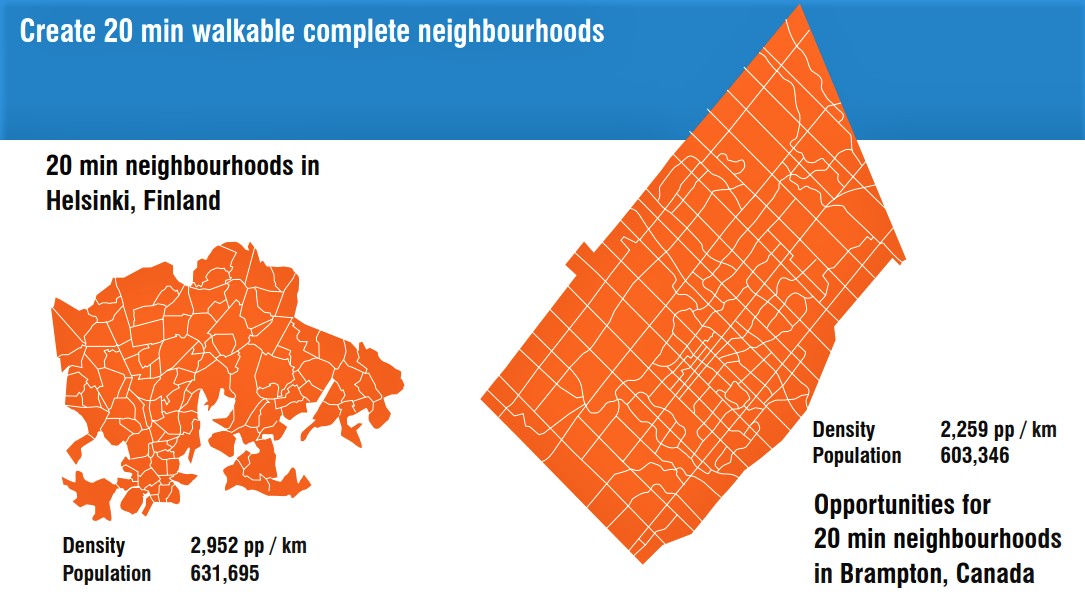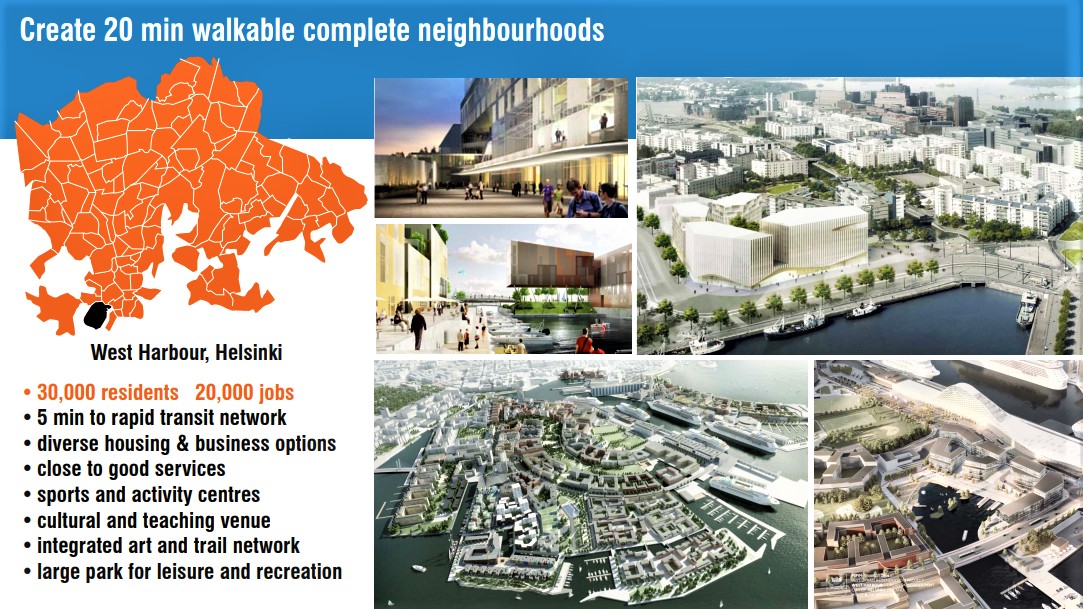 Outsiders might think her task is next to impossible, considering Brampton's Downtown Reimagine project to fix its underground utility problems and above-ground streetscaping has been put on hold because of unknown sub-surface water channels and cost concerns.
The city has no funding and can't decide which way it wants to go with an LRT extension into the downtown core. The province has also pulled its $90-million contribution for a now cancelled downtown university campus (with other post-secondary partners now trying to fill the void) and the Riverwalk project that might help transform the city core, is only in the early stages, and totally dependent upon funding from higher levels of government.
But Yeung is of the opinion that behind dark clouds are silver linings. She adores the city's 2040 Vision that she believes is more than just an "aspirational" document, as former mayor Linda Jeffrey dismissively called it. It has the key components to eventually implement a complete re-do of the city's land-use planning model, she says.
She also thinks the ZUM buses are a positive for the movement of people, and the double digit increase in transit use in the city is a great sign of future prospects.
It's also clear that Yeung and city planners have their eyes on the Queen Street corridor as a relatively clean canvas that can be developed like many of the progressive cities holding membership in ULI.
---
The city's Queen Street corridor initial focus area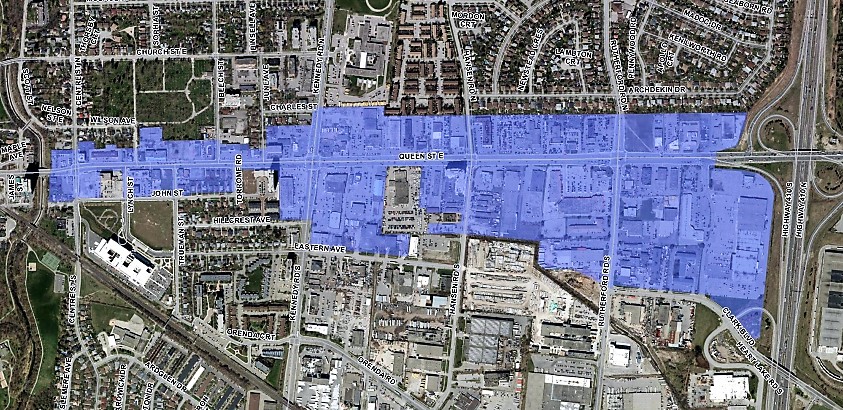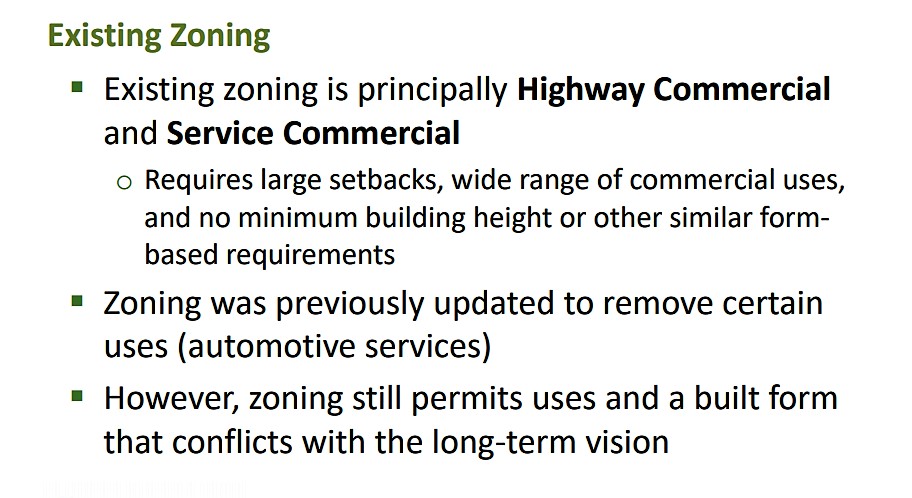 ---
One of Yeung's first hires was to bring in Greenberg as an advisor. Both were centre stage at the Rose Theatre recently to welcome in urban designers from Scandinavia, with ULI hosting, Urbanizing Suburbia: The Nordic Solution.
Days later in the downtown coffee shop, Yeung doubled down on her team's commitment to making the Queen Street Corridor a "priority project."
That means, while the city and region discuss ways to re-do the water main problems and address the downtown flooding risk, which has handcuffed planners for more than two decades, the city is ready to move to higher and drier ground and start transforming the corridor on Queen into a mixed-use area with higher densities, more transit options and a goal of creating "complete communities" along a key thoroughfare that leads right into the city centre.
The new key players who hope to move Brampton into the future
Yvonne Yeung next to Bob Bjerke, Brampton's new Director of Policy Planning, and urban designer Ken Greenberg with Richard Forward, Brampton's new Commissioner of Planning & Development on the right
One future plan is already in place at the current site of the Bramalea City Centre mall, and with the Peel Memorial Centre for Integrated Healthcare as another potential anchor, the eagerness to develop the area is very much on Yeung's mind these days.
She has seen what can be done, in Markham.
"We don't have that robust network of density, with all its advantages," she explains, but both she and Greenberg believe Brampton has a lot of nice chess pieces that are already on the board.
Those pieces were discussed earlier this year before a full public gallery as the city announced it was undertaking a study by consultants WSP of the Queen Street Corridor.
It is a stretch of low-density mostly commercial development surrounded by single-family homes between Hwy 410 and Etobicoke Creek. City Hall believes it is ripe for development. Thus, the hiring of Yeung.
While it appears to be more cars on roads than people on sidewalks these days, with ugly low-slung shops and service stores lining the vast streetscape, it has the bones of a potentially grand urban boulevard.
But right now it is a dystopian landscape, dominated by strip-malls, concrete, and enormous urban skies. From this, Yeung foresees a major provincial transportation hub with mixed-use development. The prospect of creating complete communities here fills her with excitement.
Yeung admits that Brampton has had its fair share of bad publicity when it comes to its history of land usage, but it has an opportunity to decide "what kind of urban vibe" it wants to create for itself in the future.
The best place to start is by following the 2040 Vision.
This, she says, will take collaboration between the public and private sector, and she has already worked to quicken the approval process so new development can gain a foothold. Recently, Brampton's Inzola Group held a ribbon-cutting for its new Symphony Condo project on Queen. Mayor Patrick Brown said he hoped it was one of many such buildings to reinvigorate the area and make it work on a human scale.
Yeung looks at Greenberg as a mentor, and his visionary St. Lawrence Neighbourhood in downtown Toronto was a complete community built on an old parking lot. When the urbanist headed up Toronto's planning and building, the community became a world-famous example of transforming low-slung or non-descript concrete nothingness into a vibrant, livable and walkable neighbourhood that bustles with constant energy.
It's alive.
Yeung wants to breathe that life into this city.
Those who captured and released that energy into the downtown vibe during the Toronto Raptors' spring run to glory, as Queen Street and Garden Square, where the games were shown on its gigantic screen, burst into unbridled fandom, know the potential exists.
---
Yeung's goal is to align a strong vision, with a fixed timeline, and bring in all the elements needed – transit, density, public spaces, parkland, and other fine-grained elements – to create an urban structure that resonates with a cosmopolitan public, attracts private investment and sparks an unmistakable optimism.
Brampton, unfortunately, has not had much of that in recent years.
But the election of Patrick Brown, with his unmatched energy, has led to a series of decisions by the mayor, who knows the city won't get turned around without the right people behind him.
Yeung thinks iconic developments can be a game changer for a city, and she is excited to announce that the city's Urban Design Awards will be held again this December. She wants to see quality, and world-class architectural design along the Queen Street corridor, which one day, if all goes according to plan, will symbolize the new, modern, cosmopolitan Brampton.
She hopes future winners of these awards will be inspired by forward-thinking dreamers who will line up to build along Queen.
Most of the Top 10 cities in Canada are known for their civic identifiers: a unique downtown; a theatre district; a pro sports franchise and complex; world-class arts festivals, perhaps a gallery or museum, even cutting edge health care facilities. While Brampton struggles, Greenberg has said in the past that the city has "good bones," meaning it has a nice portfolio of historic buildings that can enhance many future projects.
There are pockets of hidden beauty. That's the way Yeung sees Queen Street.
And she sees Greenberg as a sage advisor, and the goal is both simple and complex: build a city of neighbourhoods, connected by a necklace of transit, and slowly wean those living there off their car usage. This self-sufficient model is working in other parts of Ontario, including Markham, and now Yeung is bringing her innovative ideas to a city starving for them.
She does not come off as some stuffy bureaucrat who was hired to toe the party line, but wants to help Brampton emerge from its badly-developed past, planned for sprawling subdivisions next to vast industrial lands. She said hers is a plan for a new ecosystem driven by new standards for livability that younger generations around the world are demanding.
As she gets up to leave the coffee shop on Main Street and return to city hall to attend a meeting, she says she is "excited to have Ken [Greenberg] on board." She says he was one of the designers who worked to change St. Paul, Minnesota, from a moribund city that didn't work, into a modern-day attraction in the heart of the American middle-north. She compared that city then, to Brampton now. She smiles when she recalls her son's advice to her on that winter day earlier this year. His challenge to go to Brampton and help transform it into something it never was, could pay big dividends down the road.
Her CV is full of her accomplishments, and her hiring was a coup for the city. The transformation of Markham has taken 20 years, a generation, but Yeung is hopeful that Brampton's will be shorter, and perhaps even more significant.
The idea of eliminating red tape and creating a timely approval process for applications, isn't a new one. Nor is the complete neighbourhoods concept. But it is new to Brampton, and Yeung sees the challenge ahead with both fresh eyes, and also the wisdom she gathered while working with a talented team in Markham.
She and Greenberg have seen the powerful results of turning scrubland and vast channels of concrete into thriving, complete communities.
That remains the goal in Brampton.
Submit a correction about this story