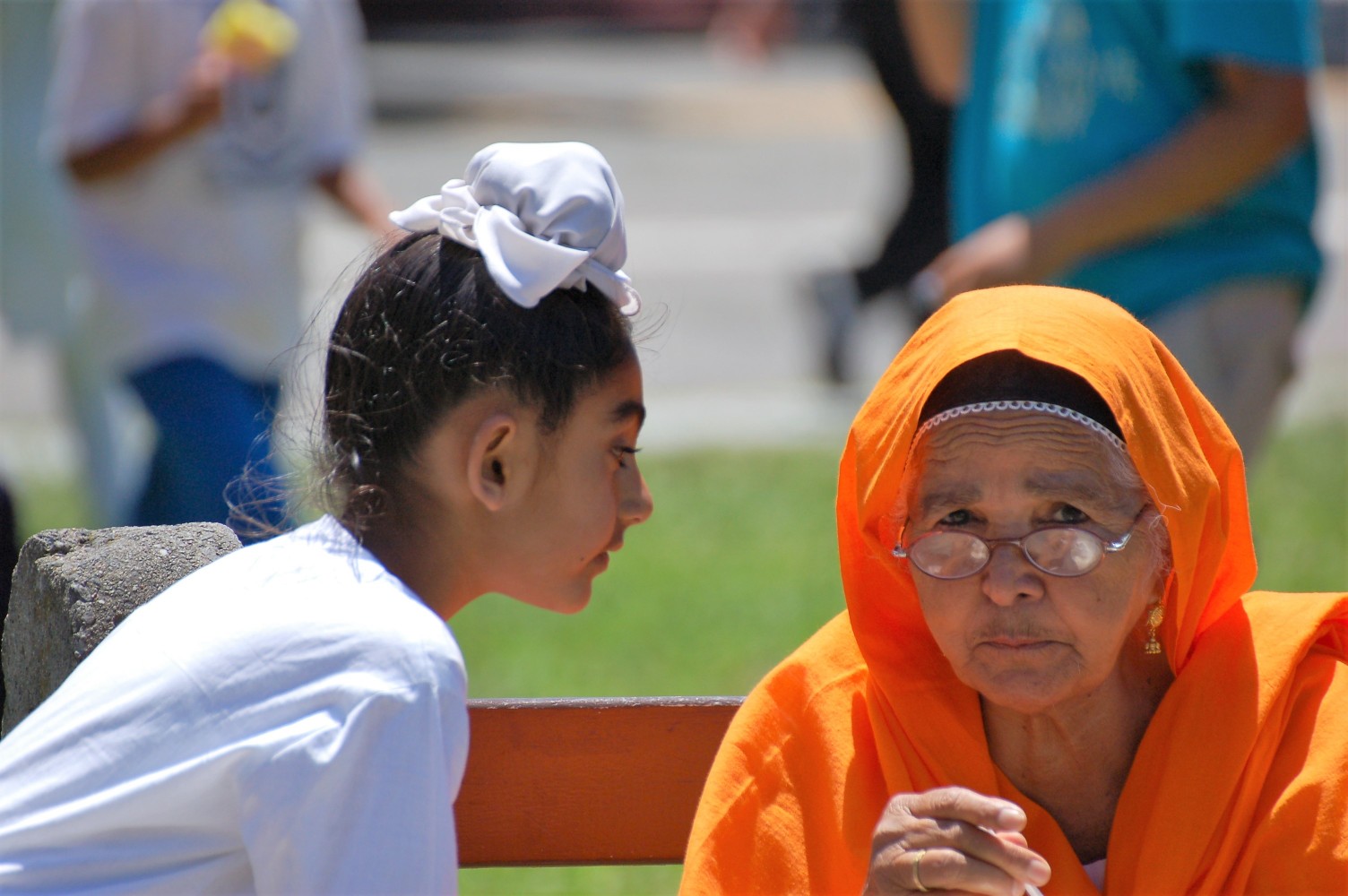 The Pointer file photos/Twitter/Courtesy Dr. Seema Marwaha
South Asian-Canadian doctors changing the negative COVID-19 narrative around their community
For many people, shopping online is done without much thought. Items are found, the transaction is completed and packages arrive within days. Those working from home can shop without worrying about any risks due to the pandemic.
For those who work in "essential" jobs, sourcing items in warehouses, preparing shipments and delivering these products, the story is much different.
Take the experience of one Brampton resident, tasked with packaging luxury clothing. The woman says she enjoys her job, and losing it would come at a great cost for her.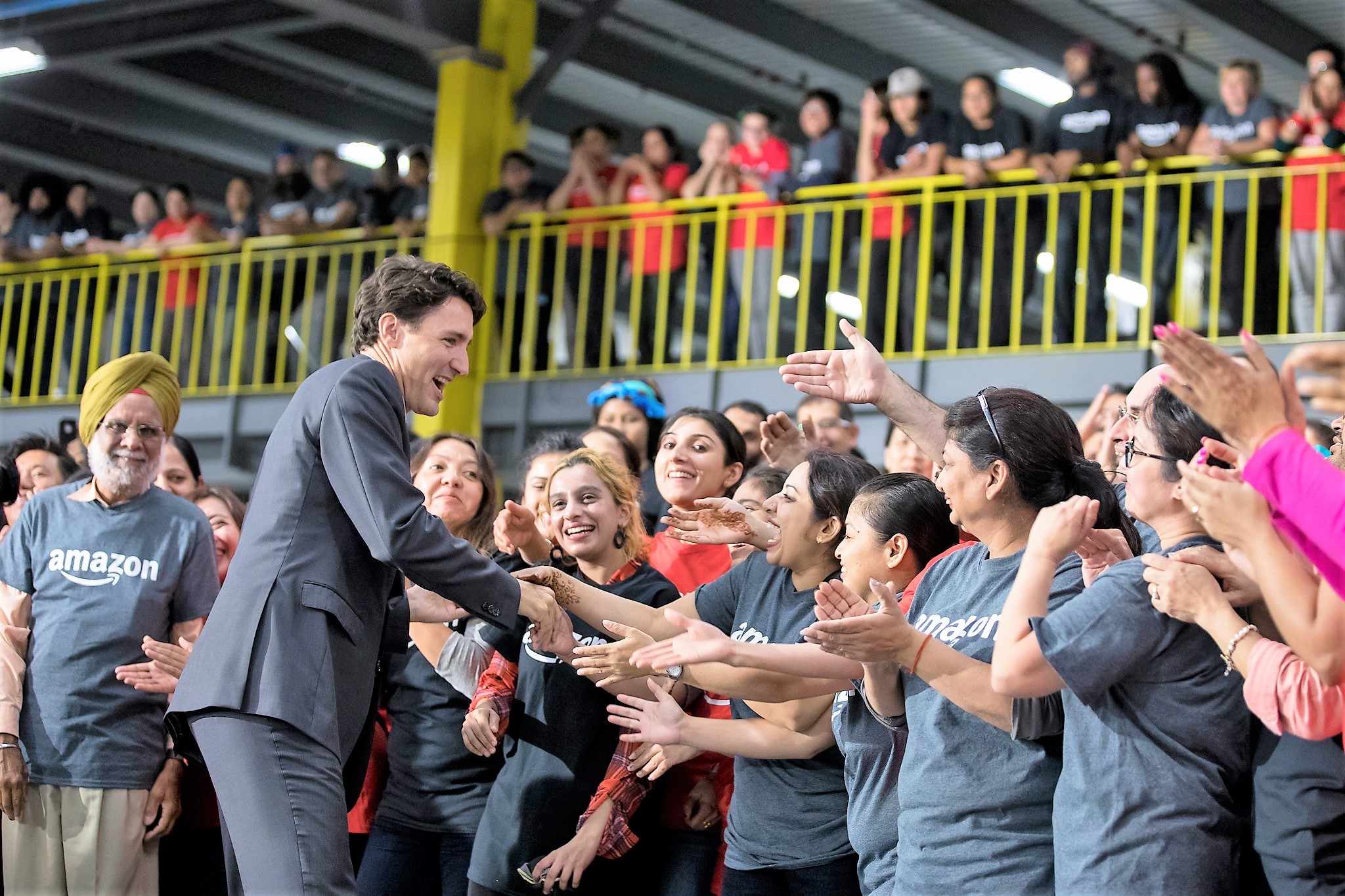 Prime Minister Justin Trudeau visits a Brampton Amazon warehouse in 2019.
For many in a similar situation, the need for a paycheque to support a family overshadows the lack of benefits and non-existent vacation days. For many workers, who are often employed through an agency, job security is a pipe dream.
"I can lose my job any day or moment," the worker told the creators of Humans in Brampton, a social media campaign that aims to put a face behind the city's essential workforce through first-person narratives.
When the employee was injured on the job, she received no time off. She spent just 20 minutes recovering because she didn't want her supervisor to think she was lazy.
"It was painful, physically and mentally, but I knew I had to keep working so that agency [would] keep sending me here. I have to keep working for that $14 an hour."
She is part of a large cohort of Brampton residents – truck drivers, warehouse workers, food processing staff, factory assembly line employees and many others – who are helping to keep the economy going. But they receive little respect, or credit, for doing so.
According to Statistics Canada, almost 15 percent of Brampton's working residents were employed in the manufacturing sector in 2016 and 13 percent were employed in warehousing and transportation, representing the top two areas of employment.
Many of the people who are filling these positions are also members of the South Asian-Canadian community. A study from Newcom Media Inc. showed that in 2016, one third of Canada's truck drivers were immigrants, and the largest visible minority group among them were South Asian-Canadians, with more than 32,000 truckers.
Overall, South Asian-Canadians makeup about half of Brampton's population, however, they're being blamed for most of the city's COVID-19 case count. Politicians, social media users, and irresponsible news reports have been part of the narrative. There are numerous examples of how the community has been stigmatized.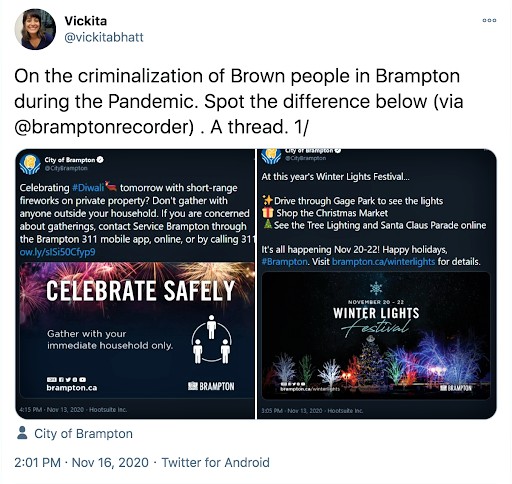 In November, the City of Brampton asked residents celebrating Diwali not to gather with others outside their household, and told residents to call 311 if they are "concerned about gatherings," through a post on Twitter.
An hour earlier, the city tweeted about its annual Winter Lights Festival, promoting activities, including shopping at a Christmas market, to residents. Many online have pointed out the clear bias in the tweets, questioning why an activity targeting a specific racialized group was being policed when other activities weren't.
Looking at numbers alone, without context, has helped fuel a negative narrative. According to Peel Public Health's COVID-19 dashboard, between April 13 and November 30, South Asians represented 59 percent of the region's cases, while they only make up 32 percent of Peel's overall population.
These numbers increased from the previously reported 53 percent. Displayed without an explanation, the figures alone don't explain why the group represents an outsized number of cases.
Dr. Seema Marwaha, an internal medicine physician and editor in chief of Healthy Debate, believes there are two categories that explain the COVID-19 cases in the South Asian community.
The first is structural, she explained to The Pointer, addressing the lack of access people in minority groups, including South Asians, have to resources that allow them to stay safe. For example, residents who perform essential jobs, such as driving trucks or filling orders at Brampton's Amazon warehouse, working from home is not an option.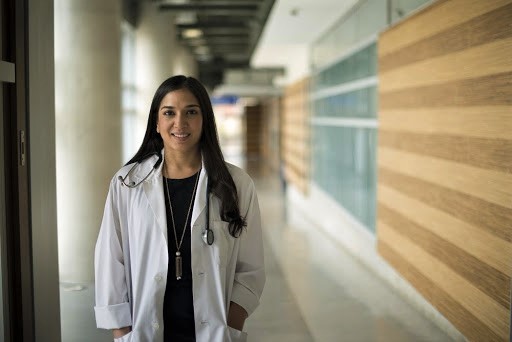 Dr. Seema Marwaha is working to counter misperceptions around the South Asian-Canadian community.
Many people also live in multigenerational homes, which can increase the rate of viral spread within households. Such homes typically have three generations of the same family living under one roof. If one member of the family is an essential worker, they risk bringing the virus home, and spreading it to other residents. The same issue also impacts those living in one of Brampton's illegal basement suites (it's estimated there are between 30,000 and 50,000 of these units in the city).
Isolation centres would provide some relief, but no such facility has opened in Brampton, yet. In December the provincial government announced money will be going to hard hit cities, including Brampton, to fund such facilities. While doors are expected to open this month, an exact date has not been made public.
The second area of concern is misinformation and the lack of access people in the community have to sources they trust, Dr. Marwaha said.
"I think for South Asians, we trust information that is culturally sensitive and relevant to where we're living and who we are. It's sometimes hard to pick out that information in the sea of stuff that is out there," she said.
Dr. Amanpreet Brar, cofounder of Humans in Brampton and general surgery resident physician at the University of Toronto, has witnessed this first hand. When waiting to go on a Punjabi radio show to speak about the pandemic a while back, she was surprised to hear a homeopathy doctor advising against taking certain medication to help with symptoms of a separate illness because of its side effects.
Speaking to friends afterward, she came to realize how common it is for such information to be shared on cultural programs. The absence of information about the virus from public health officials also spoke volumes.
"That made me realize how much multicultural media was not really used and it could have been such a valuable tool," Dr. Brar told The Pointer. Many Brampton residents rely on these shows for information, mainly because of the language barrier they face when trying to access mainstream media, she suggested.
Dr. Marwaha and Dr. Brar are part of a larger group who are working to challenge the negative narrative and lack of contextual information that has contributed to the stigmatizing of the South Asian-Canadian community for much of the pandemic.
Humans in Brampton was launched in the Fall because, as Dr. Brar explained, ill-informed criticism against the South Asian-Canadian community was becoming rampant. The aim is to put a face behind Brampton's COVID-19 reality and illustrate the sacrifices of residents who are performing essential work to help others.
She is also part of the South Asian Task Force, a growing group which aims to address COVID-19 messaging in languages many Peel residents can understand. One of their campaigns involves infographics that debunk myths related to the COVID-19 vaccine and explains how the vaccine works. This information is translated into different languages spoken by members of the South Asian diaspora, and shared through social media.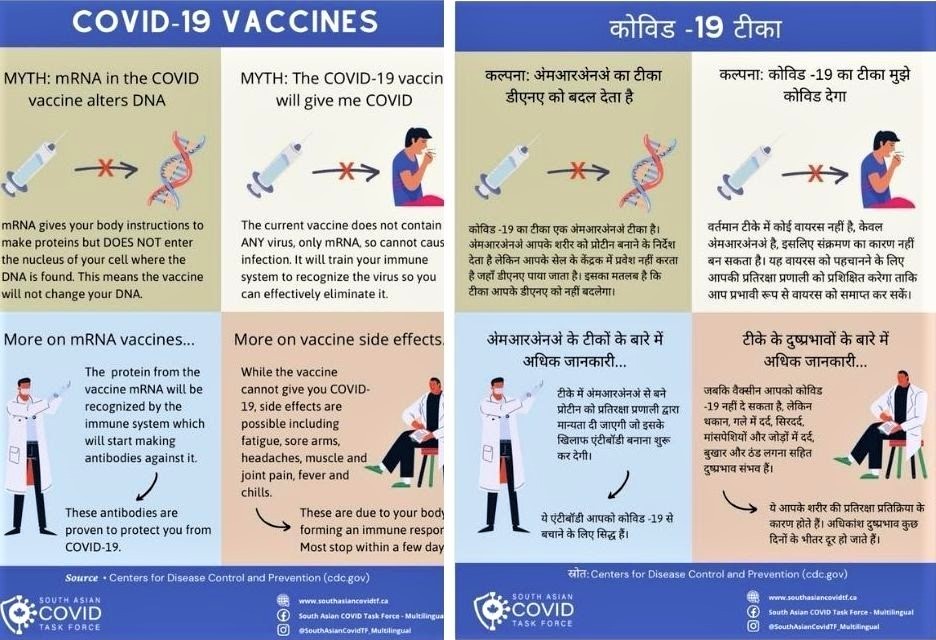 Information in a range of languages is crucial to reach vulnerable communities.
To combat misinformation Dr. Marwaha believes community partnership is key. This means officials being aligned with information shared to the public, translating it into languages people understand, and distributing it in a culturally sensitive way.
Disseminating information is where she believes more effort is needed to ensure it gets to the right people, whether that be through certain social media channels, such as WhatsApp, or religious leaders and cultural groups in the community.
During the first wave, the City of Brampton shared COVID-19 messaging that was translated into numerous languages spoken by its residents. But it's not known how this information was directed at targeted households or whether the effort was impactful.
---
Email: [email protected]
Twitter: @nida_zafar
Tel: 416 890-7643
---
COVID-19 is impacting all Canadians. At a time when vital public information is needed by everyone, The Pointer has taken down our paywall on all stories relating to the pandemic and those of public interest to ensure every resident of Brampton and Mississauga has access to the facts. For those who are able, we encourage you to consider a subscription. This will help us report on important public interest issues the community needs to know about now more than ever. You can register for a 30-day free trial HERE. Thereafter, The Pointer will charge $10 a month and you can cancel any time right on the website. Thank you.
Submit a correction about this story