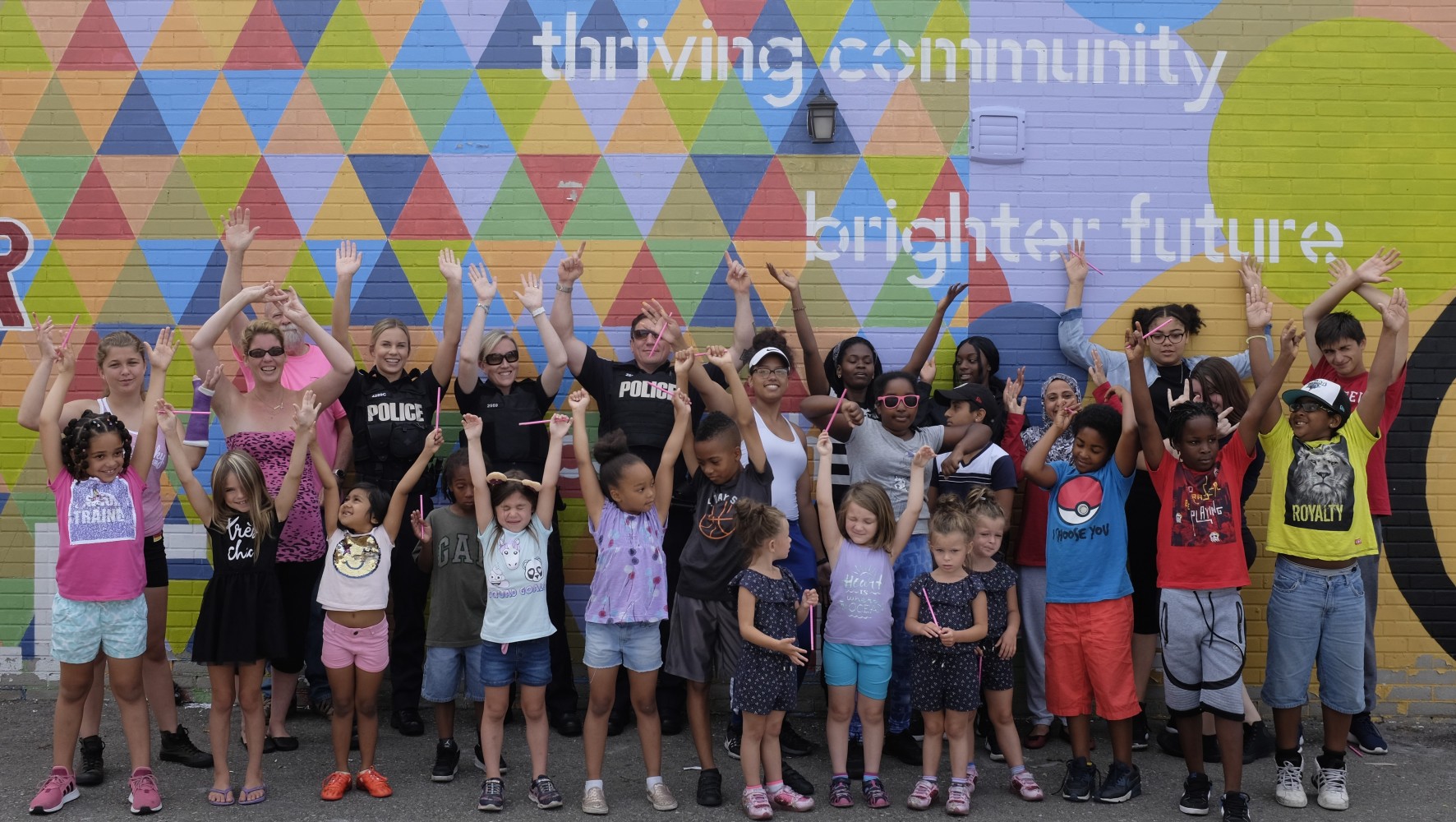 The Pointer file photos/Twitter
Checking our parents' cultural baggage – Part 3: Breaking the cycle
In the final part of The Pointer's series on the harmful effects of generational cultural differences we look at youth and institutions in Peel that will have to end the cycle of hate.
---
In Dania's Mississauga high school she knows which group is which: there are the Pakistanis, the Indians, the Filipinos and other groups, and they all stick to themselves.
Dania was born in the Middle East before her very conservative parents moved the family to Canada. Growing up in Mississauga, her parents made it a priority for their children to hold onto their language and culture, sending them to Arabic school on the weekends.
Like thousands of youth across Peel, she is caught between two vastly different societal expectations: her parents' desire, shared by many in the local community they identify with, to hang onto a traditional way of life; and the influence of a diverse and dynamic western environment that promotes the sampling of many cultural choices.
The Pointer is not using Dania's real name to protect against any backlash due to her candid comments.
Expressing frustration over the cultural baggage her parents carry, an unfortunate aspect of their imported values, she describes how they often characterize others they encounter in Mississauga, but do not associate with. "Oh, this Hindu guy, or this Black woman," she says, unsure of why they do it.
Even if there's no harm intended, or negative stereotypes associated with the categorizations – just a simple way of differentiating people – she finds it unsettling.
Both her parents are fixated, she says, with the expectation that she surround herself with Arabic speaking Muslim friends. They refuse to let her socialize with anyone else.
"They [are] scared that I would become whitewashed or something."
She questioned why they wouldn't let her go to birthday parties of kids from non-Muslim backgrounds.
"They didn't give us a proper reason other than they're just different from us."
These "differences" were often established long before older generations settled in Peel.
Ranjit Khatkur is the co-founder of the Peel Coalition Against Racial Discrimination, and a retired high school vice prinicipal who worked in the Peel District School Board for almost three decades.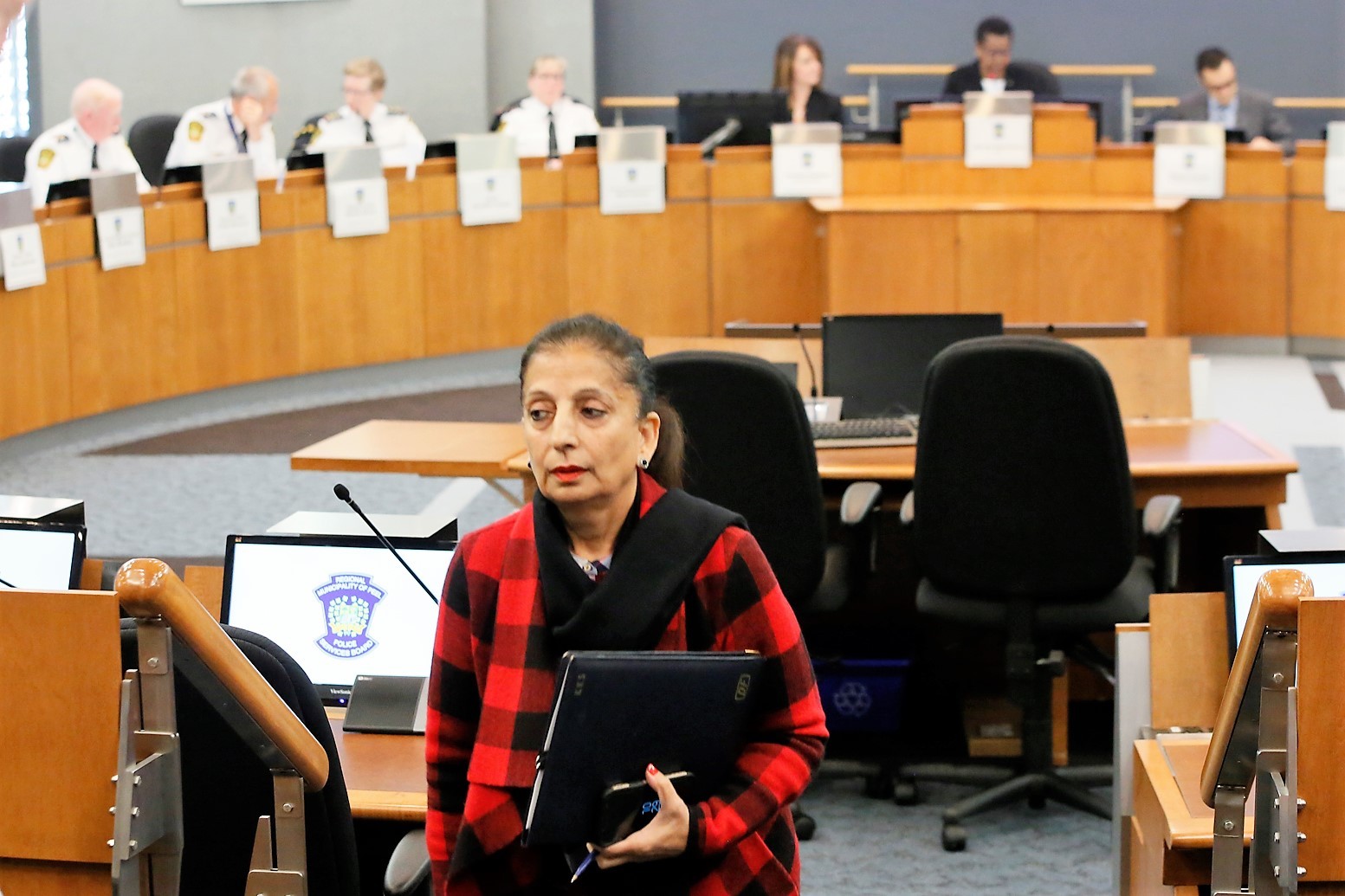 Former Peel vice principal Ranjit Khatkur, co-founder of the Peel Coalition Against Racial Discrimination, at a police board meeting.
She was a pioneering educator in areas of human rights and diversity when the region experienced throbbing growing pains as demographic shifts radically altered the cultural landscape starting in the early '80s. She has taken on the PDSB and Peel police, fighting for racial equality in the region's major institutions.
"There was a lot going on in Peel during my time with the board."
While her legacy is tied to efforts that forced PDSB to diversify and address issues of systemic discrimination, she spoke with The Pointer about the complex struggles many students faced because of their parents' legacy.
"A lot of them were new to the country." Long before they arrived, many carried cultural baggage that has been around for generations.
"You would see parents essentially indoctrinating kids." She uses the example of a Sikh parent who told her daughter not to associate with a Muslim peer. "No, this is what we went through, partition, we lost our homeland to the Muslims."
She refers to the partition of India in 1947, when the country gained its independence after two centuries of British imperialism. To create the new nation of Pakistan, tens of thousands of Sikhs had to give up their land for Muslims who arrived from south of the freshly carved border, settling on property given up by non-Muslims forced to migrate in a bloody fracture of the subcontinent.
The communal violence that erupted between Sikhs, Hindus and Muslims was one of the legacies of the British policy of divide and conquer.
"We saw the legacy of that right here in Peel. Regardless of the children having things in common, the parents just can't let go of what they had gone through."
Khatkur, recognizing the need to address a range of issues the school board could not get a handle on due to its lack of cultural competency, founded the South Asian Teachers' Organization and chaired the first international South Asian Global Education conference at York University which brought together educators from around the world.
She had immediately recognized a key barrier to student well being: the issues many were drowning under because of traditional expectations and attitudes held by their parents.
In 2017, a team of academics from York University and the University of Toronto published their research into the mental health of South Asian-Canadian youth in Peel.
"Conflicts with parents were the major mental health stressor raised by South Asian youth," the research conclusion stated, after extensive interviews were conducted. "Overall, the underlying root for these conflicts was related to migration and resettlement and how this creates a dynamic where two very different cultures (Western/Canadian and South Asian) have to coexist under the same roof."
One of the youth mentioned and quoted in the study summed up the experience many peers in Peel relate to.
"The youth spoke about having to be 'cross-culture kid[s]' with a 'dual identity' (Youth #1). The parents and youth found themselves in a constant struggle to find balance and mutual understanding. All too often, because of the power differential, the youth felt they had to be the yielding party because their parents refused to adapt. 'They don't have the tools. Nobody tells you how to transition when you move to a country with a different culture. And then the kids have to bear the brunt of it…I had to bear the brunt inside me for so many years' (Youth #1)."
Khatkur speaks of her own Sikh community, and some of her own cultural baggage.
"My daughter has a name, Sareya, that is more Muslim. She had a close Sikh friend [growning up in Mississauga] whose parents refused to let her come to our house because they thought we were Muslim. I had to go over and speak with the mother and explain that not only are we Sikh, but we're from the same caste as her and I chose the name simply because I thought it was beautiful."
She says it's difficult for her to acknowledge hangups transported from her own past.
"Being an advocate, it's hard to say this, to admit my own blindspots. It's that fear. Parents think another faith or entire way of life will be imposed upon their children if they intermingle."
"I see it in myself. I wanted my girls to marry Jatt Sikhs (her caste). I was going into dating sites, talking to young men, wanting them to meet my daughters because these boys were Jatt Sikhs."
Khatkur, who herself helped so many students confront and overcome differences between their parents, has herself learned from the younger generation.
"Because my daughters are who they are, they have helped me accept others, helped me acknowledge how I contributed to these problems. I've learned a lot from my daughters because they are such strong women."
As a daughter of immigrant parents Dania feels the constant push and pull of her family. She describes a superiority complex that her parents and those in the community portray, believing that Arab youth or Muslim children in general are raised better. These influential ideas, she says, are passed down from older generations and then create divides between the younger generation, something she's experienced herself.
"I definitely think that some kids think that they shouldn't be friends with white people, Black people or anything like that because their parents tell them they're just different and they're going to do bad things."
Peel's diverse Black communities have been a common target for other visible minority groups, particularly South Asian-Canadians who carry long held stereotypes and prejudices that extend back to the colonial times, when those of African descent were supposedly lower on the social hierarchy in countries like South Africa, and through much of the British empire.
"It was common to hear South Asian parents be the first to complain about Black students," said Khatkur, who was vice principal at four Peel high schools. "There were some serious conflicts between Black and South Asian students. It was part of the same historic legacy."
PDSB Trustee Kathy McDonald told The Pointer of a particularly troubling episode two years ago. Amid the board's reckoning with widespread anti-Black racism within the institution, a professional development conference for secondary teachers was held.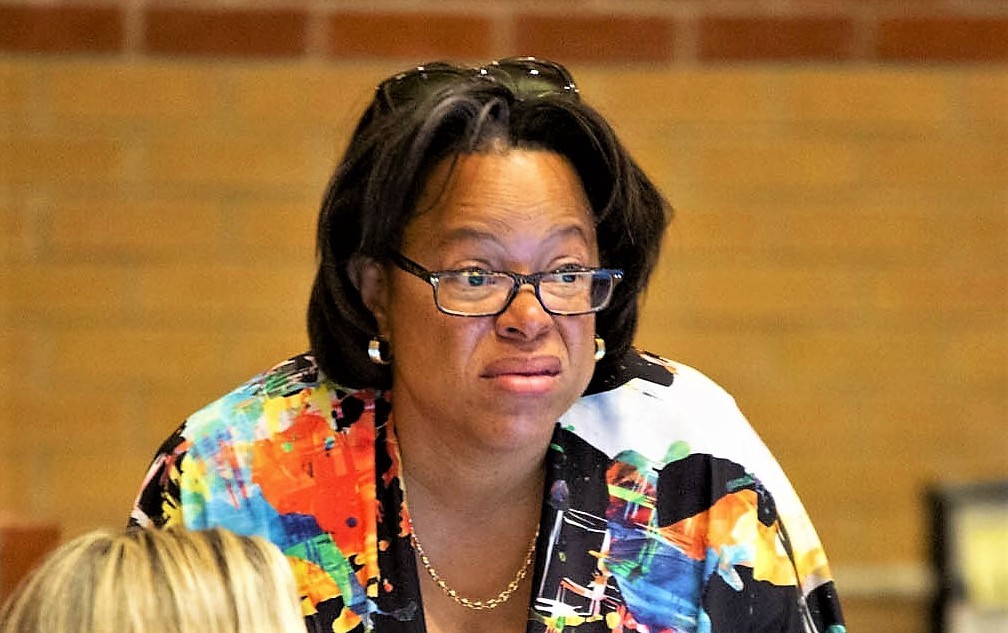 Trustee Kathy McDonald has reminded Peel residents that much of the anti-Black racism in the board has been carried out by other visible minorities.
McDonald, who is co-chair of the We Rise Together committee, which oversees a board-wide initiative to address anti-Black bias, says she was surprised to hear what one South Asian-Canadian student presenter said during her address to the educators, relating what one of her own teachers told her after learning the student would be speaking at the conference to express the support of non-Black students.
"She said to the student, 'Listen, they're not like our race. Black people are not smart, they're lazy and nothing you do can help them'."

The lack of action by the board was typical McDonald said, at the time.
But things are changing.
After the Province's recent probe of anti-Black racism and other forms of systemic discrimination within the PDSB, former director Peter Joshua was fired, a provincially appointed supervisor was installed and a new director was hired with a human rights and equity mandate.
Overcoming generational attitudes among many parents in Peel's diverse communities will be one of the barriers the board will have to dismantle.
It won't be easy.
Recent news stories in Peel highlight the simmering issues between groups who often trace their roots to the same places.
The PDSB is routinely drawn into these complex conflicts, sometimes with less than positive results.
When Tamil and Sinhalese-Canadians in Brampton of Sri Lankan descent sparred with each other last year over a Tamil genocide declaration, following the decades-long civil war that finally ended in 2009 but still spills over, the school board was pulled into the tension, while Brampton Mayor Patrick Brown, who has courted the large Tamil vote for years, fanned the flames.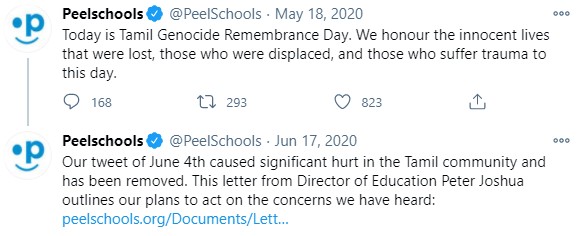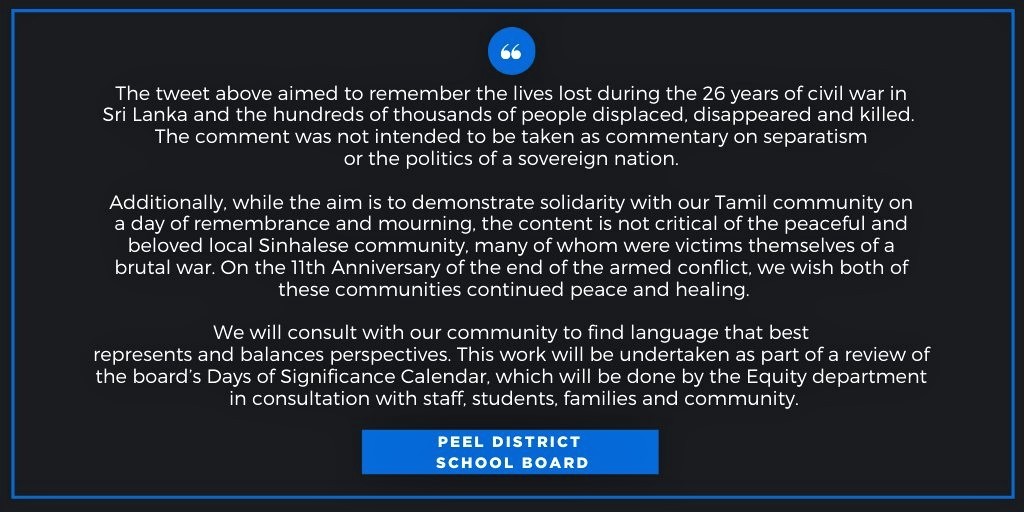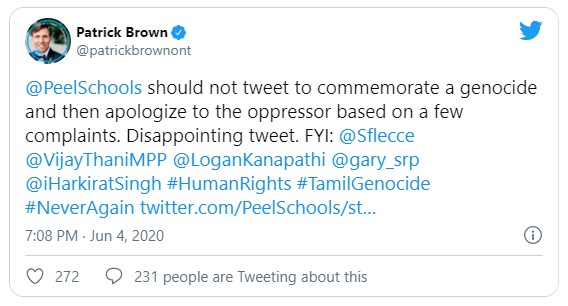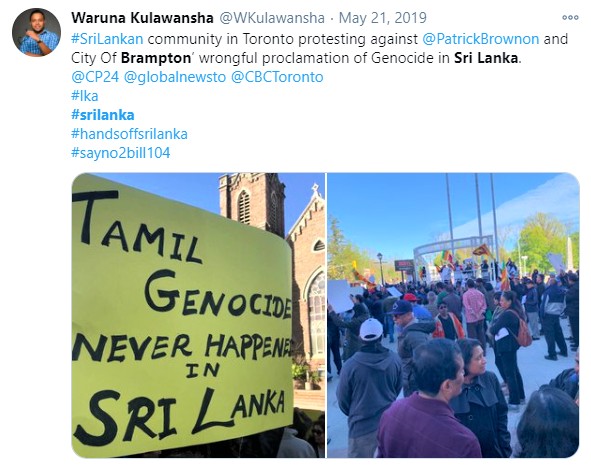 Sikhs and Hindus in the city also confronted each other last year in an ugly incident that was broken up by Peel police when a man in a truck with a large Indian flag was arrested for disrupting a Sikh independence rally.
While many Canadians peacefully advocate for important causes around the world, including independence and human rights movements to help secure freedoms for family members in places where democratic values have failed to take root, the legacy of intolerance is a reality many young people in Peel have to navigate.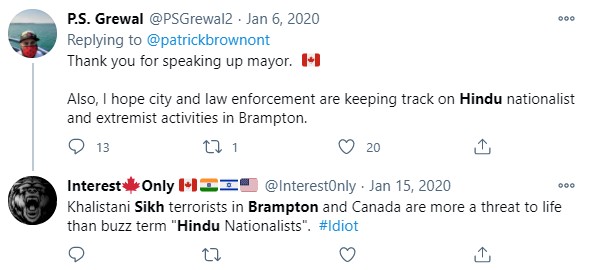 Charles Pascal, a professor of applied psychology and human development at the University of Toronto and Former Deputy Minister of Education would like to see the education system play a more progressive role.
"The publicly funded education system has failed people of colour."
He believes education is the platform where divisive attitudes need to be confronted, but, instead, in parts of Ontario school environments can make problems worse.
"We have this rich possibility that it could turn a school into a very effective United Nations, as opposed to an ineffective one."
The ongoing cultural and generational divides continue to weigh on many Peel youth.
Dania knows now that her parents are wrong about refusing to befriend non-Muslims. But as a child she found it hard to maintain friendships knowing what the fallout would be.
In the early years of middle school, kids of different backgrounds stopped inviting her over because they knew her parents didn't approve of them.
Like many young people, she is tired of living a double life.
It was the much maligned public education system, often singled out for ignoring issues among diverse communities and whitewashing history, that ultimately led Dania to question her parents.
With about 87 percent of PDSB students identifying as visible minorities, it's inevitable that young people will encounter others from different backgrounds.
Growing up in the education system, Dania was swept up by the beauty of multiculturalism. She had students from dozens of backgrounds in her class and she learned more about cultures through them than the system could ever teach her.
Educating youth about the history of colonialism and why many of their families carry decades of cultural baggage would be a step in the right direction but Dania believes to broaden perspectives even more could be taught, for example, all the things they share in common.
She says her parents are "closed minded" because of the generations before them. All they knew growing up was, "the other side is bad."
Dania feels fortunate not to have experienced the conflict her parents endured but knows she has to start changing the narrative, otherwise the divisions will continue in her generation. She believes adapting to the diverse society that surrounds her in Peel, is a start.
"I don't know if other people from my background agree but I honestly feel like once you want to leave your country, you have to slightly adapt to the country that you're going to, you can't just be 100 percent back home."
---
---
A couple hours southwest of Peel is Six Nations of the Grand River, the largest First Nations community in Canada, and where Yotakahron Jonathan of the Mohawk Bear Clan grew up.
Six Nations is just south of Brantford, creating a unique relationship between the two communities. Many students must be transported to Brantford for high school.
Unlike Dania, Jonathan had to travel outside of her tight-knit community to become a minority in her largely white catholic school.
She recalls the new uniforms being too pricey for her family so she opted for the older uniforms donated by past students.
"It's funny because people are like, 'Oh uniforms are an equalizing factor,' but it's not for the Native students because people could tell we have the older uniforms," she said.
The lack of equality Jonathan and many other Indigenous students face not only in the education system but in other institutions widens existing divisions between the younger generation.
While this does harm to younger people, it continues the legacy of oppression and hurt felt by older generations, who already download intergenerational trauma onto them, she explains.
An example is how Jonathan and her younger sister prepare for a trip to a hospital. Before they leave, they must "dress up" in order to look the right way so medical professionals don't subconsciously apply negative stereotypes when dealing with them.
Her family has passed these notions down for generations, the deplorable legacy of the brutal treatment our First Nations have endured since the arrival of Europeans.
Having completed her master's in sociology at McMaster University in Hamilton, and now studying there to become a doctor, Jonathan knows that negatively stereotyping people based on race in the medical system is an extension of generational attitudes that can do great harm in Canada's diverse society.
Her medical school at McMaster reached out to her to set up a panel of Indigenous women to speak about Indigenous health, and the student, who wants to practice family medicine at Six Nations, jumped at the opportunity.
One of the panellists was a residential school survivor and Jonathan's cousin. After introducing herself and speaking briefly on what she has done to cope since then, the first questioner asked her to describe the trauma she suffered inside a school where white teachers tried to erase her identity.
"You should be able to believe people in their trauma without having them expose that trauma or re-traumatizing them," Jonathan said.
After defending her cousin and informing the student why such a question was not helpful in the discussion, she received online hate from some in her program.
"There hasn't been a single month that I've been in medical school where I haven't encountered being racialized," she said.
Despite all the trauma heaped upon our First Nations' members, it's still not much easier for Jonathan to break the cycle of generational trauma that keeps being passed down.
In Peel, Indus Community Services helps families and individuals who came to Canada from South Asia adjust to their new life. Its programs range from English classes to help with care of older family members.
Staff often see families from different sides of historical political and religious differences sitting next to each other in an English class. Teachers need to maintain peace in the room while navigating many different cultural clashes that sometimes arise. In the past the organization has kicked people out of its programs because of hateful comments.
Chief Executive Officer Gurpreet Malhotra believes the organization has an important role to play in educating new immigrants on what Canadian values and policies aim to achieve.
"The focus that we have is that we're non-political, non-religious, and we respect your culture, but it is not a tool to divide against each other."
"As they raise their family, and they see that their child's best friend is Black, or is Chinese, or is Indian, or Pakistani, and they get along; they get each other – that to me is Canada."
Khatkur, who recalls instances when disputes between Sikh and Muslim students at the schools in Brampton where she served as vice principal grew so intense, Peel police had to be called in, says the region's institutions are the key to breaking the cycle of animosity.
"These are conflicts that start at the home and come from another land, but we have to confront them in our schools and in our police forces and all the other public organizations that set the tone for our Canadian society."
She successfully challenged the PDSD for its failure to diversify, when she took the board to the human rights tribunal before retiring in 2013.
"You had an institution where these students had nowhere to turn to. The almost exclusively white teachers and principals would see Sikhs and Muslims and Black kids and Tamils and Sri Lankans and Jewish students and Filipino kids and kids from China and South Korea, and they would have no idea what to do. Their conflicts with each other, all the issues from their past, the attitude was 'Let them go home and deal with it'."
She recalls dealing with Peel police, who often had to break up gang clashes and other conflicts between youth who came from the same parts of the world.
"Their attitude was even worse. They said, 'Why don't they just go back to whatever country they came from, and fight each other there?'"
"At least now, with a new police chief and a new director of education, we might see things change."
Ultimately, says Khatkur, young people, just like her own daughters who have taught her so much having been raised in Canada, will lead the way.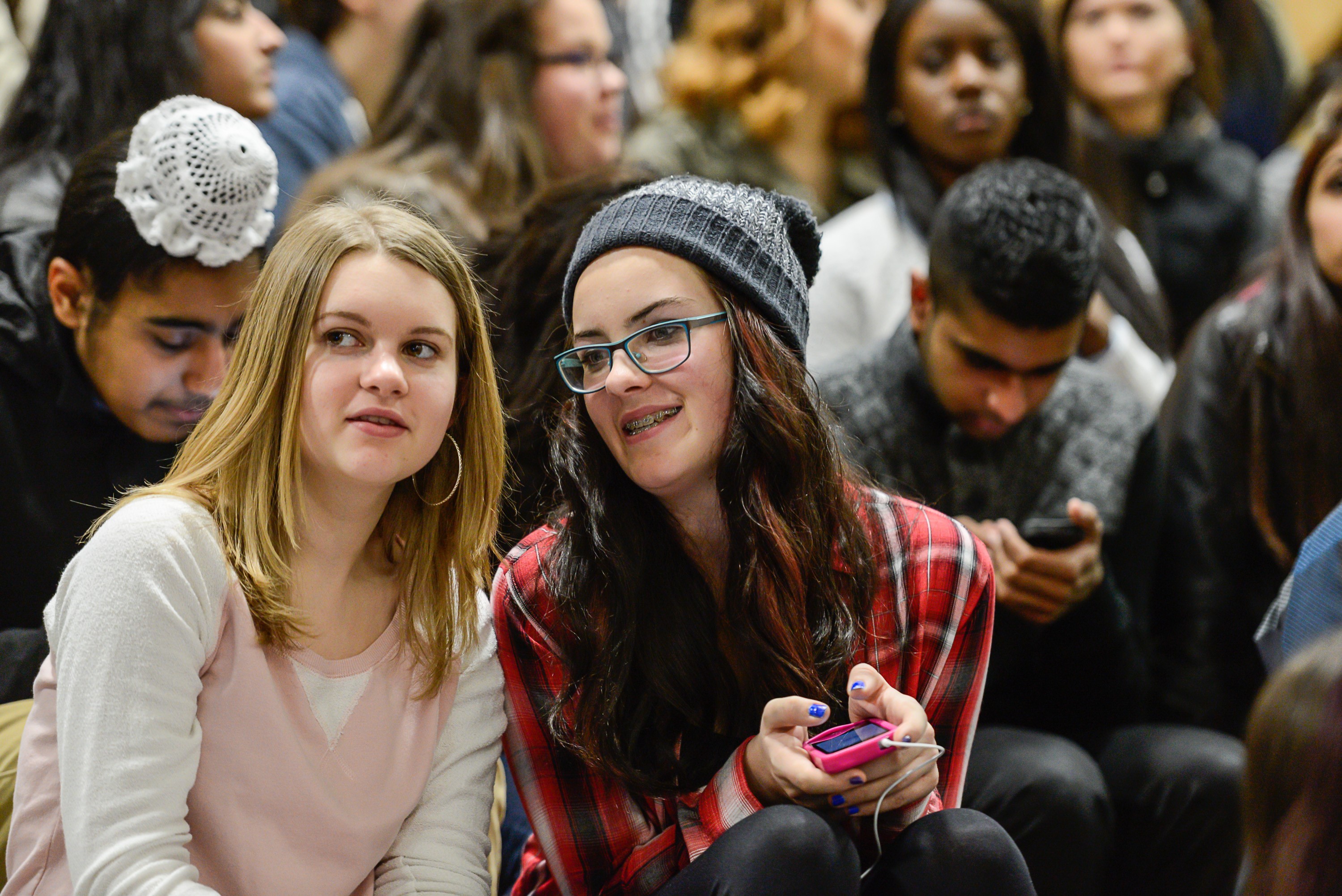 "Parents are not going to stop children from finding happiness in a place like this. I remember some of the students whose parents didn't want them hanging around together. But they had so much in common. It happens naturally. Just like you can't force people together, you can't force them apart."
Dania shares the same optimism. She's ready to close the divide between cultures that her parents have perpetuated.
She hopes when she has kids they have friends from a diversity of backgrounds that represent Canadian society.
"My first question wouldn't be, 'Oh, where are they from?'"
The Pointer staff contributed to this article.
---
Email: [email protected]
Twitter: taasha__15
---
COVID-19 is impacting all Canadians. At a time when vital public information is needed by everyone, The Pointer has taken down our paywall on all stories relating to the pandemic and those of public interest to ensure every resident of Brampton and Mississauga has access to the facts. For those who are able, we encourage you to consider a subscription. This will help us report on important public interest issues the community needs to know about now more than ever. You can register for a 30-day free trial HERE. Thereafter, The Pointer will charge $10 a month and you can cancel any time right on the website. Thank you.
Submit a correction about this story