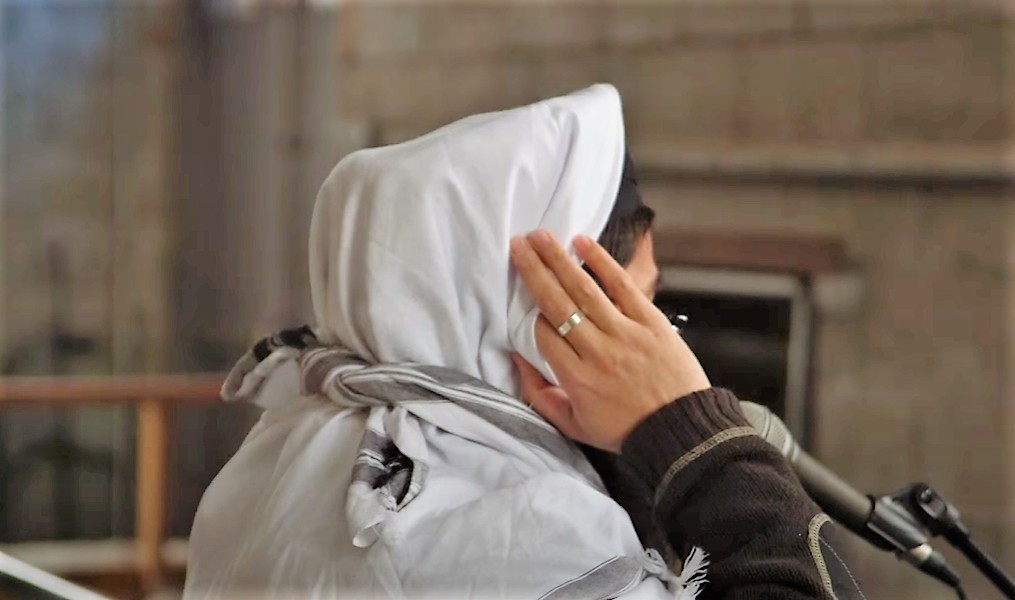 The Pointer file photos/Twitter/Facebook/Instagram/Peel police
Checking our parents' cultural baggage – Part 2: An olive branch for our neighbours
In the second of our three-part series on the harmful generational conflicts that play out right here in Peel, we look at recent events that pitted Canadians from the same regions of the world against each other, and efforts by others to build bridges, not walls.
---
Over the spring, the City of Mississauga was embroiled in a bitter dispute that dragged on for weeks.
The municipality was one of many Canadian cities that decided to allow the broadcasting of the Azan, the Muslim call to prayer, during the month of Ramadan.
The spread of the novel coronavirus forced places of worship across the province to shut their doors, leaving many Muslims preparing for Ramadan at a loss. The most significant time of the year, when supplication, forgiveness and celebration for hundreds of millions of Muslims around the world are put into practice, was suddenly confronted by a global public health crisis. Large gatherings in groups for prayers and a daily sunset meal to break their fast could not happen together.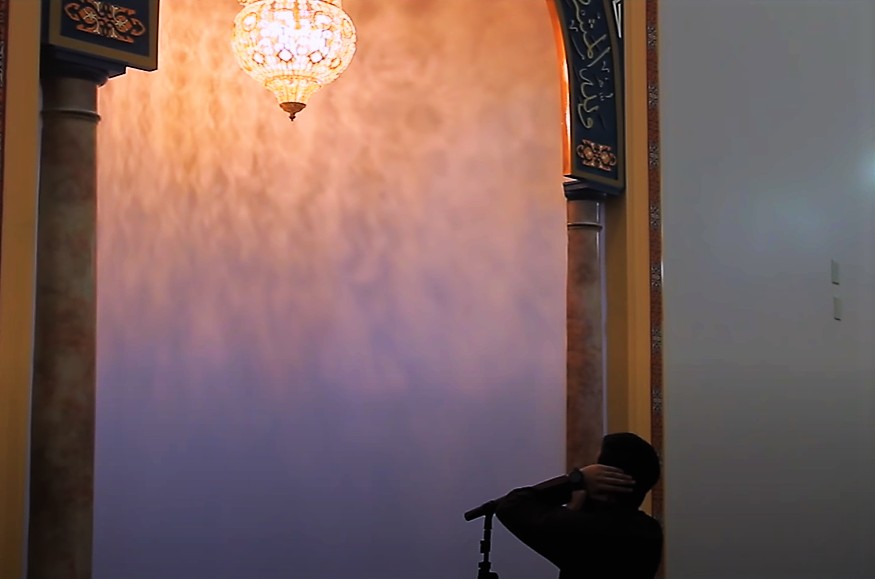 A muezzin performs the Azan, the Muslim call to prayer.
The playing of the Azan outside Mosques during Ramadan was a way to create some unity and succor during a challenging time.
The religious leader of a Brampton Mosque who also took part in the historic feat after the city made the same exception, was moved by the gesture.
Mufti Muhammad Azam Bakhtira, Jamia Imam e Azam's spiritual leader, felt the joy in the occasion, when he read the Azan for the first time for broadcast outside the Mosque. It made him feel like he was hearing one of the numerous calls to prayer he grew up with in Pakistan, when the soothing words bathed the skies.
"It felt great to give it over the loudspeaker," he told The Pointer at the time.
A Facebook post by Mississauga Mayor Bonnie Crombie announcing the decision to allow the broadcasting of the call to prayer immediately outside the city's Mosques prompted more than 4,300 comments. Some were positive, with residents thanking the Mayor for her inclusive stance, an extension of Crombie's strong support of the Muslim community since she took office in 2014.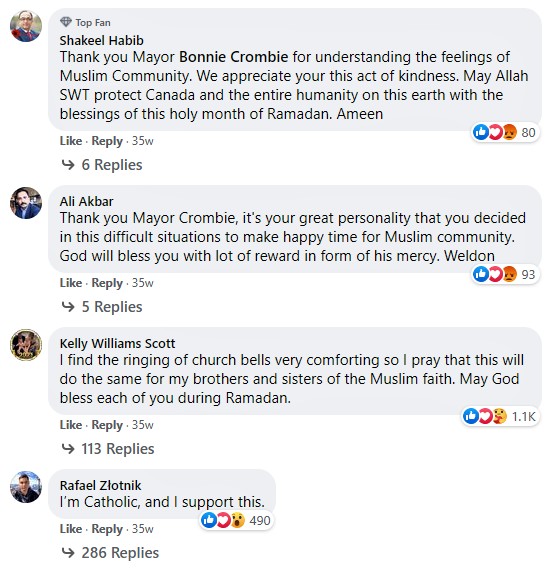 Others, not surprisingly, were angered and brought Islamophobia, an issue that has bubbled up in Peel for decades, into the limelight once again. "One step closer to being an Islamic state. Soon to be muslisauga," one Facebook user commented under Crombie's post.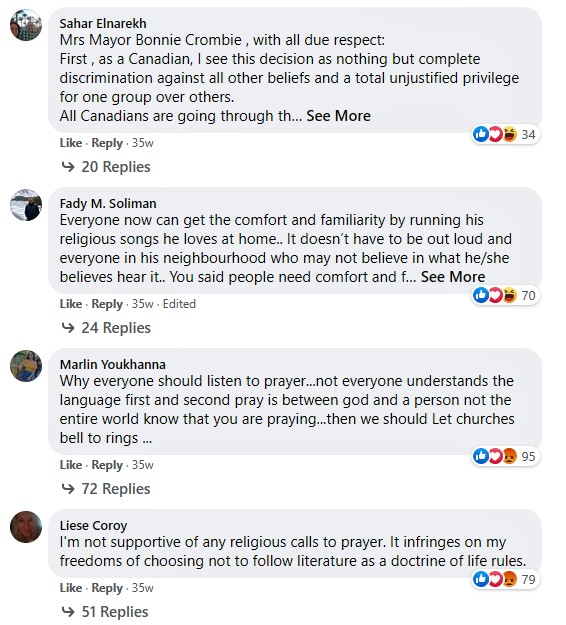 The "backlash was crazy", Sarah Al-Jouboori told The Pointer. This wasn't the first time the Mississauga resident, who identifies as Muslim, was at odds with others based on her religion.
Al-Jouboori's mother wears a hijab. Whenever she's with her, she can't help but notice the aura that shifts when many people see her mother: The long stares, the puzzled looks, the whispers. It might come as a surprise to many, she says, because such reactions often come from people who trace their roots to the same parts of the world and look a lot like them.
She describes the widespread stereotypes passed on from generation to generation, shared by many from a range of ethnicities and backgrounds.
Many Canadian children of immigrants can likely relate.
While they are exposed to an increasingly colour-blind world outside the house, inside, their parents and grandparents often describe others with terms such as "Black" or "Chinese" or "Sikh" or "Muslim" or "Russian" or "British" or "German". They are markers, loaded with presumed characteristics, often negative, used as a type of cultural shorthand to explain why these people behave the way they do.
Being simply "Canadian" with a shared set of values is a concept that's not easy for some to grasp.
In the absence of a more sophisticated understanding of the plural environment youth in Canada are growing up in, which blurs the old differences and acts as an intermingling influence, older generations of immigrants often fall back on their easy assumptions, old world prejudices and stereotypes as a type of organizing principle to make sense of the world.
Some of the loudest opposition to the playing of the Azan came from members of Peel's Hindu community.
Their stance was perplexing.
Despite being entirely familiar with traditions that have been practiced in the Indian subcontinent for centuries, they displayed the same intolerance that has kept Pakistan and India, and Muslims and Hindus at each other's throats for decades.
Rao Yendamuri, President of Hindu Forum Canada, was at first aggressively opposed to the broadcasting of the Azan, and lodged his protests with Mississauga Council.
Then, he said the same exception should be made for his community.
"If other faiths have been granted the permission, so should our faith," Yendamuri said, referring to the exemption granted to Muslim communities.
Ravi Hooda lost his role as a Caledon school council chair after he tweeted, "What's next? Separate lanes for camel & goat riders, allowing slaughter of animals at home in the name of sacrifice, bylaw requiring all women to cover themselves from head to toe in tents to appease the piece (sic) fools for votes."
---
---
Yendamuri, in a letter to council, called the Azan decision "unconstitutional" and labelled it an "anti-national compromise" simply to "comfort the Islamic community at the expense of the larger Canadian population."
He accused Crombie of not caring about the rights and comfort of people, other faiths, or the stress caused to individuals affected by noise pollution during the pandemic.
At the same time he demanded that Hindu temples be allowed to broadcast religious hymns during special celebrations.
In an interview with The Pointer, Yendamuri, despite his own request for a noise exemption to accommodate his faith community, still called the decision by council to allow the broadcasting of the Azan a mistake. He inexplicably argued that his community should be allowed the exemption but would not support it for the Muslim community.
A resident who spoke before a council committee dealing with the issue said the request from Hindu Forum Canada was made as a direct result of the longstanding divide that has existed between Hindus and Muslims in the South Asian-subcontinent. The resident said he believes those divides and ideologies are being perpetuated in Mississauga.
The ugly episode was a sharp contrast to the reaction by many younger Peel residents. Brampton's Tasneem Fathima was overcome at the time, when she came across a post on WhatsApp, showing a young child giving the Azan at Bramalea Islamic Cultural Centre. She was transported to her own childhood, living with her parents and siblings in India and listening to the Azan when it played at the Mosques. "Just go and live; that was my attitude at that time, to go and live your life completely. [That] was the feeling," she told The Pointer.
Diksha Maheshwari, a Hindu who lives in Mississauga, said it was a great idea to let people enjoy the spiritual connection they seek. "I am happy that the city is allowing recital of hymns and prayers of both Hindus and Muslims, it creates a sense of peace and togetherness in a time when we all are looking for some kind of tranquility," she told The Pointer.
She said if some in her own community tried to manipulate the issue in a divisive way because of historic differences, such behaviour needs to be called out so Canadians can confront generational intolerance and make sure it does not perpetuate in a country that aims to embrace pluralism, not division.
Her views were shared by many in Mississauga's faith communities who came together under the leadership of the Interfaith Council of Peel (ICP) which represents a diverse range of religions and was a strong proponent of the broadcasting of the Azan during Ramadan.
"Rather than thinking of this simple action as divisive, or favouring one group over another, may it be a reminder that members of our community are deeply missing each other," the ICP stated in a letter it sent to Mississauga Council.
"We thought it was important as an interfaith community of leaders who really try to promote harmony in the community and support one another," Rabbi Audrey Pollack, the chair of ICP, told The Pointer in the spring, explaining why the group took such an aggressive stance on the issue.
---
When old-world problems transcend generations
Examining the deeply held beliefs that are passed on from one generation to the next, sometimes to the detriment of aspirational Canadian values, requires one to look further than their own family, but our loved ones are often the most effective cultural, political and societal influencers in our lives, especially for those who come from traditionally close kinship networks, Kalyani Thurairajah explains.
The sociology professor at MacEwan University in Edmonton says family members are the ones who teach us what our values are and how society should be interpreted, especially when we're young. "Typically, if our family believes the values of our political system, of our religious system, then they're just reinforcing things. Whatever they teach you at home, you carry out into the world and it's fine," she says.
This is the lived experience for Al-Jouboori.
Growing up, the Iraqi-Canadian was friends with people some would say she wasn't supposed to speak with. The 26-year-old grew close to students with Iranian roots in high school, friendships that are still solid.
Historically, the two countries and the governing Muslim sects in each have allowed competing economic, political and religious differences to define their opposition to one another.
A protracted war between the two, from 1980 to 1988, resulted in about 500,000 deaths and as many as 2-million casualties.
The circumstances around the conflict serve as the dominant narrative in some households when Iranian-Canadians and Iraqi-Canadians discuss the other.
Al-Jouboori wants to help change this.
She and her friends are not supposed to be close with each other, but her parents did not fall victim to the attitudes many others shared.
"My parents' family, they fought [against] the Iranian parents' family," she said.
But the topic of conversation never came up in Al-Jouboori's childhood and she only found out about the tension between the two countries when looking at old news stories and social media posts from Iraq and Iran.
Her eventual understanding of the conflict never caused hardships with her Iranian-Canadian friends.
She says her parents "don't say much about anything" to do with the war that tore much of the region apart and led to the large numbers who chose Canada as a place where they could raise their families, free from the devastation they suffered through.
The same story has played out around the world. It's both a blessing and a challenge for Canada. We welcome immigrants who often develop strong attachments to values that help create an ideal environment for them and their children to prosper. But for those pushed out of their motherland by conflict, they sometimes have to overcome past differences with communities they were at war with back home, otherwise their Canadian promise will be harder to fulfill.
Al-Jouboori believes growing up in a society that normalizes diversity, even celebrates it, instead of fearing it, has helped her and her friends embrace all they share in common, while ignoring differences they don't even understand.
Thurairajah says the family dynamic can have the opposite, negative impact. If older generations normalize differences and define other groups through harmful stereotypes, usually without any effort to befriend their neighbours, these negative attitudes can be passed onto the younger generation, even if such values aren't shared in the broader Canadian society.
"[Family is] one of the most challenging [dynamics]… because we're learning from people who were raised with values from a different generation than the society that you're going to be living in," Thurairajah says. "The way that our parents and our grandparents talk about things made sense at that time because it was reflective of their culture, and is no longer reflective of our culture."
This conflict is a natural transition within the multi-generational immigrant experience, with some newcomers picking and choosing what values they want to embody. Some adapt ideas that may not be reflective of the larger Canadian identity that values inclusivity.
This can transcend generations.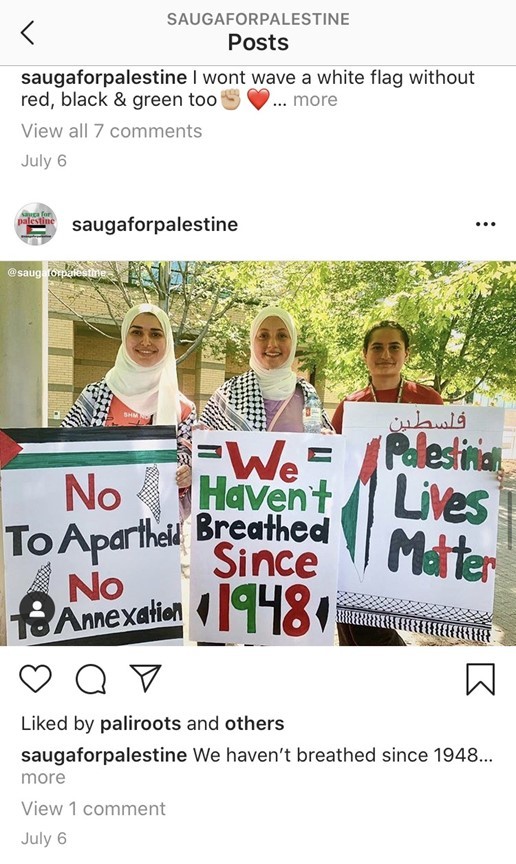 On July 4, a protest held at Celebration Square in Mississauga made headlines after the alleged use of an anti-Semitic chant.
An organization pulled together by high schools students in the city, called Sauga for Palestine, held a rally to voice opposition to the proposed annexation by Israel of certain parts of the West Bank territory, which under the Oslo Accords, are supposed to be under autonomous Palestinian control. Israel, citing historic claims and other territorial rights, has disputed various international laws and other rulings that have designated the country as an occupying force in certain parts of the West Bank that are deemed Palestinian.
The decades-long dispute was the backdrop for what unfolded in Mississauga.
Anti-Semitic chanting in Arabic during the event caught the attention of B'nai Brith Canada. The well respected Jewish advocacy group translated the words captured on a phone video as, "Palestine is our country, and the Jews are our dogs". Later in the video a group of protestors could also be heard saying, "sacrifice our soul and blood for Palestine" and "martyrs by the millions march to Jerusalem."
In Islam, the predominant religion in Palestine, dogs are seen as impure, making the words a direct insult to Jewish people.
An organizer of the event who did not want to be named, denounced the comments and told The Pointer they were not made by anyone directly involved in the organization of the peaceful protest.
"We were there first and foremost protesting against annexation that was going to take place in Palestine," the organizer said.
"The second they said [the anti-Semitic remarks] I turned around and I said stop."
B'nai Brith CEO Michael Mostyn told The Pointer at the time, "nobody said anything against it, nobody stopped this chanting, it's all on video."
He said he was disturbed that a group of high school students in Mississauga participated in an act of anti-Semitism, even if the actual comments were only made by certain individuals (it's unclear from the video if those who chanted the words are even affiliated with the high school group or how old they are).
"It has nothing to do at all with the fact that individuals were looking to make a political statement of their own political opinion, the issue is the hatred being directed at Jews in Canada," Mostyn said.
On its Instagram page, the high school organization quickly condemned the anti-Semitic chants at the rally, stating "Sauga for Palestine does not stand for nor support anti-Semitism, but rather we stand with our Jewish siblings and friends and apologize for what was said."
The main intent of the rally was to support the rights of all Palestinians, but due to the actions of some people it ruined the good intentions of the organizers and most of the participants, the organizer told The Pointer.
"I've never really had any connection to my family back home just because we aren't allowed there, so I thought that organizing this would help me not only help my community and raise awareness, but also help me with my own identity," the organizer said.
Both B'nai Brith and the organizer of the event denouncing the proposed annexation by Israel said their objectives are to move toward harmonious coexistence, here and abroad.
But this has not been the stance of students on university campuses in parts of Ontario and Quebec over the past two decades.
In the fall of 2019, another sad chapter in the post-secondary saga of Jewish and Muslim students unfolded on the campus of York University, a popular destination for many Peel high school graduates.
A group called Reservists on Duty, comprised of former Israeli defence staff, was invited to speak on campus and it planned to push back against the Boycott, Divestment and Sanctions (BDS) movement, a Palestinian-led cause aimed at putting pressure on Israel.
A campus group called Students Against Israeli Apartheid York tried to disrupt the event and some who gathered for a protest chanted in support of "intifada", which to Israelis represents acts of terrorism against the state.
It sparked more controversy and the campus clash made international headlines.
It was nothing new.
Since 2002, when a riot at Montreal's Concordia University forced the cancellation of an appearance by then-Israeli Opposition Leader Benjamin Netanyahu (the current Prime Minister) campus problems have routinely flared up between the two groups, and York has been the epicentre over the past decade.
In an unprecedented move, ahead of the confrontation in 2019, York University Jewish Studies professor Randal F. Schnoor decided to do something few before him had tried.
He cut through the decades-old Palestinian-Israeli conflict and brought Muslim and Jewish students together, not to solve the problems in their ancestral homeland, but to talk with them about Islamophobia and anti-Semitism… in Canada.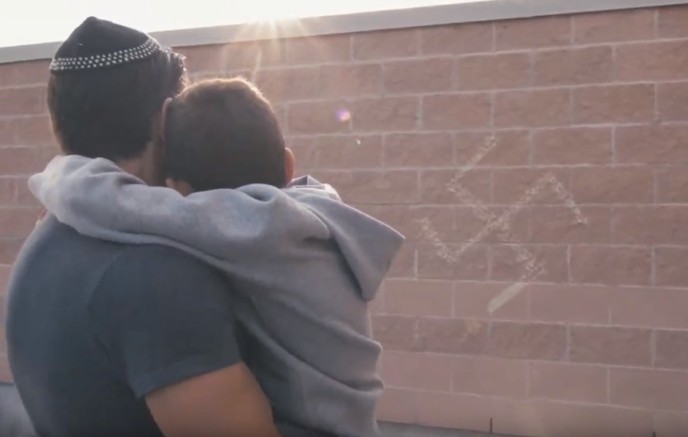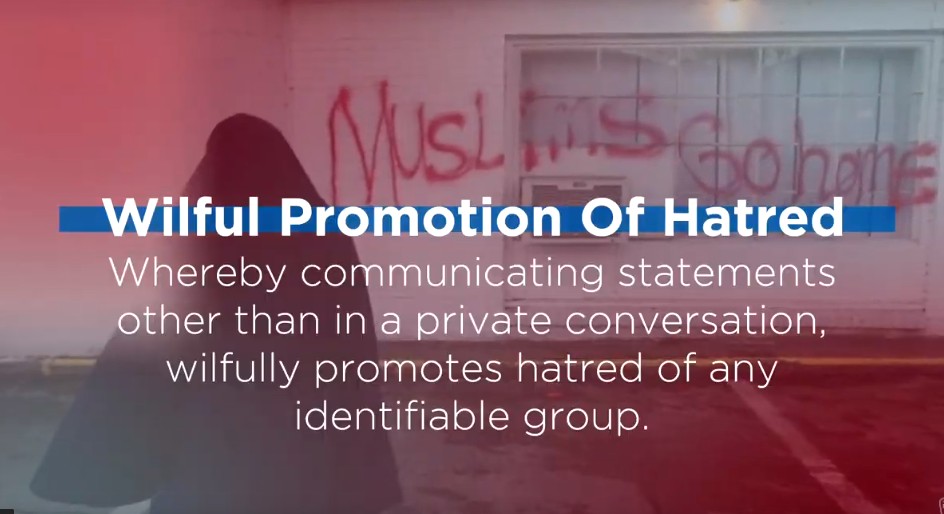 Peel police slides showing examples of anti-Semitic and Islamophobic acts, two of the most common types of hate crime in the region.
In his unique course offering he described both communities in Canada as small, under routine oppression, in various forms, and very similar.
Denial of the Holocaust was addressed alongside the rise in Islamophobia around the world, and right in the students' backyard.
Instead of adding to the polarization on campus, the course acted less as a series of lectures and more like a Socratic Method, a cooperative dialogue led by critical-thinking citizens at the centre of their own issues.
Schnoor wrote of the experience and quoted one of his students, among those who grappled with the lack of understanding between the combatants who had confronted each other during the campus stand-off.
"It's funny because for a long time I thought that civil discussion between Jews and Muslims on contentious issues in a university was a lost cause," the student said. "I never would've thought that the classroom was the place where that would actually take place!"
Thurairajah talks about Canadians breaking free from the "tourist" mindset. Instead of exploring a new country, picking up the odd nick nack or trying a new coffee blend, immigrants and their children should be fully invested in building their new future here, instead of acting as passengers in transit.
"Just because you see that they do things differently, doesn't mean that you think it's better or the way you want to do things," she says, describing the unwillingness to shed old points of view.
Canada is a country that has constitutionalized multiculturalism, Thurairajah says, and believes some people misinterpret what that means. "Multiculturalism was meant to say, 'Yes, of course, you should be able to practice your cultural values and beliefs, but you're also meant to integrate into a larger society.'"
This can be tough in places like Brampton, where some parts of the city are dominated by ethno-cultural groups that are increasingly isolated.
When people live together in large, self-sustaining ethnic communities with others who hail from the same parts of the world, there's little opportunity to challenge stereotypes, Thurairajah says.
Without context or information to counter stereotypes, such as negative misperceptions around the hijab, the views of one generation are passed unfiltered to the next. "The tensions from 'back home' can carry through here, but they don't have to continue, if they were being challenged," she says.
Al-Jouboori was part of a group that actively challenged such tensions. Her parents would drive her to her friend's house. The family is Iranian-Canadian and her friend's parents would welcome her with open arms, knowing exactly what her cultural background was. "When I went [to my friend's] their parents were really, really sweet and they knew I'm from Iraq. When I told them I was from Iraq, there was no reaction whatsoever."
History, Thurairajah acknowledges, has a powerful effect. For those first and second-generation immigrants whose origin stories are tied to conflict, it can be difficult to start fresh. "You always are going to be the hero in your story. But you're the villain in someone else's."
She shares how her parents, refugees from Sri Lanka and of Tamil origin, have a different way of thinking compared to those who are Sinhalese. "The story they tell is very much about the story of persecution by Sinhalese in Sri Lanka against the Tamils." But if you talk to someone who is Sinhalese, they will tell a different story involving "terrorist Tamils" who picked up weapons and refused to cooperate, she says.
"No one story is more true because both things happened at the same time. We have a really, really hard time listening to stories where we're not painted in a good light."
The civil war in Sri Lanka lasted decades and rose, in part, from ethnic tensions between fellow Sinhalese and Tamil citizens. While fighting came to an end in 2009, after thousands of people lost their lives, tensions have persisted.
Like those in the Sikh community who hold onto resentments toward Hindus for persecution that drove tens of thousands to Canada, and groups from Africa and other parts of Asia and throughout areas of Europe and Latin America just like the Palestinian-Canadians and Jewish-Canadians struggling to make peace here, Thurairajah can relate to the challenge.
"What ends up becoming a barrier towards building any kind of cohesion or solidarity is the fact that we just don't want to know about the story that might challenge our existing views," she says.
In Part-3 of The Pointer's Checking our Parents' Cultural Baggage series we look at how younger generations can break free from long-standing conflicts that have defined previous generations.
---
Email: [email protected]
Twitter: @nida_zafar
Tel: 416 890-7643
---
COVID-19 is impacting all Canadians. At a time when vital public information is needed by everyone, The Pointer has taken down our paywall on all stories relating to the pandemic and those of public interest to ensure every resident of Brampton and Mississauga has access to the facts. For those who are able, we encourage you to consider a subscription. This will help us report on important public interest issues the community needs to know about now more than ever. You can register for a 30-day free trial HERE. Thereafter, The Pointer will charge $10 a month and you can cancel any time right on the website. Thank you.
Submit a correction about this story