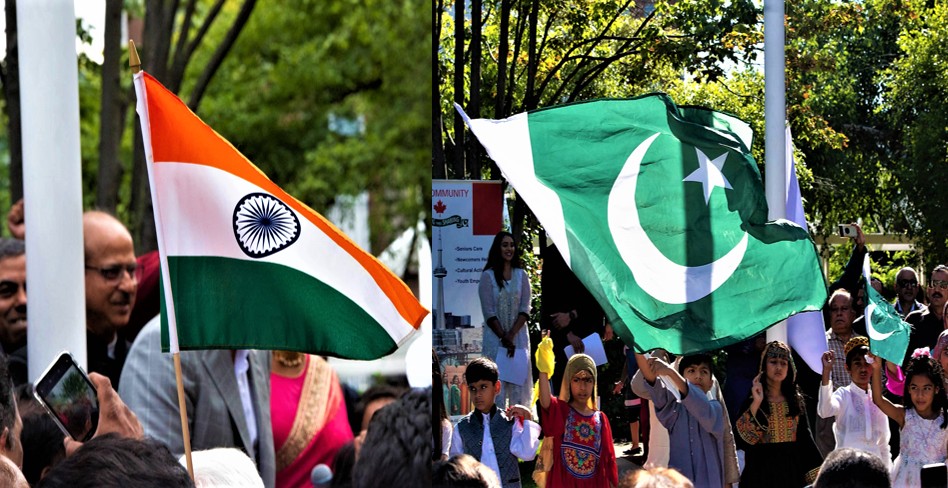 The Pointer file photos/Twitter
Checking our parents' cultural baggage – Part 1: Online hate
In the first of a three-part series on harmful generational conflicts that play out right here in Peel, keeping neighbours divided due to decades-old animosities, we explore the role online communication plays in deepening these tensions. India's recent legislation around citizenship rights provided fertile ground for the cultivation of hate between Hindus and Muslims.
---
At this time last year, before a virus paused our world, India was torn by a conflict that has raged since its independence in 1947, when the nation of Pakistan was created.
But unlike displays of hatred across the subcontinent throughout the ages, this latest eruption was spurred by the ubiquitous reach of the internet. The flames of hate were fanned in the digital world.
On December 12, 2019 the Citizenship (Amendment) Act was passed by the Hindu nationalist ruling party, the BJP, inside India's Parliament, plunging the country into its latest ethno-religious turmoil.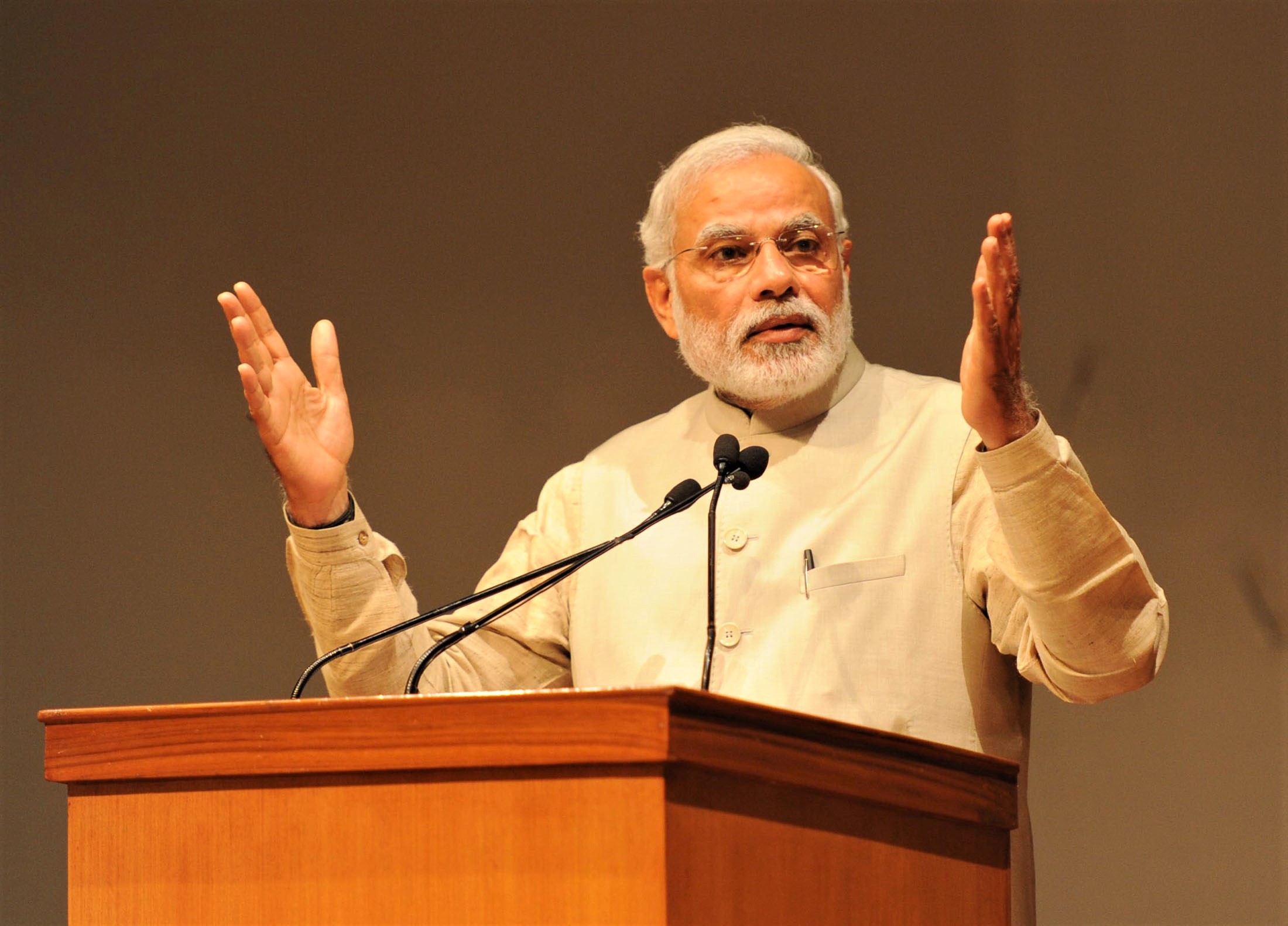 Indian Prime Minister Narendra Modi has been heavily criticized around the world for his Islamophobic and Hindu-nationalist policies.
The stunning piece of legislation set off riots and mass protests in New Delhi and across the incredibly diverse ethnic and multi-religious regions in the world's largest democracy.
The new law means religious minorities from Pakistan, Afghanistan and Bangladesh who arrived in India prior to 2015 have a direct pathway to Indian citizenship.
But while Sikhs, Christians, Jains, Buddhists, Parsis and others now enjoy the opportunities the legislation affords them, Muslims were excluded from the Bill. There is also concern that proof of citizenship requirements governed under the same Act will make it easier for government officials to target many of the more than 200 million Muslims who call India their home.
The intention of the BJP was obvious. Despite Islam being the dominant religion in the three other countries, the party in control wanted to deepen its entrenched decades-long opposition against a community it sees as a direct threat to Hindu nationalist ideology and its vision of creating a modern religious state that openly rejects secularism.
The Office of the United Nations High Commissioner for Human Rights called the move "fundamentally discriminatory".
Indians of all stripes took to the streets to reject the BJP's divisive tactics and the legacy of Prime Minister Narendra Modi. But he and his party had already put in place a vast apparatus of online propaganda to convince citizens, young and old, that the move was in their best interests.
Modi's Home Minister Amit Shah, who is in charge of the country's internal security (the highest cabinet post after the Prime Minister) and was, until recently, president of the BJP, referred to Muslim immigrants as "termites".
This sort of messaging is common among BJP surrogates who post on social media. The party has a complex relationship with its own country, and social media has become the platform for its revisionist view of Bharat, the embodiment of Hindu-centric belief that rejects all non-Hindu influence that has shaped much of the country's past and present. Facebook, Twitter, WhatsApp and Instagram along with domestic platforms and those emerging by the month, represent a path to the future the BJP wants to shape.
The removal last year of some 200 pro-BJP Facebook pages didn't even put a dent in the party's online propaganda efforts. Earlier this year, the Indian digital publication The Print reported that almost 18,000 Twitter accounts were set up to spread misinformation for the BJP, according to a group of researchers with backgrounds in data and software analysis.
Last year, ahead of national elections, outlets such as Time reported how the BJP used WhatsApp (which is installed by more than 90 percent of smartphone users in India) to spread misinformation including dangerous fake news about Muslim communities in an effort to bolster support for Hindu nationalist ideology. Instagram has also been cited as a common online platform used to spread propaganda and threatening messages in line with Modi's tactics.
In 2002, when he was chief minister (the equivalent of a provincial premier) of the state of Gujarat, he declared an attack on Hindu pilgrims returning aboard a train from the site of a demolished Mosque a terrorist act carried out by local Muslim groups.
The resulting pogrom against Muslims, which saw thousands killed by Hindu mobs and 150,000 people displaced, was widely believed to be a coordinated effort under Modi. Academics and human rights groups around the world described the actions by Modi and his government as state sponsored terrorism against its own citizens.
In an unprecedented move after the atrocities, the United States refused to issue a diplomatic visa to Modi under its Immigration and Nationality Act, which allows such a decision in response to severe violations of religious freedoms. The U.S. also stripped him of an existing tourist and business visa that had been issued to Modi.
His strongman violations of human rights protections were an extension of the vitriolic divisions between Hindus and Muslims since the region of Gujarat and other parts of what is now known as India were first invaded in the 10th century by Islamic rulers linked to the Persian dynasty.
A thousand years later, Islamic culture and identity is rooted deeply in Indian society. But despite being inextricably linked, tensions between Hindus and Muslims, particularly those with ties to Pakistan, continue to define the way people see each other.
Young people including many in Peel and across Canada, are often caught in the crossfire.
Online tools used to spread government propaganda and ensure party ideologies are toed, now reach more and more youth in an effort to shape their views and control their behaviour.

The United States' Congress established the U.S. Commission on International Religious Freedom (USCIRF) to help eradicate persecution on religious grounds around the world.
Earlier this year it released a disturbing report detailing the impacts of the BJP's Citizenship (Amendment) Act.
"Religious freedom conditions in India are taking a drastic turn downward, with national and various state governments tolerating widespread harassment and violence against religious minorities," the report stated.
"The BJP-led government enacted the Citizenship (Amendment) Act (CAA)… . This potentially exposes millions of Muslims to detention, deportation and statelessness when the government completes its planned nationwide National Register of Citizens."
The commission moved India into one of the worst categories for religious freedom.
European legislators said India's CAA could trigger the "largest statelessness crisis in the world and cause widespread human suffering." Those were the words of an influential group of 154 European Parliament members, in response to the BJP's move.
A scathing five-page resolution by the legislators was set to be introduced in the European Parliament in Brussels, but issues around the pandemic stalled the initiative.
The proposed resolution called the CAA "discriminatory and dangerously divisive" and said it violated India's "international obligations" under the International Covenant on Civil and Political Rights (ICCPR) and other Human Rights agreements that include India as a signatory.
---
The battle for the hearts and minds of youth
"You are a disgrace to your country, religion, and culture, why don't you kill yourself for the betterment of the world?"
This was the message Vaibhav Puranik, a 25-year-old studying psychology in New Delhi, would often see when he opened his Facebook or Instagram account. It wasn't an isolated incident.
His online feeds have become a nesting ground for bullying he endures for being a homosexual.
A sampling of messages he has received includes: "Indian gay boys like you should die." "Are you sure you are a boy?" "You are so dark, were you born in a coal mine?"
He said the barrage of posts aimed at him, reflect the attitudes being shaped for many of his fellow students on his modern supposedly progressive campus and their routine bullying has shattered his self-esteem, and killed his self-confidence.
It's hard to find solace in the broader community when the ruling party of your country openly rejects LGBTQ identities. BJP MP Subramanian Swamy publicly stated homosexuality is "a genetic flaw like having six fingers".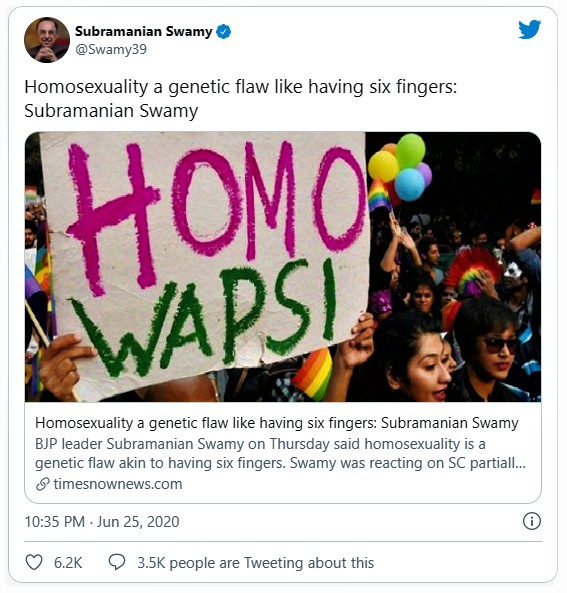 This is the environment in which Puranik lives.
Permissive attitudes about the expression of intolerance seep into many corners throughout the subcontinent, but social media in Pakistan and India has taken the negative discourse to a new level.
Young Hindus and Muslims openly express alarming views about each other.
In the fall, the BJP-controlled Indian state of Uttar Pradesh passed a bizarre law that bans the conversion of religion through marriage or other forms of potential coercion. It is seen by many academics and legal scholars as another attack on Islam. The new law has been used to arrest dozens of Muslim men and about two weeks ago it featured prominently on social media platforms when a Muslim teenager was charged for simply walking home with a friend who happened to be a girl and a Hindu. Despite telling officials she was with him out of her "own free will" the boy was still apprehended.


---
How social media is used to influence youth
There are no globally accepted criteria for measuring hatred and dangerous communication on digital platforms. While free speech should always be the norm, questions are mounting about where to draw the line.
Any form of ethno-racial or religious discrimination, hatred based on nationality, sexual identity or expressions inciting hostility or violence because of someone's gender or other identifying characteristics fall into the vague social media categories of "controversial" or "sensitive" material.
Expert in communications and author of The Normalization of Hatred, Jessica Katz Jameson says people with extreme views often go to great lengths to protect their beliefs. It goes beyond just their identity or culture, it's the way they see the world or how they think the world is supposed to be. And it's almost always an external factor or set of outside influences that have established these views, most commonly parents. These individuals usually have unrealistic expectations of how other people should behave, and how they themselves should be treated. When they feel threatened or their beliefs are challenged, they sometimes go to great lengths to defend and reinforce their ideologies.
Social media and other online communication can be a powerful ally.
Jameson says negative emotions might start small, but they escalate over time. As people feel more threatened, they dig deeper into their dispositions and look for people who will support them and this is where polarization begins. They look for evidence to support their ideas and satisfy their need to be validated. Singling out those opposed to them is part of the gathering of evidence to show there is a credible threat against them.
They shield themselves by separating from other points of view, some scholars call it 'stonewalling' where they literally avoid anything or anyone who thinks differently. It can be so damaging and stressful to their self-identity that they don't even want to engage in a conversation. The more effectively they can separate themselves, the less likely a different perspective will challenge their entire self-identity, Jameson writes. A useful enemy is supposed to exist, but never be engaged, for fear that understanding will destroy this carefully constructed self-concept.
This attitude soon leads to a sort of dehumanization, she says, and once that happens, it is very easy to move to hate because now they don't even see a human being on the other side. These individuals believe someone is out to destroy them and at some level, it comes down to self-preservation and it gets to a point where anyone else with differing views becomes the enemy.
One need not look to India to see what is happening to people with Hindu and Muslim backgrounds who trace their roots to the same part of the world and carry on the historic differences. Right here in Peel, the animosity routinely plays out.
When Brampton Mayor Patrick Brown announced on Twitter in the spring that the Muslim community could broadcast the Azan call to prayers outside Mosques during Ramadan, former Caledon school council chair Ravi Hooda posted shocking Islamophobic comments. He was later fired for his display of hatred against the Muslim community.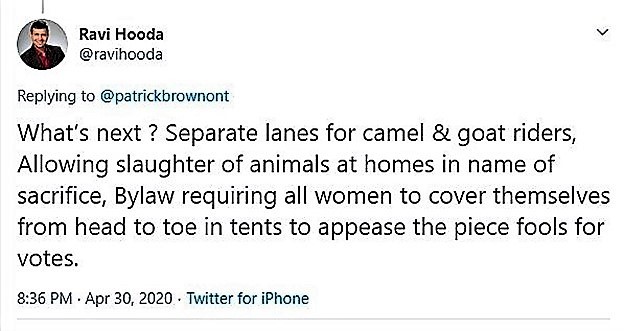 Hooda said "what next?" in a tweet that has since been removed:
"Separate lanes for camels and goat riders, allowing slaughter of animals at homes in name of sacrifice, Bylaw requiring all women to cover themselves from head to toe in tents to appease the piece (sic) fools for votes."
Ron Banerjee, who has claimed to run a group called the Canadian Hindu Advocacy and an organization called the Hindu Conference of Canada, made headlines after making alarmingly Islamophobic comments against a well-known restaurant-chain owner from Mississauga.
As part of a 2018 lawsuit settlement he was forced to apologize for discriminatory remarks he made about Paramount Fine Foods, and its owner Mohamad Fakih.
Banerjee had publicly labelled Fakih's business as "nefarious", claiming the restaurant only served "jihadists" and men who had "raped your wife at least a few times."
The remarks were made outside a Paramount Fine Foods Mississauga location in July of 2017 when Banerjee protested a Liberal fundraiser attended by Prime Minister Justin Trudeau, happening inside. The comments were videotaped and widely shared online.
Banerjee was a common face at anti-Muslim rallies across the Greater Toronto Area over much of the past decade and an outspoken voice during Peel's 2017 controversy around Islamic prayers in local schools.
Fakih immediately filed a defamation suit. In June of 2018 Ontario's Superior Court of Justice rejected Banerjee's "public interest" defence, and he was eventually forced to apologize.
"These statements were entirely without merit and I provide this unqualified apology to Paramount Fine Foods and Mr. Fakih for any harm I may have caused them because of the statements made that day," Banerjee said in his apology. "I have learned that it was wrong to attack Mr. Fakih because of his religion or where he is from. Such hate has no place in Canada and I will not make public statements of this nature in the future."
His attention grabbing anti-Muslim activities, protesting Islamic prayers in GTA schools and making deeply disturbing public comments about Muslims, coincided with the rise of Hindu nationalism in India after the BJP won a majority government in 2014 led by Prime Minister Modi. In 2016 Banerjee could be seen in public places, such as outside Toronto's Eaton Centre, campaigning for Donald Trump to become the U.S. president, calling Islam a "wicked, evil ideology."
A few years ago, as he began to make headlines for whipping up anti-Muslim rhetoric and opposing Islamic prayers in schools, Banerjee publicly wrote on the website he ran, "In its entire history, Islam, the Islamic civilization, has invented and has contributed less to human advancement than a pack of donkeys."
After the successful lawsuit against him, Jonathan Lisus, the lawyer who represented Fakih, told The Pointer the ruling would help future Canadian cases find the line between hate and free speech.
"We are very pleased with this result," he said at the time. "It sends a strong message that Canadian courts can be an effective venue for holding hatred to account. Free speech is not unlimited, and this case shows that people who make hateful comments that undermine the core cultural values of our free society will be held accountable. It's safe to assume that Mr. Banerjee learned his lesson, and understands that he will be held accountable in this way."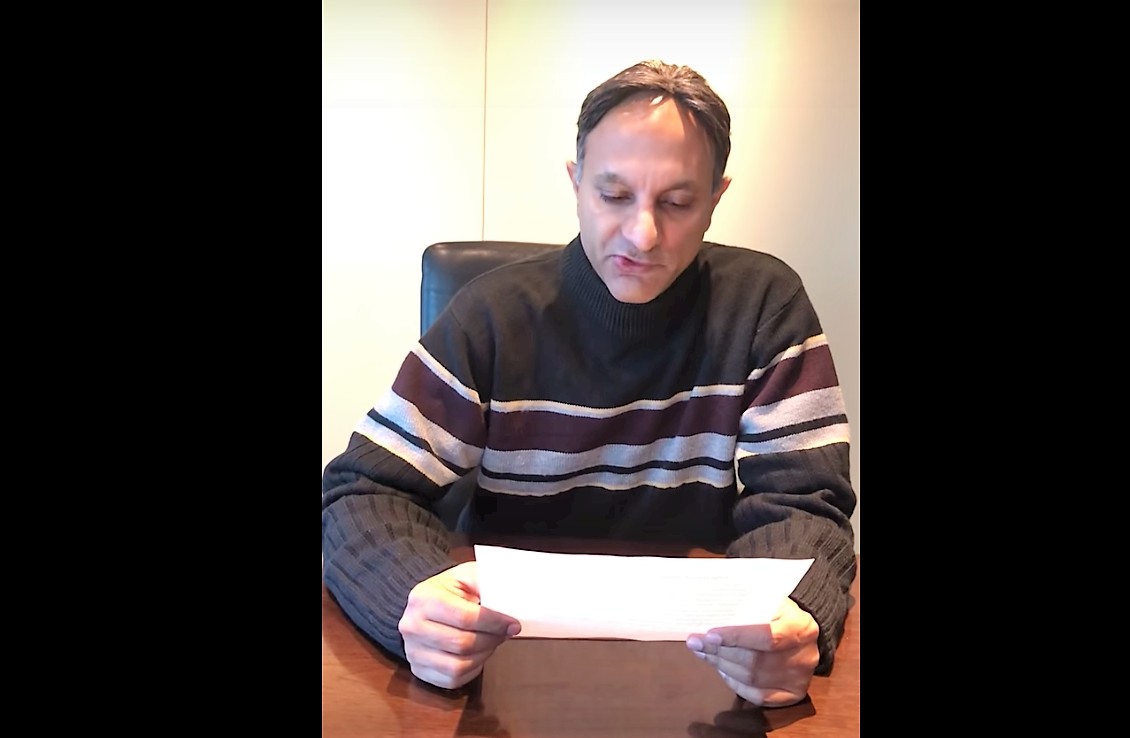 Ron Banerjee reading his videotaped apology to Paramount Fine Foods owner Mohamad Fakih.
It wasn't the first time Banerjee had found himself in the middle of controversial issues around religion in Peel. In 2017 he was at the centre of a charged issue he largely created, questioning the allowance of Muslim prayer in Peel schools. The ensuing tension Banerjee stoked reached a head with the destruction of a copy of the Koran outside the Peel Region District School Board offices. Banerjee, starting in Toronto in 2012, had been a vocal advocate for banning Muslim prayers in schools, claiming Hindu families were being negatively impacted.
His derogatory comments against Muslims and Sikhs, which have been spread widely online through platforms such as Youtube, which features a number of his discriminatory videos, have in the past few years made Banerjee a poster boy for anti-Canadian values, in a country held up by the rest of the world as a beacon of pluralism and multicultural harmony.
According to the 2011 National Household Survey Peel Region is home to Canada's fastest growing Muslim-Canadian population with 12 percent of those who practice Islam in the country living here at the time.
Banerjee and Ravi Hooda represent the challenge facing thousands of young people across Peel and the rest of Canada.
While religious and cultural tensions are being purposely stoked in much of the Indian subcontinent, the internet is used as a borderless, limitless domain to foment this hatred all over the world, especially in places where communities that are told to hate each other exist side by side.
Many youth in Peel are being pressured to carry on the age-old tensions that used to be imported here through traditional means. These divisions are now promoted much more effectively through online influences.
On the dark side of the web, hate speech is becoming more normalized than ever. White supremacist groups, misogynists, garden variety racists, religious extremists and others use online platforms as a tool to propagate their beliefs.
Research by the Canadian Race Relations Foundation and the Association for Canadian Studies shows 60 percent of Canadians between the ages of 18 and 24 have most likely seen racist comments on social media.
A 2014 survey by the two groups also revealed that while Canada aspires to pluralistic values and embraces multiculturalism as a policy, in practice, we tend to stick to our own.
The vast majority of respondents, 60 percent, reported that most of their friends shared the same ethnic background.
According to a report released in June, Canadians are heavily involved in the promotion of right-wing extremism in online conversations. Conducted by a British think tank and funded by Public Safety Canada the study, titled 'An Online Environmental Scan of Right-Wing Extremism in Canada', found 6,660 right-wing extremist channels, groups, accounts, and pages in the country. These included 6,352 Twitter accounts, 130 Facebook groups, and 32 YouTube channels.
Researchers tracked the presence of far-right-subgroups: Anti-Muslim groups; white supremacists; ethnonationalists; militia groups; and those spreading misogynistic views. The most common pattern of interest among these activities on Twitter is "anti-Muslim conversation", according to the research.
The study says a major driver of the increase in activity is social media, which provides a platform for a wide spectrum of right-wing extremists to mobilize by recruiting new members, broadcasting disinformation and propaganda, harassing opponents, and co-ordinating activity including publicity stunts, protests and acts of violence.
Facebook, Twitter and YouTube were analyzed by the study in addition to a constellation of fringe forums that are ultra-libertarian platforms with lax content moderation policies such as Gab, and specially created extremist hubs like Iron March and Fascist Forge.
The report should serve as a wakeup call about the extent of the extreme-right-wing, nationalist and religiously motivated hate-movements spreading online.
India's and Pakistan's Independence Day celebrated in Brampton
According to online and offline activities, data from organizations such as the National Council of Canadian Muslims, interview participants from law enforcement and anti-racism agencies, the number of active right-wing extremist groups as much as tripled in the two years ending in 2019.
Pitting Canadians against one another is often the intention of foreign actors, even governments.
The fomenting of religious and political divisions with roots in a bygone era is often done purposely and is a problem particularly for vulnerable populations among Canada's younger generations.
It has transformed the great power of the internet into a cultural weapon.
For youth in Peel, they hold the ultimate power, to decide if their parents' fights will become theirs, or if the cycle of hate will finally be broken.
In Part-2 of The Pointer's Checking our Parents' Cultural Baggage series we explore some of the specific tensions youth in Peel experience.
---
Email: [email protected]
Twitter: @dudha_aishwarya
---
COVID-19 is impacting all Canadians. At a time when vital public information is needed by everyone, The Pointer has taken down our paywall on all stories relating to the pandemic and those of public interest to ensure every resident of Brampton and Mississauga has access to the facts. For those who are able, we encourage you to consider a subscription. This will help us report on important public interest issues the community needs to know about now more than ever. You can register for a 30-day free trial HERE. Thereafter, The Pointer will charge $10 a month and you can cancel any time right on the website. Thank you.
Submit a correction about this story