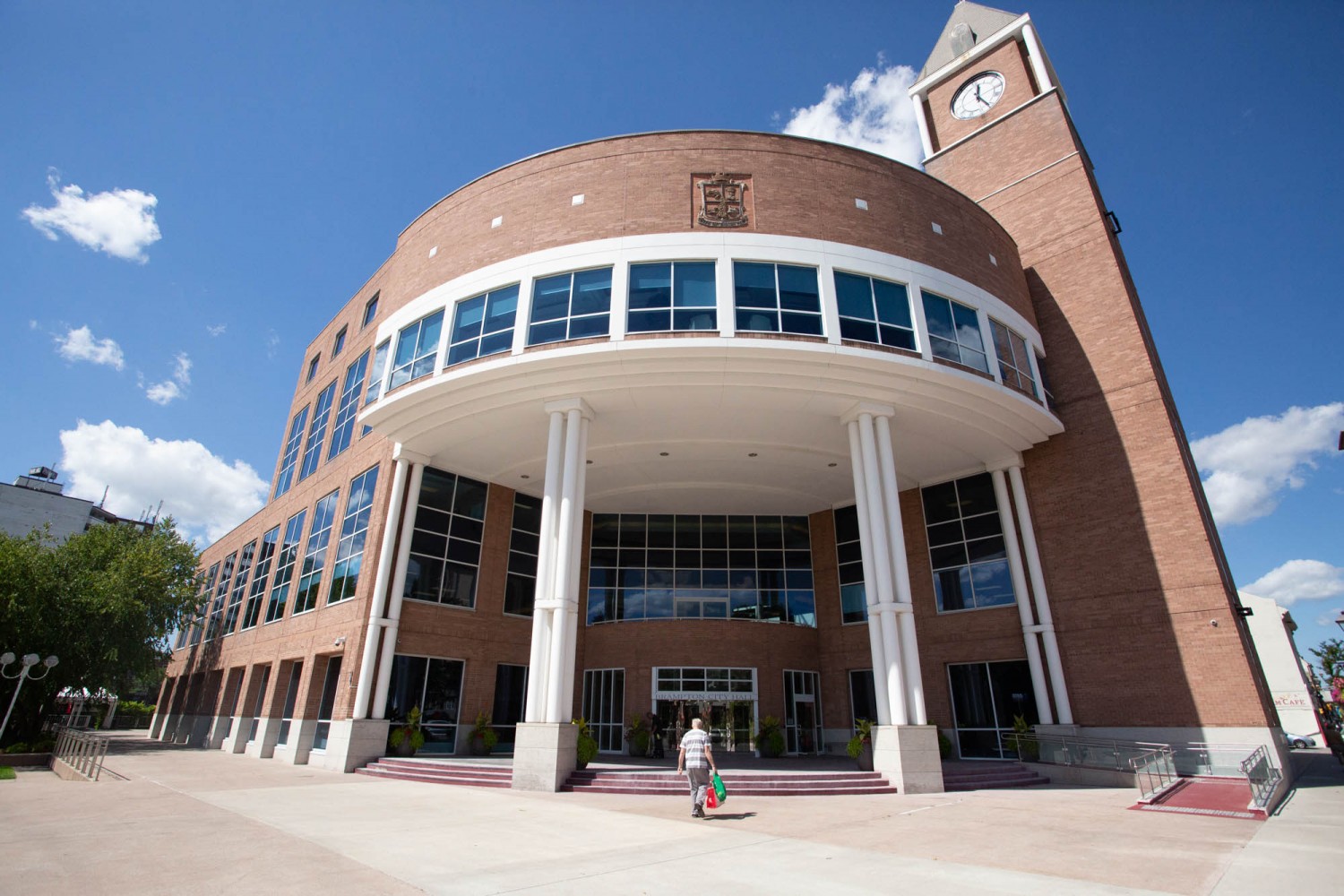 Photos from The Pointer files/Sheridan College/City of Brampton
Will 2021 be another year of delays and unfinished business in Brampton?
When the clocks struck midnight on January 1, most were praying for a chance to start anew. Almost nothing worked out over the past 12 months and many experienced the toughest year of their lives.
Everyone was ready for a reset.
Around Ontario, municipal councillors were looking forward to a new year guiding their cities and trying to get their mandates back on track after a year derailed by COVID-19.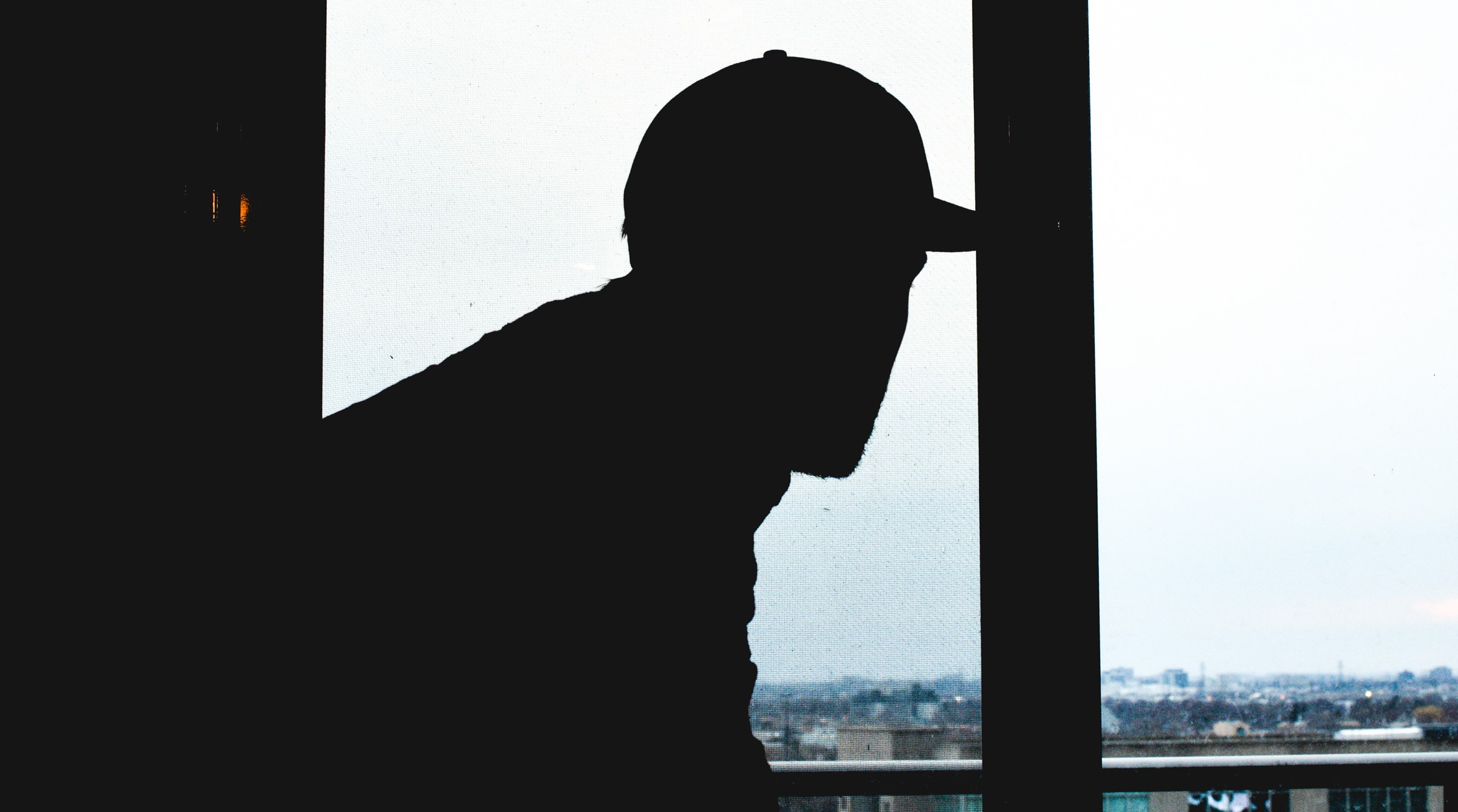 After a long, difficult year, many were looking to the calendar turning over as a chance to refresh, including those working inside Brampton City Hall.
The pandemic saw major projects delayed, city finances decimated and councillors stuck between public health advice and the interests of local businesses. Cities found themselves enforcing mask bylaws and capacity limits instead of items on the typical municipal agenda like planning recreational calendars or expanding transit services.
But, in Brampton, councillors start the year with a pile of projects, promises and reports dating as far back as early 2019, long before COVID-19 was a concern. During a series of wide-ranging debates, unrelated discussion topics and unplanned conversations, Brampton councillors have burdened staff with a lengthening list of to-dos. As a result, their fresh start to 2021 will also include a range of unfinished work piled on from years past.
The City's Referred Matters List, which tracks the reports staff have been asked to complete, is a throwback to the very beginning of the current council's term. The latest list was published on December 4.
It is 52 items in length, just over one third (or 19) of which are reports that were originally requested in 2019. A further 86 percent of reports have had their initial deadlines pushed back. In some cases, the delays are verging on two years.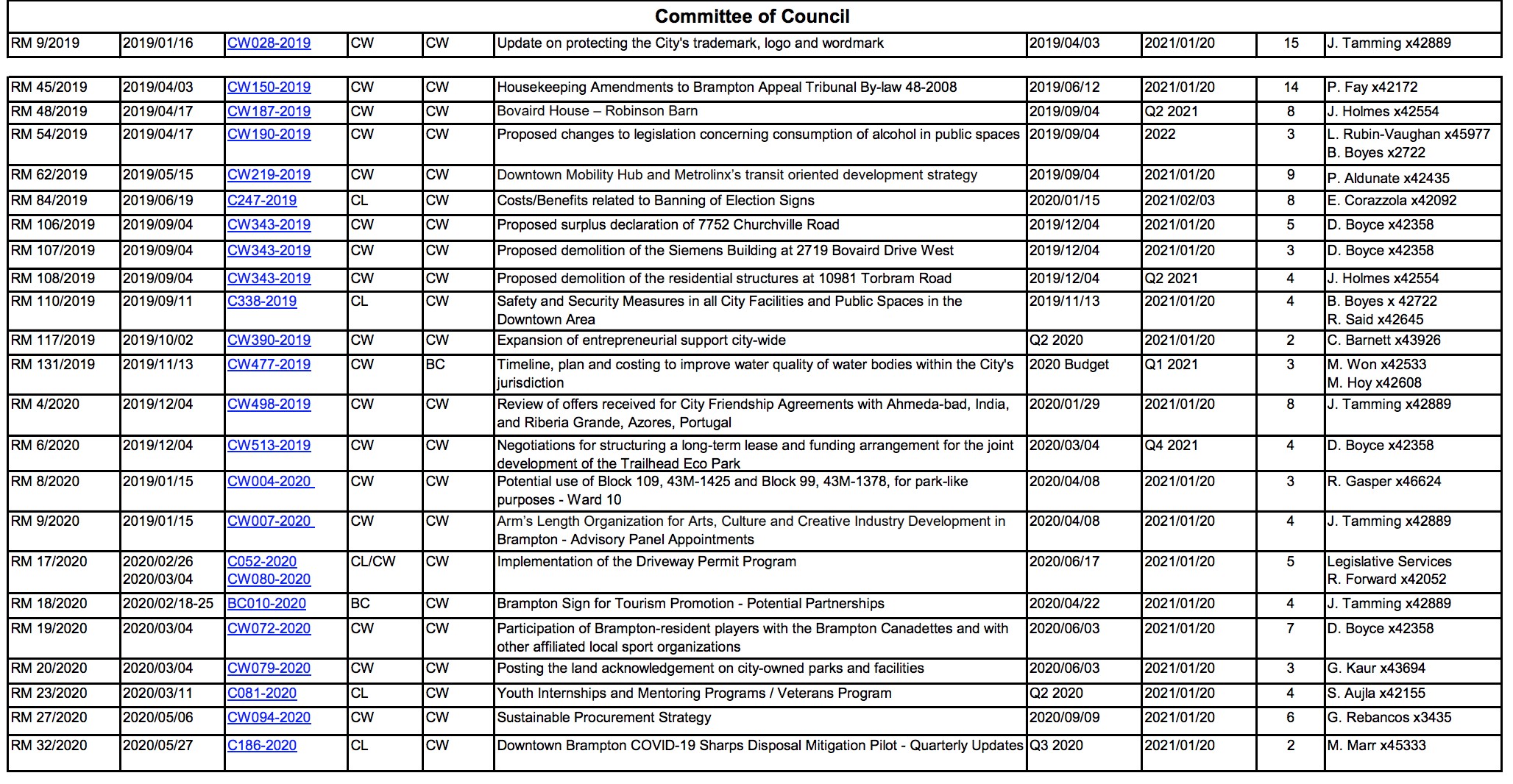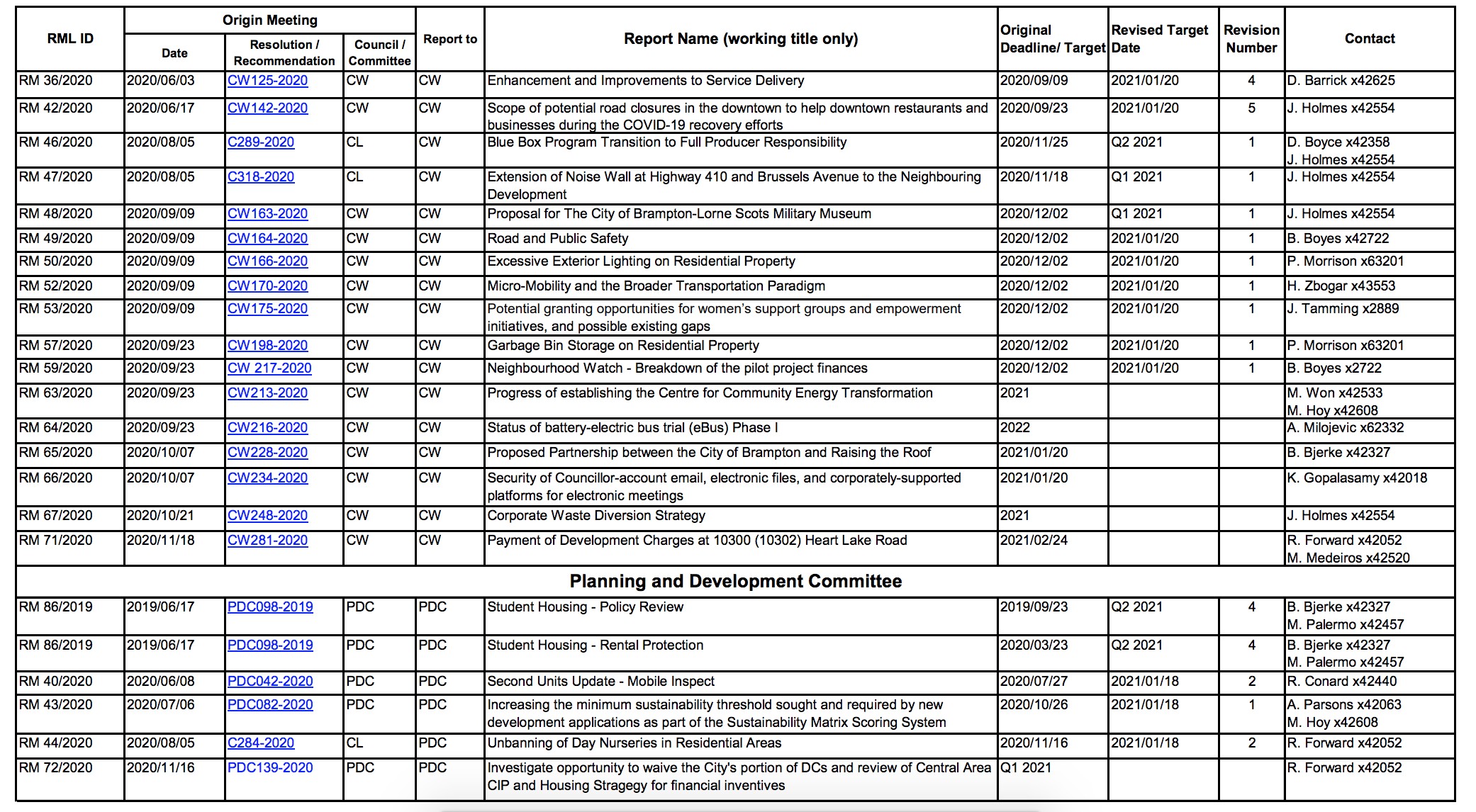 Brampton's Referred Matters List is a lengthy collection of projects that staff have been scrambling to address, many have seen significant delays.
At the end of 2019, Mayor Patrick Brown's first full year in office, City Clerk Peter Fay told councillors their Referred Matters list was out of hand. He explained the full list of almost 130 items, at the time, included issues that simply weren't within council's jurisdiction. A manageable list, he said, should be no more than 60 items.
"I think it's systematic of other issues," Fay told council at the time. "It's adding new business [to agendas] without proper notice, without proper background."
Council's procedural bylaw allows for items to be introduced and added to agendas at the start of meetings. It means councillors can add topics at the very last minute, leaving no time for members of the public to get involved in discussions or for staff to brush up on the topic at hand.
Traditionally, committees and notice of motions are used to give everyone ample warning and allow due process to take place. Instead of offering a short, verbal response, staff end up having to go away and complete a report, costing valuable and well-paid (by taxpayers) time.
The clogged Referred Matters list means the bureaucracy of City Hall slows. It can delay some urgent reports and tangle others.
In June, for example, Brampton City Council asked staff to consider if downtown road closures could help to stimulate an economic recovery by boosting business for restaurants and cafes.
The move coincided roughly with the arrival of the pandemic's Stage-2 restrictions in Peel Region, which permitted restaurants or cafes to offer outdoor service for the first time in months. A staff report considering how road closures could aid local businesses by offering them more space and foot traffic was originally scheduled to be finished by September 23, but delays mean it isn't expected until sometime this month. Instead of helping to boost businesses during COVID-19's brief summer decline, the report will now be completed with a province-wide lockdown in place and snow on the ground.
This type of poor planning and excessively delayed work suggests inexperienced leadership.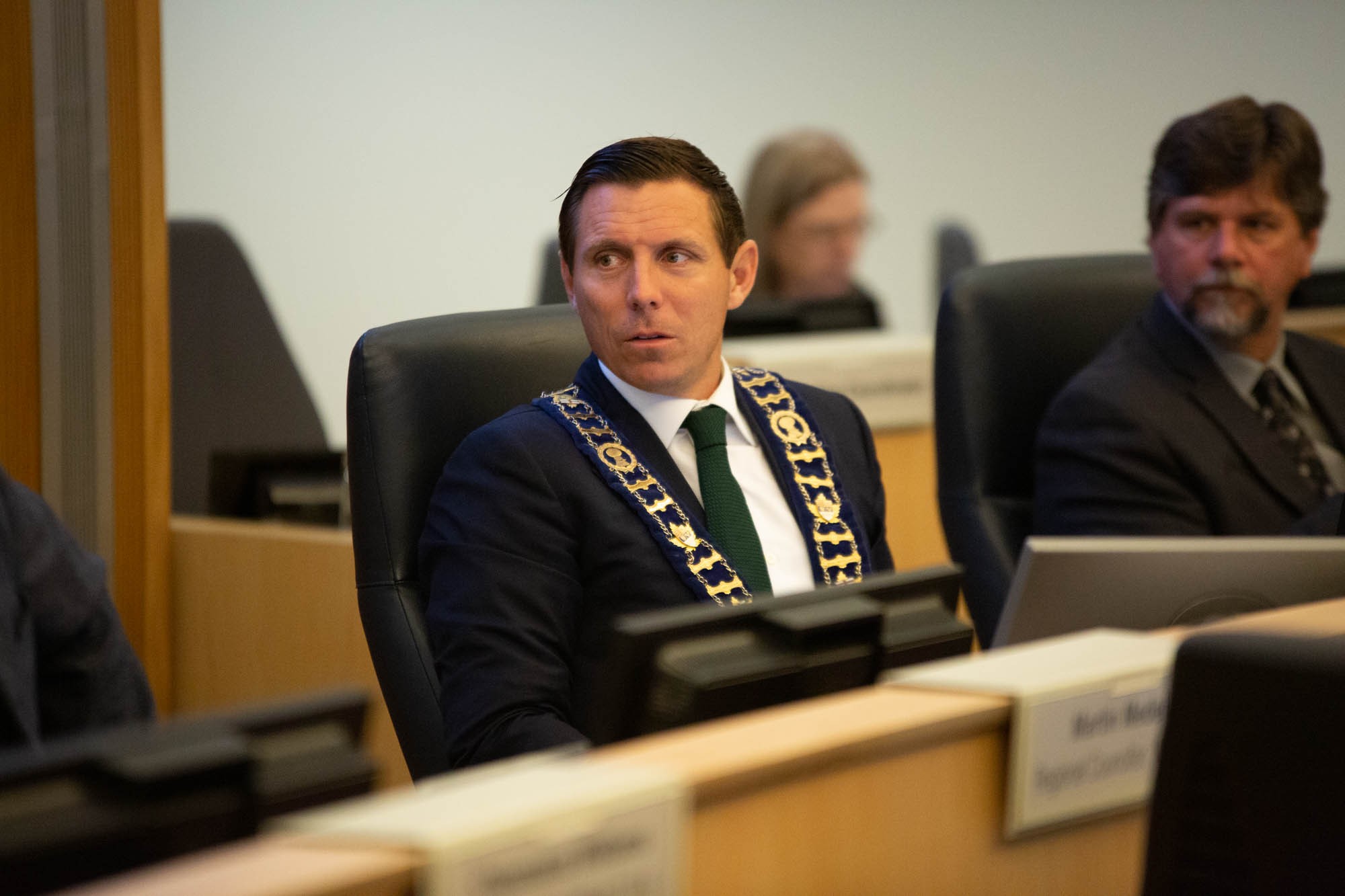 Mayor Patrick Brown has pushed three straight tax freezes without putting forward any plan to pay for Brampton's badly needed key priorities.
Five of the eleven members on Brampton council were elected for the first time in 2018 and the rest were elected in 2014. This is a sharp contrast to the decades-long experience of most members who served on council prior to 2014.
The City's chief administrative officer, David Barrick, a controversial figure with a checkered past, was hired by Mayor Brown in 2019 despite having zero experience running a municipal department. He was previously a Port Colborne regional councillor and was fired after a highly controversial brief stint as the head of Niagara's conservation authority, a job he was given after his involvement in a fraudulent effort to get the previous head the top job at Niagara Region. His departure came after he was accused of egregious mismanagement at the small agency.
He is now in charge of the ninth largest city in Canada.
Since his arrival there has been a constant revolving door at City Hall, with departed senior staff and other managers leaving jobs unfilled, held by interim managers or people with little experience in their new roles.
Meanwhile, key projects to move Brampton forward have continually been punted down the road.
A report on a Downtown Mobility Hub and Metrolinx's transit oriented development strategy was requested in May 2019, with an original deadline of September 2019. According to a May 2020 version of the Referred Matters List, the report had been delayed by a year until the third quarter of 2020, with the most recent version of the list suggesting it could be completed by January 20, 2021.
A student housing review, critical to Brampton's optimistic plans for its own university, has also been delayed repeatedly. When the City of Brampton first floated its plans to create its own university, BramptonU, questions were raised about where students might live in a city already struggling with an explosion of illegal secondary units and a lack of housing for post-secondary students, among others.
A spokesperson for the City of Brampton in early 2020 said its student housing policy review and rental protection report (commissioned in June 2019) would hold the answers. Staff promised the documents would be completed by the third quarter of 2020, but the latest Referred Matters List floats an unspecified part of the second quarter of 2021 as a potential date for the documents to be ready.
The pandemic has become an easy excuse for some poorly run governments to justify why crucial work isn't getting done by highly-paid civil servants and elected officials, while other governments have continued to perform for their residents efficiently.
A number of Brampton councillors, as evidenced by their social media accounts, appear to spend far more time campaigning, performing public relations appearances, than working on serious policy and planning matters.
The student housing review, once it's finally completed, will need critical council work and decision-making to formulate a strategy. For BramptonU to hold any hope, the review will be crucial, while post-secondary students already struggling with terrible living conditions in the city will hope it leads to better management of affordable housing, slum landlords and illegal secondary units.
Instead of being a key focus, staff are being distracted by vague councillor requests — "expansion of entrepreneurial support city-wide," for example — and progress is slow.
Other crucial work has been hanging in the clouds for years. Plans to extend the Hurontario LRT from Steeles Avenue, where it is currently set to turn around back into Mississauga, have been a mess for more than half a decade, since the previous Brampton council rejected a provincially supported alignment to run the LRT to downtown's GO Train station.
It's unclear when council will address Brown's request to tunnel the LRT beneath parts of the historic city centre. His focus on politically popular tax freezes, which he trumpets as wins for voters (Brown forced the third freeze in a row prior to the new year) have put the city in a dire predicament. While the move helps his political career it severely curtails the city's ability to invest in infrastructure, future planning, Brampton's share of healthcare costs and future growth, while the city centre crumbles due to neglect. His tunnel idea could cost as much as $1.7 billion, while he pushes tax freezes and fails to explain how his plan will be paid for.
The crucial Riverwalk project, to mitigate flood risk and unlock growth restrictions that have led to the withering away of the downtown, is another matter that has been delayed largely because of City Hall's failure to approve a definitive plan.
Downtown Reimagined, a comprehensive redevelopment of the underground infrastructure and surface level beautification, has been so badly managed by City Hall that the Region of Peel has been forced to go ahead with critical repairs and replacement of its underground utilities under the plan, without the City of Brampton's involvement, because of severe risk caused by the failure to address out-of-date infrastructure.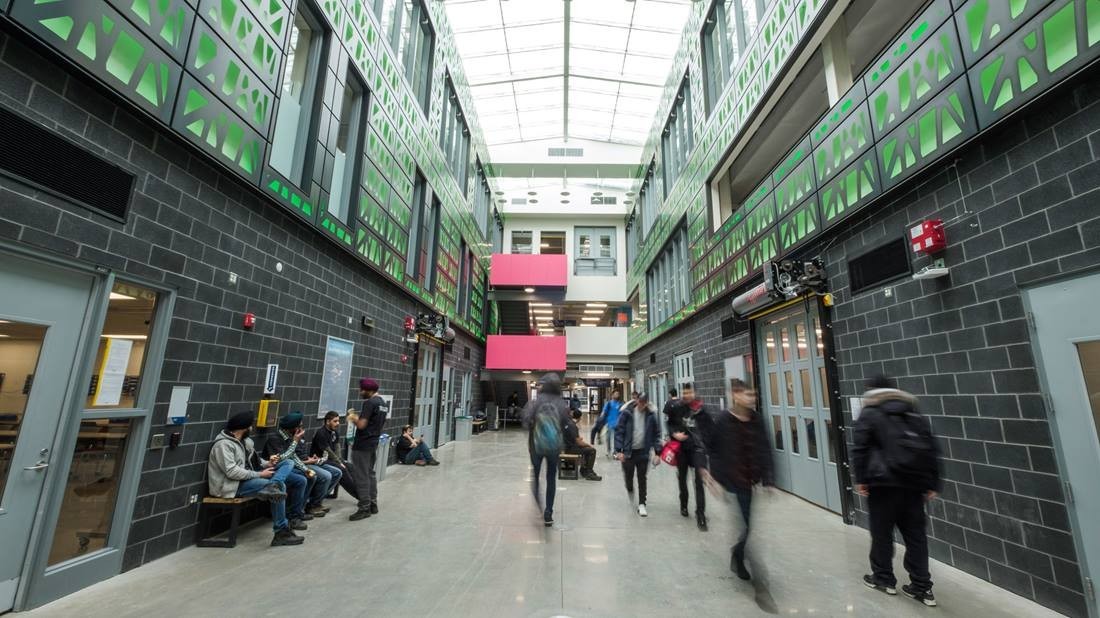 With Brampton looking to expand its post-secondary options, including starting its own university, BramptonU, a critical plan studying potential student housing options has been delayed.
Despite all of these crucial issues waiting for work, the referred matters list looms over City Hall, largely because of frivolous requests by councillors, such as the issue raised two years ago by Rowena Santos, who claimed the city is allowed to ban election signs on private property and wanted Brampton to adopt such a policy going forward. Santos herself had used signs on private property, a matter governed by the Province not municipalities, for her own 2018 election campaign. Shortly after, when her irresponsible request landed on the growing referred matters list, Fay, the City Clerk, told new elected members to do their homework before wasting the staff's time.
As for legitimate issues, delays continue.
"The COVID-19 pandemic brought forth unforeseen conditions and challenges that have required project leads to adapt quickly and shift operations," Megan Ball, a City spokesperson, said in an email to The Pointer. She added that in November, staff and council met to consider their priorities.
"There are many factors contributing to the length of time an item may remain on the list, including issue complexity, amount of work/resources required to respond, emerging and evolving priorities and challenges (e.g., COVID-19), and/or other variables outside the City's influence," Ball added. "City staff are aware of the list of outstanding business and regular discussions occur among senior management regarding items on the list and work required to address the outstanding item."
It is unclear why COVID-19 — a Peel Public Health responsibility — would have delayed so many reports, a significant number of which were already late before the pandemic began.
As councillors remove the cellophane from their new annual planners and ink the first dates onto their calendars, a long to-do list lingers. Requests to develop a hospice in Brampton, ban election signs, improve natural water quality in the city and understand student housing are all approaching their second anniversary.
Meanwhile, BramptonU remains a pipe dream, the Riverwalk awaits key decisions by council, the LRT plan is stalled at Steeles Avenue and a host of other crucial issues such as the city's share of hospital funding, transit expansion and vague ideas for creating an "innovation" economy are still waiting to be addressed.
On the planning front, council has flip-flopped on its commitments to the environment, while a controversial plan to replace the province's contentious 413 Highway with a boulevard through the city's west side remains up in the air. The 2040 Vision hardly gets any attention to carry out the master growth plan council itself has endorsed, the Queen Street corridor remains in dire need of investment and other major growth strategies to move the city into the future remain unaddressed.
Will 2021 be the year staff and council members finally get on track or will hardworking Brampton taxpayers endure another year of delays while their city falls further behind?
---
Email: [email protected]
Twitter: @isaaccallan
Tel: 647 561-4879
---
COVID-19 is impacting all Canadians. At a time when vital public information is needed by everyone, The Pointer has taken down our paywall on all stories relating to the pandemic and those of public interest to ensure every resident of Brampton and Mississauga has access to the facts. For those who are able, we encourage you to consider a subscription. This will help us report on important public interest issues the community needs to know about now more than ever. You can register for a 30-day free trial HERE. Thereafter, The Pointer will charge $10 a month and you can cancel any time right on the website. Thank you.
Submit a correction about this story